When talking about a vacation often people talk about the food – the good the bad and everything in between can define a vacation. If you are planning a trip here is your ultimate guide to Royalton Saint Lucia Restaurants, including menus and lots of photos! And if you want to check out the layout of the buildings and rooms of the Royalton and Hideaway by Royalton St Lucia then the room and building guide is a must read.
We have you covered for what variety of food is offered, where to get it, dress code, restaurant hours and more so you can make the most of your vacation at the Royalton Saint Lucia.
Royalton Saint Lucia Restaurants
What is the Dress Code at Royalton Saint Lucia Restaurants?
Resort Casual
Resort Casual – For Breakfast, lunch – shorts, jeans, pants, t-shirts, polo shirts, swimwear must be covered up. Footwear required. This is your summer wear – shorts and t-shirts, jumpsuits/rompers, bathing suits with bathing suit cover ups or shorts or t-shirts on top.
Evening Casual
Evening Casual – Dinner – dress shorts, jeans, pants, shirts, polo shirts, no sleeveless shirts. Footwear required.
Evening Elegant
Evening Elegant – dress pants, trousers, jeans, long or short sleeve dress shirts (with or without collar), Dress shoes, sandals. No Shorts, t-shirts, sleeveless shirts, sneakers, flip-flops, hats or caps.
Does the Hideaway by Royalton have exclusive restaurants?
Yes the adults only section the of the resort – Hideaway by Royalton – has a restaurant, 2 bars and a lunch window that is elusively for guests of the Hideaway. Dorado is the restaurant that is located right on the beach and is open for breakfast, lunch and dinner. The lunch window is located just beside the Hideaway Beach bar.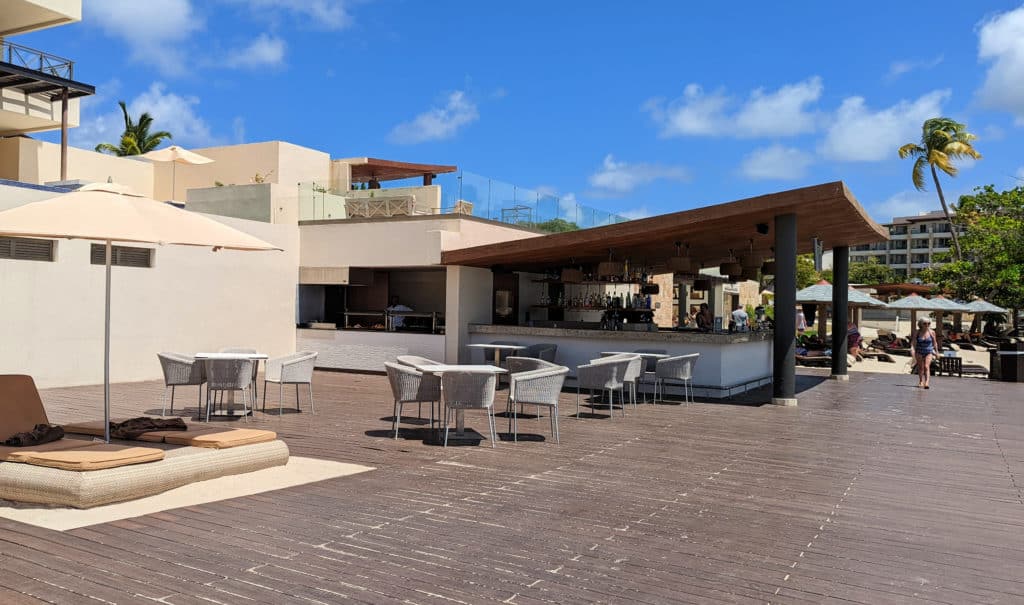 Are reservations required for the Royalton Restaurants?
Reservations are only required for the teppanyaki experience at Zen the Japanese restaurant. They have 2 seatings per night with the first one at 6:00pm. You are able to book the day prior at the desk outside the buffet, or at the Zen front desk when it is open.
For all the other restaurants you can walk-in, first come, first served. If they do happen to be busy, they can give you a beeper to alert you when a table is ready while you enjoy a drink at a nearby bar. During our 1 week stay there was only 1 night that we had a wait to get into a restaurant, otherwise we got a table right away.
What are the Breakfast, Lunch and Dinner Options?
Breakfast
For Breakfast if you are staying any where on the resort – Royalton, Hideaway, or Diamond club – you can have breakfast at the buffet restaurant at the main building. If you are staying in Hideaway (buildings 1, 2, and 3) you have the option for Dorado the Hideaway Restaurant which has a menu you can order off.
Lunch
Lunch options include the Gourmet Marche Buffet, the Grazie Italian Tattoria Italian. There is also a Food Truck located near the children's pool that is open to everyone. If you are a guest of Hideaway (building 1, 2, and 3) there is a window beside the Hideaway Pisces Bar that has food (Chicken, ribs, wraps, salad, fries etc).
Dinner
Dinner is where you have the biggest selection and all of the a la carte restaurants are open. There 6 restaurants and the buffet open to everyone. The Dorado Seafood & Grill is open for guests of the Hideaway section. There are also addition options like the C/X Culinary Experience or Dinner on the beach that available at an additional cost.
For dinner the restaurants are open from 6pm. In my experience there was no wait when we went for dinner around 6:00 or 6:30.
Do restaurants have outdoor and indoor seating?
Yes most restaurants have indoor and outdoor seating at the Royalton Saint Lucia. You will find indoor/outdoor options at the buffet, Armadillo Tex-Mex, Grazie Italian Trattoria, Hunger Steakhouse, Sen Japanese, Dorado, Scoops Gelato/Caffe Lounge. Calypso West Indies, SCORE sports bar, and the C/X Culinary Experience did not have outdoor seating.
What milk options are available at Royalton Saint Lucia
If you have dietary needs or are travelling with children they types of dairy beverages available can be important. At the buffet restaurant they had regular milk, low fat milk, while milk, strawberry milk, and almond milk.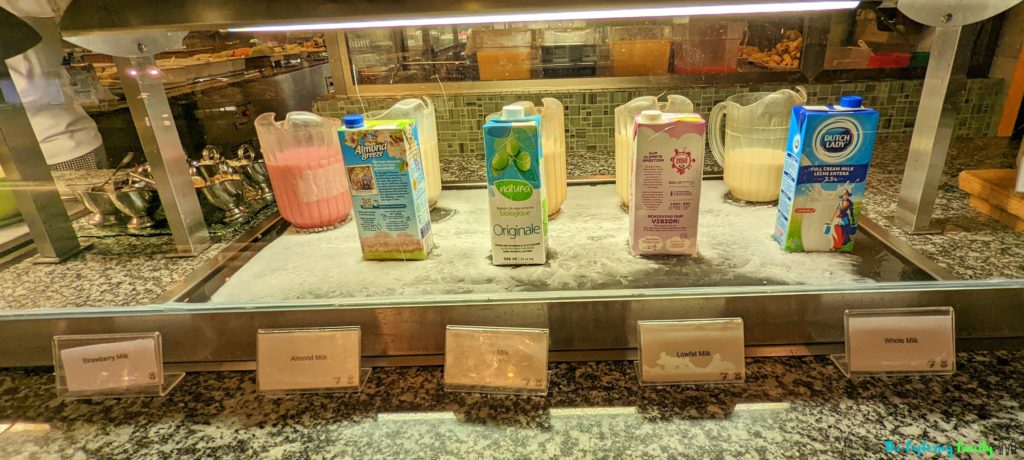 Do people tip at the Restaurants and Bars?
Tipping is common is some cultures and not as often in others. If you would like to tip is is appreciated by staff but not expected. You can tip using USD or XCD, and if you need smaller bills you can ask at the front desk. Tip because you want to or are appreciative, not because you expect different treatment then other guests. Don't be "that" person that tries to flash tips around, or hassle staff because you tipped. When we tipped we did $1 at the bars, and usually $5 at the restaurants.
Royalton Saint Lucia Restaurant Menus
Check put the menus and photos below of the different restaurants at the Royalton Saint Lucia
Gourmet March – International Buffet
Open for Breakfast, lunch and Dinner – Dress Code: Resort Casual – the buffet offers a wide selection of culinary options to suit everyone's tastes. For breakfast you will find multiple omelette stations to create an omelette just the way you like. There is also a section of meats, cheeses, pancakes, french toast, bacon, sausage, pastries, breads, and so much more including mimosas!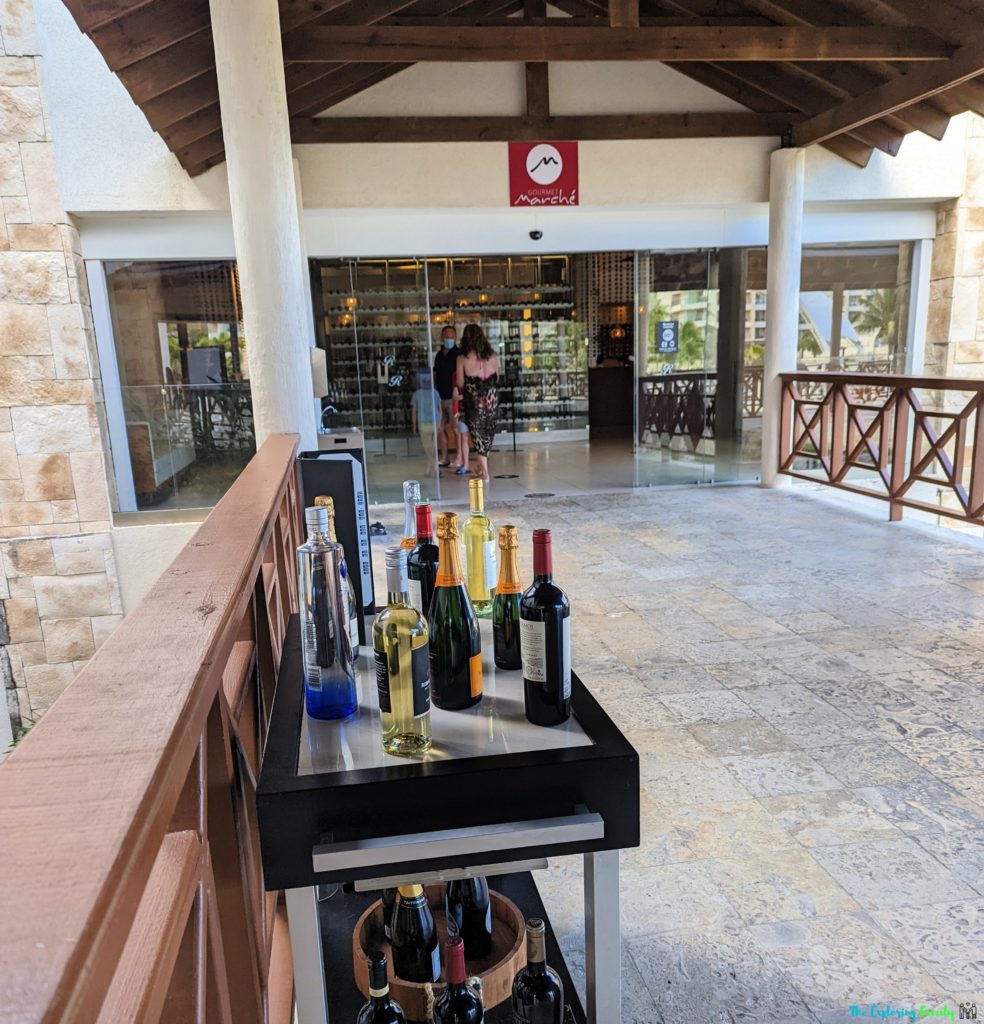 There is lots of seating at the buffet and it is a great option for larger groups or when you have people joining you for a meal at different times.
Royalton Buffet Dinner offers lots of options include a create your pwn pasta station, carving station for different types of meat. The dessert selection was my favourite of any restaurant at the resort.
Grazie Italian Trattoria – Italian Cuisine
Open for lunch and dinner with different menus – Dress code lunch: Resort Casual, Dress code dinner: Evening Casual – You will find this restaurant in the center of the resort as a stand alone building, with tables inside and on the wrap-around patio. We enjoyed lunch at this Italian restaurant at the Royalton resort twice during our stay. If you are looking for a quick meal for lunch this might not be the best option as it did take a while to get our food at lunchtime. So if you are in a rush the buffet would be a better option for lunch.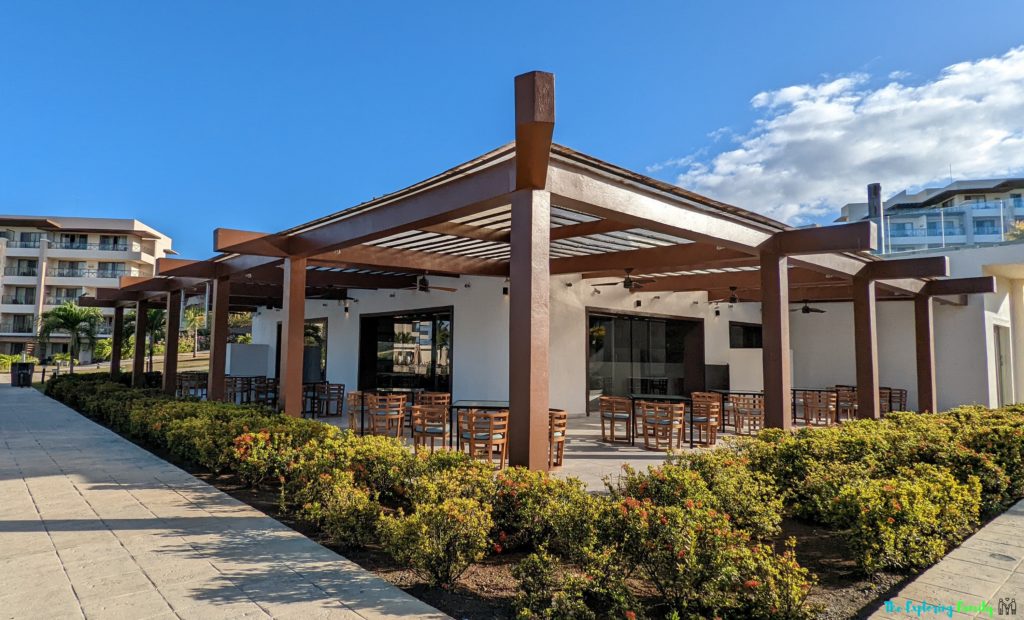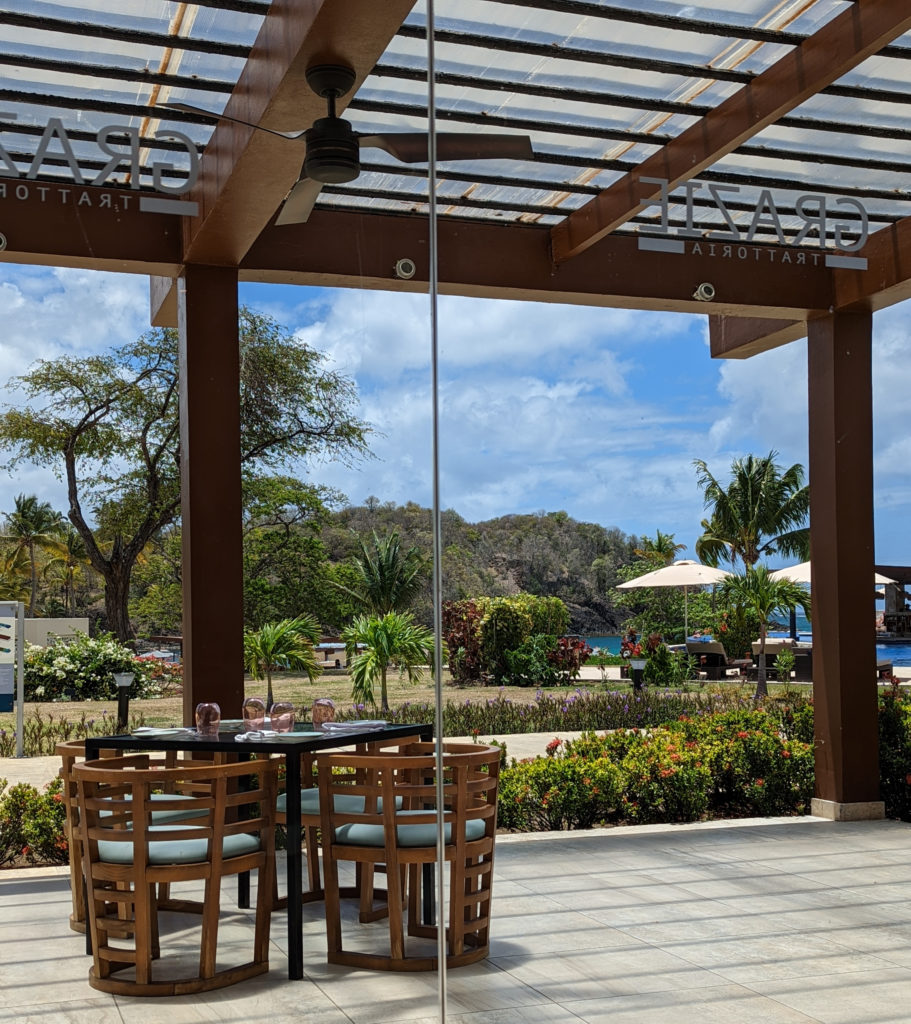 We enjoyed a relaxing lunch with a gorgeous view. Each meal at both lunch and dinner started with fresh focaccia with olive oil and balsamic.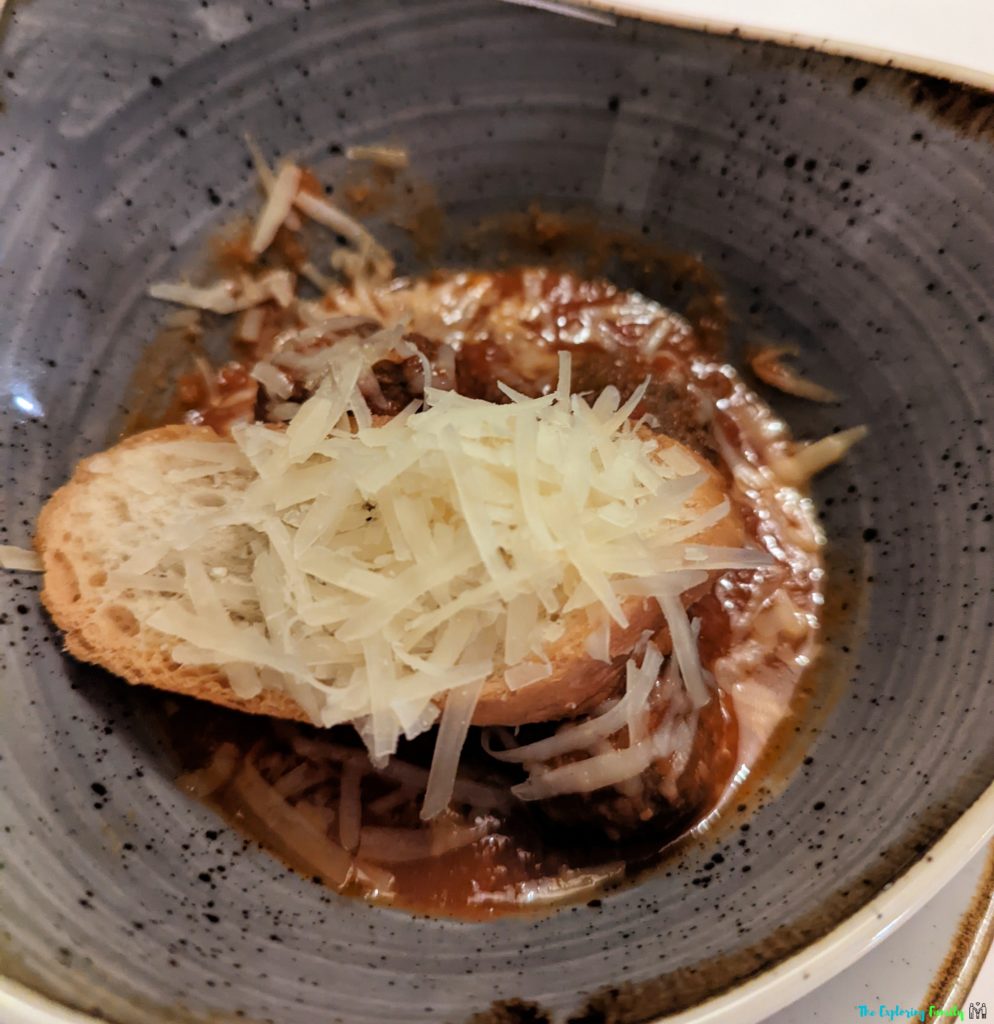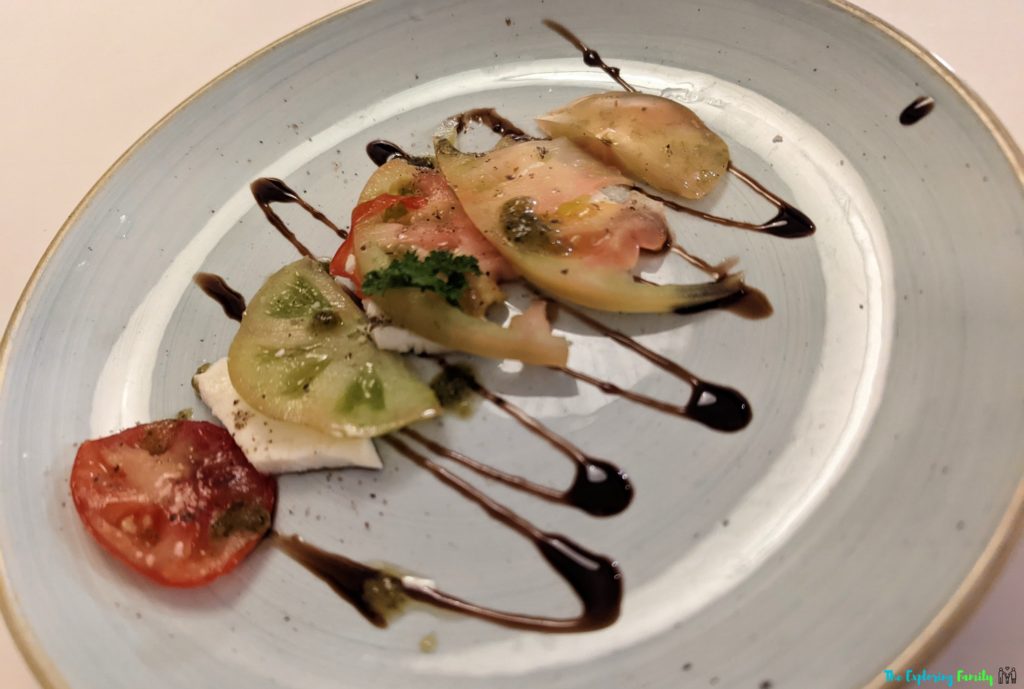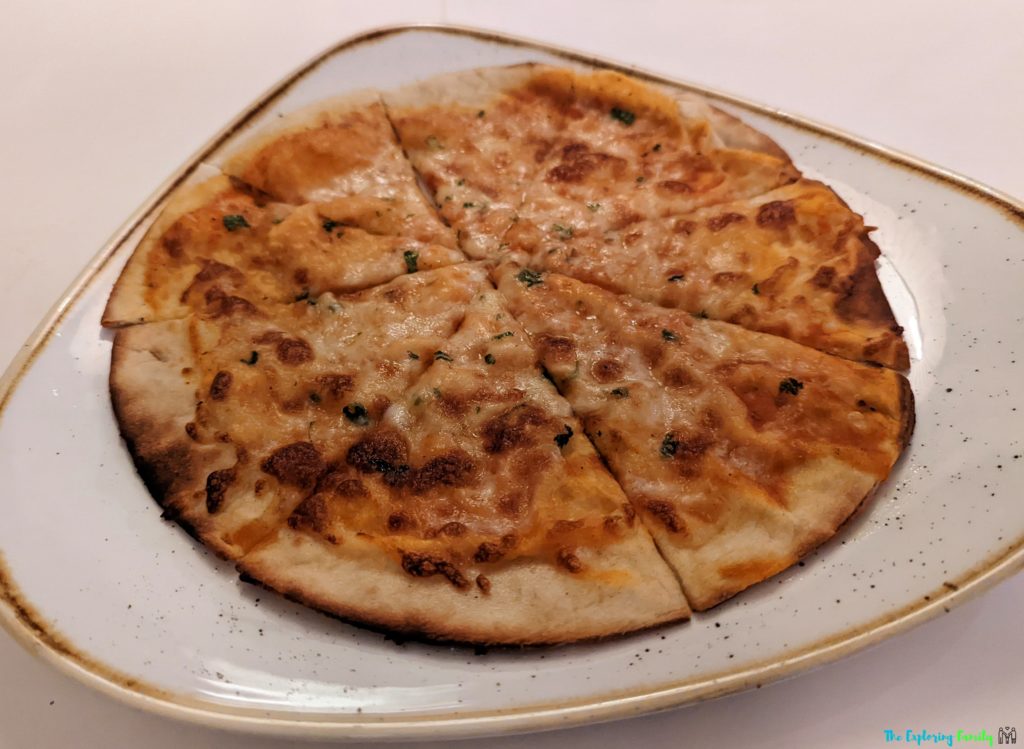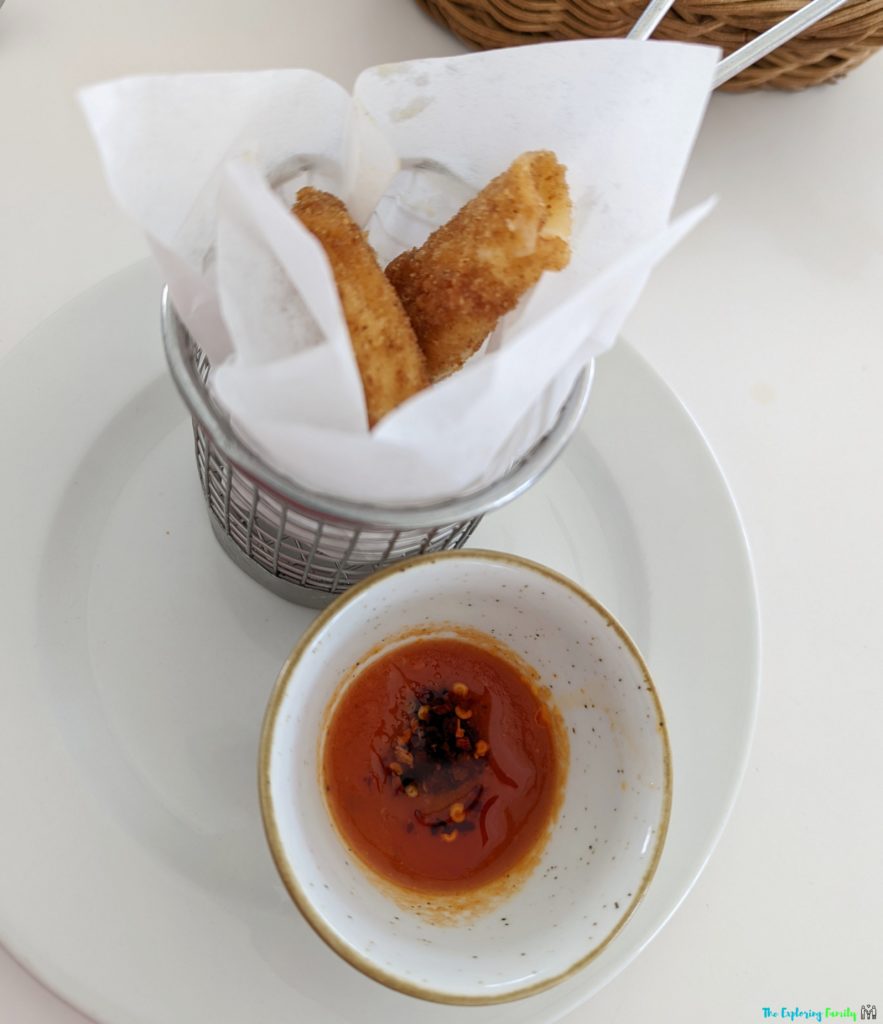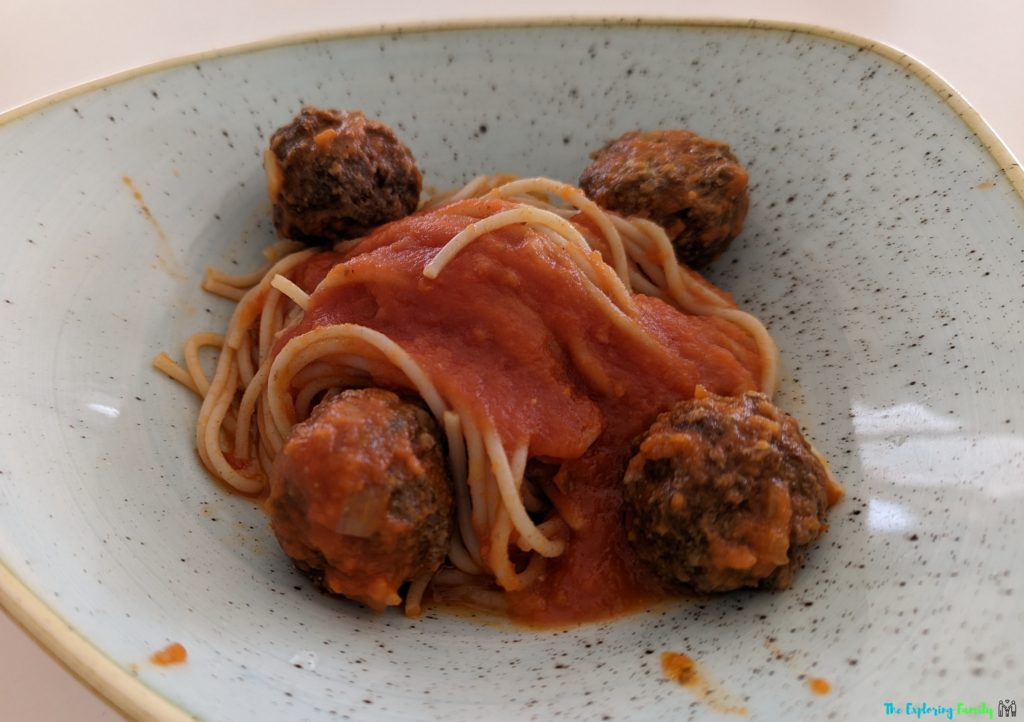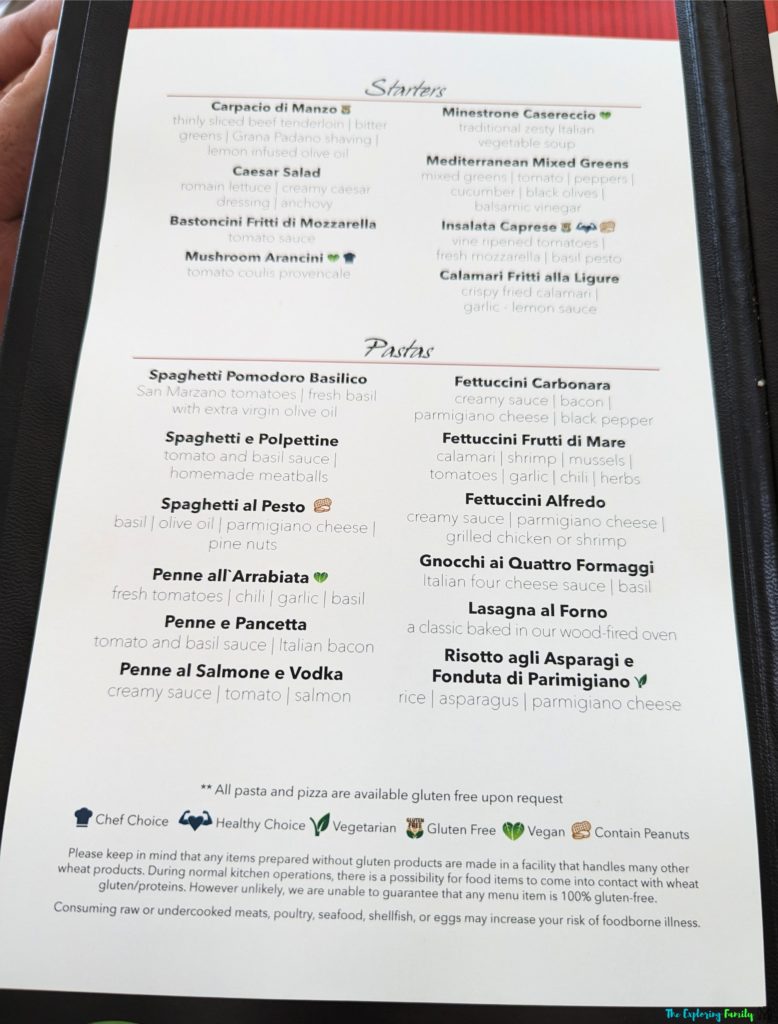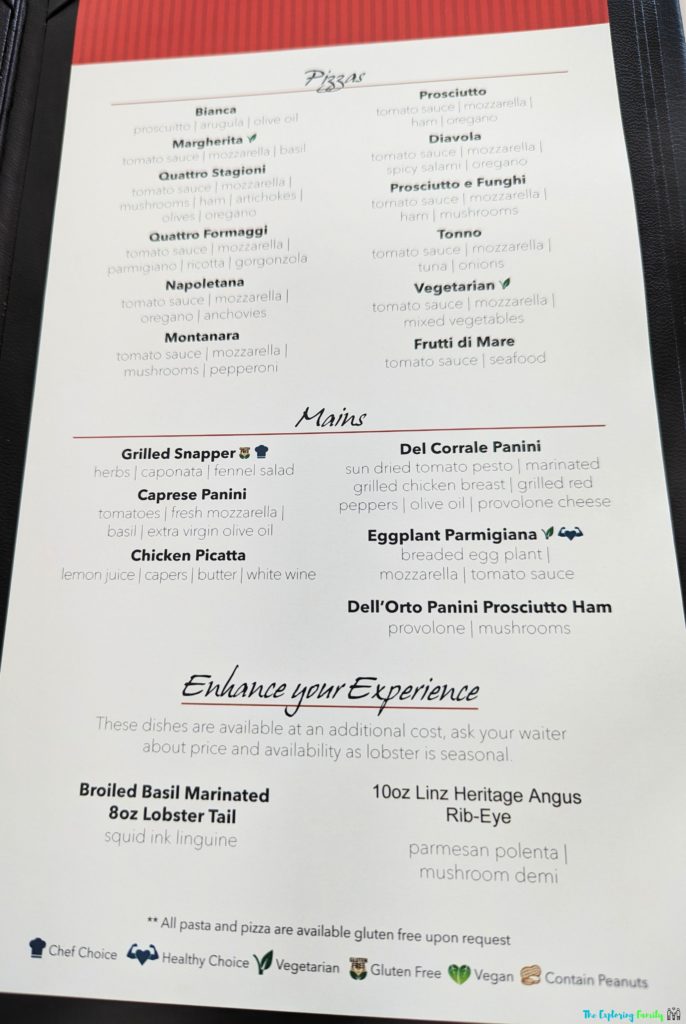 Hunter Steakhouse
Open for dinner – Dress code Evening Casual – The Hunter Steakhouse is a do not miss restaurant at the Royalton Saint Lucia Resort. From the Beet Salad to the New York Strip Steak everything was perfection. My personal highlight was the chorizo sausage that I enjoyed not only as a starter, but also as part of "The Big Grill".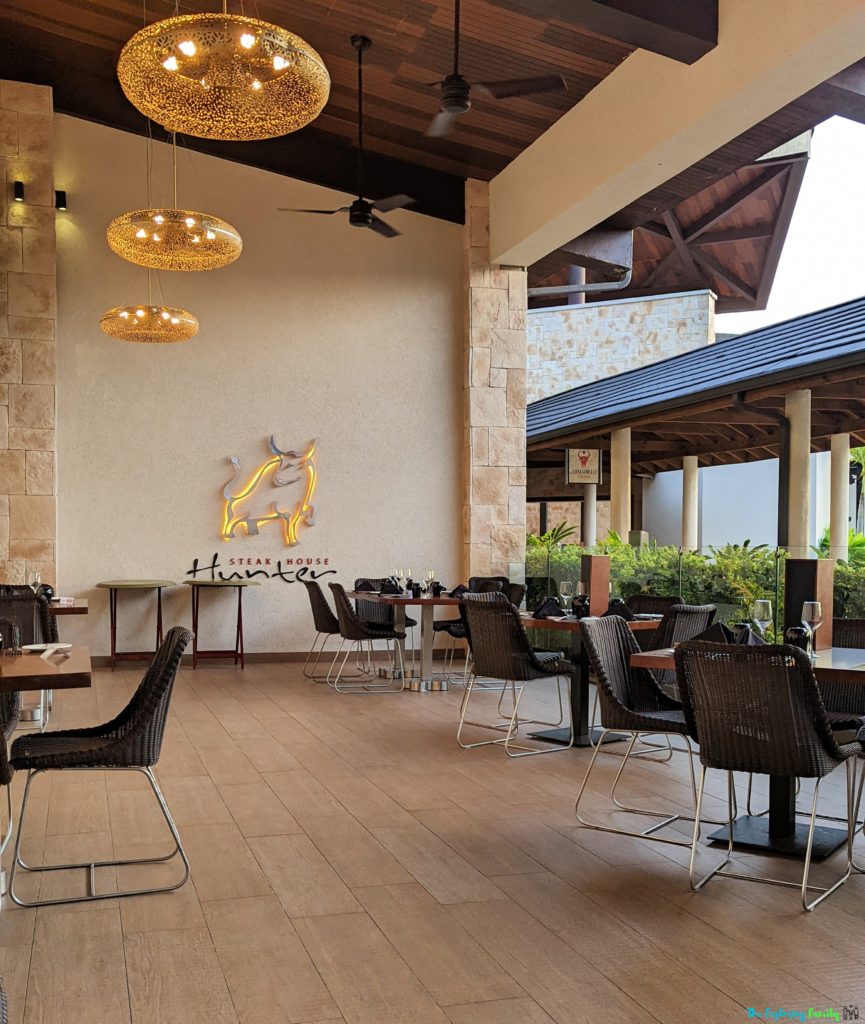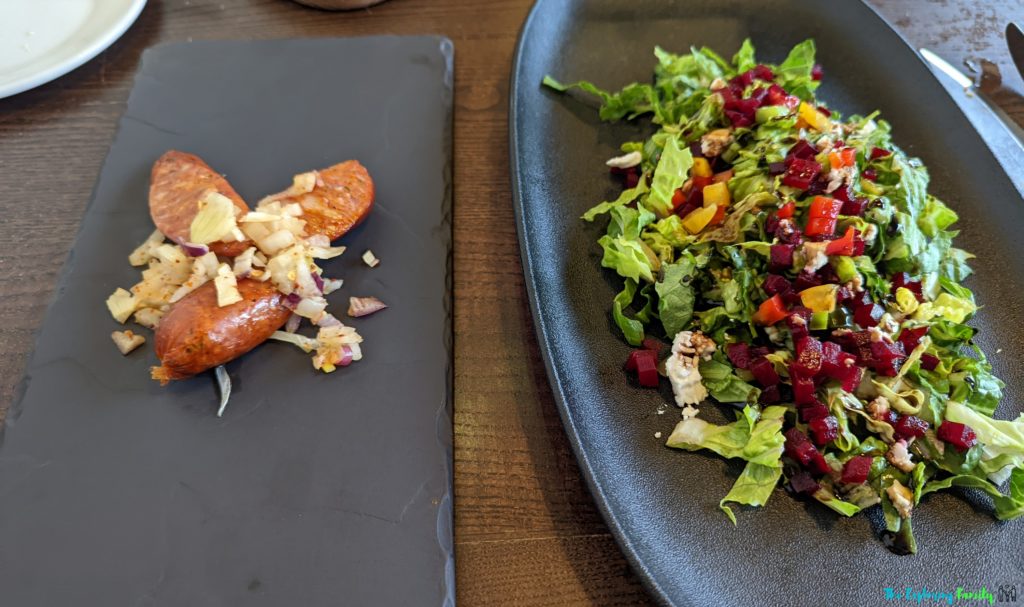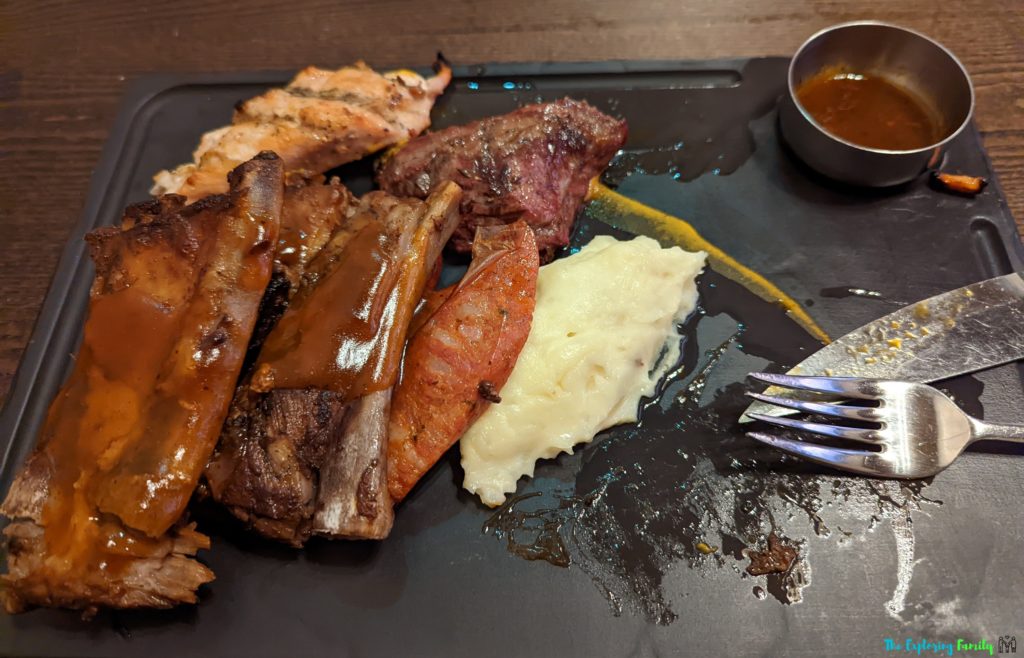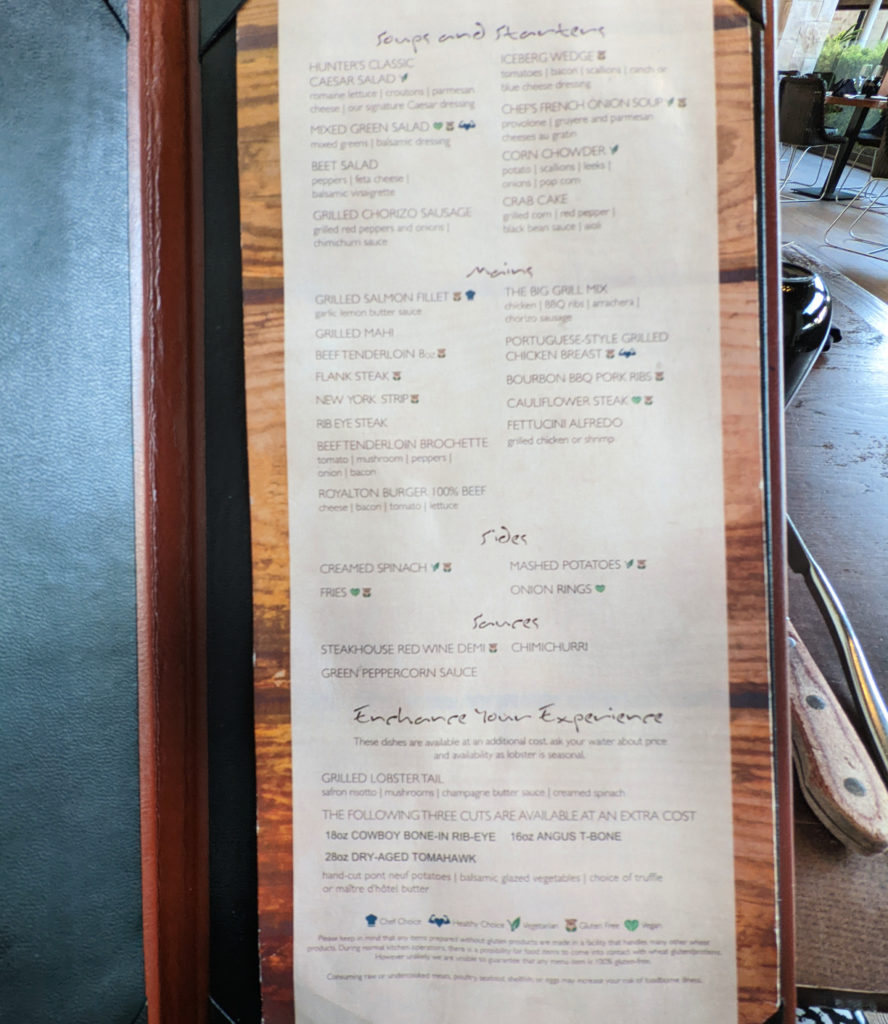 Armadillo – Tex-Mex Cuisine
Open for dinner – Dress code Evening Casual – Armadillo Tex-Mex offers a delicious selection of tacos, burritos, fajitas and so much more. I had a hard time deciding what to order since there were so many options that looked good.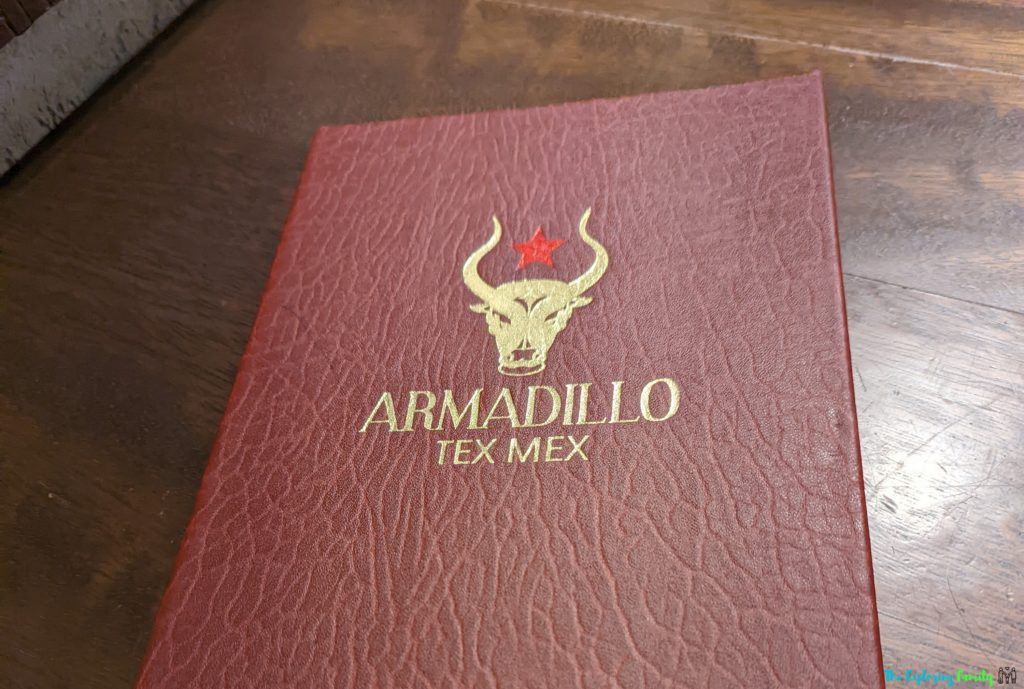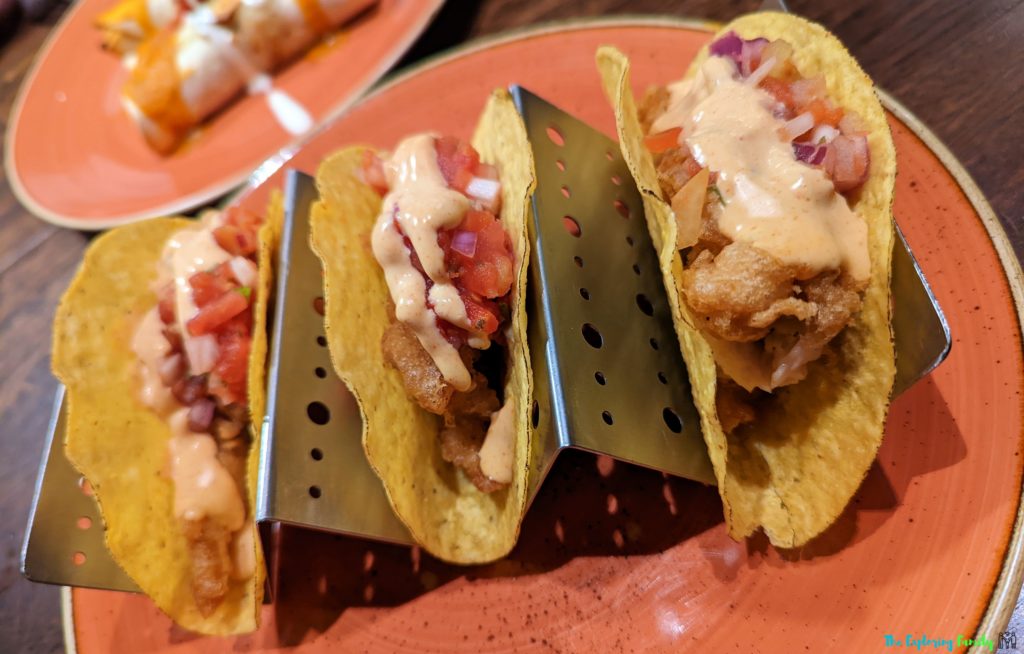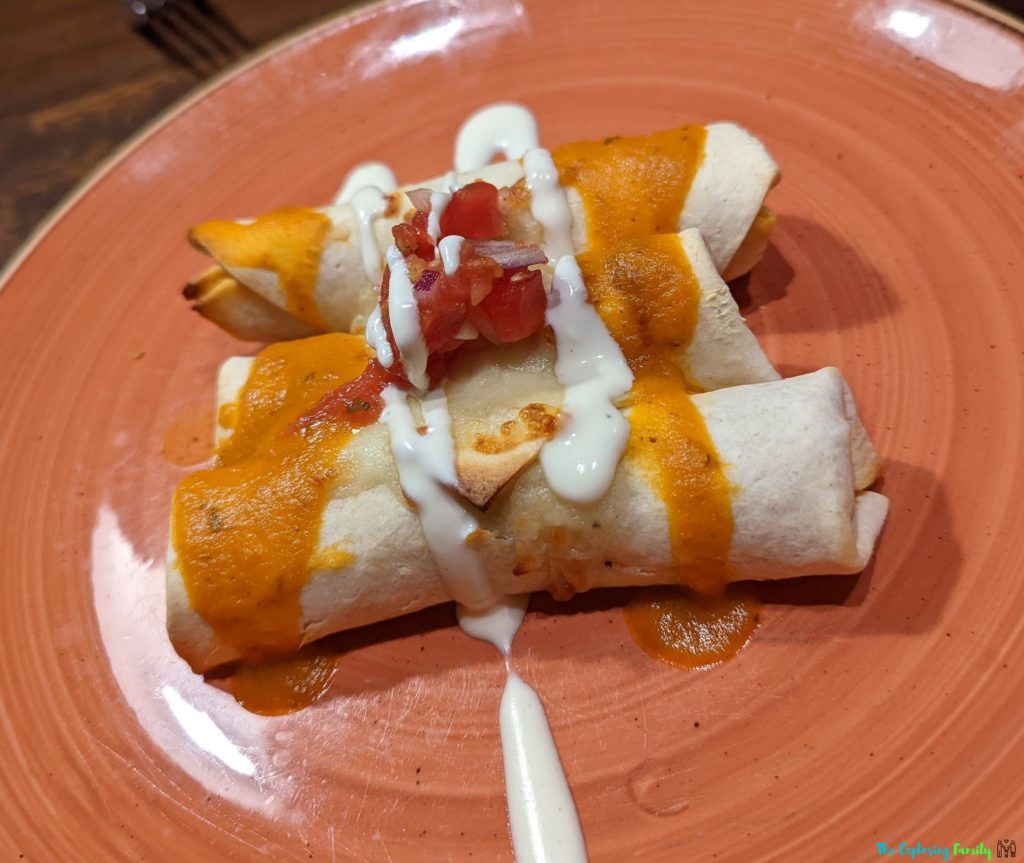 Every meal at Armadillo starts with Nacho chips for you to enjoy while waiting for your meal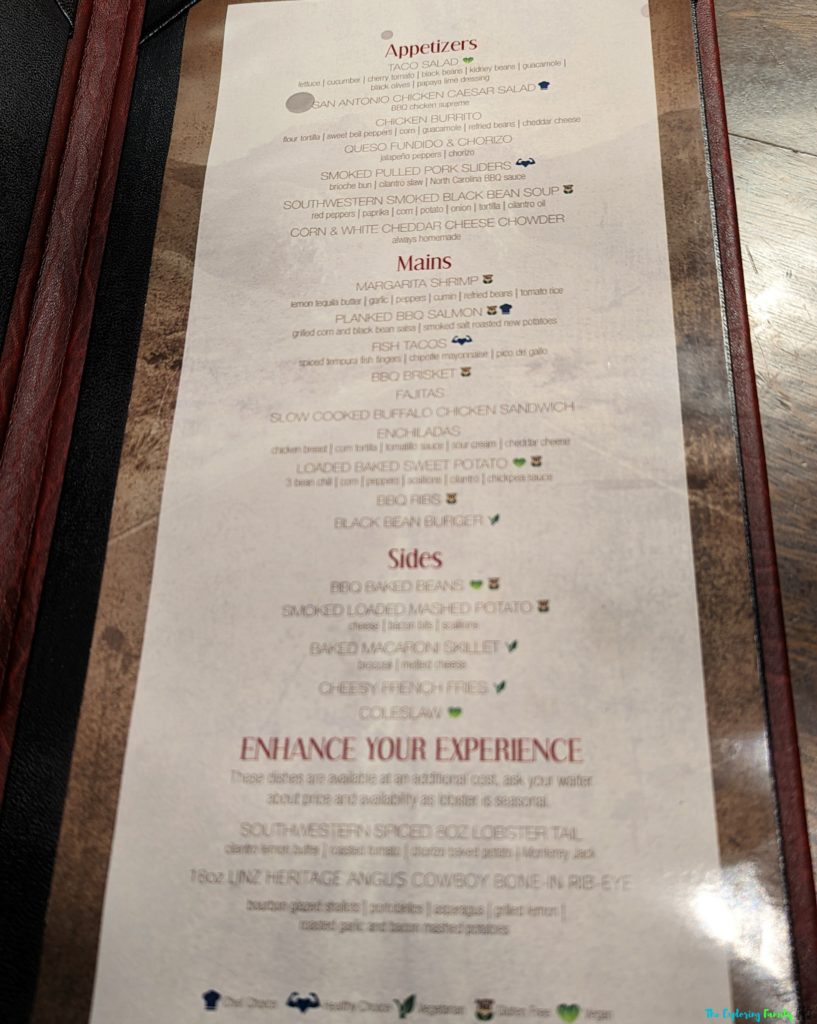 Calypso – West Indies Cuisine
Open for dinner – Dress code Evening Casual – Calypso offers an open and bright atmosphere for you to enjoy many tasty West Indies dishes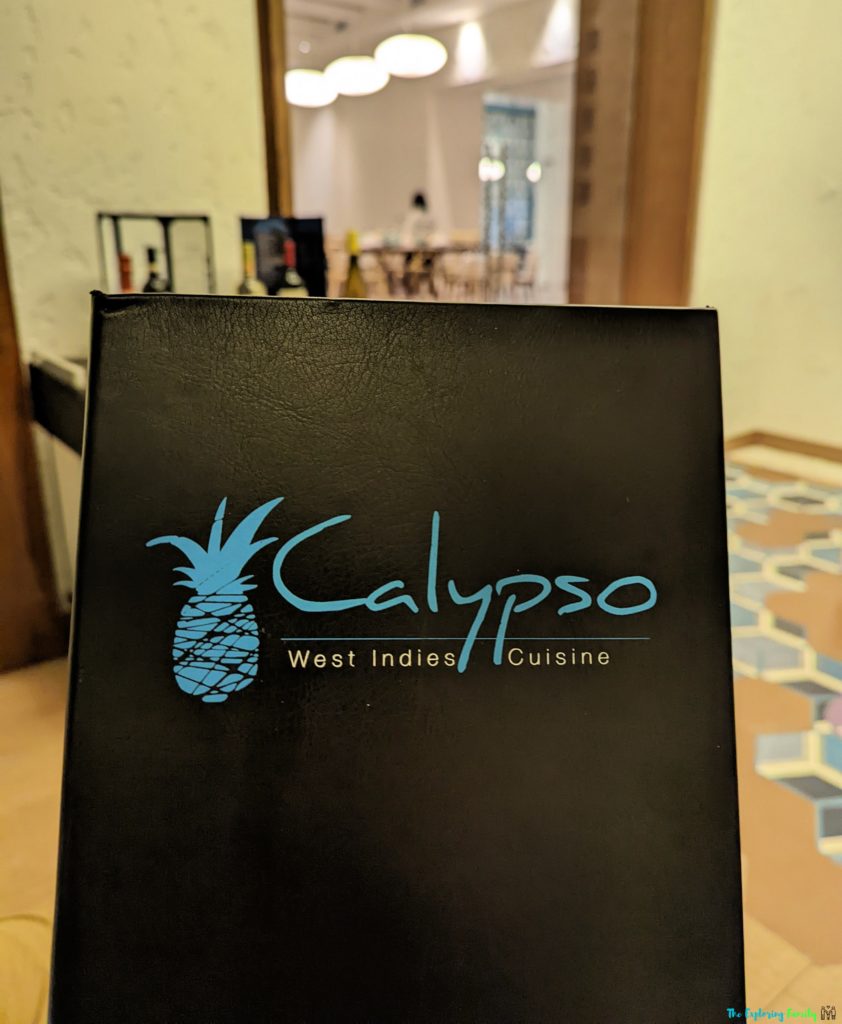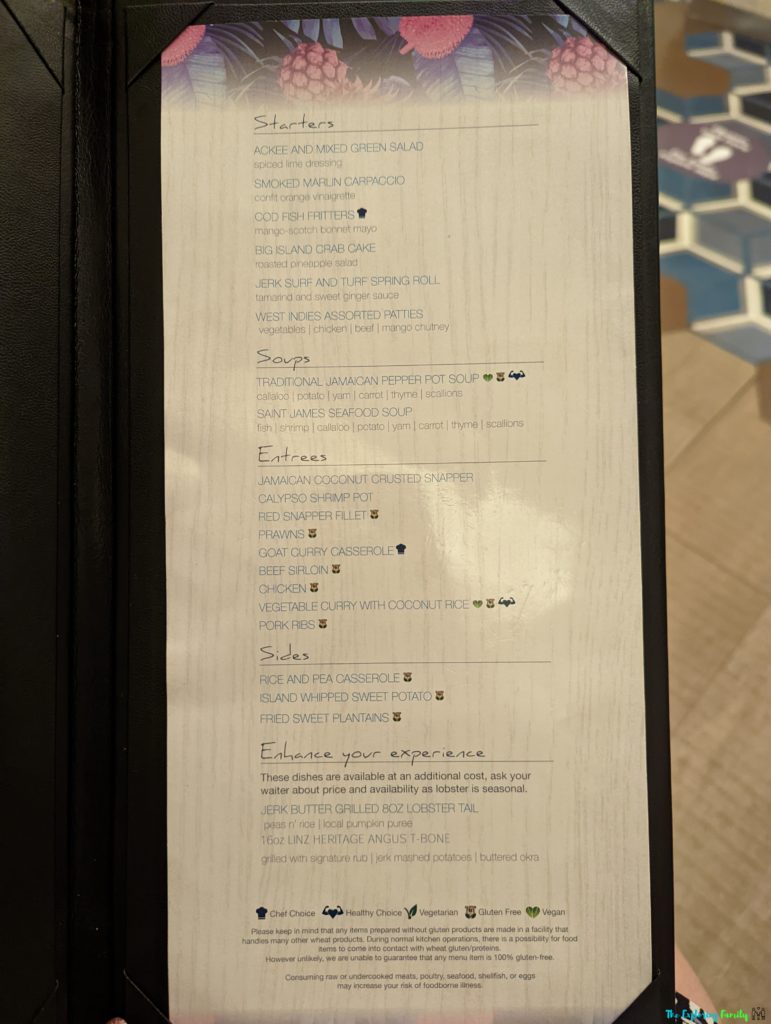 SCORE Sports Bar – Pub & Grill
Open for dinner – want to take in a sports game while enjoying some eats then you will want to head to SCORE on the upper level of the main building. With multiple TVs you can take in many different sports games, and you can ask the staff to look for other options if the game you want is not on.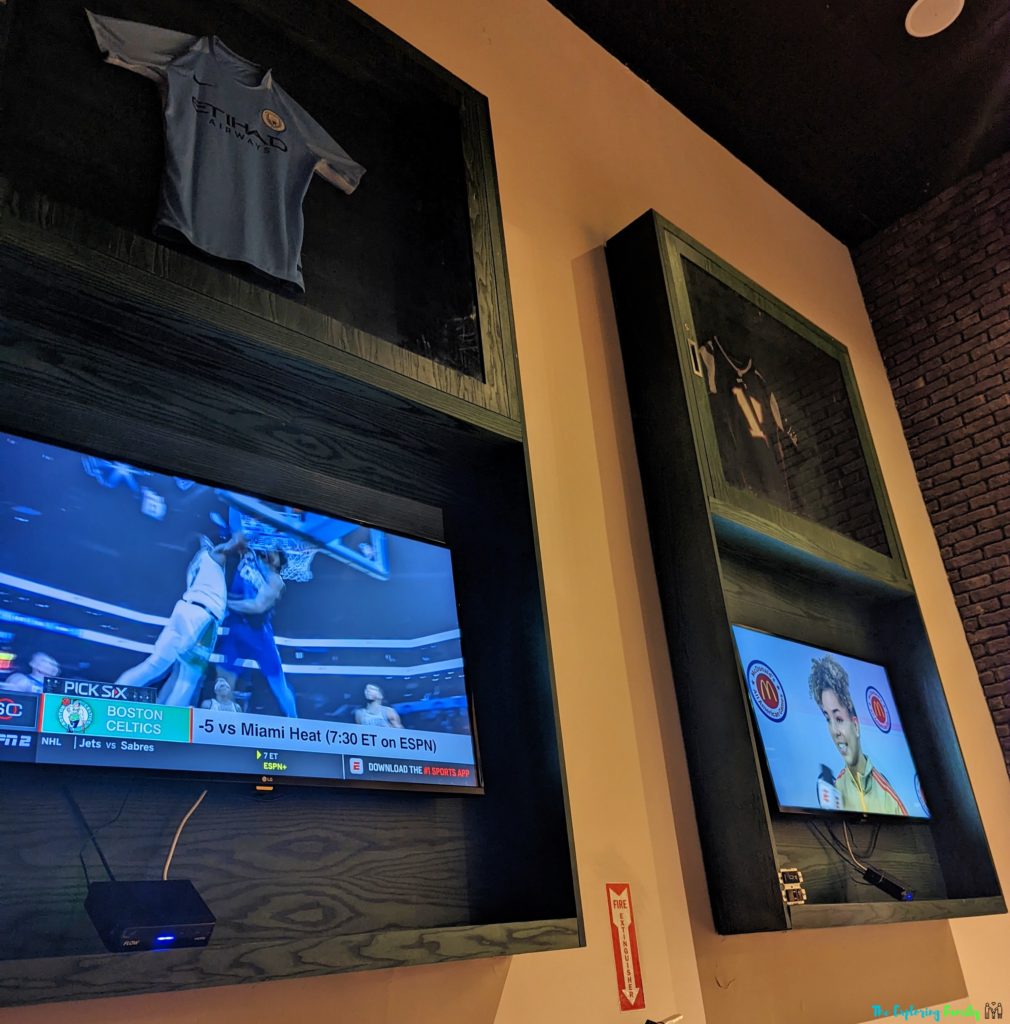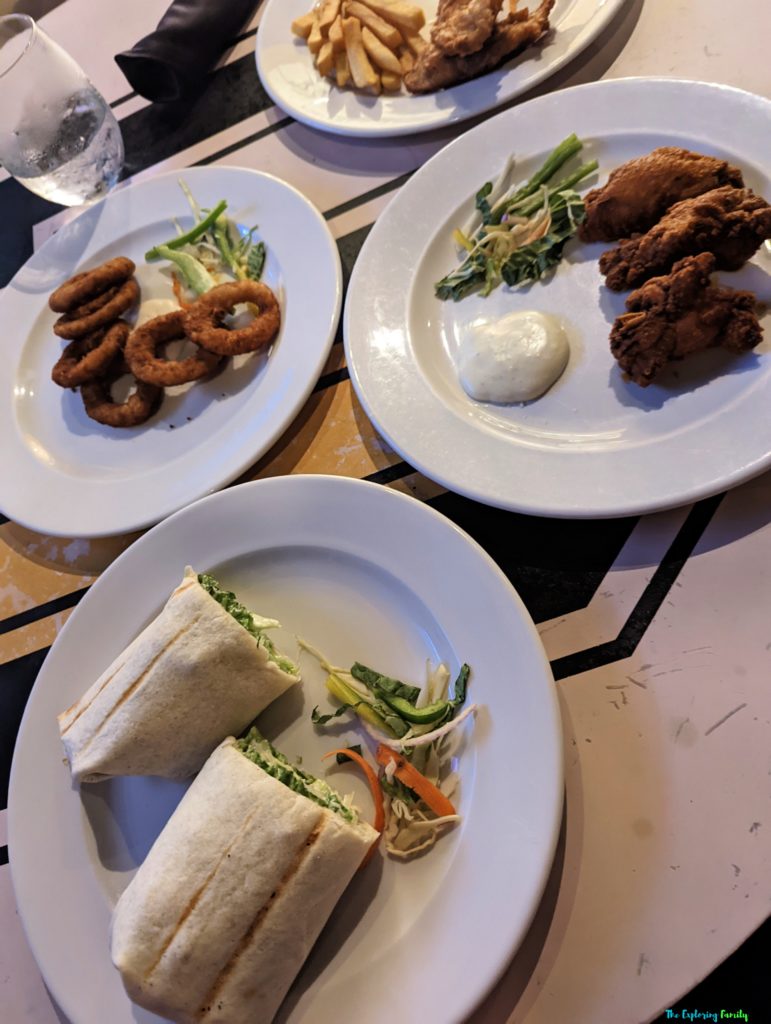 The wings were awesome, and the onion rings were crispy. If you enjoy pub food then this is a meal you don't want to miss. It would also make a great after dinner snack.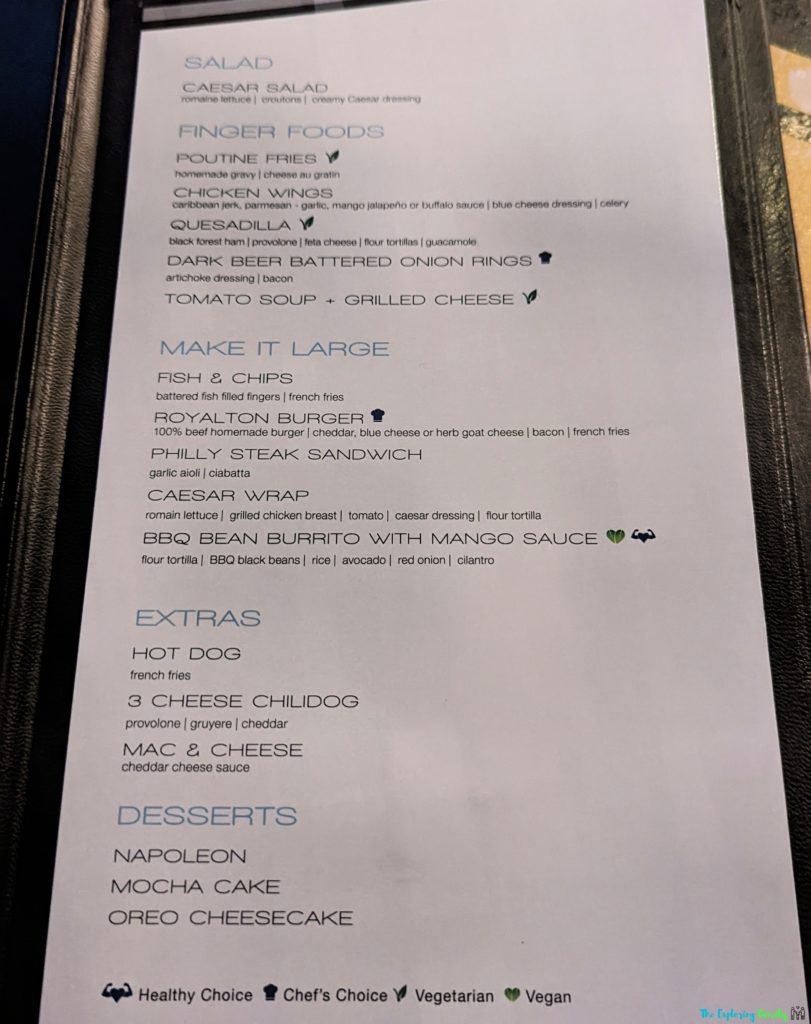 Zen – Japanese Cuisine
Open for dinner – Dress code Evening Casual – If you are interested in the teppanyaki live cooking experience then you need to reserve your spot. They book 2 days in advance and you can book at the front desk of Zen during dinner hours or at the desk that is in the hallway in front of the buffet. They have 2 seatings a night for teppanyaki.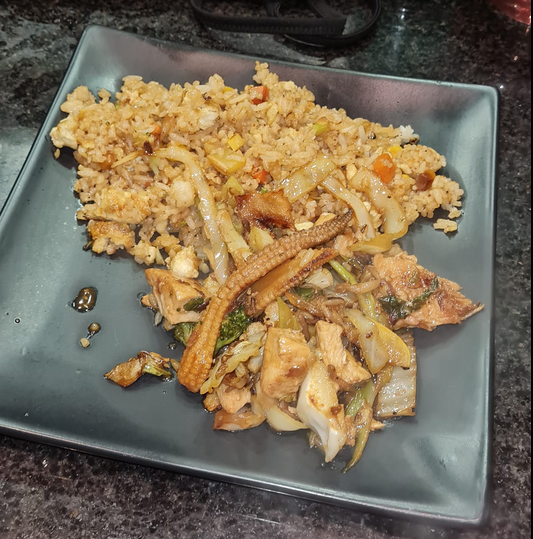 Zen also offers a la carte options and sushi if you just want to enjoy some Japanese without having the live cooking experience.
Dorado Seafood & Grill – Hideaway
Open Breakfast, Lunch and Dinner for Hideaway (adults only) guests only – Dress code dinner: Evening Casual – If you are a Hideaway guest and want a meal with a view then Dorado is where you want to be. You can find the breakfast menu below, to see what the a la carte options are.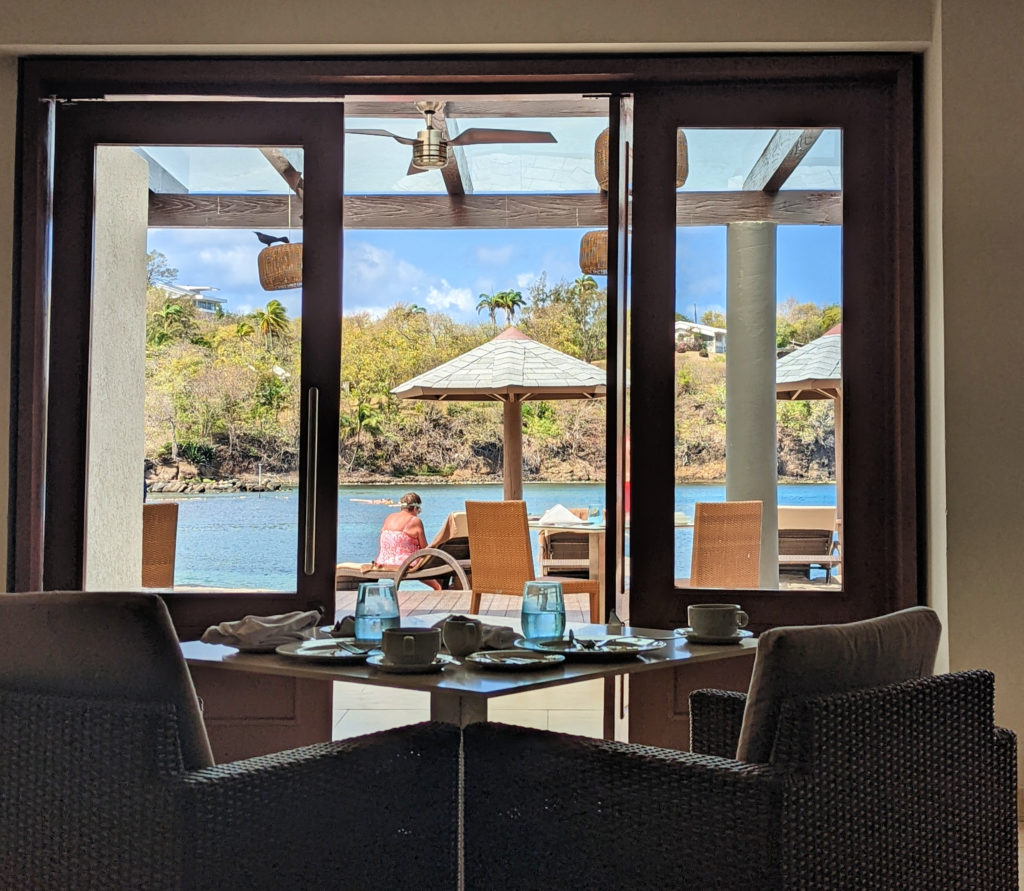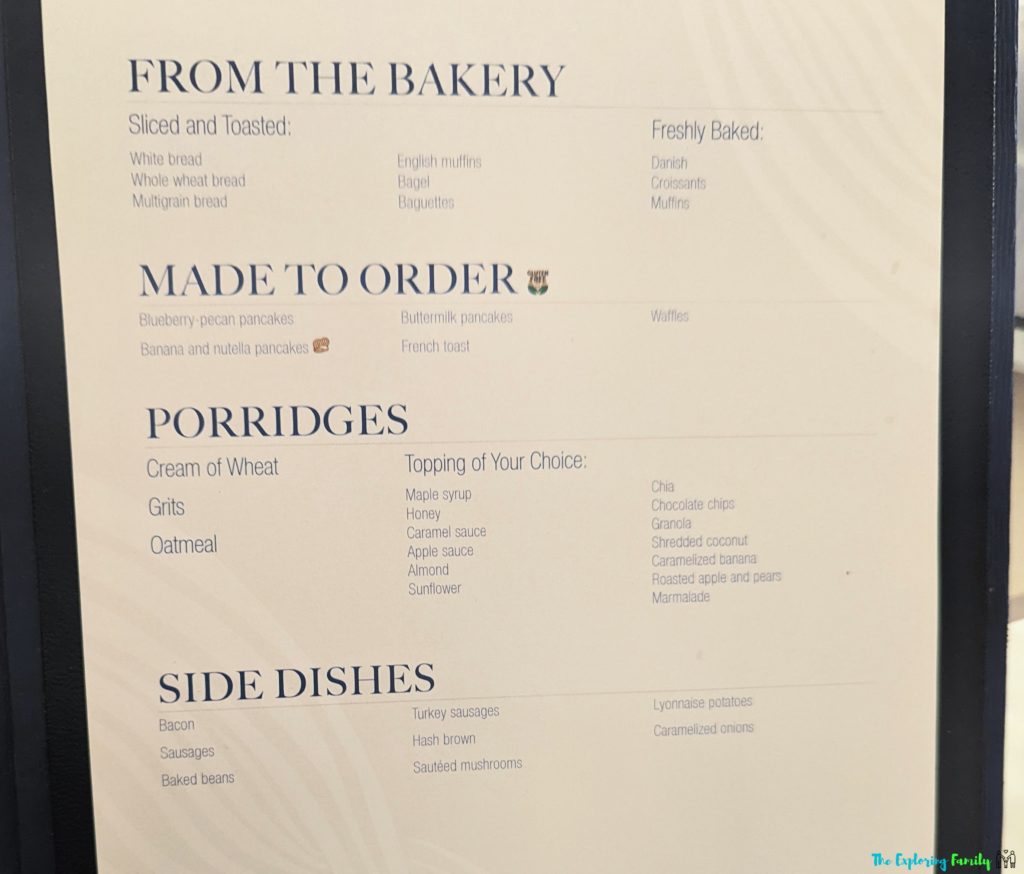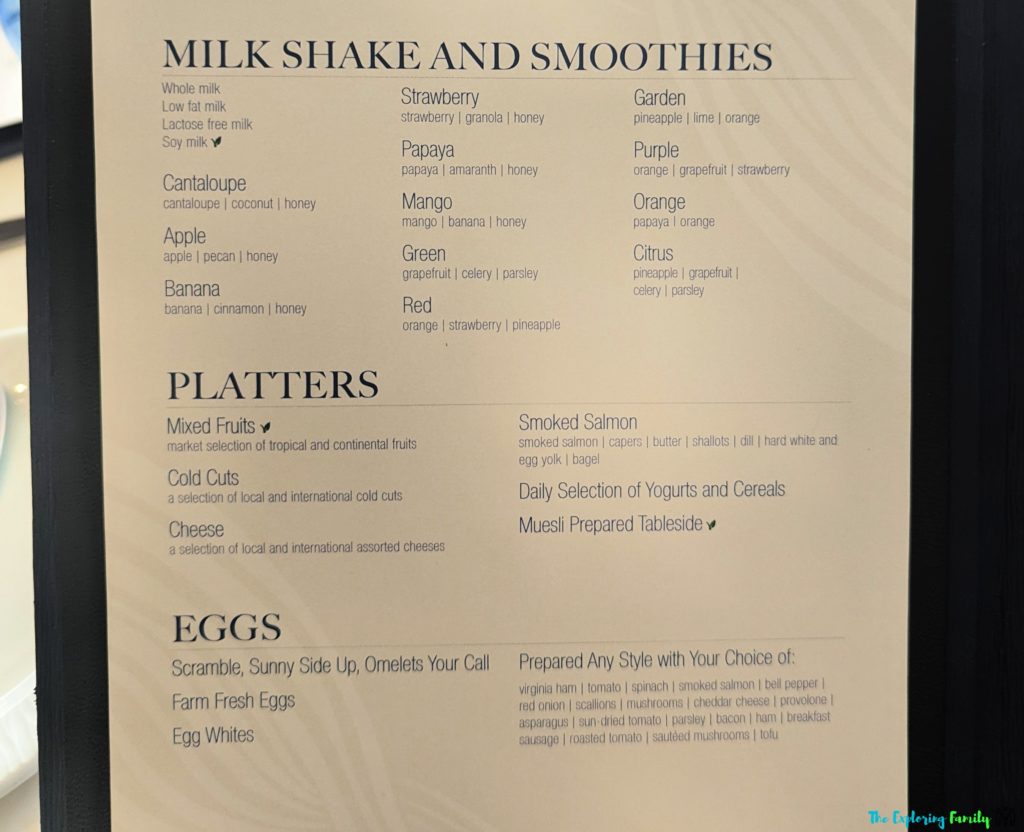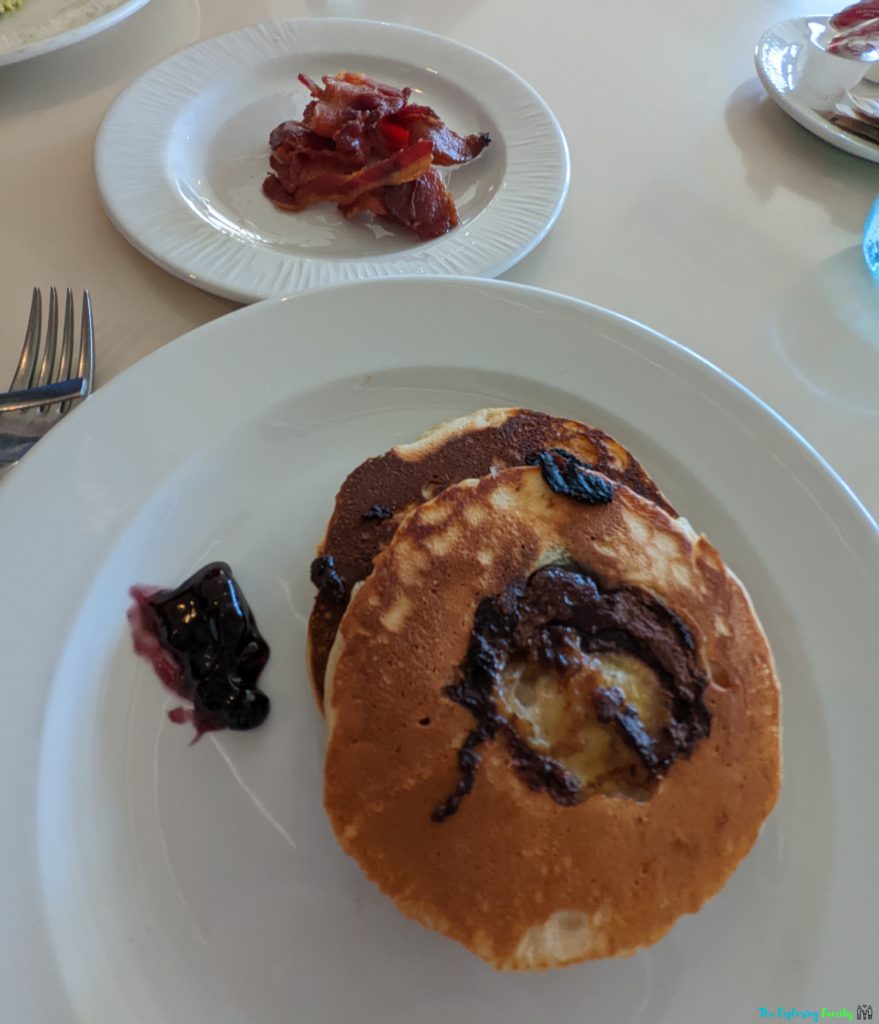 For dinner Dorado offers the largest selection of off the grill menu items including rib eye steak, fish, lamb, Cornish hen and more.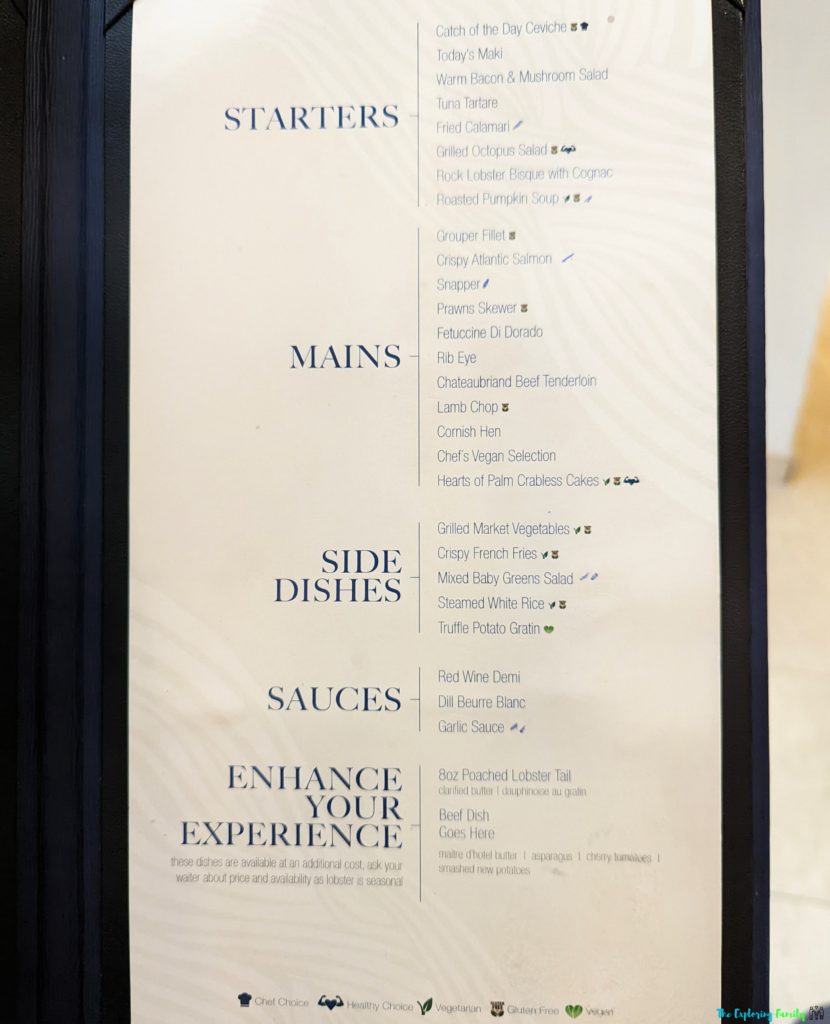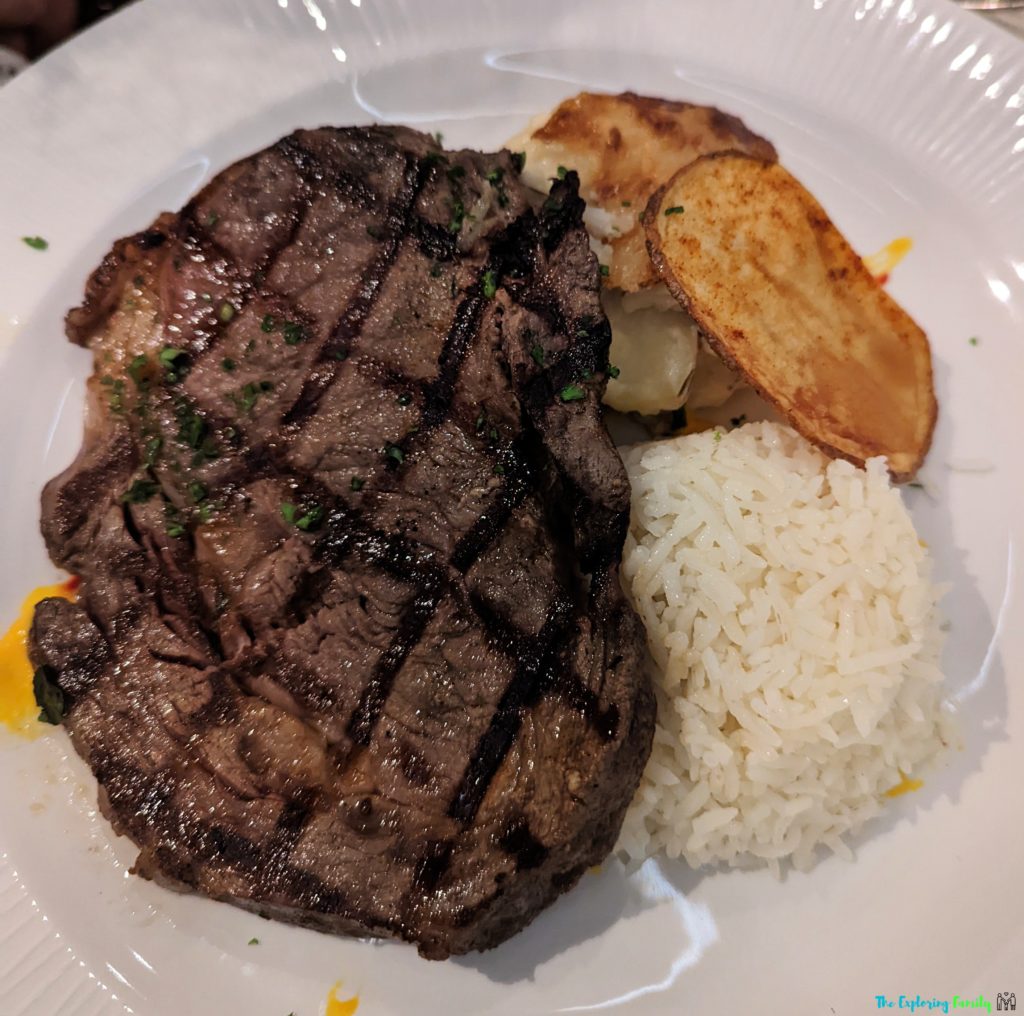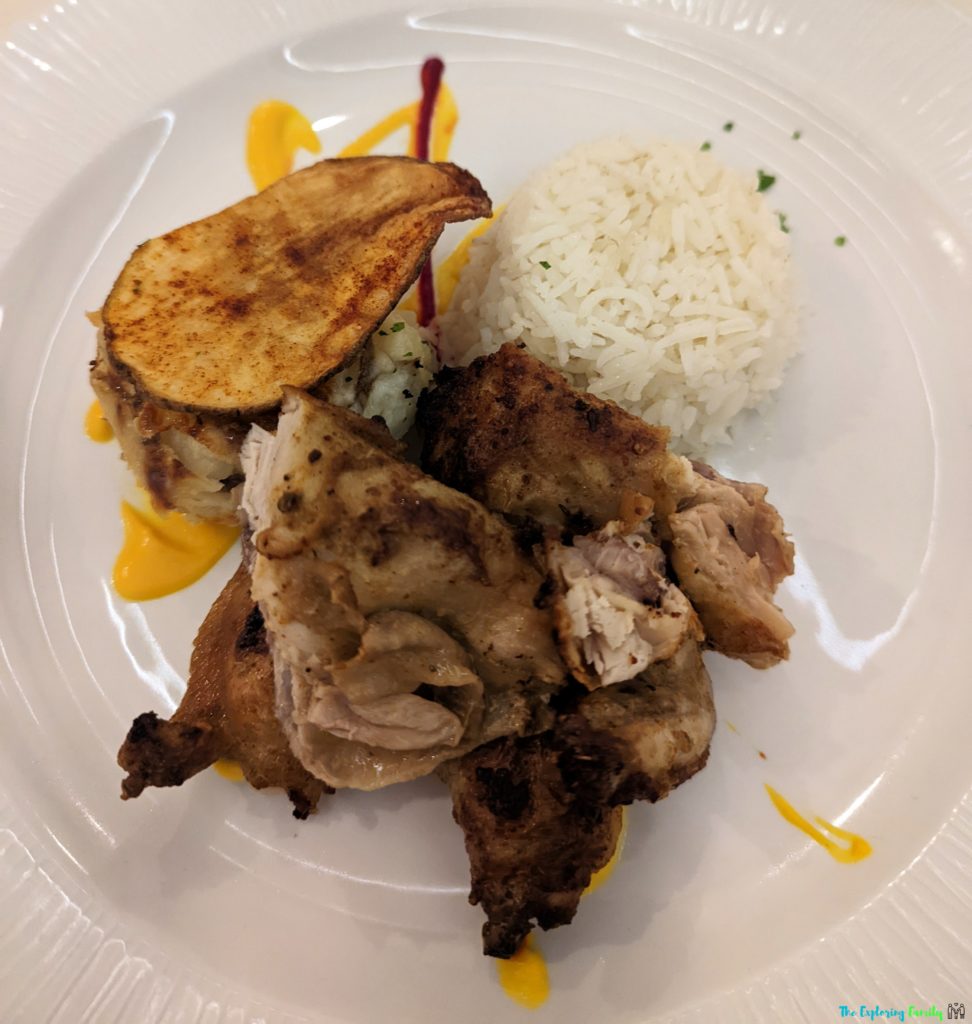 Caffe Lounge & Scoops Gelato
Open all day – Located on the upper level of the main building on the side closest to building 5. I stopped at the Caffe Lounge and Scoops Gelato at least once a day. Not only can you get your favourite coffee or expresso based beverage but they also have a selection of sweet treats, cakes and pastries.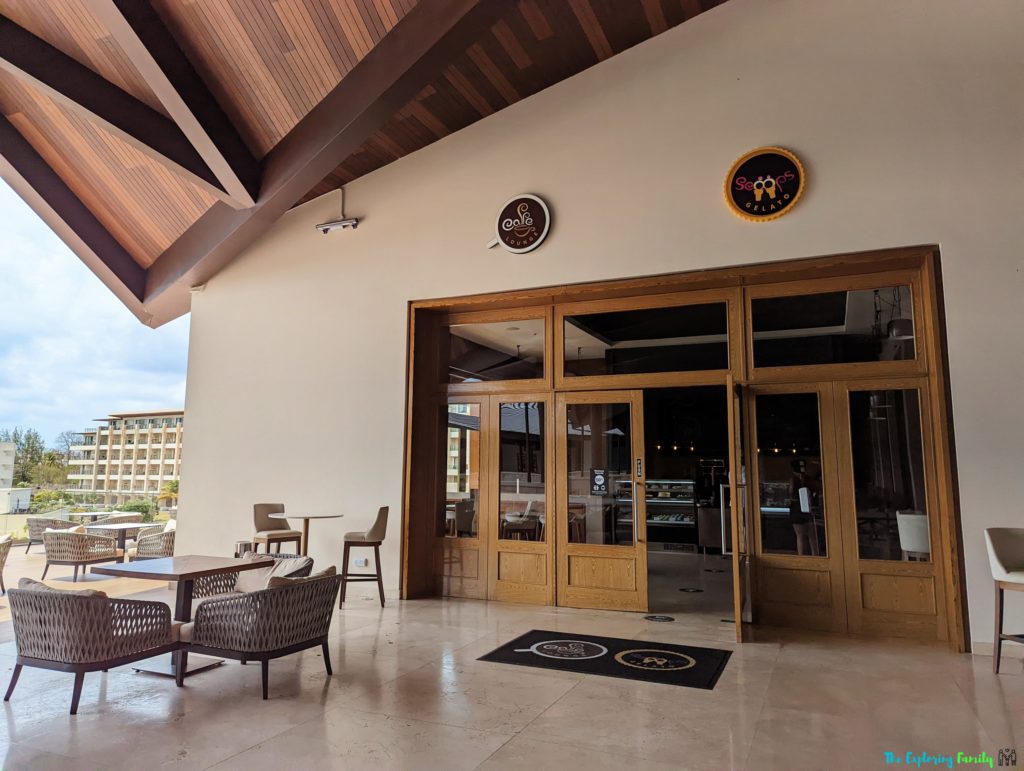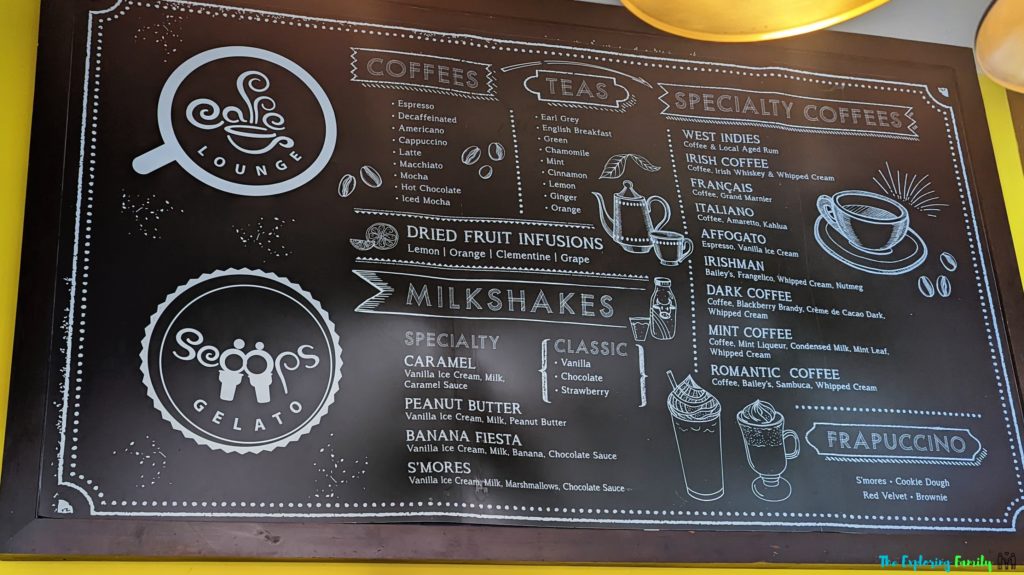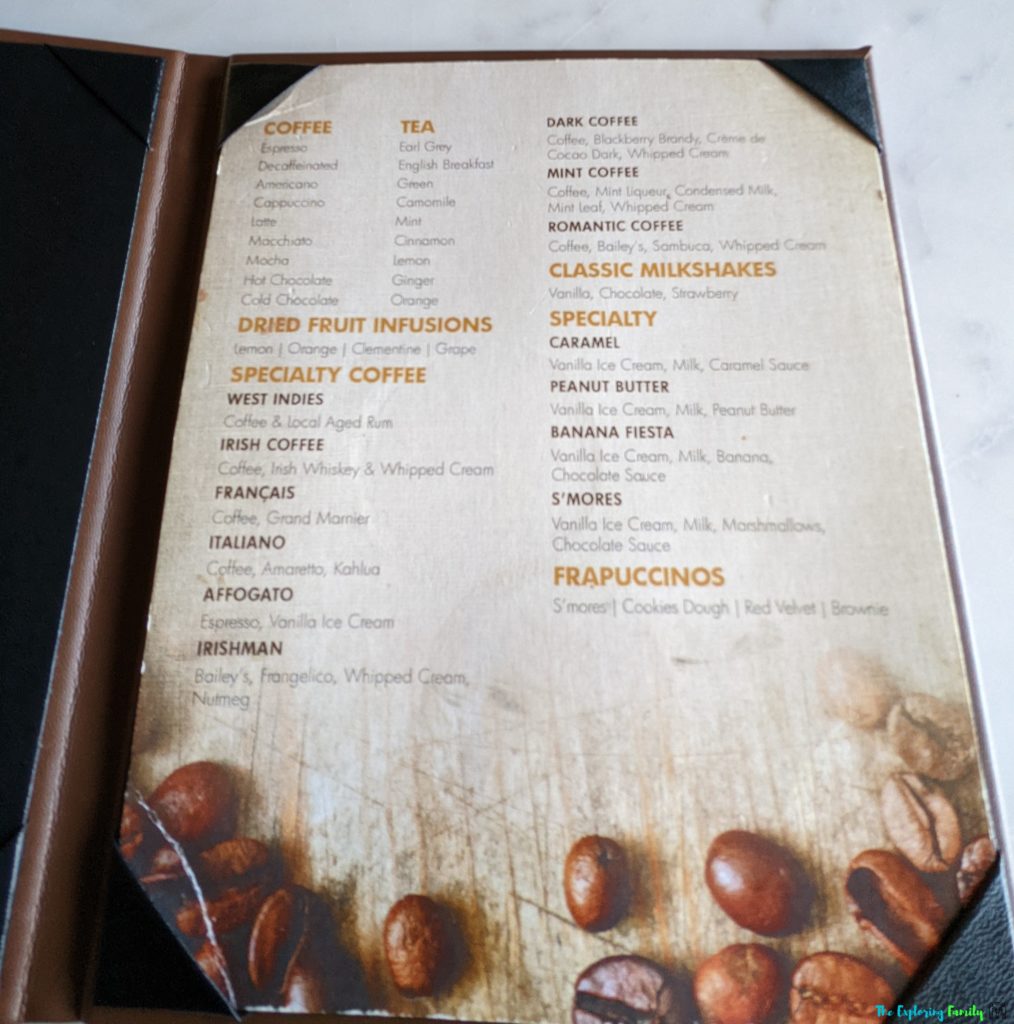 My go-to order was the iced caramel macchiato, and there is lots of seating on the second level on the main building for you to enjoy your treats. The milkshakes were also a delicious treat.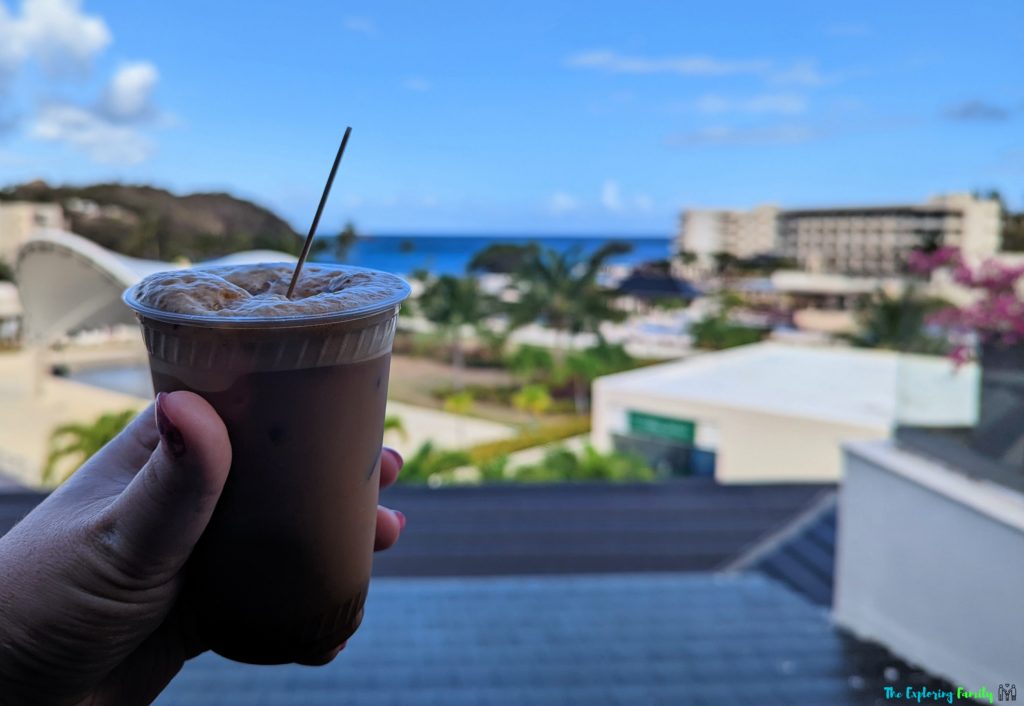 Royalton Food Truck
Open for lunch – Located near the children's playground and splash pad area. Offering different specials daily the food truck is a great option if you are spending the day at the pool or beach and don't want to go into a restaurant for a meal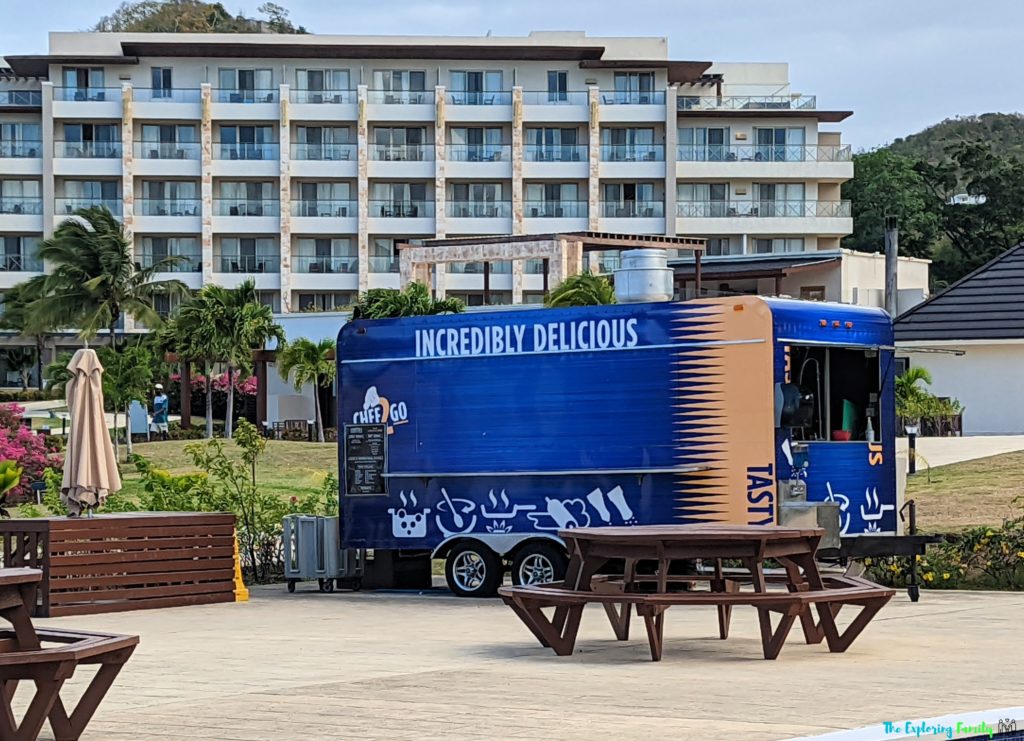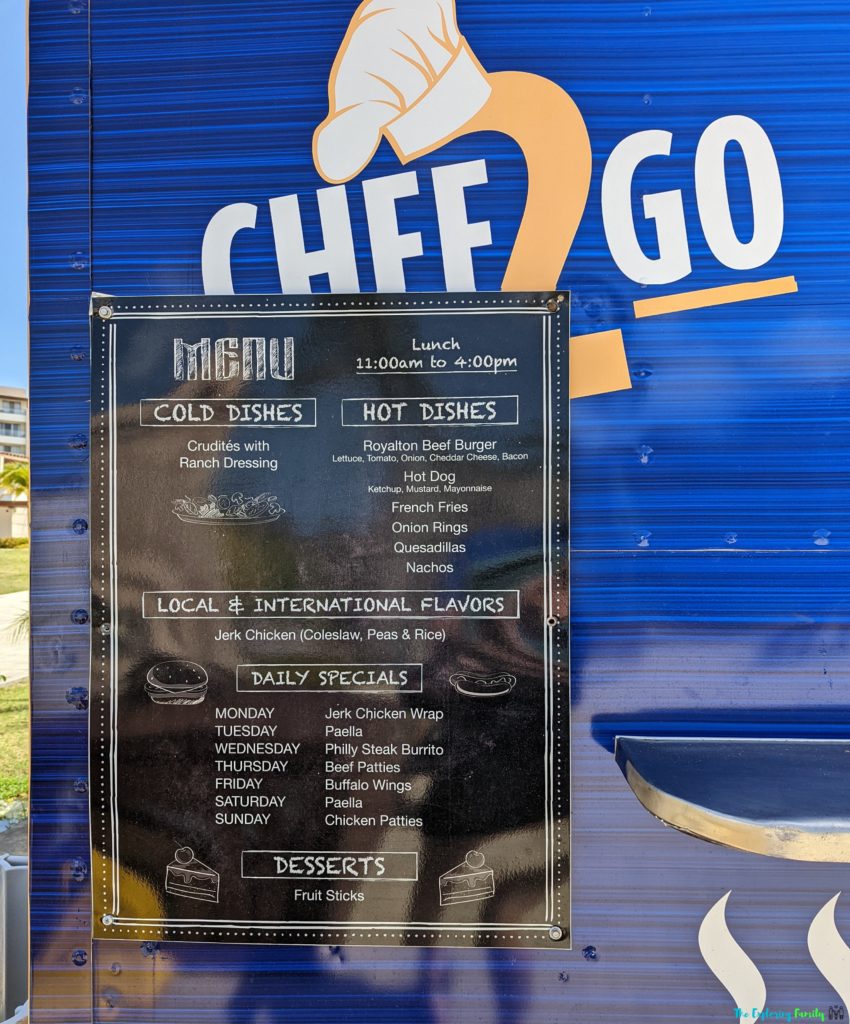 Bars and Beverages
There are a variety of bars located around the resort that offer an extensive drink list with alcoholic and non-alcoholic options. Blended drinks like daiquiri's and pina colada's were made fresh with every order in a blender.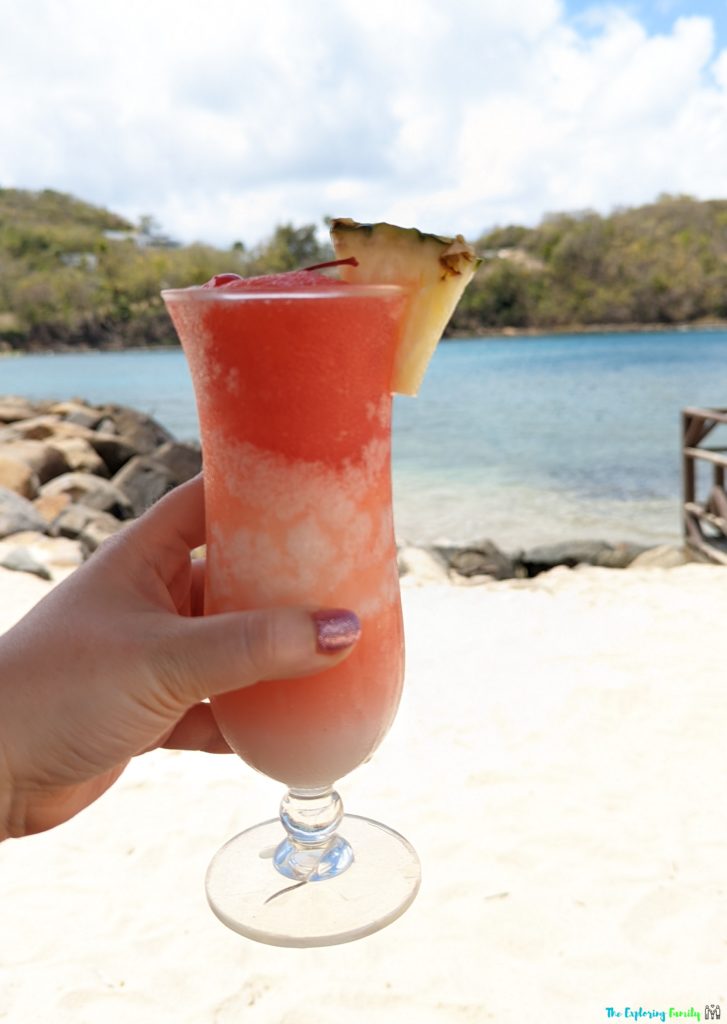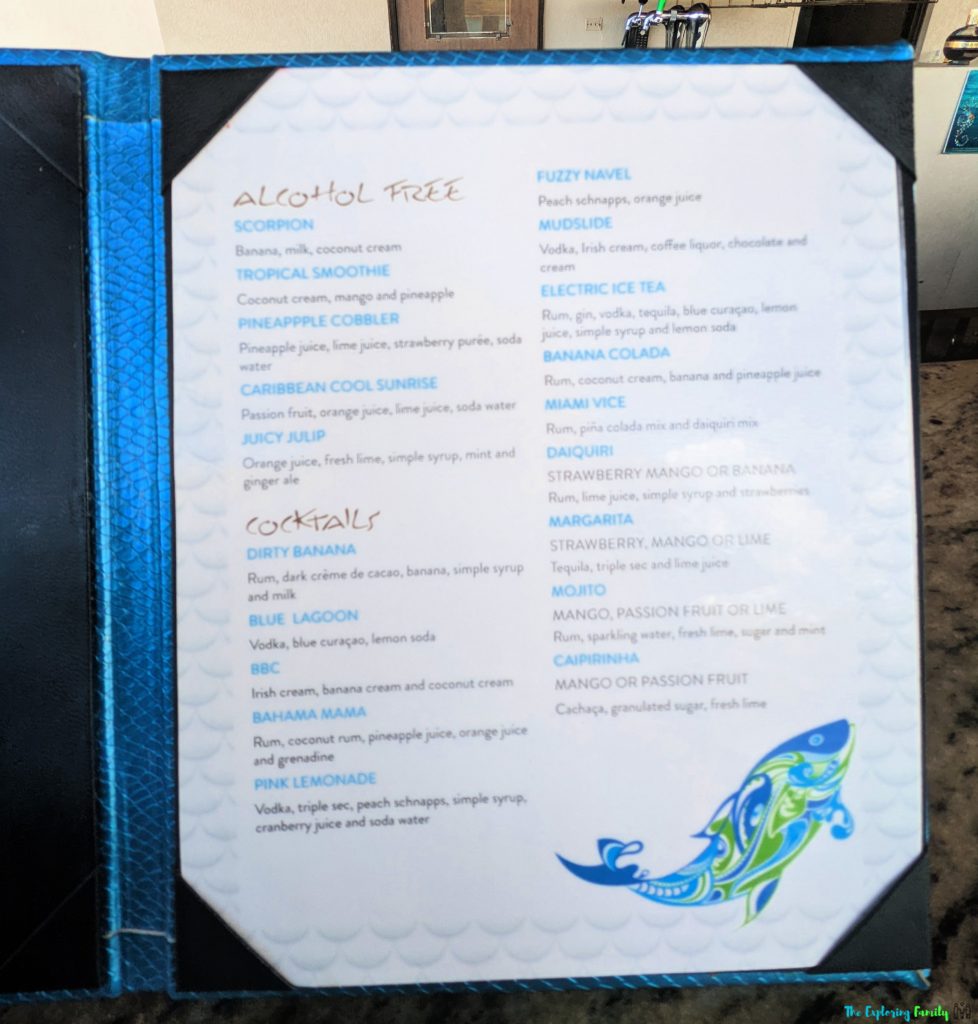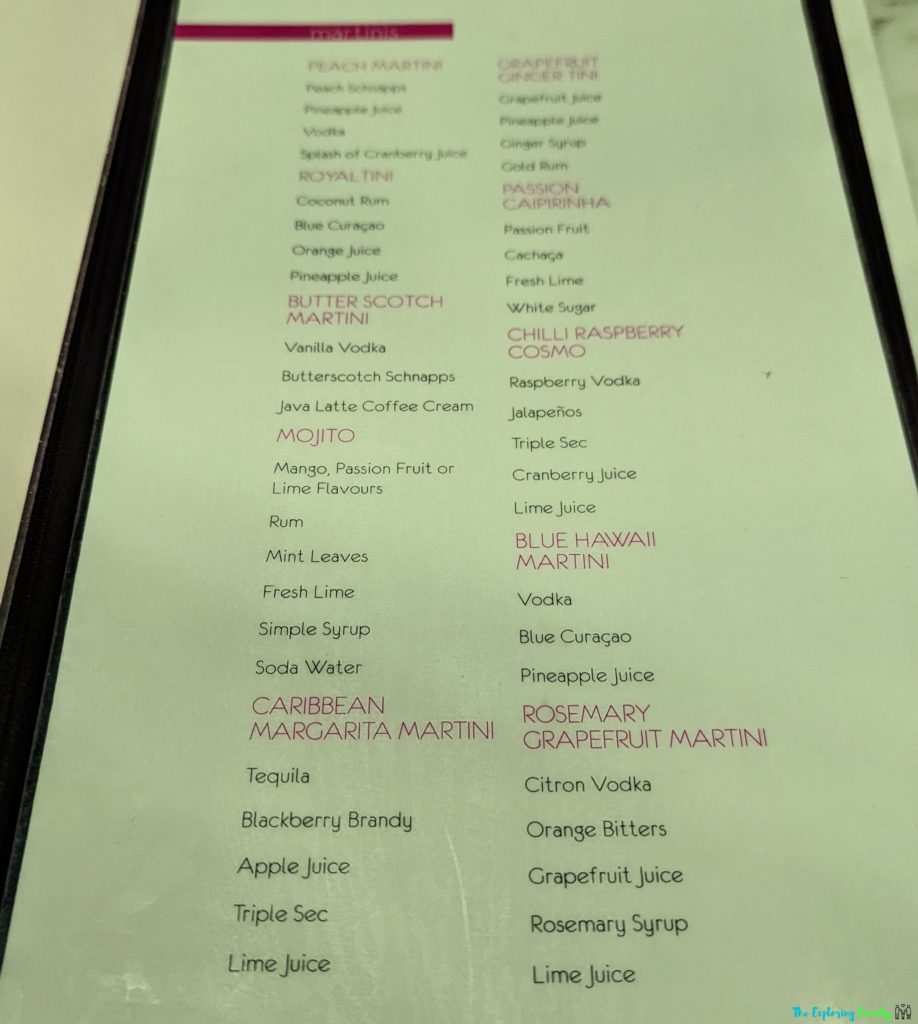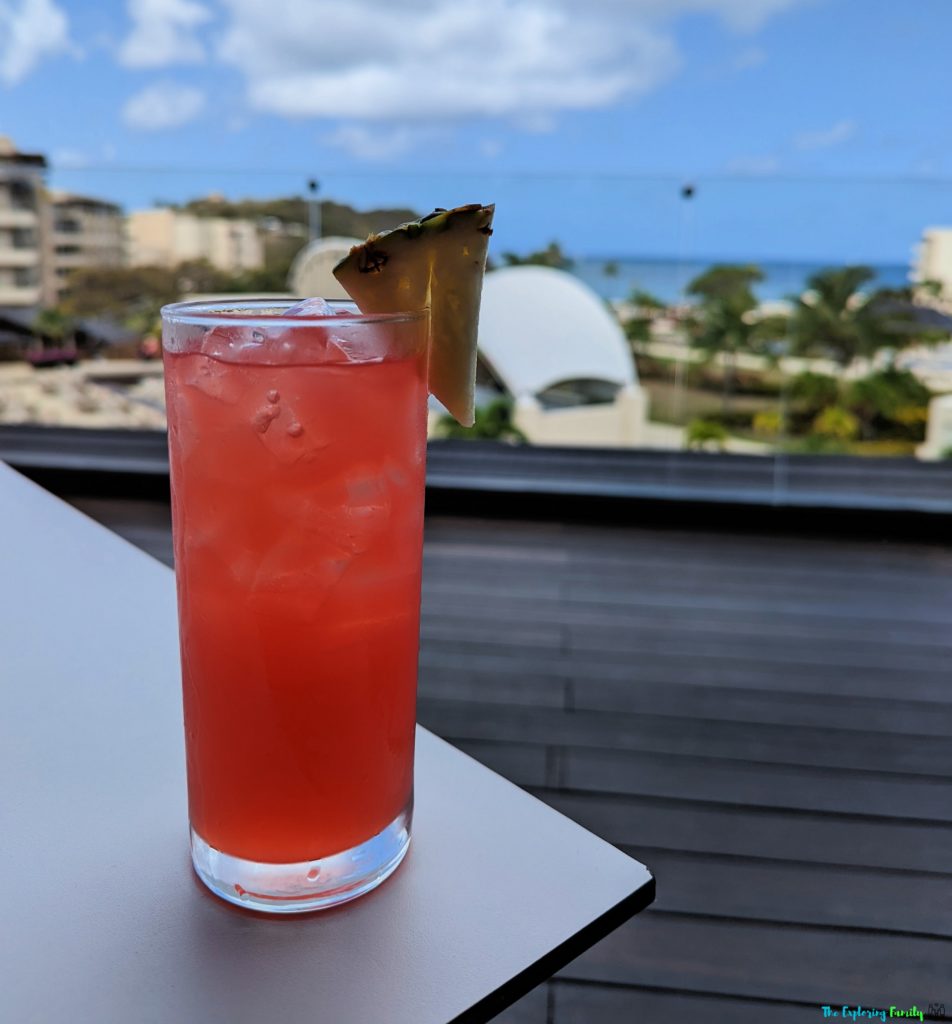 Royalton Saint Lucia Restaurants Room Service
Room service is available to order on demand or to pre-order to arrive at a certain time. You order via your in-room TV which will show you the selection of sides, mains, desserts and more.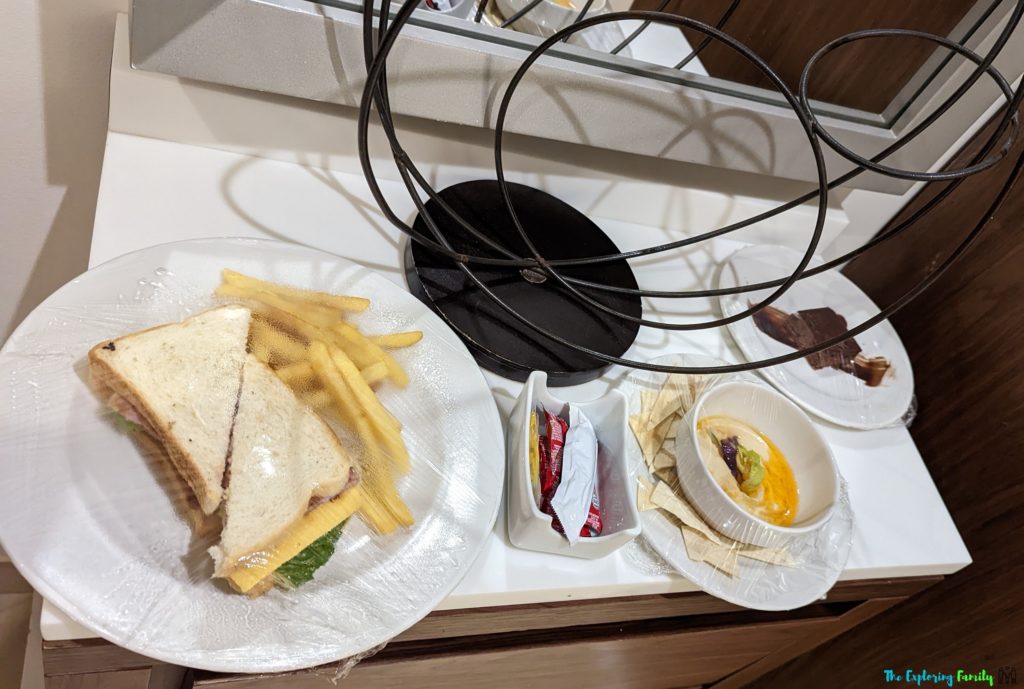 Room Service Orders are delivered to your room by Royalton Resort staff – we enjoyed hummus with chips, BTL sandwich with fries and chocolate brownie one evening
Royalton Saint Lucia Tips and Suggestions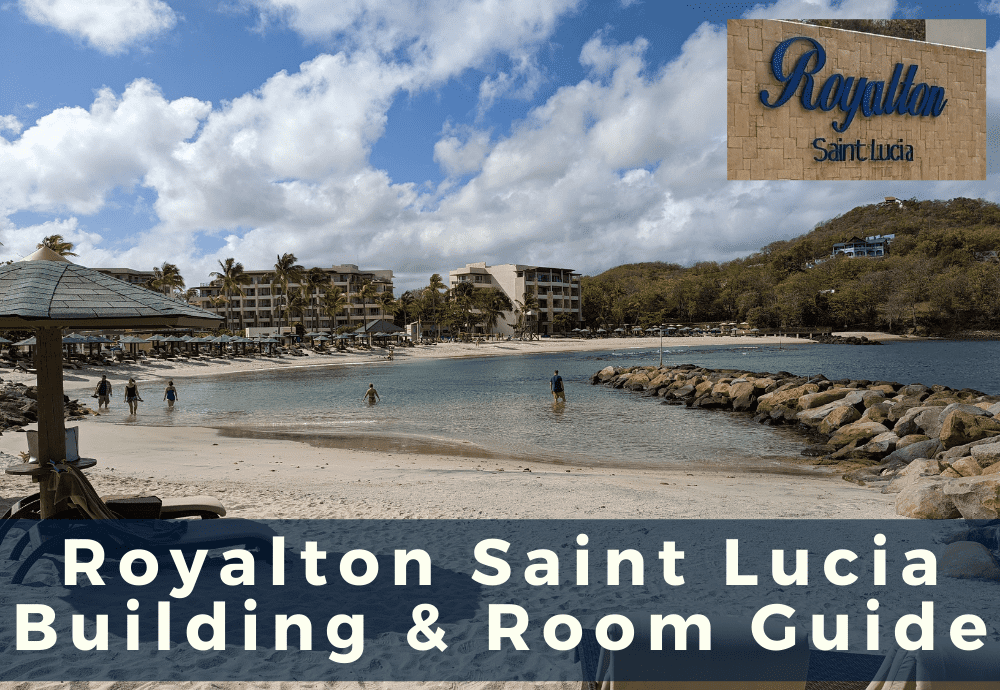 Looking for building guide, room views or locations of anything at the resort then check out the Royalton Saint Lucia Building and Room Guide.