Summer vacation is over you are back in your regular routine and Christmas craziness has not kicked in yet.  Yet you know it is coming, just like I do, the gatherings, parties, shopping, oh yes all of the shopping that needs to be done…  Seriously a couple of nights away with the kids to just relax and enjoy each other company sounds like heaven before the hustle and bustle of the holiday season kicks in.  If you are looking for a family friendly hotel in Niagara Falls there is no better place to stay then the Courtyard by Marriott.  Several weeks ago I had the opportunity to stay at the hotel with my family, and was I ever impressed!
Courtyard by Marriott Niagara Falls Review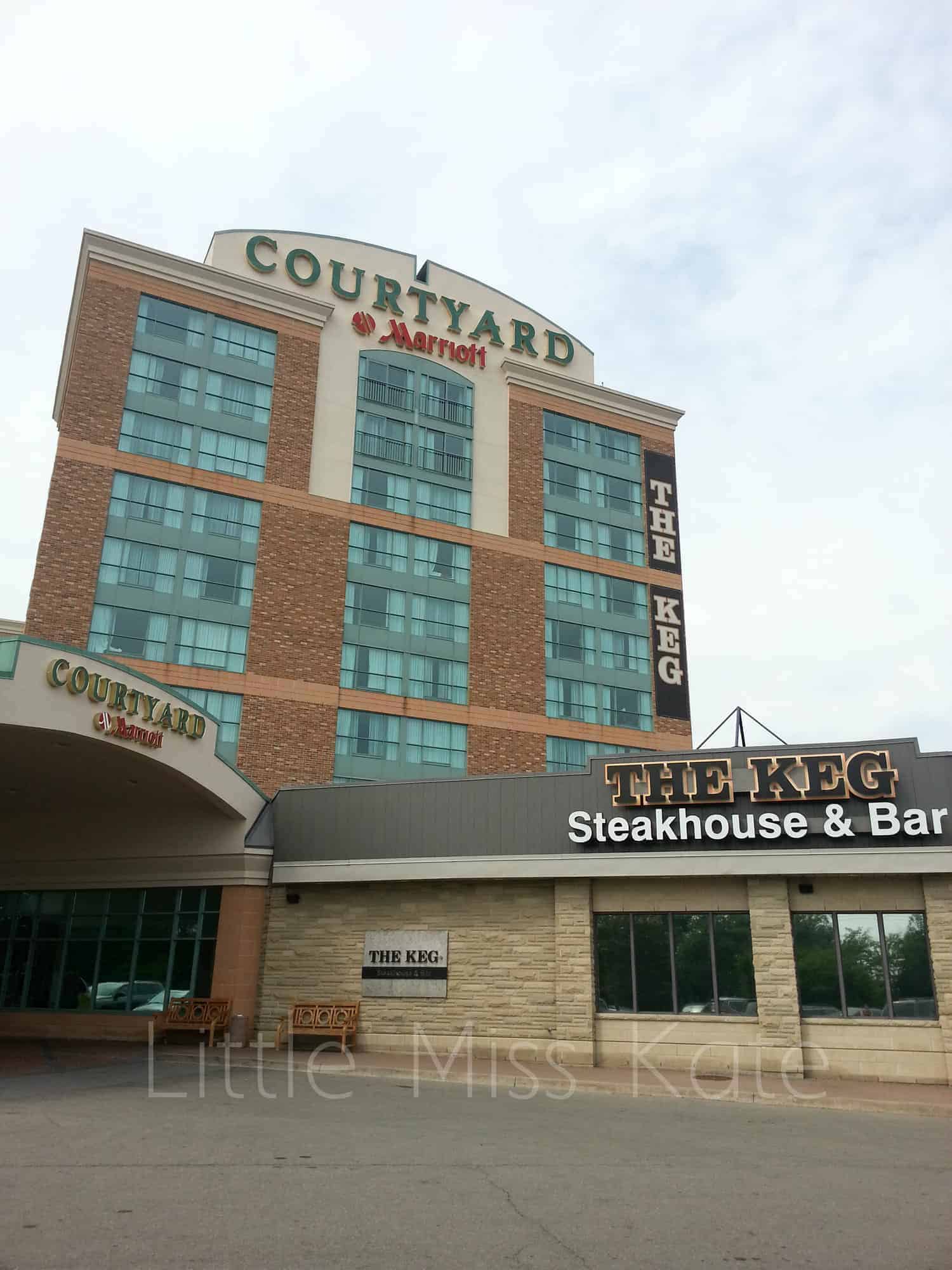 First let me say they have rooms for every size of group – I traveled with 2 adults, 2 teens and 2 children and we had TONS of space in "Family Guest Room".  The 2 room suite had 2 queen beds, a pull out sofa and lots of space on the floor for Monkey and Little Bear to play with their toys.  Plus there was also a mini fridge and a microwave so that I didn't even have to leave the room to heat up Little Bears food. 
Courtyard by Marriott Niagara Falls Rooms
For dinner with headed right downstairs to The Keg – that is right the Niagara Falls Courtyard by Marriott has a Keg right in the hotel.  We popped down for an early dinner and they were more than welcoming to our group, kids and all.  We had a delicious dinner that all of us really enjoyed, including BOTH the boys.  Little Bear couldn't keep his hands off the garlic bread, but who could blame him it is my favorite too.
Courtyard by Marriott Niagara Falls Restaurant
After a day full of fun Niagara Falls Adventures it was time for bed!  I was easily able to set up the playpen and portable toddler bed to one side of the room and we still had lots of space to sit, walk and use the desk.  I had a wonderful sleep and woke up feeling rested and ready to start day 2 of our fun Niagara Falls activities.  But now before I had a hot shower and grabbed a cup of coffee. We all know that breakfast is the most important meal of the day.  Well at the Niagara Falls Courtyard by Marriott they take it to a whole new level… heavenly!  An omelet station, breakfast sausages and my personal favorite the fresh waffles with whipped cream and preserves… oh it makes me hungry just thinking about it!
The Courtyard my Marriott is located just a 2 minute walk from Clifton Hill, close enough to the action that you can enjoy all of the attractions, but far enough away that you will have a peaceful nights rest without having to worry about the lights, noise or music.  Want to get a full tour of our room at the Niagara Falls Courtyard by Marriott check out this short video:
Now is the time to check out the packages available for vacations in Niagara Falls at the Courtyard by Marriott, starting at $115 per night including breakfast and dinner vouchers you can have a relaxing family vacation without breaking the bank!  Find out about upcoming events and promotions by connecting with the Courtyard Marriott on Facebook and Twitter.  I truly enjoyed our stay at the Niagara Falls Courtyard by Marriott, and can't wait to go back.  Maybe next time I go back I will take Hubs and leave the kids at home!
Disclosure:  I was provided with complimentary accommodation.  All opinions are strictly my own.