If you are looking for Things to do in Guelph with kids, you will indeed find some great ideas. This quaint rural city has a fantastic lineup of activities to entertain kids and adults for hours and is a short drive from Halton or Peel Region.
Guelph has you covered whether you're seeking indoor adventures, outdoor exploration, or good old-fashioned playtime.
From interactive museums and exciting parks to unique attractions and delicious treats, there's something for every little explorer in this vibrant city. Pack your sense of adventure and get ready to explore Guelph with your family.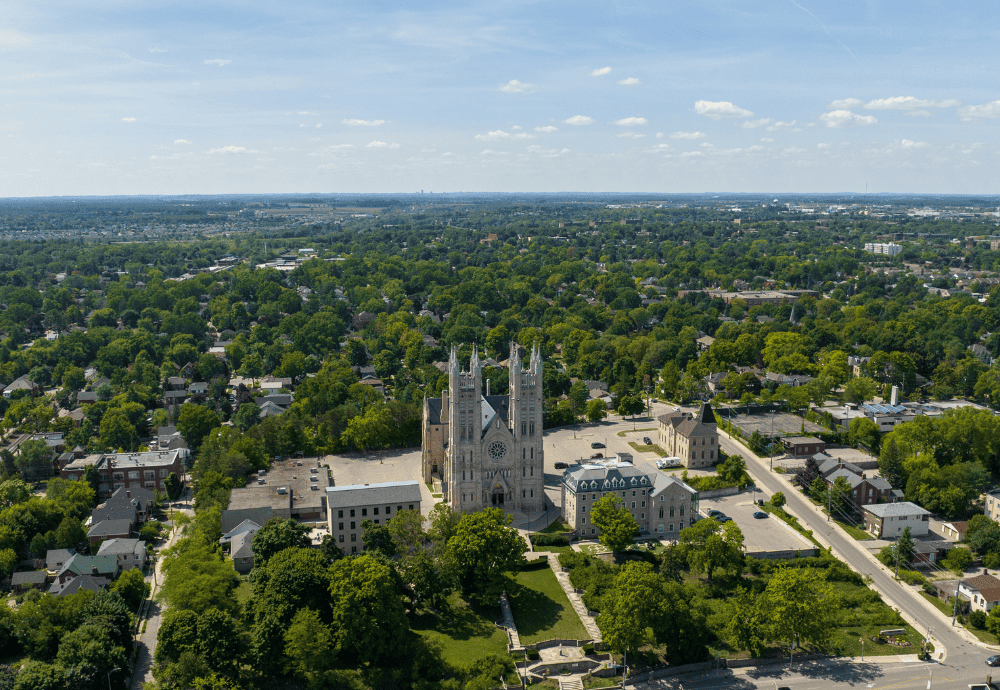 Outdoor Things to Do in Guelph with Kids
Adventure and fun await you and your little ones in Guelph's great outdoors. Boasting a wide variety of outdoor activities, there is something for everyone.
Check out things that will keep your kids entertained, active, and full of smiles. Guelph is absolutely worth a visit.
From sprawling parks and nature reserves to exciting walking trails and playgrounds, Guelph offers endless opportunities for exploration and play in southwestern Ontario.
Riverside Park
709 Woolwich St, Guelph, ON N1H 7G6 – Riverside Park is a beloved destination for locals and visitors alike. This large park, nestled along the banks of the Speed River, offers a stunning natural setting with a wide array of recreational activities and amenities.
Stroll along the riverside trails, enjoy the beautifully landscaped gardens, and more. This park is perfect for picnics or simply enjoying the great outdoors. Check out the playgrounds, and sandy beach where your kids can let off some steam. 
Sports enthusiasts will find several options to enjoy a day of activity here too. With three baseball diamonds available for use, you can engage in your favorite sport.
Riverside Park also hosts various community events throughout the year. From summer concerts to festive holiday celebrations, this hub of social activity for Guelph residents is a must-visit.
Find relaxation, outdoor fun, and community engagement at Riverside Park.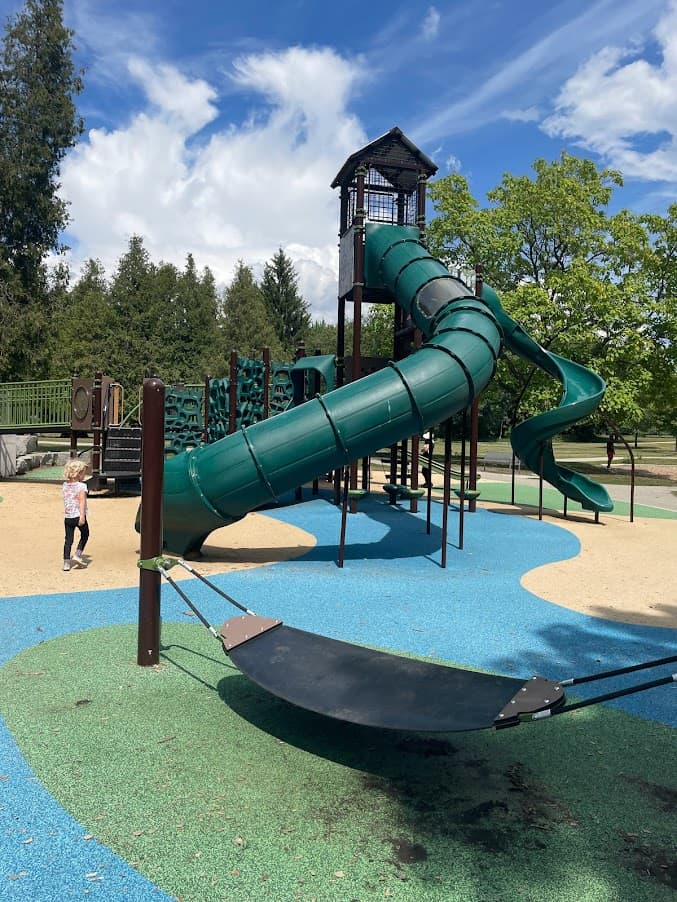 Guelph Lake Conservation Area
7743 Conservation Rd RR4, Guelph, ON N1H 6J1 – Guelph Lake Conservation Area is perfect for nature enthusiasts and outdoor adventurers. This huge conservation park spans over 1,600 acres and is centered around a stunning reservoir that offers a host of recreational opportunities.
Whether you're looking for a peaceful retreat or an action-packed day of fun, Guelph Lake has something for everyone. Immerse yourself in the beauty of nature as you hike or bike along the scenic trails that wind through beautiful forests and meadows.
The lake is a great spot for water activities, such as swimming at the beach area, boating, and fishing. There are also picnic areas and shaded spots that provide the perfect setting for a relaxing meal.
You can even stay overnight as the conservation site offers camping facilities.
With its natural beauty, recreational amenities, and peaceful ambiance, Guelph Lake Conservation Area beckons visitors to unwind, explore, and create cherished memories in the heart of nature.

Exhibition Park
81 London Road West, Guelph, ON – Exhibition Park is known for being one of Guelph's most historic and renowned parks. With a rich history dating back to the late 1800s when it served as a public market, this park was a busy local staple.
Today, the park offers a range of recreational amenities, including public tennis courts, a wading pool, and a playground. It is also home to multiple baseball diamonds and hosts the Guelph Royals baseball team. The team plays their games at the enclosed diamond located at Hastings Stadium on the park's north end. Additionally, visitors can enjoy ice skating at the Exhibition Arena, conveniently situated in the park's northern section.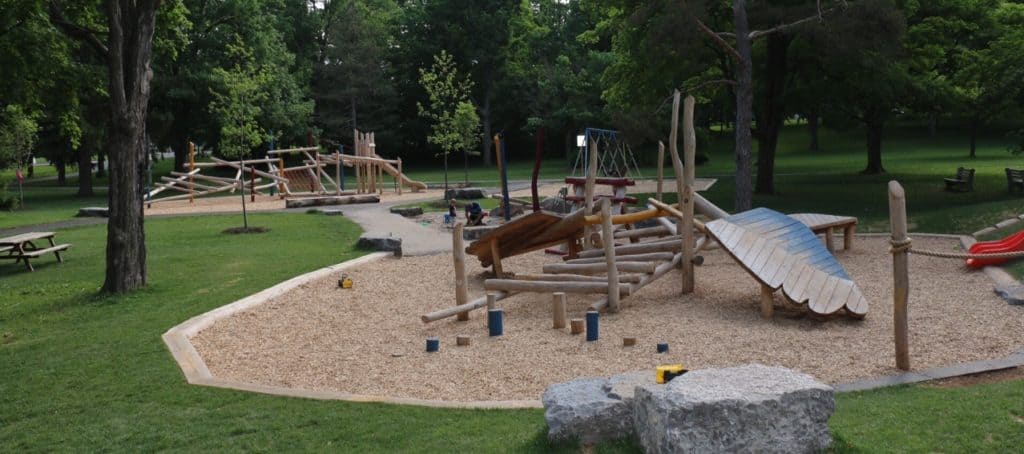 Speed River Paddling
Enjoy a paddle down Speed River in Guelph by renting either a kayak or canoe from Speed River Paddling.
Grab Ice Cream at The Boathouse
116 Gordon St, Guelph, ON N1H 4H6 – The Boathouse in Guelph is a delightful waterfront destination offering picturesque views, delicious ice cream, and more.
The Boathouse's ice cream menu typically features a range of classic and creative flavors to satisfy every palate. From traditional favorites like chocolate and vanilla to unique options like strawberry cheesecake and salted caramel, you are sure to find something delicious.
As you savor your ice cream, you can take in the serene ambiance of the waterfront setting. Enjoy the peaceful views of the lake and watch boaters or kayakers passing by. The Boathouse provides a pleasant atmosphere to relax and indulge in a sweet, refreshing treat.
Rockwood Conservation Area
161 Fall St S, Guelph/Eramosa, ON N0B 2K0 – Rockwood Conservation Area is an ideal destination for a family outing with kids. This picturesque conservation area offers a wide range of activities and attractions that will keep children entertained and create lasting memories.
From May 1st to the first Sunday following Thanksgiving, families can explore the natural wonders of Rockwood Park together.
Kids can embark on scenic hikes along the park's nature trails, discovering hidden treasures of nature along the way. The towering limestone cliffs, mysterious caves, and peaceful rivers create a sense of adventure and exploration. Don't forget to bring a camera to capture those unforgettable moments.
For a more relaxed experience, families can enjoy a leisurely picnic by the lake, surrounded by breathtaking views. The tranquil atmosphere provides the perfect backdrop for quality family time and relaxation.
Rockwood Conservation Area offers camping facilities where families can set up tents and spend the night under the stars. Sitting around a campfire, sharing stories, and roasting marshmallows is an experience your kids will never forget.
To enhance the educational aspect of the visit, families can learn about the local flora and fauna through interpretive programs and guided nature walks. Kids can develop a deeper appreciation for the environment and its conservation.
Overall, Rockwood Conservation Area provides a fantastic opportunity for families to connect with nature and enjoy outdoor adventures together. It's a place where kids can unleash their curiosity, learn about the natural world, and create unforgettable memories. Surrounded by the beauty of Ontario's landscapes, you are sure to have a blast.

The Arboretum at the University of Guelph
200 Arboretum Rd, Guelph, ON N1G 2W1 – The Arboretum at the University of Guelph is a fantastic destination to explore with kids. Offering a blend of education, nature, and outdoor fun, this is a great place to get some exercise. Explore over 400 acres and participate in a diverse range of activities that will engage and entertain children of all ages.
One of the highlights for kids at the Arboretum is the Children's Garden, a specially designed area where little ones can discover and learn about plants in an interactive and playful environment. They can explore themed gardens, participate in hands-on activities, and even get their hands dirty in the sensory garden.
The trails winding through the Arboretum offer an excellent opportunity for family walks or bike rides. Kids can enjoy the freedom of nature, spot different plant species, and even encounter wildlife along the way. The Arboretum's expansive grounds provide ample space for children to run, play games, or have a picnic surrounded by natural beauty.
The Arboretum also hosts various family-friendly events and workshops throughout the year, such as nature walks, bird-watching sessions, and educational programs. These activities provide valuable learning experiences and foster a deeper connection to the environment.
Check out the Arboretum's collection of stunning gardens, including a herb garden, butterfly garden, and indigenous garden. These gardens offer educational insights into the world of plants and their ecological significance. Kids can expand their knowledge of nature at this gorgeous place in Guelph.
Explore the Children's Garden, discover the diverse plant life, or simply enjoy the peaceful ambiance of the Guelph Arboretum.
A visit with kids to the University of Guelph's Arboretum is sure to be an enriching and memorable experience for the whole family.
Indoor Things to Do in Guelph with Kids
Guelph has it all, whether you're seeking educational adventures, creative outlets, or thrilling entertainment. Step inside a world of wonder as you explore interactive museums. Engage in hands-on workshops, or immerse yourself in the captivating realm of indoor play areas.
With a variety of options to choose from, Guelph ensures that your family's indoor adventures are filled with laughter, learning, and unforgettable memories.
Tiny Town Guelph
66 Arrow Rd Unit D, Guelph, ON N1K 1T4 – Tiny Town is a vibrant indoor play space that sparks your little one's imagination. With two levels to explore, it offers endless opportunities for creative play. On the main floor, kids will find a charming Tiny Town. This town features meticulously crafted wooden structures representing a miniature community, including a hair salon, fire station, and adorable tiny houses.
Upstairs, an open and inviting space awaits, complete with a stage perfect for tiny performances, a delightful ice cream stand, a bustling shopping center, and even a tiny RV for imaginative camping adventures. This is a great place to take your little ones on a rainy day in Guelph.
Not only does Tiny Town provide an immersive play experience, but it also caters to birthday parties. They ensure that every detail is thoughtfully planned and organized for the convenience of parents. It's the perfect place for children to have a blast, let their imaginations soar, and create lasting memories in a safe and engaging environment.
Guelph Civic Museum
52 Norfolk St, Guelph, ON N1H 4H8 -Visiting the Guelph Civic Museum with kids is a fantastic way to combine fun and education. The museum's interactive exhibits engage children in learning about Guelph's history and culture. From dressing up in period costumes to building Guelph landmarks with blocks, there are plenty of hands-on activities to keep little ones entertained.
The museum occasionally hosts family-friendly special events and workshops, providing additional opportunities for children to delve deeper into the exhibits. With a mix of indoor and outdoor spaces, the Guelph Civic Museum offers a well-rounded experience. This allows kids to learn, play, and make lasting memories.
Children's Art Factory
37 Yarmouth St, Guelph, ON N1H 4G3 – The Children's Art Factory is a vibrant and creative space that provides an excellent opportunity for kids and art lovers of all ages to explore their artistic talents. With its colorful and welcoming atmosphere, the art factory offers a range of engaging activities that inspire children's imaginations.
From painting and drawing to sculpting and crafting, there are endless possibilities for young artists to express themselves. The staff at the Children's Art Factory are experienced and supportive, guiding children through various projects and encouraging them to experiment with different materials and techniques.
Whether it's a drop-in session or a structured workshop, visiting the Children's Art Factory with kids is sure to ignite their creativity and leave them with a sense of accomplishment.
My Kitty Cafe
117 Wyndham St N, Guelph, ON N1H 4E9 – My Kitty Cafe is a great place to visit with your children in Guelph. If you are looking for an extremely memorable experience, this is the place for you.
Enjoy delicious refreshments all while spending some quality time with adorable and adoptable cats. The cafe itself provides a relaxing atmosphere, allowing families to unwind and connect with some feline friends.
With cozy seating areas, toys, and more, the cats have plenty of space to lounge and play. The staff ensures a safe environment with plenty of guidance on proper cat interaction. This ensures both the cats and the visitors are well taken care of.
Rock Climbing at the Grotto
199 Victoria Rd S, Guelph, ON N1E 6T9 – The Grotto is a fantastic destination to introduce kids to the exciting world of rock climbing. The facility offers a safe and supportive environment for children to learn and develop climbing skills.
Guelph Grotto Climbing Co staff are experienced and knowledgeable. They provide proper instruction and guidance to ensure the safety of young climbers. Kids can explore a variety of climbing routes suitable for their age and ability. From easy beginner walls to more challenging routes, there is something for everyone.
The colorful climbing walls and the exhilarating feeling of reaching new heights create a sense of accomplishment and boost their confidence. It's an engaging and active experience that promotes physical fitness, problem-solving skills, and teamwork.
Visiting Guelph Grotto Climbing Co with kids is sure to leave them with lasting memories and a passion for the thrill of rock climbing.
There are so many fun things to do in the beautiful city of Guelph. Whether you plan on visiting downtown Guelph, want to check out the university campus, or are looking for free kids' activities, you will surely find something for everyone to enjoy.
Guelph is one of the best places to visit no matter what time of year it is. Whether you are visiting in the winter months or on a hot day, the dynamic culture and beauty of this small city are sure to captivate you.
With so many great things to do in the surrounding area, you are sure to find the best things to do with your kids in this fun place known as the city of Guelph. Whether you check out a hiking trail, or choose to participate in indoor fun, you will have a great time.