Advent Calendars are a yearly tradition in our house. Luckily parents who are suffering from an overload of Halloween Candy or just don't want their kids to have chocolate first thing in the morning for 24 days straight there are other options out there! From toddlers to teens you can find a kids advent calendar to suit your child's personality. We choose Non-Chocolate Advent Calendars every year for the kids in our household so we thought we would share some options.
With many of these advent calendars you get to build up every day to create a fun set of toys you can play with all year long. Playmobil, Melissa & Doug, Hot Wheels, LEGO, Little People, Crayola, PLAY-DOH and more there are TONS of options out here. Make sure you order early these calendars early to give time for them to be shipped to you for December 1st.
This year skip the chocolate advent calendar and get one that will last all year long. There are even many great options for babies which can be a challenge as they are too little to eat chocolate but you want to get them something for their First Christmas. Don't forget to come back and check out our NON Chocolate Easter Egg Ideas.
Non-Chocolate Advent Calendars we have purchased so far:
2019 – Fisher Price Little People (1 Years Old)
2020 – Paw Patrol ( 2 Years Old)
2021 – Play Mobil House (3 Years old)
2022 – Pokemon (4 Years old)
Why Choose a Non-Chocolate Advent Calendar?
Chocolate comes and goes however toys can stick around a be played with for years to come. My kids still play with the Little People and Paw Patrol sets constantly making it a much better value even though they cost more than chocolate calendars. Choosing non-chocolate calendars can also let you customize your choose based on your child's current interests as you can see from the calendars we have purchased above.
Your kids will be having so much fun playing each day as they open their advent calendar they won't even miss the chocolate.
Advent Calendar Books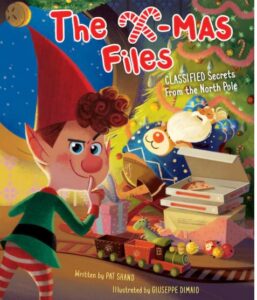 A great idea to add to the Advent Calendar is this awesome book I found called The X-Mas Files – Classified Secrets from the North Pole. This book is a great addition to the Holiday Advent calendar as each day teaches children something new about the holidays including the topics in the Table of Contents below.
For example on Day 1 the book explains how Santa renames the Elves every year and gives an activity idea for the kids to try it themselves (drop the book or a lid – the first part of your elf nickname will be based on the sound ex.Clank). This fun book really encourages fun activities to enjoy the Magic of the holiday season and is perfect for young children who still "believe" in Santa Claus.
Last year in December, my daughter and I read the book every night at bed time as she was super excited about "Christnas" as she called it. This was the first year that she started to actually understand the concept of Santa, Reindeer and Elves and the book was a great jumping off point.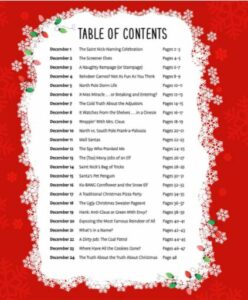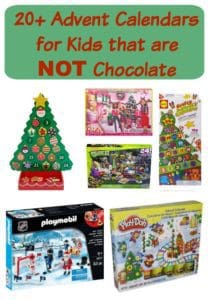 Kids Advent Calendars that are NOT Chocolate 2022
This blog post may contain affiliate links. What does that mean? I get a little commission if you purchase using my link, at no extra cost to you.
Click on the links and images to see more details about the Advent Calendars or where you can buy them
Playmobil Advent Calendar
Christmas Ball Advent Calendar – The Christmas ball has 24 surprises for each day leading up to Christmas, creating all the pieces necessary to have a magical ball with the Royal family. Set includes backdrop, four figures, decorated tree, presents, table and chairs, candelabra, cat and Kitten, violin, sleigh, and tons of other accessories.
Playmobil Construction Set Advent Calendar – Twenty four pieces to create the perfect construction site and countdown to Christmas. Once all the pieces are revealed, you will be ready to extinguish the Blaze and keep the city safe. Includes backdrop, two figures, quad, stickable oil spills, rubber flames, traffic cones, roadblock, and tons of other accessories.
Playmobil Christmas Store Advent Calendar – Reveal a new toy each day to fill up the toy shop. Set includes Christmas Toy Store backdrop, four figures, Christmas tree, snowman, gift boxes, tricycle, skateboard, and tons of other toys and accessories.
Playmobil Bath Playtime Set – Each day kids will collect a new bath toy until they have completed the collection. Kids will love peaking behind each door to see which toy piece is waiting each day. Includes tons of floating fish and accessories to create a splashing good time!
LEGO Advent Calendars including LEGO City Advent Calendars and LEGO Friends Advent Calendars- Everything you need for your master builder to count down to Christmas with this awesome selection of LEGO Avent Calendars.
LEGO City Advent Calendar – Build 24 different presents in this Christmas countdown Advent Calendar, including vehicles, minifigures and other seasonal item. Comes with 7 LEGO City minifigures (including Santa Claus!) and a husky dog figure
LEGO Friends Advent Calendar – 330 pieces of LEGO Friends Advent Calendar fun. Build 25 surprises that you can include with any of your other LEGO sets. This toy advent calendar includes a Mia mini-doll figure, plus 2 robot figures, a snowman, 2 penguins and hamster figures.

LEGO Harry Potter Advent Calendar – Step right into Hogwarts with this Harry Potter Advent Calendar. Contains 7 minifigures, including Harry Potter, Hermione Granger, Ron Weasley, Albus Dumbledore, Professor Flitwick, Hogwarts Architect—plus a Hedwig figure and a micro Hogwarts Express train.
Star Wars Advent Calendars
May the force be with you during the holiday season with these fun Star Wars Advent Calendars.
Star Wars Advent Calendar – Set includes 7 Mini figures, and pieces to make 11 vehicles. Over 300 pieces in total for hours of fun. Box also includes playmat to use as backdrop for play. The 2021 set Features 7 LEGO Star Wars characters, including The Mandalorian and the Child (Grogu), affectionately known as Baby Yoda, in festive outfits, plus a Tusken Raider, IG-11 and IT-O Interrogator Droid.
The 11 mini build vehicles include The Razor Crest, Riot Mar's starfighter, Imperial Troop Transport, X-wing, TIE Fighter, Imperial Light Cruiser, Boba Fett's starship and the Child's hoverpram. Other mini builds include an E-web heavy blaster snow launcher, training targets, Tusken Raider's weapon rack and snow launcher, Imperial weapon rack and Mandalorian weapon rack.
Star Wars Calendar 2022 – Build festive spirit during the Christmas holidays with this Advent calendar, featuring 16 mini builds and 8 characters.
Toy Advent Calendars and other Non-chocolate Advent Calendars
Advent Calendars don't have to be all about the chocolate. There are LOTS of other non-chocolate advent calendars out there. From crafting and Play-Doh to Hot Wheels and Minions there is a huge variety for every age group and interest. check out this list below and click on the links to learn more.
Wooden Advent Calendar – A full Christmas Ornament Set: This Christmas countdown tree ornament set includes a magnetic wooden tree, 24 magnetic ornaments, and 1 shining star for the top of the tree. An attached wooden ornament box helps to keep all the pieces together.
Crazy Scientist Advent Calendar – This offers hours of play as there is a different experiment for each day that engages kids and introduces Chemistry, Biology, Mechanics, Optics and magnets.
PLAY-DOH Advent Calendar – Play-DOH Advent Calendar includes 5 Play-Doh cans featuring 2 Sparkle cans to let your season shine, tools and shapes. 24 secret doors hide a different surprise for each day of the season.
Crayola Christmas Countdown Activity Advent Calendar – Get your craft on with this diverse Crayola Advent Calendar including 5 doodle scents markers, 1 Twistables slick Stix, 4 glitter crayons, 4 metallic crayons, 6 paint pots, paint brush, model magic, 2 washable window markers, 1 pip squeaks marker, 20 Goggly eyes, 1 glitter glue stick, 1 tip sharpener, 19 paper sheets, 1 envelope, 3 sticker sheets, 1 instruction sheet, 3 Anchros, 3 ribbon pieces, 1 glitter glue tube
Hot Wheels Advent Calendar by Hot Wheels – For 24 days you can collect super cool hot wheels cars or holiday accesories. The front panel converts into a playmat on which the vehicles and accessories can be used for exiting adventures.
Mega Bloks Monster High Advent Calendar – Make your own Advent Calendar with this kit and fill it with little treats!
Fisher-Price Imaginext DC Super Friends Advent Calendar – includes 24 Fisher-Price Little People friends & holiday-themed accessories to countdown to Christmas. Iside the windows you will find 24 Imaginext toys, including 6 DC Super Friends character figures, multiple play accessories, and a vehicle. Move the figures' arms and legs for more realistic action.
Fisher Price Little People – Use this calendar from December 1st to 24th as a greay way to introduce counting and numbers and watch the excitement grow as children open 24 Little People friends and holiday accessories.
Bracelet Necklace Set with 22 Charms Fashion Jewelry Countdown to for Girls – Collect a charm a day until you have an entire charm bracelet for Christmas.

Vtech Advent Calendars
VTech Go! Go! Smart Wheels Advent Calendar – Place the Smart Point Christmas Sleigh on the included Smart Point location, and it will respond with different phrases and more. Press the Christmas Sleigh's light-up button to hear phrases, sing-along songs and melodies. Features 25 gifts including a Smart Point Christmas Sleigh, ornaments, a Christmas card, road signs and more.
Disney Advent Calendars
Disney Storybook Collection – Brand new for 2021! Count down to Christmas with all your Disney and Pixar friends. Unwrap 24 books this holiday season and enjoy a magical tale every day from December 1st through December 24th!
Checkout Advent Calendars for kids – For a complete list of Advent Calendars
There are so many fun options on the market for non-chocolate advent calendars now. Don't get stuck with cheap chocolate calendars, pick one that suits your child and will give you something to play with all year long!
Disclosure: Some of the products included have been gifted to us, however we have also have purchased some of these over the years.
Originally Posted Nov 17, 2018, Updated 2022
Save