Need a Easter dessert that is sure to make an impression? Why not make these EASY Mini Individual Cheesecakes? With only 5 ingredients plus whatever decorations you choose you likely have everything you need to make these in your kitchen already!
Best of all, there is no fussing with a spring form pan or worrying about if the crust will hold up this Kraft Canada Easter Dessert recipe is so simple anyone can make it!
Easter Dessert Ideas: Easy Mini Individual Cheesecake Recipe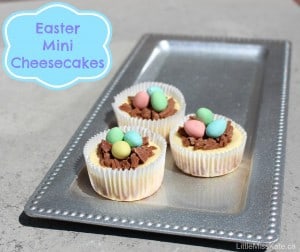 Who is not going to love being served one of these individual baked cheesecakes for dessert after a satisfying dinner surrounded by family. You can customize your mini cheesecakes to the tastes of your guests so that each person gets a dessert that the love. If they love coconut use it for the base of the nests, or if they are a chocoholic like me use shaved chocolate or a Flake chocolate bar.
Easter Cheesecake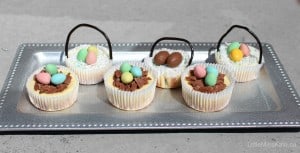 Here is what you need to make these adorable Easter Dessert Mini Individual Cheesecakes with this easy Easter cheesecake recipe:
Easy Mini Cheesecake Recipe
Ingredients
2

pkg (250g each)

Philadelphia Cream Cheese, at room temperature (regular or light)

room temperature

½

cup

sugar

½

tsp

Vanilla

2

Eggs

12-15

Sandwich Cookies any flavor you like

Shoestring licorice if making baskets

Flake Chocolate Bar if making eggs nest

Decorations – small candies

chocolates or fruit
Instructions
Preheat your oven to 350oF

Line muffin tray with 12-15 medium sized paper liners

In a large bowl with an electric mixer beat together cream cheese, sugar and vanilla.

One at a time add in the eggs mixing on low speed until just blended.

Place cookie in the bottom of each lined cup.

Spoon cream cheese mixture over cookies until 1/4 - 1/2 inch from the top of paper liner

Bake for 20 minutes until centers are almost set.

Cool at room temperature, then refrigerate for at least 3 hours before decorating.
Only having a small group over? Just cut the recipe in half to make a small batch of these mouth watering treats. Since they are individual cheesecakes it is easy to store any extras if you don't eat them all. Once the cheese cakes are cooled the fun begins… Decorating!
Get creative on how you would like embellish these delightful Easter cheesecake. Create baskets by inserting the ends of a short piece of shoestring licorice to create a handle. Then fill your basket with coconut, jelly beans, chocolate eggs or fruit.

Easy Mini Cheesecake Easter Baskets

Want to create a birds nest? Coarsely chop a Flake chocolate bar and pile on the cheese cake to create the nest. Top with candy coated chocolate eggs (like Mini Eggs or Eggies) or jelly beans to create a birds nest.
This is my personal favourite, because really can it get any better then cheesecake, Flake and chocolate eggs. Your guests will be impressed with this cute Easter dessert.

Easy Mini Cheesecake Birds Nests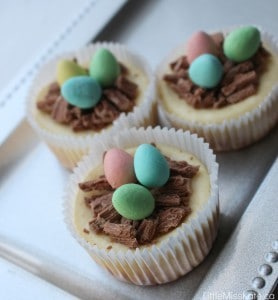 Easter Baked cheesecake recipe
Enjoy every bite! The Oreo cookie base makes these an easy desserts for Easter with no fuss over making a graham cracker base for the cheesecake. However if you prefer to make your own base you can do that too.
The key is to have delicious and easy Easter desserts for your guests, so you can decide how you want to create them.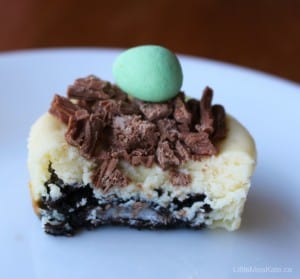 Looking for more Easter Desserts Ideas? We have you covered, check out the ideas below.

Don't forget to PIN this recipe for later!
Easter Dessert Ideas
Easter Oreo Balls – These oreo truffles taste delicious and are easy to make. Have fun decorating them with melted chocolate and use your creativity to come up with some fun patterns and designs.
Easter Rice Krispies Nests – A fun and easy Easter dessert to make with the kids. They will have a blast making the nests and then filling them with chocolate eggs and peeps.

Easter Chocolate Kit Kat Cake – an easy yet beautiful cake that every chocolate lover will go crazy for. Remember with this cake a small slice goes a long way.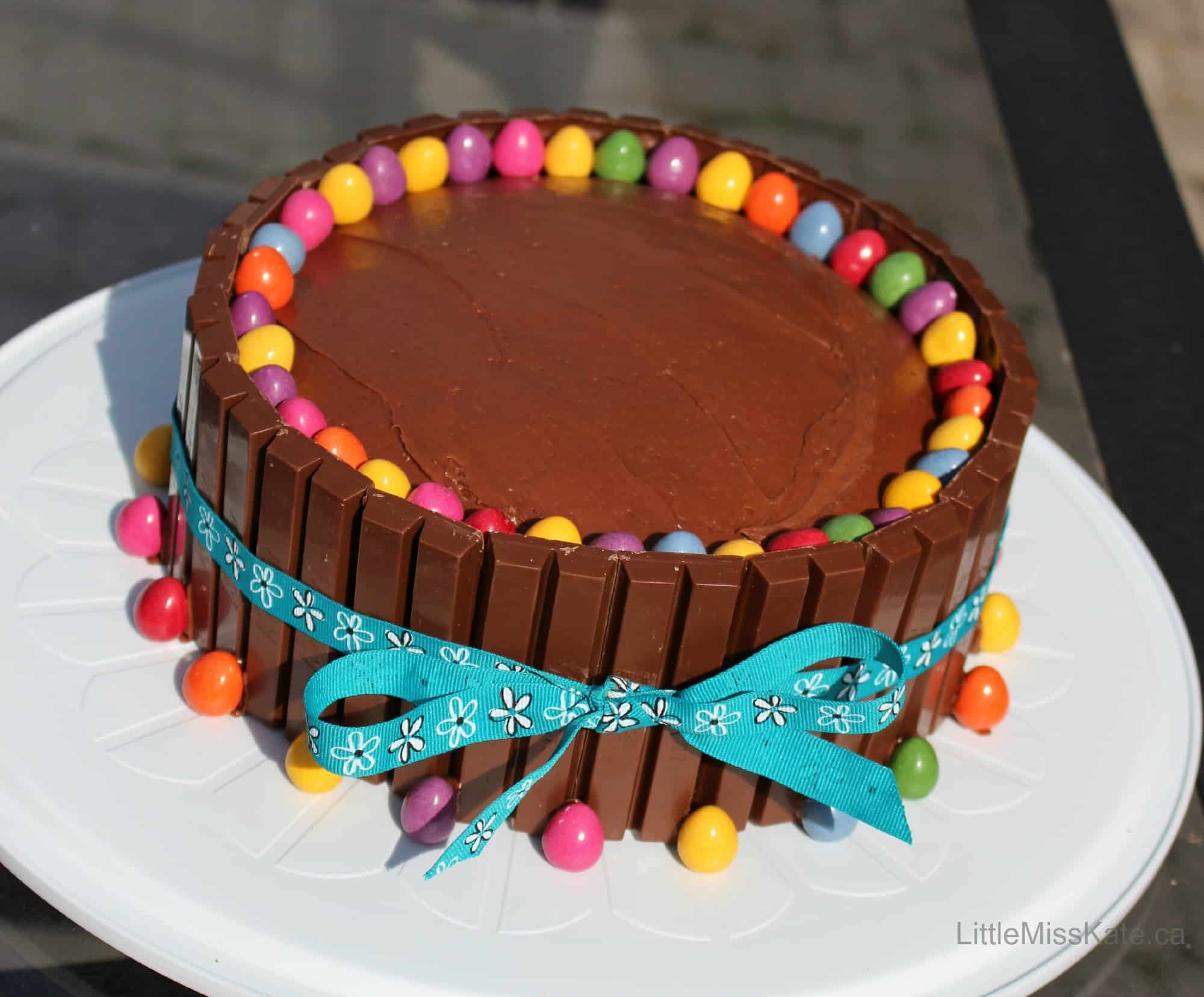 Disclosure: I am part of the Kraft's Whats Cooking ambassador program. All opinions are strictly my own.
Originally published March 2014
Save
Save