ZYIA Activewear line is made from high quality materials with sizes ranging from 0 to 20. Zyia Active is created for EVERYBODY!
Canadians love athletic wear and the industry in booming as Zyia Active Canada is become more than just an outfit to work out in, as athletic wear is becoming everyday wear… thank goodness as I have been wearing track pants and tees for years! ZYIA ACTIVE launched in January 2019 in Canada as the first ever direct sales fitness wear company. Zyia has been making huge strides in the activewear industry as customers love our design, quality and fashion. Zyia activewear is comfortable, high quality, and afforable and has become a rival to Lululemon on the Canadian scene.
Why did I decide to become involved with Zyia Active Canada Rep?
So 2020 is my Year! My Year to make healthy active changes to be the best me!
Since January I have committed to eating healthier through Weight Watchers and lost 25 pounds so far! As a reward I decided to buy myself some new active wear… and this is how I found and fell in love with Zyia! Strong is the new Beautiful! So why not look beautiful and be comfortable all at the same time. Zyia is perfect to wear working out, a lazy sunday and can even be dressed up for work. I decided instead of just purchasing the clothes that I would sign up as a Rep to jump into a new business.
APRIL 15TH: 1 MONTH INTO A WORLDWIDE PANDEMIC: I decided to jump into Zyia and I am so glad I did. Not only has it helped keep me busy at home, it has added to my income, built me a brand new wardrobe and the best part, allowed me to CONNECT and make so many new friends both locally and online with other Reps. Zyia is not just about selling clothes but they are about Building COMMUNITY which fits perfectly with my personal life goals as building relationships and community is so important to me. Part of my day job as a teacher is to build relationships with students and create a community environment so it only seems natural to me to do the same both on this blog and in my new Zyia Business.
UPDATE: I STOPPED BEING A ZYIA REP AT THE END OF 2020, HOWEVER I HAVE CONTINUED TO PURCHASE ZYIA ITEMS IN 2021 AS I LOVE THE QUALITY!
What is Zyia Activewear?
Zyia Activewear is a high-quality activewear company, think Lululemon meets Spanx but less expensive while maintaining the high quality. Zyia is proud to carry clothing for EVERY-BODY. Most of the sizing goes from size 0-20 or XXS-XXXL!
Whether it's for running, yoga, pilates, biking, HITT, cross-fit, running after your kiddies or just being comfy lounging in your favourite athleisure gear, Zyia has it all! We have activewear for men and kids too! I truly believe that clothing can you help you look and feel good no matter your size and helps to set a more positive mindset for yourself and for your entire life. I hope Zyia can help you to look and feel your very best – no matter the activity or time of day!
Zyia Active only high quality materials designed for optimum breathability, ventilation, temperature and odor control and slimming support compression. Their prices are affordable with the highest prices being just over $119.
What is your Zyia Style?
What is the Quality like? Let's talk about quality of Zyia Active Clothing!!
I have noticed that a lot of Zyia "reviews" online aren't actually objective reviews but as always I only recommend products that I own and have personally tried. So I wanted to write an actual review based on my experience and the experience of my customers. I have decided to include quotes from some of my current customers below, as I strongly believe in honest reviews.
I think the pictures talk for themselves! This tank was worn every week if not twice a week for the last year. because She likes it so much and wore it so often, she decided to get another. This is to prove to you the quality of Zyia's clothes!
Can you tell which one Was worn for a year, Yes!! A FULL YEAR!!
Washed 1-2 times a week & hung to dry.
I find this unbelievable!! No fading, pilling or seams coming apart!!!
Now the pants, the same woman did this comparison‼️ One of these leggings is brand new! The other is the first pair of leggings I ever got from ZYIA (came in her starter kit). I've worn these 1-2 times a week for the past year, washed & hung to dry.
Customer Feedback:

"Love them, I could live in my Capris" – Nathalie
"It is soft, supportive and yet comfortable" – Ruwani
"I would call this hoodie very structured. The cuffs, pockets, bottom and even neckline are very well made. The oh so soft sweater is more comfy campfire on a cold morning while the Boyfriend sweater is too keep warm on a cool summer afternoon" – Danielle
"So soft and so pretty, the effortless tank paired amazing with jeans" – Ashley
Why is Zyia perfect for Moms?
Zyia Light and Tights are every new mama's dream! Felt sooo good to be sucked in & smoothed out. Post-partum & learning to love your body again is hard—these leggings made me feel SO much better about myself & were definitely helpful in motivating me to get back into the workout routine too!
Another mama shared "I've had two c-sections in 3 years. One of the reasons I love Zyia so much is because of the support I feel in the light and tights and the comfort I feel with large waist band in the joggers. It makes my tummy feel way supported and that's definitely what I need as I build up those core muscles again. The light and tights were my first pair, now they are my little "tummy tuck" secret."
Zyia is perfect for any Mom and Baby Workout class such as Stroller Fitness or Sweat and Sculpt Workouts.
What makes Zyia Active Clothing so Special?
Why is Zyia different than other Clothing Lines?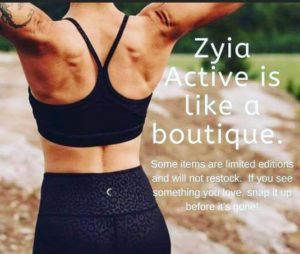 It is important to note that Zyia is Boutique in the sense that we keep some staple items but most items have a short run and then they are gone, which is what makes this company great. Stock is always changing so if you see something you like purchase it right away! Zyia releases new items EVERY Wednesday at 1PM to keep the Clothing Line Fresh with New items to buy!
You are not going to go to the gym and find someone wearing the same outfit as you as Zyia is Unique.
Important Questions to Ask if you are Ready to Purchase Zyia Active Products:
I want all of my customers to love the items they purchase, which is why I like to be each customer's personal shopper by answering the following questions.
Sizing: Our sizing is very unique in the sense that not every item in a Large fits the same. It is important to either ask me or read the sizing notes listed for the product as sometimes we suggest sizing up or sizing down depending on the item or material, etc.

Squatproof: Many of our leggings are Squat proof which is what drew me into Zyia Active leggings however not every style, and fabric is squat proof so please feel free to reach out for clairity.

Type of Workout: Some of our clothing is more meant for casual wear than working out, so make sure that the item you are choosing works for the type of activity you are planning to wear it for. For example, while our Grid Bra makes an awesome swim top, I wouldn't recommend working out in it as it doesnt have very much support for intense movements.
Don't be afraid to…Give Zyia a Try!
I'd like to take this opportunity to answer some of the most common questions to help you with your Zyia shopping experience.
Returns

– If you don't like the product (highly unlikely) you have 30 days for a full refund, be sure to keep tags. In resell-able condition. Return shipping label at the cost of the customer.
Exchange

– You have 14 days from date of delivery to get a free shipping label from me to exchange the exact item in different size. In re-sellable condition. So please try on your items as soon as possible. Again I'm here if you have any questions or concerns.
Shipping- Your order is shipped directly to you by expedited/party ($8.00) or express ($16.00).
I hope this information helps ease your shopping experience with Zyia.