As of this month Squeaker turned 10 months and is constantly on the move and very difficult to keep still and engaged making it difficult to get anything done! Now I know as he continues to grow he will need more and more activities like the Sensory Bin to keep him busy as he becomes a toddler. Toddlers are always transitioning to new skills and behavior as many stop taking naps. Busy Bags are great quiet time activities, and if you feel your child may be ready to drop napping check out these tips.
As a teacher I feel that it is very important to offer engaging, fun and educational activities, and this is why I wanted to share the idea of busy bags, and Sensory bins. I am sure that I will blink and he will be a toddler before I know it as his first year of life has definitely flew before my eyes, and soon I will be searching for a toddlers activity. Busy Bags are great kids activities to keep your toddler busy and learning, so you can get stuff like making dinner done!
With Thumper headed to JK in September I've noticed she's ready to learn…all. the. time. She is curious about everything and asks questions non stop. It's nice to know she has the eagerness to learn, but it can be difficult to keep her challenged and entertained. This is why I enjoy having several Busy Bags around the house, and there are lots of fun and easy no sew busy bag ideas you can create – the best part is you can create them with your child's development level in mind.
Busy bags are a great go-to for occasions when you and your kids have some waiting to do, they're made to be low mess, easy activities that you can grab while you're on the go! I usually have one or two busy bags in car for those times when the drive will be a little longer or the wait unexpected.
This blog post may contain affiliate links. What does that mean? I get a little commission if you purchase using my link, at no extra cost to you.
Busy Bags: Great Ideas to Keep a Toddler Busy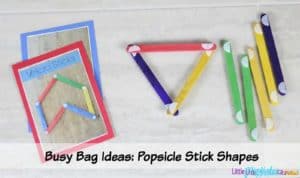 Busy bags for Toddlers:
These are a great activity to use at home to keep them busy, quiet and entertained so parents can accomplish some household chores. Busy bags for kids are awesome as they can be kept in your car, or diaper bag as well and be used just about anywhere such as the doctors waiting room or when you are out for dinner.
What is a Busy Bag?
Toddler Busy bags are simple educational activities that not only keep your toddler busy but teach them educational skills such as gross motor, fine motor, learning colours, shapes, alphabet, numbers and many more early learning skills. Activity bags for toddlers are cheap to make, small to pack to take along on the go, super easy to make and best of all customizable to your child's learning abilities. Toddler busy bag activities are simple activities that you can create ahead of time and store in a bag for easy access so they are always ready to go!
The most important part of these activity bags are to create activities that your child can create independently and keep them quiet. Busy bags are cheap to make as they use simple craft materials and kids love to play with them. Busy bags can also be known as quiet bags, a great feature to them are that you can create a variety of different bags and then rotate through these different activities to always keep them new and engaging to the child. Since they are ready to go, they make mom life simple and easy as you can just through them in a bag and head out the door.
How to make a busy bag for toddlers?
The first step to creating a busy bag is to check out some of our ideas below and decide which ones you would like to create. Once you have selected the busy bag you wish to create you will have to decide what kind of storage you will use, I like using bags as then you can take them with you anywhere. Lastly, start collecting materials to create your busy bags such as pom poms, popsicle sticks, foam shape, felt and many other simple arts and craft materials as busy bags are almost like a craft in a bag that you can easily find in dollar stores.
What are some examples of Busy Bags?
Checkout the following homemade bags ideas, these are easy busy bag ideas that anyone can create in just a few minutes. These activity bag ideas are easy to make as not only do they have written instructions detailing materials needed, but they provide detailed step by step instructions and a video making it as simple as possible for busy moms to recreate.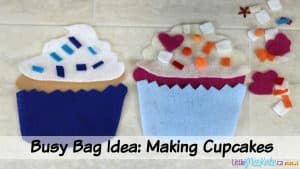 Making Cupcakes:
This week we are trying out a Cupcake Busy Bag, this bag is great for her age group because there are several different challenges we can focus on, making this bag fun for days.
This bag can help exercise fine motor skills by picking up the small pieces and placing them on their cupcakes. Since fine motor skills develop slowly, practicing them is important and activities like this is a great way to do that!
This bag is also great for identifying shapes and colours. Some ways to keep this busy bag going are to ask your child to pic out specific colours or shapes and top their cupcake with only those, or ask them what colours and shapes they are picking as they go.
Another fun activity to do with this Cupcake Busy Bag is to introduce or practice simple math concepts. For example, place 5 'sprinkles' on your cupcake and take 2 away, then ask your child how many are left.
All you need for this busy bag is different colours or felt and scissors. You can make a template out of cardboard or just free hand them.
Bee really enjoys this busy bag, with all the scenarios to accomplish she dives in and stays focused! This Cupcake Making game is also a great way for Bee to unwind and transition to 'home mode' after school, because for us, that is a challenge. Having a quiet activity on hand is important and this is one of her favourites.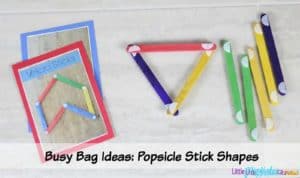 Easy No-Sew Busy Bag Idea – Velcro Popsicle Stick Shapes:
This No-Sew Busy Bag is an easy 2 step process and the materials needed can be found in your local dollar store. See the video here and then follow along for the easy step-by-step instructions! Easy No-Sew Busy Bag Idea – Velcro Popsicle Sticks. Read on for the easy step-by-step instructions!
Materials
popsicle sticks (we used multi-coloured ones)

velcro

scissors

Ziplock bag (to hold the sticks!)

glue gun (optional)
Optional Card Print-outs
pictures of popsicle stick shapes (printed from the computer or a store)

card stock

all purpose or paper glue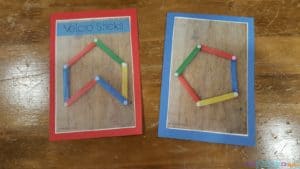 Instructions:
Cut the velcro into small pieces and separate them into two piles, one containing the soft side of the velcro and the other with the rough side.

Each popsicle stick should have 4 pieces of velcro – one side with 2 soft pieces and the opposite side with 2 rough. If using glue, place a small amount on each end of the popsicle stick and secure the velcro. Set aside to allow the glue to dry.
Card Print-outs
These cards really help this busy bag fun for children who are a little older, it gives examples and encourages the shape making. Just print out some pictures of finished popsicle stick shapes and glue them on some appropriately sized card stock or construction paper.
Button Up Ribbon Busy Bag
With Bee headed off to JK I'm starting to notice all of the things she needs to start doing on her own, from putting her shoes on the right feet to buttoning up her coat. Which brings me to our Busy Bag – Button Up Ribbon. This busy bag is great because not only will it help her learn how to do her buttons, but she can play with it on the go! She loves a challenge and I'm sure taking the felt on and off will keep her busy for a long time. Check out the video to see this Busy Bag in action!
Not only is this busy bag is great when you're on the go it's fun for short car trips or even at home. And since it's super easy to make you can customize it, for example I made different shapes out of the felt such as hearts, stars and more. And like Kate mentions in the video, you can use different colours as well. This way your child can learn to do their buttons and sort different shapes and colours. This busy bag is perfect for kids who need to work on fine motor skill development.
This Button Up Ribbon can be made in 3 easy steps and all of the materials can be found at your local dollar store. For the Button Up Ribbon, let's take a closer look at the materials and a quick step by step on how to make it.
Materials
Piece of ribbon (about 12 inches long)

Two fairly large buttons

Needle and thread

Felt shapes (squares work the best and should be at least 3 x 3 inches)

Scissors
Instructions
Using the needle and thread, sew one button to each end of the ribbon.

Cut your felt into your desired shapes. You could use a cookie cutter as an outline for a certain shape if you want, but make sure it is big enough for those tiny hands!

Cut a small hole in the middle of the felt shape by folding the shape in half and making a small cut in the felt. Be sure the hole is not too big, or too small. You really want the button to 'pop' into/out of the hole.
There you have it a busy bag for fine motor skills! A fun and easy way to teach your child how to do their buttons, giving them a little more independence and you a little break ? If you love this Button Up Ribbon be sure to check out our other great on-the-go Busy Bag ideas like the Easy No-Sew Busy Bag Idea – I Spy Bottle because every parent needs an easy to make, fun for the kids, please keep them busy for a moment activity!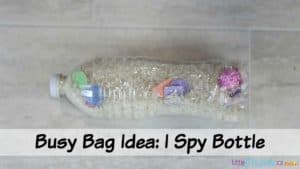 I Spy Bottle



Keeping toddlers busy during the day can be a challenging thing to do, especially in the winter. This one is actually a 'busy bottle' if you want to be specific :P. Both of my girls loved this 'busy bag'. Bee at 3 years old enjoyed making them with me, while WeeBee at 1.5 years loved the finished product. As mentioned in the video, it's a great item to have as both age groups get a lot out of it. Bee is at the age where I can ask her to find certain objects within the bottle, for example 'where is the pink pom-pom', while WeeBee enjoys shaking the bottle and spotting the different objects that are inside.
Let's not delay any further, check out the video below and then continue on for the easy step by step instructions.
Materials:
empty 500ml clear plastic bottle

about 1 3/4 cups dry rice

small objects such as foam shapes, pipe cleaners, rhinestones, erasers or small toys

small funnel to fill the bottle (optional)
Using the funnel, fill the clear bottle with about 1 3/4 cups of dry rice. The bottle should be about 3/4's full. Avoid filling the bottle all the way as there needs to be enough room for the rice to move around all of the fun shapes and toys.

Add a few of objects. You can theme the bottles if you'd like, or put a mixture of items inside. A variety works nicely, making it fun for your child to different items within the bottle.

Give the bottle a shake! Once the rice and objects have been mixed, the fun can begin!
This busy bag is a lot of fun for a wide range of ages so make sure to create enough for everyone! Busy bags are a great way to entertain your toddlers during the colder months, poor weather, or even trips to the doctor!!
Pattern Matching Butterflies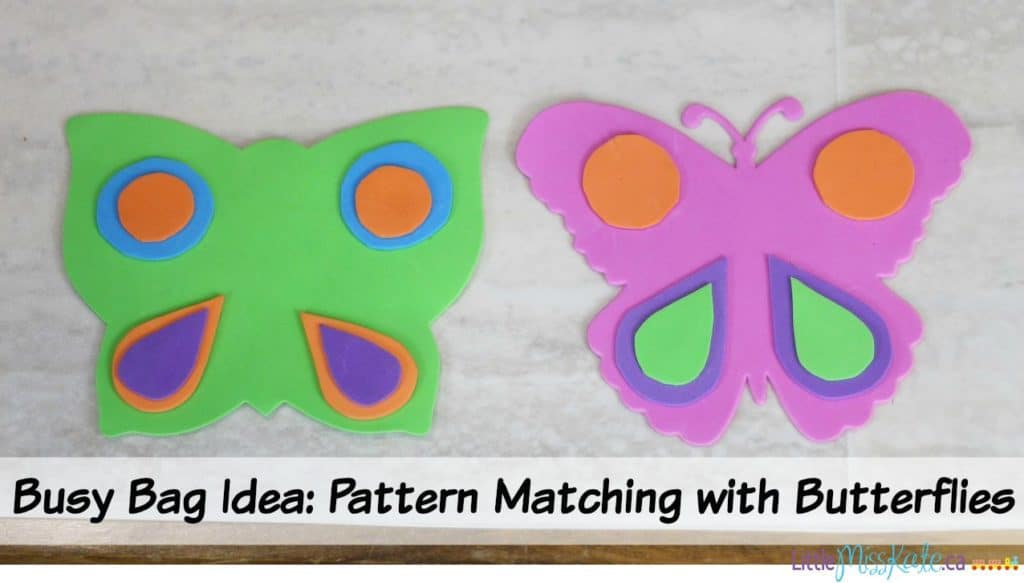 This busy bag is very simple and inexpensive to make. There is really only one material needed (besides some glue!) that can be found at your local dollar store. All you need is some foam shapes! We used butterflies as they are easy to make matching sides with, but you could use any shape or animal. This activity is fun and educational for your toddler as they need to define colours and shapes while matching one side to the next, not to mention it will keep them busy for a little while. So, take this busy bag with you next time you go to the doctor or a restaurant! Take a look at the video and keep reading for the easy step-by-step instructions.
Materials:
large foam shapes

small foam shapes

glue
There are only a few items needed for this busy bag, which makes it very simple to create. You can find pre-cut animal shapes (like the butterfly) and also pre-cut smaller shapes (the circles, tear drops etc). If you cannot find the pre-cut small shapes, create your own by cutting some of the larger foam into smaller shapes.
Instructions:
If you need to cut some smaller shapes from the large foam pieces do that now. You will need doubles of every shape, one to glue down to the left side of the large shape and one for your toddler to match. Choose a variety of shapes and colours, and glue a pattern down to one side of the large foam shape (in our case, a butterfly). Set aside allowing they to dry.

Be sure you have the matching pieces to the pattern you've created, plus some extras to make it a little more challenging!
Now, place all the pieces down and have your toddler start match!! This busy bag is surprisingly popular with the kids and oh-so easy to create, which makes it top on my list!!
Need some more busy bags to add to your collection?
If you are looking for more ideas you can checkout this great book called Busy Bags Kids will Love which is full of ideas that are simple, fun and engaging! Another option is 25 Easy to Make Busy Bags for 2 and 3 Year Olds.
A great way to create a collection of busy bags quickly and easily is to have a busy bag swap party with some other moms. You can either all bring materials and create the bags together or you can each create a certain number of the same bag and then switch so that each mom has one of each different type of busy bag.
Check out The Exploring Family Youtube for so many more Busy Bag Ideas!