Splish, splash, I am taking a bath…. oh wait I want to swim in a pool. So not only is swimming fun and babies get to wear adorable swim suits but it does have many benefits. Swimming is a great family activity and encourages you to swim and just focus on baby in the water as there are no other distractions, this encourages skin to skin contact and lots of cuddling which helps build a bond with baby.
I know that water safety is very important as drowning is the leading cause of all unintentional deaths of children aged 1-4 years old. Swimming Lessons in Brampton are a great family activity to get the family out and into the community for some fun. If it's the summer time and you don't have time for lessons check out our Guide to Outdoor Pools.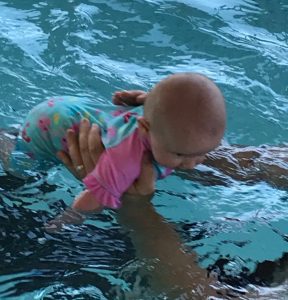 Why is swimming good for kids development?
Splashing around and gliding kids through the water helps babies becomes more confident and improves their balance and co-ordination! Taking kids swimming at a young age helps kids become confident and comfortable in the water, making it less likely for them to have a fear of water.
Swimming is great exercise for parents and baby as it works our muscles, lungs and hearts and is a great form of exercise that is gentle on our bodies. Lessons can start as early as 4 months for Parent and Tot Lessons.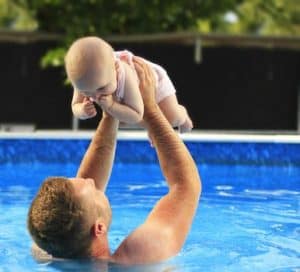 Swimming Lessons in Brampton:
Brampton has many options for Swimming Lessons including:
City of Brampton Swim Lessons:
West Brampton
Cassie Campbell – 1050 Sandalwood Parkway West – 905.840.4041
Jim Archdekin – 292 Conestoga Drive – Kennedy Road & Bovaird Drive – 905.840.1023
South Fletchers – 500 Ray Lawson Boulevard – 905.874.2856
Chris Gibson – 125 McLaughlin Rd N – (905) 874-2820
East Brampton
Ching Wellness – 977 Peter Robertson Blvd – (905) 789-6111
Gore Meadows – 10150 The Gore Rd – (905) 874-3477

Private Swimming Lessons in Brampton:
What is the best age to start swimming lessons?
The ideal time for children to take swimming lessons is between the ages of 1-4 years old, however you can start swimming lessons as young as 4-6 months old depending on the place.
When can babies go Swimming? When can I take my baby Swimming?
Were you one of those parents who waited eagerly for 6 months so you can take your baby for swimming? I admit, I was one of them. However, your baby can actually go swimming at any time from birth in a pool, although most baby swimming classes as young as six weeks in some places. I couldn't wait to get baby in the water as baby swim suits are super cute and have awesome patterns and swimming is super fun! If your baby is younger than 6 months make sure the pool you choose is heated so that baby won't be too cold.
I just waited for the right time to come so I could sign up immediately as registration to these programs often fill up quickly. By 15 minutes, registration was full! I'm glad this Mama was proactive and we were able to get in this winter! In February, Little M started to join the Starfish class for babies. It's basically the entry level for swimming classes.
What is the Swim Policy For Babies/Kids not Potty Trained?
Make sure you bring a swim diaper. The Policy is that every baby must have a swim diaper to enter the pool. My favorite is Huggies Swimmers, you can buy them at Walmart or on Amazon. The best price I have been able to buy them is $10.97 with a 2.00 off coupon so $8.97. I really like Huggies Swimmers as they have adjustable sides and can fit even the smallest babies like my daughter who weighed just 10 pounds when she first went swimming at 3 months old.
Tips for Swimming with a Baby:
Tip#1: LOOK FOR A HEATED POOL
Prior to registration, I searched multiple Recreation Centres and the number one criteria I chose was a warm heated pool. It should be about 32 degrees C especially for babies under 6 months. If you plan for swimming, it's best when babies don't go in a cold water.
Just think of it like he's going for a bath at home, babies like it when it's warm. It won't make them feel terrified being in the water. Ensure you have the towel ready to wrap him after, my favorite is using a hooded baby towel or baby swim cover up
TIP#2: BE EARLY AND BE SYSTEMATIC
I don't like rushing as I tend to forget items that way. As a tip, plan to arrive 30 minutes before going for a swim. Not because of excitement but because it helps you prepare the baby before going to the pool. This may not be applicable to all, but if you want to be systematic, let Dad change by himself and you can actually change baby yourself.
It works much better to approach swimming a team approach when you have a wiggly baby. Use that time to explain to your baby who's going with him and entertain him to have a good mood before class. You can meet each other in the pool area after baby swimming lessons to help dad and baby re-change.
TIP #3: PACK AND PREPARE THE ESSENTIALS
When bringing baby for swimming with Dad, the least you can do is to make dad figure out by himself what items baby should have and pack his diaper backpack. So to prepare, change baby to his swimsuit and have his regular diapers when you're on your way. You can just cover him with another layer of regular clothing.
That is if you're not in the tropicals as it will be too hot. Don't put on his swim diaper beforehand as accidents can happen. By the time you arrive at the Recreation Centre, he'll probably be wet so that's the time you can change him. Along with your own swimming suit and towel, you'll also need to pack:
• A warm bottle for after the swim if you're bottle-feeding.
• A soft towel, preferably one with a hood, or a towelling dressing gown.
• A snack if baby eats solid foods. Swimming makes babies hungry.
• A few of your baby's bath toys to encourage a relaxed and fun atmosphere.
• A changing mat and diaper bag.
• A snuggly hat to pop on your baby's head after the swim.
TIP #4: PLAN YOUR BABY'S SCHEDULE
Rule of thumb, a happy baby makes happy parents. So try not to go for swimming when your baby usually has a nap or a feed. It's stressful when you bring a grumpy, hungry or tired baby and this is not good for everyone including you as a Mom.
The best time? When your baby is alert and has already recently eaten. Just ensure he's not too full that he'll throw up in the water. When you go for swimming lessons, pick the best schedule that suits your nap and feeding times. For Little M, 1230 is the best time for him on a Saturday. He already had his morning nap and feed in the morning. After swimming, he's usually tired so he goes for his afternoon nap immediately.
TIP #5: ALTERNATE WITH EACH OTHER AND HAVE FUN!
As you start your swimming journey with your little one, try to be involved as much as you can by starting the first class with Mom and alternate with Dad weekly; that is if you're going for the lessons. This helps the baby feel safe and secure in the beginning with both parents. Moms have that natural connection as we all know.
When in the pool, ensure your baby is held closely and always have an eye contact. Be confident yourself so baby does not feel terrified. Talk and give praise when he's exploring and splashing around with water. Play with your mouth and show baby how to blow some bubbles. Take toys to baby swim class and let the toy float while baby kicks it or pushes it. This will be a giggle for sure. Lay him on his back or front ensuring you extend your arms for support. Let him feel stable and watch out when you're holding him from behind so that his mouth is not under water.
Yes, feeling anxious the first time your baby goes for swimming is normal, you could also try using a infant life jacket if your uncomfortable. The interesting thing with infant swimming lessons, it's mostly Dads who go with the babies! It's amazing! That bond and connection is real and believe me or not, my baby was more stable with Dad than me going with him. Probably he feels more secure and safe with Dad's strong arms. The most important tip is really to have fun enjoy and be confident. Babies feel us and if we don't feel that way, it's a start for a bad fear of swimming and water for baby.
Now if your baby loves water you may also be interested in:
Interested in things to do with kids in Brampton? Come join our community of Parents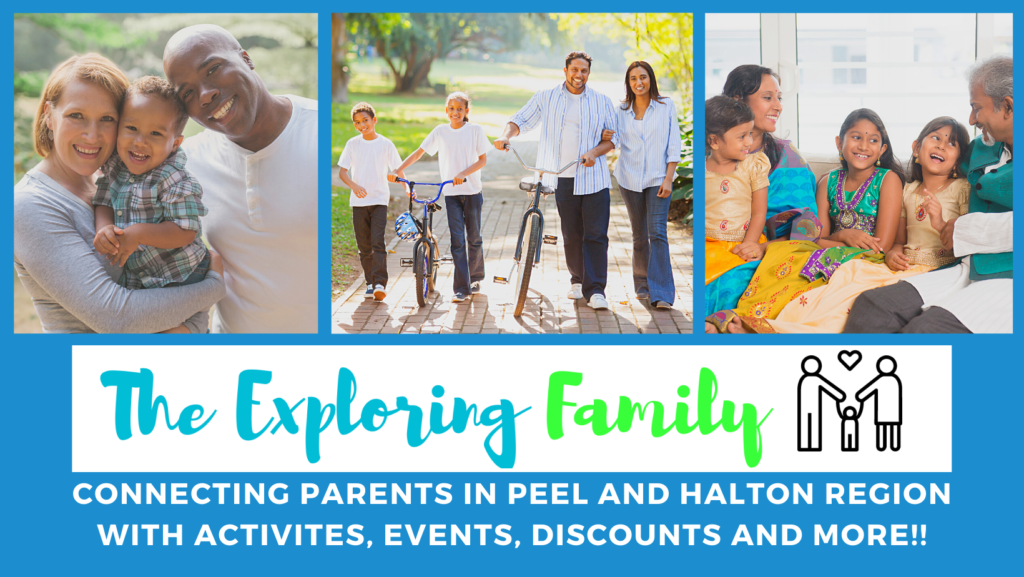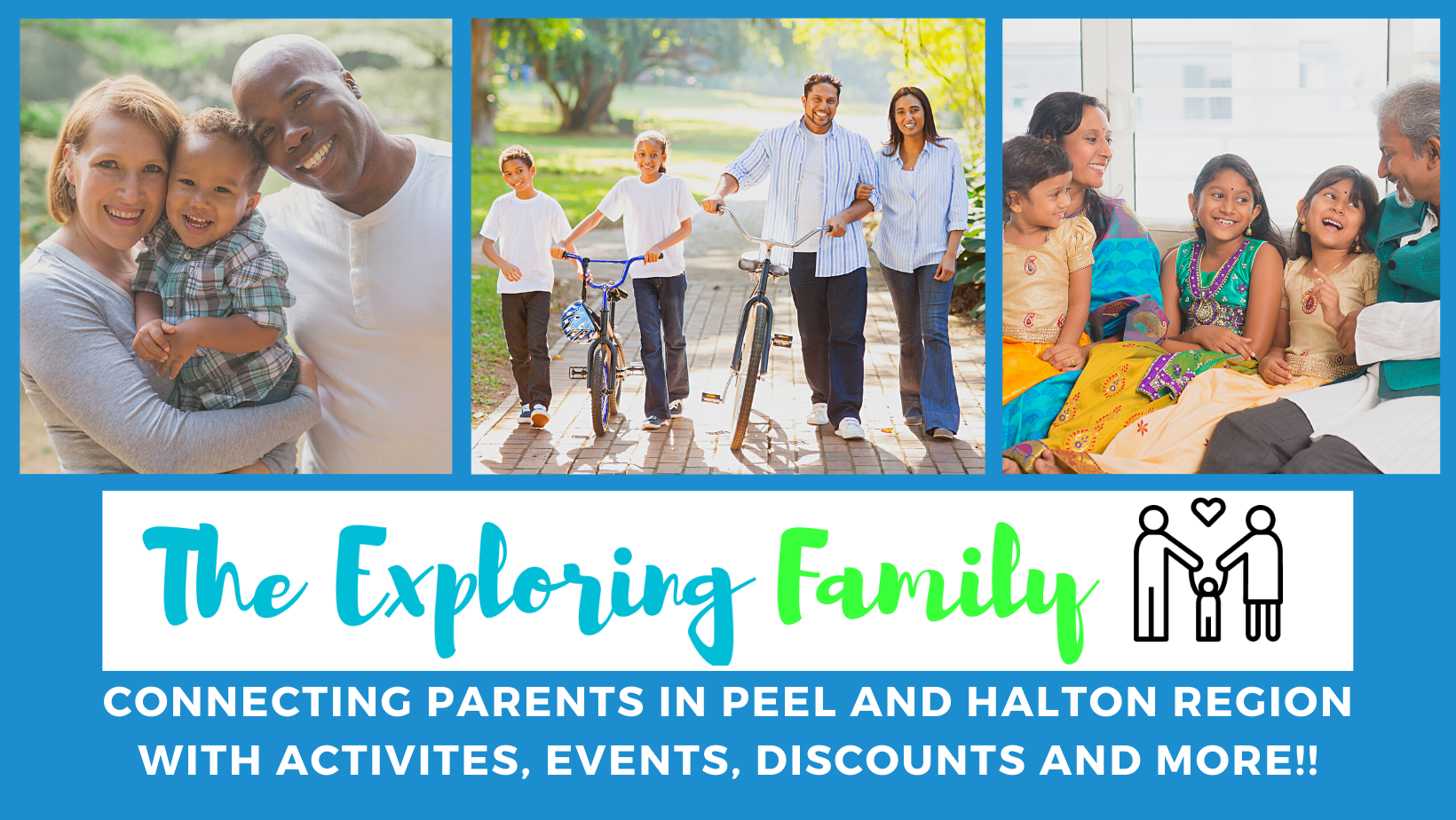 Can you help make this article better?
If you have noticed an error, have additional information or would like to share a comment you can:
E-mail us at info@thexploringfamily.com
Find us on Facebook: The Exploring Family
Find us on Instagram: @The.Exploring.Family