Thanksgiving will be here shortly (in Canada anyways, our US friends have a little more time)!  Have you started thinking about what you are going to serve for dinner? Picked up your turkey and stuffing yet?  Don't forget the pumpkin pie!  I am lucky that for Thanksgiving we normally go to my Mom's house so I don't have to worry about cooking or hosting everyone.  Our contribution is a adorable turkey craft and usually a dessert to share.  Now that our family is getting bigger with more cousins getting married and babies being adding into the mix it is not unusual to have 20+ for dinner.  And yes we all squeeze around the table (or 2 tables) for a Thanksgiving feast!  The boys created a Thanksgiving craft that will be a special centerpiece on Grandma's table – Pom Pom Turkeys!
Easy Turkey Craft: Pom Pom Turkey Centerpiece for Thanksgiving
This blog post may contain affiliate links. What does that mean? We may get a little commission if you make a purchase using our links, at no extra cost to you.
Pom Pom Turkeys are an easy Thanksgiving craft for first graders or young children that is fun to do with the kids and can be put away to use again for many years to come!  I love that they use hand prints as part of the craft, it adds a personalized touch to each turkey. 
You can find all the materials need to make pom pom turkeys at your local craft store, dollar store or get them deliverted right to your house from Amazon.
Easy Thanksgiving Craft for First Graders
Materials needed:
[easyazon_link identifier="B007KGJHEW" locale="CA" tag="litmiskat-20″]Brown Yarn[/easyazon_link]

[easyazon_link identifier="B076B3SL1V" locale="CA" tag="litmiskat-20″]Orange Pipe Cleaners[/easyazon_link]

[easyazon_link identifier="B002XK7ZHG" locale="CA" tag="litmiskat-20″]Googly Eyes[/easyazon_link]

[easyazon_link identifier="B004LOHW6G" locale="CA" tag="litmiskat-20″]Coloured Foam Sheets[/easyazon_link] – Red, Yellow, & Orange

[easyazon_link keywords="glue gun" locale="CA" tag="litmiskat-20″]Glue Gun[/easyazon_link] and glue sticks
Once you have gathered all of the materials it is time to get crafting!  Making thanksgiving decorations can be a fun family or classroom activity.
Preschool Thanksgiving Crafts 
Start off my making the pom pom.  This will act as the "body" of the turkey craft.  To do this wind the yarn around the palm of hand or fingers until they are completely covered and have 3-4 layers on top.  The more your wind on the denser your pom pom will be.  I used Monkey's hand to create a smaller pom pom and my own to create a larger one.
Tip:  Make sure you are not winding too tight as you want to be able to slide the yarn off your hand when ready, and not have to unwind it to get it off.
Once you have the desired density slide the yarn off your hand and lay it across a piece of yarn that you will use to tie it into a bundle.  Tie it VERY tightly in the opposite direction that you were winding to create a bundle with loops on both sides. Young children will likely need a little help with this.  If you are doing this in a classroom setting having some older helpers is always a good idea.

Creating a Pom Pom Turkey Craft
Cut a pipe cleaner in half and tie it into the bottom of the bundle.  Next cut the loops to create the pom pom.  Slide your scissors inside the loops and cut all the way around.  Fluff out the yarn and check for any loops that you missed as they can hide. 
Tip: Don't pull on the loops as you are cutting, you don't want to pull the yarn out of the tie in the middle.
Creating the Foam "Feathers"
Trace 3 hand prints, one on each of the colours of foam and cut them out.  Layer the cut out hand prints fanning them slightly to create the look of feathers and glue them together using the glue gun.  Trim the bottom of the hand pints as necessary to get the desired height of your feathers for your turkey.  Glue the "feathers" to the back of your turkey using the glue gun.
Tip:  Use both the left and right hands so that the silhouette is not exactly the same for all 3 layers of feathers. 
Now it is time to decorate!  Have fun creating a turkey craft with personality and make it your own.  Attach googly eyes using hot glue.  Cut out a beak from orange foam and a wattle from red foam and attach.  Create feet by wrapping another small piece of pipe cleaner around the legs. 
You could get more creative and add additional embellishments, we kept our turkeys looking more classic.
And you are done!  Create a whole family of Turkeys for a gaggle of fun at Thanksgiving!  They are perfect to sit along a ledge or in a decorative dish for a Thanksgiving centerpiece.  Easy preschool thanksgiving crafts that will add a pop of colour to your table and be cherished for years to come.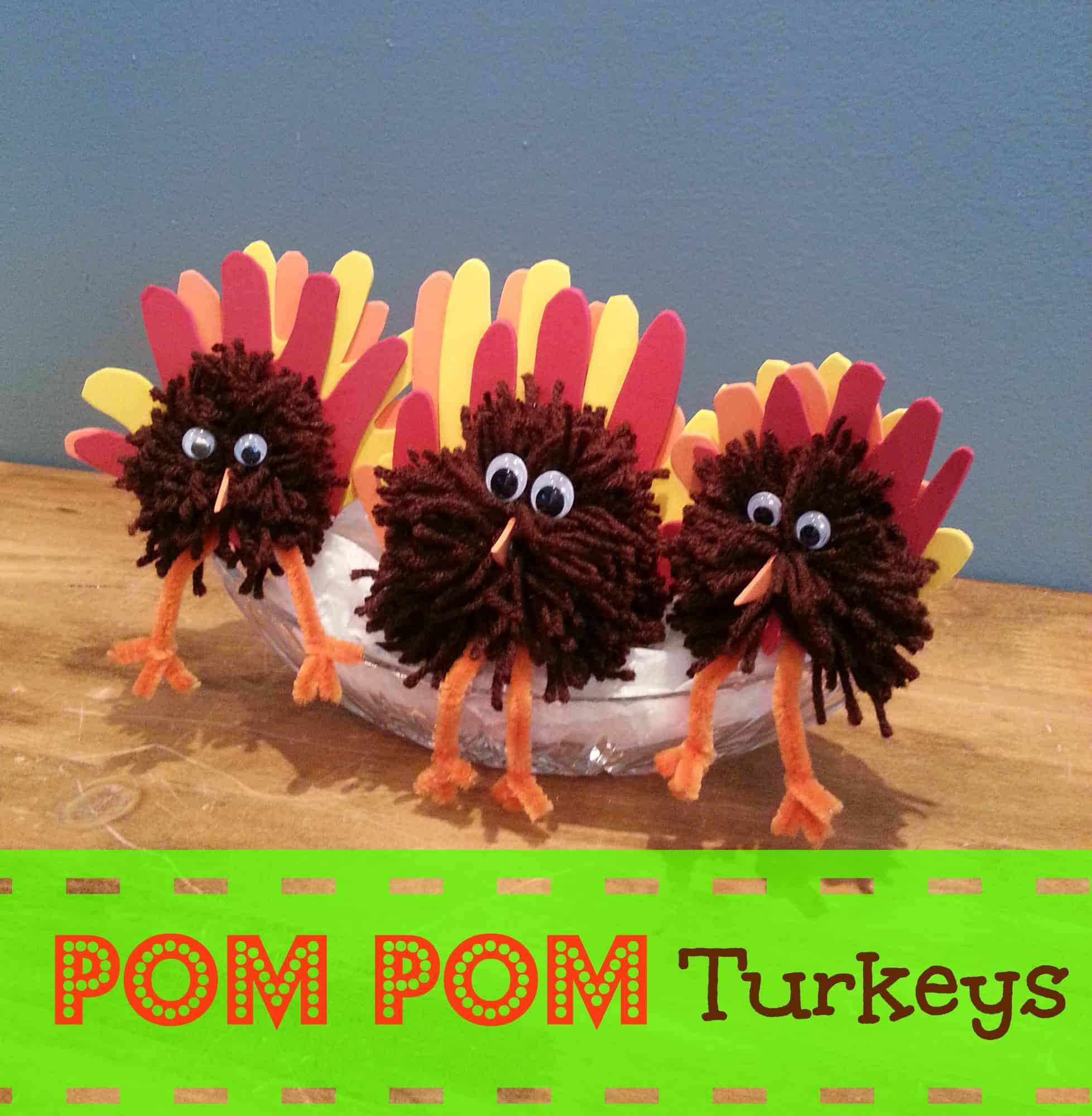 Don't forget to PIN this post for later, and if you need more Thanksgiving inspiration we have got it here!
Thanksgiving is about getting together with family and THE FOOD!  If you are looking for some pumpkin themed food ideas we have you covered.  Everything from Pumpkin soup to show stopper desserts.
First these moist and delicious Pumpkin Chocolate Chip Cookies will have your mouth watering for more. Your kids will love you if you pack some of these tasty cookies in their school lunch leading up to Thanksgiving.

Hate having 1/2 a pie left over after a big dinner?  These Mini Pumpkin Pies are the perfect single serving size pumpkin pie that will satisfy everyone's cravings, but make store any leftovers a breeze.
Add a twist into your pumpkin fest with Pumpkin Pie Bars!
Of course pumpkin is not only for dessert.  One of my favourite breakfasts is a Pumpkin Protein Pancake.  This tasty pancake is the perfect way to start the day with a protein filled meal.  Plus it is flourless for those who are looking for gluten free options as well.
Have fun decorating your table for Thanksgiving and eating well throughout the season!
Originally posted September 2013
Updated Oct 2017, Sept 2019
Save
Save
Save
Save