We know that Moms love to shop so why not check out the Upcoming Baby Shows in Toronto area for the newest products on the market for Babies and Toddlers. Or maybe you are like me and love frugal shopping and don't mind barely used items to keep the costs down as kids can be expensive. Either way there are lots of awesome Baby shows returning this Spring to the Greater Toronto Area.
If you interested in some great mom and baby classes in the Greater Toronto Region, check out 25 Things to do with a Baby! Interested in learning more about Toddler and Parent Programs.
Best Baby Shows in Toronto Area:
Whether you're expecting, have a newborn or are busy chasing a toddler, Baby Shows have it all! Major brands will be showcased in addition to unique artisan vendors and educational seminars. Expect Top-notch toddler entertainment under one roof to keep everyone entertained.
Mark your calendar to check out the upcoming Baby Shows and Baby and Toddler Shows all happening this Spring! Whoa, the count down is on! The Spring weather allows brings Baby Shows to the Greater Toronto Area. With hundreds of exhibitors the Baby shows are really your one stop shop for everything pregnancy to preschool.
Upcoming Dates for Top Baby Shows:
Outgrow Outplay Shows:
Mom to Mom sales are a great way to refresh your child's wardrobe without breaking the bank. From clothing to shoes and toys to books they have it all usually for a fraction of the price you would pay in stores. Doesn't matter if you are having your first or your third child there seems to always be something to buy and shopping at mom to mom sales allows me to stretch my money while still getting the things we need.
Plus as a bonus you are helping another mom empty her house of items that she no longer needs! Mississauga has several mom to mom sales every year. Here is a list of Mom to Mom sales in Mississauga and surrounding area to get you started:
Upcoming Dates for Outgrow and Outplay Shows: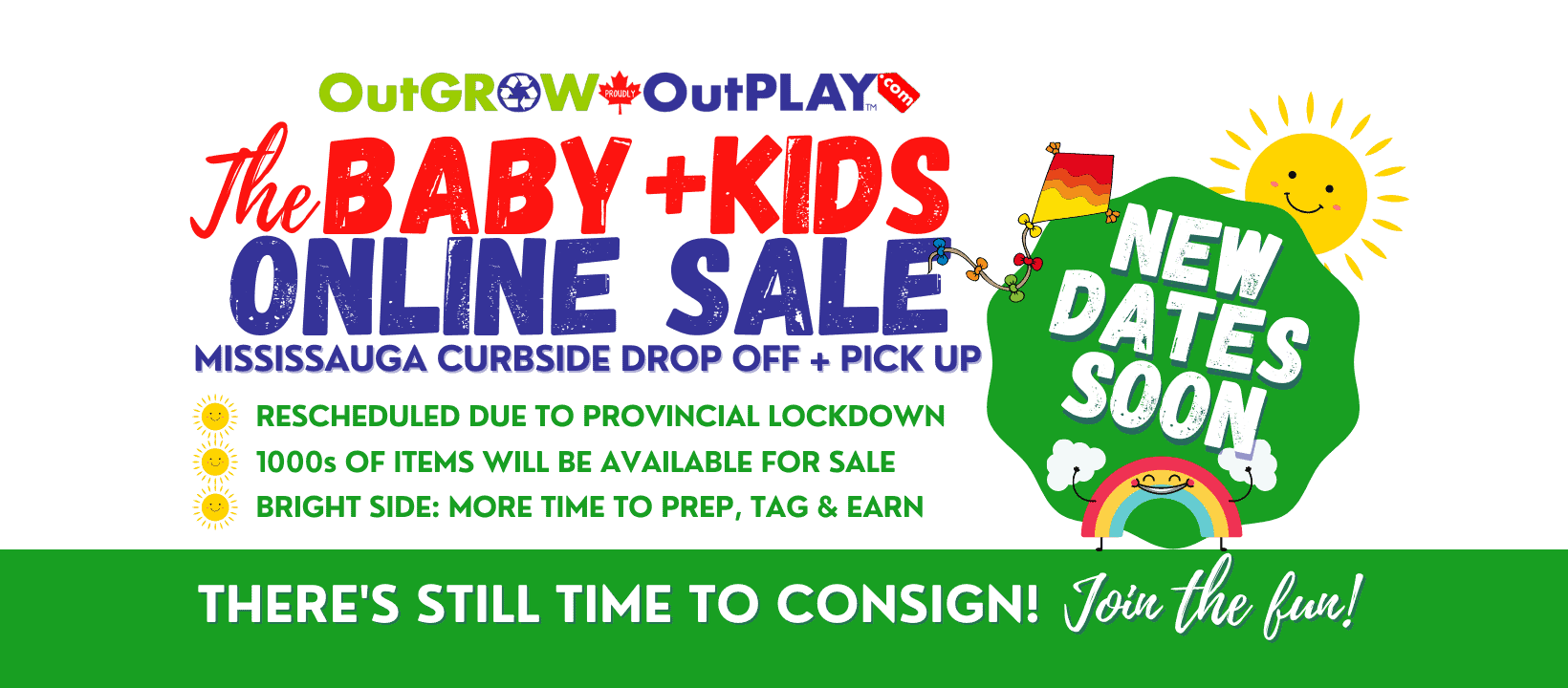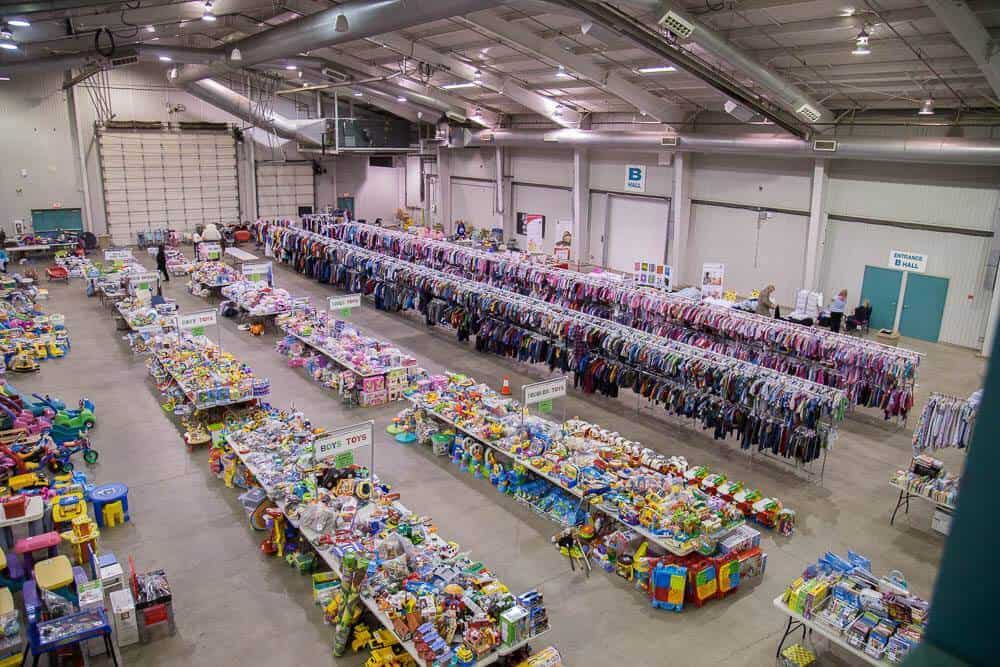 Do your children OutGROW and OutPLAY their toys and clothes while they still are basically brand new? Then we have the solution for you -> Checkout the OutGrow and OutPlay show that allows Moms to sell and buy used items and declutter their homes.
The Show has locations Coast to Coast which is amazing! The OutGrow and Outplay Show allows parents to buy clothing, toys and baby gear at a fraction of the retail price as parents typically save 50-90% off Retail Value.
Are you a First Time Parent?
1st Time Parents are invited to attend for FREE one OutGROW OutPLAY 1st Time Parents Pre-Sale EXTRAVAGANZA per location. For more information click here. Normally this time slot is 8-9AM on the Saturday morning of the Show.

Here are 10 tips for making your outing to Baby Shows in Toronto and OutGrow Outplay Shows a huge success:
1 -Do your research – while it is fun to browse the Baby Shows and walk the floor, if there is a specific item or brand you are looking for do your research ahead of time have a look at the exhibitor list to see who you "must visit". The show is a great place to be introduced to new products, however you may find it helpful to do a little leg work before hand to narrow down some of the items you want to see.
For example being introduced to 20 different car seats can be overwhelming, but if you know your top 3 and want to see them in person before buying that will be much more manageable.
These tips are still applicable to the Outgrow Outplay show as it can be overwhelming to have multiple items in the same category and now know which would be the best fit for your family. For clothes, determine what size your child is now, or figure out what size approximately they will be for the season of clothes your buying.
2 – Bring your list – Once you are at the shows it can be easy to get distracted and forget about the items you wanted to research or buy. I jot down the things I am looking for so that I can double check that I got everything before getting home. This time around my shopping list includes summer toys for Thumper and a gift for an expecting friend.
3 – Wear comfortable shoes – the last thing you want is to have to head home early because your feet hurt. Although there are places to sit down and take a rest, do yourself a favour and wear comfortable walking shoes as it will make the while day more pleasurable.
4 – Don't forget your water bottle – you will get thirsty while walking around the shows, and we know that it is so important for parents to stay hydrated. Fresh cold water to keep you refreshed as you tour around both shows is important as to see everything you may be out for a few hours.
5 – Bring Cash – while most shows will take credit and/or debit it can be easier and faster to shop with cash (and sometimes it can even save you a few dollars too!)Remember that at these sales for the most part cash is king.
Some offer credit and debit but be sure to check the website for each sale for details first. One last tip is that if you can shop at these sales without the kids, honestly it will go smoother. Not that you can't do it with them, but when you are shopping for clothes and they are asking for action figures it can get a little frustrating.
6 – Check out the list of seminars being given daily at the Baby Shows – The Expert Seminar Stages will offer information packed sessions on a variety of topics including breastfeeding, parenting tips, safe sleep, exercise during and after pregnancy, car seat installation and more.
7 – Don't worry if you need to bring the kids – Can't get away for the day? Or want to do some shopping with your partner but don't have someone to watch your kids?
There is lots of entertainment for young children at the Baby Shows as they normally have toddler performances. At the Outgrow and Outplay show it can sometimes be easier to have the kids with you to determine sizing and what items are a good fit for them! P.S. children 12 and under get into the shows FREE.
8 – Come back again – Undecided about a purchase or want to bring your partner back to show them a product your loved? Re-admission is available when you attend the Baby shows, pick up your re-admission pass to come back one additional day during the Baby Shows. At the Outgrow Outplay Show it runs all weekend so your welcome to come back however items go quickly so your best to bring your partner with you or have them on standby and text photos.
9 – Be prepared – if you are bringing your baby with you bring a stroller AND a baby carrier. Strollers are great for having a place to put purchases and samples at the Baby Shows, and a baby carrier is perfect for when baby wants to be with you and keeps your hands free. Every year I see moms awkwardly trying to push their stroller around while holding their little ones, so your best bet is just to bring your carrier. Don't have one? Well the Baby shows are a perfect place to try out different styles and find one you love. The early bird does catch the worm or at an Outgrow and Outplay sale… the best items at the lowest prices, so make sure you arrive Early! Strollers are welcome at the OGOP show however be prepared that it will be very busy!
10 – Bring a friend/Partner/Parent – As much as I enjoying going to baby shows, they become instantly more enjoyable when I have a friend or my Mom with me. The Baby Shows are a great time to connect with a friend you have not seen in a while. Or if you want to make your Mother's year, bring her. Grandparents LOVE seeing all the baby products and doing some shopping, plus it is a great chance to get a visit in (plus grandparents get a discounted rate at the Baby shows). A win/win for everyone!