Back for another year is the 12 Days of Christmas Giveaways! The Exploring Family is thrilled with the community we have continued to build throughout 2022 and we would like to give back to our readers.
We are excited to host a 12 Days of Christmas giveaway starting November 14th, 2022. 2022 has been our biggest year yet as we doubled the traffic on our site, so we want to celebrate!
SCROLL TO THE BOTTOM FOR ALL ENTRY FORMS
The Exploring Family is excited to announce our Holiday Giveaways for 2022! Multiple lucky followers of the Exploring Family network will receive their prizes, just in time for the holiday season as everyone could use a festive boost!
Every day a New Giveaway will OPEN. All giveaways will all be open until Nov 30th and prizes will be announced Dec 1. Make sure you check out the details of each giveaway, some prizes need to be picked up in Brampton (near Shoppers World), however most will be mailed out directly to the winner.
*Our 2022 Giveaways were sponsored by: Tekygo, DreamEgg, Disney on Ice, Little Canada, Journey to Enchantment, O Christmas Tea, Twinkle After Dark, Magformers, Asmodee Games, Hasbro.
12 Days of Christmas Giveaways on The Exploring Family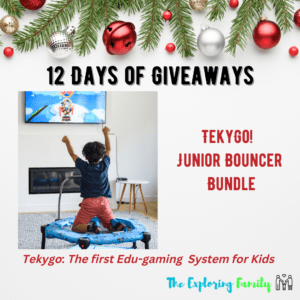 On the First Day of Christmas – TekyGo! Junior Bouncer Bundle
Playtime should be more than just simply pressing play, as the TekyGo is a unique form of active learning through edutainment.
This exergaming console was designed to help teach children under 6 years old in a fun active way! With a team of professionals including childhood development specialists, expert story-tellers, brand inventors and game designers they have created a Developmental Learning tool called TekyGo!
The TekyGo portal connects the trampoline, compatible accessories and gaming platform. Children can learn and grow alongside this gaming console as game play is designed to to improve their motor skills, daily exercise, colour and word association, the list goes on!

On the Second Day of Christmas – A family of Four Tickets to Disney On Ice
Disney On Ice is back with a magical adventure for the whole family! Audiences will discover what it truly means to be a hero as Mickey Mouse, Minnie Mouse and friends from around the Disney Kingdom come together to take families on a journey through timeless tales when Disney On Ice presents Find Your Hero skates into Toronto from February 3-5, 2023 at Scotiabank Arena.
Mickey Mouse, Minnie Mouse, Donald Duck and Goofy set the stage for an adventure filled with tales of heroism from your favourite Disney stories in Disney On Ice presents Find Your Hero.
See how far Moana will go when she embarks on an action-packed voyage with mighty demigod Maui in a quest to save her island, become a wayfinder, and find her own identity. Journey alongside Anna and Elsa and the hilarious snowman, Olaf, on their quest to protect the kingdom. Dive "Under The Sea" and test the power of true love with The Little Mermaid. Get tangled with Rapunzel as she dares to explore the world outside her own. And be there as Belle boldly tames the fearsome Beast. Discover that courage, determination and heart are all part of the hero in you!
Disney On Ice presents Find Your Hero brings beloved characters to life through cutting edge figure-skating, eye-catching costumes and stunning set designs. Innovative lighting, thrilling special effects, high-flying jumps and breathtaking skating make Disney On Ice presents Find Your Hero an experience the whole family will treasure forever!
For ticket prices and to purchase tickets visit www.DisneyOnIce.com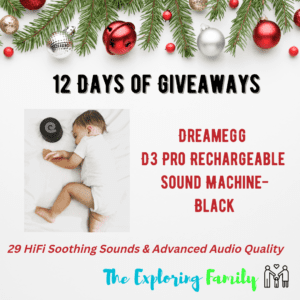 On the Third Day of Christmas: Dreamegg D3 Sound Machine (Must be Picked up in Georgetown)
Babies and Toddlers have better sleep with the aid of the Dreamegg D3 as it offers:
29 HiFi Soothing Sounds & Advanced Audio Quality

Non-Stop & Auto-Off Timer & Adjustable Volume

Compact Size and Lightweight

Built-in Headphone Jack

Rechargeable Battery for Traveling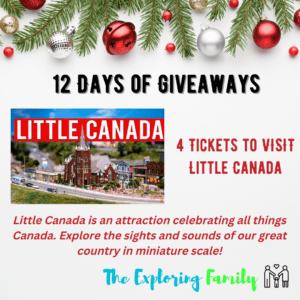 On the Fourth Day of Christmas: Little Canada Family Pass (Toronto)
Little Canada is an attraction celebrating all things Canada. Explore the sights and sounds of our great country in miniature scale! Little Canada is a celebration of Canada and all that makes this country so great, shrunk into a 2-hour experience, a place for residents and visitors alike to experience Canada and all that it has to offer, all under one roof.
Little Canada takes you on a journey of discovery from the moment you enter, it is a place where you'll lose yourself in our country's captivating vistas, famous landmarks, iconic cityscapes, and telling the many diverse stories that connect people to Canada and the residents of this great country. Our mission is to evoke a sense of wonder and curiosity about Canada.
Little Canada is located 10 Dundas Street East, Toronto, ON, M5B 2G9
To learn more about little Canada, their holiday experience or to buy your tickets online, visit: https://little–canada.ca/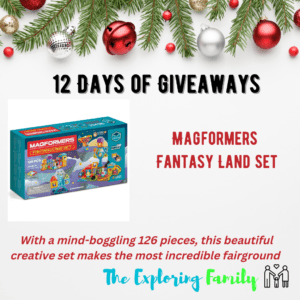 On the Fifth Day of Christmas: Magformers
Build And Create With Magformers Fantasy Land 126Pc Set. This Magformers Deluxe Set Arrives With 9 Different Geometric Magnetic Shapes Totalling 70 Pieces And 23 Different Accessories Totalling 56 Pieces. Build An Imaginative Magformers World And Create A Toy Shop, Hotdog Stand, And Carnival Rides! Add Our Magbuddies Characters To The Ferris Wheel And Create Fun For All The Family! The Perfect Set For The Magformers Enthusiast.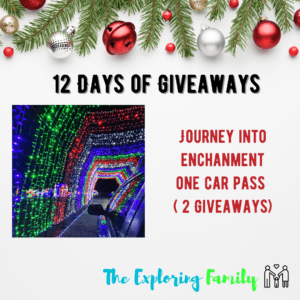 On the Sixth Day of Christmas: Journey into Enchantment (Mississauga/Richmond Hill)
Drive Thru Journey into Enchantment that is a 2 km route, experiencing Christmas Lights to the enjoyment of your Favourite Holiday Hits! Witness over a 1.5 million Christmas Lights, A sparkling light drive thru tunnel, from animated displays to 3D and much more! Tune into our dedicated radio station for the famous Christmas Hits!
Located at two locations: Meadowvale GO Station and Richmond Hill Go Station
Purchase Tickets: https://journeyintoenchantment.ca/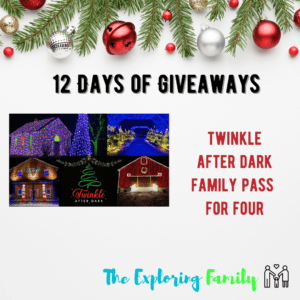 On the Seventh Day of Christmas: Twinkle After Dark Family Pass – Milton
Twinkle After Dark in Milton allows guests to enjoy holiday displays, holiday projections, festive music memorable characters like Santa and his Elves as you stroll through the 1km trail listening to your favorite holiday tunes with family and friends.
The rustic heritage building of Country Heritage Park bring country charm with the 19th century barn and natural scenery that has been decorate with tens of thousands of lights all set under a beautiful night sky and winter landscape in the heart of Halton Region. Enjoy a warm beavertail and warm beverage as you stroll through the park.
The walking tour includes larger than life displays, heritage farming equipment and immersive screens. This holiday season make memories at this Winter Country Festival celebrating a combination of farming, cultural heritage and beautiful lights.
Purchase Tickets: https://www.twinkleafterdark.com/ontario/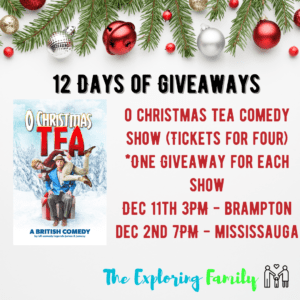 On the Eighth Day of Christmas: O Christmas Tree British Comedy
From the unbridled imagination of beloved British comedy duo James & Jamesy comes the rollicking holiday comedy O Christmas Tea. With over 100,000 tickets sold since 2013, the beloved duo bring their unique and charming style of comedy to Ontario for the first time.
Reminiscent of classic British pantos, O Christmas Tea is rich in wordplay, comic physicality, and cleverly crafted interactive elements; yet it is James & Jamesy's boundless imagination and endearing chemistry that provide the real magic and heart of this play.
"The Christmas season is a magical time of year that brings people of all ages together; a time when we are encouraged to dream big, embrace imagination, and celebrate a childlike excitement for merriment," explains Alastair Knowles (Jamesy), the eccentric half of the award-winning duo.
As the curtain rises on the duo's Christmas tea party, the pair plunge into a debate on the relevance of imagination in an adult world.
Embodying optimism and generosity, Jamesy's Christmas wish for enough tea to serve the entire world is answered in titanic—nay, Biblical!—proportions. What ensues is an adventure through a world filled with tea, where reality and imagination are wonderfully intertwined, and the audience find themselves completely caught up—nay, immersed!—in the action. With the help of the audience, the duo find innovative and hilarious solutions to stay afloat as they try to make their way back home.
Redefining immersive theatre, these masters of physical comedy—with over 20 comedy awards to their name—bring their audience on a jolly escapade with surprising depth in this joyous celebration of friendship at Christmas.
Grab your teacups! (Nay, your tickets!)
The show will be held:
December 11that 3pm and 7.30pm, The Rose Theatre, Brampton

December 2nd 7:30pm, The Living Arts Centre, Mississauga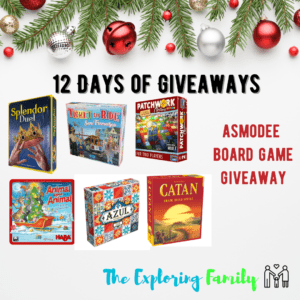 On the Ninth Day: Asmodee Board Game Bundle
Asmodee Canada is the leading distributor of tabletop games in Canada and is the creator of some of my absolute favourite games. Our board game bundle features Splendor Duel, Ticket to Ride San Francisco, Patchwork, Animal upon Animal, Azul and Catan.
Splendor Duel is a brand new 2-player game with unique and innovative mechanics. Will you be the one to wear the crown? Confront your rival guild in a race for victory. Take Gems and Pearl from the common board, and gain royal favors and prestige! Players will recognize some of the Splendor key aspects: the Renaissance jewels theme, high-quality components, and card and token acquisition mechanics, increasing one's prestige and purchase opportunities. However, Splendor Duel relies on entirely new rules and offers unique game contents: a common board, Privilege figurines, and Royal Favor cards.
Ticket to Ride San Francisco is a game where souvenirs weigh heavy in your bags as you lean out of the cable car. Sunlight shimmers through the mist that obscures your view of Alcatraz and the Golden Gate Bridge. San Francisco is truly the Golden City! In this fast-paced Ticket to Ride, players race one another to visit the most iconic locations of the city, and collect souvenirs along the way. The elegantly simple gameplay of this stand-alone version of Ticket to Ride is ideal for both beginners and seasoned players.
Animal upon Animal is a game where the animals are climbing all over each other to form an ever-taller Christmas pyramid. But which one will make it to the top? The players decide by carefully balancing squirrels, snow bunnies, penguins and reindeer on stars, trees, sleds, and even on top of each other. The first player to place all of their figures safely on the pyramid wins this wobbly Christmas stacking game.
Patchwork – Christmas is a special edition of this now classic game; and this Christmas Edition brings the same great two-player fun in a beautiful Holiday style. In the game, each player works to create a beautiful, Christmas-inspired patchwork quilt out of the available patches, looking to avoid leaving any empty spaces. The most beautiful quilt wins!
In the game Azul, players take turns drafting coloured tiles from suppliers to their player board. Later in the round, players score points based on how they've placed their tiles to decorate the palace. Extra points are scored for specific patterns and completing sets; wasted supplies harm the player's score. The player with the most points at the end of the game wins.
Embark on a quest to settle the isle of Catan. Guide your settlers to victory by clever trading and cunning development. Use resource combinations to buy handy development cards and build roads, settlements, and cities. Acquire your resources through trades, cards, or lucky dice. But beware! Someone might cut off your road and you never know when the robber might steal some of your precious gains!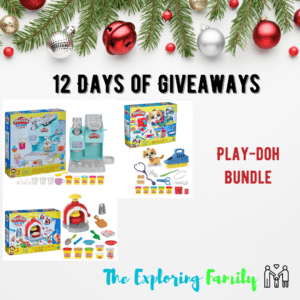 Day 10
On the Tenth Day of Christmas: Play-Doh Prize Pack
Play-Doh Kitchen Creations Colorful Cafe Playset: Get imaginations brewing with the Colorful Cafe Playset! This pretend play cafe set lets kids imagine creative Play-Doh drinks their way. Make the toy coffee maker fill the cups with colorful Play-Doh modeling compound, then spin and slide them to the topping station and add pretend whipped cream. Whether they're creating Play-Doh coffee, tea, frappes, or pretend smoothies,
kids can have fun playing barista again and again. This Kitchen Creations drinks toy for kids 3 years and up comes with 5 different. Play-Doh colors in 2-ounce cans to perk up their imaginations.
Play-Doh Kitchen Creations Pizza Oven Playset: Imagination is on the menu with this toy pizza oven! Kids can play pretend chef as they stamp and spin out creative Play-Doh pizzas with over 25 possible pretend toppings. The play food set includes 8 tools to help inspire future cooks' creativity, and 6 modeling compound colors including a tricolor can with pizza-themed colors. Kids can also get their pretend pizzas ready for delivery in the pizza box. This Play-Doh set makes a great activity, gift, or arts and crafts toy for kids 3 years and up!
Play-Doh Care 'n Carry Vet: It's time for this pup's checkup! With so many ways to get creative and play pretend veterinarian, this vet toy for kids 3 years and up is sure to win the hearts of caring little animal lovers everywhere. Groom and style the toy dog by growing Play-Doh hair, giving it a haircut, and taking Play-Doh fleas off with the tweezers. Start the checkup by making the pup grow a long Play-Doh tongue and using the 10 vet kit tools including a toy stethoscope, thermometer, and more. With 5 classic modeling compound colors, this ready-to-play animal doctor
kit makes a great activity, birthday gift, or present for any occasion!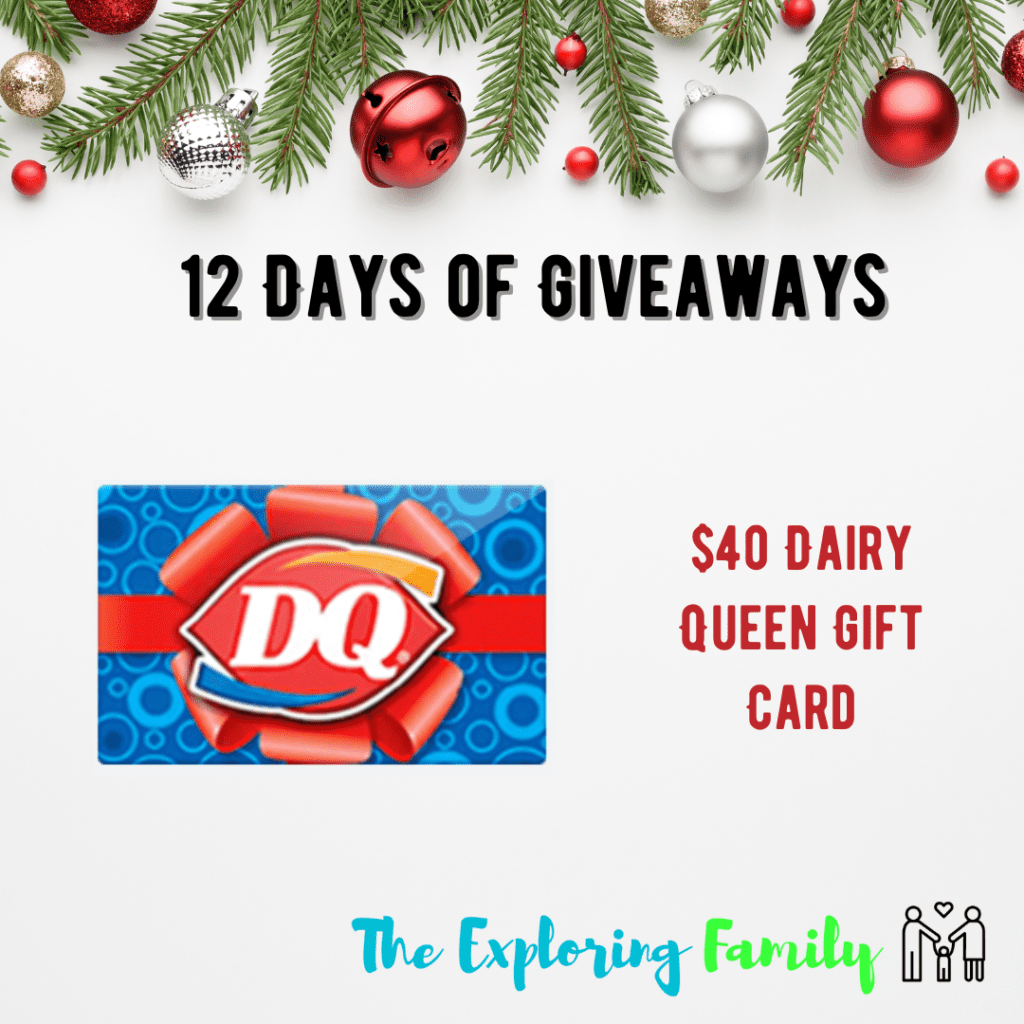 On the Eleventh Day of Christmas:
Enjoy a Cold Holiday treat from Dairy Queen, courtesy of the Exploring Family as we donated a $40 Giftcard to our Giveaway!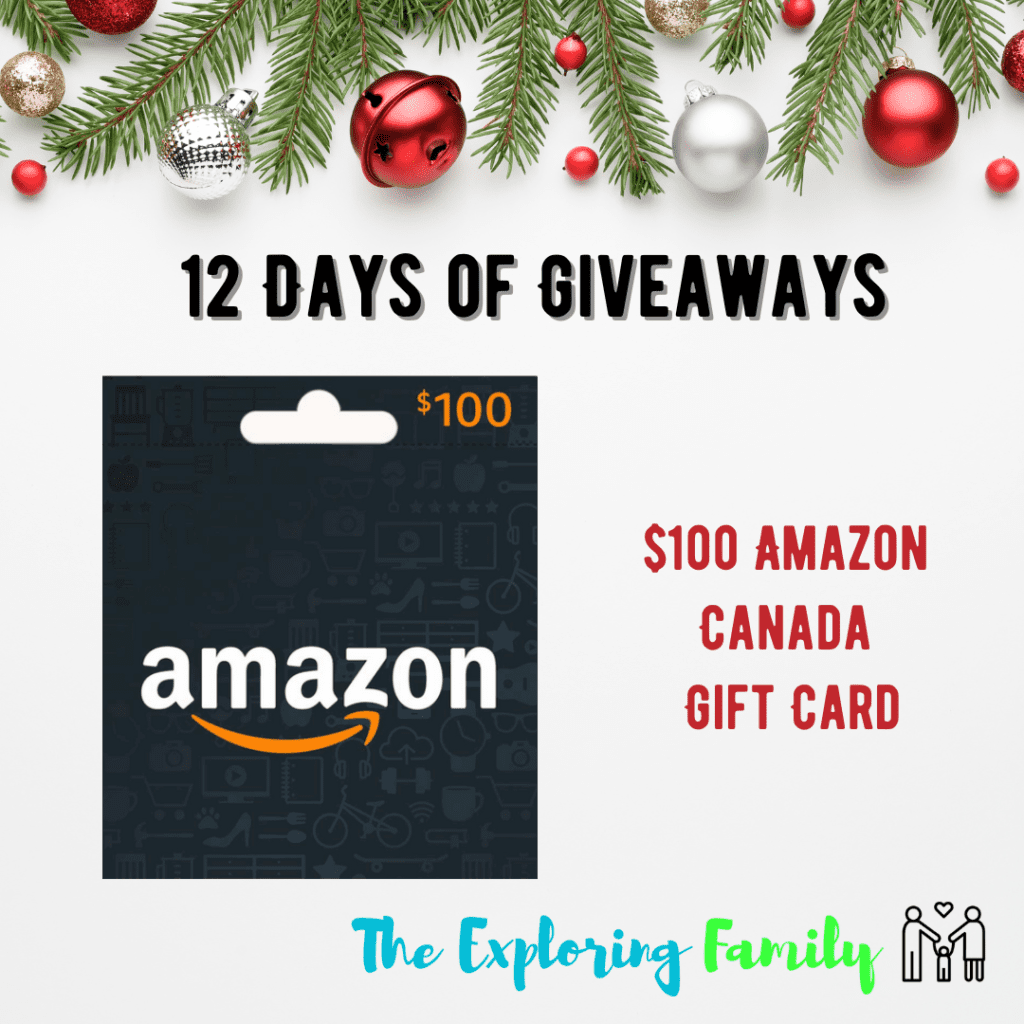 On the Twelfth Day of Christmas:
We know money can be tight so use $100 from Amazon, courtesy of the Exploring Family.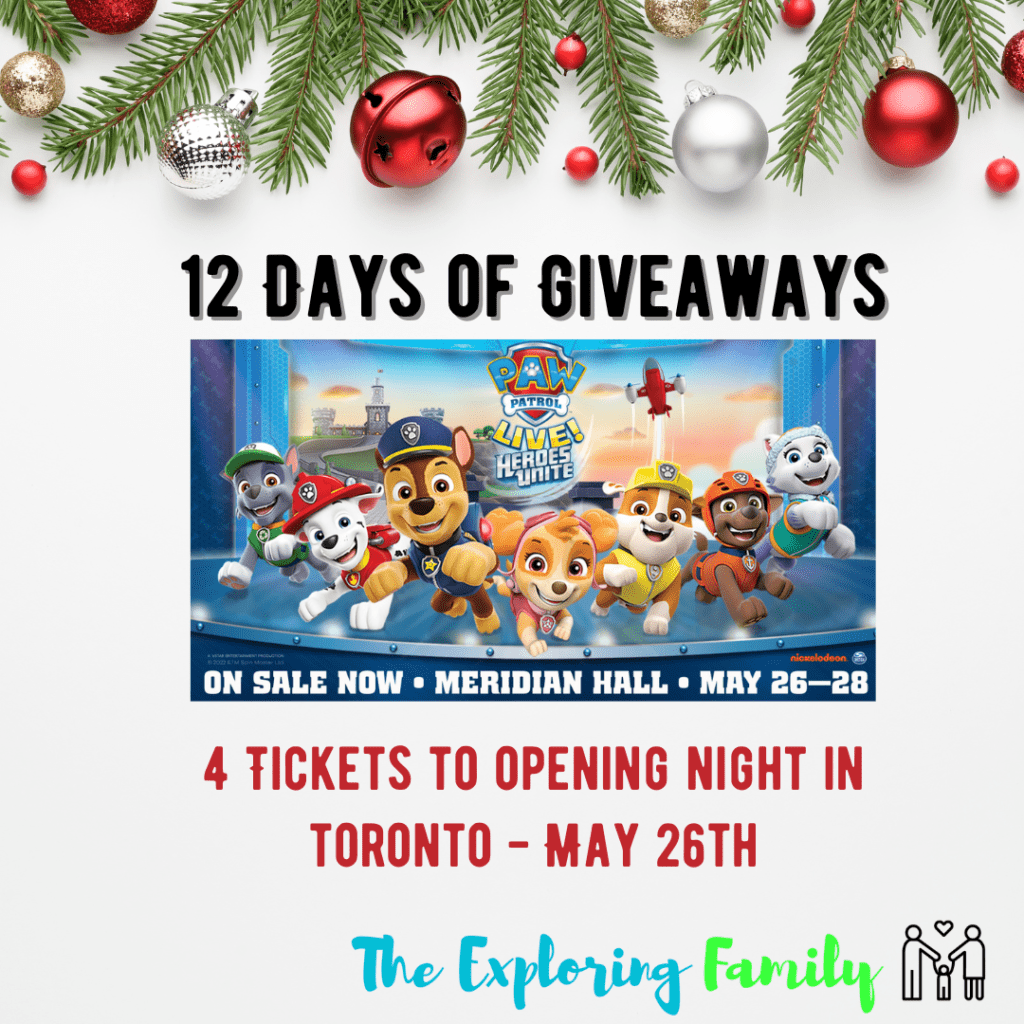 On the Bonus Day of Christmas: A Family Pass of Four Tickets to Paw Patrol Live on May 26th at Meridian Hall in Toronto
The PAW Patrol is on the lookout for Adventure Bay's Top Heroes in the brand-new live show!
Calling all good citizens! The PAW Patrol is yelping for help as they face their greatest challenge yet. Mayor Humdinger has dognapped Robo Dog and cloned him, causing chaos all over the world. It's up to the pups to catch those clones, rescue Robo Dog and show that when the going gets "ruff," lending a paw makes you the ultimate TOP HERO!
PAW Patrol Live! "Heroes Unite" is coming to Toronto for 6 PAWSOME shows!
Tickets are on sale now at Ticketmaster.ca, www.pawpatrollive.com and the Meridian Hall Box Office.
Go to www.pawpatrollive.com for more info.
ENTER TO WIN:
Bonus Giveaway:
Day 1:
Day 2:
Day 3:
Day 4:
Day 5:
Day 6:
Day 7:
Day 8:
Day 9:
Day 10:
Day 11:
Day 12:
Want to stay in the know with all things local? Don't forget to join our locally focus Facebook group: Peel Parents Resource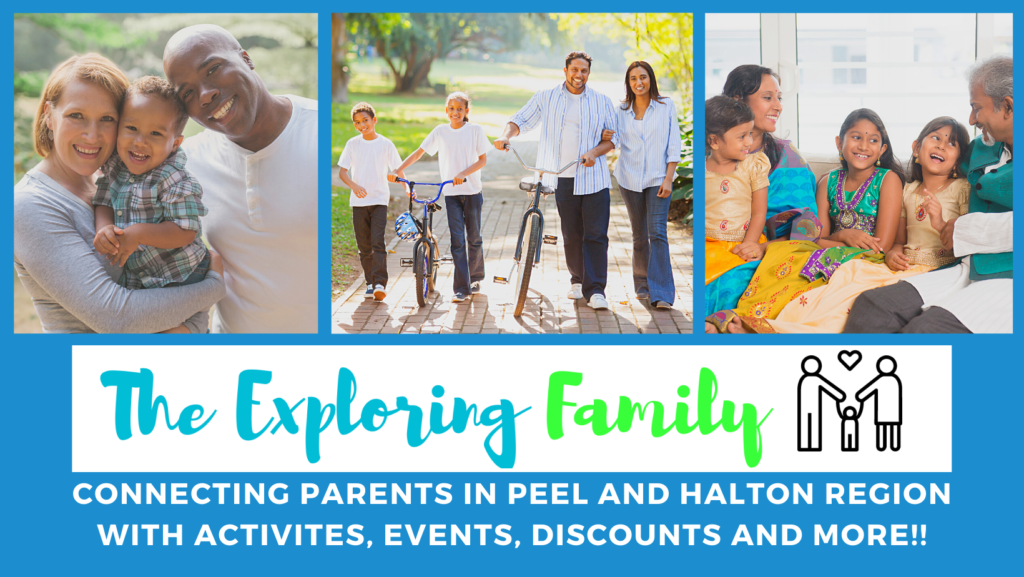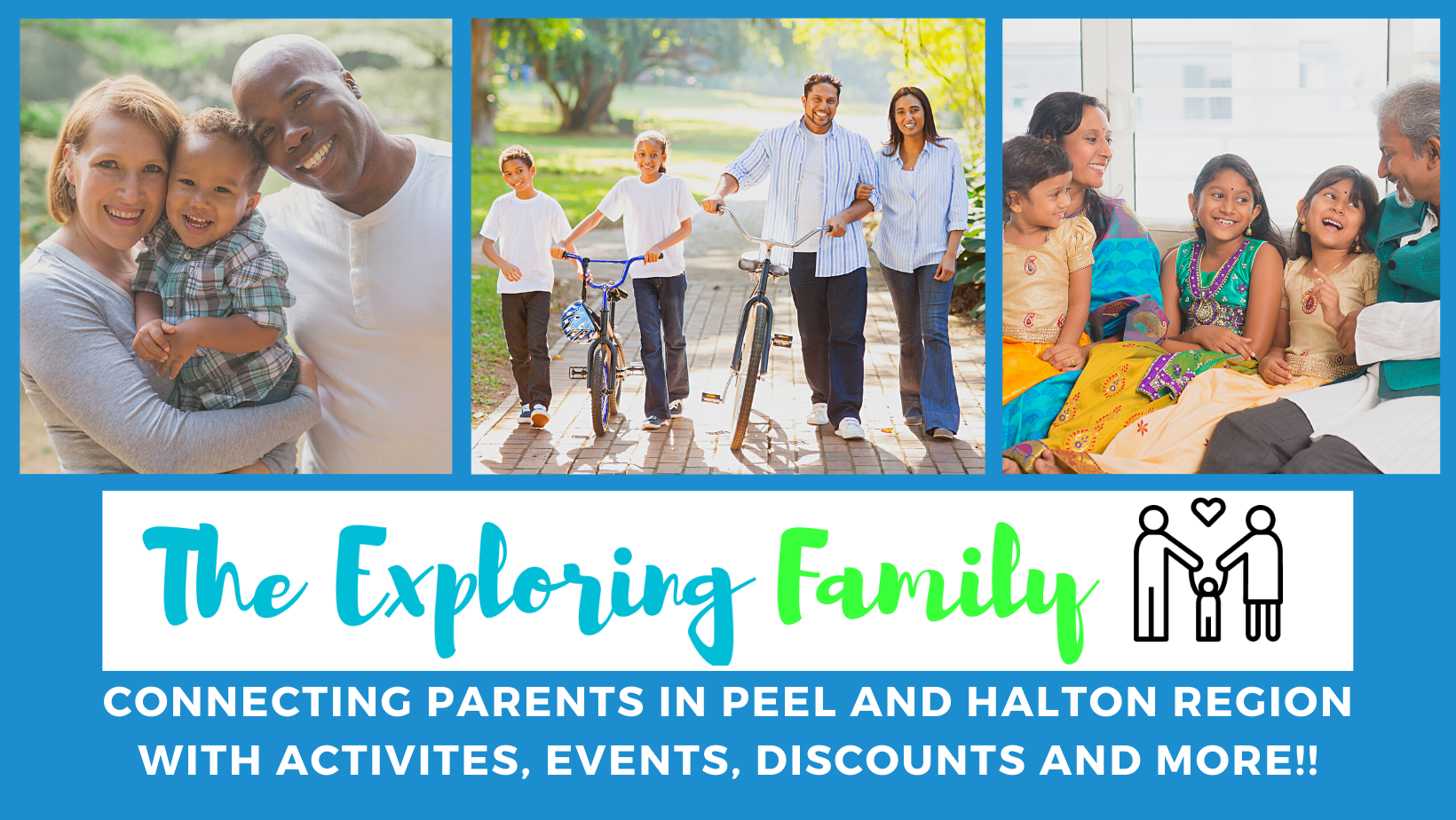 Please Note:
We do our best to ensure the information on The Exploring Family is accurate, however information and events are subject to change.
Can you help make this article better?
If you have noticed an error, have additional information or would like to share a comment you can:
E-mail us at info@thexploringfamily.com
Find us on Facebook: The Exploring Family
Find us on Instagram: The.Exploring.Family