When you think Cherry Blossoms you may automatically think of Cherry Blossoms in High Park Toronto. While it might be the most well known place to spot them there are many other places to see Cherry Blossoms in Ontario. From late April to May you can enjoy the delightful display the Sakura trees have to offer.
When do Cherry Blossoms Bloom in Ontario?
In Ontario Cherry Blossoms bloom between late April and early to Mid-May. The weather can impact when (and if!) the Sakura trees bloom. Peak Cherry Blossom season is when 70% of the blossoms are open.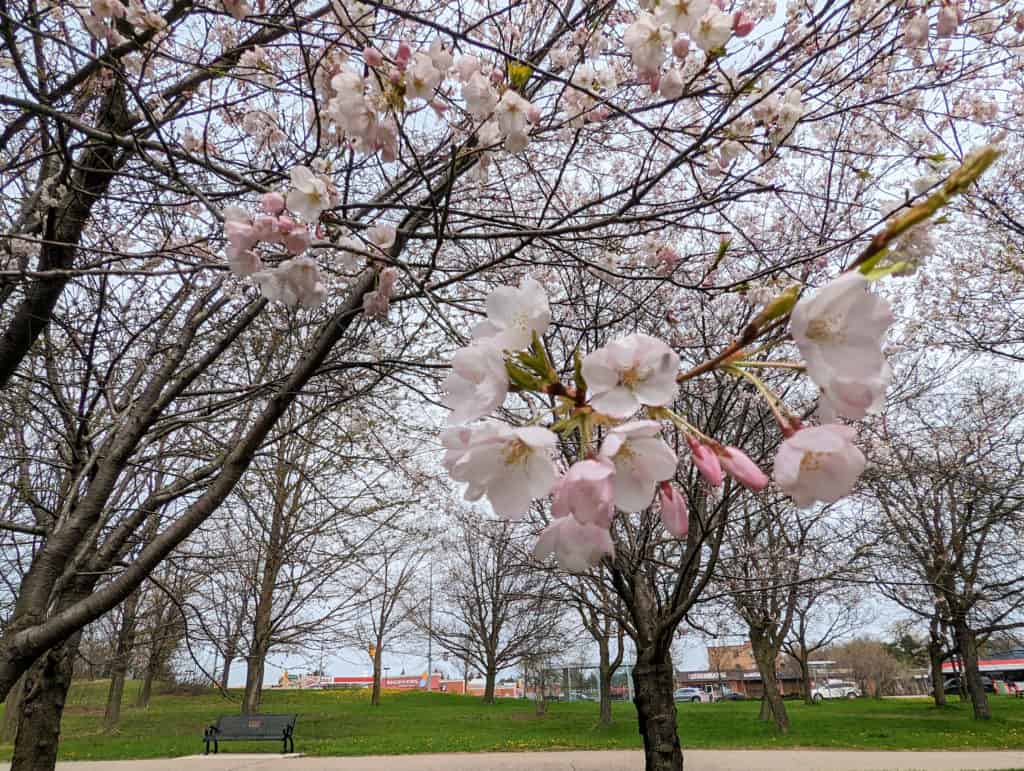 How long to Cherry Blossoms Last?
While Cherry Blossoms are beautiful, they are a short lived phenomenon. Cherry Blossoms typically last between four and 10 days depending on weather conditions. That means during peak time, there is no "I will visit them next week" because if you do they will be gone.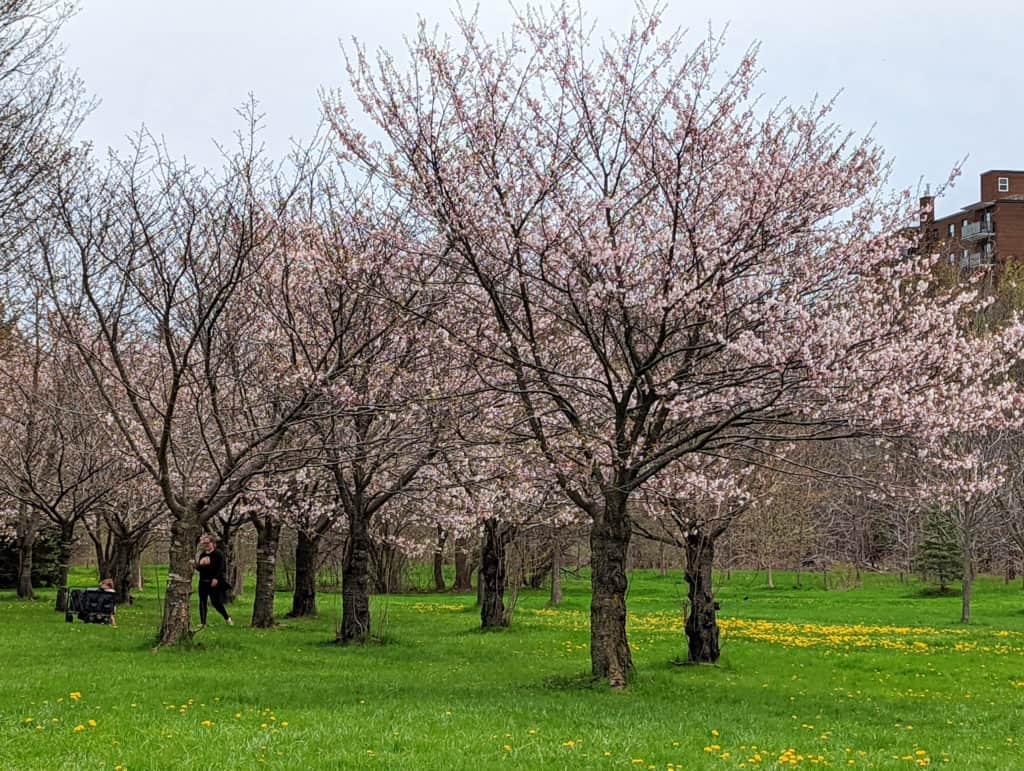 Things to remember when visiting Cherry Blossoms in Ontario
Take only pictures and memories with you when you leave
Do NOT grab or shake branches or pick flowers from the trees
Do NOT climb the trees
Do not break of twigs or branches as "souveniers" – this damages the tree and creates a spot for bugs and disease to enter the tree
Cherry Blossoms go through 6 stages of development when blooming, make sure you are not interfering with all of the hard work from the tree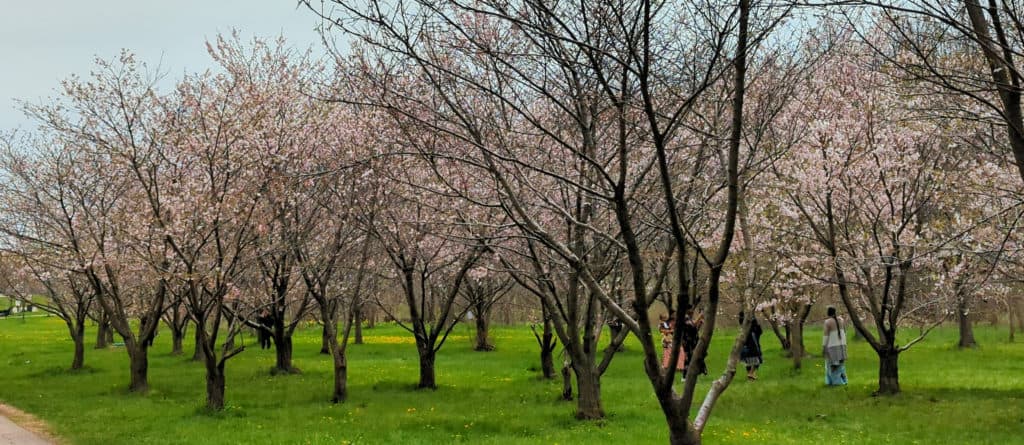 Cherry Blossoms in Toronto
There are over 15+ Parks in Toronto with Cherry Trees to view the Cherry Blossoms. Find out all the details below.
High Park Cherry Blossoms
1873 Bloor St W, Toronto – One of the most popular spots to see Cherry Blossoms in Toronto is High Park. Every year thousands of visits descend to catch a glimpse of the High Park Cherry Blossoms during peak season.
First planted in 1959 you can find hundreds of Sakura trees around the West side of the Grenadier Pond. To avoid crowds go earlier in the day and remember there is limited parking near by. Public transit is a good idea.
Birkdale Ravine
1100 Brimley Rd., Scarborough – There are 45 Japanese Cherry Blossom Trees that were donated by Sagmihara (Toronto's sister city in Japan) that were planed in 2015 and 2016. You can find them as a tree tunnel near the Pomeroy Street and Lyon Heights Road entrance.
Broadacres Park
35 Crendon Dr., Etobicoke – At Broadacres Park 100 Japanese Cherry Blossom Trees were planted in 2002. You can find them in rows in the Southwest corner of the park towards Elderfield Crescent
Cedar Ridge Park
225 Confederation Dr., Scarborough – a smaller grouping of 5 trees are located to the North of Cedar Ridge Creative Centre
Centennial Park
151 Elmcrest Rd., Etobicoke – Over 450 trees have been planted between 2002 – 2011 for people to enjoy Cherry Blossoms in Toronto. Cherry trees are located along Rathburn Rd, on Centennial Park Blvd and Northeast of Centennial Park Conservatory.
Cherry Street and Villiers Street
At this intersection you will find 45 trees that were planted in the city in 2006
Edwards Gardens
755 Lawrence Ave. E., North York – At Edwards Gardens you will find a small group of trees located in 2 different areas. 2 mature trees on the West side of the ravine close to the bridal path entrance. And also 8 medium trees located near the Edwards Garden Courtyard water fountain.
Japanese Canadian Cultural Centre
6 Garamond Crt. North York – Cherry Trees were planted at the Japanese Canadian Cultural Centre between 202 and 2012. They can be found around the parking lot on the North, East and South sides. And also more trees along the North side of the Cultural Centre building.
John P. Robarts Research Library
130 St George St., Toronto – Located near the U of T downtown campus you can find70 Cherry Trees that were planted in 2005 at the corner of Huron St and Harbord St lining the walking path.
Toronto Island Park
Centre Island – take the ferry (9 Queens Quay W.) over to Centre Island to see the 30 Cherry trees that were planted in 2011 beside the William meany maze.
Trinity Bellwoods Park
790 Queen St W, Toronto – Trinity Bellwoods park is large at 36 acres, and is also a popular destination to view Cherry Blossoms in Toronto. From this park you can even get a unique vantage point of the Cherry trees with the CN tower in the background (Southeast of Trinity Circle).
University of Toronto Scarborough Campus
1265 Military Tr., Scarborough – You will find 50 Cherry Trees in front of the Humanities Wing on the University of Toronto Scarborough Campus.
Woodbine Park
1695 Queen St. E. Toronto – There are 20 young Cherry trees planted to create a tree tunnel as they grow along the path next to the pond.
York University
4700 Keele St. North York – Located across the York University campus there have been 250 trees planed between 2003 and 2007.
Cherry Blossoms in Brampton
Joyce Archdekin Park
Main Street S and Nanwood Drive – Enjoy Cherry Blossoms right in Brampton at Joyce Archdekin Park. You can park at the Metro plaza and then walk along the path at the North end of the parking lot to go under Main Street to get to the park on the other side of the road. There you will find a collection of Cherry Trees that make a great photo backdrop.
Brampton Cherry Blossoms April 20, 2023 – With the warm weather this year Cherry Blooms are blooming earlier this year. Check out how they look as of April 20, 2023
2022 – Brampton Cherry Blossoms May 3, 2022 Update – Check out the link for the photos Buds are coming along, but not quite ready yet.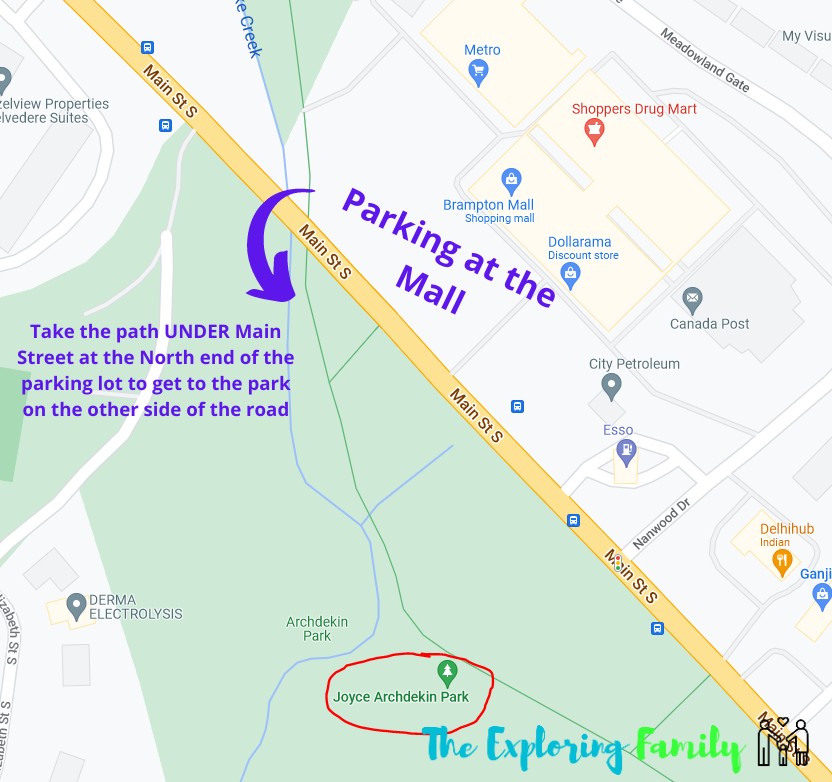 Cherry Blossoms in Mississauga
Kariya Park
3620 Kariya Dr, Mississauga – This Japanese garden is found in the park named after Missisagua's sister city Kariya, Japan. Cherry Blossoms Mississauga can be found on the 65 beautiful cherry trees in the park.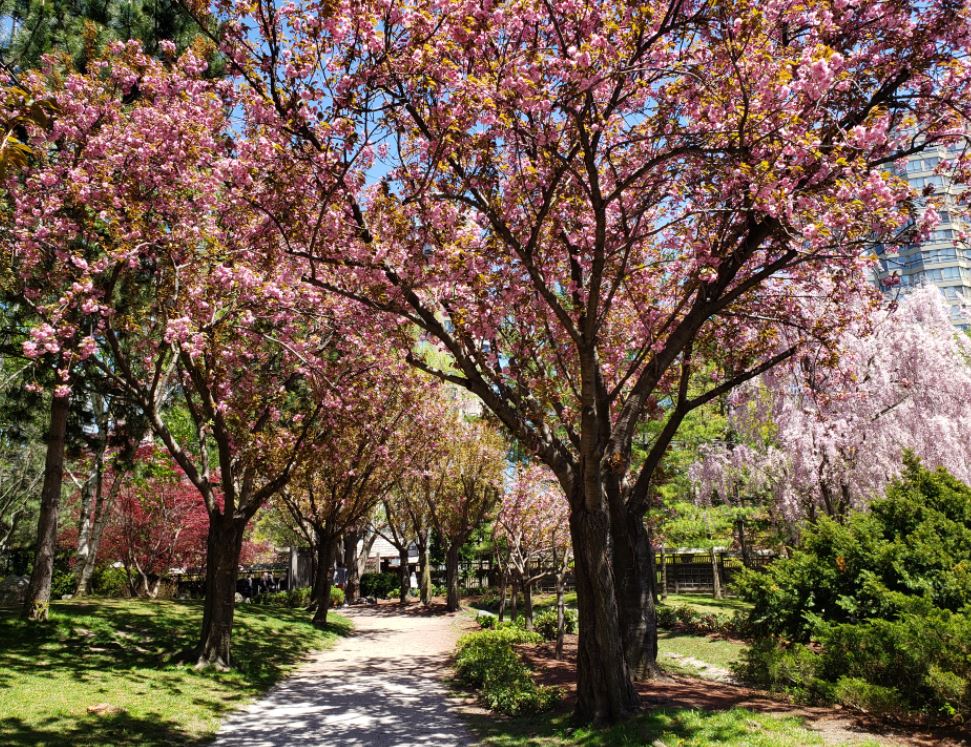 Cherry Blossoms in Burlington
Spencer Smith Park
1400 Lakeshore Road, Burlington – Not only can you enjoy the Cherry Blossoms in Burlington, but from this park you can also enjoy a view of Lake Ontario. The pathway lined with cherry trees make for a picturesque stroll through the park.
Royal Botanical Gardens
680 Plains Rd W, Burlington – Adding to their flowering tree collection in 2010 the Royal Botanical Gardens added 34 trees as part of the Sakura Project. They can be found in the Arboretum and Rock Garden sections of the RBG.
Cherry Blossoms in Oakville
Gairloch Gardens
1306 Lakeshore Road, Oakville – This park is located along the waterfront and and has grassy areas that would be perfect for a picnic. You can find Cherry Blossoms in Oakville at Gairloch Gardens with their small collection of Cherry Trees.
Cherry Blossoms Near Me
Wondering "Where can I see Cherry Blossoms near me?". Check out the map below to find a Cherry Blossom display near you:
More Photo Hot Spots in Ontario