There are many kids' camps throughout the Halton Region that offer a variety of activities, such as sports, arts and crafts, nature exploration, and more. These camps such as Kids Inc provide children with a chance to learn new skills, make new friends, and have fun in a safe and supervised environment.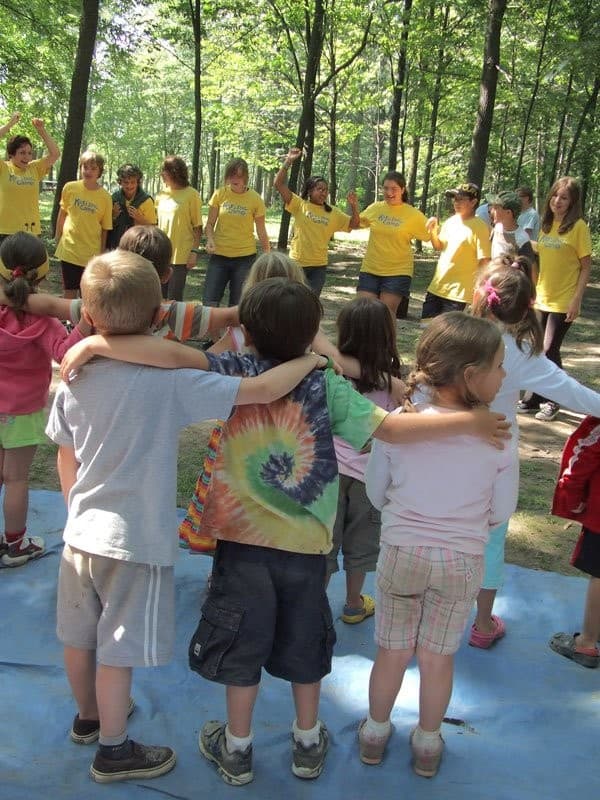 Things to Consider when Choosing Kids Inc Camp:
When choosing a camp, it's important to consider factors such as the age range of the campers, the cost of the camp, the length of the program, the location, and the activities offered. You may also want to read reviews from other parents who have sent their children to the camp before.
Age Range: SK-Grade 10
Cost of the Camp: Ranging from $255-360 depending on the number of weeks
Length of the Camp: Fulltime 5 days a week in Summer
Location: 5567 4th Line in the Town of Erin – 30 Private Acres in the Countryside
Activities Offered: Crafts, swimming, sports, nature, forest games, hikes, yoga, talent shows, puppets, music, archery, kayaking, and more!
It's always a good idea to research the camp thoroughly before enrolling your child to ensure that it is a good fit for their interests and needs which is why we are reviewing Kid Inc Camp based on our own personal experience.
Types of Camps Offered at Kids Inc: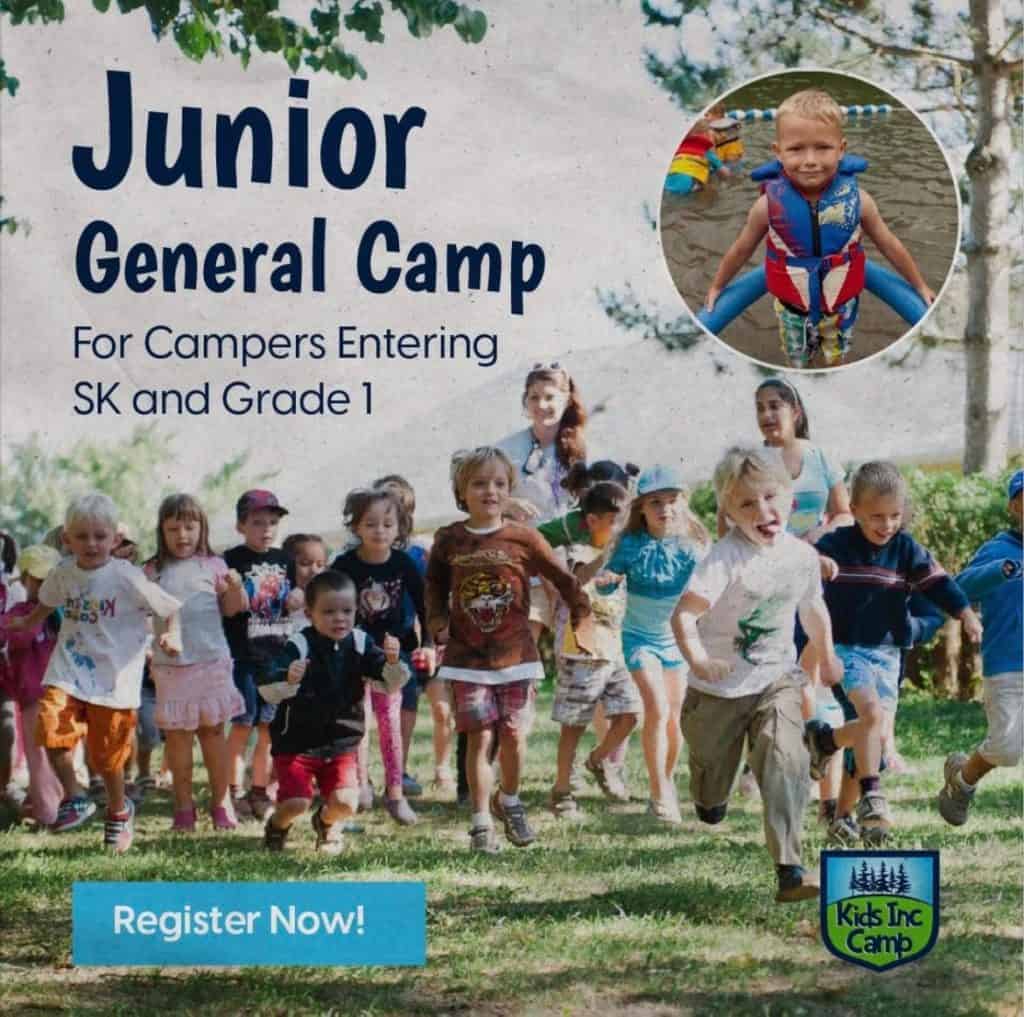 Junior General Camp:
This camp is for kids in SK-Grade 1 and is likely the first camp experience a child may have so Kids Inc wants to start them off with a positive experience. Kids Inc keeps the camp groups small so staff can provide a smooth transition, lots of support, and building relationships with friends. This camp is 100% outdoors!
Junior Campers will enjoy aquatic activities three times a week to beat the heat including waterslides, sprinklers and shallow beach waterplay. Junior General Camp includes: Crafts, puppets, story time, sports and movement based activity time, free play time, creative play, music, yoga, nature, forest games and more!
Junior Camp offers a balance of structured discovery and play based experiences to allow children's inquiring minds to explore on their own!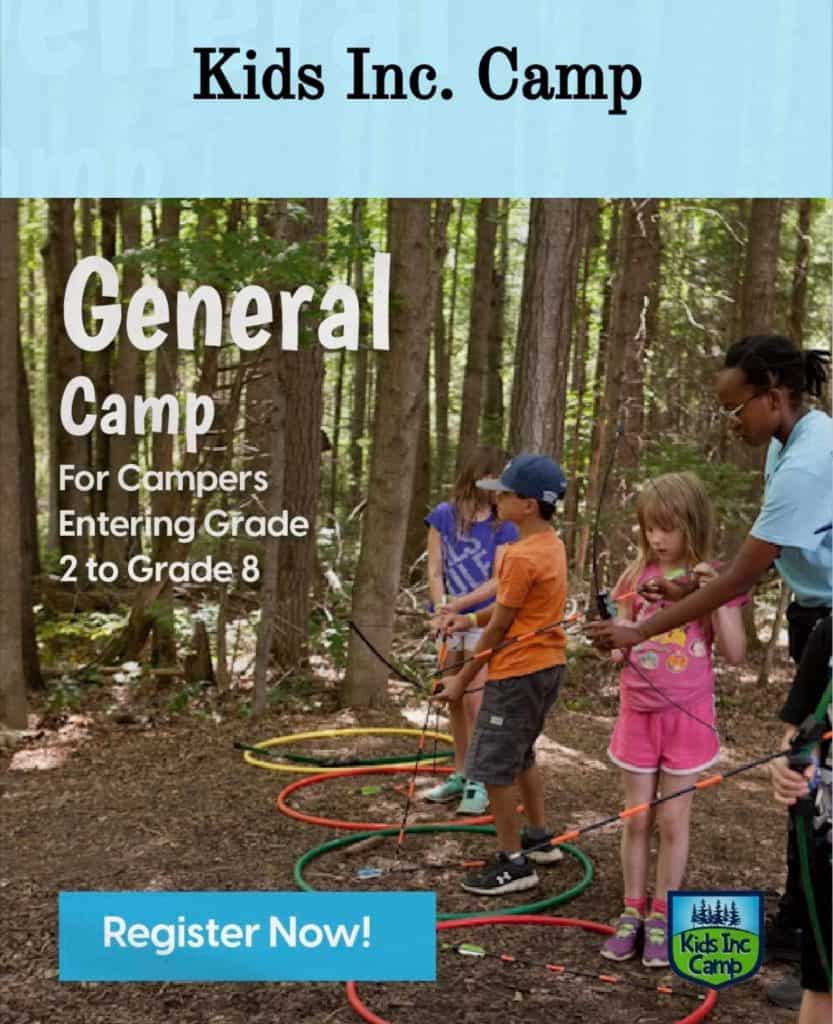 General Camp:
This camp is for kids in Grades 2-8 and focused on creating camp memories by experiencing recreational activities, learning to respect the natural environment and building positive relationships with peers.
Staff inspire our campers to try new things, learn independence, and reach for the stars as they build new skills and confidence!
Campers will love spending the day outdoors, and experiencing a variety of activities such as archery, swimming, crafts, disc golf, kayaking, nature hikes, yoga, playground time, and sports.
Leadership Camp:
This camp is geared for campers in grades 8,9,10 and 10 looking for a leadership role. This camp allows teens to experience responsibility and learn new skills while being a junior counsellor, develop leadership skills, and have lots of fun with peers.
The LIT program has a similar activity schedule as our General Camp Program with the same kinds of activities on the agenda – however – there are also leadership based activities that will help challenge each participant and teach them new skills. LIT's will also get to help from time to time with our JR CAMP and will earn volunteer hours while doing so.
This is a fun leadership program that allows campers to learn how to be a counsellor by playing and leading younger campers in a variety of camp activities.

Reasons to Choose Kids Inc:
Safety: Kids Inc puts safety first and ensures all staff are properly trained in safety training, and policies. The facilities are regularly checked to ensure safety. Owners are on site at all times and have been running the camp for over 20 years! Owner has background in Early Childhood Education as well as experience working with children with special needs.

Water Safety: Campers who can not pass a swim test are required to wear a lifejacket both in the water and on the deck for safety. All aquatic staff are certified with Lifesaving Society.

Camp traditions: Offering programming similar to overnight stay away camps but Kids Inc is a regular day camp.

Variety of Activities: Kids Inc offers crafts, swimming, sports, nature, forest games, hikes, yoga, talent shows, puppets, music, archery, kayaking, and more to ensure it meets the interests of all campers.

Pizza Day on Fridays: Parents can select a pizza lunch for Friday for a reasonable price, and saves parents one day of packing lunch.

Bus Transportation: Busing is provided from Georgetown, Erin, Caledon, Guelph, Eramosa, Rockwood, Acton, Milton, Orangeville, and surrounding areas to allow more campers to experience the wonders of Kids Inc.

Qualified Staff: Staff range in ages from junior counsellors being 15-16, and regular counsellors are aged 16-25 years old. All staff who are over 18 years have a vulnerable criminal records check on file. Staff have Emergency First Aid and CPR C as well as High Five – Foundations of Healthy Childhood Development Certification.
My Personal Review of Kids Inc Camp:
My daughter will be trying out Junior General Camp during the month of July so stay tuned for my personal review based on her camp experience.
Registration Process:
So far I found the registration process was very easy and was very thorough, as well as customizable based on each families needs. Through the registration process you were able to choose mode of transportation and determine which bus route is closest to you or if you prefer to drive your camper, you could also select a Friday pizza lunch, as well as before and after camp options.

The registration process also included emergency contact info, allergies, and even went as far to ask if your child has ever been stung by a bee and also outlined what there policy is for bee stings which can easily happen at an all outdoor camp.

The contact forms also asked for any other important information about your child which I thought was a helpful section especially for young and first time campers. Lastly, through the registration process there were a few survey questions to help staff get to know your camper before they even arrive.
Bus Transportation:
The bus arrived on time for both departure and arrival every day and was super convenient as the stop was actually located at Thumper's school that was 3 minutes away. Counsellors checked attendance every time they entered or exited the bus for safety.
The bus always left with counsellors singing, and arrived back with the music playing on the bus and kids with HUGE smiles on their faces.
Camp Activities:
Overall I was super impressed with all the different activities that Thumper came home talking about all week long. She talked about playing games in the forest such as The Jewel Game where there were two teams and they had to hunt for their colour gem, and Camoflauge that is king of like hide and seek in the forest.
During crafts she created some bracelets and quite a few pictures. She enjoyed open playtime when junior campers got to play with toys and she got to build a zoo with blocks. Three days a week they had waterplay in the pond, where the water was waist deep however every child wore a life jacket which made me confident about their safety regulations. They also had the opportunity to go down a waterslide on a few of the days. She also enjoyed playing at the playground and even mentioned I wanted to go in the morning but we had to wait for our turn in the afternoon.
She was super excited to attend this morning, Friday as she knew it was Pizza and Popsicle Day and the camp had some planned special events. Communication from camp was good with emails and documents a few days before she attended to remind me what she needed to bring and all the procedures etc. My only feedback would be that they should communicate the theme of the week better as we didnt hear anything about it until we arrived at the bus stop Friday morning and were told by others that it was Olympic Day… but honestly this is very minor.
An even bigger win for me was Toileting accidents… we have been working with our 5 year old for years on toilet training and while its improving she is a kid that needs reminders to use the bathroom in order to be successful. The first camp she attended this summer she came home soaking every day and it often wasn't notice that she was wet and she is too shy to tell anyone.

At Kids Inc they do regularly scheduled bathroom breaks after snack, lunch, etc and take the whole group to the bathroom which really helped Thumper be successful at camp as she had 0 Toileting Accidents All week. I had let staff now when I registered and they were great and even followed up with an email and phone call to ensure they knew how to help her be successful at camp.
Overall the week was a GREAT Success and she will definitely be attending again next summer!