Live Family Entertainment is returning to the Greater Toronto Area for 56 Exciting Shows under the Big Top with the Royal Canadian Circus. The circus will have 56 live shows in Etobicoke, Scarborough, Mississauga and Burlington from July 21 to August 28th. So why not have some fun, enjoy live entertainment and create some family memories this summer!
How Can I Save Money on Tickets?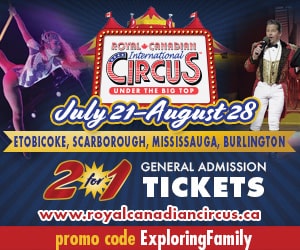 The Royal Canadian Circus tour has such a talented cast and phenomonal show that they have sold out many shows on the West Coast in their 2022 tour, and have had record breaking attendance so far!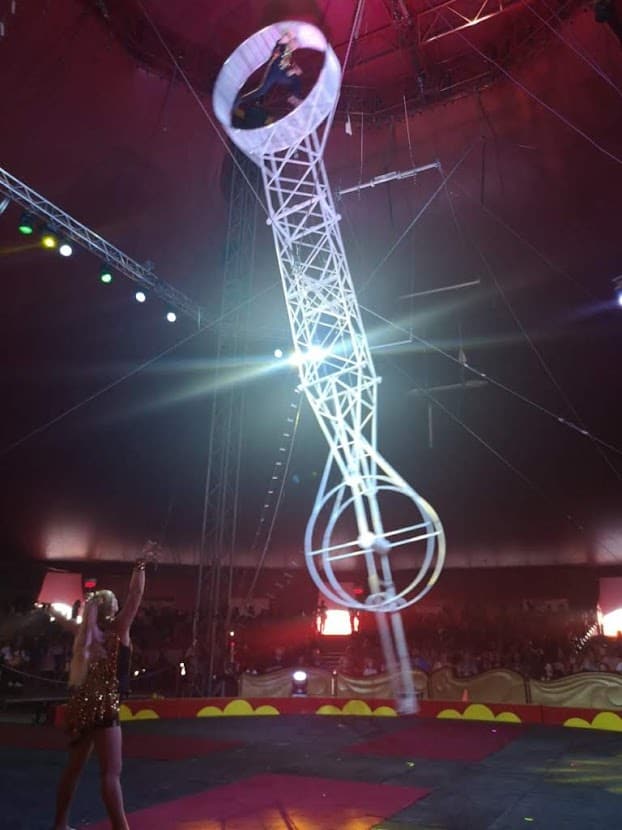 "An all new show, jam packed with explosive live entertainment, featuring high-flying acrobatics, death-defying tricks, clowning and towering feats of strength, teetering towers of balanced bodies, extreme bending and devilishly precarious aerials." The Circus's ringmaster is Joseph Dominik Bauer, himself a 9th generation daredevil and circus veteran with over three decades of experience so you can guarantee that he will provide a HIGH QUALITY SHOW that is jam packed!
The talented artists of Royal Canadian Circus are excited to return to the ring to demonstrate their high level skills and talents in this spectuacular show that is sure to entertain families of all ages. Canadians love live entertainment and the circus is always a family favourite that kids will remember for years to come as the traditional circus experience provides world class acts while providing a safe enivornment for their guests.
***It is IMPORTANT to Note that Royal Canadian Circus does not use any exotic live animals in their shows, and relies on the talents of highly skilled circus preformers to amaze the audience instead ****
Our Experience of the Royal Canadian Circus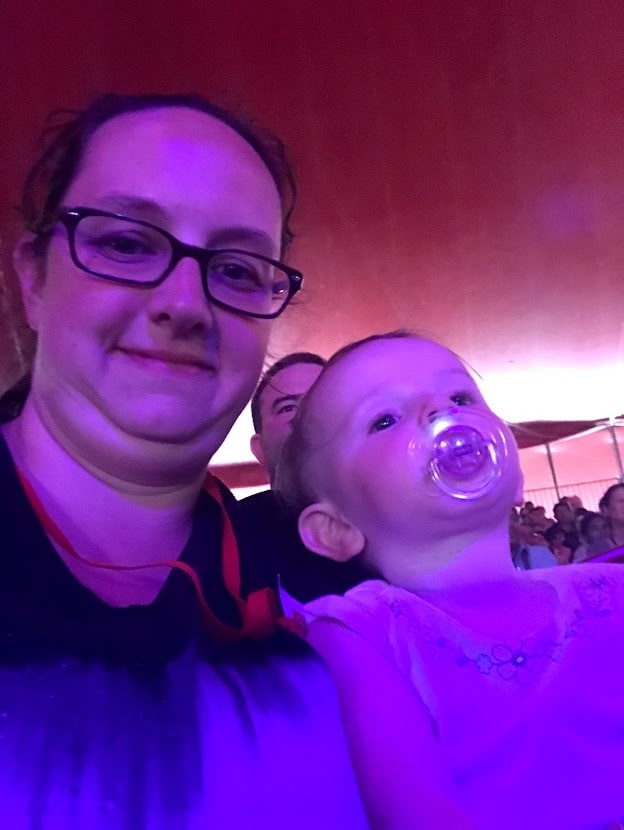 My family had the pleasure of attending the Royal Canadian Circus in Etobicoke in 2019 and I took my 18 month old daughter and 3 year old niece who loved our ringside experience. I can't wait to return with my now 4 year old for a new circus experience in 2022 as the Royal Canadian Circus plans to be better than ever, as they have been scouting the best talents around the globe during the closures of the last few years. The kids were mesmerized, excited, and even the parents were amazed by the level of skill, talent and quality of performance.
Important Information for Families:
It is important to note that Seating is First Come First Serve for all seats, however if you purchase VIP seats you are guaranteed seating in the VIP area, same with Ringside seats. Also Strollers are not permitted in the Big Top. . There is a Stroller Drop Off when you enter the Concession Tent. There is wheelchair seating – please arrive 45 Min early and report to the front of the tent entrance for assistance. Aids are not free and require tickets. The Wheelchair seating is considered General Admission type seating.

As an added bonus, Royal Canadian Circus has added air conditioning to the Big Top Tents in Burlington, Scarborough, Etobicoke, and Mississauga offering a more comfortable experience since Ontario has such hot summers. Quite simply, it's Affordable, Exhilarating Family Entertainment that will create memories for a lifetime!
What can I expect at Run Away to the Circus with the Royal Canadian Circus?
The 2022 Royal Canadian Circus family comes from around the globe to share their talents with local audiences around Canada this summer. As Canada is known for being multicultural it only makes sense that the Royal Canadian Circus Cast features circus preformers from Mexico, Argetina, Italy, Canada and the United States.
You can look forward to seeing: "Ringmaster and Daredevil extraordinaire Joseph Dominik Bauer on the Wheel of Destiny, Flying Trapeze, Chicago Boyz Acrobatic Team from America's Got Talent plus a Human Slinky, Hand Balancing combined with a Italian Tenor singing, Argentinian Gauchos, Motorcycle thrill riders, fearless Human Cannon, Towering Chair Balancing, Hair Hang Aerialist, Lasers, Comedy … and more!"
Featuring:
Claudia Alvarado -> A sensational Aerialist and Flying Trapeze performer on the single swing, whose family goes back 3 generations in the circus world.
Gimmi Fornaciari -> One of the only performers in the world who sings Tenor while executing unbelievable acrobatic hand balancing maneuvers high in the air.
A laser man -> Under the Big Top he will have you mesmerized! It's Electrifying, Exciting, and Energizing!
The Chigaco Boyz -> The Chicago Boyz is a professional gymnastics troupe who were featured on America's Got Talent!
Piolita and Lucita -> World class circus clowns that are fun, family and focus on comedy!
Guillermina -> Mother of Piolita and Lucita, she is a hula hoop expert that will spin, twirl and defy gravity!
The TZ Aereliasts -> Flow effortlessly through the air, high above the crowds and the aerialists represent multiple countries from around the world.
The Valencia Gauchos -> These ladies dance with boleadoras ancient weapons, that spin at an incredible 90mph, and perform routines to the frantic rhythms of bombos (drums). 
Nathan Valencia -> He will amaze and astound with his precision, strength and perfection as he meticulously stacks chairs high up in the air while performing acrobatics. 
Leo Garcia -> Known as the Human Cannonball, completes death defying stunts that will amaze you and keep you on your toes.
Ashley Ojerda -> Known as Hair Hang Aerialist as she hangs from her hair while completing aerial manuevers.
Royal Canadian Circus Show Locations for 2022:
Etobicoke:
Woodbine Mall & Fantasy Fair, July 21-24, 2022, for 8 shows.

Scarborough, ON:
Bridlewood Mall, July 28-Aug 7, 2022, for 21 shows.

Mississauga, ON:
Dixie Outlet Mall, Aug 11-21, 2022, for 19 shows.

Burlington, ON:
Burlington Centre, Aug 25-28, 2022, for 8 shows.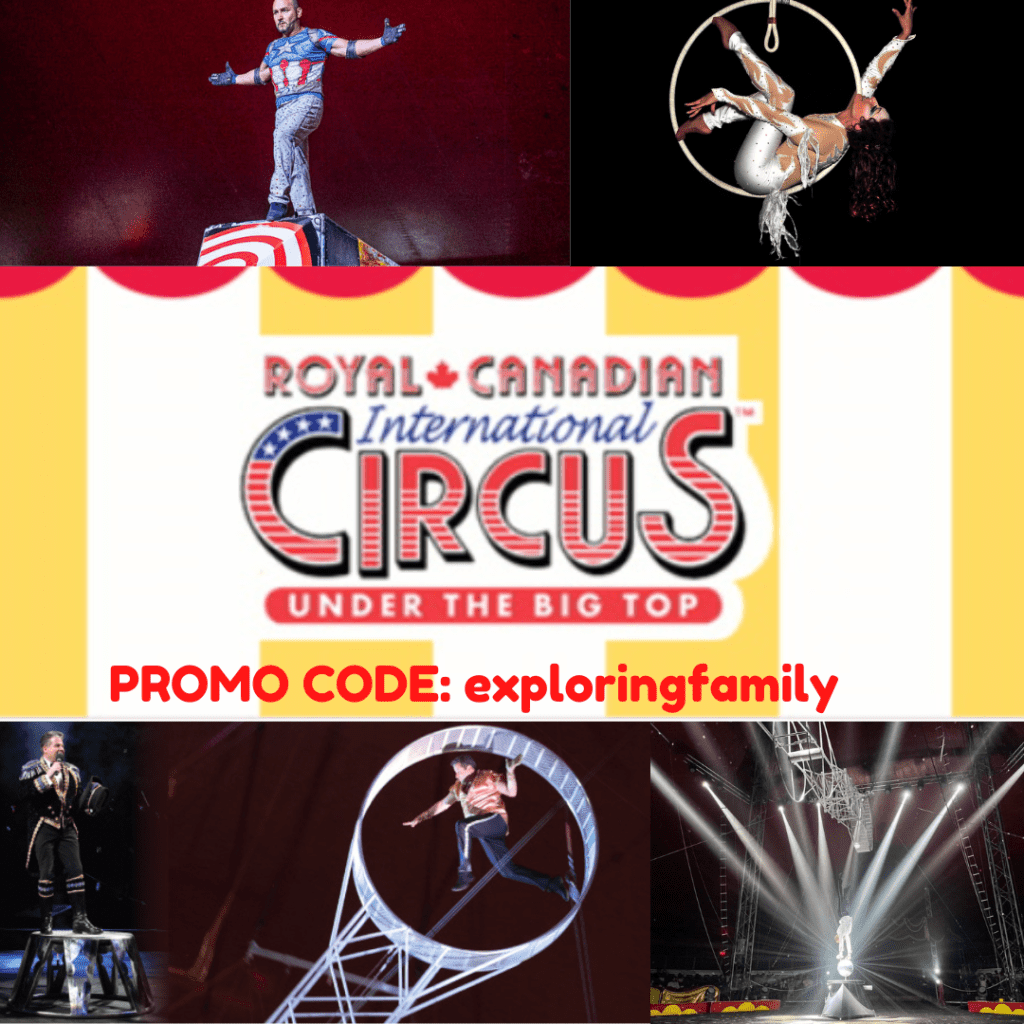 Want to Purchase Discount Tickets?
We know that the cost of family entertainment is on the rise, so we want to allow you to see the circus and save some money. The Exploring Family readers can purchase 2 tickets for the price of 1, using the promo code exploringfamily. You can purchase tickets for a family of four for as little as 90$, you can purchase the tickets here.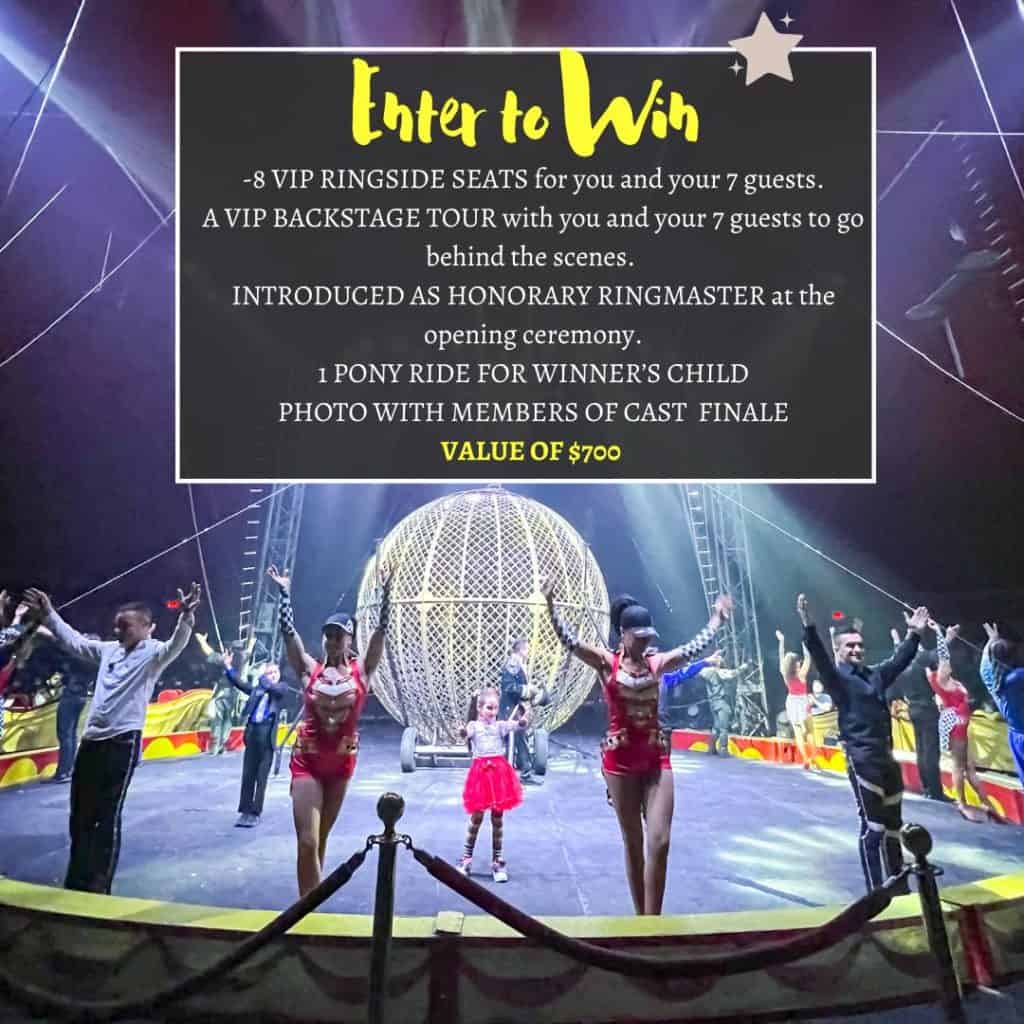 Run Away to the Circus Giveaway:
Enter below to win a Run Away to the Circus Package worth $700!*
This prize includes:
8 VIP ringside seats
A VIP behind-the-scenes tour
Introduction as Honorary Ringmaster for the Performance
Pony ride for the winners child
Photo with the ringmaster and performers
*We will be offering four prizes, one for each performance location. Be sure to note the contest's location before entering. Contests dates are as follows:
Etobicoke: Woodbine Mall & Fantasy Fair, July 21-24, 2022, for 8 shows.
Scarborough, ON: Bridlewood Mall, July 28-Aug 7, 2022, for 21 shows.
Mississauga, ON: Dixie Outlet Mall, Aug 11-21, 2022, for 19 shows.
Burlington, ON: Burlington Centre, Aug 25-28, 2022, for 8 shows.
ETOBICOKE:
SCARBOROUGH:
MISSISSAUGA:
BURLINGTON: