Having a tasty home cooked breakfast does not need to be complicated or take a lot of time! Check out this Easy French Toast Recipe that my boys love. With few simple spices french toast is taken from bland to scrumptious in no time at all. Quick tip for making French Toast – Pick a dense bread that will soak up the egg mixture and stand up to the transfer process. For this recipe I used Stonemill Bakehouse 11 Grain Bread.
Easy French Toast Recipe
Ingredients
4

Eggs

1

cup

Milk

1

tsp

Cinnamon

1/2

tsp

Nutmeg

1

tsp

Vanilla

8-10

slices

of bread
Instructions
Preheat frying pan or griddle with a little bit of butter or oil to medium heat

Beat together all ingredients and pour into a shallow dish

Place bread in the mixture 1 piece at a time for 15-30 seconds to allow for it to soak up the liquid.

Flip the bread over and repeat on the other side so the bread is coated.

Place on the griddle and cook 3-5 minutes until golden brown, Flip it over and repeat on the other side until cooked through

Serve warm with Maple Syrup, berries or whipped cream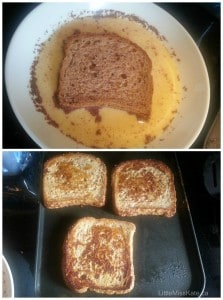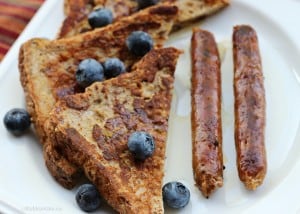 Start you day off right with not only a delicious breakfast, but also with 25% of your recommended daily value of vitamin D with Stonemill Bakehouse! It can be hard to make sure you are getting all the vitamin D you need, and now Stonemill Bakehouse makes it easy with 1 serving (2 slices) of bread providing you with an excellent source of the "sunshine vitamin".
Stonemill Bakehouse offers many varieties bread with added vitamin D including:
Chia – 6 Supergrains,

Sprouted 3 Grains – 3 Grains & Oatmeal

11 Whole Grains – Grains & Honey

12 Whole Grains – Sprouted Rye

Omega 3 – Sprouted Flax and Sunflower & Walnut

Fibre & Fruit – Cranberry Pumpkin Seed

Flax & Chia – Supergrains

Sourdough – Multigrain

Sourdough – Classic French

Sourdough – Hearty Bavarian Rye

Sourdough – Belgian Whole Wheat