Ontario's  tagline 'Yours to Discover' encourages Ontarians to explore the province of Ontario and one great way to do this is to take a road trip through its stunning landscapes especially in the fall when the leaves are changing colours. Along these scenic drives in Ontario you will find unique stops, mesmerising sights, and quaint small towns that make it a perfect destination for a scenic adventure.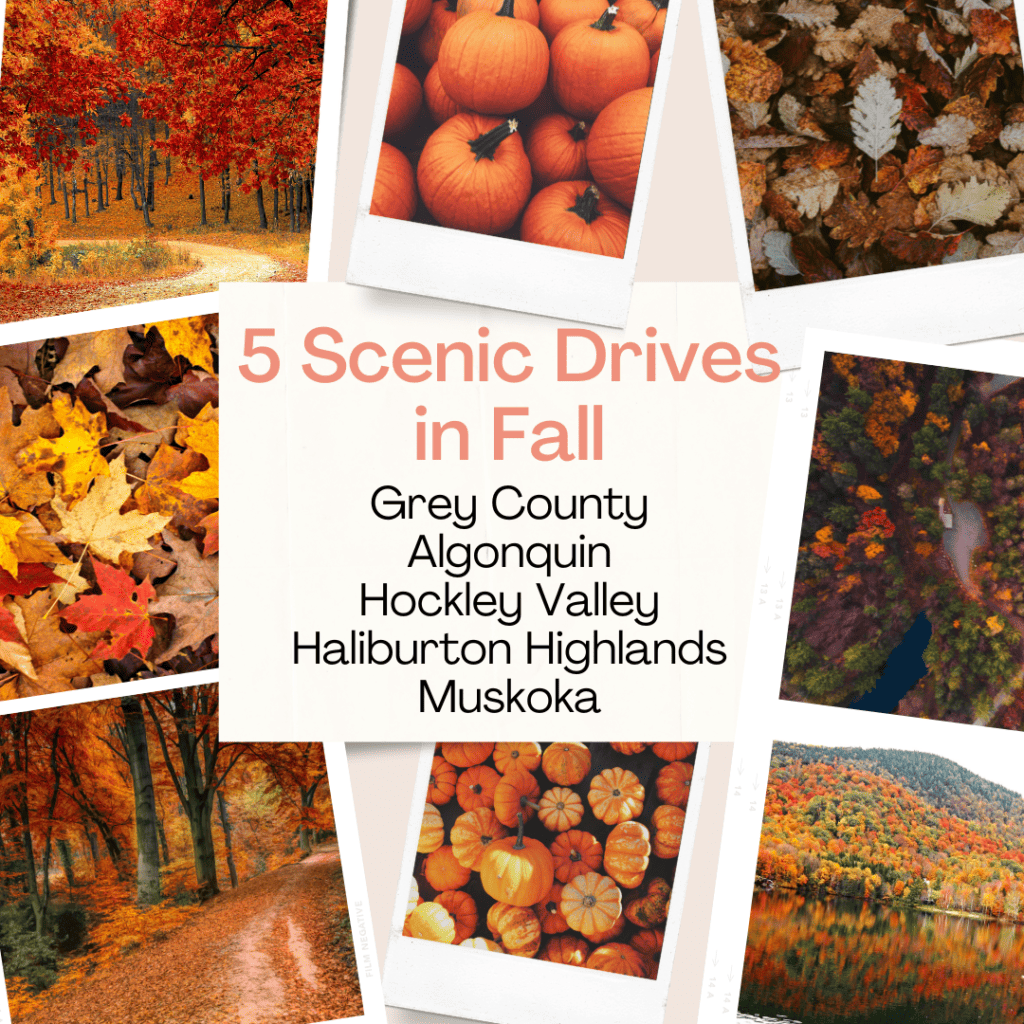 From the rugged Canadian Shield to the enchanting Great Lakes – St. Lawrence Lowlands, each region boasts its own picturesque beauty, fascinating attractions, and warm charm for the entire family to enjoy. The diversity of Ontario's regions is truly remarkable, with landscapes changing dramatically as you traverse its over 650,000 kilometres of winding roads across a sprawling terrain of over a million square kilometres. So, grab your favourite snacks and drinks, and hit the road to experience some of the best road trips in Ontario.
Ontario is renowned for its breathtaking fall foliage, and there are several beautiful places in Ontario that offer stunning autumn views. Taking a drive in the fall offers a unique experience that is distinct from any other season. Fall brings milder temperatures, making it an enjoyable time to be outdoors. The air is crisp, and the weather is often pleasant for driving with open windows. The landscape on Ontario road trips in the fall is filled with a rich tapestry of fall colours including red, orange, yellow, and golden hues as the leaves change colour, creating a breathtaking and picturesque scenery.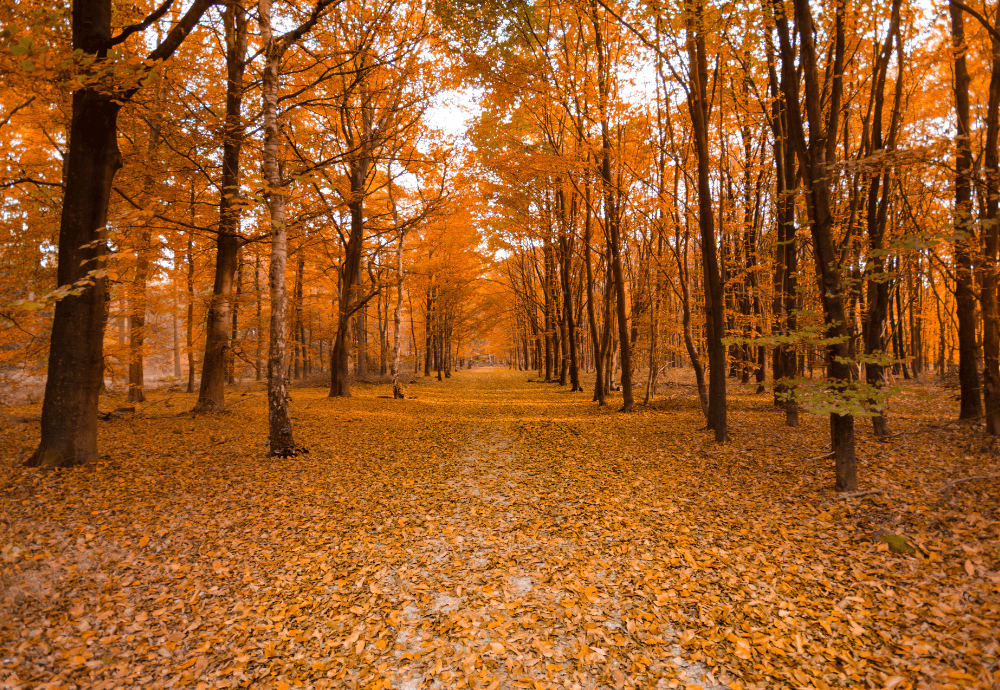 Most tourists travel during the busy summer season, leaving popular tourist destinations and scenic routes in Ontario less crowded in the fall. This allows for a more peaceful and leisurely drive, giving you the chance to connect with nature and enjoy a serene atmosphere. Fall is a time when animals are more likely to be seen as the weather is cooler and they are busy preparing for winter. You may have the chance to spot deer, elk, birds, and other creatures along the roadside or in the surrounding nature.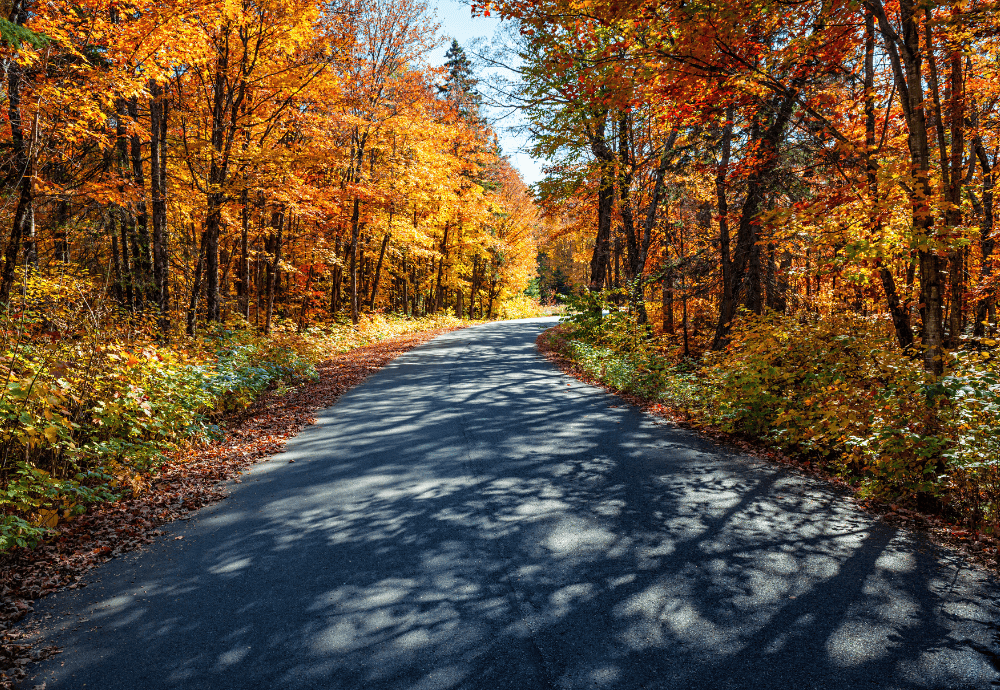 Immerse yourself in the wonders of Ontario with these scenic drives, guaranteed to encourage you to want to continue exploring the beautiful landscapes that this province has to offer and to enjoy fall activities such as apple picking, pumpkin picking, local farms, and local farmers markets. Whether you kickstart your journey from Toronto or any other major city in Ontario, be prepared to uncover hidden gems along the way.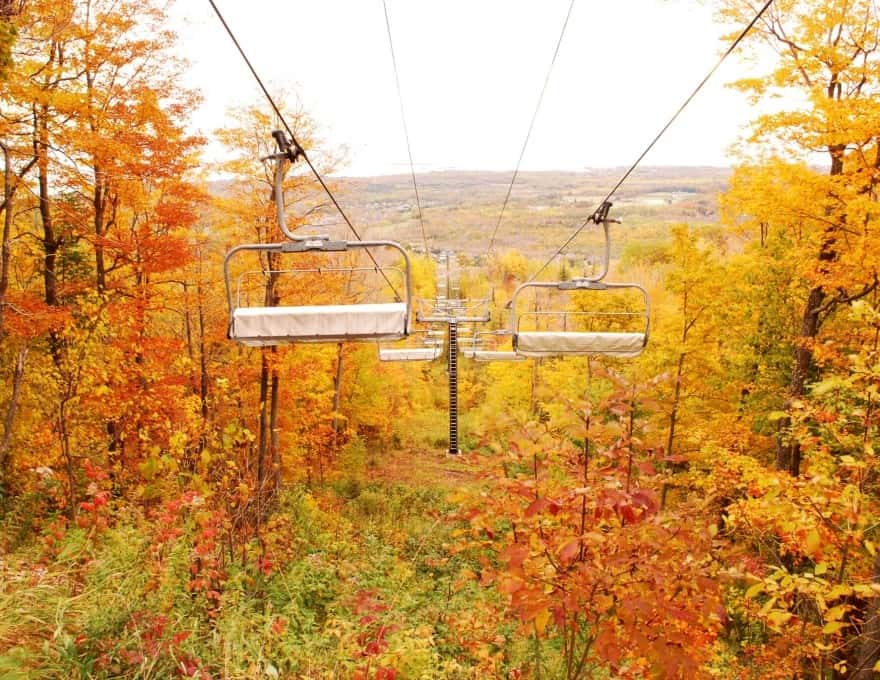 Grey County
The Bruce Peninsula is part of Grey County and includes the region from Collingwood to Tobermory along Highway 6 which offers panoramic views of the glistening waters of Georgian Bay and the Huron Shoreline.
Grey County in Ontario is a captivating destination to visit during the fall season. Located in the southern part of the province, Grey County offers a picturesque landscape with rolling hills, scenic countryside, and charming small towns.
Grey County offers numerous scenic drives that showcase the stunning fall foliage. The winding roads take you through beautiful valleys, alongside rivers, and up the hills, offering breathtaking views at every turn and even some magnificent waterfalls and gorges. In the fall, these natural wonders are complemented by the colourful foliage, creating a magical and scenic experience.
Here are some of the reasons why Grey County is a must-visit destination in the fall:
Apple Orchards: This area is famous for its apple orchards and rolling hills, which come alive with brilliant fall colours. Grey County is home to the Apple Pie trail that offers great breweries to savour, culinary experiences to indulge in and outdoor experiences to enjoy!
Nature Trails: The region is a haven for hikers, and during the fall, the trails become even more enchanting with the changing colours. Explore the Bruce Trail, Kolapore Uplands, or Eugenia Falls Conservation Area for a memorable hiking experience.
Scenic Caves: Hikers and nature enthusiasts will be delighted by the array of hiking trails that adorn this corridor, including the Scenic Caves in Collingwood. Guests can see the area from new heights as they walk the suspension bridge on their way to over 15km of well marked trails of natural beauty of 200 year old forests, and steep climbs.
Cider Tasting: This region produces award winning cider at a variety of cideries including Ardiel Cider House, Duxbury Cider House, Coffin Ridge and Spy Cider House.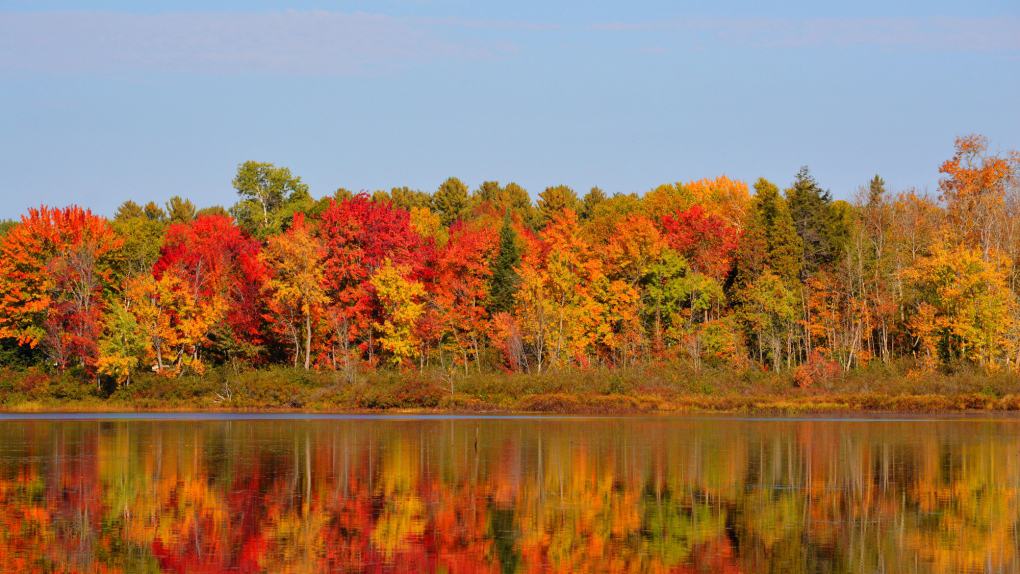 Algonquin
The Highway 60 corridor stands out as one of the finest drives in Ontario, providing an excellent chance to encounter wildlife in this enchanting playground of rocky ridges, tranquil lakes, and lush forests. This scenic route presents a mesmerizing wilderness experience, offering Canadian residents an easily accessible outdoor adventure, perfect for a weekend getaway.
Within Algonquin Park, more than 30 species of animals call this place home, granting you a high probability of spotting creatures like bears, deer, moose, loons, beavers, turtles, and other fascinating local wildlife native to Ontario.
Algonquin Provincial Park presents unspoiled wilderness, where crisp air, secluded forests, pristine waters, and a celestial blanket of stars await. This enchanting destination offers Ontario residents an easily accessible gateway to a thrilling wilderness adventure. Whether you choose to explore the many things to do in Algonquin Park during a day trip or opt for an even more rewarding weekend getaway, the experience promises to be truly memorable.
Here are some of the reasons why Algonquin is a must-visit destination in the fall:
Beautiful Views: The Highway 60 Corridor through Algonquin Park is one of the most popular fall drives in Ontario. The park's hardwood forests burst into a kaleidoscope of red, orange, and yellow hues, creating a stunning backdrop for your journey.
Stargazing: As the nights grow longer, the skies become darker, offering exceptional stargazing opportunities. Far from city lights, Algonquin Park is an ideal spot for observing the stars and celestial wonders.
Wildlife: Capture the stunning fall landscapes and wildlife with your camera. The park's scenic vistas and colourful scenery provide excellent opportunities for photography. Fall is an excellent time to observe wildlife as animals prepare for the approaching winter. Keep an eye out for moose, deer, foxes, beavers, and various bird species that are active during this season.
Hiking: Algonquin Park has an extensive network of hiking trails that offer spectacular views of the fall colours. The Lookout Trail, Booth's Rock Trail, and Centennial Ridges Trail are popular options for fall hiking.
Canoeing: Paddle along the tranquil lakes and rivers of Algonquin Park, surrounded by the vibrant fall scenery. The calm waters and reflective landscapes create a serene and picturesque canoeing experience.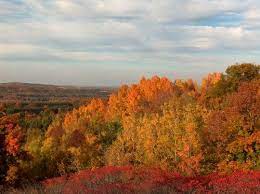 Hockley Valley
Located in the Caledon Hills, Hockley Valley offers winding country roads surrounded by beautiful fall foliage. Hockley Valley in the fall offers a delightful escape to nature's wonders, and it's a perfect destination for those seeking relaxation, outdoor adventures, and a picturesque fall experience.
Hiking Trails and Fall Foliage: The rolling hills and dense forests of Hockley Valley come alive with vibrant hues during the fall. There are several hiking trails that provide lots of opportunities to enjoy the fall scenery up close. The trails lead you through the woodlands, meadows, and along the Niagara Escarpment, offering breathtaking views of the autumn foliage.
Wine Tasting: Nearby Caledon and the surrounding region are known for their vineyards and wineries. Take a wine tour and indulge in wine tastings to savour the flavours of the local wines at wineries like Spirit Tree, Downey's Winery and Adamo Winery.
Horseback Riding: Explore the Hockley Valley's scenic countryside on horseback. Horseback riding tours are a fantastic way to enjoy the fall foliage while experiencing the tranquillity of nature.
Local Markets and Festivals: Check out the local farmers' markets and fall festivals in the area. You can find fresh produce, artisanal products, and experience the charm of the local community.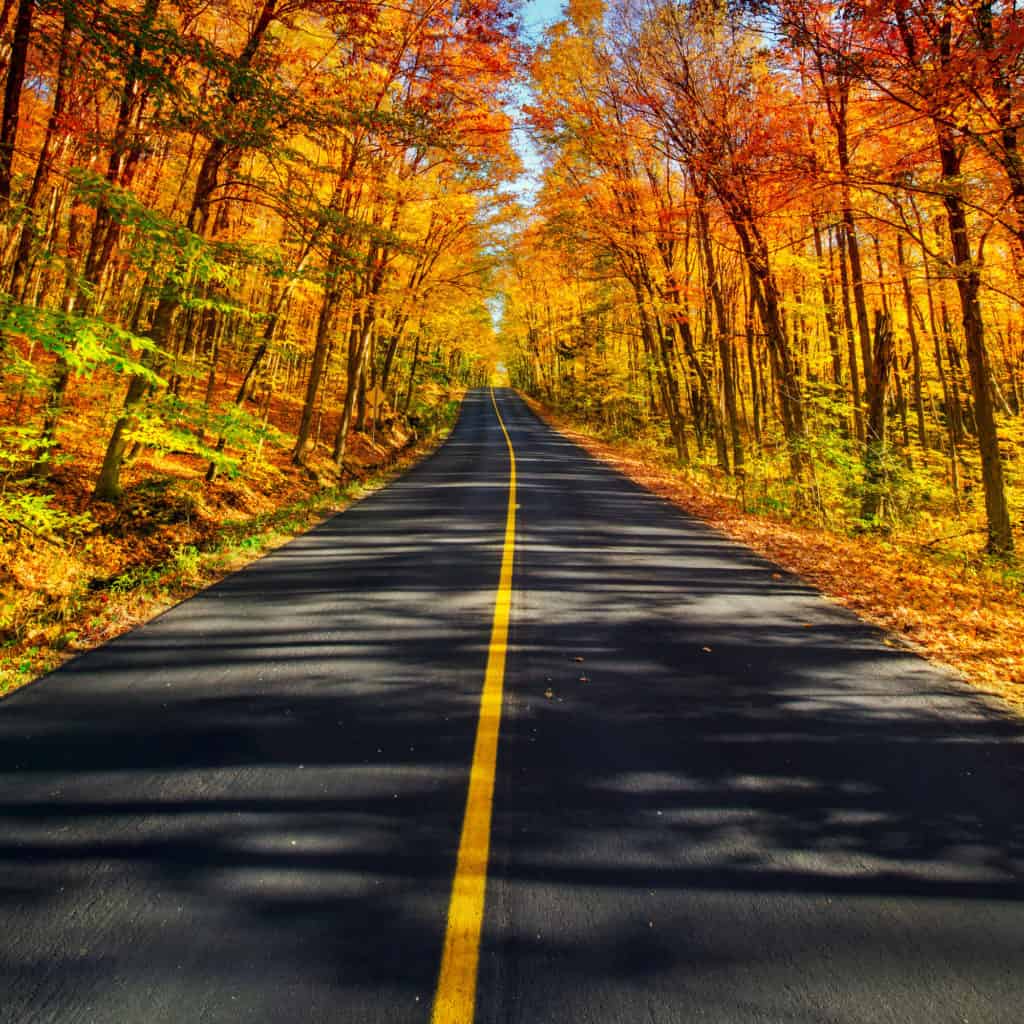 Muskoka Region
The Muskoka region transforms into a vibrant canvas of red, orange, and yellow hues during the fall. Take a leisurely drive along scenic routes like Highway 169 and Highway 35 to witness the breathtaking fall foliage. The Muskoka region in the fall is an absolute paradise for nature lovers and fall foliage enthusiasts. Located in central Ontario, Muskoka is renowned for pristine lakes, and charming small towns that you will encounter along your route including Gravenhurst and Bracebridge.
Here are some of the reasons why Muskoka Region is a must-visit destination in the fall:
Boat Cruises: Enjoy a relaxing boat cruise on one of the many picturesque lakes in Muskoka. The scenic boat tours offer stunning views of the fall colours reflecting on the tranquil waters.
Hiking: Explore the region's hiking trails and immerse yourself in the stunning fall scenery. Trails like the Torrance Barrens, Limberlost Forest, and Hardy Lake Provincial Park offer beautiful views of the fall foliage.
Cranberry Festivals: Visit the Bala Cranberry Festival in Bala, Muskoka's cranberry capital, and celebrate the harvest season with a variety of cranberry-themed events and activities.
ATV and Bike Trails: Experience the fall foliage from a different perspective by exploring the region's ATV and bike trails.
Visit Local Markets: Discover the local farmers' markets and artisan shops, where you can find fresh produce, handcrafted goods, and unique souvenirs.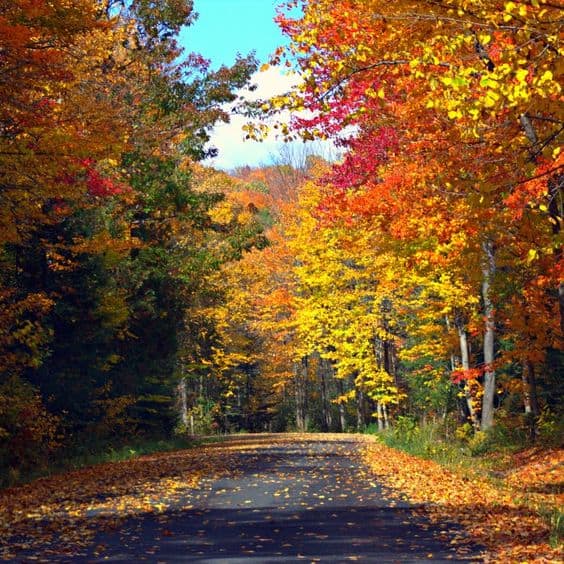 Haliburton Highlands
Drive through the picturesque Haliburton Highlands to experience the vibrant fall foliage reflecting on the region's numerous lakes as you take a scenic drive along the country roads. Haliburton Highlands in the fall is a scenic drive in central Ontario, known for its stunning landscapes, crystal-clear lakes, and charming towns.
Here are some of the highlights and things to do in Haliburton Highlands in the fall:
Fall Foliage Viewing: The Haliburton Highlands come alive with a kaleidoscope of fall colours as the leaves change to vibrant shades of red, orange, and gold.
ATV and Bike Trails: Explore the scenic beauty of the Haliburton Highlands on ATV or bike trails, offering a different perspective of the fall colours.
Canoeing and Kayaking: Explore the tranquil lakes and rivers of Haliburton Highlands on a canoe or kayak. Paddling through the peaceful waters amidst the fall colours is a serene and memorable experience.
Scenic drives in the fall offer a serene and scenic escape from the hustle and bustle of everyday life. Whether you're seeking outdoor adventures, relaxation, or simply a chance to revel in nature's autumn splendor, you are sure to enjoy the harvest season at any of these destinations!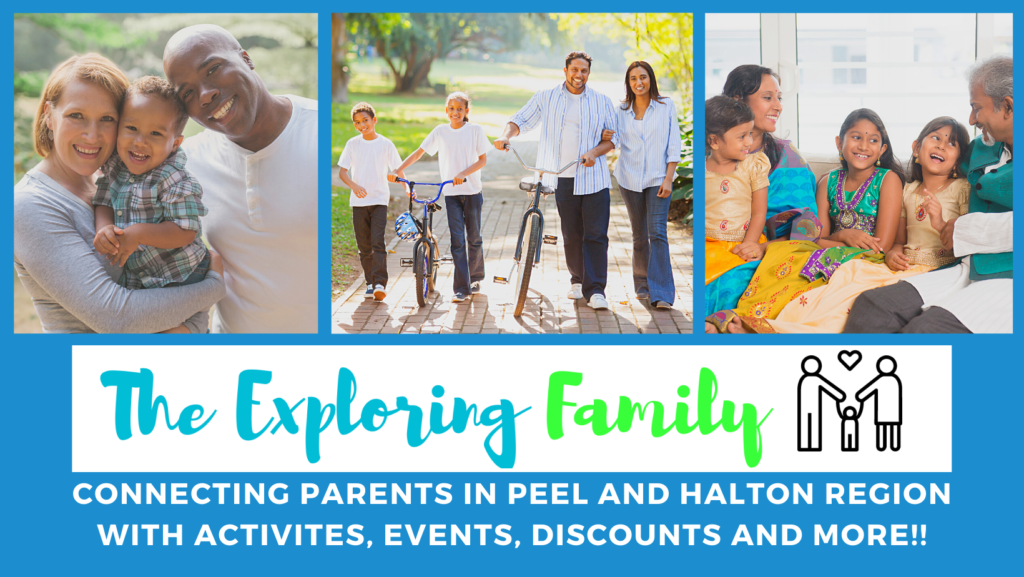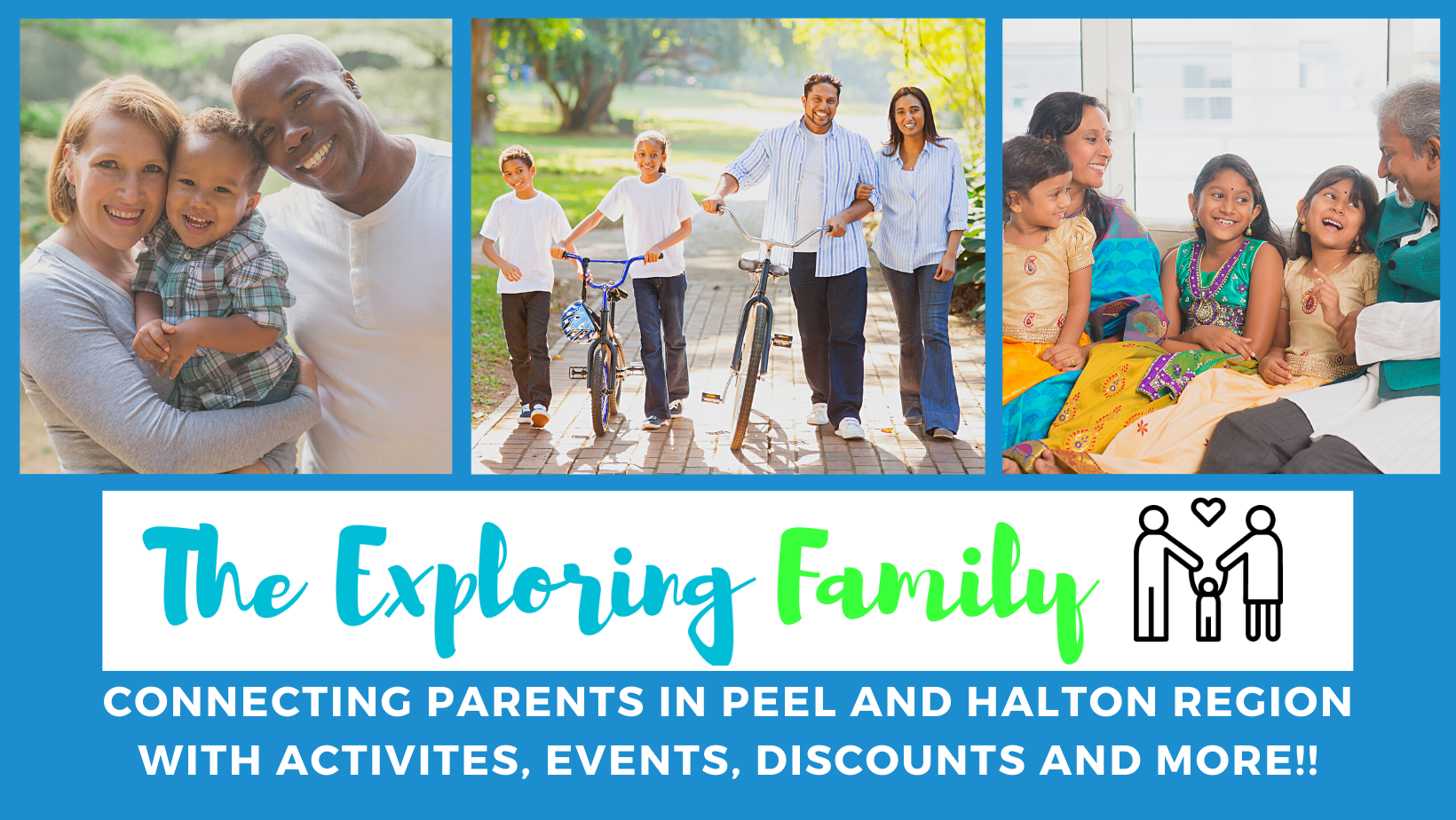 Can you help make this article better?
If you have noticed an error, have additional information or would like to share a comment you can:
E-mail us at info@thexploringfamily.com
Find us on Facebook: The Exploring Family
Find us on Instagram: @The.Exploring.Family