Hamilton waterfalls are an excellent way to spend a day trip enjoying nature. Believe it or not, there are several stunning Waterfalls in Hamilton and the surrounding area that you can enjoy. If you are planning a visit to Hamilton, waterfall chasing is a fantastic day trip activity to engage in.
With hundreds of waterfalls to discover, you are sure to find one, or a few to enjoy. Just don't forget to pack your camera for some wonderful photo opportunities. Many of them are located nearby so you can probably check out a few within one day.
If your looking for other outdoor adventures in the area, then check out TreeTop Trekking and the Treewalk Village located at Binbrook Conservation area which is only a few minutes from Hamilton.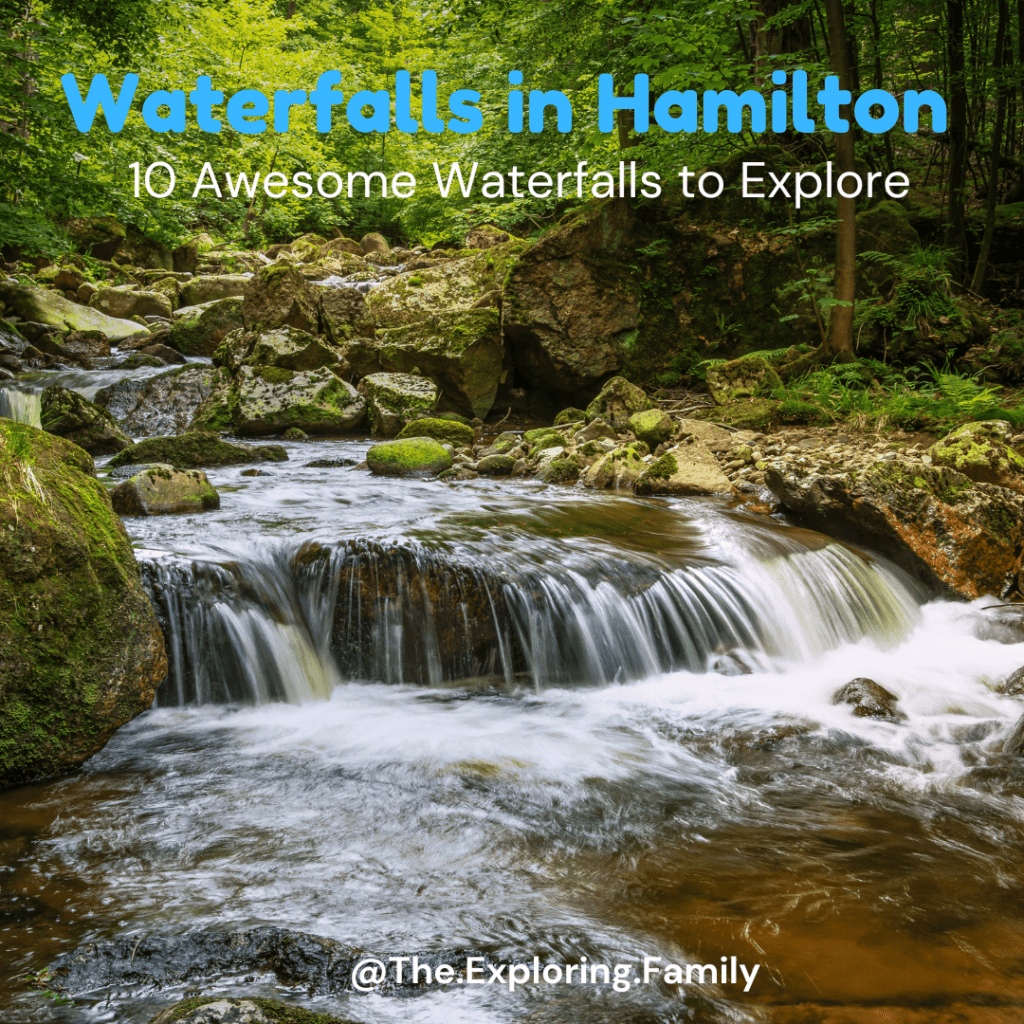 How many waterfalls are there in Hamilton?
Hamilton is located near Lake Ontario and along the Niagara Escarpment which is an arc shape that runs along the Great Lakes, and is home to over 150 Waterfalls. While Niagara Falls has the biggest and tallest Waterfall in Ontario, Hamilton is known as the City of Waterfalls as it has so many beautiful waterfalls that you can visit. Hamilton has actually been designated as the Waterfall Capital of the World. It is believed that 1/3 of these Waterfalls flow all year long with Webster's Falls being one of the most popular waterfalls.
How to view Hamilton Waterfalls Safely?
Keep Kids and Pets very close by when visiting waterfalls due to safety concerns
Remember that waterfalls are environmentally sensitive areas
Stay on pathways and do not leave the trails
When is the best time to visit Hamilton Waterfalls?
Hamilton Waterfalls run all year long so it can be quite fun to check out the waterfalls each season to see how different they look especially in the winter when they can freeze over. You may be lucky and even see some ice climbers navigating the amazing waterfalls in the winter.
Overall, is it recommended to visit the Waterfalls in Hamilton after a heavy rainfall as they will be flowing faster which is pretty to look at. The Waterfalls are also flowing fairly fast after the snow melts after the long winter. During the summer months, the waterfalls tend to run a lot slower depending on the yearly rainfall.
You can even checkout these Epic Waterfalls in the Winter!
Hamilton Waterfalls
Click on the links below to scroll to each of the best waterfalls in Hamilton.
Photo Credit given to Hamilton Conservation Authority and Tourism Hamilton – we hope to replace these photos with our own as we get the chance to explore all the beautiful waterfalls.
Map of Hamilton Waterfalls
Best Waterfalls in Hamilton
Hamilton has so many fantastic waterfalls to visit within city limits. In fact, it is known as the city of waterfalls. While there are over 100 waterfalls to visit in Hamilton and the surrounding area, we have compiled a list of some of the best. You can even stand at the bottom and view the base of the falls for some of these beautiful waterfall.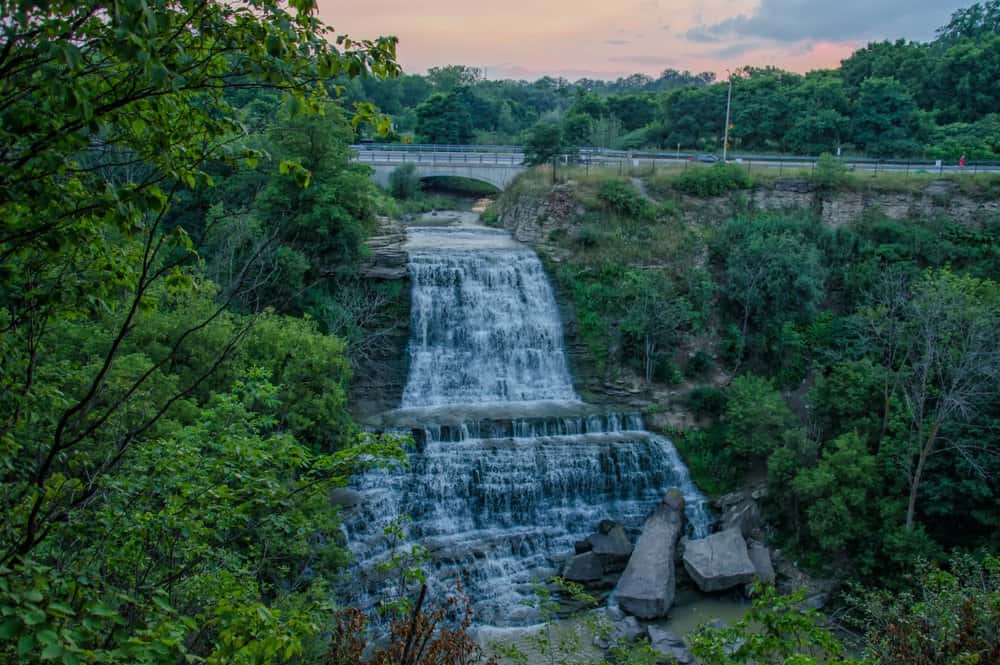 Albion Falls
885 Mountain Brow Blvd, Hamilton, ON L8W 1R6 – Albion Falls is a 19-metre cascade waterfall that is almost as wide as it is tall. It offers stunning views and a beautiful experience for anyone who visits. The Red Hill Creek tumbles over this waterfall as it goes over the Niagara Escarpment, and many of the rocks from around these falls have been used in the Rock Garden at Royal Botanical Gardens.
This stunning Hamilton Waterfall has two different viewing platforms that you can use to get the best vantage point. Take a hike around the beautiful falls and enjoy the nature and fresh air for a longer hike. This waterfall is not accessible from the bottom, if you want a short walk then park at the Mountain Brow Blvd parking lot.
You can park at Buttermilk Falls and complete a roughly 6km trail to check out the Albion Falls as well as Buttermilk Falls.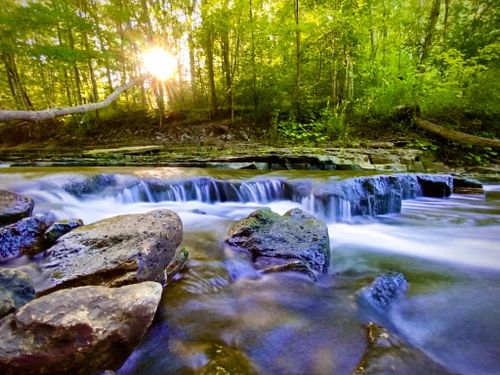 Buttermilk Falls
Mountain Brow Blvd, Hamilton, ON L8K 5C7 – Buttermilk Falls is located generally close to Albion Falls, making it somewhat simple to visit both on the same day! This stunning waterfall measures 23-metres in height and is accessible from the Bruce Trail.
If you want to view it from the bottom of the falls, you will have to climb down the gorge at Albion falls and follow the creek downstream. It is a little bit of a hike on some amazing hiking trails, but the views are worth it to see these great falls.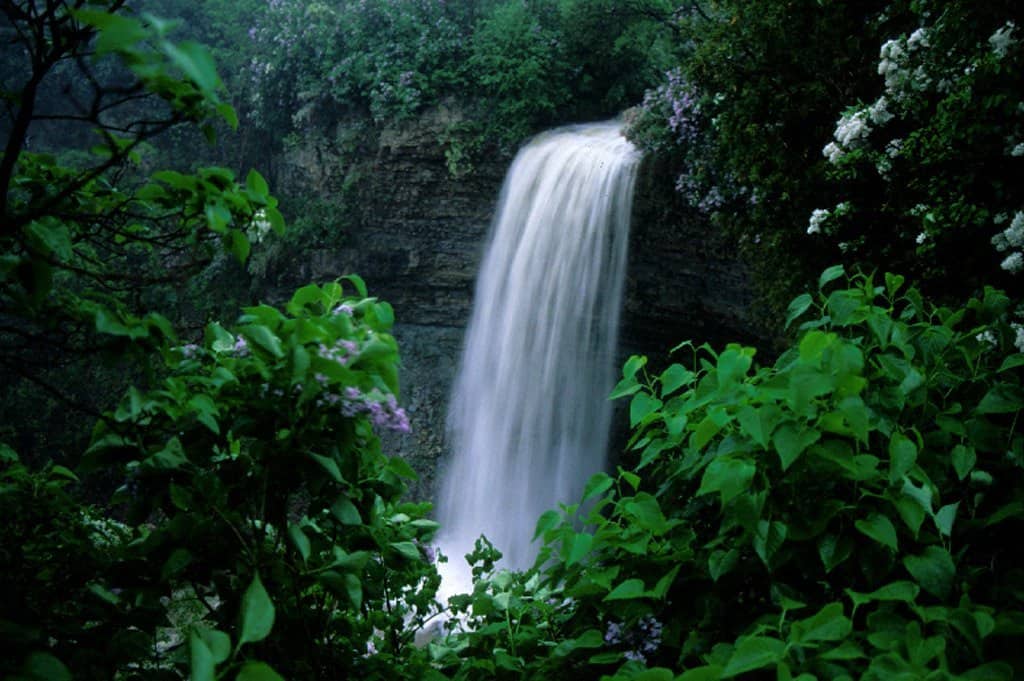 Borer's Falls
Borer's Falls
Borer's Falls, Hamilton, ON L9H 5E2 – Borer's Falls was once used to power a local sawmill. It is 15 metres high and provides spectacular views to all who visit this great spot.
The falls are accessible by using a hard-packed dirt path. To get a great view from the top of the falls, check out the stone bridge. It dates back to 1868 and provides an amazing view. You can also view the falls from the east side of the ravine using the lookout.
Canterbury Falls
3J3, Bruce Trail, Ancaster, ON – Canterbury Falls is 9.5 metres high and flows all year long. This waterfall has quite the history attached to it. It has had several different property owners over the years and is now owned by the Anglican Church of Canada.
To reach the falls you can take the Canterbury side trail, accessible from the Bruce Trail. There is a $10 parking fee in the HCA Parking lot on Merrick lane.

Devil's Punchbowl
Ridge Rd, Stoney Creek, ON L8J 2X4 – Devil's Punchbowl offers up two different experiences. You can visit both the upper and lower falls. The lower falls is a 5.5 metre classic waterfall and the upper falls are 33.8-metre ribbon waterfall.
The main lookout is a 150 metre walk from the parking lot. There are also 3 other lookouts along the rim of the gorge. These lookouts offer spectacular views of the falls and more.
Felker's Falls
Ackland St, Stoney Creek, ON L8J 1R3 – Felker's Falls is a hidden gem located in the Felker's Falls conservation area. This ribbon waterfall is 22-metres tall and offers spectacular views.
The Peter street trail offers up a fantastic opportunity to view the falls. The good news? It is also wheelchair accessible. This place is perfect for Hamilton Waterfall hikes as the East Mountain Trail loop also hits Albion Falls, Buttermilk Falls and Glendale Falls. You can see all 4 waterfalls in a hike that takes approximately an hour or so.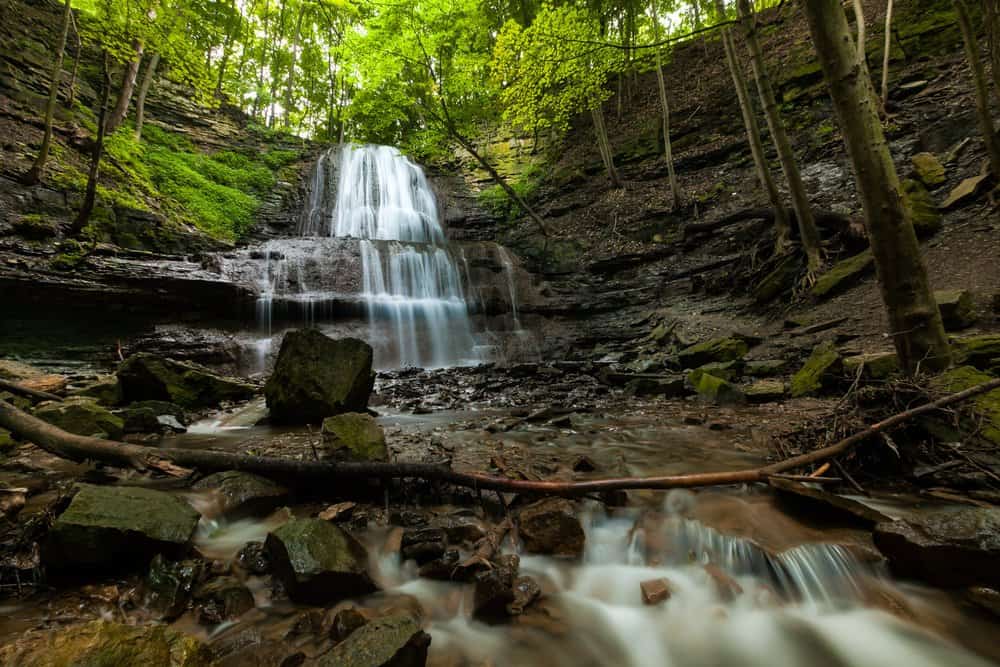 Sherman Falls
Lions Club Rd, Hamilton, ON L9G 3J3 – Sherman Falls is a 17-metre high curtain waterfall. It surges from Ancaster creek.
The trail is easy to access and offers up stunning views of the falls. The good news? This waterfall flows all year round, making it a great place to visit no matter the season.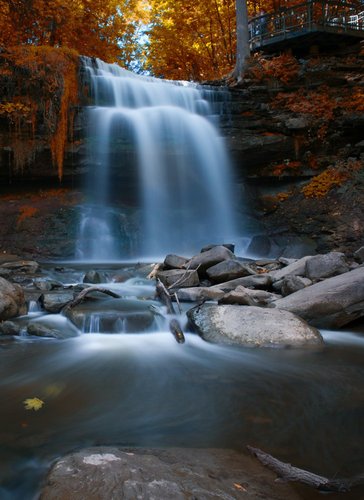 Smokey Hollow Falls
80 Mill St S, Waterdown, ON L0R 1R0 – Smokey Hollow Falls is a 10-metre tall waterfall. While it certainly isn't the area's largest waterfall, it offers up some beautiful views and a wonderful experience.
Take in the stunning views this waterfall has to offer by hiking to the viewing platform located beside it. Don't forget to bring your camera.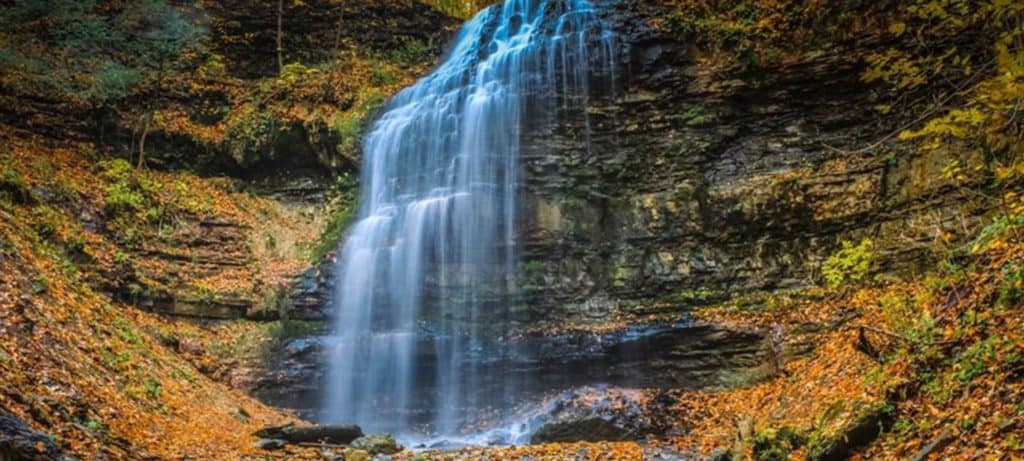 Tiffany Falls
900 Wilson St E, Hamilton, ON L8S 4K5 – Tiffany Falls is a 21 metre cascade waterfall. It offers amazing views from below as it tumbles from a valley above the escarpment and plunges into a v-shaped ravine.
Surrounded by cliffs on either side, Tiffany falls is viewable from a dirt path accessible through the parking lot located on Wilson St.
Chedoke Falls
Cliff View Park Scenic Dr &, Upper Paradise Rd, Hamilton, ON – Chedoke Falls is 18-metres tall and 9-metres wide and flows all year round. There is also a Lower Chedoke Falls that is 6-metres tall and 11-metres wide.
These falls are not easily accessible and consist of trails full of rocks, but also stairs. It makes for a great hike but is not wheelchair accessible.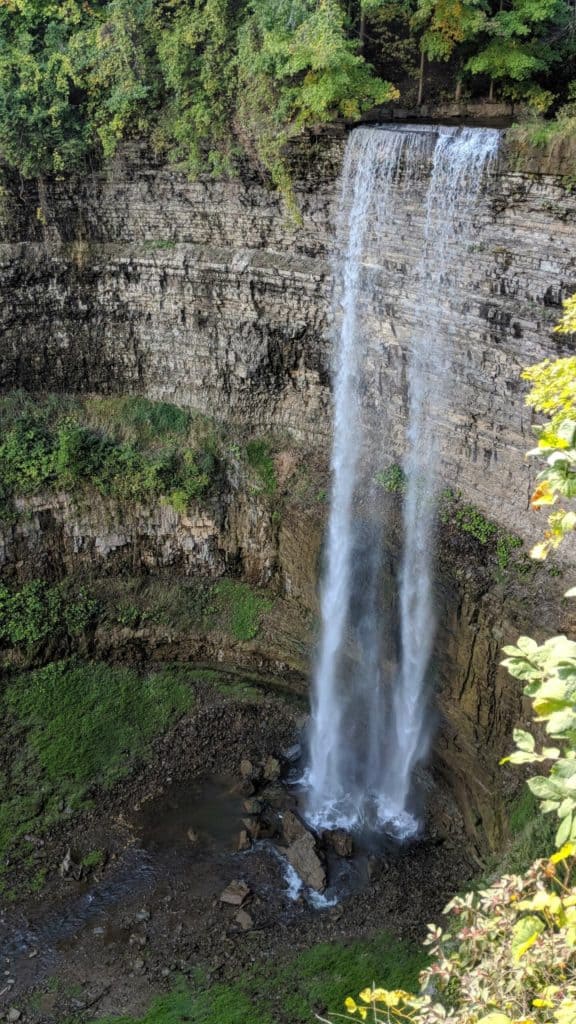 Tews Falls
Spencer Gorge is home to two beautiful waterfalls: Webster and Tews Falls. Websters is a tiered waterfall and offers beautiful views. Checkout the 1.8km loop that takes you between Dundas Peak (a beautiful lookout on the edge of the Gorge) and Tews Falls. There are two different lookouts along the trail.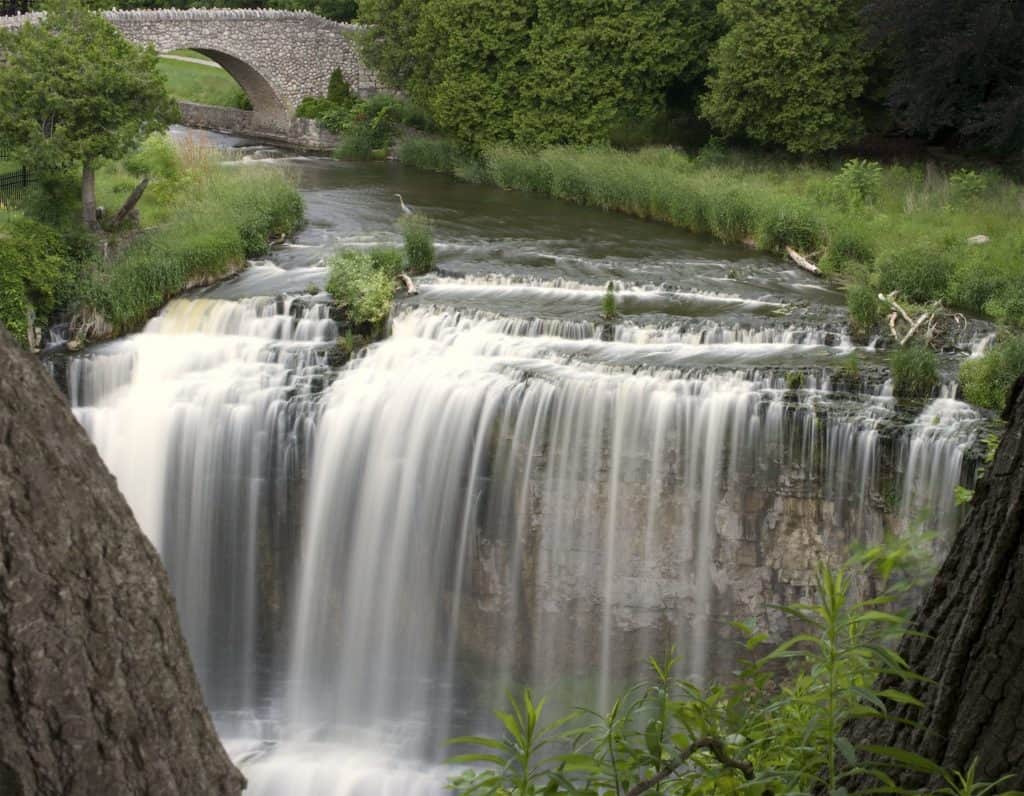 Webster Falls
Websters Falls is also part of the Spencer Gorge and is a tall waterfall at 41 metres tall which is only a few metres less than Niagara Falls. Webster Falls is the largest and most popular waterfall in the Hamilton Area.
While visiting checkout two different lookouts of the falls, a cobblestone bridge, a sawmill, and Greensville Optimist Park that is a former steam plant.
Hamilton offers up many different waterfalls that you can take in. With so many spectacular views to
have and waterfall hikes to enjoy, you are sure to find something you enjoy!
Want to stay in the know with all things local? Don't forget to join our locally focus Facebook group: Parents Resource – Open to any families in GTA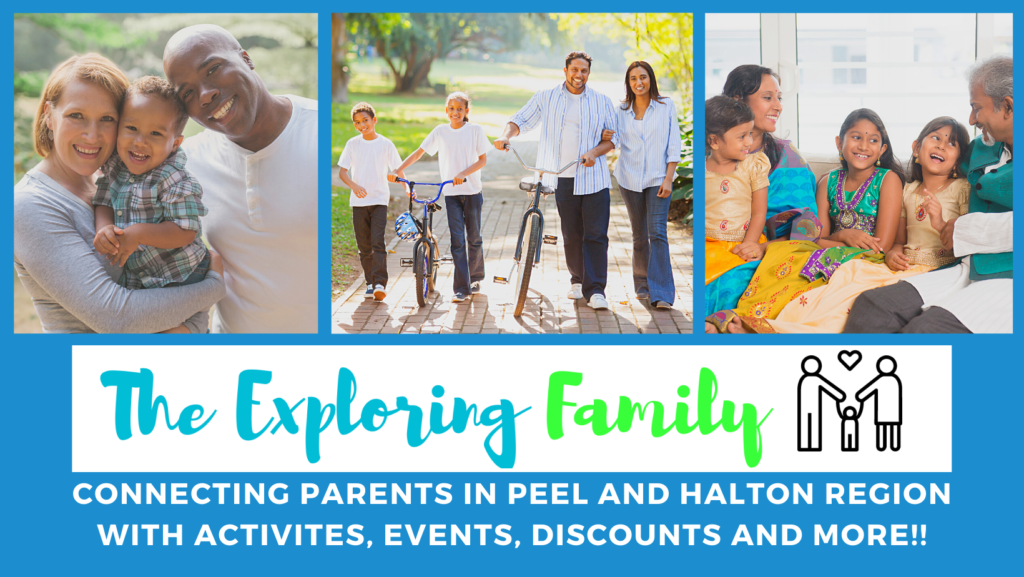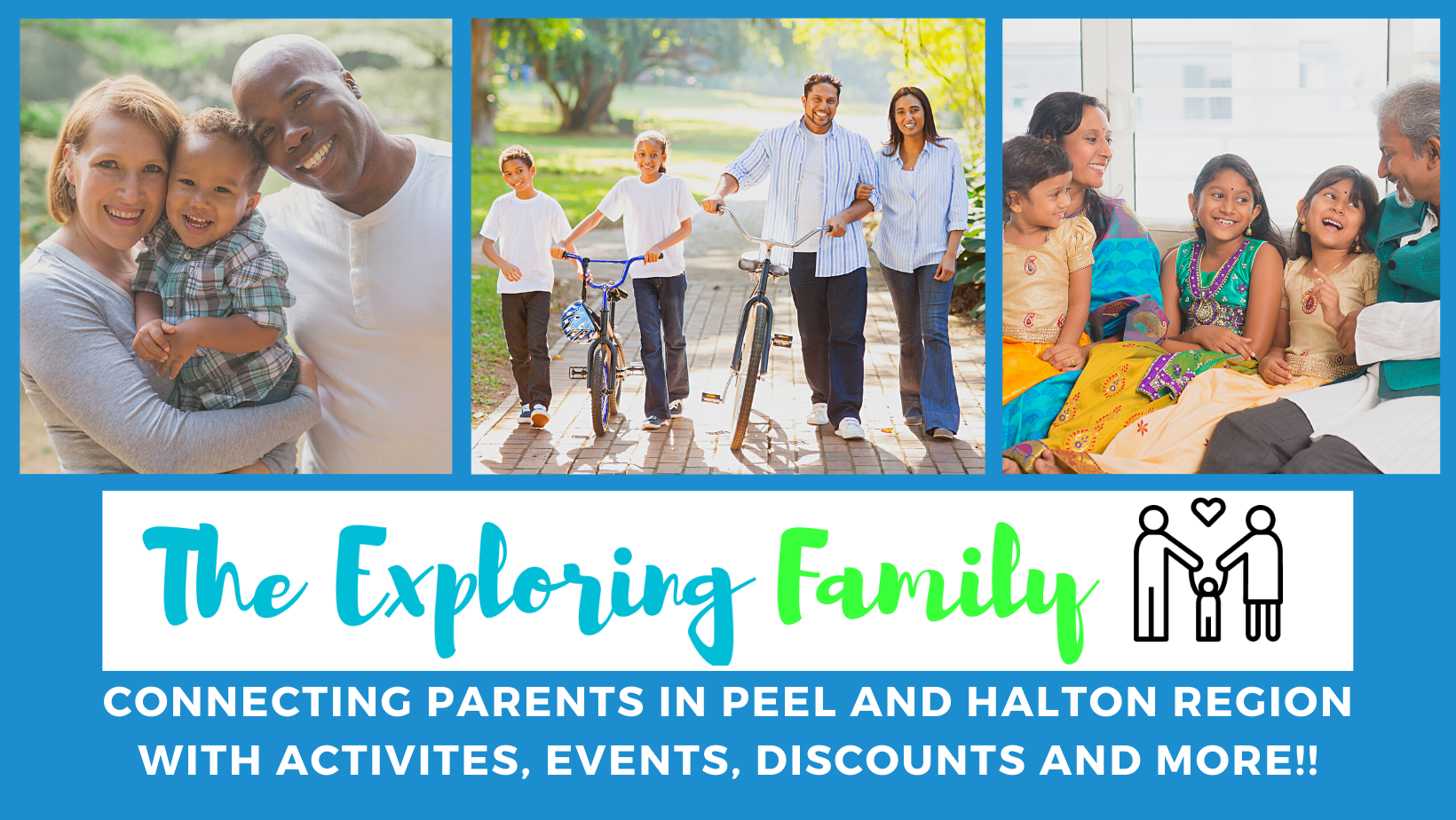 Can you help make this article better?
If you have noticed an error, have additional information or would like to share a comment you can:
E-mail us at info@thexploringfamily.com
Find us on Facebook: The Exploring Family
Find us on Instagram: @The.Exploring.Family