When it comes to keeping your little ones busy and focused on learning, these free counting, writing and labeling activities for preschoolers are the perfect thing to print out. With Valentines quickly approaching, these worksheets are easy to use, limited materials, and get your little ones into the spirit of the holiday all while giving their brains some exercise. This Valentines Tracing and Cutting Practice package includes multiple activities including tracing, cutting practice, counting, letter recognition, handwriting practice, one to one correspondence up to the number 10 and much more!
If you like seasonal activities then check out Christmas Sight Word Bingo, and St.Patricks Alphabet Sensory Fun Activity.

Kindergarten in Ontario has been play based for many years now so why not prepare your preschoolers by offering learning activities through fun Valentines themed worksheets. By combining engaging characters and learning together, research has found that kids learn more and are more engaged in the activity then simply trying to teach them the letters. 

The kids will have fun completing the Valentines Tracing and Cutting Practice worksheets and participating in some fun new holiday traditions. The best part? They are Free.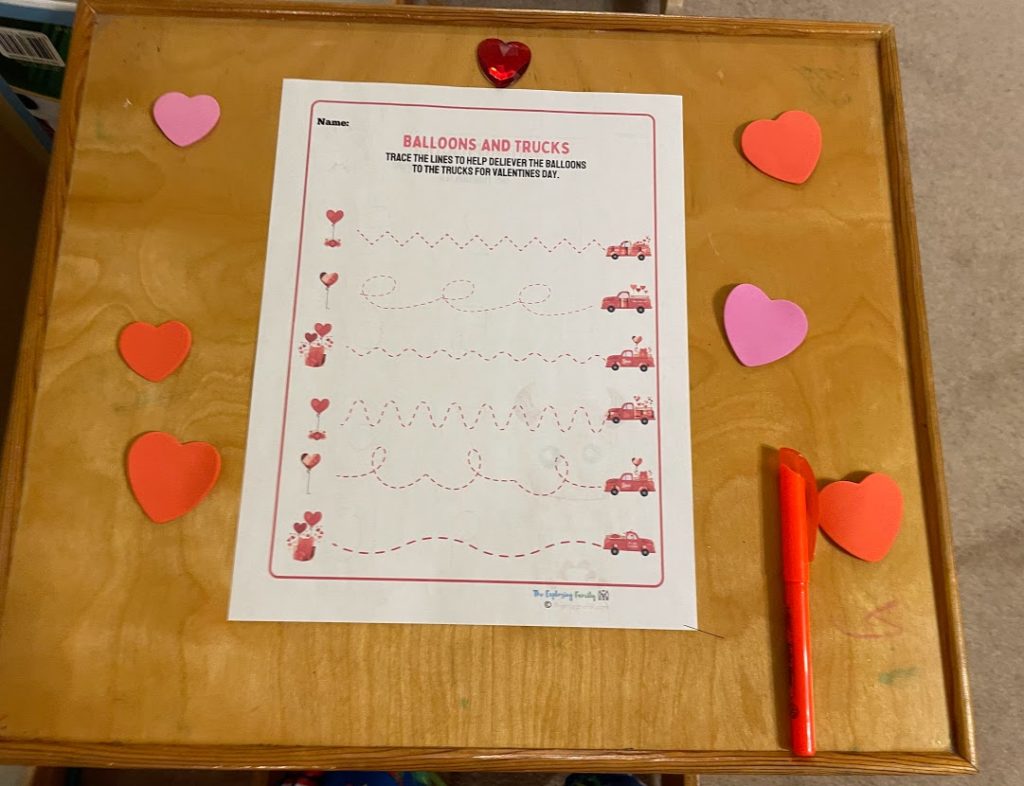 Learning with Valentines Printables
These Free Valentines printables offer a fun learning activity for children aged 3-5 years old. While Kindergarten in Ontario is playbased and has an important role, in my experience as a teacher I think that concrete learning such as worksheets is super important for fundamental literacy and math skills so I have started getting my daughter Thumber whose almost 4 used to practicing these skills.
Many children come to my class in Grade 1 lacking these basic math and literacy skills so I want to make sure my daughter is prepared and has had the opportunity to practice these skills as well as practice focusing on an academic task. Worksheets give your little one a sense of accomplishment, all while teaching them the basics. You can do these themed worksheets together at virtually anytime, simply set up a workspace and watch as your preschooler has fun labeling and tracing on these colourful worksheets. My daughter was super excited when she saw me creating them so she actually asked to complete them… I think the cute Valentines characters helped draw her in.

This Valentines Tracing and Cutting Practice printable has several different activities to engage your children and keep them learning. Aside from tracing lines and numbers, there are some activities that require cutting and pasting different objects to match the numbers. These kinds of activities help to develop your preschooler's fine motor skills and get a little messy at the same time with glue so make sure you picked a good spot to complete the activities. These Valentines Printables are sure to be a huge hit with parents and preschoolers alike.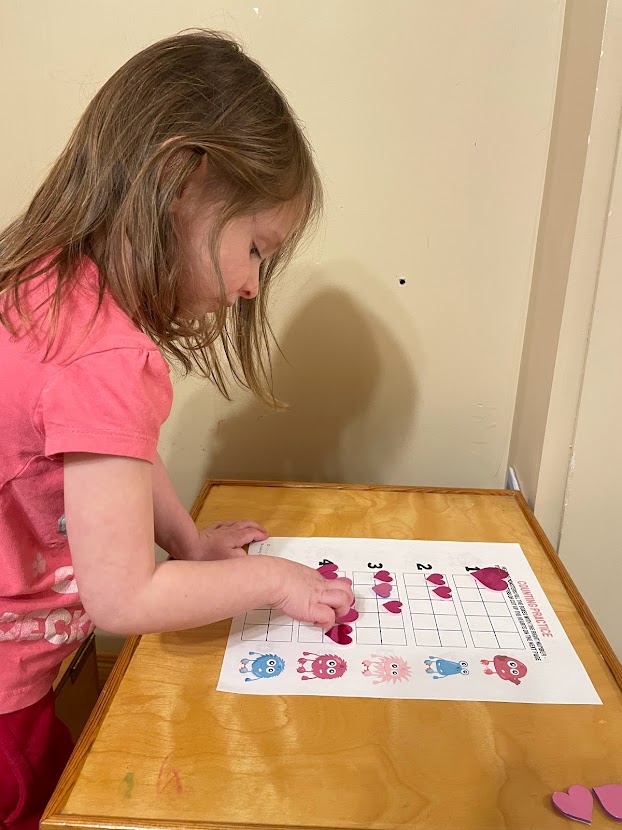 Counting Activities for Preschoolers
Having your children work on counting activities is very important. It will help them to learn their basic numbers, eventually leading the way into an appreciation of math. The activities I have created not only have them practice counting using one to one correspondence but also introduce kids to ten frames.

Giving your preschooler the opportunity to learn their numbers by identifying them, counting and matching objects to the number will help improve math concepts in the future. Conceptual understandings like addition and subtraction are important and an early understanding of numbers increases your little one's chance of understanding these concepts when the time comes. My daughter isnt even four yet and she loves to do addition using her fingers in the backseat of the car when we go for drives. She's totally like her Dad, and loves NUMBERS and MATH!
When should I start introducing my child to letters and numbers?
My answer as a teacher is that it is never too early to expose your child to letters and number through play…. the toddler and preschool ages are foundational in terms of learning and therefore the best time to introduce letters through these fun activities. As a teacher, learning to identify letters by name, letters by sounds and printing letters are all fundamental to learning how to read and write.

After all, knowing the alphabet will allow your children to build a solid foundation for learning to read. I also think it is so important to start the exposure early as I taught grade 1 last year and had many children come to Grade 1 without knowlege of the letters and it was so much more difficult to pick up those basic literacy skills at age 6 rather than many years earlier.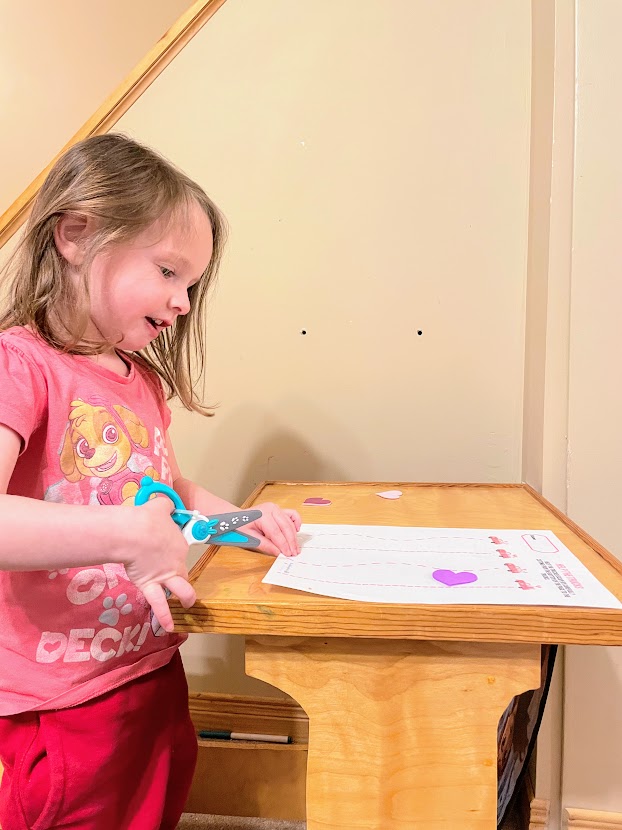 What Materials do I need for these Printable Activities?
There aren't many materials required for these printable Valentines activities, that is what makes them so valuable. They provide hours of educational entertainment, without needing anything too fancy.
Printer & Printer paper and ink
Scissors
Glue
Markers
Pencils
Crayons
Stickers if you choose or you can use the heart printables you printed
Print off your copy today and watch your children fall in love with learning.
Valentines Tracing and Cutting Practice Activity – What's Included
Literacy:
Letter Identification
Handwriting Practice
Letter Sounds
Math:
Gross Motor:
Cutting Practice
Tracing Practice
Preserve Your Free Alphabet Printables
I laminate all of my teaching materials, always have as when I used to tutor I would use the materials with multiple students and they would last much longer if laminated. By laminating all of the materials I make now for Thumper, I am hoping that I can use them in a few years with Baby Boy Robinson.
If you have little ones and are spending the time to create learning materials than I highly suggest buying a laminator and laminating pouches… I get mine from Amazon and it costs only a few cents to laminate each page and takes only a few minutes.
My favourite laminator is the Scotch Laminator which I have been using since 2012 for tutoring materials and it is still running strong 8 years later and back when I was tutoring I would use it weekly.
CLICK HERE TO PRINT FREE PRINTABLE
Looking for more educational printables? Check out our Learning Fun section in the Kids Zone!