The sea of red and pink has started to take over the stores – valentine's day is just under a month away! Looking for a Valentine's Day party dessert idea? Why not make these no bake, kid-friendly Valentines Day Oreo Pops. You read that right, this yummy no-bake Valentine's day treat only requires 3 ingredients – Oreos, white chocolate and sprinkles. All easily found at your local grocery or bulk food store.
Valentine's Day Party Dessert Idea – Valentine's Day Oreo Pops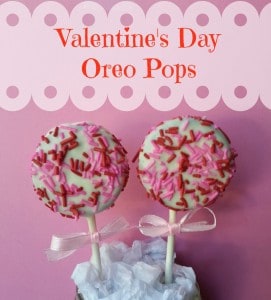 Oreo pops are a great dessert idea that kids can help make and decorate. As an added bonus they hold up well during transport, so you can send them to school with your kids without worrying about how they will look on arrival. If you are feeling super crafty you can even create an Oreo Pop holder out of a small box or medium size bowl and floral foam. Just cut the form to fit inside your box or bowl, cover with tissue paper and then press your finished pops into the foam to have them stand up for a tasty display.

Making Oreo Pops is does not require a lot of ingredients and kids love to help out. Here is what you will need:
Valentine's Day Oreo Pops
1 Package of Oreo Cookies
3-4 cups of Chocolate Merckens – I used white chocolate, but you could use pink or red too
Sprinkles to decorate – Red and pink
Olive oil if needed
Sucker Sticks
Directions:

Prepare the Oreo Cookies by opening them by twisting or with a knife.
Press in the stick and secure with a little bit of melted chocolate. Replace the top of the Oreo cookie and allow to harden.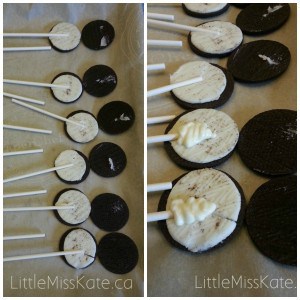 Melt the chocolate merckens in the microwave on medium heat stirring every 30 seconds until melted.
Depending on the consistency add a little Olive Oil, 1 tsp at a time, to help thin out the chocolate so that it will easily coat the Oreos. Do NOT use water as this will cause the chocolate to seize up and become hard.
Holding the Oreos by the sticks dip into the melted chocolate to coat and allow the excess to drip off.
Place on a parchment lined cookie sheet and decorate with sprinkles and allow to harden.
Repeat for remaining Oreo Cookies. If the chocolate starts cooling off, microwave for 20 seconds on medium to melt it again.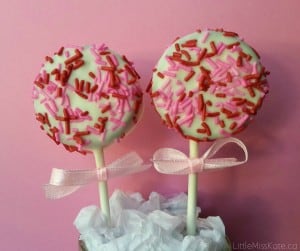 Enjoy these fun Valentine Oreo Pops with your sweetheart this Valentine's Day! Don't forget to check out our other creative Oreo Pop recipes: Oreo Pops for All Seasons, Oreo Baby Rattles, Oreo Mummy, and Oreo Bats.
Save
Save
Save