If you are looking for something fun to do with your kids, Aerosports is a fantastic choice. This guide to Aerosports in Brampton and Oakville is sure to peak your interest when it comes to indoor play places. With so many fun activities to choose from, Aerosports Brampton or Oakville is a great choice for a play day for kids of all ages. Looking for more indoor fun we have lists of indoor playgrounds in Brampton, Indoor play places in Mississauga and indoor playgrounds in Milton.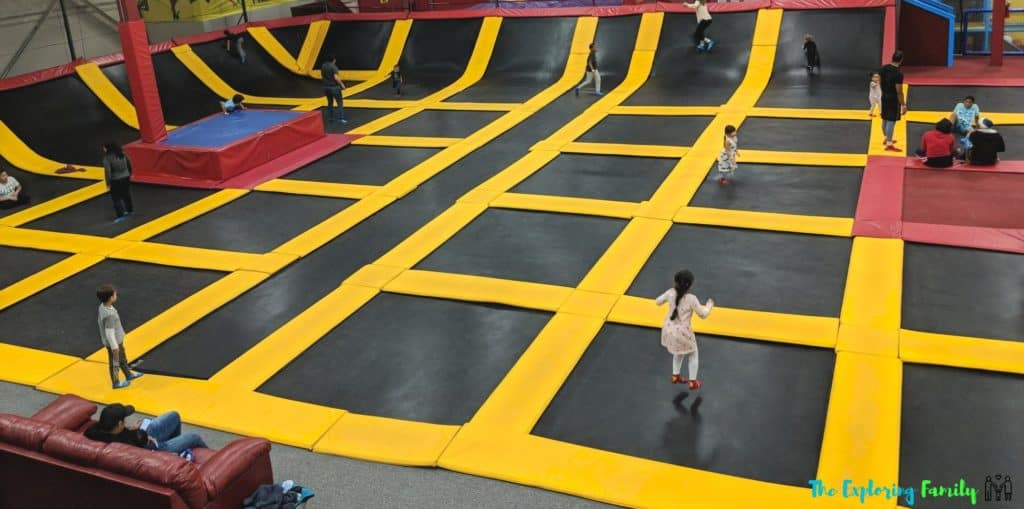 These places indoor playgrounds are more then just a trampoline park, they are ready to challenge your children and have them expending all that pent up energy. It doesn't have to be a rainy day to enjoy some Aerosports, but this is absolutely a fantastic rainy day activity for families in Brampton and Oakville.
What are Aerosports Parks?
These fantastic facilities offer several different exciting areas, events and packages. They are known for their trampoline park, but include other features as well. Children (and adults) can enjoy some engaging physical activities from dodgeball to Ninja Warrior courses.
Aerosports Brampton offers several different fun things to choose from. Whether you visit for their open jumping, toddler time or DJ Dance Night, you kids are sure to have a blast.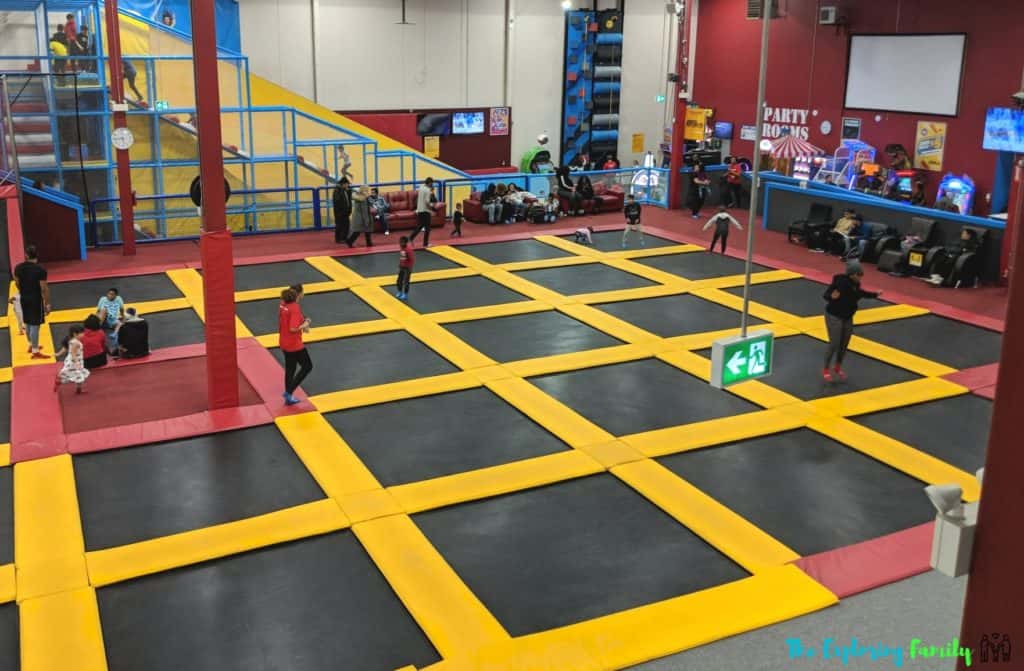 Aerosports Oakville has many different play areas, camps and special events that are sure to engage your kids. Whether you visit to enjoy Friday Night Jam or enjoy one of their camp situations, your little ones will enjoy their experience.
Aerosports are a great way to get your kids active and keep them engaged no matter what the season, the weather or the reason.
Scroll down or click on the links to see more about each location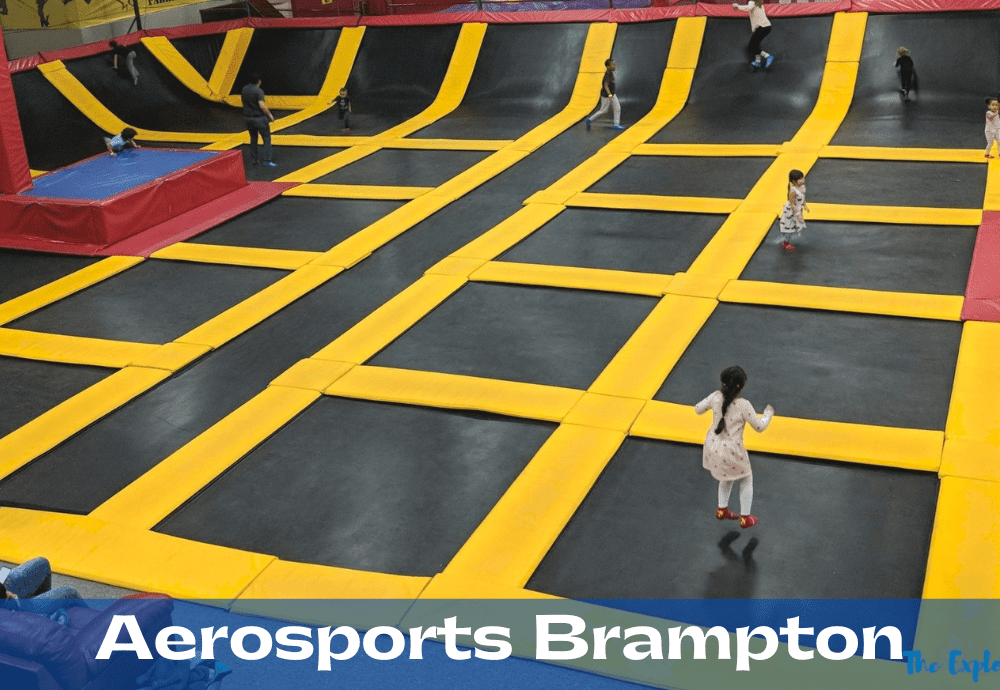 Aerosports Brampton
100 Westcreek Blvd, Brampton, ON L6T 5V7 – Aerosports Brampton Trampoline Park has so many different areas to choose from. From a massive Trampoline Park to climbing wall, a visit here is an absolute must.
Aerosports Trampoline Park
The Trampoline area is spread from wall to wall with banked walls for some extra challenges and jumping fun. Kids can bounce for hours and enjoy the adrenaline rush as they bounce from one trampoline to the next. This is a fun activity for kids of all ages.
Remember to bring a water bottle, you will get thirsty with all that jumping. There are couches located all around the outside of the main jumping area for parents to sit.
Toddler Zone
The toddler zone is a huge three storey playground perfect for children from the ages of 2 to 8. There are bridges, slides, obstacles, great hiding places and more. Kids love climbing in this play area, and there is seating for parents to watch their little ones.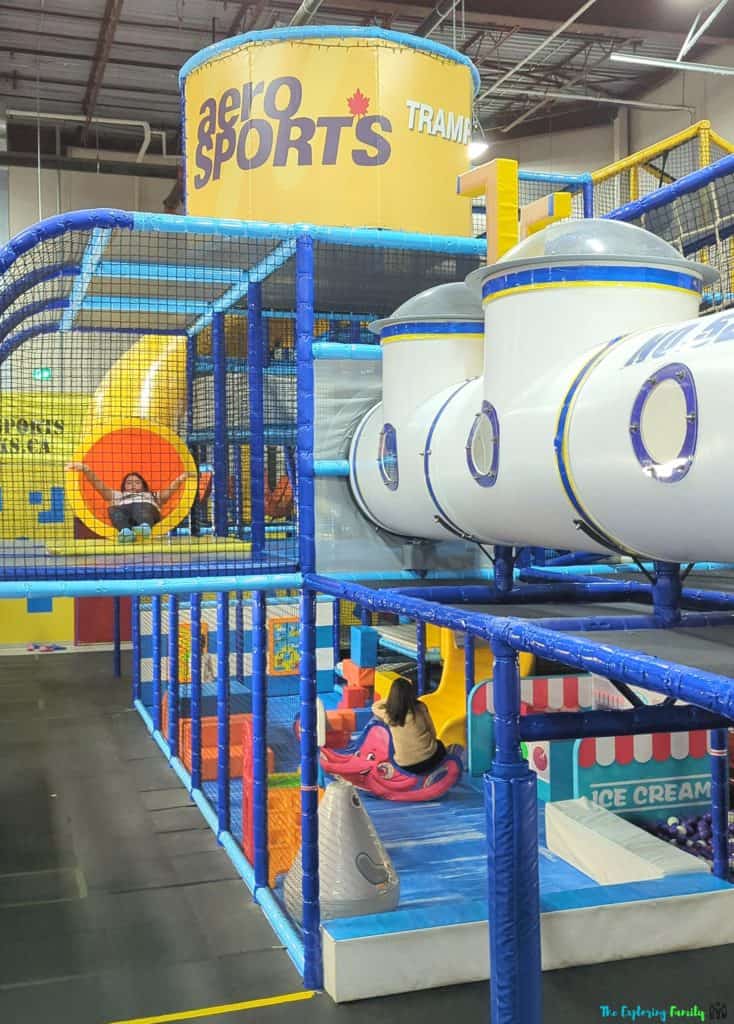 Climb and Slide Kid Zone
The climb and slide kid zone is a great place to enjoy some adventure. These giant slides are guaranteed to thrill your children of all ages. Ride down the thrilling slide, into the ball pit and then race to the top for another go. Toddlers and smaller children can enjoy the fun climbing tunnels behind the feature. This is a fun and exciting activity for your kids and they are sure to enjoy it.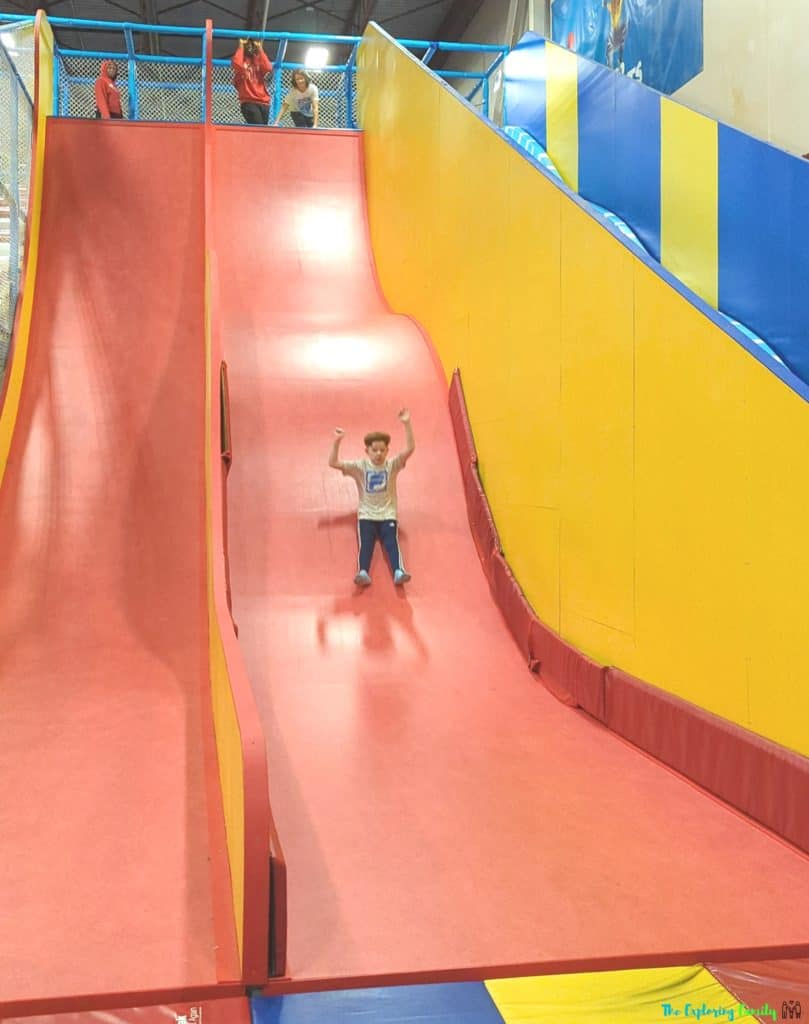 Climbing Walls
The climbing walls are a fantastic way for kids to build their confidence and face their fears. Complete with a safety harness, your children can climb up the wall and enjoy the rush of getting to the top. Then they auto-belay back down to the ground.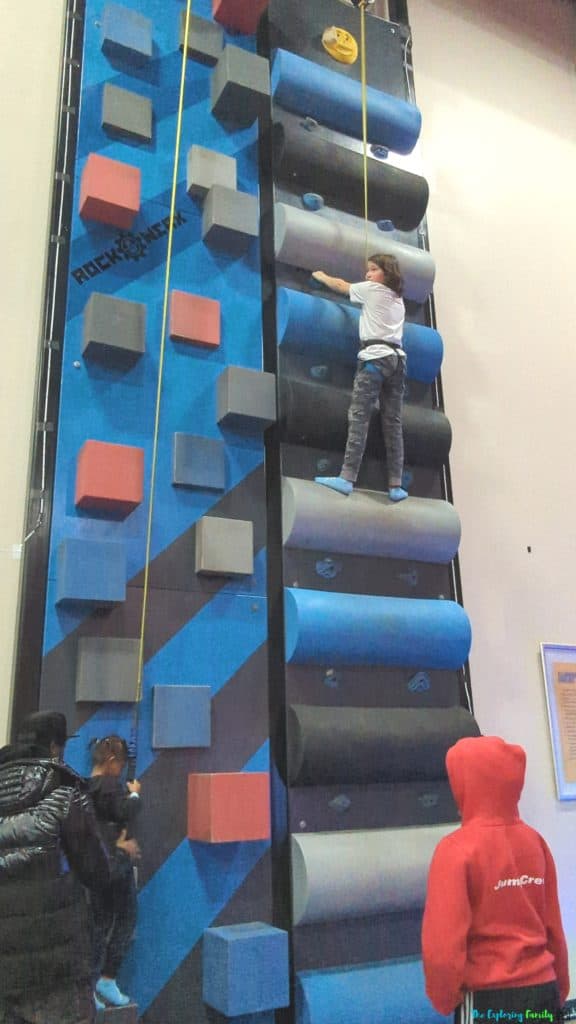 Arcade
This arcade has a variety of exciting games. Your kids can enjoy playing these challenging arcade games to earn tokens. After they are done playing, they can redeem their tokens for some awesome prizes.
Dodgeball
What's better than traditional dodgeball played in a gym? Why, dodgeball played on trampolines of course! Check out their Aerosports Brampton and their awesome dodgeball games. This is a great way to enjoy a day out getting some exercise all while competing to see who will win the dodgeball game.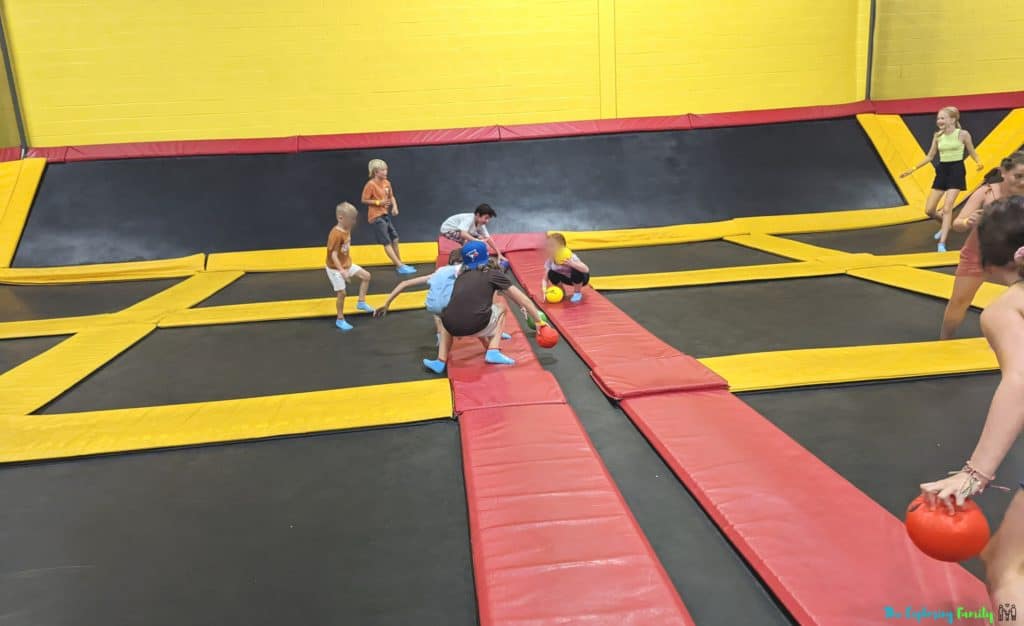 Ladder Climb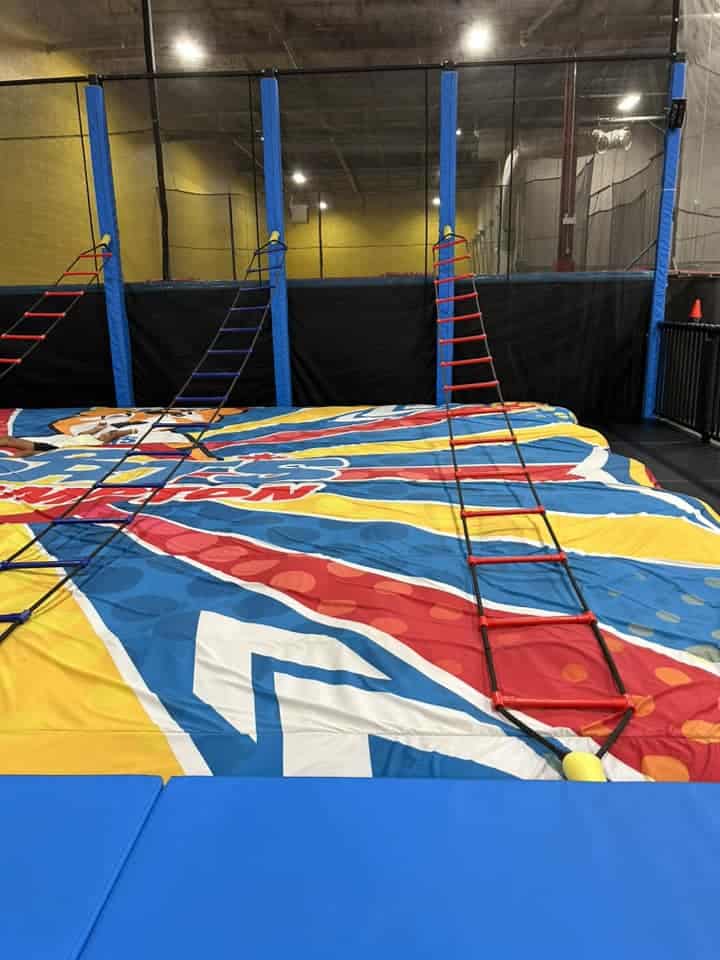 Basketball
If you enjoy basketball then you will love jumping to new heights to DUNK!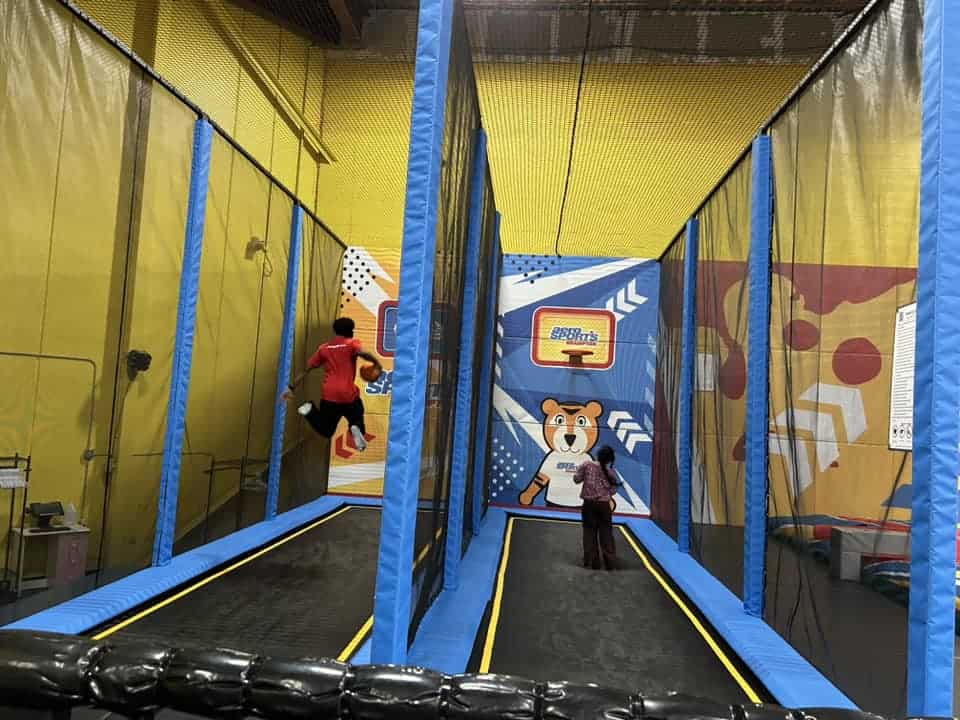 Jousting
Practice your balance and coordination at the jousting station.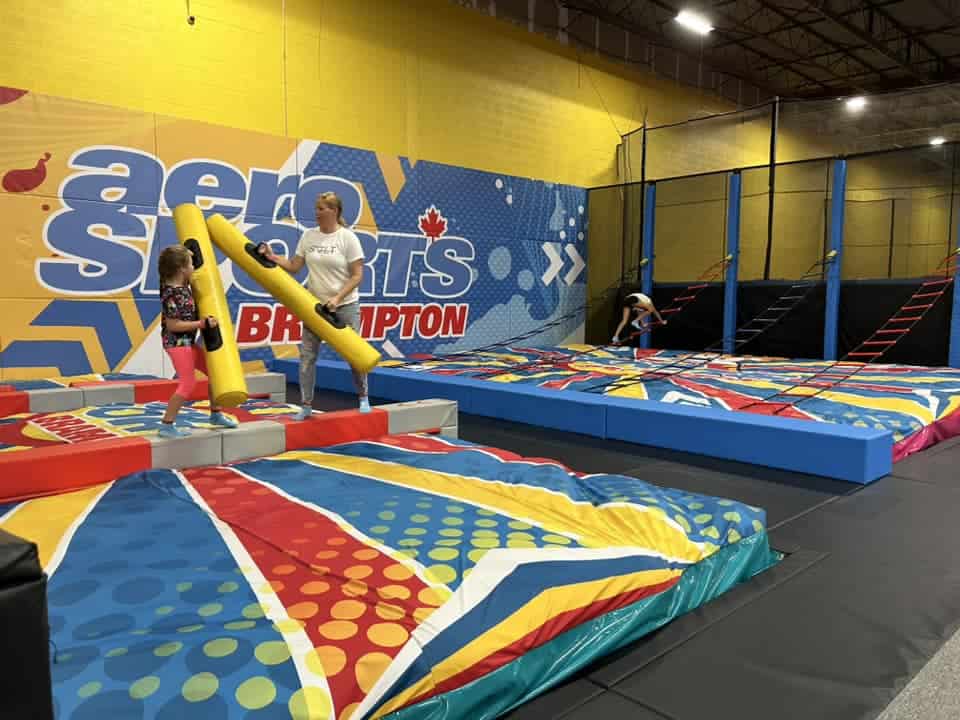 Birthday Parties
Aerosports Trampoline Park Brampton has several different party packages to choose from. There are 4 party rooms complete with options and add-ons of your choice. If you are planning a birthday party for your little one, this is a great place to do it.
Aerosports Brampton has trained party hosts that will interact with the party goers and play games, making the experience easy for parents.
Aerosports Brampton Special Events
Sensory Play – Mondays
Play All Day Wednesday
$10 Thursdays
DJ Night- Fridays
Toddler Time
*Check the pricing section of the website for more information.
Other Parties and Groups
There are several other ways to enjoy a party at Aerosports in Brampton. Whether it's a corporate event, a family gathering, a church group or even a school trip, there is something here for everyone.
They have flexible event rooms and options to choose from as well as a corporate VIP lounge. You can even choose from their custom catering and food options. This is a great place to throw a gathering and enjoy some fun activities.
Aerosports Oakville
2679 Bristol Cir, Oakville, ON L6H 6Z8 – Aerosports Oakville is a great place to visit for kids of all ages. There are so many fun activities to do here. You can choose from open jumps, climbing walls, and so much more. Whether you are visiting for a birthday party, or simply to get some exercise, Aerosports Oakville is a must visit.
Open Jumps
With over 120 different trampolines, an open jump is an exciting way to enjoy Aerosports Oakville. You can bounce off the banked walls or take a race down the trampoline track. Always remember though, jump safely.
Aero Slam
This is a great activity for kids of all ages. Aero slam is a chance to dunk like the pros. Grab a basketball and load up from the free throw line. You will catch some amazing air and be able to do some new and unique moves on the court with Aero Slam. This brings a whole new meaning to Basketball.
Dodgeball
Dodgeball is always taken to a new level when trampolines are involved. This is a great activity to participate in while visiting Aerosports Oakville. There are always court monitors nearby to ensure that everyone is having a good time and playing fair.
Ninja Warrior Course
This is a great place to challenge your strength, balance and agility. The Ninja Warrior Course at Aerosports Oakville, is built for Ninjas of all ages, making it a great experience for all. This course is a great way to build your confidence and fitness.
Aero Bags
If you want to be an acrobat, the aero bags are for you. Try out your most amazing tricks and softly land upon an Aero Bag. This can be such an exciting activity. Especially since you can soar into the sky and show off some fantastic moves.
Climb and Slide
These giant slides are a great way to engage your adrenaline. Climb to the top and drop in, sliding quickly to the bottom before racing to the top to go again. Toddlers and smaller children can enjoy the climb tunnels too. No matter what you choose, the climb and slide is a great way to enjoy a rush of adrenaline for kids of all ages.
Climbing Walls
Check out the dual zone climbing wall for an awesome challenge. Your little ones will have plenty of room to build their confidence and work their way up the large wall. This activity is fantastic for team building, getting some exercise and building confidence.
Arcade
Get some tokens and play some amazing games at the Aerosports Oakville arcade. You can win some great prizes by playing air hockey, basketball and more. The arcade has so many exciting games to choose from, you are sure to find something everyone will enjoy.
Programs
There are several programs to choose from at Aerosports Oakville. You are sure to enjoy the exciting activities that take place at this fabulous location.
Camps
These camps are a great full day experience for children ages 6-12. There are several activities led by an instructor that include ultimate dodgeball and other exercises. Sessions include snacks and a full lunch. Dive into team building, sports, outdoor play, crafts, and so much more.
Check the Aerosports Oakville Camp Schedule for rates and more information.
Lock In
This program is pretty simple to explain. Aerosports Oakville will lock the doors and give you the chance to jump all night long. Great for kids ages 10-17, there are several different activities that are planned such as GLOW jump dodgeball and more.
Visit the Lock In Schedule to learn more.
Friday Night Jam
Music, blacklights, lasers and more make Friday nights at Aerosports Oakville a fantastic experience. The whole place transforms into an awesome dance club complete with a live DJ. Jump the night away to some great music and enjoy an all ages dance club experience.
Birthday Parties
A birthday party at Aerosports Oakville is a fantastic experience. There are a few packages to choose from. They include party rooms, a dedicated party host and more. Check out their packages for your next birthday party. With so many fun things to choose from, this is sure to be a great party experience made easier for the parents.
Other Groups & Events
There are several other groups and events that are offered at this location. For more information make sure to visit the website.
Corporate Parties
School/Groups
Fund Raising
Facility Rentals
Aerosports Brampton and Aerosports Oakville are both fantastic locations to enjoy. Get out and participate in some fun and exciting activities with your family and enjoy some Aerosports.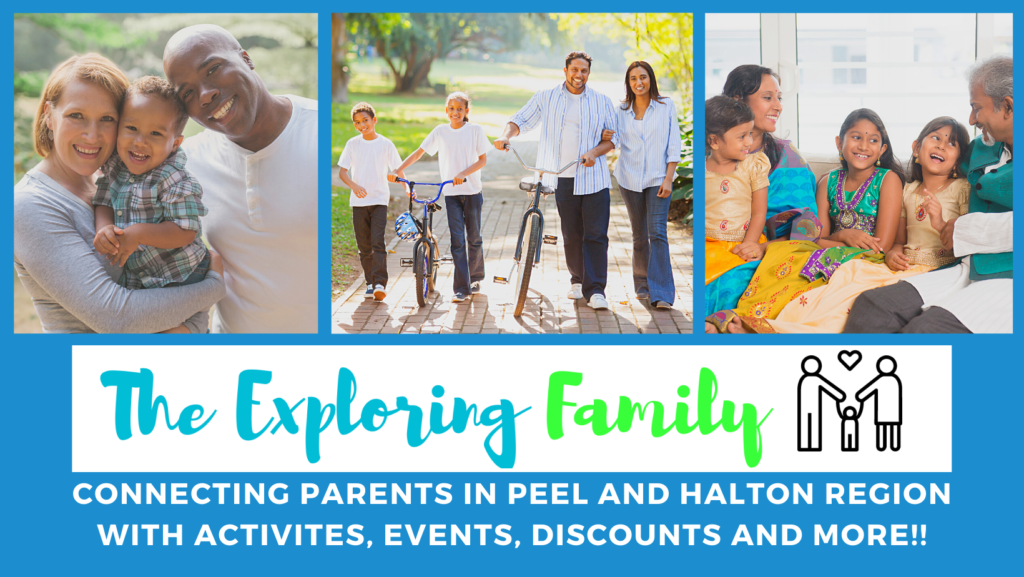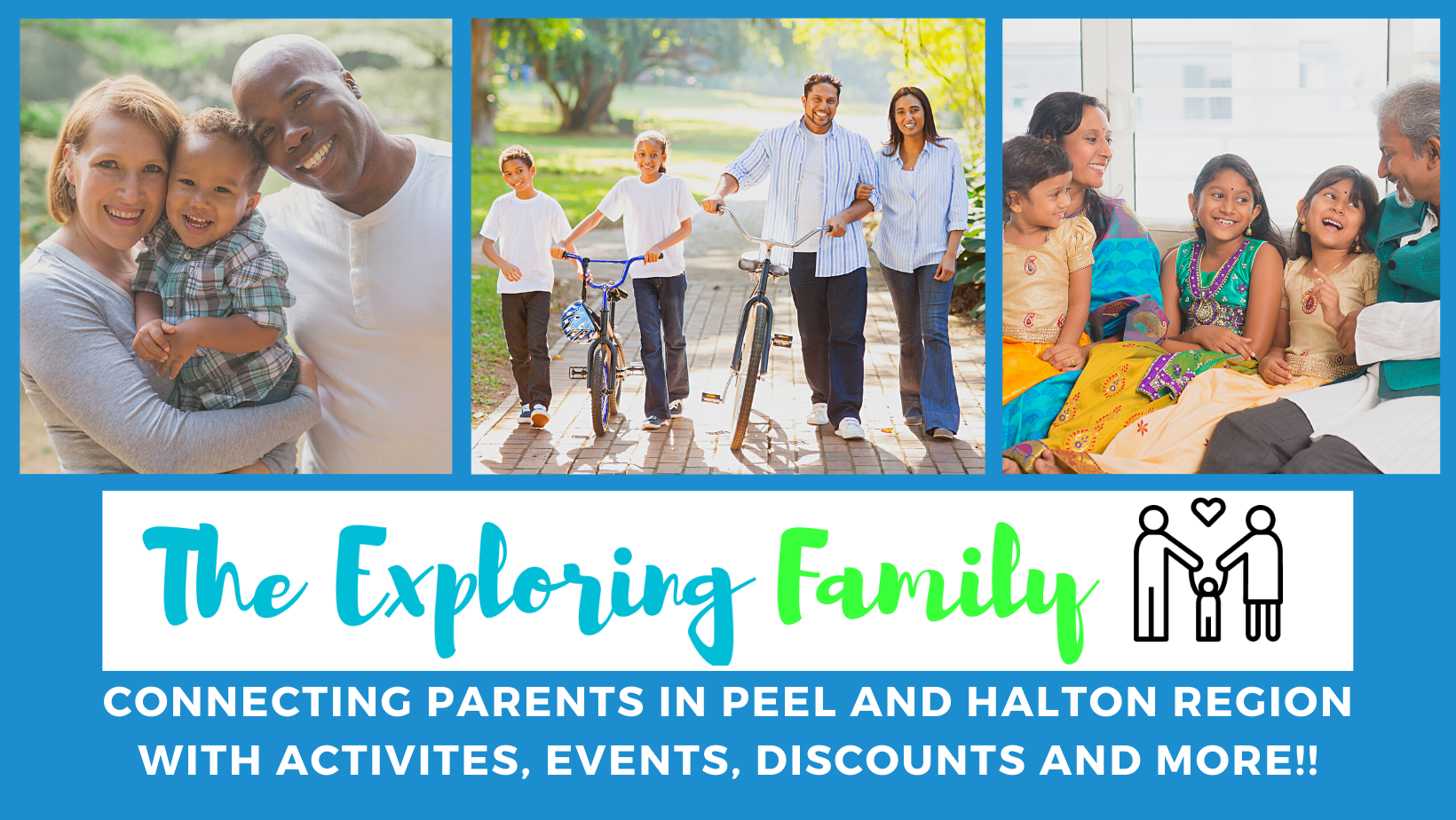 Can you help make this article better?
If you have noticed an error, have additional information or would like to share a comment you can:
E-mail us at info@thexploringfamily.com
Find us on Facebook: The Exploring Family
Find us on Instagram: @The.Exploring.Family
More Local GTA Fun