This guest post is brought to you by Vicky from Family of 4 Adventures on Instagram! She was born and raised in Mississauga and now she is raising her 2 kids in the area with her husband. Her family loves to travel the world as much as they can!
When they are at home, they love to explore new places around them including Mississauga and Oakville. Vicky's mission for her family is to share the love of the outdoors and show others how to bond together through travelling.
Bronte Village is a charming neighborhood located in Oakville, Ontario, Canada. It is situated on the shores of Lake Ontario, and nestled in the south west corner of the town, you will find Bronte! Bronte Village has a rich history and offers a unique blend of small-town charm and modern amenities.
The centerpiece of Bronte Village is Bronte Harbor, which is a picturesque marina where you can find boats, yachts, and sailboats. The marina is surrounded by a waterfront park, providing a scenic setting for leisurely walks or picnics. From the marina, you can enjoy stunning views of the lake and watch sailboats gliding across the water.
Bronte Village
Spring is upon us and that means finding awesome places to spend time outside. Oakville is full of parks and tree lined trails. The village of Bronte is one of my favourites! It has everything you need to entertain your kids for the day.
Not to be confused with Bronte Creek Provincial Park, the village of Bronte in Oakville consists of a few different parks including Bronte Beach Park and Bronte Heritage Waterfront Park. The parks, walkways, playground and beach surround the Bronte Harbour.
Bronte Heritage Waterfront Park is located at Lakeshore Boulevard and Bronte Road in Oakville. More specifically, Bronte Heritage Waterfront Park is located at 2340 Ontario Street. There is a large municipal parking lot which is free to park for the day.
Things to do in Bronte Village
Shopping in Bronte Village
Local Events
Eat and Drink
Go to the Beach
Go for a Walk
Play at the Playground
Pack a Picnic
Outdoor Activities
Shopping in Bronte Village
The main street of Bronte Village is Bronte Road, which is lined with a variety of shops, restaurants, cafes, and boutiques. It offers a vibrant and pedestrian-friendly atmosphere, making it a popular destination for locals and visitors alike. You can find a diverse range of dining options, from casual eateries to upscale restaurants serving various cuisines.
Bronte Village Local Events
Bronte Village is also known for its community events and festivals. One of the most popular events is the Bronte Village Annual Tree Lighting Ceremony, which takes place during the holiday season. The ceremony marks the beginning of the festive season and includes live entertainment, carol singing, and the lighting of the community Christmas tree.
Eat and Drink
There are so many places to enjoy lunch or dinner along Lakeshore Road. Or if you're in the mood for a snack or are a coffee lover, head up Bronte Road from the lake by foot and check out Taste of Columbia! It is located at 67
Bronte Road.
We loved the warm and cozy atmosphere. It was also wonderful to see the cafe so kid friendly. It had a table in the corner with books and magazines for kids to read. My Husband and I enjoy our lattes, so we each got that. It did not disappoint. My kids tried the brownies, my husband got biscotti and I got a lemon, cranberry scone. All were amazing!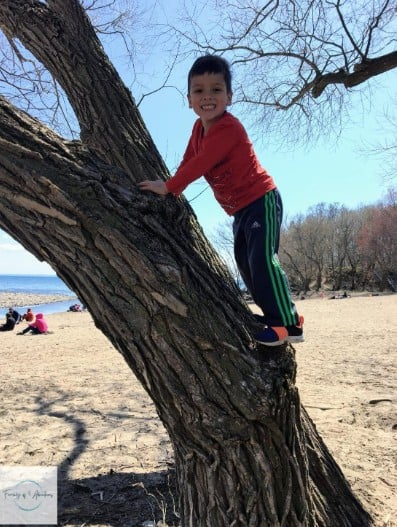 Go to the Beach
On the other side of Bronte Creek, you'll find Bronte Beach Park. There is a separate parking lot here which you can find at 45 West River St. This is also a municipal parking lot with free parking. There are washrooms available here open during the warmer months. Bronte Beach Park is only one of the amazing Beaches in the Greater Toronto Area.
Bring your buckets and shovels and have your kids entertained for hours playing in the sand. It makes for a relaxing day. We chose not to swim, but the water quality is tested regularly during the summer months, and other people were swimming when we were there. Keep in mind there are no lifeguards at this beach.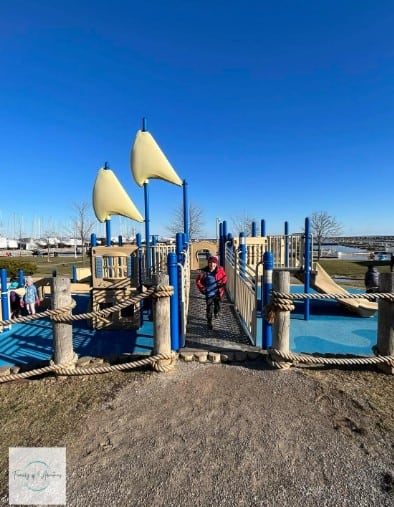 Play at the Playground
There is an awesome pirate themed playground at Bronte Heritage Waterfront park. There are also big kid and little kid swings to enjoy. It seems like it's still quite new and in good condition.
Overlooking Lake Ontario, you'll love to sit and watch your little ones play with the perfect backdrop. An extra bonus is that the playground is over a rubber floor! No sand or wood chips getting into shoes!!! There is also a washroom nearby.
Outdoor Activities
For outdoor enthusiasts, Bronte Creek Provincial Park is located nearby. The park offers various recreational activities, including hiking trails, camping facilities, and a natural pool for swimming. It's a great place to enjoy nature and escape the hustle and bustle of the city.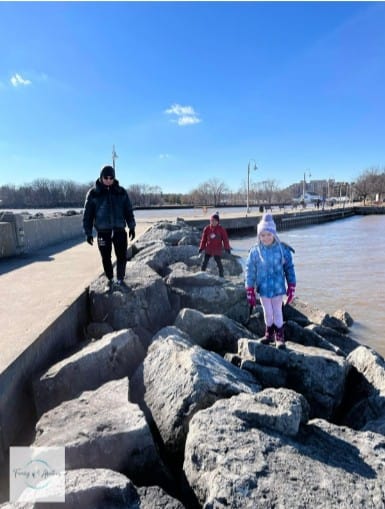 Go for a Walk!
There is an easy trail following the river, you can walk as far as you like and then head back again. It's also stroller and bike friendly. See what kind of birds you can find! If your kids are as adventurous as mine, they will love climbing the giant rocks along the pier that stretches out into Lake Ontario.
We honestly spent most of our time here! You'll also get a good look at the lighthouse from the end of the pier. As the weather warms up you'll start to see more boats coming out at the marina which is always fun to watch.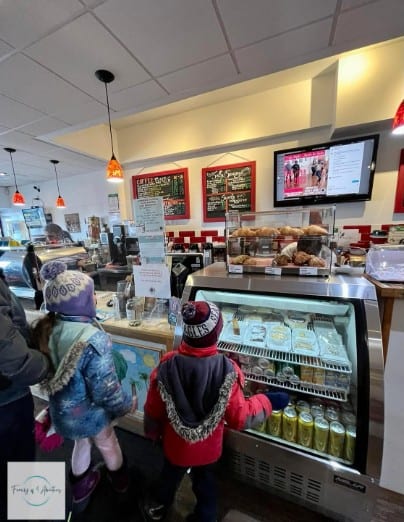 Pack a Picnic:
With so many parks and spots to hand out. Why not bring your own food and enjoy it with a view of Lake Ontario and Bronte Harbour Marina. You could even have a seat in one of the many colourful Muskoka chairs set up around the park. According to bronte-village.ca, the chairs are designed and created by the community and local business owners. They have been doing this since 2017 as a way of attracting visitors to the area.
According to local realtor and resident, Otilia Biondi, "Bronte Village, and its surrounding neighborhoods, have dozens of things to do for the whole family all year round. Walk along the pier, hike the Heritage Trails, sit on an art chair and watch the sailboats go by, go to the beach or learn about the history of the fishing village. Bronte Village provides dining, art and music festivals in the park and shopping. Bronte Village is a quaint place for families and for beachside activities. It's a walkable waterfront destination with lots to do. I can't imagine living anywhere else."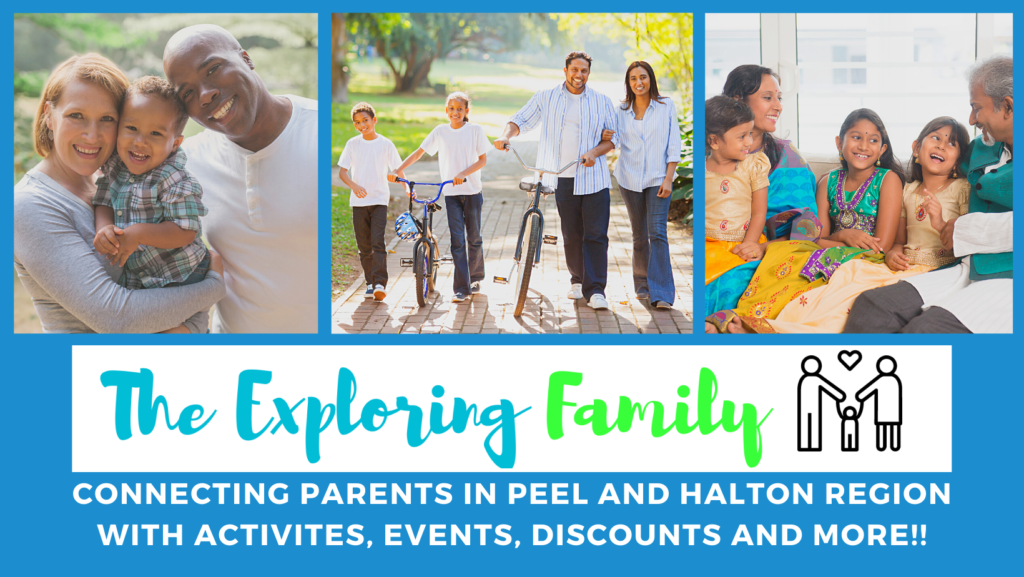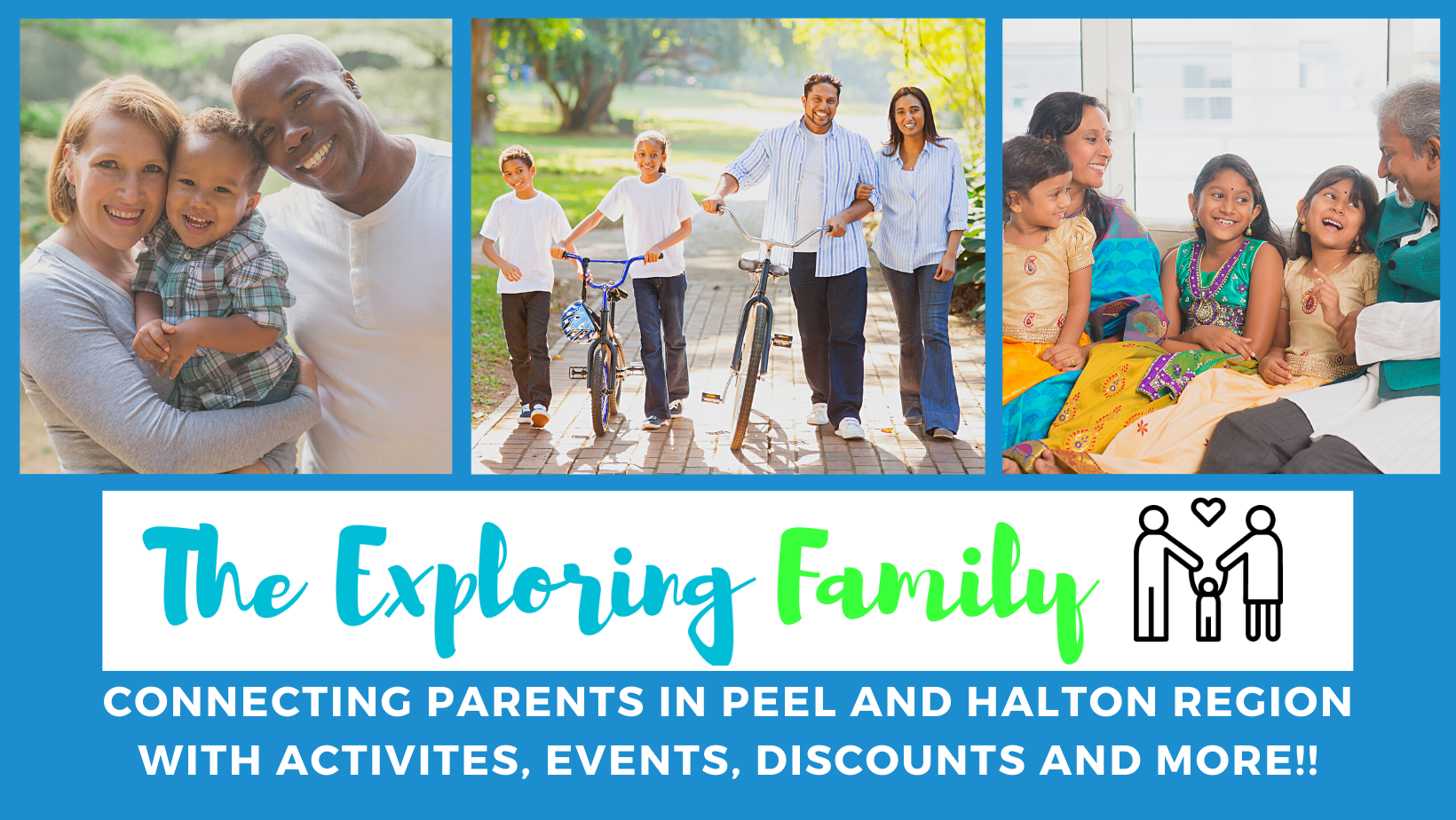 Can you help make this article better?
If you have noticed an error, have additional information or would like to share a comment you can:
E-mail us at info@thexploringfamily.com
Find us on Facebook: The Exploring Family
Find us on Instagram: @The.Exploring.Family