Annual Christmas Tree Lighting Ceremonies are a great way to kick off the holiday season with family and friends. Enjoy an evening out with beautiful tree lighting.
Checkout our Guides to Spectacular Christmas Light Displays: Christmas Light Displays in Brampton, Mississauga, Christmas Light Displays in Georgetown and Milton, Christmas Drive Thru and Walk Thru Light Displays.
Local Christmas Tree Ceremonies:
Toronto – Nov 26th
Georgetown – Dec 1
Brampton – Nov 18th
Mississauga – Nov 26th
Streetsville in Mississauga – Nov 18th
Oakville – Nov 18th
Kerr Village in Oakville – Dec 3rd
Aldershot Village in Burlington – Nov 19th
You might also like:
Where to Find Santa in the GTA, Family Friendly Christmas Movies, Family Friendly Christmas Events in the GTA, Christmas Markets, and How to Adopt a family for Christmas.

Brampton: Friday, November 18 | 6 to 10 pm | Downtown Brampton
Official Tree Lighting Ceremony presented by Alectra – Friday, November 18 | 6:45 pm | Ken Whillans Square
The annual tradition continues as we light the way for Santa's arrival. Watch as a 60-foot spruce tree, decorated with over 10,000 lights comes to life in Ken Whillans Square as Members of Council countdown.
Kick-off the holiday season with the Winter Lights Festival in Downtown Brampton.
Experience the joy and wonder of the City's annual Winter Lights Festival, presented by Fieldgate Developments with family-friendly activities for everyone to enjoy!
In partnership with the Tiger Jeet Singh Foundation's Miracle on Main Street, the event will feature:
– Stage performances by local artists in Ken Whillans Square *see stage schedule below*
– Christmas Market featuring retail and food vendors in Gage Park *see vendor listing below*
– Kick off to the seasons winter light displays in Gage Park
– Free Petting zoo and pony rides in Gage Park
– Free amusement rides on Wellington Street
– And more fun giveaways and activations on Main Street South!
Be sure to bring a new unwrapped toy in support of local Brampton organizations and families experiencing poverty.
Mississauga: November 26th from 5:00 p.m. to 9:00 p.m.
It's the official kick-off to the winter season, featuring the lighting of the Christmas Tree, live entertainment, ice skating, food trucks, and so much more!
Enjoy a magical evening filled with dazzling lights and spectacular entertainment!
Official opening of the City's largest outdoor skating rink. Skate rentals are available on-site.
Lighting of the Christmas Tree and trees around the Square
Snap a photo with Santa and the elves, visiting all the way from the North Pole!
Explore four glowing public art installations throughout the Square

Diaphanous Charms by Asli Alin
Echoes by Nate Nettleton
Sugar Mountain by Weppler and Mahovsky
The Guest's Shadow by Weppler and Mahovsky (one night only)

Sign up for a free lantern making workshop, inspired by a Light Up the Square installation The Guest's Shadow. Sessions are held at the Great Hall on November 19 and November 26, led by artists Rhonda Weppler and Trevor Mahovsky. Learn more.

Grab a bite to eat or a hot beverage at one of our many food trucks
Play one of our unique giant light up games
Live Music by the JukeBells ft. uRequest Live, Celebration Square's very own live Juke Box. Request a song and get a shout out from the band on stage!
Event Schedule:
5:00 p.m. – Ice Skating, Food Trucks, Photos with Santa, DJ Spinning and Light Up Games
6:15 p.m. – Live Music by the JukeBells ft. uRequest Live
7:00 p.m. – Official Ceremony and Tree Lighting with Council
7:20 p.m. – Live Music by Big Smoke Brass
Streetsville – Nov 18th 7:15PM
New this year we will kick off our tree lighting with and opening ceremonies featuring Mr. and Mrs. Claus! On the Friday evening, beginning 7:15 p.m. from Kerr St. and Queen St. S south to the Village Square we will be having a (brief) road closure so families can line Queen St. S to welcome Mr. and Mrs. Claus as they ride down the street in their sleigh with the Streetsville Pipes and Drums and the Legion's Colour Party to lead our countdown of the tree lighting!
In addition to our opening ceremonies Friday activities include:
5:00 p.m. to 9:00 p.m. Ice slide with toboggans on Maiden Lane (Maiden Lane and Queen St. S)
5:00 p.m. – 9:00 p.m. Kids crafts and letters to Santa
5:00 pm- 6:45 pm and 8:00 pm-9:00 pm. Selfies with Santa. Santa's Village is sponsored by Atkinson Insurance. Santa's Village is hosted and designed by Joanne Lipp European Skin Care & Electrolysis (11 Main St.)
5:00 p.m. – 9:00 p.m. Holiday vendor market featuring over 25 local artisans curated by Hello Local and complimentary Maple Taffy provided by the Streetsville Legion Branch 139
6:00 -9: 00 p.m. Live performance by Screeched Inn a Canadian Celtic rock group.

Georgetown: December 1st, 2022
Yes! The lights are coming on for our 15th annual winter lighting festival from December 1 to January 3 from 5 p.m. to 11 p.m. every day!
Come out from 6:30-8PM on December 1st. There will be free rides on OB the CN train ,hot dogs, hot chocolate and entertainment.
The lights WILL still be lit for you and your family and friends to enjoy at Dominion Gardens Park in Georgetown, Shelagh Law Parkette in Glen Williams and Acton Sports Park in Acton.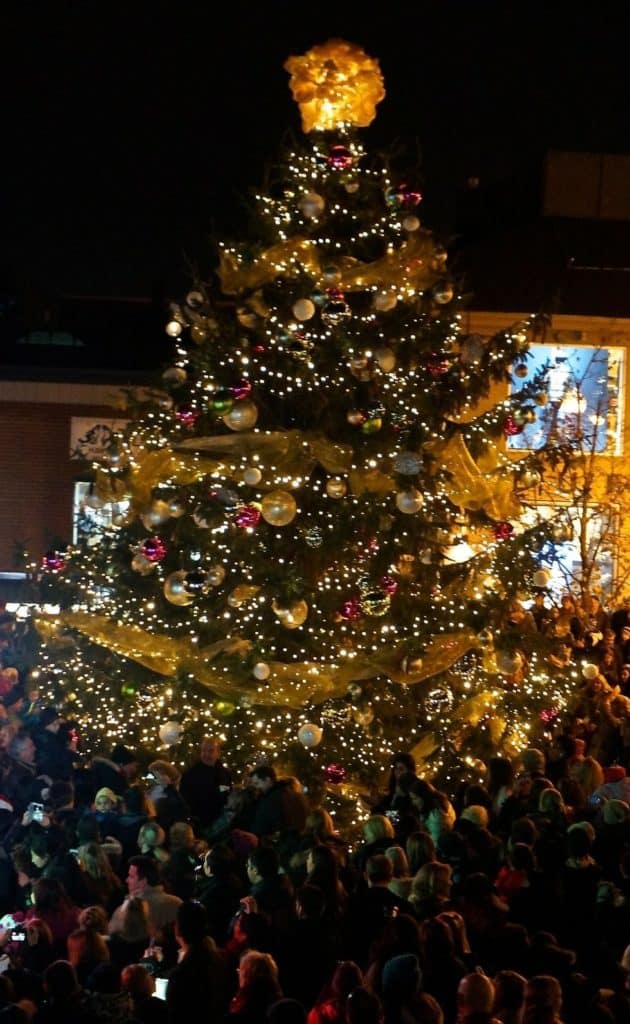 Oakville: Light up the Night – November 18th, 2022
Join us for the kick-off to Downtown Oakville's Hometown Holiday as we light up the night. The event is running from 5PM-9PM. The event takes place at Towne Square, 94 George St. Oakville, ON, Canada.
Take a stroll and enjoy Downtown Oakville's spectacular holiday lighting including our 30 foot tall ribbon tree and Winter Wonderland of lights. Tonight marks the first day we will 'Light up the Night' and we are celebrating with live entertainment in Towne Square featuring the CW Carolling Champions The Sugar Plums.
The Sugarplums perform your holiday favorites a cappella with a vintage flair, their beautiful harmonies, bring back memories of the Andrews Sisters – a trio of girls so sweet they'll give you a toothache! (Shows: 5:30, 6:30, 7:30 and 8:30)
Take a horse and carriage ride around historic Downtown, pick up at Robinson Street in Towne Square. (5-9)
Stop by to visit Santa at his cabin in Centennial Square (Navy/Lakeshore) (5-9)
Plus participating shops are staying open late for you to kick-start your holiday shopping!
Kerr Village, Oakville: Sat Dec 3rd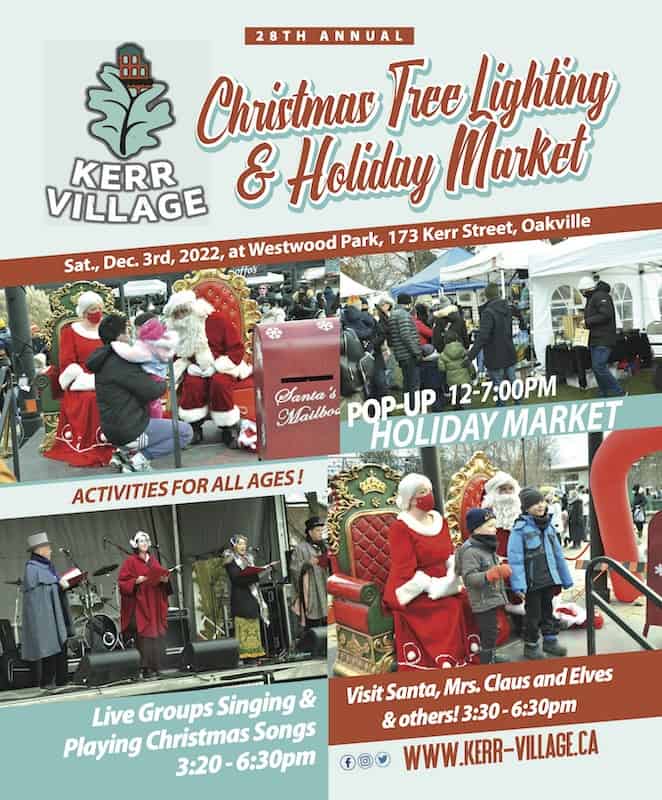 The event will be taking place at 2022 WESTWOOD PARK, 173 KERR STREET, OAKVILLE
12 – 7:00 PM- Holiday Market
3:15 PM Musical Entertainment
3:30 – 6:30 PM Santa & Mrs. Claus
5:30 PM Tree Lighting Ceremony
Aldershot Village in Burlington: Nov 19th, 6PM Tree Lighting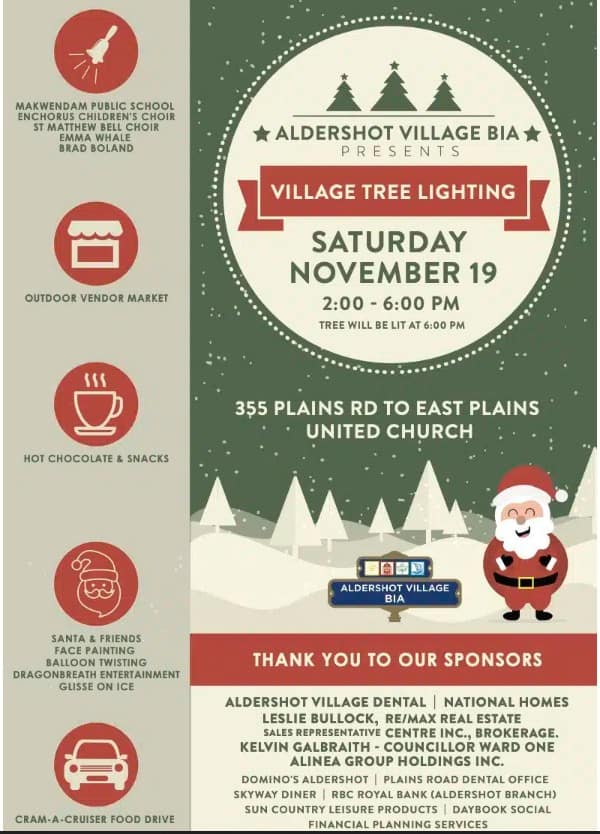 The Aldershot Village Tree Lighting will once again kick off the Holiday season in Aldershot!
This year, we had added many cool and fun activations for the kiddos and families. There will be hot chocolate and snacks, choirs and live music, Santa & friends, face painting, balloons, Dragonbreath Entertainment and Glisse on Ice!
Halton Police Cram A Cruiser – Please bring some non perishable food items for our annual campaign for the Compassion Society of Halton and the Burlington Food Bank.
Start your holiday shopping at our hugely popular Vendor Market which will feature some old favourites and new vendors as well.
We will be entertained by a variety of performers including the Makwendam Public School Choir, Enchorus Children's Choir, St Mathew Bell Choir, Emma Whale & Brad Boland.
This event will take place at 355 Plains Road E & East Plains United Church Parking lot.
Saturday November 19th 2pm to 6pm.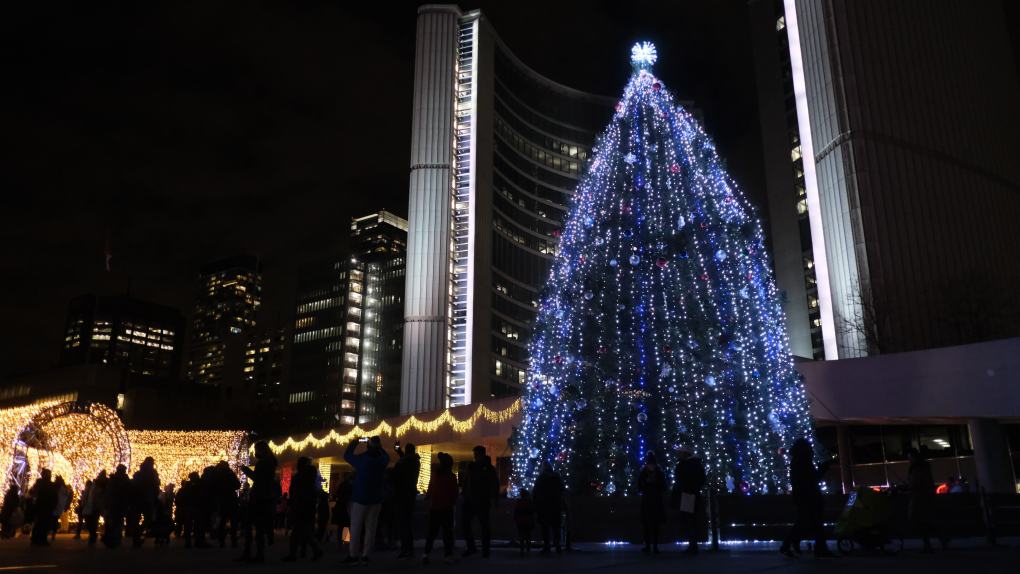 Toronto: Cavalcade of Lights
Saturday, November 26 from 3 to 11 p.m. Don't miss the opening night celebration from 3 to 11 p.m. on Saturday, November 26. The tree-lighting will take place at 8:30 p.m.
Enjoy an unforgettable opening night, full of family-friendly activities, live entertainment, food vendors and a tree-lighting at 8:30 p.m. The following acts will entertain audiences in various locations throughout the evening:
3 p.m. Welcome with local Indigenous Elder
4 p.m. Nirkoda Israeli Dancers of Toronto
5 p.m. Traditional Latin American music and dance by Tocani
6 p.m. Abenaki & Franco-Ontarian folk music by Mimi O'Bonsawin
7:45 p.m. Electronic Québécois music by Mélisande [électrotrad]
8:30 p.m. Christmas Tree & Nathan Phillips Square lighting ceremony
9:30 p.m. Contemporary African dance music by 10-piece Asiko Afrobeat Ensemble