Santa lives in the North Pole with his reindeers and will soon be on his way! He is checking his lists twice and reading Santa Letters from Children around the world to ensure he brings them something they would enjoy! Now it takes a while for Letters to Santa from Canada Post to make their way to the North Pole so it is important to make sure you meet the Canada Post Santa deadlines.
Writing a letter and mailing a letter to Santa and Mrs. Claus is a beloved Christmas Tradition for children around Canada, and keeps the elves at Canada post busy ensuring every child receives a response from Santa Claus. Writing letters to Santa is also a great way to get kids to practice their hand writing, you can also check out 5 Tips to Help Kids Write their Valentines!
You may be interested in other Christmas Content: Where to Find Santa in the GTA, Christmas Parades, Christmas Craft Fairs, Family Friendly Christmas Movies, Family Friendly Christmas Events in the GTA, Christmas Light Displays, Christmas Drive Thru Light Shows, and How to Adopt a family for Christmas.
How can I send Letters to Santa? Are letters to Santa free?
In Canada, letters to Santa are free courtesy of Canada Post. No Postage is required, you just need to ensure you include a return address.
What is the Canada Post Letter to Santa Address? How do you get a Santa letter from Canada Post?
Sacks of letters are arriving at the North Pole and our postal elves are busy helping Santa with his mail. The letter to Santa can be delivered directly to the Santa mailbox at the following address which is very simple and easy to remember:
Santa Claus
North Pole
H0H 0H0
Canada
What is the Canada Post Santa Letters Deadline for 2022:
You will recieve a letter back from Santa as long as you send your Santa letter by the deadline which in 2022 is December 9th, 2022.
Do I need postage to send a Letter to Santa?
No Postage is required as there are free Santa letters in Canada as the cost is covered by the post office department: Canada Post.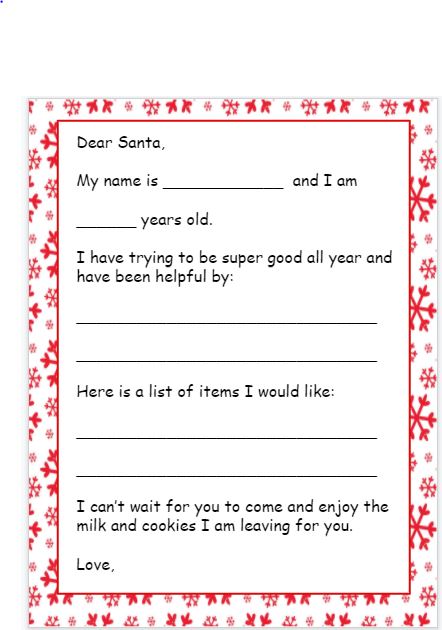 Santa Free Printable Letter Template:
We have taken away the stress from parents by creating the Ultimate Christmas Printable package including Letter to Santa Templates, a Christmas Countdown template, and Door Hanger Christmas decorations.
You can download our Letter to Santa template which includes a fill in the blank style for younger children and a more open ended option for older children. Many of our letters give the sentence starter of Dear Santa to help younger children get started on their letter.
Updated Letters to Santa Templates: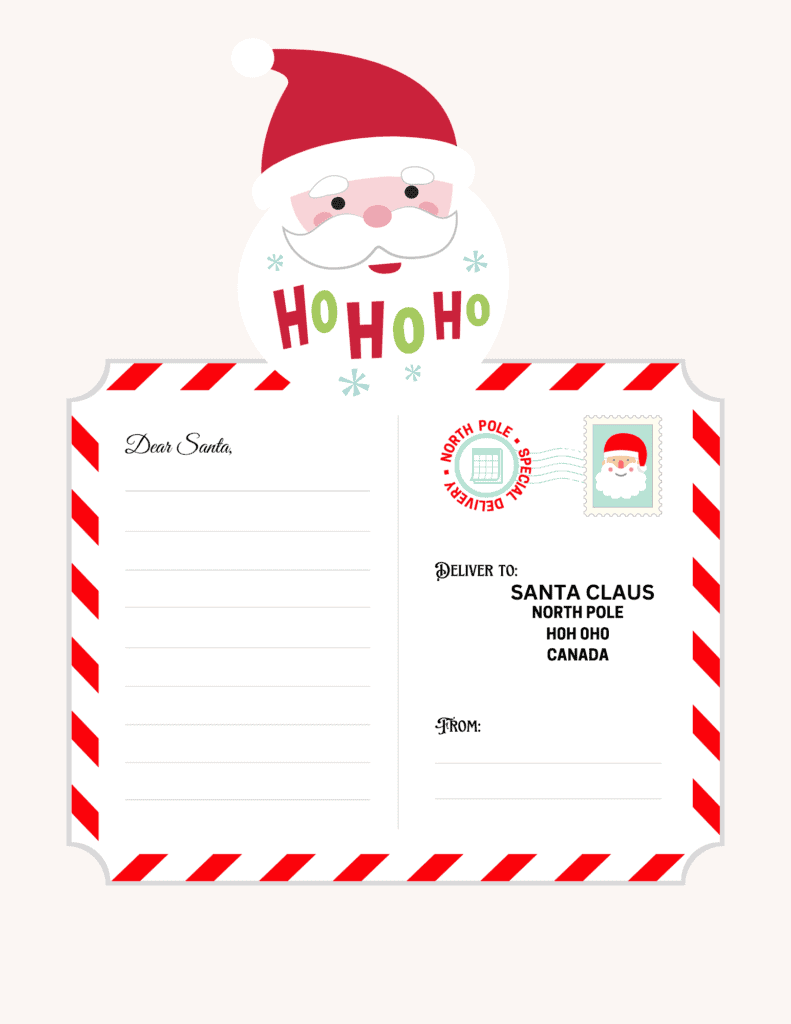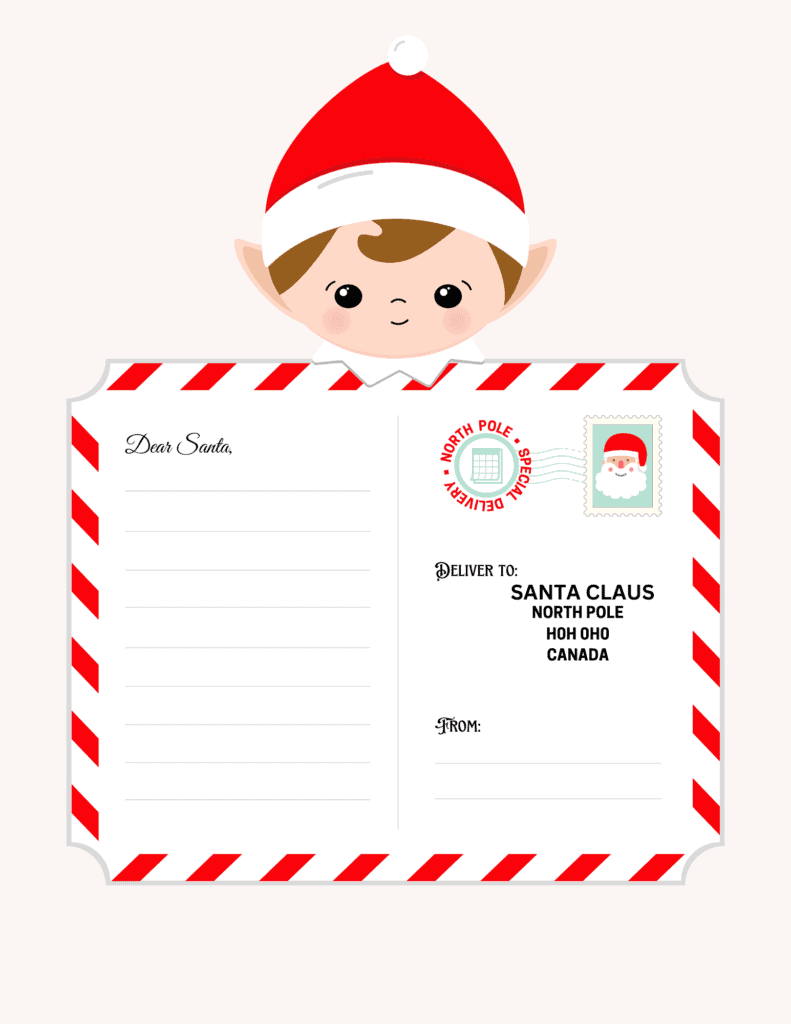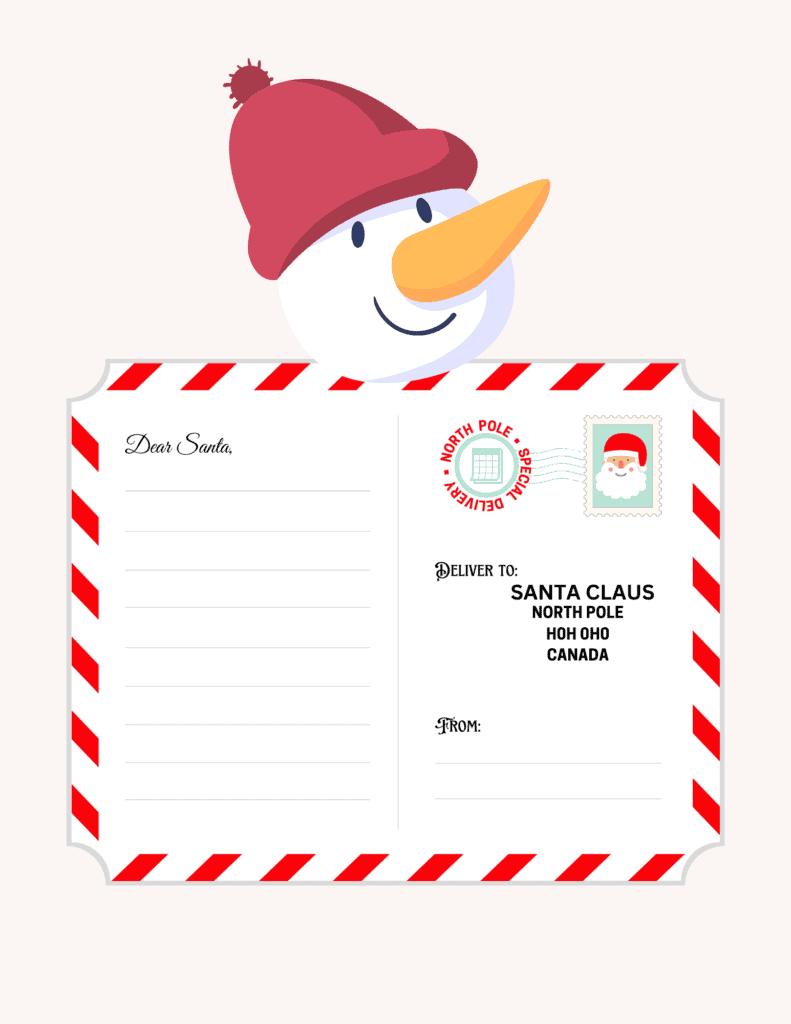 Updated Santa Paper Templates:
What should my child say in their Santa Letter?
-> Reflection: Santa encourages children to include the following in their letters and to take some time to reflect rather than just stating demands, as the holiday season is about more than gifts. Something they have done nice for others this year, or a reason they believe they are on the Nice List.
Include questions – it gives the volunteers something to respond too. Santa encourages children to give back to others in order to be on the Nice list, one way to give back is by Adopting a Family for Christmas.
-> Child's name: This tells volunteers who to address the letter too, make sure to include your full name.
-> Something they would like for Christmas: By including multiple gift request it tells Santa what to bring your child.
What happens if my Child sends Santa letters to Canada Post from school and home?
Often children will write two letters to Santa – one from home and one from school which could create a conflict in terms of receiving a personalized letter from Santa. This is why the Canada Post Postal workers (elves) have determine that they send personal individualized letters from the North Pole to children mailing from home, but send a group response to letters that have been sent from schools.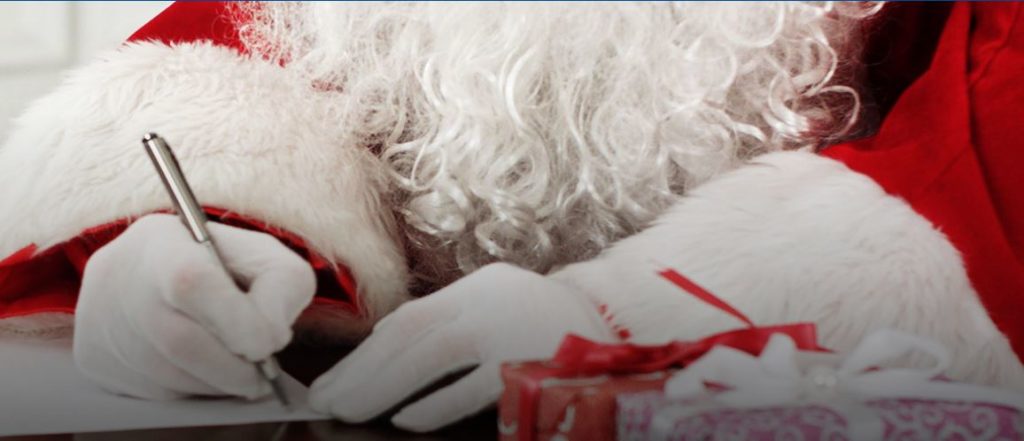 What can I do if I miss the deadline for a Letter From Santa?
If you find yourself in an Emergency Situation having missed the deadline and having a child waiting for a response from Santa. You can breathe easier as Canada Post has created three last minute Santa child's letter options that are available to parents to send to their children.
Last-minute Santa letter – Option 1
Last-minute Santa letter – Option 2
Last-minute Santa letter – Option 3
Our Santa Letter Experience:
This past year, my daughter's reply letter from Santa was a highlight of her holiday season and definetly helped her believe in the magic of Christmas. She was so excited when the big guy in a red suit and his jolly old elf replied to her letter and that it came personalized with her name to our mailbox she was beyond thrilled. I encourage younger kids to write their own letters as it is a fun holiday activity and the letter back from Santa even has a North Pole postmark.