The holiday season is upon us. With that comes several wonderful Christmas markets in Ontario.
Attending Christmas Markets in Ontario is a great way to prepare for the holiday season. They are the best places to get your gifts and support local while enjoying some local food and live entertainment. They are also a great way to welcome the holiday season and enjoy the twinkle of Christmas lights.
We decided to create a list of the best Christmas markets that will get you into the festive spirit and many offer free admission.
Christmas Markets in Ontario
Click on the links to explore the best Holiday Markets in Ontario.
What are Christmas Markets in Ontario?
Christmas markets in Ontario are generally multiple-day affairs. They feature several different events, exhibits, live music, a variety of vendors, delicious food stalls, and more.
Take a walk through one of Ontario's Christmas Markets. You can grab freshly made hot chocolate and take in some charming experiences.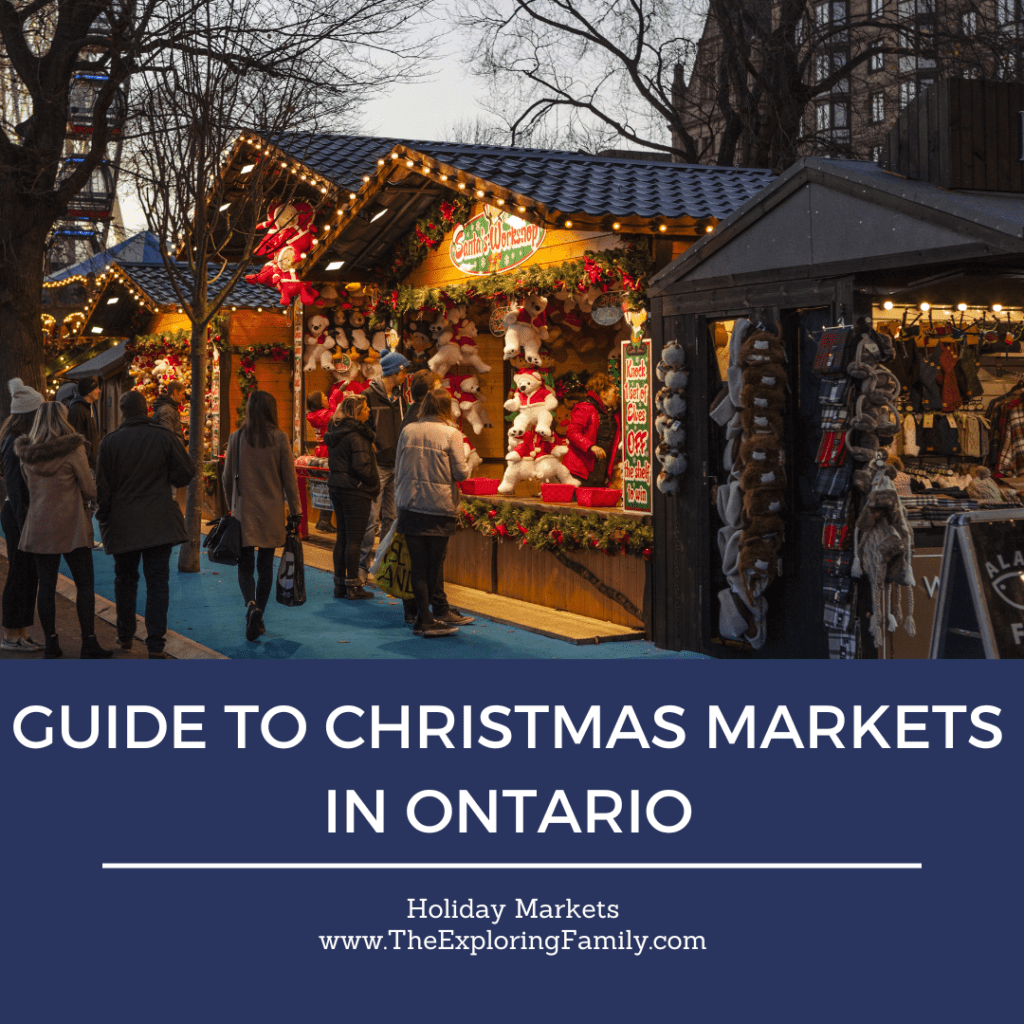 The Best Christmas Markets in Ontario
Ontario boasts several different holiday markets that feature local artists. They are a fantastic place to support your local community and kick off the festive season. You can even find some one-of-a-kind items and gifts. Christmas markets are just one of the awesome Christmas events you can enjoy this holiday season!
Check out an Outdoor Christmas Market near you and visit these awesome Canadian cities.
Cambridge Christmas Market
40 Dickson St, Cambridge, ON N1R 1T7 – The Cambridge Christmas Market is an award-winning market that has been running since 2012 at the Cambridge Centre for the Arts. At the Cambridge Christmas market, you can find a variety of handmade goods at the different pop-up shops.
Browse through their vendors and find unique gifts for a loved one. If you are feeling hungry, check out the seasonal food offerings. This market is a fabulous place to shop for the holidays.
Dates: Sat Dec 10 – 8 am to 4 pm and Sun Dec 11, 2022 -10 am to 4 pm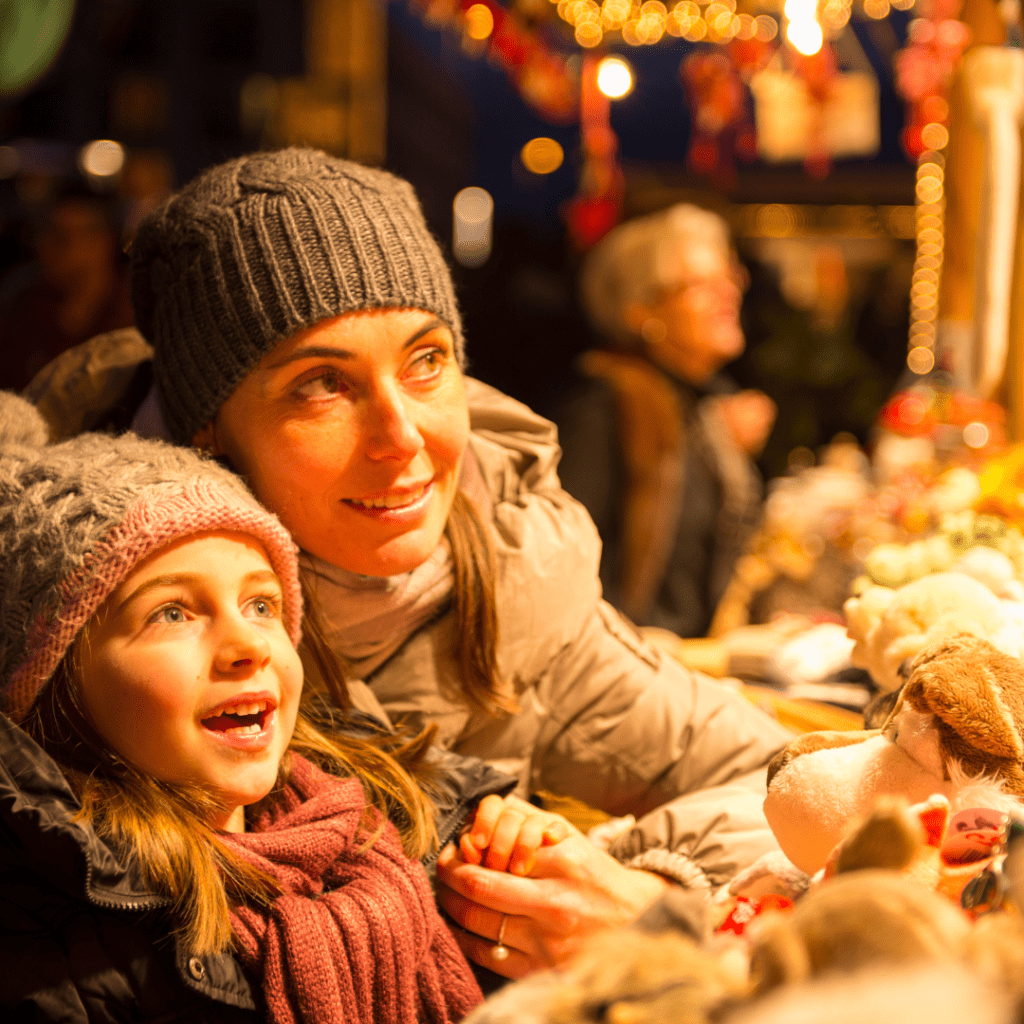 Kitchener Christkindl Market
393889 Concession 2, Priceville, ON N0C 1K0 – The Christkindl Market offers up the sights and sounds of a European Christmas. Offering a wide variety of local vendors and local artisans, you are sure to find some great gifts.
Take a walk through the magical markets. Try some delicious and traditional European baked goods and food items.
This market is perfect for the entire family. They have children's activities, barnyard animals, and fabulous entertainment.
Dates: December 1 to 4, 2022.
Neimi Family Farm Christmas Market
18463 ON-48, Mount Albert, ON L0G 1M0 – The Neimi Family Farm Christmas Market is a beautiful Scandinavian-themed market in Ontario.
At the Christmas Market, you can get some of your holiday shopping done. There are plenty of handmade gifts and crafts to choose from. They also have delicious fresh food and beverages to enjoy on your journey. When you are ready to relax, warm up by the fire.
Hop on the polar express and take a trip around the farm to meet the animals. You can even meet Santa at Christmas Land. Don't forget to bring a camera for some great photos.
Dates: Fridays and Saturdays Starting November 12th, 2022 – December 17th. Then, December 20, 21 & 22nd 2022.
Marche de Noel Ottawa Christmas Market
1000 Exhibition Way, Ottawa, ON K1S 3W7 – Marche de Noel Ottawa is located within Aberdeen Square.
The market is surrounded by beautiful wooden Chalets and snow-topped heritage buildings.
With over 35 different vendors and 15 days of programming and entertainment, this Christmas Market in Ontario is a must-visit. There is some holiday entertainment to be enjoyed. Eat some local foods and do some shopping. The sky is truly the limit.
Dates: Every Friday to Sunday Stating November 25th as well as Dec 20-23 2022.
Burlington Holiday Market
The Burlington Holiday Market takes place in several different places in Burlington Ontario.
426 Brant Street Burlington, ON L7R 2G2 – Civic Square at Burlington's City Hall offers up entertainment, sponsored activities, artisanal exhibitions and more.
Between 401 & 389 Brant Street Burlington, ON – The Elgin Promenade Outdoor Area provides an opportunity to take a nice walk along the promenade and support local.
431 Elizabeth Street Burlington, ON – Parking Lot 1 is the spot to stop to enjoy some delicious holiday fare, and games all while exploring some new businesses.
436 Pearl Street Burlington, ON – The Poacher Parking lot is the best place to visit to sip and shop. All at one location, you can have some delicious beverages all while enjoying one of downtown's best establishments.
Dates: Thursday, December 8th – Sunday, December 11th 2022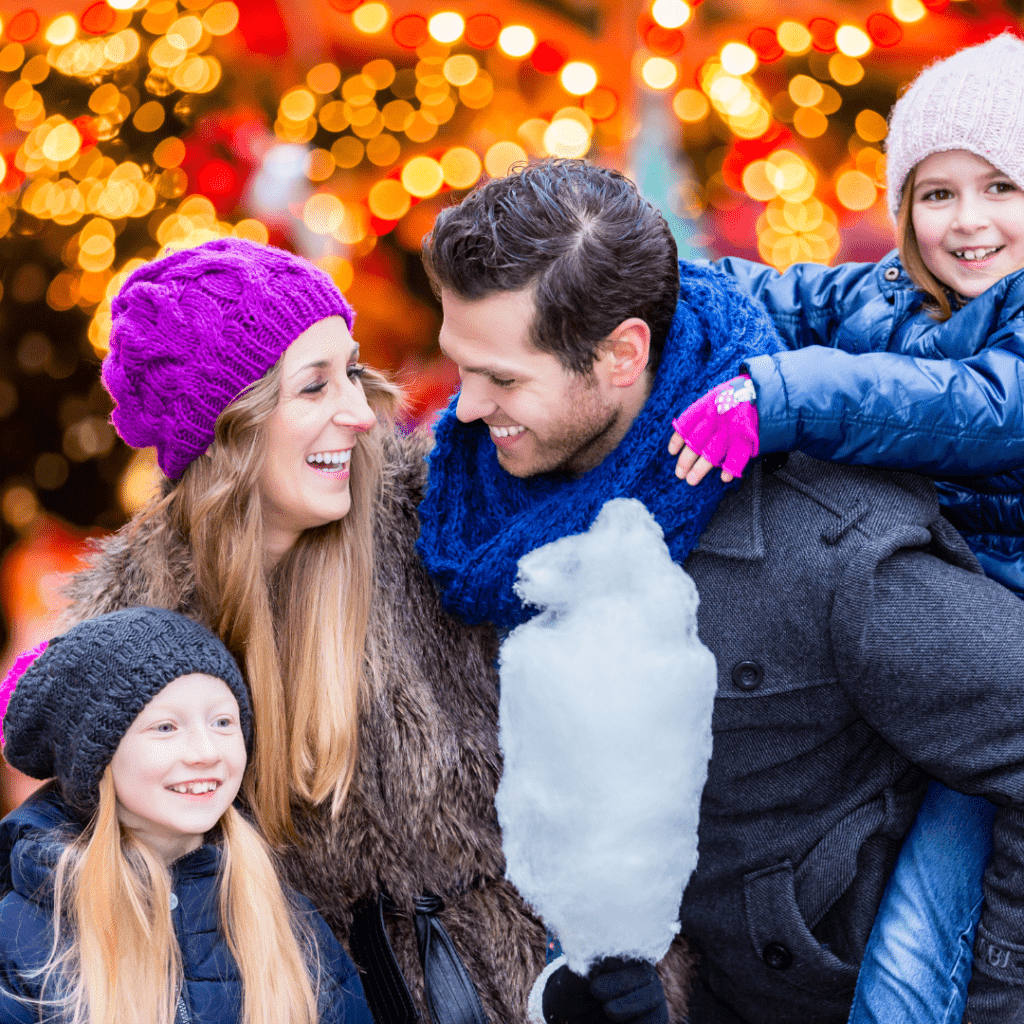 Niagara Falls Christmas Market
4605 Queen St, Niagara Falls, ON L2E 2L7 – The Niagara Falls Christmas Market starts off with the Niagara Falls Santa Claus Parade.
At this Christmas Market in Ontario, you can check out local businesses, vendors, interactive light displays and more.
Bring your family to the Niagara Falls Christmas Market to get photos with Santa and Mrs. Claus. You can even visit with the Grinch. If that wasn't enough they will also have some of your favourite princes, princesses, and other characters. There are so many fantastic photo ops here so don't forget to bring your camera.
Experience live music, food trucks, and more at this interactive market.
Dates: November 12 – 18th 2022
The Distillery Winter Village
55 Mill St, Toronto, ON M5A 3C4 – The Distillery Winter Village located in Toronto's historic Distillery district is a must-visit this holiday season.
Featuring over 65 local stores, cafes and restaurants there is something here for everyone. Located amongst all of this are vendor wooden stalls that offer specially curated gifts, seasonal items, and more to get you into the holiday spirit!
Check out the food cabins to get yourself a treat. From Holiday ambiance to entertainment, there is something for everyone at the Toronto Christmas Market including countless Christmas shopping opportunities. Take a walk along the gorgeously decorated cobblestone streets to find holiday gifts for those of all ages.
Don't forget to visit Trinity square to visit Santa and enjoy the massive Christmas tree that is 50ft tall and features over 50,000 twinkling lights. This holiday fair is one of the top Christmas markets in the country! Enjoy some holiday favorites and Christmas carols as carolers are located by the Spirit of York building and live performances throughout the holiday season/
Tickets are required on Fridays, Saturdays and Sundays after 4:00 pm, and December 27-31 after 4:00 pm.
Dates: Thursday, November 17th – December 31st, 2022. Check the website for specifics.
Christmas at Blue
242 Jozo Weider Blvd, The Blue Mountains, ON L9Y 3Z2 – Christmas at Blue is a beautiful indoor event held at the Blue Mountain Conference Center.
Featuring over 100 different vendors, this Christmas Market is a fantastic place to visit this holiday season. From Crafters to Fashion and everything in between, you are sure to find something for everyone here. Check out the tasty treats and all the amazing booths.
Dates: November 26, 2022 10:00 to 5:00 & November 27, 2022 10:00 to 4:00
Erin Christkindl Market
184 Main St, Erin, ON N0B 1T0 – The Erin Christkindl Market is presented by the Erin Agricultural Society. Featuring horse and buggy rides, a petting zoo and so much more, this market is a must-visit.
With lots of different outdoor entertainment and beer tents, outdoor fires, and more, you are sure to enjoy your visit. Enjoy breakfast with Santa and so much more.
If you want to get some shopping in, the large outdoor market is the place to visit. There will be several different craft vendors, giving you the chance to find something for everyone on your list.
Dates: November 19 & 20, 2022
There are several fantastic Christmas Markets in Ontario to choose from this Holiday season. Attend one, or travel around and attend them all. You are sure to find something for everyone at these festive events.
Whether you are going to purchase gifts, window shop, or just enjoy some entertainment, these Ontario Christmas Markets are sure to provide the experience you are looking for. Just make sure that you wear comfortable shoes so you can take in everything without being uncomfortable.
Want to stay in the know with all things local?
Don't forget to join our locally focus Facebook group:  Parents Resource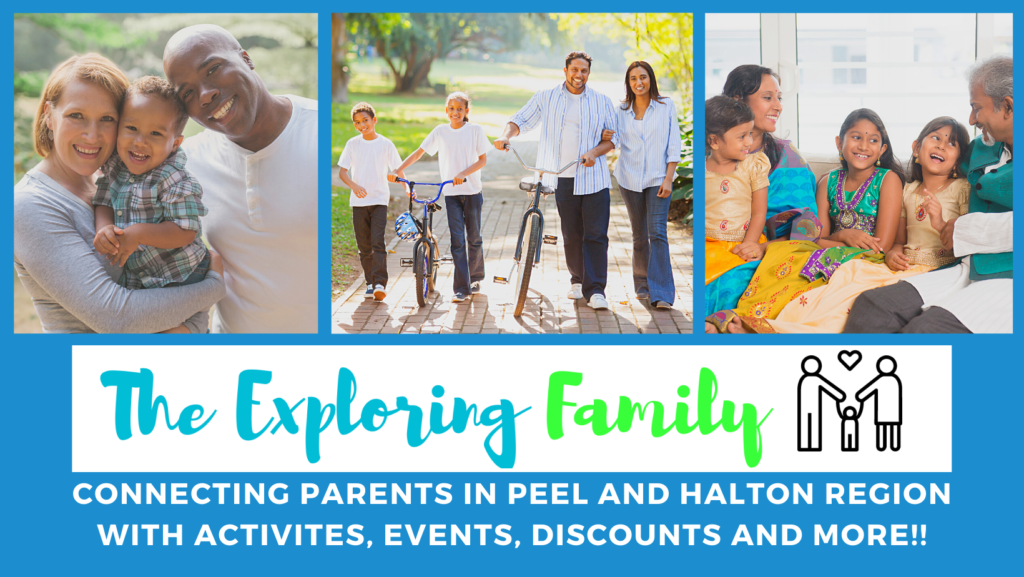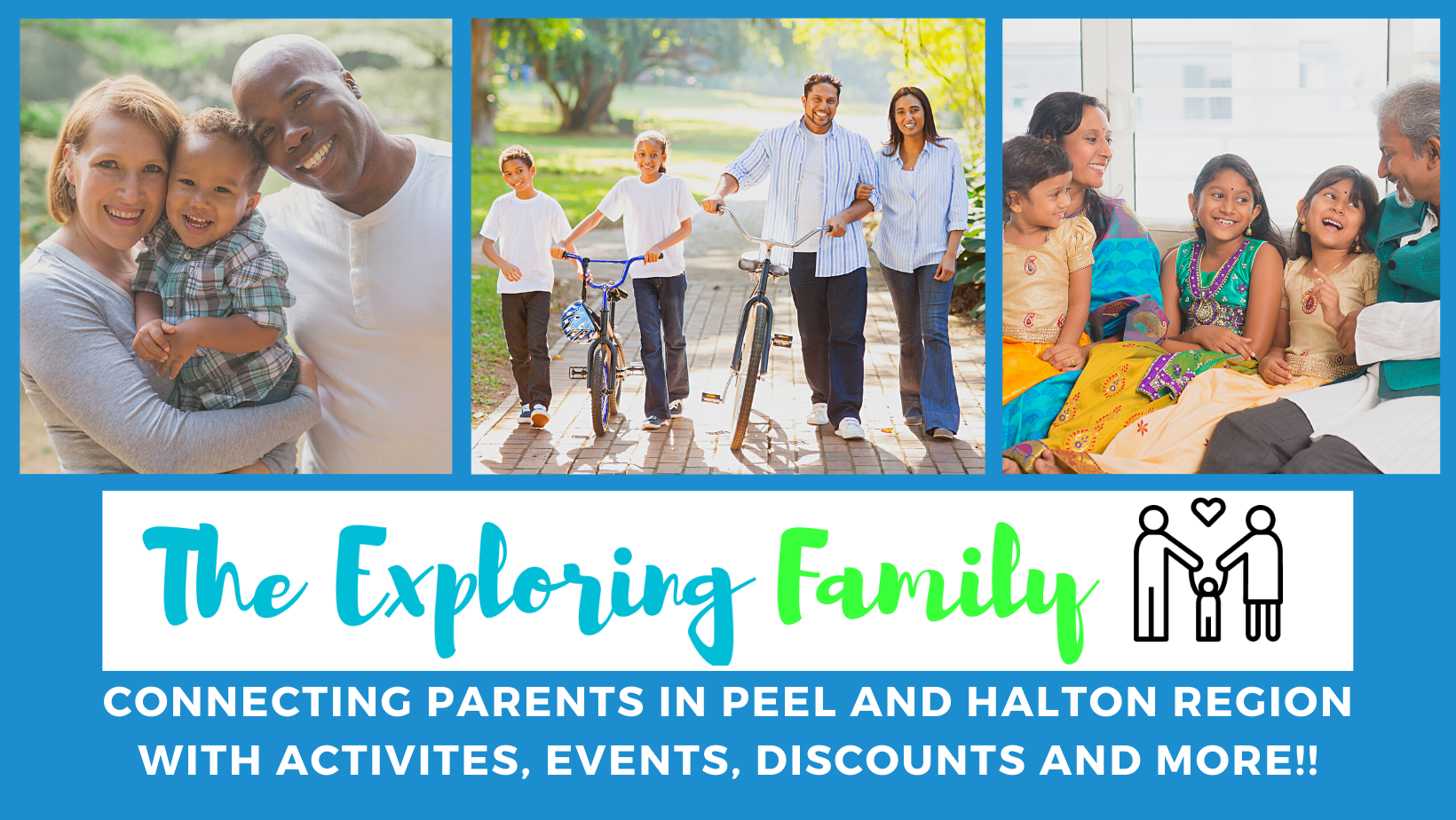 Can you help make this article better?
If you have noticed an error, have additional information or would like to share a comment you can:
E-mail us at info@thexploringfamily.com
Find us on Facebook: The Exploring Family
Find us on Instagram: @The.Exploring.Family