Santa Claus is Coming to Town: A Complete List of Toronto, Peel Region Santa Claus Parades, and Halton Region Christmas Parades
Parades might look a little different this year in 2020 but there is still LOTS going on to help you enjoy the Christmas season.
Get festive with these fun accessories to wear at the Santa Claus Parade:
This page may include affiliate links.
Want to know about all of the Santa Claus Parades happening in the Greater Toronto Area, you have come to the right place!  We have a HUGE list of parades happening in the region of Peel, Halton, Toronto and beyond.  Find details on Santa Claus Parade events in 2020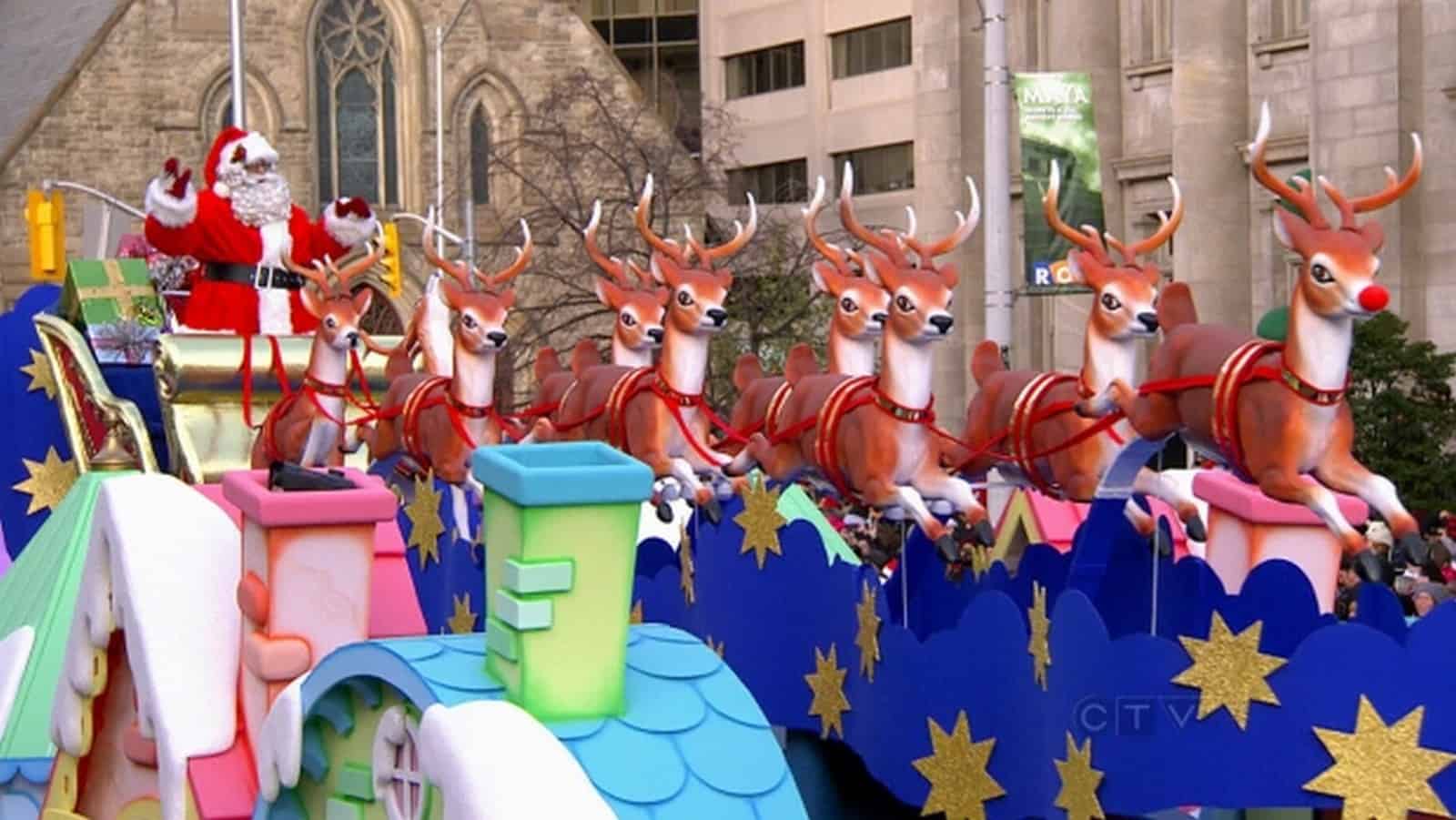 November 21st – Oakville, Brampton, Georgetown

Join us virtually by visiting this page on Saturday November 21 at 9 a.m. for Santa's arrival in Oakville. The event will feature a fireside chat between Mayor Rob Burton and Santa, colouring contest submissions and winners, and other special guests!
The Brampton Santa Claus Parade has gone virtual this year!  Starting at 5pm join in the fun online to follow Santa as he makes his way into Brampton and see highlights of some of the spectacular entries in the Brampton Santa Claus Parade over the last 25 years.
Georgetown Santa Claus Parade Drive Thru 2020:  5:00pm – 9:00pm
The parade this year has been changed for the protection of the participants and spectators. The floats, and of course Santa will be set up at the Trafalgar Sports Park (enter from 17th Sideroad)  guests will remain in their cars and drive past the displays.  See the flyer below for suggested viewing times based on last name.

December 5th – Virtual Toronto Santa Claus Parade, Bolton Santa Claus Parade

Santa Claus will be doing a single-float tour throughout Bolton. This will have Santa Claus drive by 24km of the Bolton community.
This route has been approved by The Town of Caledon and the OPP.
Approximate arrival times at specific locations along the Santa Claus Drive-By route.
Please be aware than these arrival times may change depending on the weather, road conditions and the volume of traffic on the roads.
1. Landsbridge Road/Allan Drive—11:00am
2. Landsbridge Road/Queensgate Blvd.—11:07am
3. St. John the Baptist Catholic School—11:14am
4. Allan Drive Middle School—11:20am
5. Ellwood Memorial Public School—11:24am
6. Station Road/Wakely Blvd.—11:31am
7. Harvest Moon Drive/Cedargrove Road—11:40am
8. St. Nicholas Catholic School—11:46am
9. King Street West/Hesp Drive—11:55am
10. Regional Road 50/Roy Clarkson Way—12:05pm
11. Columbia Way/Kingsview Drive—12:14pm
12. James Bolton Public School—12:20pm
13. Humberview High School—12:23pm
14. Columbia Way/Forest Gate Avenue—12:32pm
15. Senator Way/Manorwood Court—12:35
16. Ewart Street/Mount Hope Road—12:38pm
17. KingsviewDrive/Silvermoon Avenue—12:44pm
18. St. James Street—1:00pm
The Toronto Santa Claus Parade is the biggest Parade in Ontario.  This year for 2020 it will be a VIRTUAL event that you can catch on CTV on Dec 5 at 7pm
December 6th – Burlington Christmas Parade

Details to come.
Santa will also visit the Town. Staff from Orangeville Fire and the Recreation & Events Division will co-ordinate scheduled appearances by Santa who will tour various neighbourhoods on a fire truck. The route will not be disclosed in advance but will be similar to an ice cream truck visiting a neighbourhood. When residents hear the sirens and music, they can come out and catch a glimpse of Santa as he drives by on a fire truck. Social media hashtags such as #findsanta will promote the Santa tour.
Check out Locals Lounge for other Local Events.