It is hard to believe that it is parade time already.  I feel like we were just relaxing in the backyard enjoying the sun and having a BBQ.  However now it is time to start thinking about the holidays, making your shopping list and enjoying all the season has to offer.  Santa Claus Parades are a Christmas Tradition in my house.  We would all get bundled up and head down to watch the parade with the neigbourhood kids.  I remember the excitement of waiting for the parade to start, and warming up with a hot chocolate with marshmallows afterwards.  Now that is the stuff memories are made of.  Since having my own children we have taken them to our local Santa Claus Parade every year.  While enjoying the parade is so much fun there are a few few simple things to keep in mind to ensure you and your family have the best possible experience, and make some happy memories along the way.
Toronto Santa Claus Parade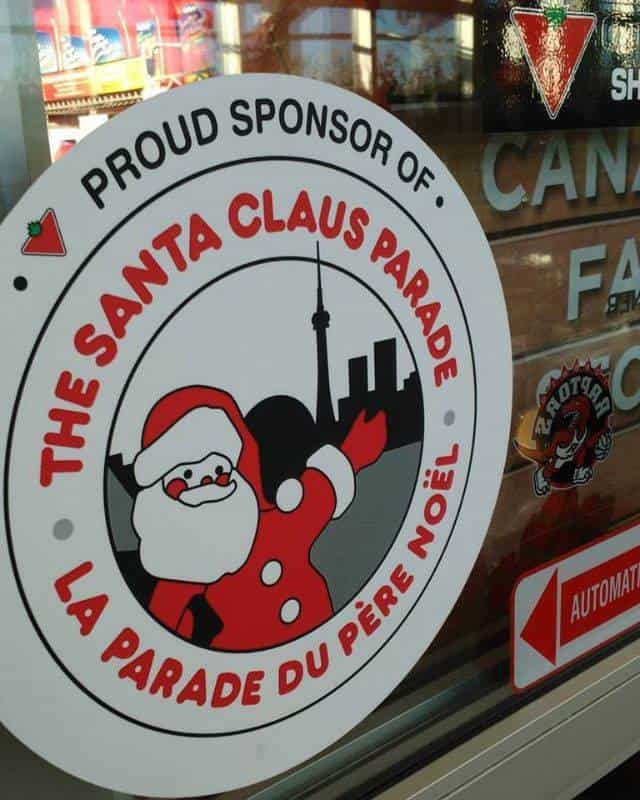 Tips For Surviving The Toronto Santa Claus Parade With Kids
1 – Check The Weather – I know this sounds basic, but Canadian weather is unpredictable.  It could be +10 on day and -5 the next.  So be sure to check the weather day of and dress accordingly.  Layers are always a good idea, and don't forget hats and mitts to keep ears and fingers warm.  Remember it will get cooler as the day goes on, so make sure you have something extra to put on for later in the afternoon.
2 – Ditch The Car – With road closures for the parade plus the number of people all trying to get to the same event it is a good idea to use public transit to get to the parade route.  Check the TTC schedule as well as GO Transit is running special trains for Parade Day and offering discounts to travelers coming from out of town. 
3 – Arrive Early – The Toronto Santa Claus Parade is a popular and very busy parade.  Most veteran attendees will tell you to arrive 0.5-1hr before the parade to stake out your spot.
4 – Be Prepared – Bring blankets or lawn chairs to sit on.  Using a wagon or stroller to transport all of your gear might be a good idea, you want to be comfortable while you are watching the parade and sitting on cold concrete is not my idea of fun. 
5 – Have Entertainment Ready – if you are getting to the parade route early that means that you will be waiting for a while for the "show" to start.  Bring some small activities to keep the kids busy.  You can print out fun colouring pages for the kids or maybe it is the perfect time to write you letter to Santa as they will be picked up along the parade route.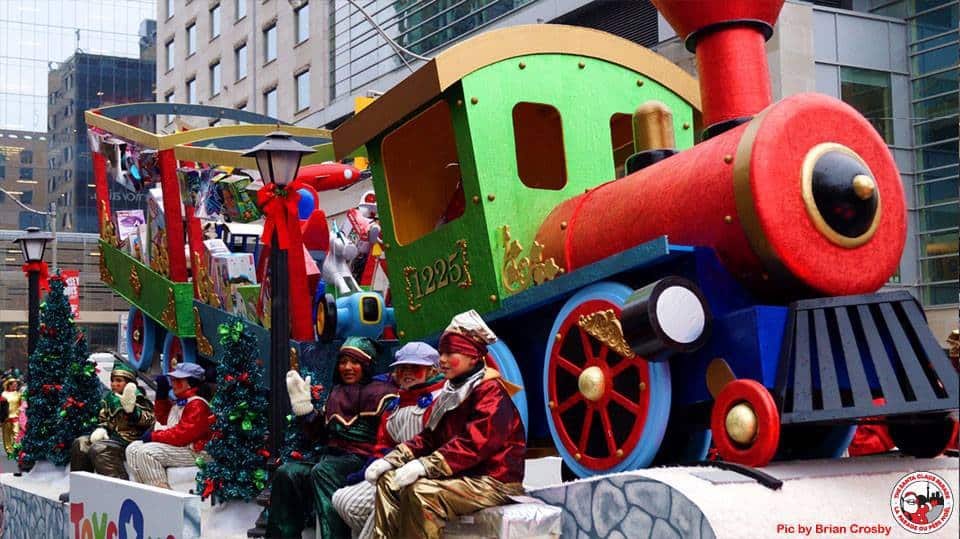 6 – Snack On – Pack some snacks and drinks to keep everyone happy while watching the parade.  Bring a thermos with hot chocolate for the kids (and coffee for you) to enjoy while at the parade, just make sure you make note of where the closest bathroom is to your viewing spot in case anyone needs to "go".  The line ups at fast food places along the parade route are going to be long, so you will be one step ahead if you bring your own.
7 – Get into the holiday spirit – Pick up a red nose for $2 to help support the Toronto Santa Claus Parade and the Cadets.  Why not stop my your local dollar store to pick up some Santa hats or other fun holiday items to wear to the parade
8 – DON'T STRESS – You are at the Parade to have fun and made some memories.  Have fun with your kids and take in the magic of the day with them.  And if you do find that your kids have had enough then head home and watch the rest of the parade on TV. 
Interested in checking out other Santa Claus Parades in Peel, and Halton.
Toronto Santa Claus Parade Route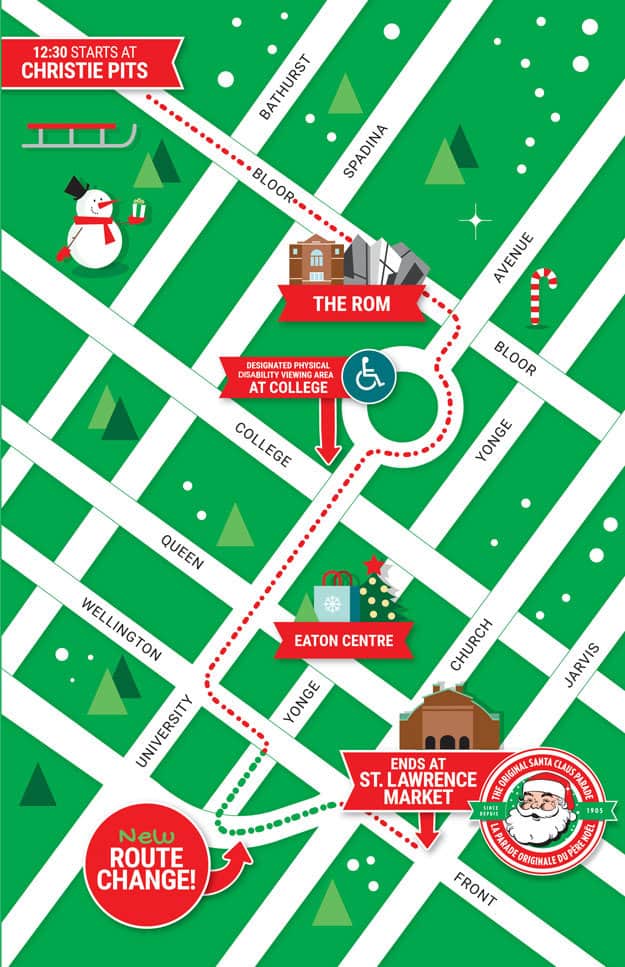 The Toronto Santa Claus Parade features more then 25 animated floats and 2,000 costumed participants that march happily through Toronto's streets. While I know that all of the children get very excited about one special float… you know the one that comes at the very end of the parade…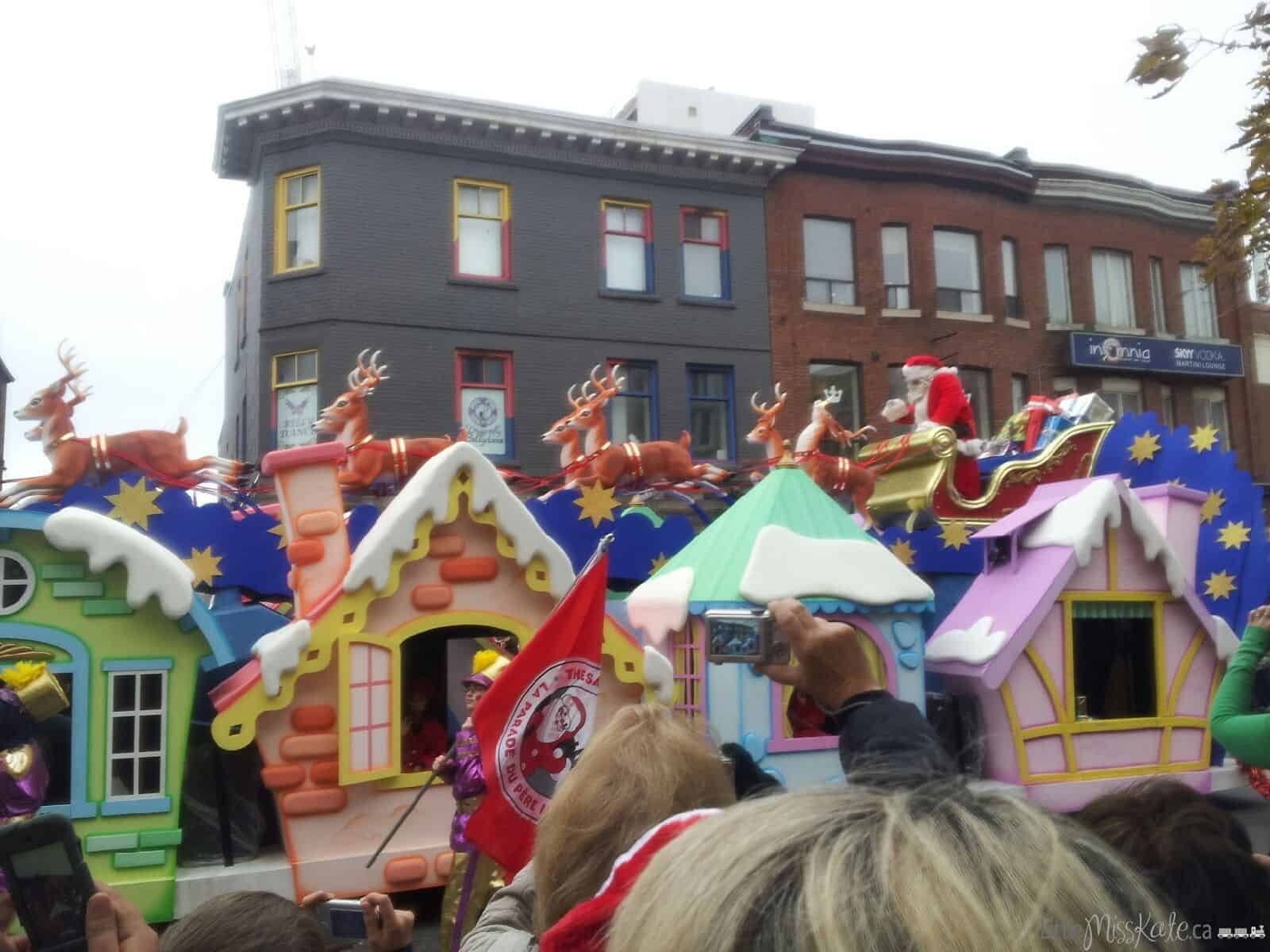 Have any other tips for attending the Santa Claus Parade?  Make sure you share them in the comments below! Make sure you check out Winter Holiday Fun Activities for Kids in the GTA and The Best Christmas Light Displays in Brampton, Mississauga and Georgetown. 
Interested in things to do with kids in Brampton? Come join our community of Parents: Peel Parents Resource

Can you help make this article better?
If you have noticed an error, have additional information or would like to share a comment you can:
E-mail us at info@thexploringfamily.com
Find us on Facebook: The Exploring Family
Find us on Instagram: @The.Exploring.Family