Our family loves spending time outdoors exploring new playgrounds around Peel and Halton Region and we have even started exploring further into Guelph. If you are looking for a playground near Mississauga, Brampton, Halton Hills, Guelph, or Milton then we have the answer for you! We have created a list of the best parks and playgrounds near me for you to enjoy with your family. Families can enjoy the sunshine and Vitamin D, splash pads, natural features, and exciting new spaces. Playgrounds allow kids a safe environment to be kids and run wild!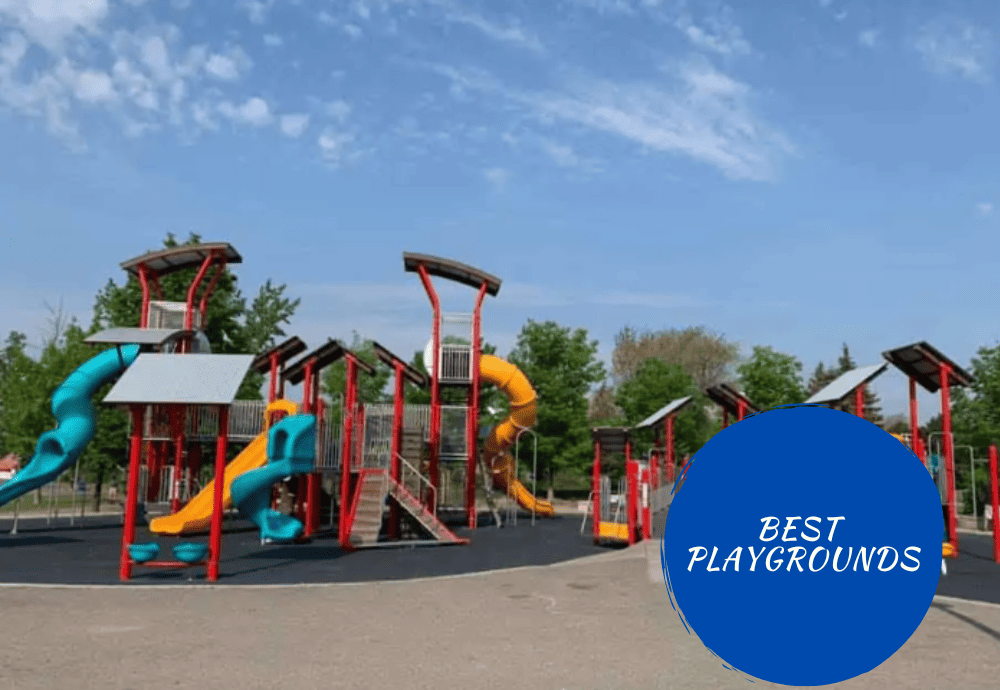 In Brampton, some of our favorite's include Chinguacousy Park that has a wadding pool, splash pad, multiple playgrounds and even a petting zoo. If you are near west Brampton then you may enjoy the Creditview Park that has lots of unique features and an amazing splashpad.
In Mississauga, Jack Darling Park is one of the Best Parks in Mississauga as it is 22 acres of fun as it offers a variety of activities for everyone to enjoy including a Beach right inside of the Mississauga city limits.  You can also enjoy the waterfront views from the Jack Darling Beach and on a clear day even see the CN tower. A paved stroller friendly walking trail surrounds the waterfront area and connects to Rattray Marsh trail!  
If you head to Milton, you will find a variety of amazing splashpads and playgrounds including Milton Community Park that has a toddler and full size playground. Milton Community Centres is one of the Best parks in Milton as it has a great skatepark, splash pad, playground and sports courts including soccer and basketball.
Whether you are looking for a natural playground like Riverside Park in Guelph or a day full of adventure at some of the unique parks and playgrounds in Ontario that we have explored, we will keep adding them to our map for you to find and enjoy! So pack your bathing suit, sunscreen, water and snacks and lets hit the road to explore the Best Parks in Mississauga, Brampton, Halton Hills, Guelph, and Milton plus a bonus of other Ontario parks we have enjoyed!
Use our map below as a guide to find the Best Playgrounds near me, skateparks, splash pads and much more that will give the kids space to explore, and have fun!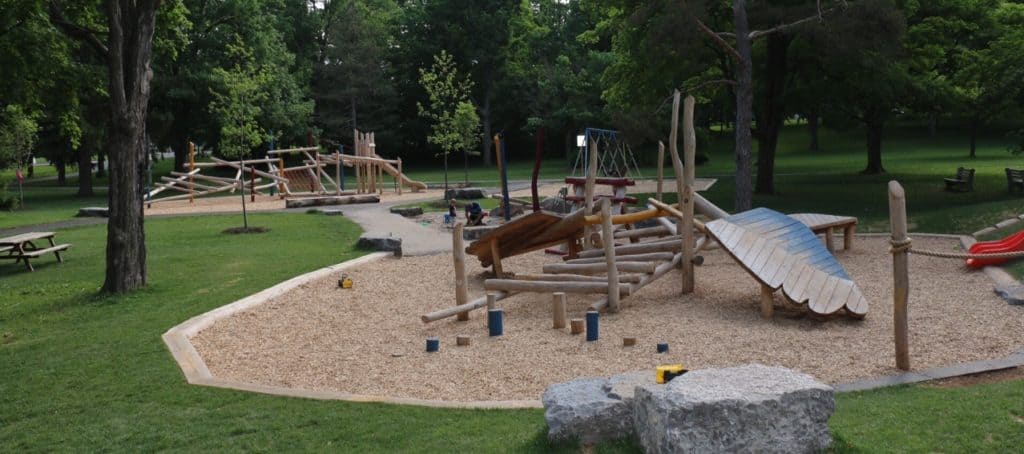 Why Explore Parks and Playgrounds?
Kids love playgrounds for several reasons. Here are some of the main reasons your family should explore playgrounds:
Fun and Play: Playgrounds offer a variety of play equipment, such as swings, slides, climbing structures, and see-saws, which provide kids with opportunities for fun and play. They can engage in physical activities, explore their surroundings, and use their imagination to create games and scenarios.

Social Interaction: Playgrounds are often gathering places for children from the local community. Kids have the chance to meet and interact with other children, make new friends, and engage in cooperative play. This social aspect of playgrounds contributes to the enjoyment and excitement for kids.

Physical Exercise: Playgrounds encourage physical activity and exercise. Running, climbing, swinging, and sliding help children develop their gross motor skills, coordination, balance, and strength. The active play in a playground allows kids to burn off energy, stay active, and enjoy being outdoors.

Sense of Adventure and Independence: Playgrounds often present a sense of adventure and exploration. The different structures and equipment challenge children to push their boundaries, take risks within safe limits, and overcome obstacles. This sense of adventure can be thrilling and enjoyable for kids as they engage in new experiences. Playgrounds provide kids with a sense of freedom and independence. They have the opportunity to make choices, explore their interests, and engage in activities of their own choosing. This sense of autonomy can be empowering and enjoyable for children.

Free Entertainment: The cost of entertaining kids is getting expensive especially for bigger families however you can jump in your car and choose a playground to explore for FREE outside of the cost of getting there!
Overall, playgrounds offer a stimulating environment that combines physical activity, social interaction, imagination, and fun. These factors make them highly appealing to kids, fostering their development, well-being, and enjoyment.
A Map of the Best Playgrounds you don't want to Miss!