If you are looking for a fun place to visit in Guelph, look no further than Riverside Park. Located in the city of Guelph, this beautiful park is home to several different activities and amenities. This 80-acre park hosts several events throughout the year and is a good spot for relaxing, having a picnic, or enjoying the new playground.
Located on a portion of the Speed River, you will find several ways to enjoy this beautiful park. From the sound of the flowing river to the beauty of the trees and green spaces, you aren't going to want to miss the chance to enjoy a visit to Riverside Park in Guelph.
Where is Riverside Park in Guelph?
709 Woolwich St, Guelph, ON N1H 7G6 – Riverside Park is located on the northern part of Woolwich street in Guelph. It is close to several popular hotels, giving visitors easy access to the park.
Is Riverside Park Guelph Free?
It is free to visit Riverside Park to enjoy several of the different amenities. However, things like the carousel and miniature train do require admission. There are also several different events held at the park that may require admission as well.
Where to Park
60 Woodlawn Rd E, Guelph, ON N1H 8M8 – The Parking lot at Riverside Park is easily accessible. There are several free parking spaces to choose from, allowing you to gain access to the park rather easily.
Things to do at Riverside Park
Riverside Park provides an ideal setting for hosting seasonal gatherings. Within the park, you'll discover an array of attractions, including the enchanting Floral Clock, a fully accessible playground for children, an outdoor concert shell for musical events, a nostalgic antique carousel, and a delightful miniature train ride.
Engage in a game of horseshoes at the horseshoe pits, play disc golf, unwind at the sandy beach area, or follow the scenic trails along the riverfront. You can even enjoy one of the three baseball diamonds or explore a scaled model of Guelph's inaugural house built by John Galt.
The park also boasts fantastic picnic areas, perfect for group gatherings. Dog owners can enjoy a leash-free zone on the east side of the Speed River, and visitors can take part in several different celebrations and events held at the Park.
A visit to Riverside Park is an absolute blast.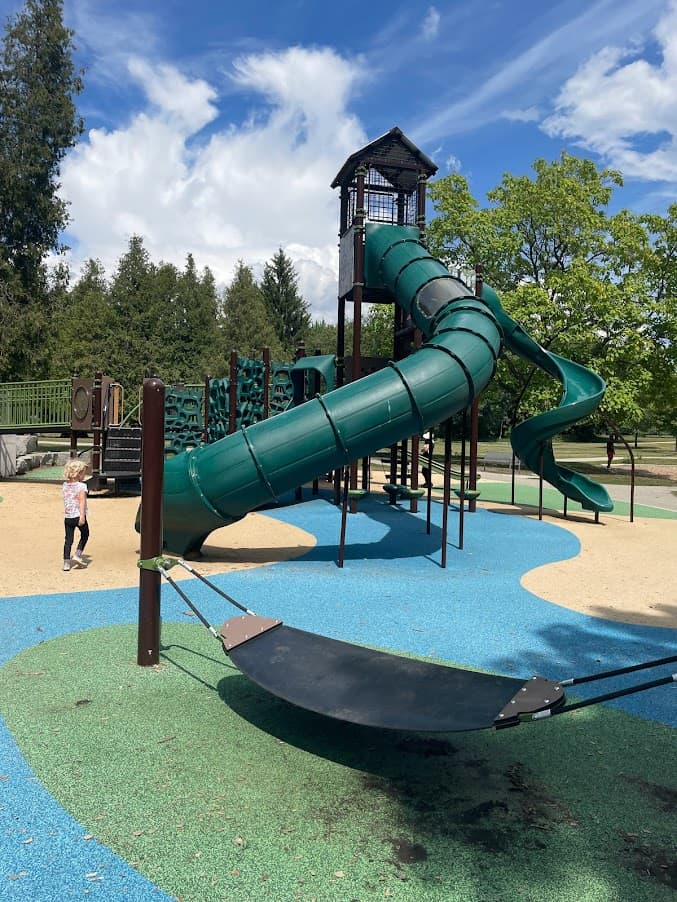 Playground
Combining a fun blend of natural elements and contemporary features, the new playground at Riverside Park offers plenty of space for running and playing. Children can discover a grasshopper and a wooden fish-shaped climber.
This exciting playground is perfect for children of all ages. It has slides, swings, and diverse balancing and climbing challenges. The park's surface is made up of a mix of woodchips and rubberized ground, providing some variety. It is also bordered by paved pathways, making it easy to access. Especially if you have a stroller.
Riverside Park's playground is an absolute blast, including a tower, tube slide, climbing obstacles, and swings. There are also several seating areas where kids can take a break and enjoy the fresh air.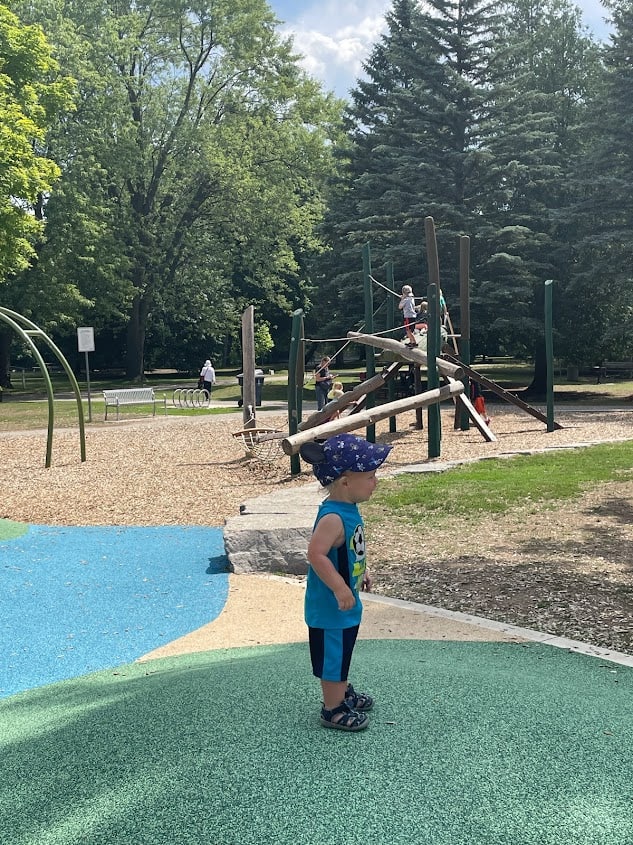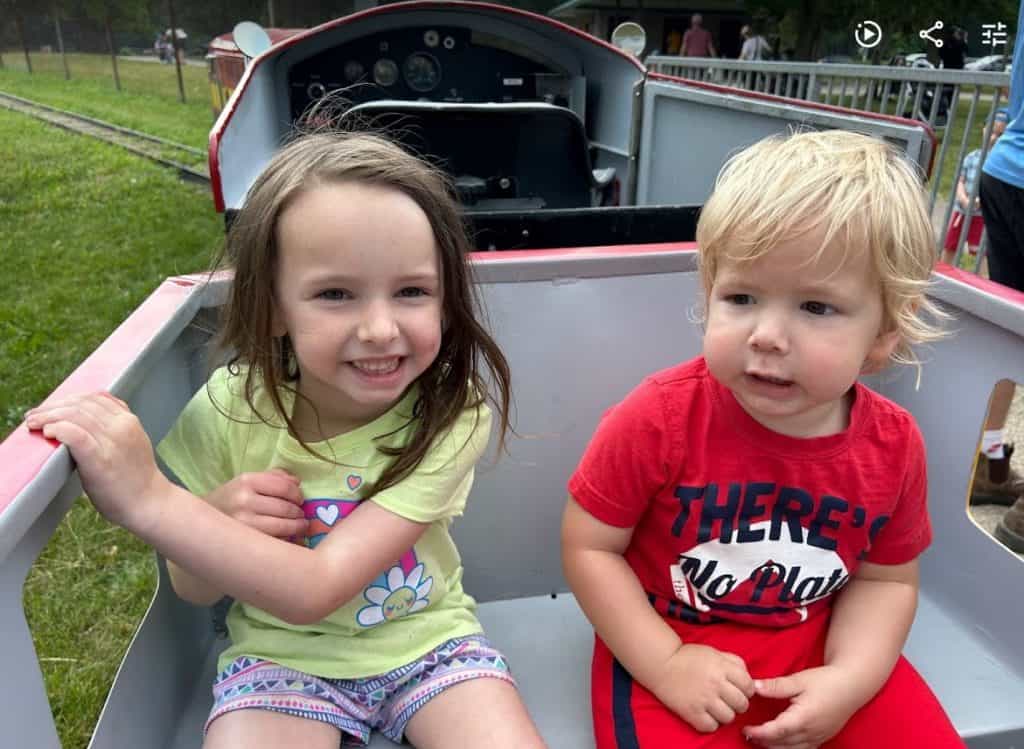 Riverside Park Amusement Rides
The Riverside Park amusement rides operate seasonally from late May to early October. Until June 27th, riders can enjoy the attractions on the weekends from 11 am-8 pm. Starting June 28th, until labor day, rides operate Wednesday through Sunday.
​You can purchase a season pass to access the rides or purchase individual ride passes at the Riverside Park concession stand.
​Prices
Season Pass: $22.08 + Hst
Individual Rides: $2.80
Train
The Miniature Train at Riverside Park is a blast for children to enjoy. The train takes passengers on a scenic journey through the picturesque park. As it winds its way along the tracks, it offers a unique perspective of the park's natural beauty, lush greenery, and serene surroundings.
Families and children especially appreciate the Riverside Park train experience, which often operates during favorable weather conditions. The train ride is a delightful addition to the park's attractions, providing an enjoyable and memorable activity for those seeking a leisurely adventure. Children under the age of 5 must be accompanied by someone 14 years of age or older. The chaperone may take a free ride on the train.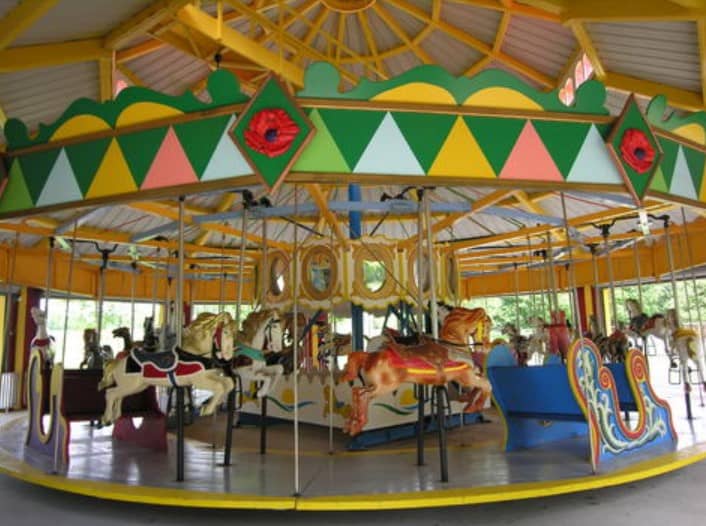 Carousel
This timeless attraction offers a whimsical ride for people of all ages, evoking a sense of nostalgia and joy. As it spins gracefully, the carousel provides an immersive experience that captures the essence of carefree moments. Whether you're a child embracing the thrill or an adult relishing fond memories, the Riverside Park carousel invites enchantment with its beautiful creatures and lively music.
Floral Clock
The well-tended Floral Clock and Gardens await your daily exploration, ensuring a meticulous display that pleases the senses. A plethora of captivating plants offers an ever-present palette of hues and allure throughout the year.
While these gardens offer an ideal backdrop for wedding photographs, it's important to note that reservations for their use are not available. Kindly extend your consideration to fellow wedding groups and visitors who may be embracing the surroundings alongside you.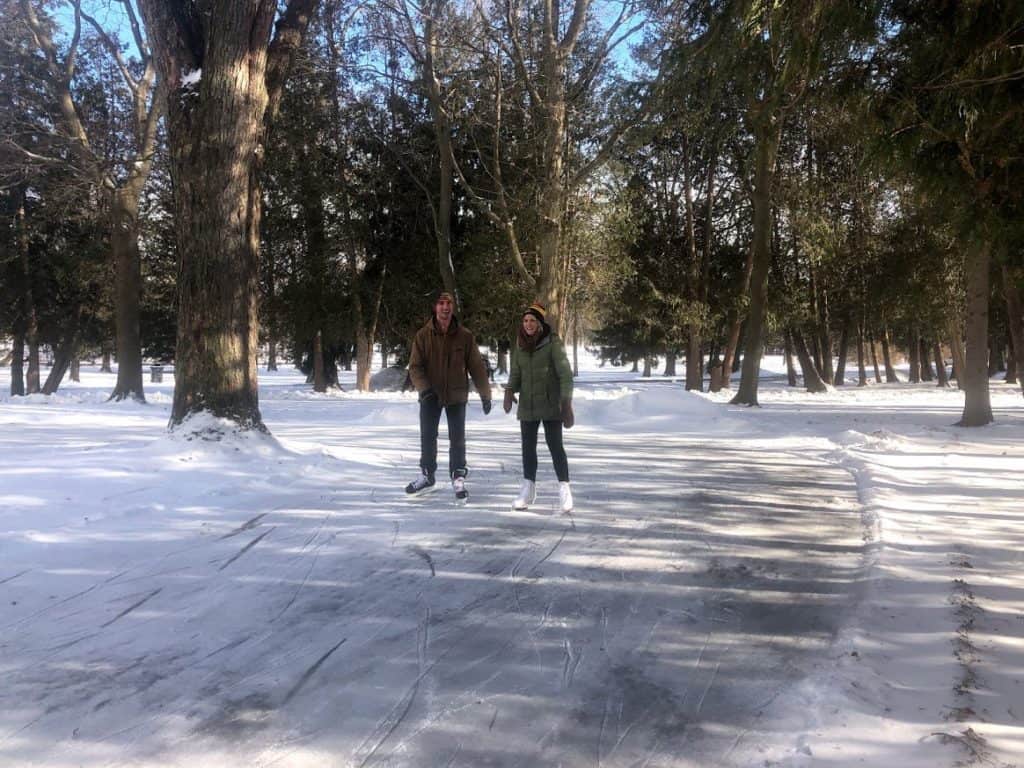 Skating -Ice Trail
If you are looking for an exciting winter experience at Riverside Park in Guelph, check out the Ice Trail. Glide along this frozen pathway, immersed in the beauty of the outdoors. As you skate, you'll discover a unique perspective of the park itself. Whether you're a seasoned skater or a novice, the skating trail offers an enchanting journey for all to enjoy. So, lace up your skates and embrace the magic of gliding through nature's frozen wonderland at Riverside Park.
Picnics at Riverside Park
Riverside Park offers both a large and small picnic shelter. These shelters are perfect for enjoying a delicious meal all while enjoying the natural serenity the park has to offer. You can even book a picnic shelter for your next event or gathering. These shelters come equipt with garbage cans, a charcoal barbecue, electricity, and access to water.
​Riverside Park Trails
Enjoy a leisurely walk or bike ride on one of the Riverside Park Trails. These pathways wind gracefully along the river's edge, offering a welcome escape from the hustle and bustle of daily life. As you traverse the trails, you'll be greeted by the symphony of rustling leaves and the gentle babble of the river, creating a wonderful nature experience. Whether you're a dedicated hiker, an avid jogger, or simply seeking a peaceful stroll, Riverside Park trails are the perfect choice to enjoy nature.
Riverside Park Leash Free Zone
Dogs can frolic and explore this gorgeous park in the Leash Free Zone. This is a great place to take your furry family member to run, play and socialize in a safe, yet controlled environment. Located on the east side of the Speed River, your furry friend can enjoy the Riverside Park fun with the entire family.
​Horseshoe Pits
Enjoy a classic game of horseshoes at the Riverside Park horseshoe pits. This is a great part of the park to socialize, unwind and enjoy a fun, competitive game all while taking in the beauty of the park.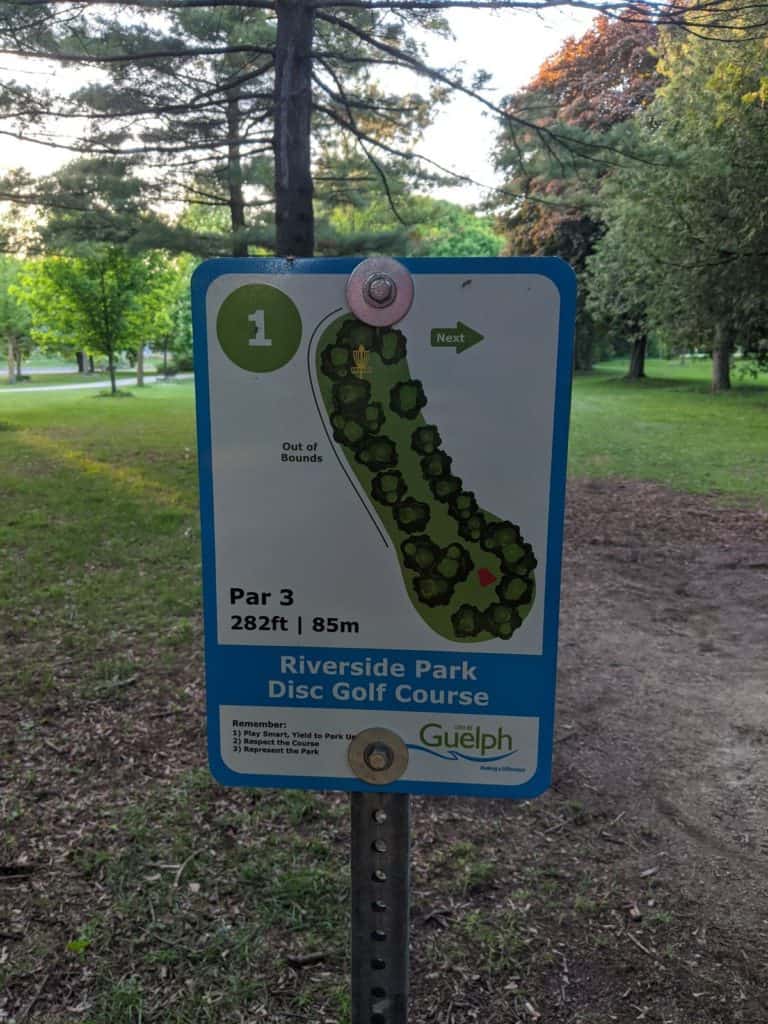 Disc Golf
Situated in Riverside Park's southeastern corner, adjacent to Riverview Drive and positioned just behind the fire station, you'll find the disc golf course.
This engaging course warmly welcomes all, from individuals and teams to families, offering an opportunity for wholesome fun. Access to the course operates on a first-come, first-served arrangement, ensuring enjoyment for everyone. 
Baseball Diamonds
These well-maintained fields offer the perfect place for sporting events or friendly competition. Whether you're a passionate player looking to join a game or a spectator cheering on your favorite team, the baseball diamonds at Riverside Park are the perfect choice.
Enjoy a Little Guelph History
Explore a little piece of history at Riverside Park. Check out a perfectly scaled model of Guelph's first home. Built by John Galt, this meticulously scaled model pays homage to the city's origins and provides a fascinating glimpse into its past.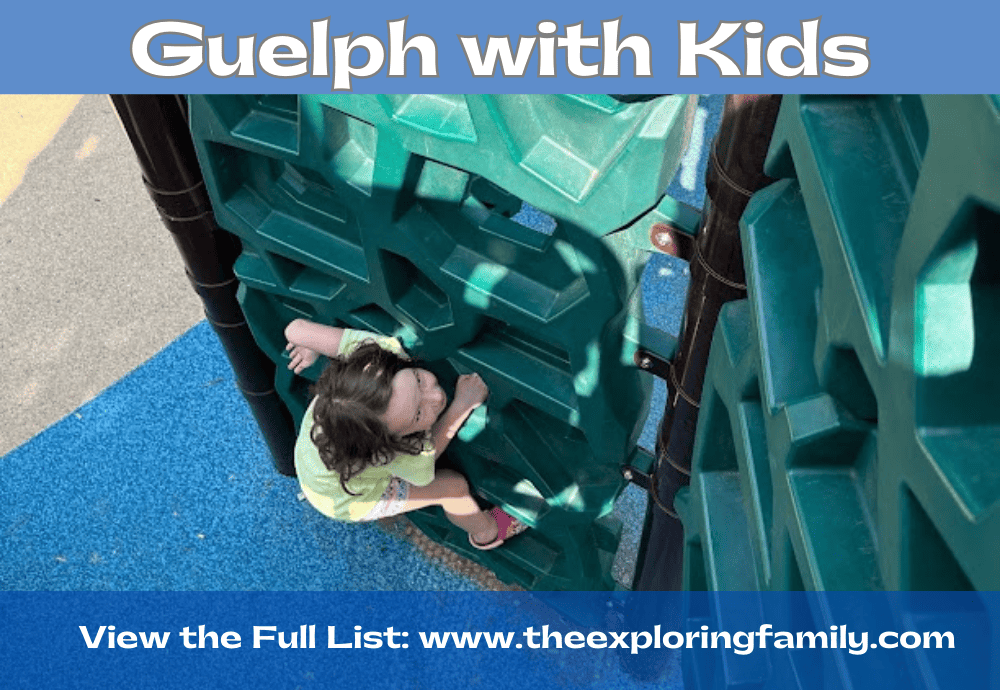 Upcoming Events at Riverside Park
There are several fun events that take place at Riverside Park throughout the year. Whether you are enjoying a Canada Day Festival, a live concert, or even a festive light display, there is something for everyone.
Check out the Riverside Park Events Listings to find the next exciting event at the park.
A visit to Riverside Park is one of the Best Things to do in Guelph with Kids. Whether you are going to explore the park, participate in some fun outdoor activities or enjoy fun events, there is something here for everyone.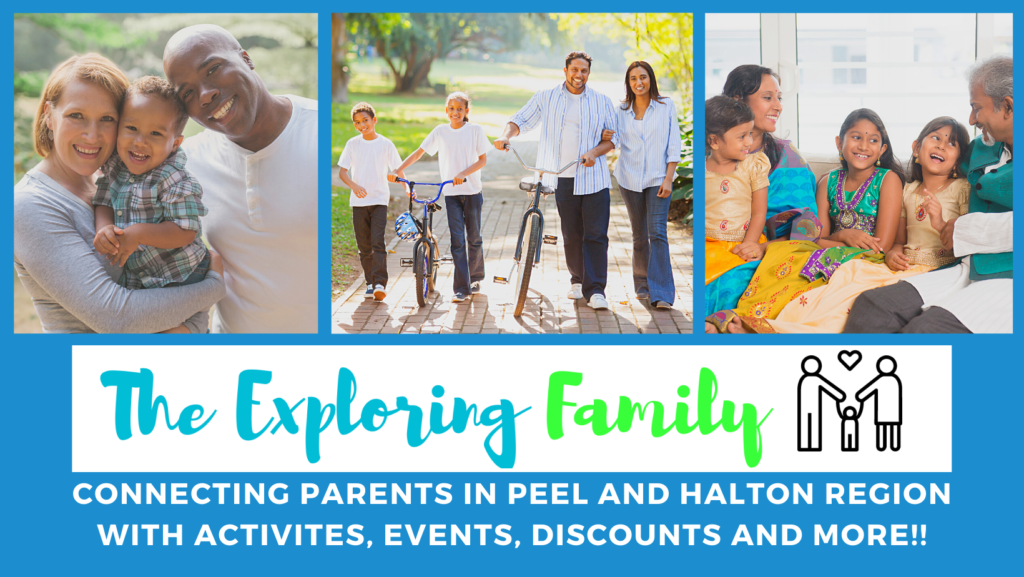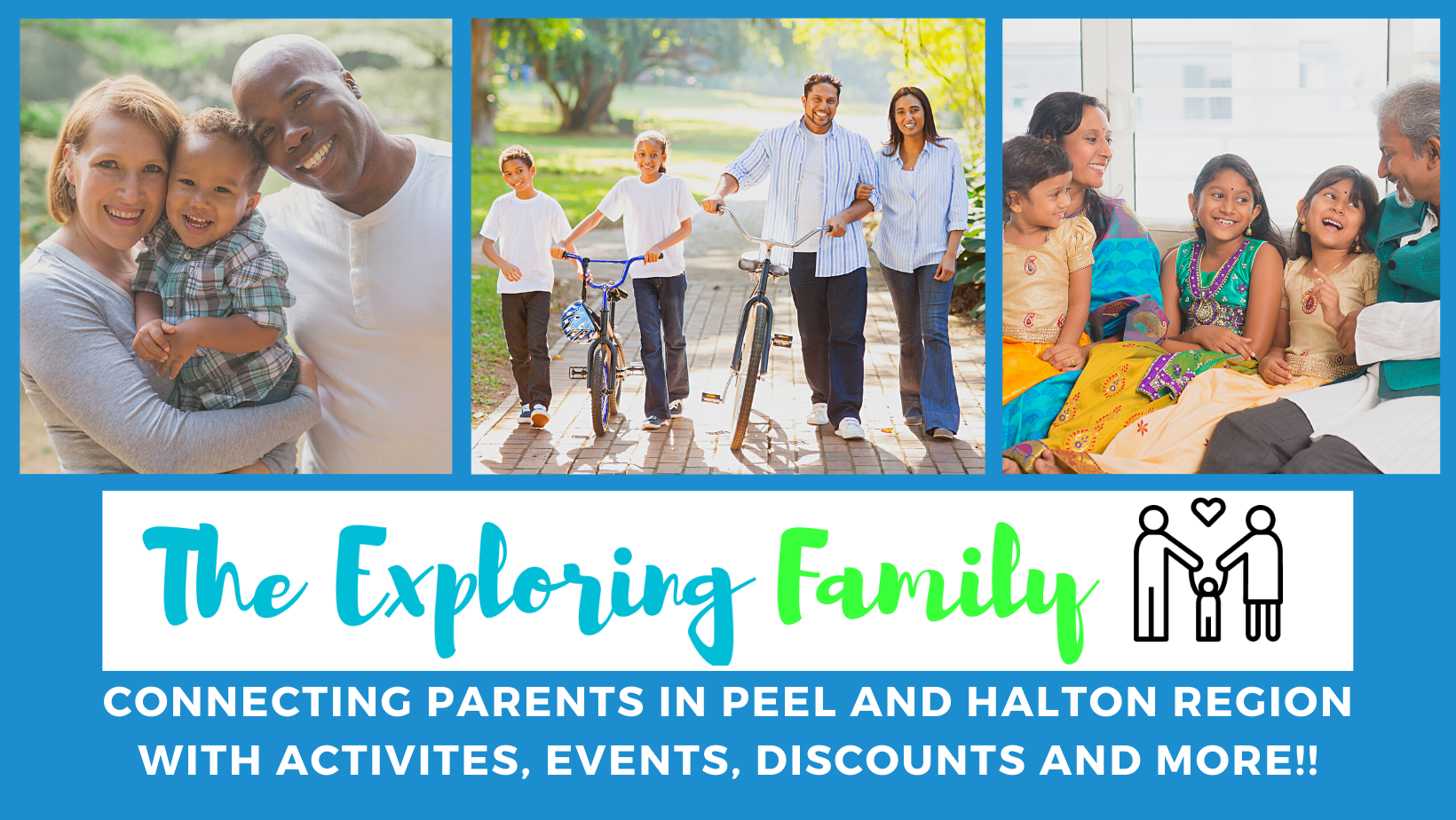 Can you help make this article better?
If you have noticed an error, have additional information or would like to share a comment you can:
E-mail us at info@thexploringfamily.com
Find us on Facebook: The Exploring Family
Find us on Instagram: @The.Exploring.Family