Nickelodeon Hotels & Resorts is the ultimate all inclusive location for families. This all inclusive resort is located in Uvero Alto, Dominican Republic which is about 30 minutes from the Punta Cana International Airport. This upscale, modern restaurant has all the amenities of a luxury resort and is considered to be a 5 star hotel plus is designed with kids in mind. The Nickelodeon Resort in Punta Cana was designed with kids in mind and keeps true to the Orange and Green color scheme known as Nickelodeon colors. While the resort did have a orange and green kid friendly design it was developed in a way that was elegant not tacky.
Nickelodeon Punta Cana is part of the luxury hotel brand known as Karisma Hotels and Resorts, which are known as "gourmet-inclusive".
Nickelodeon Punta Cana is designed for the whole family to enjoy their time at this exclusive child-centric all inclusive resort. While parents are enjoying drinks and time by the pool, kids will be entertained by the Nickelodeon Character Visits such as Paw Patrol, Fairly Odd Parents, Teenage Mutant Ninja Turtles, Blues Clues and Dora the Explorer. Nickelodeon Punta Cana also offers daily evening shows that have been designed for kids and are offered at an earlier time.
Kids will enjoy the waterslides at Aqua Nick, playing in the Club Nick indoor Kids Club, swimming in the infinity pool, building sandcastles on the beach, or getting slimed! Parents will enjoy high class restaurants, drinks at the swim up bar, live music and fun shows.
If you are looking for Nickelodeon Punta Cana reviews, read on to find out if this is the right resort for your next Caribbean family all-inclusive vacation.
What we Loved:
Baby Gear: The hotel provides all the baby gear you could need so you don't need to bring anything from home. Baby gear available included: cribs, strollers, kids robes, stool, bottle warmers, and baby food. Even though our son is almost 2 it was super convenient to have the option of baby food including apple sauce and banana. Milk was also available at all buffets, and by room service which made it very easy for bottles at bedtime.

Keeping our Nap Schedule: While my son is super flexible on nap times, he does still require a daily nap so having the option of a Swim Up Room was perfect for our family. Swim up Rooms offer families pool access right off the patio so kids can be napping inside and adults can still enjoy their time swimming.

Free Wifi: The resort had strong wifi throughout including at the waterpark and the beach.

Character Meet and Greets: The hotel offered character appearances at a variety of times and locations throughout the day. Characters include: Chase, Marshall, Skye, Rubble, Ninja Turtles, Blue and Magenta from Blues Clues, Santiago, Dora and Boots, and Characters from the Fairly Odd Parents.
Variety of Food Available: Nickelodeon Punta Cana has 9 different restaurants and offers 24 Hour Room Service. We enjoyed room service at least 5x during the week and the food was always warm, and tasty. Room Service offered us the ability to let the kids run around the hotel and eat instead of dealing with sit down meals for each meal.

Family Friendly Activities: The hotel offered a variety of activities for kids at the Kids Club for kids aged 4-12 years old, and also babysitting services for children under age 4 for an additional cost. Continue reading to learn more about the activities.

Family Friendly Rooms: The hotel rooms had kid friendly safety features in mind including a safety gate system at the patio door to ensure kids could not get outside to the patio without parents.

Shuttle Service: There is golf cart service between the water park and the Infinity Pool and the Beach which was perfect as our hotel room was located in Building 9 by the beach which was far from the waterpark. There is a shuttle stop at the main theatre and restaurant plaza area, one by Fresco restaurant and swim up bar, one at the infinity pool and one at the waterpark. To walk from one end of the hotel (waterpark) which is across the street under a bridge to the beach at the opposite end took about 15 minutes to walk or 5 minutes by golf cart.

Size of Hotel: While the hotel was quite large it was a manageable size with kids compared to some other hotels I have visited in the Dominician Republic such as Bahia Principe which is rather large to walk around.
What the Resort could Improve on:
More Activities for the Whole Family: While the resort offered many kids activities in the kids club, we couldn't convince our daughter to attend on her own so I felt like there wasn't many activities for her. It would be great if they offered more activities the whole family could attend together such as Bingo.

Improved Wait Times for Dinner: We were told we would not need reservations, however each night we arrived at the restaurants and were asked for a reservation or told it was a 40-50 minute wait.

Responsiveness of Front Desk Staff: We asked for the pull out bed to be fixed on the morning of our last night there and the front desk said they would have maintenance come by however no one ever came to fix the problem.
Location:
Address: Carretera Uvero Alto, Punta Cana 23000, Dominican Republic
Phone Number: 1-809-468-0505
Website for Reservations: https://www.nickresorts.com/

*Although you can book directly through Nickelodeon, we choose to book through Expedia. You can pre-purchase packages including flights and hotel together, however for our trip we purchased separately through Expedia as it worked out cheaper.
How to get from Punta Cana International Airport to Nickelodeon Punta Cana:
You can get a transfer by van from the airport to the hotel from a variety of reputable companies. We choose to use a transfer through Expedia and it cost approximately $110 CAD. A driver communicated with us through Whats App and showed up with a sign with our names on it at the airport which made it easy to find the transfer and provided a sense of safety. Plan ahead and arrange a transfer as otherwise if you just choose one at the airport you can find yourself in a sketchy situation.

Another Option that seemed to be promoted by the hotel was BRX Services..
Extra Costs:
Character Breakfast
Sliming
Bali Beds
Features:
460 suites
9 restaurants
4 pools
3 bars
1 Spa
Things to do at Nickelodeon Punta Cana Resort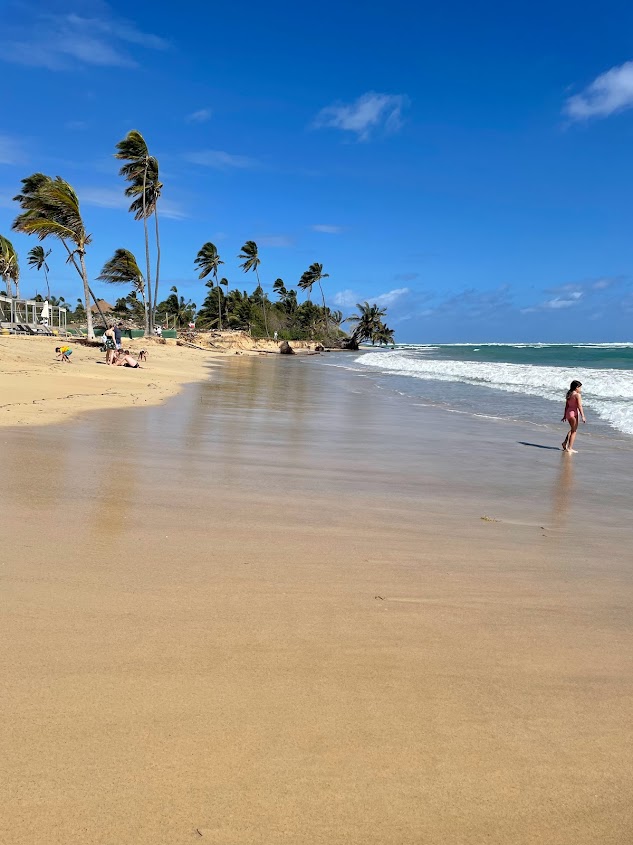 The Beach:
Looking for a beautiful clean beach with turquoise waters and warm Caribbean waters… look no further than Nickelodeon Punta Cana. The beach was very clean when we visited in March 2023.
Located nearby is beach beds that you can rent for the day, sand toy and inflatable shop ($), beach bar, loungers and much more.
Pro Tip: Lots of locals sell souvenirs and offer photos with monkeys and parrots for a cost. Make sure to negotiate and agree on price ahead of time. Pack collapsible and toy from home to save money as well!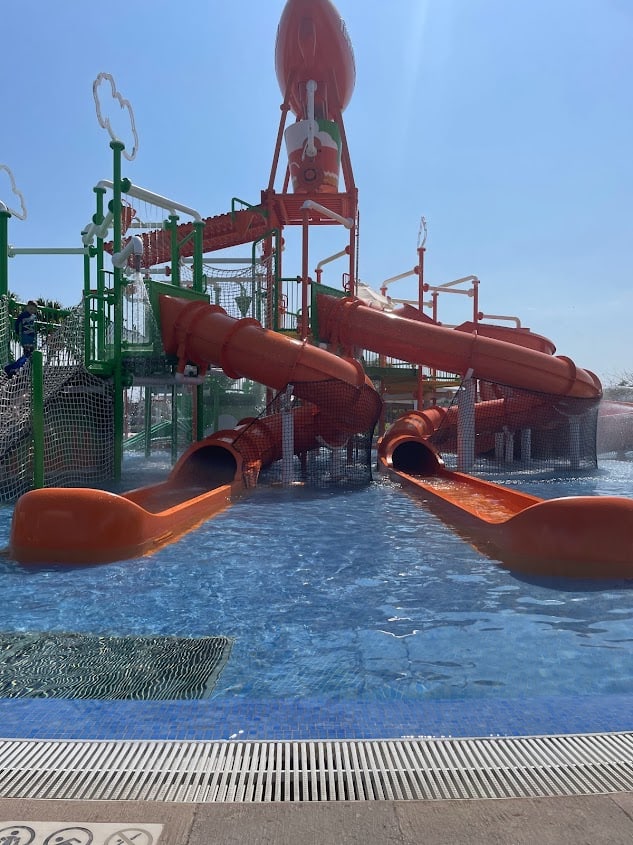 The Waterpark:
The waterpark at Nickelodeon Punta Cana is a vast expanse of water attractions, including thrilling water slides, wave pools, lazy rivers, splash pads, and a swim-up bar. The waterpark is beautifully designed and has a tropical theme that transports guests to a lush jungle paradise with Nickelodeon themed design elements.
One of the most popular attractions at the waterpark is the Slime Time water slide, where guests can stand under the big bucket and get slimed by the rushing green slime from above!
The waterpark also has a variety of other exciting water slides, including the Twisty Tubes slide, which is a twisting and turning slide that will make your heart race. There's also a fun area with water cannons, sprinklers, and other interactive water features that are perfect for younger children and the water is very shallow, it was about chest height on my 2 year old.
For those who prefer a more relaxing experience, the waterpark has a lazy river, where guests can float along a winding river and soak up the sun.
Guests can also enjoy a refreshing drink from the swim-up bar, located in the middle of the waterpark. The bar serves a variety of tropical cocktails, smoothies, and other refreshing beverages that will quench your thirst while you enjoy the waterpark. If your hungry for food you can grab a hot dog, burger or flat bread from Aqua Nick which is steps away from the waterpark!
Overall, the waterpark at Nickelodeon Punta Cana is an incredible attraction that is sure to be a highlight of your vacation. With so many thrilling water slides, relaxing pools, and interactive features, it's the perfect place to cool off and have fun with your family and friends.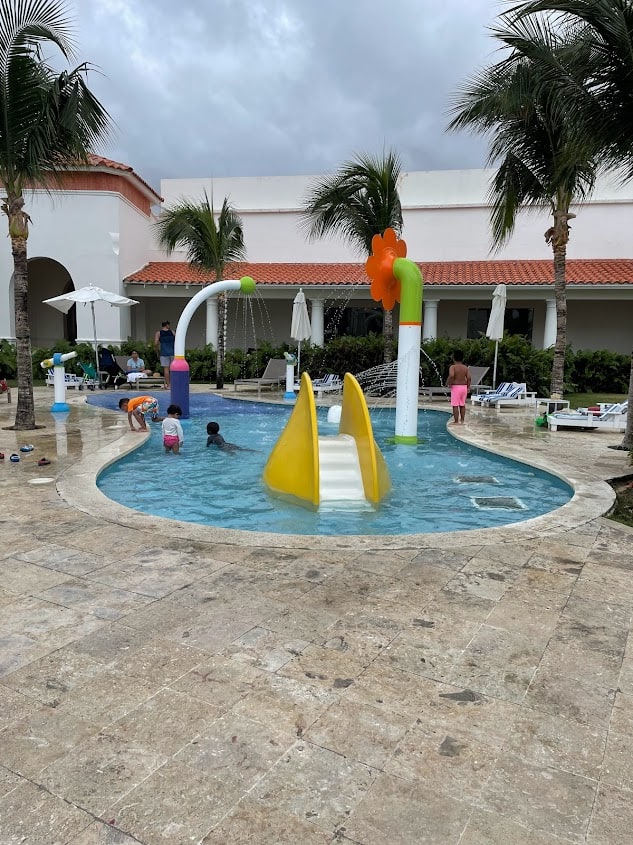 Splash Pad
There was a splash pad area for smaller kids that was about knee deep and had a single slide. There was lots of seating and loungers nearby for parents.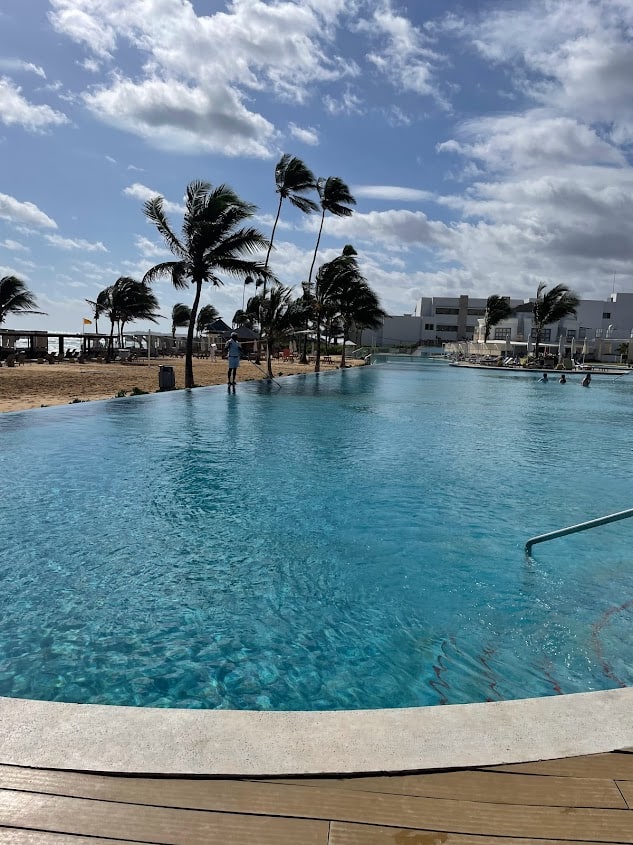 Infinity Pool:
This was the activity hub of the resort with two large infinity pools. this pool is your hub for activities and sun-soaked, and beachfront action. The infinity pools overlooked the beach and were the central hub for activities such as sports on the beach, water aerobic, slimings, orb ball (running in the inflatable ball on the water) and many more activities found in the Karisma App. The water was warm and refreshing in the hot sun and was quite large so it never felt busy or over crowded. There was the lighthouse restaurant nearby for breakfast and Zest for lunch options with patio to sit on overlooking the pool.

The bar in the middle of the two pools called Jazmin also serves ice cream which was a great treat on hot afternoons. The bartenders here are well-versed in creating delicious creations, but you'll also find plenty of international and domestic brews, soft drinks, and natural fruit-flavored water.
The Spa:
The spa was tucked away near the main plaza area and offered services such as hair braiding, herbal steam room, dry sauna, chromo therapy showers, bubble beds and whirlpool and much more. While we didnt take advantage of the spa, you can find their full guide of Services here.
Daytime Activities:
Character Meet and Greets:
One of the main reasons we choose  Nickelodeon Punta Cana is that the resort featured character meet and greets from Nickelodeon characters like The Paw Patrol, Dora and Boots, Santiago, Blues Clues, Fairly Odd Parents and The Ninja Turtles. Our kids love Paw Patrol 🐾 so that's who we focused on seeing while we were there! My daughter asked all week "when can we see the next character?" Using the Karisma app we located when we could see each character and enjoyed the daily pop up surprise meet ups where you would show up and be surprised by which character would arrive. Staff would take photos but they also were perfectly fine with you taking your own.
The resort also offers a paid character breakfast option that offers extended visits and photos – we choose not to purchase this as we found it pricey!
Character Breakfast:
Get ready to party in your PJs with some of your favorite Nickelodeon characters. Featuring an epic food display breakfast, character performances, photo opportunities, and meet and greets, it's a great way to start the day. This is an ADDITIONAL COST of $60 for adults and $45 for kids (2023). This extra cost was not necessary in my opinion was using the Karisma app we saw tons of characters.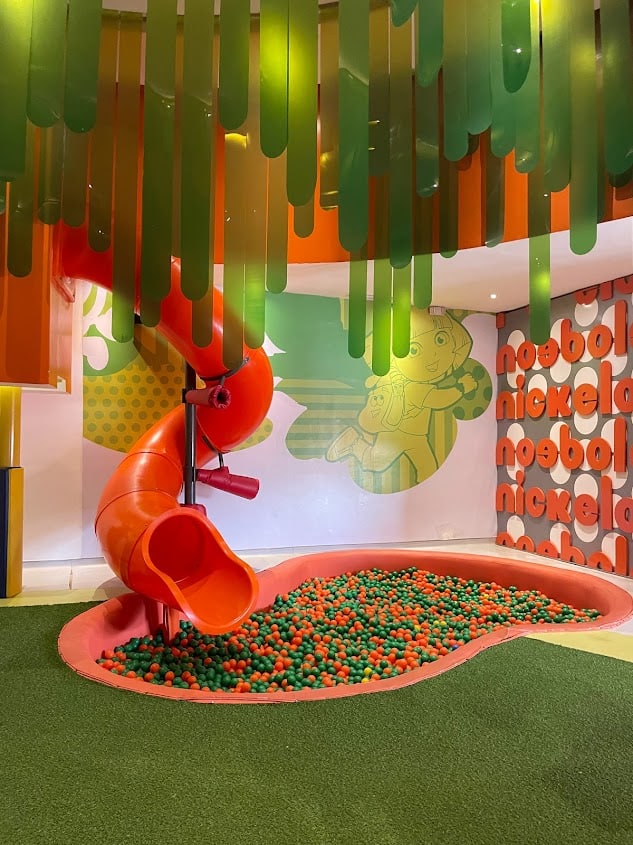 Kids Club:
The kids club ran a variety of activities during the day for children that were 4 years and older until 12 years old. They did have a paid option for children under age 4 but it was on the opposite side of the resort. The Kids Club is located near the water park so it is kind of far away from the main plaza area… about a 5 minute walk or a quick shuttle ride. This clubhouse was a cool place for kids to hang out and enjoy free play or structured programming as well as character visits. It is open 9:00-17:00 and from 19:00-21:00. The only downside is that parents are not welcome inside so my newly 5 year old was too nervous to go on her own so we didn't really use the kids club. They do offer a timeslot for open family time where parents are allowed in with their kids which we visited but its just an open playtime and the activities were very limited, though both kids did enjoy the slide that lands in a ball pit.
The Kids Club was staffed and had you sign your child in and out which was great for safety and security. They ran activities throughout the day such as arts and crafts, cooking classes, small group games, and much more!
The Baby Club was for children aged 0-4 years old and runs from 8:30am-11pm but has a max capacity of 15 children and is first come first serve. They charge $15 USD per child, per hour. The Super Nanny-certified childcare team are prepared to feed or change your little one during their time in the Baby Zone but parents must bring diapers, wipes, baby food, formula or milk.
Evening Activities:
Kids Club: Offering similar activities as during the day time, it is open from 19:00-21:00 which is perfect for parents who maybe want to grab a dinner without the kids. I would make reservations for dinner in advance though.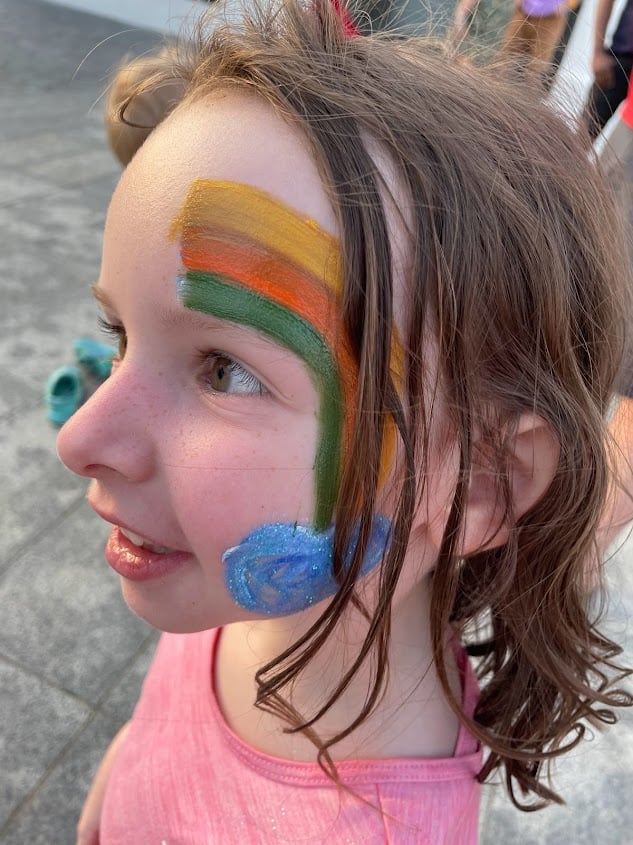 Kids Fun Zone: Located right beside the Italian restaurant, there was a bouncy castle, face painting, simple craft activity, freshly popped popcorn and balloon animals to entertain the kids starting around 5:30PM.
Kids Show: Each evening there is a kids show in the main theatre. Shows ranged from a circus show, a dance party where kids could come up on stage, character trivia and character shows.
Tip: Line up early if your child wants face paint as it gets busy fast!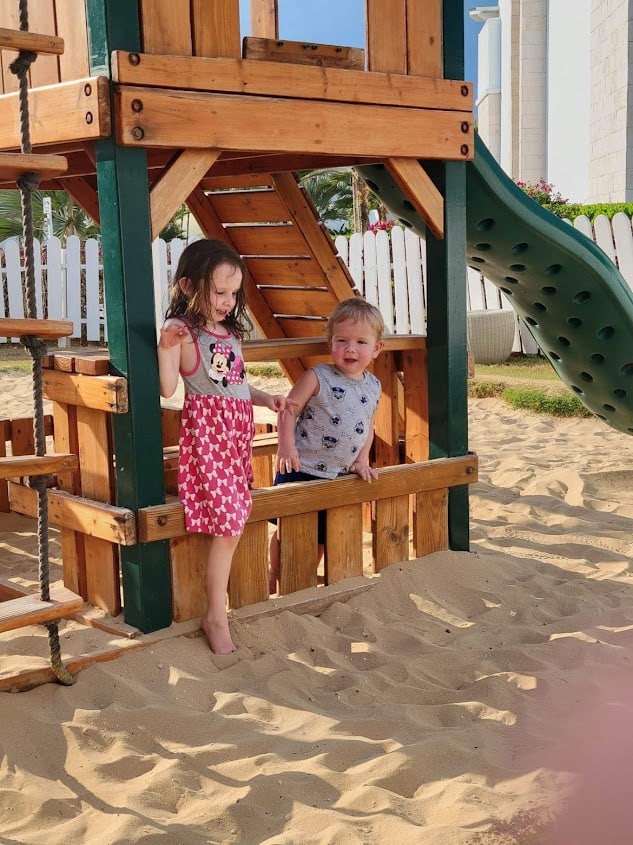 Playground: There was a wood playground near the baby centre and not far from the Coffee shop so we liked to grab tea and let the kids play here before dinner each night.
Special Themed Events:
Taste of the World:
This event runs on Tuesdays and is located in Gourmet Plaza. Each restaurant in the plaza sets up a small sampling of their foods and guests can rotate around the plaza sampling each restaurant while enjoying open air seating in the plaza.
Dominican Night:
This event runs weekly on Wednesdays and features Dominican food and traditional drinks. Located in gourmet village, their are food, drinks and local product vendors set up. You can enjoy tasting some local food and drinks and purchase souvenirs to go home such as local rum, or hand crafted items. Stop and enjoy some local music at the main stage while you wander Gourmet Palace.
Orange Party:
This event runs on Saturdays and is located in the Nickelodeon Plaza in Plaza Orange. The event starts at 6PM, and you line up to first walk the orange carpet and take photos and are served a delicious green slime drink that my son loved. They set up tables for guests and have visits from your favorite nickelodeon characters as well as a short show while you enjoy a buffet style dinner just outside of Character Central.
The great news for parents is that the kids club re opens from 7-9PM, so you could drop the kids after the party and go enjoy gourmet dining experiences such as dinner on the beach which is an extra cost.
White Beach Party:
This event runs on Fridays and is located on the beach right beside the infinity pool. Guests will enjoy a party on the beach with a DJ, and buffet food. They decorate the beach with some tables and white and green balloons and guests are encouraged to wear white to the party. Once the sun sets guests will enjoy many glow in the dark lighting and live music.
Resort Map: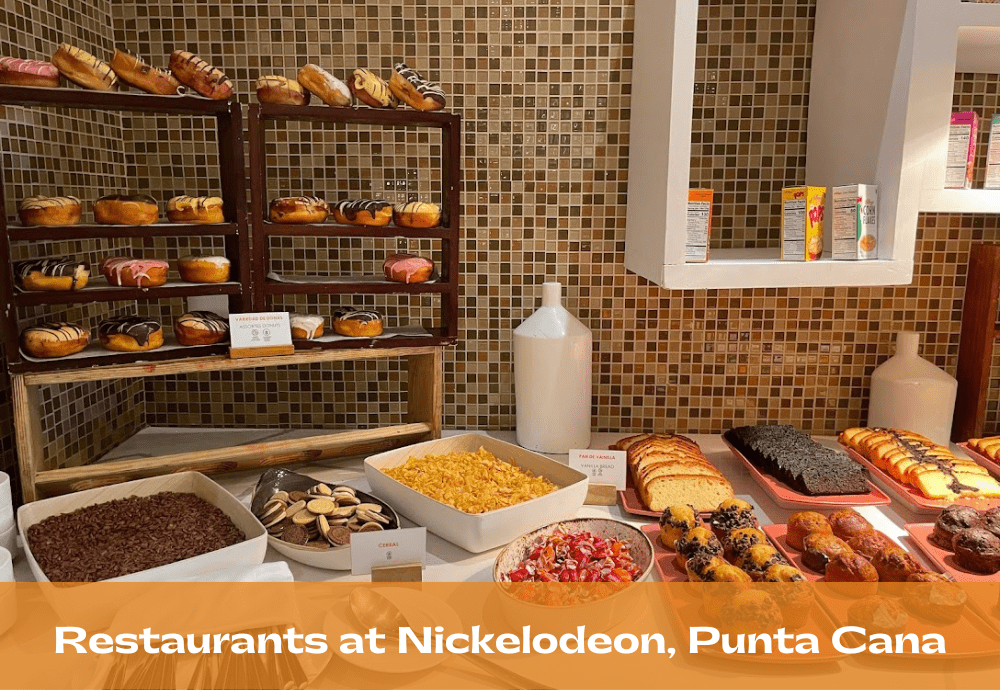 Restaurants and Dining Options:
Nickelodeon Punta Cana is owned and operated by Karisma which aims to over high quality gourmet food experiences to all guests. Overall, the restaurants at the Nickelodeon Punta Cana Resort offer a diverse range of dining options to suit every taste and preference.
From casual to upscale, Caribbean to Italian, there's something for everyone to enjoy. So, whether you're traveling with family or friends, be sure to take advantage of the resort's amazing dining options during your stay. Nickelodeon is home to 9 restaurants and a coffee house. Checkout our review of Restaurants at Nickelodeon Punta Cana.
Room Service: Nickelodeon Resort offers 24 hour room service that is delivered by staff on bike and in our experience was always warm an delicious and we ordered almost daily. Room service is the perfect food display option if you don't want to leave your swim-up suites. My favorite's room service options were the Philly Cheesesteak Sandwich and Chicken Fingers – I may have ordered them more than once during the week!
Kids Menu: All restaurants also had a kids menu that featured quesadillas, chicken fingers, and some sort of pasta so you can be ensured your kids will never go hungry! The buffet also offered baby food, and lots of other kid friendly food options.
Dress Code: The Dress Code was very casual at all restaurants which was perfect because we were travelling with kids. As long as you had shoes, and clothing on including cover ups you would be allowed to sit down and enjoy a meal.
Karisma App:
The app worked really well to tell us the daily schedule and to help us plan activities based on activity and location. You can download the app before arriving and plan your trip as they have the schedule ready about a week ahead of time.
Wheelchair Accessibility:
The resort is very wheelchair friendly and has lots of different ramps to allow guests to access different levels of the main plaza area. Multiple ground-floor rooms are wheelchair accessible and have roll in showers.

The one thing I did notice is that there were no ramps to the beach and unfortunately the waterpark is not very wheelchair accessible as there multiple bridges that are stairs that connect the different areas of the waterpark.
Different Room Types:
Flat Swim Up Room
Let's start off our tour of Nickelodeon Punta Cana Resort Tour with our hotel room. We choose a Flat Swim Up Suite as we felt it would be handy having the ability to swim while Little Squeaker napped. This worked out perfectly as we took turns who would spend the afternoon back at the room while the other parent entertained Thumper.
King Bed
Pull out Couch for the Kids
Separate Bedroom for us from the kids
Large Patio
Swim up Pool
Nickelodeon themed design with orange and green design features
Sleeps: 3 adults, or 2 adults & 3 children, or 2 adults, 1 teen & 1 child
Flat Suite
Our Flat suites are the perfect combination of comfort and privacy for your next family escape.
Each features a private master bedroom with a king-size bed, a 42" smart TV, and a spacious marble bathroom with a rain shower, double sinks, and a free-standing tub.
A beautiful living room with a pull-out bed serves as an ideal space to gather and an extra room for little ones.
Flat suites' beautiful balconies, complete with a round daybed for private lounging, napping, or stargazing.
Sleeps: 3 adults, or 2 adults & 3 children, or 2 adults, 1 teen & 1 child
Pad Suite
Like its swim-up counterpart, the contemporary Pad Suite serves as a relaxing retreat in between amazing activities and experiences. It's got everything you need for a restful, elevated stay.
Equiped with one king-size bed or two double beds, plus a pull-out sofa bed, dining room and smart TV
Marble bathroom with double sinks, a rain shower, and a free-standing tub
A spacious balcony with a daybed and sitting area
Sleeps: 3 adults, or 2 adults & 3 children, or 2 adults, 1 teen & 1 child
Nest Suite
King-sized bed, a sofa, smart TV, marble bathroom with double sinks and a rain shower
Spacious balcony with a sitting area
Sleeps: 3 adults, or 2 adults & 2 children, or 2 adults, 1 teen & 1 child
Nest Swim Up Suite
he Nest Swim-Up Suite allows our guests to do some spontaneous splashing with direct access to the pool from their terrace.
King-sized bed, a sofa, smart TV, marble bathroom with double sinks and a rain shower 
Spacious balcony with a sitting area
Sleeps: 3 adults, or 2 adults & 2 children, or 2 adults, 1 teen & 1child
Swank Oceanview Suite
This Suite's living room has a 48" smart TV, pull-out sofa bed, dining table for four
Access to the private wraparound terrace
A sitting area complete with a dining room, living room
Sunbathing beds, and a round day bed for private lounging, napping or stargazing.
Views of the Caribbean Sea
Swank Plunge Pool Room
All jazzed up to boost the "wow" factor, our Swank Plunge Pool Suites feature massive wraparound balconies with luxurious plunge pools.
Private master bedroom with a king-size bed and smart TV
Spacious living room with a smart TV, pull-out sofa bed, dining area, and access to your wraparound terrace with sunbathing beds and a round daybed
Marble bathroom with double sinks, an indoor shower, and a free-standing tub
Sleeps: 3 adults, or 2 adults & 2 children, or 2 adults, 1 teen & 1 child
Swank Plunge Pool Wrap Around
The swim-up version of our guest-favorite Swank suite features a wrap-around terrace with direct swim-up access to the pool.
Private master bedroom with a king-size bed, a 42" smart TV, and a marble bathroom with a rain shower and double sinks.
Comfy living room with a pull-out sofa bed also comes equipped with a 48" smart TV
A dining table for four, and an outdoor daybed for napping and stargazing
Sleeps: 3 adults, or 2 adults & 2 children, or 2 adults, 1 teen & 1 child
Pad Swim Up Suite
This modern, luxurious suite makes it easy to kick back and relax. It also offers direct access to the pool, so you can take a refreshing dip whenever you want.
Equiped with one king-size bed or two double beds, plus a pull-out sofa bed and smart TV
Marble bathroom with double sinks, a rain shower, and a free-standing tub
A private terrace with a daybed and sitting area, plus direct access to the pool
Sleeps: 3 adults, or 2 adults & 3 children, or 2 adults, 1 teen & 1 child
Pool Super Villa
Indulge in accommodations fit for any hero in this sprawling Super Villa. You'll have plenty of space to unwind in across two levels, plus a lush garden, an infinity pool and more in this five-star private tropical escape.
Loft-style villa with 2 bedrooms, 3 baths, a pull-out sofa bed, private gardens, and more
Private master suite with a king-size bed, smart TV, and spacious closets
A private pool in the entry hallway
Marble bathroom with double sinks, indoor and outdoor showers, and a free-standing tub
Outdoor patio with a beautiful infinity pool, sunbathing beds and dining and living areas
Private butlers to take care of your every need
Enjoy private tours of the property, preferred access to restaurants and spa, and concierge service to help curate exclusive experiences
Sleeps: 4 adults & 2 children, or 2 adults & 4 children
Pineapple Villa
Inspired by SpongeBob SquarePants's undersea home, this sumptuous Super Villa is the resort's most iconic accommodation. Parents will love the luxurious suite's attention to comfort, while kids will find plenty of playful touches to interact with.
Loft-style villa with 2 bedrooms, 3 baths, a pull-out sofa bed, private gardens, and more
Private master suite with a king-size bed, smart TV, and spacious closets
Marble bathroom with double sinks, indoor and outdoor showers, and a free-standing tub
Modern amenities and luxurious comforts with a whimsical twist
Outdoor patio with the Pineapple's signature infinity pool and sunbathing beds
Private butlers to take care of your every need
Enjoy private tours of the property, preferred access to restaurants and spa, and concierge service to help curate exclusive experiences
Sleeps: 4 adults & 2 children, or 2 adults & 4 children
Local Excursions:
They can be booked through the links below, directly through the hotel or through websites like Viator.
Catamaran boat tour through Hispanola Aquatic Adventures
Frequently Asked Questions: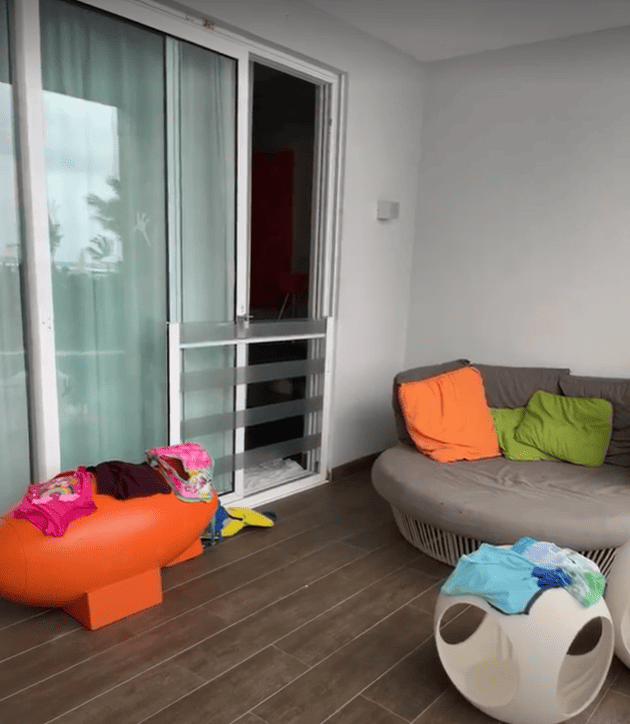 What kind of safety measures do they use for Swim Up Rooms and Little Kids?
Each ground floor level room had a special half wall glass slider door in addition to the regular slider door to ensure kids could not accidentally enter the pool.