If you're looking to escape the hustle and bustle of city life and immerse yourself in the great outdoors without sacrificing comfort, then you're in for a treat. There are so many great places to go glamping in Ontario including yurts, safari tents, tiny cabins and more! 
Dive into the world of luxurious camping, or as we like to call it, glamping Ontario. With its breathtaking landscapes and diverse terrain, Ontario offers an array of unique and cozy accommodations that will redefine your camping experience.
Get ready to explore the best glamping destinations this province has to offer. Pack your sense of adventure and your coziest blanket, as you explore the world of Glamping Ontario-style!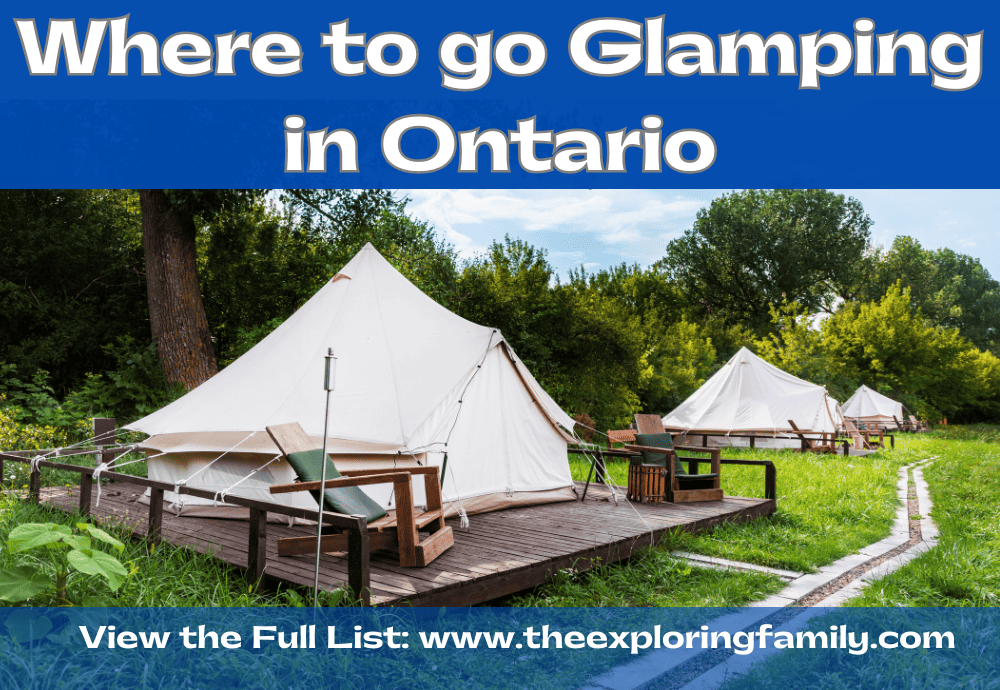 Glamping Ontario
Scroll through the links to find great glamping spots Ontario has to offer.
Ontario Glamping Spots
Whether you're unwinding in a cozy yurt, redefining camping in a teepee, or savoring the comfort of glamping near Toronto, Ontario's offerings promise an unforgettable escape into nature without compromising the comforts that make a getaway truly rejuvenating.
Greater Toronto Area and Golden Horseshoe
Just a short distance from Toronto, this enchanting area offers a remarkable array of glamping experiences. From the cozy allure of yurts to the excitement of teepee camping, these accommodations redefine outdoor escapes. Whether you're seeking a tranquil retreat surrounded by nature or an adventurous getaway, the Greater Toronto Area and Golden Horseshoe deliver the perfect blend of convenience and comfort all while basking in the beauty of Ontario's landscapes.
Alabaster Acres
18692 Hurontario St, Caledon Village, ON L7K 0Y1 – Alabaster Acres offers gorgeous glamping luxury tents already set up in a tranquil forest setting. They have several different amenities like a king-sized bed with a heated mattress pad, two duvets a mini fridge, and more.
They even have a BBQ and a claw foot tub. This experience is one you will not want to miss. 
The Fieldstone Barn
7450 Middlebrook Rd, Elora, ON N0B 1S0 – The Fieldstone Barn allows visitors to enjoy a splendid outdoor experience by staying in any of the four luxury safari tents. Each tent is thoughtfully crafted with comfort in mind.
The accommodations are conveniently situated within walking distance of the picturesque village of Elora, offering access to a variety of restaurants, shops, and trails for your enjoyment. 
Birchwood Luxury Camping
Port Perry, ON – Just an hour away from Toronto, Birchwood presents an extravagant camping escapade tailored for couples seeking adventure. Nestled within a secluded forest on Scugog Island, their geodesic dome promises a snug and rejuvenating retreat. 
Visitors can bask in the tranquil scenery or explore the nearby boutiques and eateries lining Port Perry's bustling main avenue.
Soper Creek Wilderness Villas
6706 Gibbs Rd, Clarington, ON L1C 6A6 – Soper Creek Wilderness Villas are nestled in 12 acres of the Oak Ridges Moraine. Each Villa offers comfy beds, soft linens, and solar-powered amenities like fans, lighting, and charging outlets. With unique themes, these getaways inspire a reconnection with the natural world.
Unwind by your private fire pit, equipped with Adirondack chairs, or explore trails for bird-watching and native flora and fauna. Don't miss the "wellness boxes" stationed across the property, inviting moments of relaxation amidst the forest's soothing sounds and scents.
Bingemans
425 Bingemans Centre Dr, Kitchener, ON N2B 3X7 – Bingemans Luxury Container Glamping is a great place for those wanting a fresh camping experience. Whether you are newbies, outdoor enthusiasts not keen on roughing it, romantic adventurers, or anyone aiming to shake up their camping routine, their Luxury Containers deliver an unparalleled stay!
Packed with glamping perks like a kitchenette, a 3-piece washroom, and personal A/C units, guests can savor the tranquility and outdoor thrills along the Grand River.
South Western Ontario
Experience the epitome of outdoor luxury with Glamping Southwestern Ontario. Discover a captivating blend of nature and comfort as you indulge in unique accommodations amidst the stunning landscapes of the region.
Long Point Eco-Adventures
1730 Front Rd, Turkey Point, ON N0E 1P0 – Long Point Eco-Adventures is a seasonal glamping and adventure resort in Turkey Point. Their glamping pods offer a charming tiny home experience, available in deluxe or elite options with an indoor shower and half-bath.
If pods aren't your style, canvas-style glamping tents are also available. On-site, enjoy a range of activities such as observatory tower visits, a zip-line course, and axe-throwing. Explore hiking and biking trails, plus partake in kayaking and paddle-boarding excursions for a complete adventure.
Hide-a-Way Hills
23 Mole Side Rd, Vittoria, ON N0E 1W0 – Hide-a-Way Hills in Norfolk County is a new gem in Ontario's glamping scene since its October 2019 launch. These stylish glamping cabins, surrounded by 40,000 acres of Carolinian forest, provide both luxury and natural beauty, featuring a generous deck for soaking in the wilderness.
The location grants easy access to Turkey Point Provincial Park, the sandy Turkey Point Beach, and the burgeoning Norfolk County wineries. With spacious accommodations spanning 2,000 sq ft, including a sitting room, bathroom, bedroom, outdoor shower, dining room, and deck, Hide Away Hills sets itself apart by even offering modern comforts like a 52″ flat-screen TV – a rarity in many glamping spots in Ontario.
Homegrown Hideaway
524 St John's Rd E, Port Dover, ON N0A 1N2 – Homegrown Hideaway is a serene family-owned luxury glamping site by the Lynn River and Lynn Valley Trail, located just outside charming Port Dover, Ontario.
With a warm welcome extended to visitors from across Canada, they take pride in offering distinct glamping tents constructed from all-Canadian raw materials and repurposed wood. Equipped with all the essentials, these sites ensure the perfect glamping experience. 
Lungovita Beach Retreat
225 County Rd 50 E, Harrow, ON N0R 1G0 – Lungovita Beach Retreat is Canada's southernmost adults-only nature retreat. It spans 16 stunning acres with so many fun activities to enjoy.
The diverse domes, offer a rustic escape with city comforts, each boasting heat, electricity, and AC, ensuring a luxurious camping experience. Unwind, reconnect with nature, and relish in on-site amenities for the perfect blend of relaxation and adventure.
T J Stables
837 Gregory Dr E, Chatham, ON N7M 5J7 – T J Stables Teepee Overnight Adventure is an amazing glamorous camping experience. Bask in the brilliance of twinkling stars through the smoke hole of their genuine Teepee, and let the surrounding spirit horses serenade your mornings with hoof beats and snorts.
Revel in the encampment ambiance and savor fireside cooking. Dive into the full experience by pairing it with their "Awaken Your Spirit: Spirit Horse Encounter" or an Indigenous Cultural Experience.
Muskoka & Perry Sound
Explore the serene beauty of Muskoka and Parry Sound through enchanting glamping sites. Discover the best places to indulge in outdoor activities amidst breathtaking landscapes, combining the comfort of luxury accommodations with the thrill of nature.
Harmony Outdoor Inn
6 Harmony Ln, Parry Sound, ON P2A 0B1 – Harmony Outdoor Inn is nestled in nature. Six private canvas wall tents await. An outdoor kitchen pavilion and cedar showers cater to self-sufficiency. Wander along wooded paths, utilize complimentary kayaks, stand-up paddleboards, and canoes, or simply unwind on the dock with Muskoka Chairs, hammocks, and refreshing river swims.
Fort Treehouse Company
Queens Line Rd, Minden, ON K0M – Fort Treehouse Company offers a reimagined treehouse experience, defying norms with bold architecture, sustainable materials, and tree-safe ingenuity.
With a focus on surprising and inspiring guests, their spaces exude contemporary minimalist charm, deliberately devoid of distractions like TVs. Fort is designed to amplify reconnection with nature, instincts, and others, inviting guests to make each moment uniquely theirs.
Tipi Adventures
1325 Beatrice Townline Rd, Bracebridge, ON P1L 1X4 – Tipi Adventures allows you to embark on a dreamy adventure in tipis amidst nature's wonders – gazing at stars, spotting wildlife, and sharing campfire tales.
With three spacious tipis comfortably sleeping 10 each, everything's provided; just bring your sleeping bag and food. Perfect for families, groups, team building, and nature lovers, accommodating up to 30 guests, ensuring a private and memorable experience.
Three Ponds Homestead
Discover Three Ponds Homestead, a hidden treasure near Orillia/Severn, merging a small family horse farm with homesteading delights. Acquired in 2021, this 25-acre oasis offers respite from chaos, fostering essential reconnections.
Star gaze, enjoy warm campfires, and retreat to cozy lodgings. This place provides ample local firewood for purchase and presents off-grid glamping choices. Solar lighting, portable lanterns, and an Amish-built outhouse complement the experience, ensuring comfort amidst nature's embrace.
Noel's Nest
Port Mc Nicoll, Ontario – Noel's Nest nestled in Port McNicoll's heart, is a charming haven in Tay Township's Georgian Bay area. With easy access to the Tay Shore Trail, Marinas, and Community Rink, the location offers diverse natural settings.
Minutes from Georgian Bay and neighboring towns, the surroundings host annual events, restaurants, trails, and various activities. The breathtaking grounds feature decks, tents, firepits, BBQs, and more, making it an ideal spot for weddings, retreats, ceremonies, and outdoor events, as well as snowmobiling, hiking, and children's parties.
Cabinscape Kawarthas
Cabinscape Kawarthas has several different cozy cabins. Nestled across diverse locations, the charming and snug off-grid cabins offer picturesque views of lakes, rivers, creeks, and trails. Each property boasts its own unique beauty and level of seclusion, allowing guests to tailor their adventure experience to their preferences. 
Algonquin
Experience the enchanting beauty of nature through glamping in Algonquin. Immerse yourself in the stunning landscapes of this iconic national park while indulging in luxurious accommodations that blend seamlessly with the wilderness.
Nature's Harmony
574 Snake Creek Rd, Mattawa, ON P0H 1V0 – Nature's Harmony Eco-Lodge, situated in a secluded wilderness, gazes over the Laurentian Mountains, offering a beautiful Mongolian yurt experience. Upon arrival, visitors will find respite from daily pressures, a place to disconnect and rekindle connections.
Whether embracing life's simpler joys or engaging in a plethora of seasonal outdoor activities, this destination caters to diverse preferences. Comfortable off-grid living intersects with environmental awareness, inviting guests to experience sustainability firsthand.
Four Corners Algonquin
29924 ON-60, Whitney, ON K0J 2M0 – Four Corners Algonquin is a fantastic place to stay. Discover a 90-acre off-grid campground at the edge of Algonquin Provincial Park's east gate, featuring various fully-equipped tents and tiny homes, perfect for those seeking a hassle-free, yet authentic camping experience.
For a unique stay, opt for one of the new transparent Bubble Tents, offering bug-free stargazing and captivating views of the Milky Way in a low-light pollution wilderness.
The Northridge
712 S Lake Bernard Rd, Sundridge, ON P0A 1Z0 – The Northridge Inn & Resort has exquisitely adorned glamping tent suites, each offering sweeping vistas of Lake Bernard, known as the largest freshwater lake worldwide without an island.
For an exceptional stay, consider their freshly refurbished 1971 vintage Airstream, complete with a functional washroom and private outdoor shower. Situated merely an hour from Algonquin Provincial Park, renowned for its breathtaking wilderness, their location is a gateway to Ontario's natural splendor.
Cabinscape Haliburton
Cabinscape Haliburton has charming off-grid cabins. They offer a fun take on the traditional glamping cabin. These cabins are strategically situated across scenic, untamed lands, commanding views of lakes, rivers, winding creeks, and trails.
These locations vary in seclusion, catering to diverse adventure preferences. Reservations are available up to 5 months ahead and open on a rolling monthly schedule, ensuring ample opportunity to secure your ideal getaway.
Tobermory and Grey County
While Tobermory and Grey County don't have a lot in the way of glamping choices, the choice that is available is gorgeous. You will want to escape to this beautiful location to create so many fantastic memories.
Back Forty Glamping
145166, Side Rd 16, Meaford, ON N4L 1W5 – Back Forty Glamping offers a unique glamping experience in fantastic geodesic domes. These domes are available throughout all four seasons and offer several different amenities like a private hot tub, king bed, seating area, potable water, outdoor fire pit and so much more.
Located on a beautiful property, there are a few different domes to choose from. This is a great place to enjoy a comfortable stay and so much more. 
Prince Edward County And Kingston
There are several different places in Prince Edward County and Kingston where you can enjoy a fantastic outdoor adventure. If you are looking for an exciting camping trip without having to bring your own tent, this is the perfect place.
Whispering Springs
141 Mercer Ln, Grafton, ON K0K 2G0 – Whispering Springs Wilderness Retreat Offers several different glamping experiences. Choose from one of their treetop tents, chalets, the whisper cabin, a deluxe safari tent, a traditional safari tent, a junior safari tent, and a mini safari tent. 
Located in Northumberland County, this place provides you will an unforgettable escape right in the wilderness. 
Fronterra
153 County Rd 27, Consecon, ON K0K 1T0 – Fronterra Luxury Camp offers the perfect fusion of elegant outdoor living. This transformative experience intertwines rustic luxury with genuine Canadian heritage.
Each tent suite boasts a cozy king-sized bed, a comfortable sitting area, a private ecological bathroom with a hot shower, and a covered summer kitchen featuring a personal fire lounge. Here, everything is tailored for disconnecting, unwinding, and rediscovering the beauty of life's simplicity – a chance to embrace nature's transformative embrace and simply let go. Perfect for your next romantic getaway.
Tiny Stays
Tiny Stays offers adorable little Tiny Homes and RV stays with a view and access to the Bay of Quinte. You can choose from the loft, the nook, or the nest.
They all have several different fun features that you can discover on their Instagram page. Click through the link in their bio to learn more about each property and pick the glamping experience that is right for you. 
Ottawa
From the heart of the city to nearby rural retreats, Ottawa's glamping experiences offer a perfect blend of tranquility and convenience. Whether you're seeking a romantic getaway or a family adventure, glamping in Ottawa provides an unforgettable way to connect with nature while enjoying luxurious accommodations.
Hammond Hill
861 Du Golf Rd, Hammond, ON K0A 2A0 – Hammond Hill stands as Canada's pioneering eco-experience and wilderness retreat. Set amidst 62 acres of lush woodlands, it offers eco-friendly campsites, cabins, and yurts, presenting a sustainable haven for families.
From a beer garden to forest yoga, beach volleyball, wedding venues, and beyond, there is something here for everyone. 
Cabinscape Ottawa Valley & Calabogie
Experience the enchantment of Ottawa and Calabogie's charming off-grid cabins with Cabinscape. These unique cabins offer a delightful twist on traditional glamping, immersing you in nature's embrace. Positioned strategically across picturesque, untamed landscapes, these cabins boast captivating views of lakes, rivers, meandering creeks, and trails.
Tailored to different adventure tastes, the varying levels of seclusion create a personalized escape. Reservations, available up to 5 months in advance, follow a flexible monthly schedule, ensuring abundant chances to secure your dream getaway.
Where to go Glamping In Ontario Near Me Map
Whether you're craving starlit skies, cozy cabins, or nature's embrace, Ontario's glamping destinations have it all. Embrace the adventure, unwind, and let the magic of glamping redefine your outdoor experience.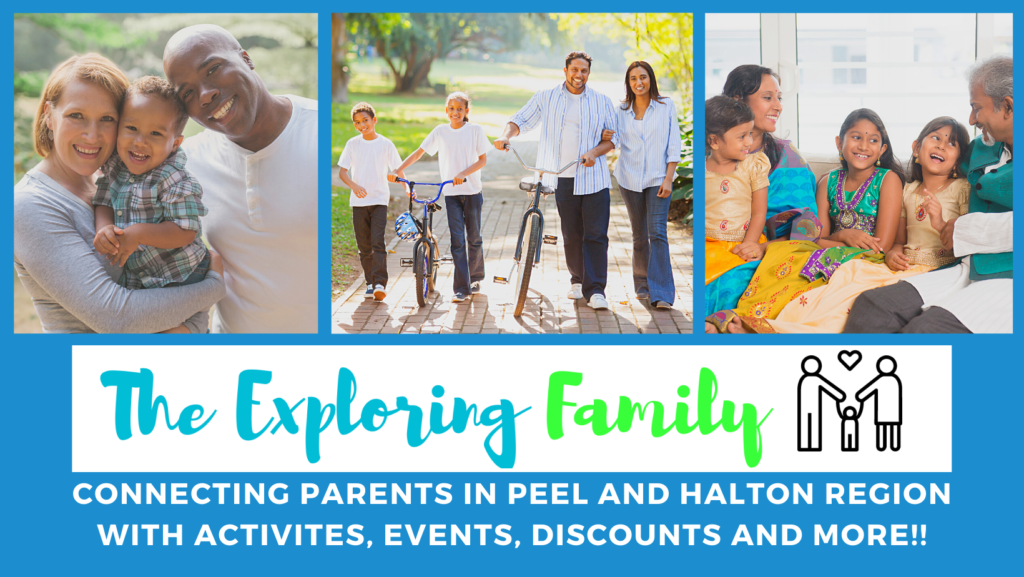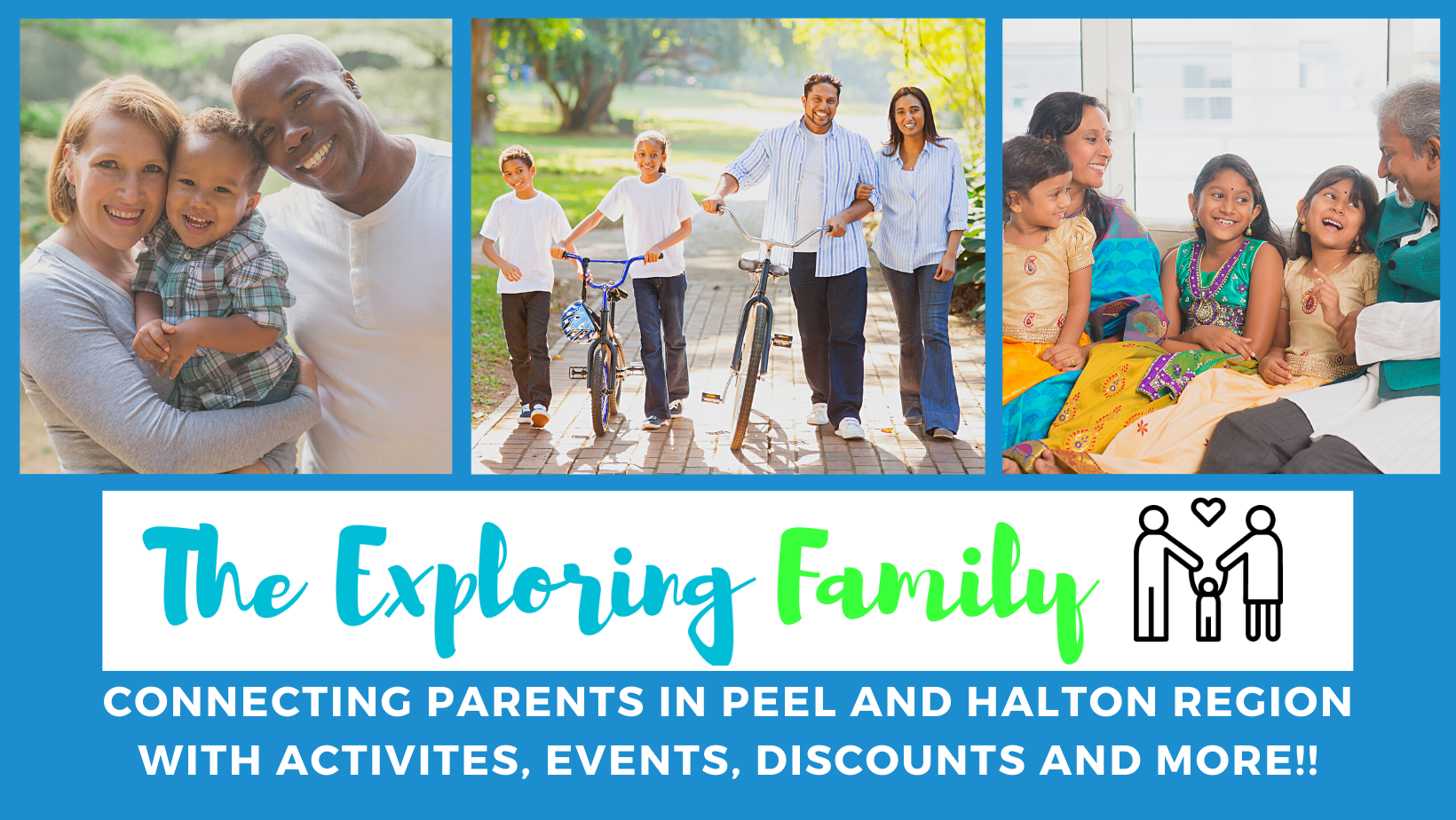 Can you help make this article better?
If you have noticed an error, have additional information or would like to share a comment you can:
E-mail us at info@thexploringfamily.com
Find us on Facebook: The Exploring Family
Find us on Instagram: @The.Exploring.Family
Outdoor adventures in Ontario