These flourless, gluten-free protein pancakes are a simple and delicious twist on Protein Pancakes which are a awesome high protein breakfast idea to help you start the day off right and meet your nutrition goals. After enjoying my Protein Crepes I decided to play around with the recipe a little more and adapted to make a moist, fluffier and delicious Pumpkin Pancake!
Pumpkin Protein Pancakes Recipe
Tis the season for all things pumpkin. The feeling of Fall goes hand in hand with all things Pumpkin from Pumpkin Cookies, Pumpkin Soup and of course Pumpkin Pie. Pumpkin spice does not only come in beverages! If you enjoy pumpkin as much as I do, or are just looking for a delicious pumpkin protein pancake recipe then you have come to the right place!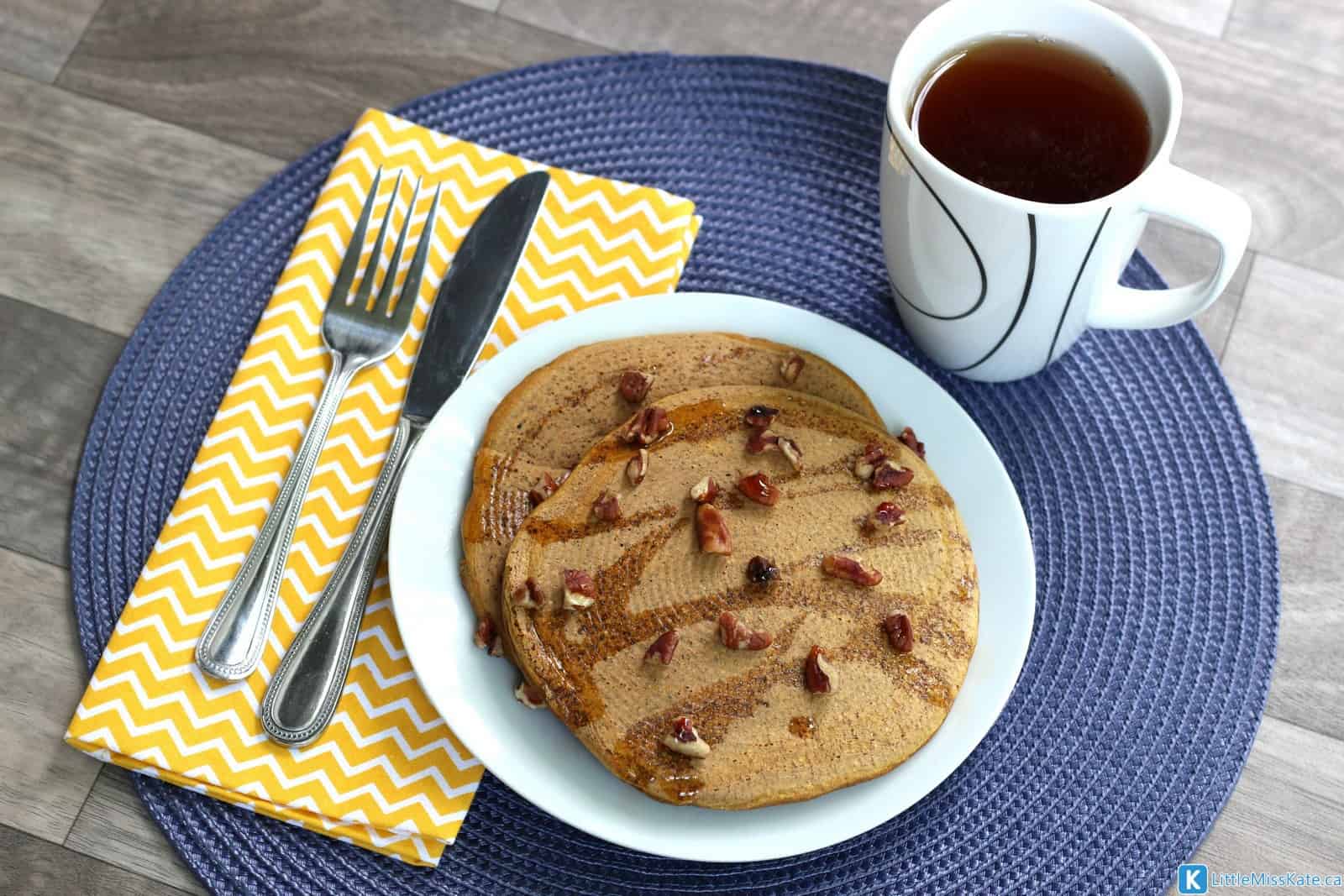 Flourless and Gluten-Free Pumpkin Protein Pancakes
Now the first thing you should know about making these Pumpkin Protein Pancakes is that they are EASY to make, and you can scale the recipe up if you are making for more then 1 person. They are flourless and gluten-free, if you need to take those sorts of things into consideration. The Protein Pancakes are made with oats, depending on your texture preferences you can grind the oats in a blender first to make them more into a "flour" or leave them as is. I used several different brands of large flake oats while making these and all have worked out well.
High Protein Breakfast Idea
Made with eggs and egg whites these Pumpkin Protein Pancakes deliver on taste and a good serving of protein to help you feel fuller for longer. While protein pancakes tend to be dense, adding the pureed pumpkin and baking power to this recipe makes it a moist and fluffy pancake that puffs up while cooking. Yes it is going to be more dense then a traditional pancake, but the nutrition profile is also much better. This recipe will give you 29g of protein in 1 serving!
Homemade Pumpkin Protein Pancakes
With 7 ingredients you can whip up these homemade protein pancakes on the weekend and store in the fridge to enjoy all week long! Just watch out that the kids don't eat them all on you first!
Pumpkin Protein Pancakes
M

Ingredients
50

g

Oats

Grind in blender if desired

1

Egg

1/2

cup

Egg Whites

1

tsp

Baking Powder

1

tsp

Pumpkin Pie Spice

1

tsp

Cinnamon

1/2

cup

Pureed Pumpkin

1-2

tbsp

Water
Instructions
For more finer texture pancake first grind the oats into a flour using a blender


Mix all ingredients together except the water. I just toss them all in my blender and pulse. You can also mix by hand


Depending on the consistency add 1-2 tbsp of water if required to make the batter runny enough to pour


Pour batter into a pre-heated non-stick pan and cook pancakes flipping once you see a few bubbles rise to the top and the bottom has formed, about 6 minutes total

This recipe makes about 3 good sized pancakes, so if you are making for more then 1 person or want leftovers for the rest of the week then double or even triple the recipe.
Tips for Making Protein Pancakes
I have made this protein pancakes many times now, and have a few tips to share which will help them become your new favourite high protein breakfast
Don't forget the baking powder – sounds simple enough, but I HAVE done this. And while still tasty they were very dense. I much prefer them with the baking powder

Don't add too much baking powder – when testing out this recipe I played around with the amount of baking powder and added baking soda. All I got was a weird after taste, so stick with the 1 tsp of baking powder and you will be fine

Cover up while cooking – If you have a lid for your frying pan cover yo the pancakes while you are cooking to help them cook faster and reduce the overall cooking time needed

Don't undercook – These pancakes are more dense then regular pancakes, so they take longer to cook. Give them time (a few minutes a side), no one likes biting into pancakes only to find they are uncooked in the middle

Don't have [easyazon_link identifier="B00HVVRZ2M" locale="CA" tag="litmiskat-20″]Pumpkin Pie Spice[/easyazon_link] – you can buy it online, or make your own with cinnamon, nutmeg, all spice and ground cloves (I use about 1/4 tsp of each when I ran out of pumpkin pie spice)

Top with Maple Syrup – There is no sugar in these pancakes, so top with 1 Tbsp of Pure Maple Syrup to bring a little sweet to your breakfast.
Do yourself a favor and whip these up ASAP. They freeze well, so you can make them ahead of time and heat them up in a toaster or microwave to help you stay on track with you nutrition. You can thank me later!
More Healthy Breakfast Ideas