Considering a trip or a staycation with your children? Why not visit Niagara Falls. There are so many different things to do in Niagara Falls for children of all ages. Whether you are looking for something interactive, or a little more low-key, the falls have a lot to offer. There are many things to do in Niagara Falls with kids and we have compiled a list of activities to help you plan your trip or staycation to Niagara Falls. Here are some amazing Niagara Falls Attractions for Kids.
Niagara Falls can be a fantastic place to visit for a Romantic Couples weekend or a wonderful family trip. Whether you are visiting in the winter, or when it is raining, there is always something fun to do in Niagara Falls.
Things To Do In Niagara Falls With Kids
Niagara Falls Journey Behind the Falls
Hornblower Cruise (formerly Maid of the Mist)
Niagara Falls Butterfly Conservatory
Hershey's Chocolate World
Niagara Skywheel
Dinosaur Adventure Golf
Bird Kingdom
Niagara Parks Power Station
WildPlay Zipline Niagara Falls
Skylon Tower
Fallsview Waterpark
Ripley's Believe it or not!
The Great Canadian Midway
Safari Niagara
Fun Things to Do with Kids in Niagara Falls
There are such a wide variety of fun experiences you can have with your children on a vacation or staycation to Niagara Falls. Whether you journey behind the falls, or simply stay at Niagara Falls Courtyard Marriott, you are sure to find something fun to do! Want to stay at Great Wolf Lodge in Niagara Falls? Check out our handy tips and tricks for a fantastic Great Wolf Lodge stay. No matter where you stay, or what attractions you choose to visit, your children are sure to enjoy their fun Niagara Falls adventure.
Niagara Falls Journey Behind the Falls
Want to get up close and personal with one of the natural wonders of the world? See Niagara Falls from the inside out with the Journey Behind the Falls. Feel the roar of the water on the Hornblower Cruise with Niagara Parks. These two attractions let you get closer to Niagara Falls then you ever thought possible as part of the adventure pass.
A couple of summers ago I packed up the boys, my mom, sister and cousin and went on a Niagara Falls adventure. It was my sister's first time to Niagara Falls and we want to make sure she got the full experience. If you are planning a trip to Niagara Falls make sure you check out the Adventure Pass. One ticket that gets you into 4 great attractions and discounts on many others.
At the Journey Behind the Falls you get to descend 150ft by elevator and view Niagara Falls from the inside out. 2 viewing areas allow you to see the full force of the wall of water that comes over Niagara Falls (2,800 cubic meters of water every second to be exact!). Feel the thunder of the water as it makes its journey over the falls, down 13 stories and into the basin of the Horseshoe Falls. On the viewing platforms look up to soak in the sights of the tumbling water.
Hornblower By Niagara City Cruises (formally Maid of the Mist)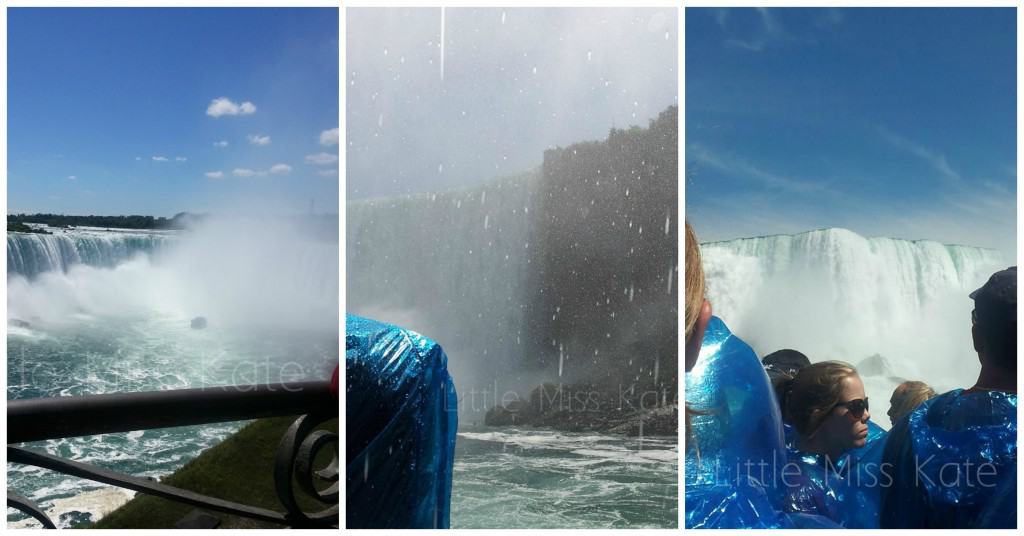 Ready to test out your Sea legs? Then the Hornblower Cruise is for you! A short walk down the river from the Falls you can board the Hornblower Boat. As North America's oldest tourist attraction the Hornblower Cruise (formerly Maid of the Mist) has enchanted people with the power of the falls since 1846. Two powerful 350-horsepower engines will carry you against the current and into the basin of Niagara Falls. Dawn your complimentary poncho to help keep you dry. Head out onto the top deck to get a view of Niagara Falls like nowhere else.
While the Journey Behind the Falls and Hornblower Cruise are accessible with a stroller I would suggest leaving it behind if possible. Grab a carrier (the Onya worked great for my 3 yr old) and allowed us to get into all the areas we would not have been able to reach with a stroller. You also have access to the White Water walk and Niagara's Fury, as part of the Adventure Pass
Don't worry about having to drive to get to any of the attractions. Your Adventure Pass gets you on the WEGO buses that run frequently to all of the major attractions and hotels. The Adventure Pass delivers on its name! We had a great day exploring Niagara Falls and getting up close and personal one of the natural wonders of the world!
Niagara Parks Butterfly Conservatory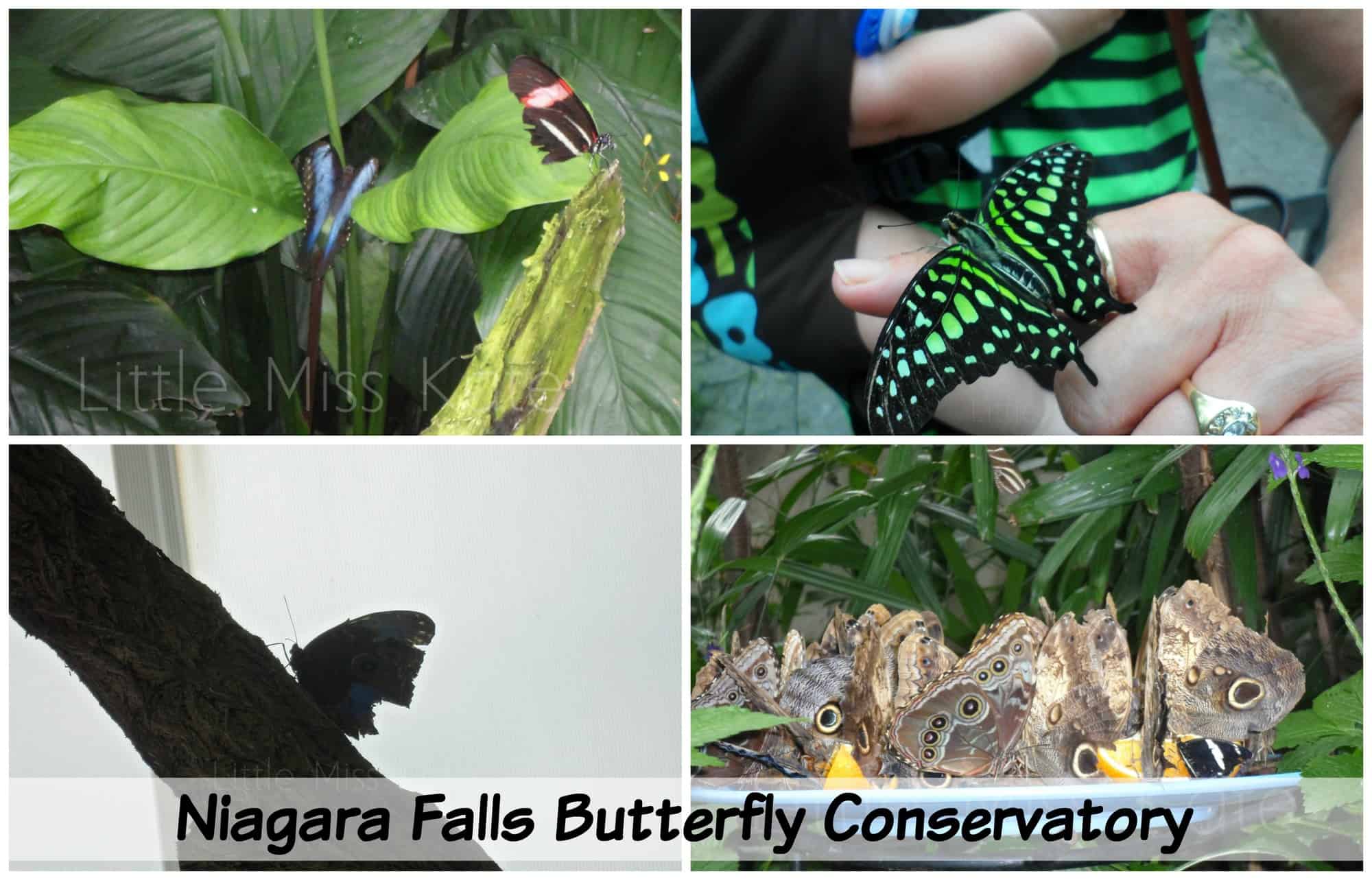 One step inside the Niagara Parks Butterfly Conservatory and you will realize there is a whole world that you are missing right outside your door. The tranquil movements of the butterflies flying between the flowers, leaves, and food stations mesmerize both the young and old. With over 2,000 butterflies and 45 different species at the Butterfly Conservatory in Niagara Falls you will be sure to see species of all different sizes and colours.
Wait patiently for the ordinary-looking butterflies to open their wings and be rewarded with the most strikingly beautiful colours and patterns. If we lived closer I would definitely get an annual membership so that I could stop into this beautiful haven whenever I wanted. Little Bear was completely transfixed watching the butterflies flit and flutter around as they move between flowers, leaves, and fruit for a snack.
Stop by the "nursery" to see all of the cocoons – it is amazing all of the different shapes and sizes for the different species. And be careful as you leave to make sure you don't have any stowaways on your clothes. Visiting the Butterfly Conservatory has inspired me to try to make a butterfly garden next year. I have the perfect corner to make a mini oasis for the many species of butterflies local to our area.
Outside the Conservatory Area
Outside of the conservatory area, there are many educational displays and exhibits explaining the life cycle of caterpillars. If you have a Niagara Adventure Pass you can save 20% on your admission to the Niagara Butterfly Conservatory. Again I am going to suggest ditching the stroller and grabbing you favorite baby carrier to get around with your infants and toddlers in the butterfly conservatory, it makes manoeuvring to see the butterflies much easier. So the next time you are in Niagara Falls make sure you take time to stop in and experience a world like no where else at the Niagara Parks Butterfly Conservatory.
Hershey's Chocolate World Niagara Falls
Experience all things sweet at Hersey's Chocolate World in Niagara Falls Ontario. The entrance to this Chocolate Lover's paradise is a 4-story high Hersey's chocolate bar. Located just steps away from Niagara Falls on Falls Avenue Resort, this 7,000 square foot retail experience is interactive. Promising to delight everyone that visits.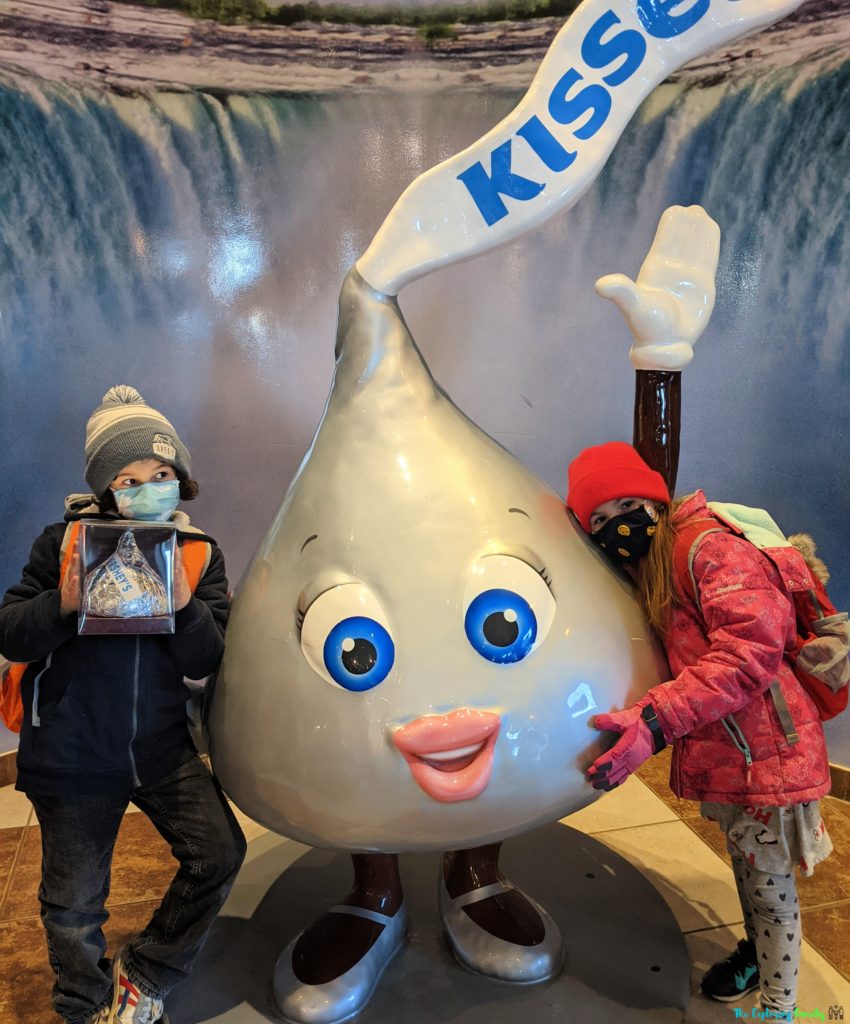 At Hersey's Chocolate World, you can find all your kid's favorite sweet treats like Twizzlers, Reese's and Jolly Rancher products. There are even fun specialty items like 1lb Reese's Peanut Butter Cups and 5lb Hershey's Milk Chocolate Bars. Want a fresh chocolate experience? Visit the fresh good counter and sample all the baked goods and sweet treats made fresh. You can try a variety of custom flavored and gourmet Hersey's fudge, sample chocolate-dipped strawberries, and even enjoy a cold treat with a decadent Hersey's signature milkshake. Niagara Falls attractions for Kids are awesome, but this is definitely one of my favourite places to visit too.
Just remember, you will want to take your camera to capture the look of awe on your kids' faces when they see the magic Hersey's Chocolate World has to offer. Visiting Niagara Falls with kids is certainly magical when you visit this sweet location.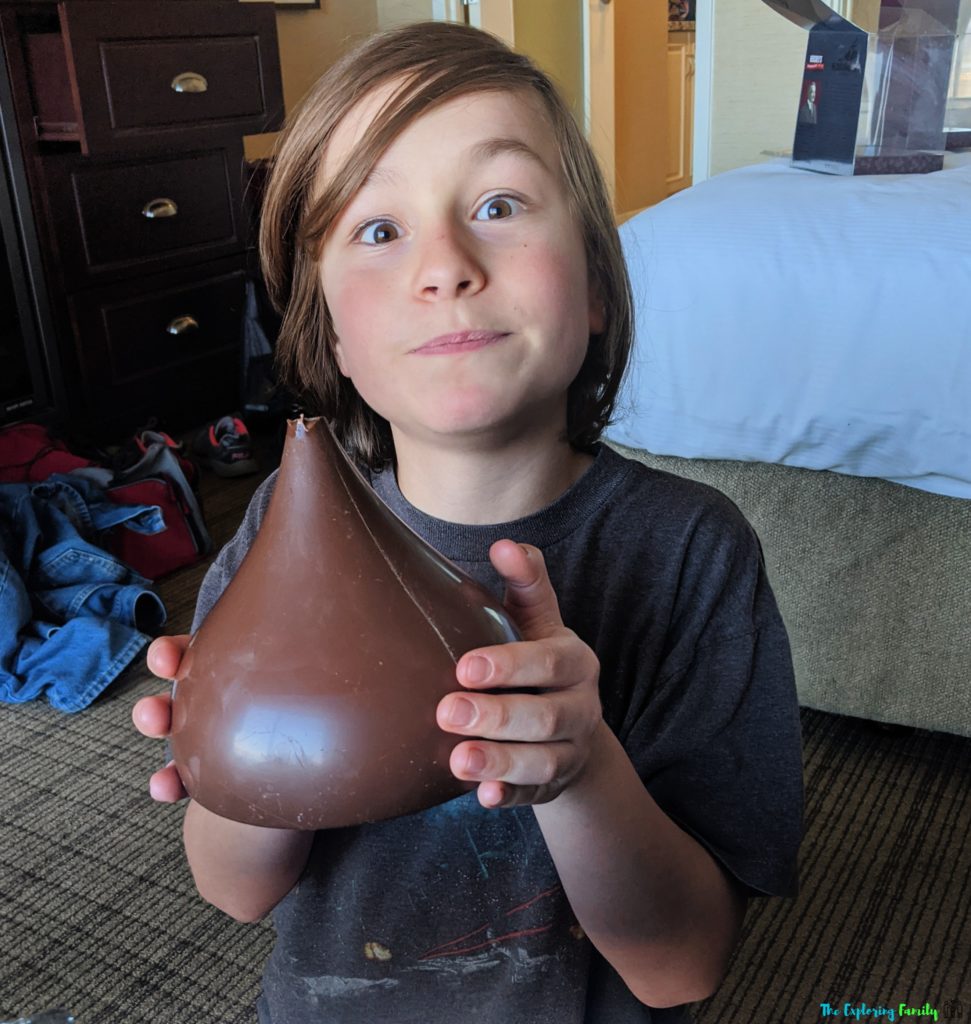 Get the Best View of the Falls on the Niagara SkyWheel
The Niagara SkyWheel is an amazing attraction to enjoy with your kids in Niagara Falls! Visit one of Canada's largest observation wheels and take in the best view of the falls you can get. Whether you visit in the winter or summer, you are sure to enjoy your experience in the SkyWheel's cozy enclosed gondolas. Each one is fully equipped with air conditioning and heat to ensure your comfort all year round.
Take a ride on the Niagara SkyWheel. You can see for miles in every direction. The SkyWheel provides optimal views of the surrounding Niagara skyline. Not only that, but you can see the American Falls and the Horseshoe, The Niagara River, Many Niagara parks, and several different important landmarks. Want to take a ride at night? You can see the beautiful glittering lights of Clifton Hill from the comfort of your enclosed gondola.
The rides on the Niagara SkyWheel can vary between 8 – 12 minutes and provides entertainment for the entire family. Located at 4960 Clifton Hill, Niagara Falls, ON, L2G 3N4, the Niagara SkyWheel is sure to offer an amazing experience to kids visiting Niagara Falls with their family.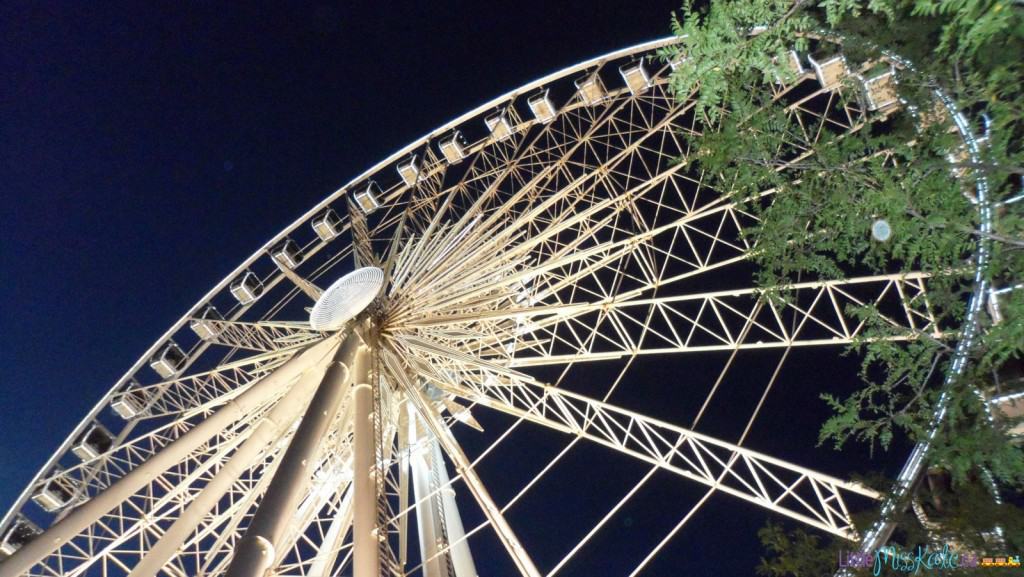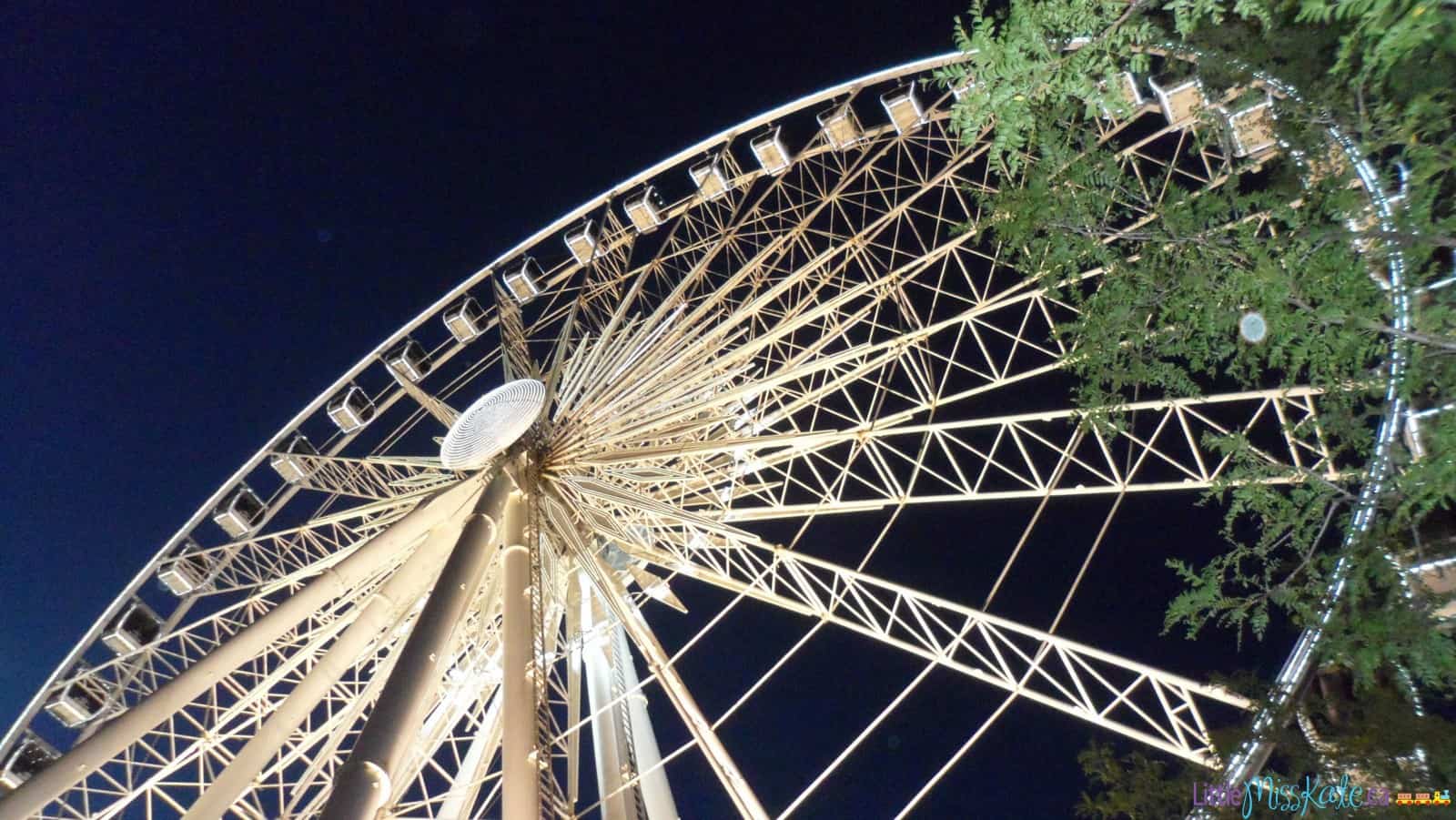 Take in Mini Golf at Dinosaur Adventure Golf in Niagara Falls
Take your kids to Canada's largest mini-golf attraction! Dinosaur Adventure Golf in Niagara Falls is full of adventure for kids of all ages. With two 18 hole courses, this place is a great place in Niagara Falls for kids. There are a total of 36 holes of mini-golf fun. Check out the "Raptor" or "T-Rex" course.
Check out the three decorative ponds at Dinosaur Adventure Golf. They feature fast-moving rapids and bubblers! They truly are a sight to see. There is also a 50-foot high steam erupting volcano. Golfers get to play through an extremely realistic, cavernous interior. This massive 70,000 square foot facility is a fun place for the entire family! It is populated by 50 amazing, realistic, life-sized dinosaurs. Many of which tower over 30 feet high. This intriguing atmosphere is made even more realistic because they have a digital sound system, pumping out sound effects.
Located behind the Niagara SkyWheel, this mini-putt experience in Niagara Falls is a must-visit for families.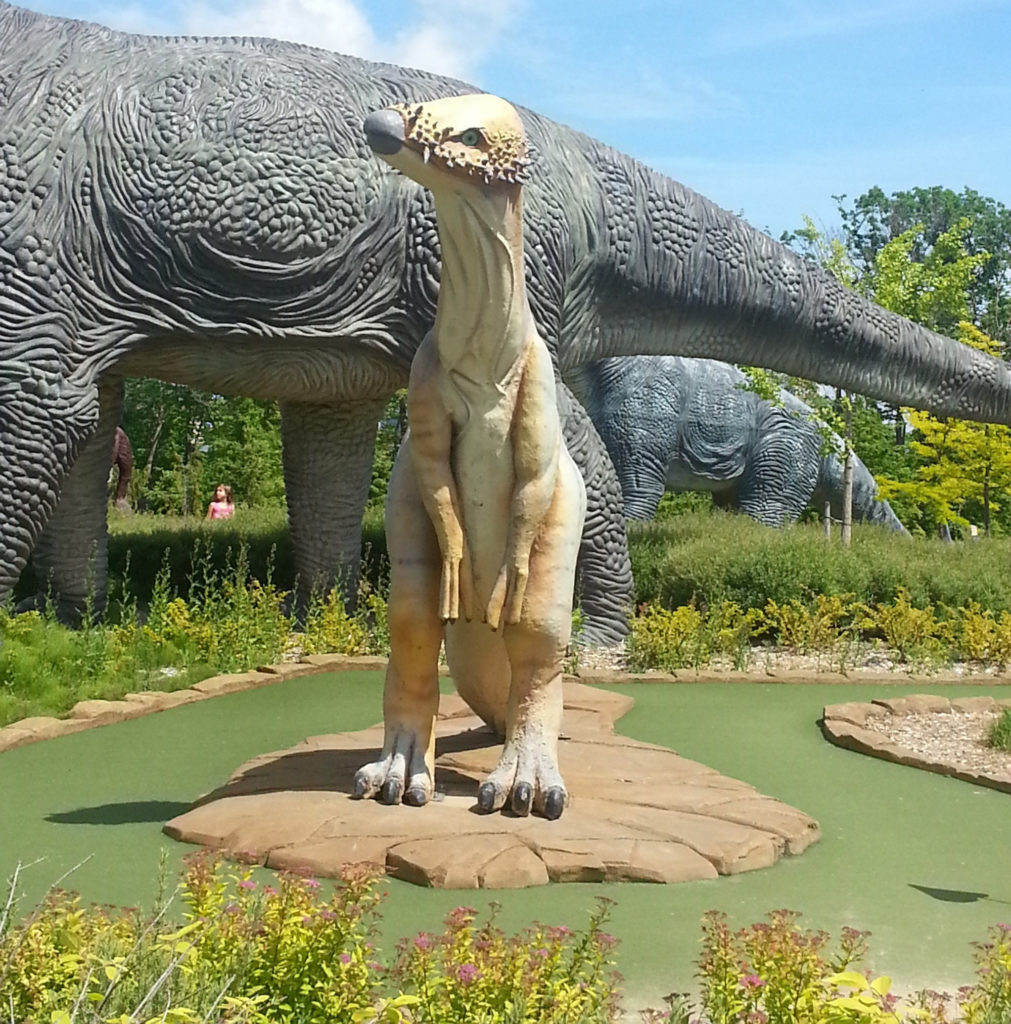 Go Bird Watching at Bird Kingdom in Niagara Falls
Want to go bird watching? This Niagara Falls attractions for Kids is the world's largest free-flying indoor aviary. Bird Kingdom is located a 5-minute walk away from Niagara Falls and is open all year long. Encounter exotic birds and other animals up close and personal. These natural habitats are an experience your little ones won't soon forget.
At Bird Kingdom, you can meet friendly parrots and more. You can even explore the night jungle and see owls, bats and other exciting creatures. Visit Lorikeet Landing and feed and interact with the Lorikeets. No matter if you are a little kid or a kid at heart, this experience is for everyone. Especially if you want an incredibly educational yet fun day. Just don't forget to bring your camera. This is a great indoor activity if it is raining, check out our other suggestions of Things to do when It's Raining in Niagara Falls.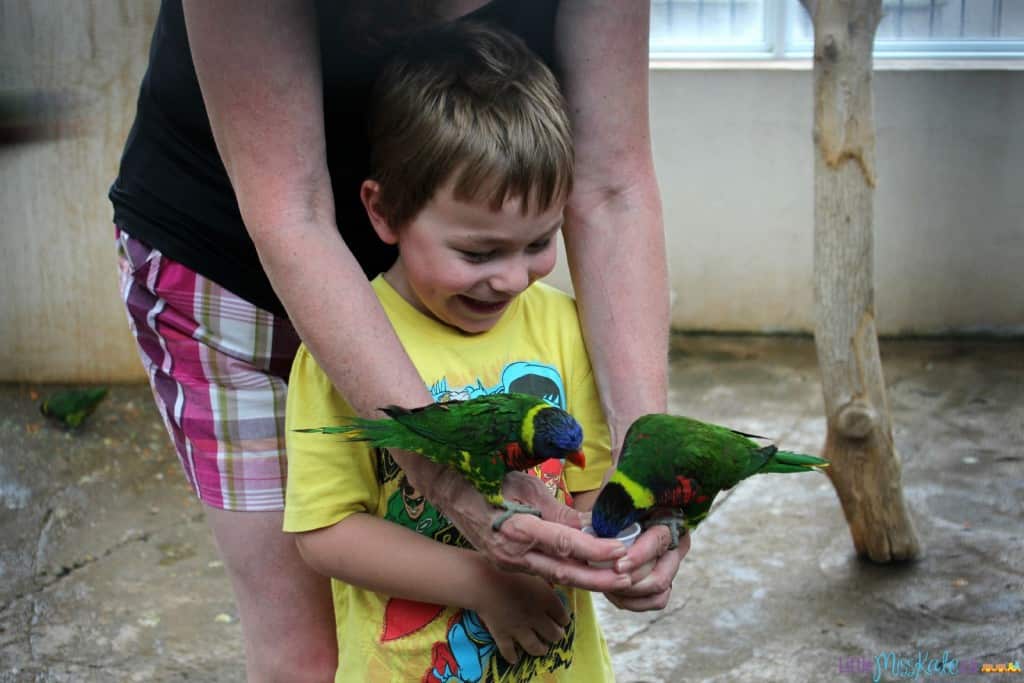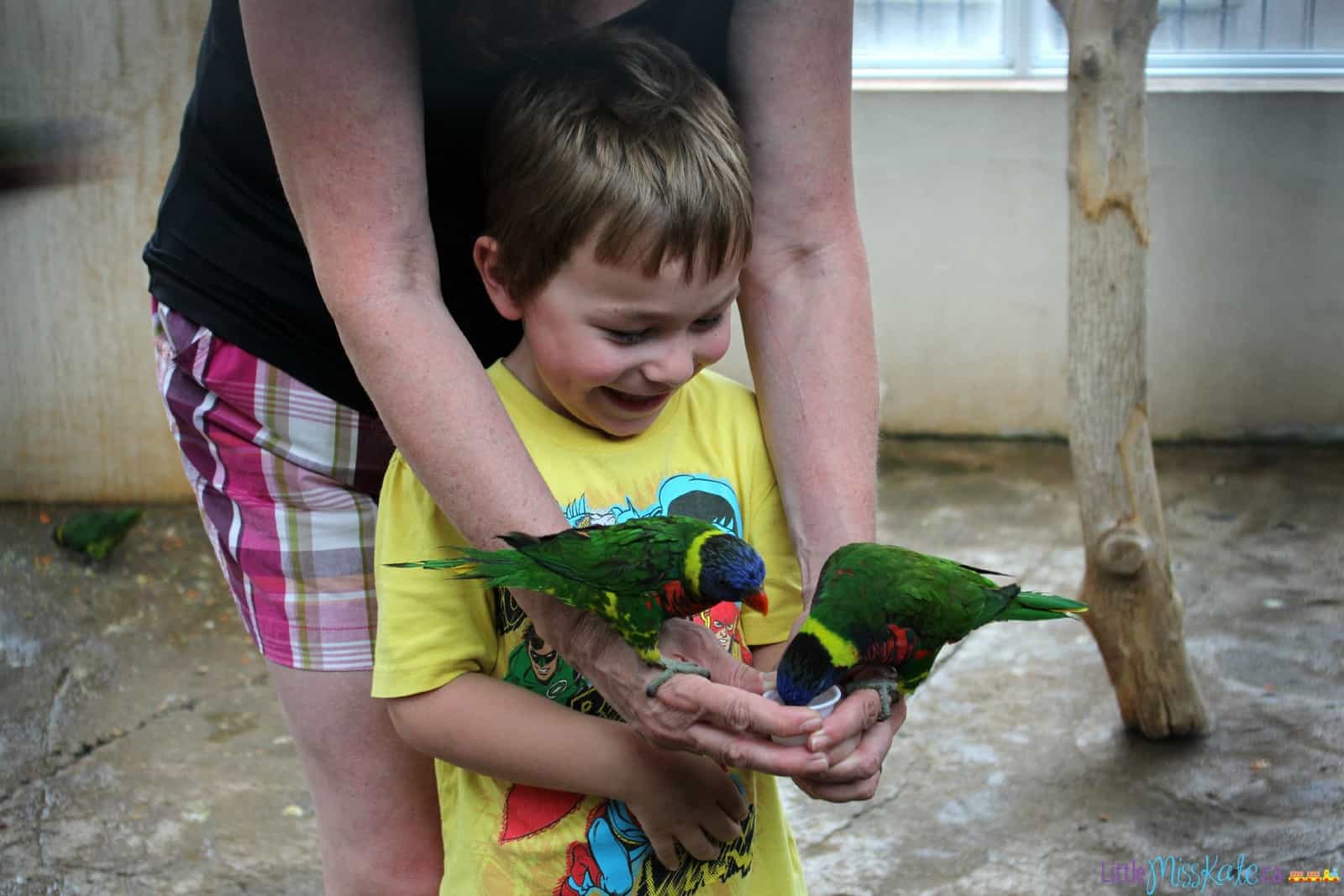 Visit the Niagara Parks Power Station
Looking for a cool and interactive learning experience in Niagara Falls? Visit the Niagara Parks Power Station and take in a little bit of history. This attraction is actually fairly new, but its history speaks for itself. There are several different activities that you can participate in at the Niagara Parks Power Station. Whether your children participate in the Little Inventors workshops, or visit at night and discover the transformational shift of water to electricity with currents, there is something for everyone here.
Located at 7005 Niagara Parkway, Niagara Falls, Ontario this wonderful attraction truly offers an exciting experience. This attraction allows you to explore the first major power plant on the Canadian side of the Niagara River. Check out several different restored artifacts, immersive exhibits and lots of interactive storytelling.
Visiting the Niagara Parks Power Station is an educational and interactive experience. One that everyone of all ages is sure to enjoy.
Check out WildPlay Zipline in Niagara Falls, Ontario
There are many things to do in Niagara Falls with kids. Check out the WildPlay Zipline in Niagara Falls, Ontario and zip your way to the falls! If it is adventure you are after, this attraction delivers.
Zip down 670 metres and soar past the American Falls. Landing is no problem as you glide your way to the top of the falls observation deck located at the base of Horseshoe Falls. The views from this zipline are beyond stunning and sure to impress.
The WildPlay Zipline is a fully guided experience for everyone that participates. Want something a bit different? Check out the WildPlay Whirlpool Adventure Course. This course allows you to check out the Niagara whirlpool while you are suspended high about the Niagara gorge. Offering three different self-paced obstacle courses that include climbing, ziplining and jumping circuit, you are sure to get your blood flowing.
Visit the Skylon Tower
Have you ever been to the Skylon Tower in Niagara Falls? If you haven't we believe you are missing out. Their indoor/outdoor observation decks are considered one of the regions favourite attractions. Board the exterior glass enclosed Yellow Bug Elevators and in about 52 seconds you will enjoy amazing views. You can see the Falls, the Great Gorge, Niagara Winde District and even the city skylines of Buffalo, New York and Toronto.
Hungry? Make reservations at the Revolving Restaurant. It silently rotates 360 degrees every single hour. You will get a constantly changing view of all the beautiful surroundings. An estimated 125kms are viewable from the Skylon Tower's dining room, offering a breathtaking view. The view isn't the only thing spectacular about the restaurant though, because the food is out of this world delicious.
If you do plan to take your kids to Niagara falls a visit to the Skylon Tower is an experience they won't forget. Just remember to take your camera to capture the spectacular views.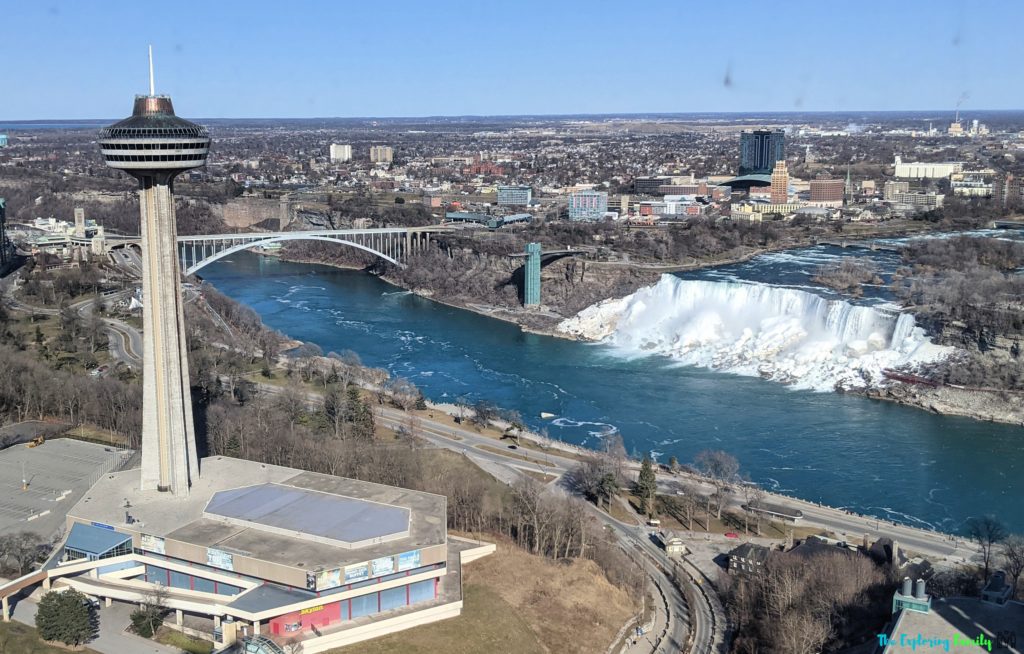 Make a Splash at Fallsview Waterpark in Niagara Falls
Boasting over 125,000 square feet of fun, the Fallsview Waterpark is a fantastic attraction to visit with your kids. There are several different pools, slides and play areas to enjoy at this waterpark. Visiting will provide hours of exciting fun.
Fallsview Waterpark offers so much for the entire family to enjoy. There is a 1,000 gallon tipping bucket, 6 storey high waterslide, a full sized wave pool and more. Bring your bathing suits and get ready for some exciting fun. There is even an option for drier play at the jungle beach playhouse. If you are looking to make a splash, Fallsview Waterpark is for you.
Feed Your Curiosity at Ripley's Believe It or Not!
Want to visit the best spot for family fun in Canada? Visit Ripley's Believe It or Not! With over 10,000 square feet of unique items and oddities, you will be amazed throughout your visit.
Don't forget to bring your camera. The kids will probably love a picture with the World's tallest man. There are also exhibits, interactive displays, curious collections, rare artifacts, illusions, puzzles and more. In fact, if you visit Louis Tussaud's waxworks, you can snap a selfie with the stars. There are over 200 life like, incredibly detailed figures in several different settings to view. It really is a sight to see. This place is absolutely fun for the entire family.
Discover the amazing odditorium that Ripley's Believe It or Not! has to offer. You truly have to see it to believe it…. or not.
Check out the Great Canadian Midway in Niagara Falls
Engage in 70,000 square feet of fun at the Great Canadian Midway in Niagara Falls. Featuring over 300 different games, this place has hours of entertainment for the whole family. If you are looking for things to do in Niagara Falls with kids, this is certainly a great option.
The Great Canadian Midway Entertainment Complex is a fabulous arcade, and so much more. You will find the Wild West Coast Motion Simulator, Fantastic interactive games and even the Spooky Ghost Blasters Dark Ride. From the moment you arrive at the complex, you will be captivated by just how stimulating the environment can be. There are rides and games for people of all ages to enjoy. Play skee-ball and roll-a-ball or try out some of the newer games like No Deal and Super 21.
The upper level of the Great Canadian Midway has a Boston Pizza, where you can enjoy some grub. There are more fantastic games in the upper level too. Want more prize options? Check out the upper level's redemption booth. Whether you decide to take in the rides, stick to arcade games, or do both, The Great Canadian Midway is a fantastic place to take you family in Niagara Falls.
Visit Safari Niagara
Lions, Tigers and Bears. Oh my! Visit Safari Niagara for an interactive and educational experience. If your kids love animals, this is the place to be in Niagara Falls.
A visit to Safari Niagara provides you with several different entertainment options. Participate in guided tours and learn more about the animals and their natural habitats. Check out the live educational and interactive presentations and get hands on knowledge. Take on Safari Niagara's adventure zone and enjoy several different forms of interactive play like the skyquest ropes course and more.
There is always something fun to do at Safari Niagara and so many beautiful animals to visit.
Restaurants in Niagara Falls to Visit with Kids
Experience the Rainforest Cafe in Niagara Falls
Located on Falls Avenue Resort, The Rainforest Cafe in Niagara Falls is an awesome place to visit for a bite to eat, a bit of shopping or both with the kids. This restaurant offers a large menu. As a result, it suits pretty much every taste. Burgers, Salads, Pastas and more are just some of the great menu items featured at the Rainforest Cafe.
The decor is a fantastic touch to this restaurant. You will be captivated with it. Enter the building there is a huge 80 foot volcano to walk through. It really is a sight. The coolest thing? It comes alive with animatronic elephants, snakes and gorillas. The Rainforest Cafe is also the only place that you can experience an indoor thunderstorm. The thunderstorms take place every half an hour. Once the storm ends, keep an eye out for the hidden face in the starscape, shooting stars and more!
Want some awesome merchandise? Don't forget to check out the rainforest store for some before you leave.
Feel Welcome at Table Rock Welcome Centre
Visit Table Rock Welcome Centre in Niagara Falls. This historical building has been transformed. It is bright and spacious when you walk in. Check out the new design, enjoy the architectural features, the dining options at the Table Rock Market, two levels of shopping and more.
Table Rock Centre offers everything you require to make your visit to Niagara parks the most unforgettable one yet. In fact, you can even access Journey Behind the Falls through Table Rock's new entrance.
Feeling hungry? Visit the Table Rock House Restaurant. The food is locally sourced and contributes to an internationally inspired menu. Check out the view of the falls while you are eating.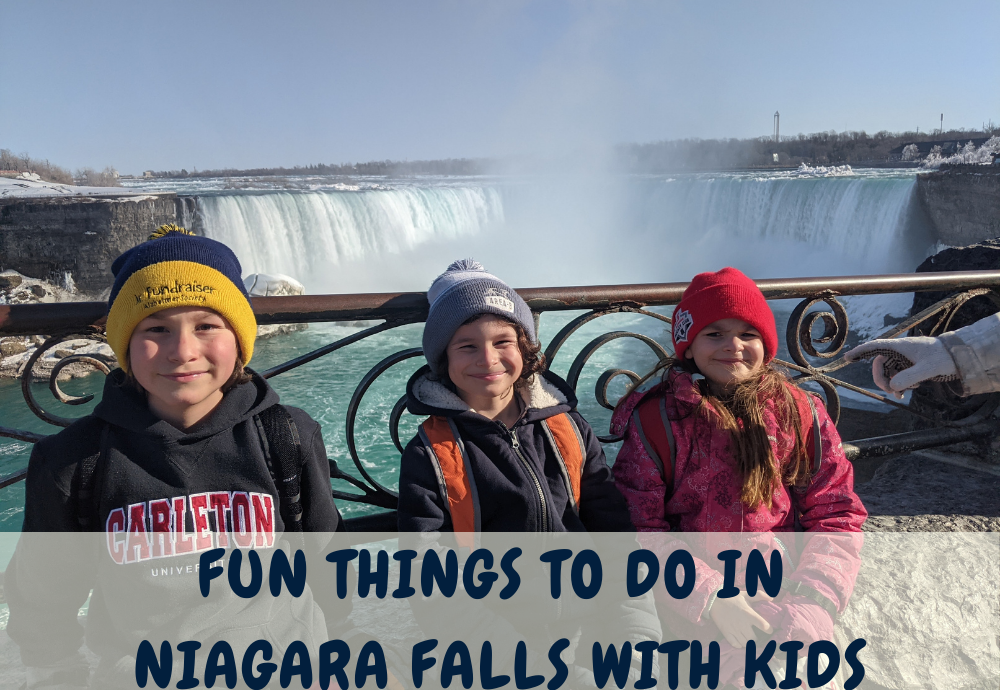 As you can tell, there are several exciting things to do with your kids in Niagara Falls! No matter the weather, the reason or the season, you are sure to find something to do that will make your visit a memorable one. The Best part if you can visit Niagara Falls in Canada or the United States.

If you are visiting Niagara Falls in the United States, you may consider extending your road trip to check out Famous New York Landmarks in New York City, since your already in New York State. The drive between Niagara Falls and New York City is about a 6 hour drive.