If you are looking for the Ultimate Girls Weekend Getaway in Ontario, you are in luck we have the ultimate list of Girls Weekend Getaway Ideas. There are so many different things you can do in Ontario to have an amazing Girls Weekend. One thing my mom taught me very young was that you need time with your friends, not just your partner and family. Although Couples Getaways can be fun, you still need to make time with your friends a priority.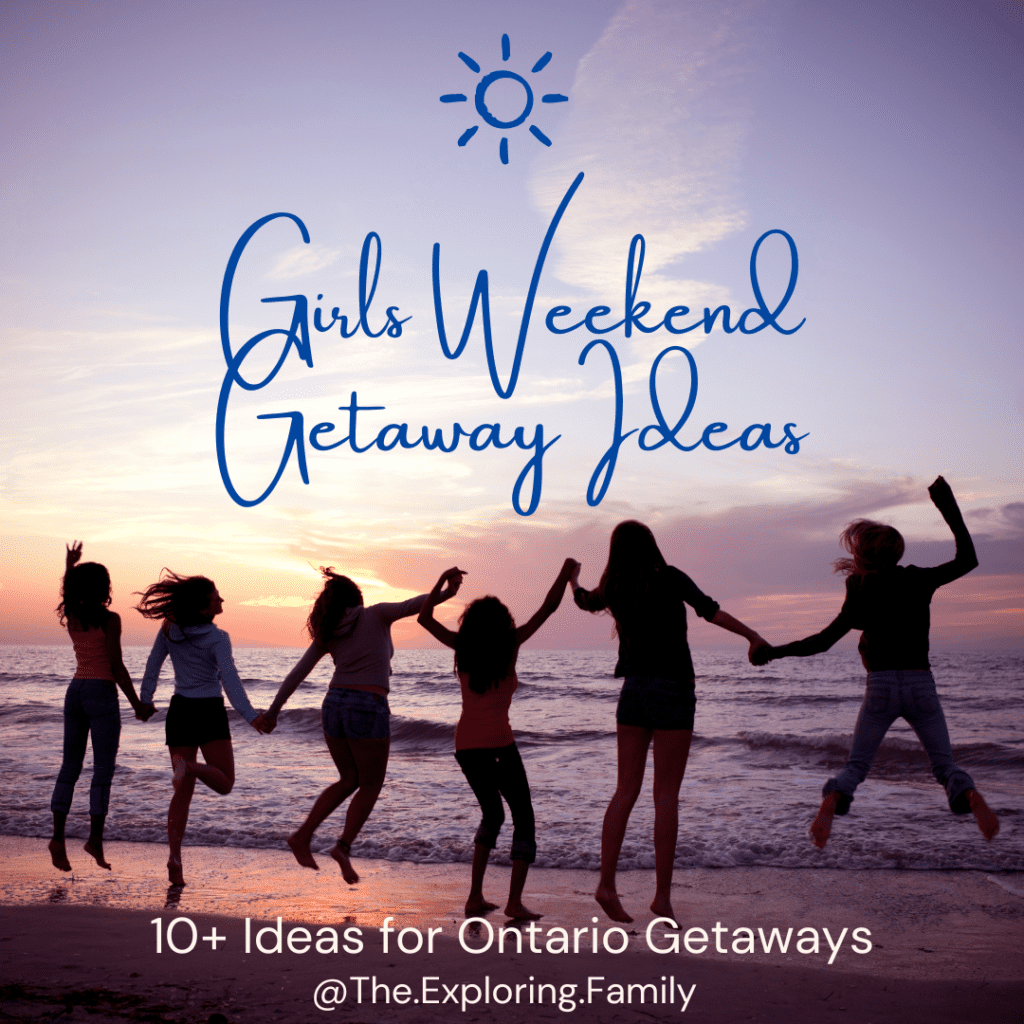 It is nice to get out and about for a weekend with just the girls. Taking a break from the stresses of everyday life is essential once in a while. The importance of having some time with your friends to chat, relax, and explore is essential. Here are some great ideas of girls weekend getaway ideas that will give inspiration from spa weekends to outdoor retreats.
Best Places for a Girls Weekend Away In Ontario
Click the links below to scroll to girls weekend getaways for you and your friends.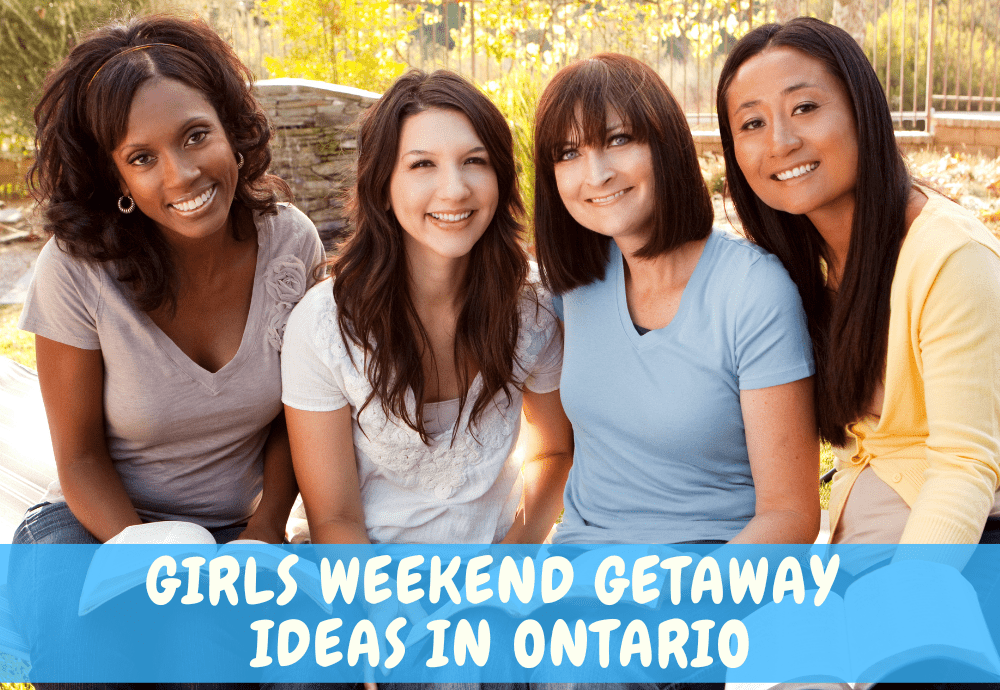 Girls Weekend Getaway Ideas Ontario
There are several fantastic opportunities for a Girls Weekend in Ontario. No matter where you choose to spend your weekend getaway, you are sure to have fun and feel refreshed when its over. Check out the many ideas below, many of which I have tried personally.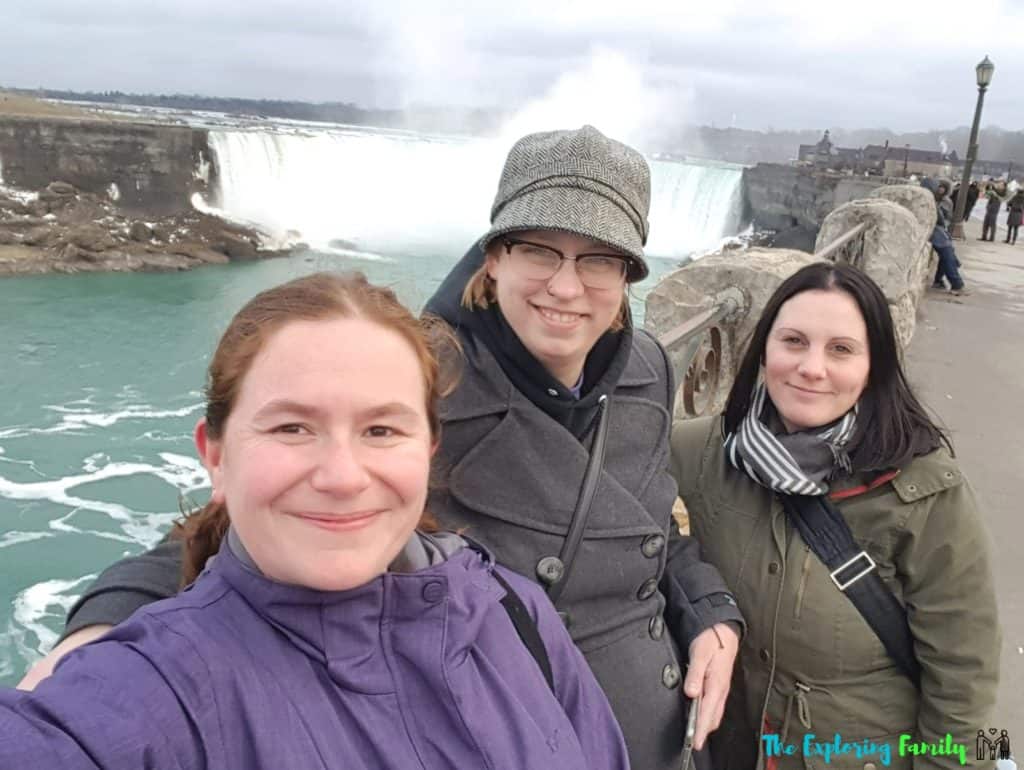 Niagara Falls
Visiting Niagara Falls for the weekend is a great way to experience several different fantastic sights, foods, and relaxation. Book a Fallsview room at a hotel like the Marriott Niagara Fallsview & Spa to get spectacular views of the falls, fantastic food, and an amazing spa.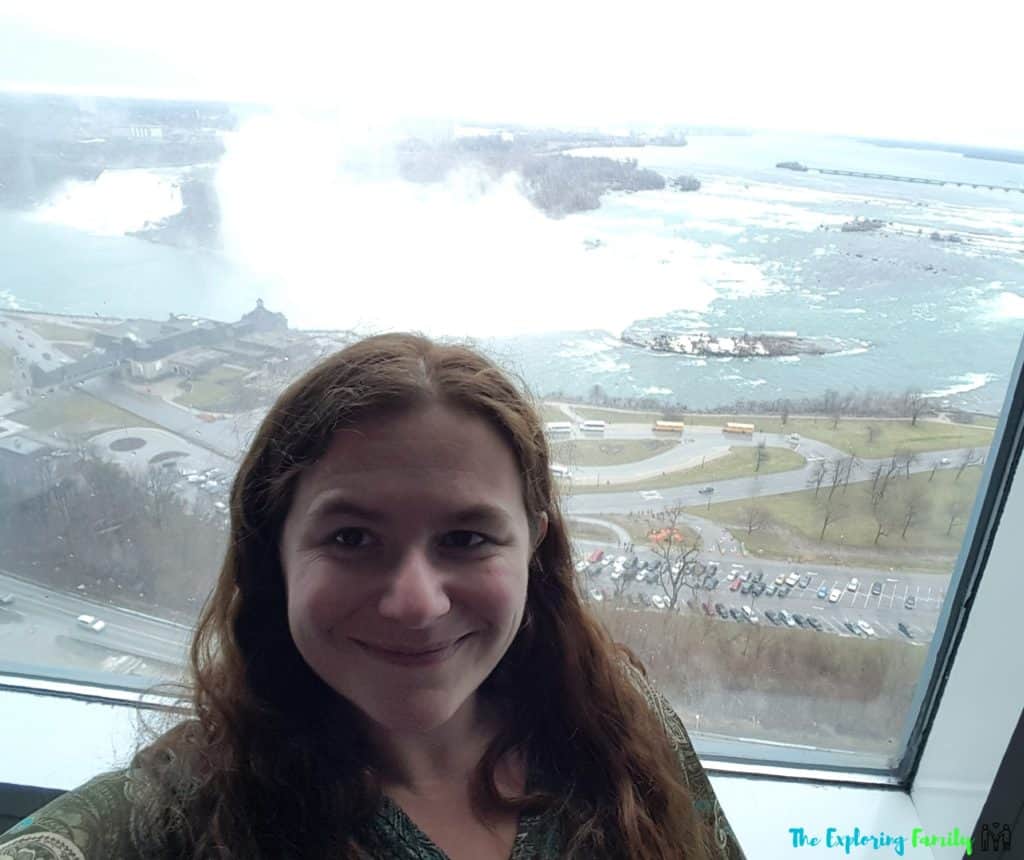 Things to do in Niagara Falls on a Girls Weekend
Visit a Winery in Niagara on the Lake – there are lots of wineries to choose from in the area. We enjoyed a tour and paired tasting at Peller Estates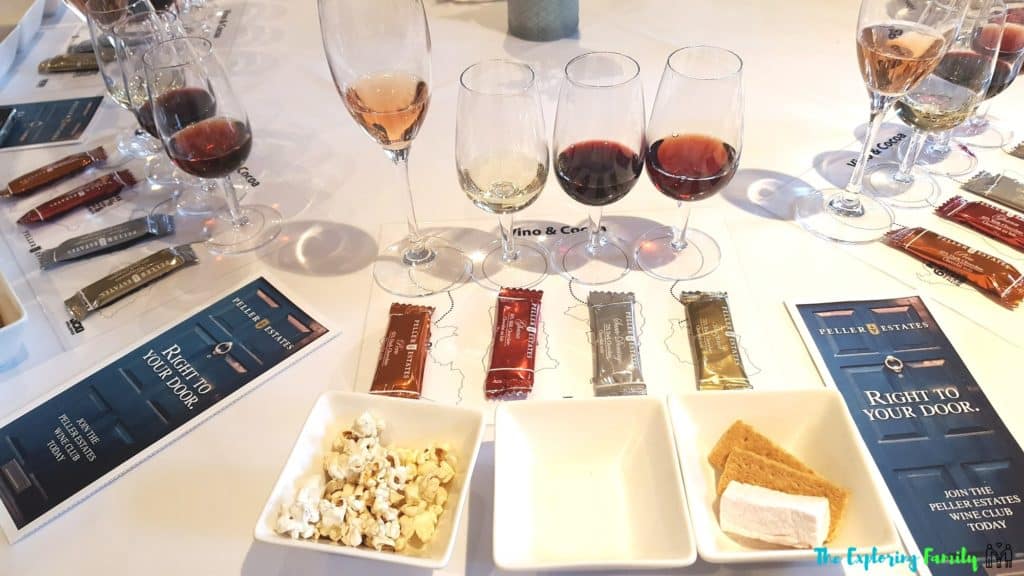 Check out the Hershey's Chocolate Store
Get Spa Treatments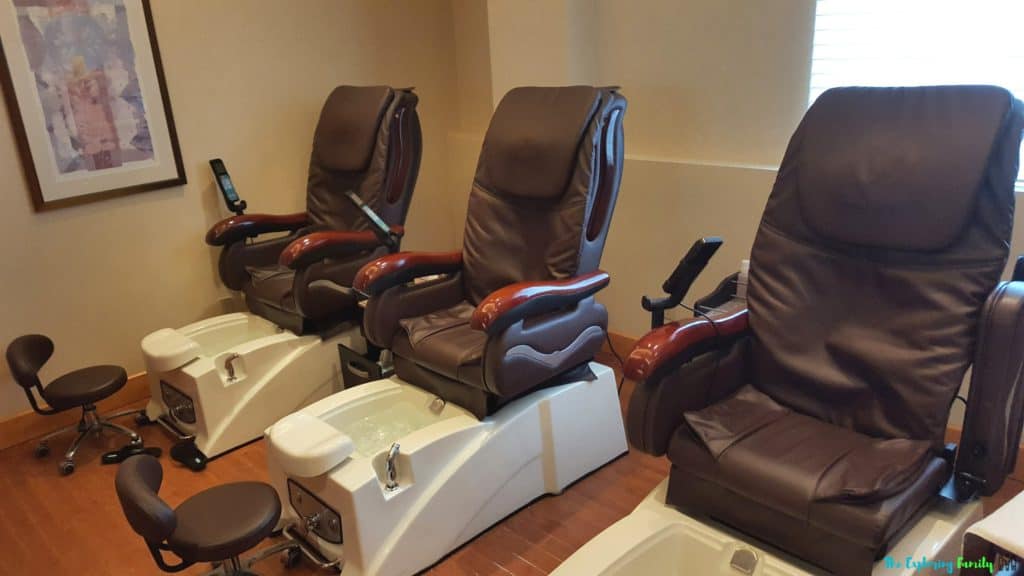 Visit Clifton Hill
Go Ziplining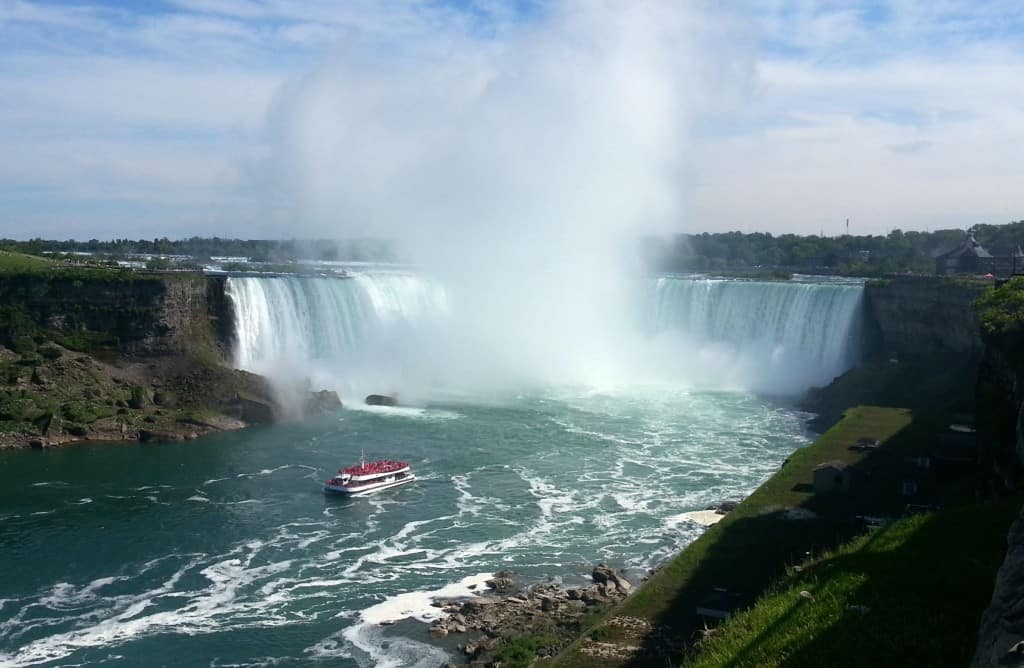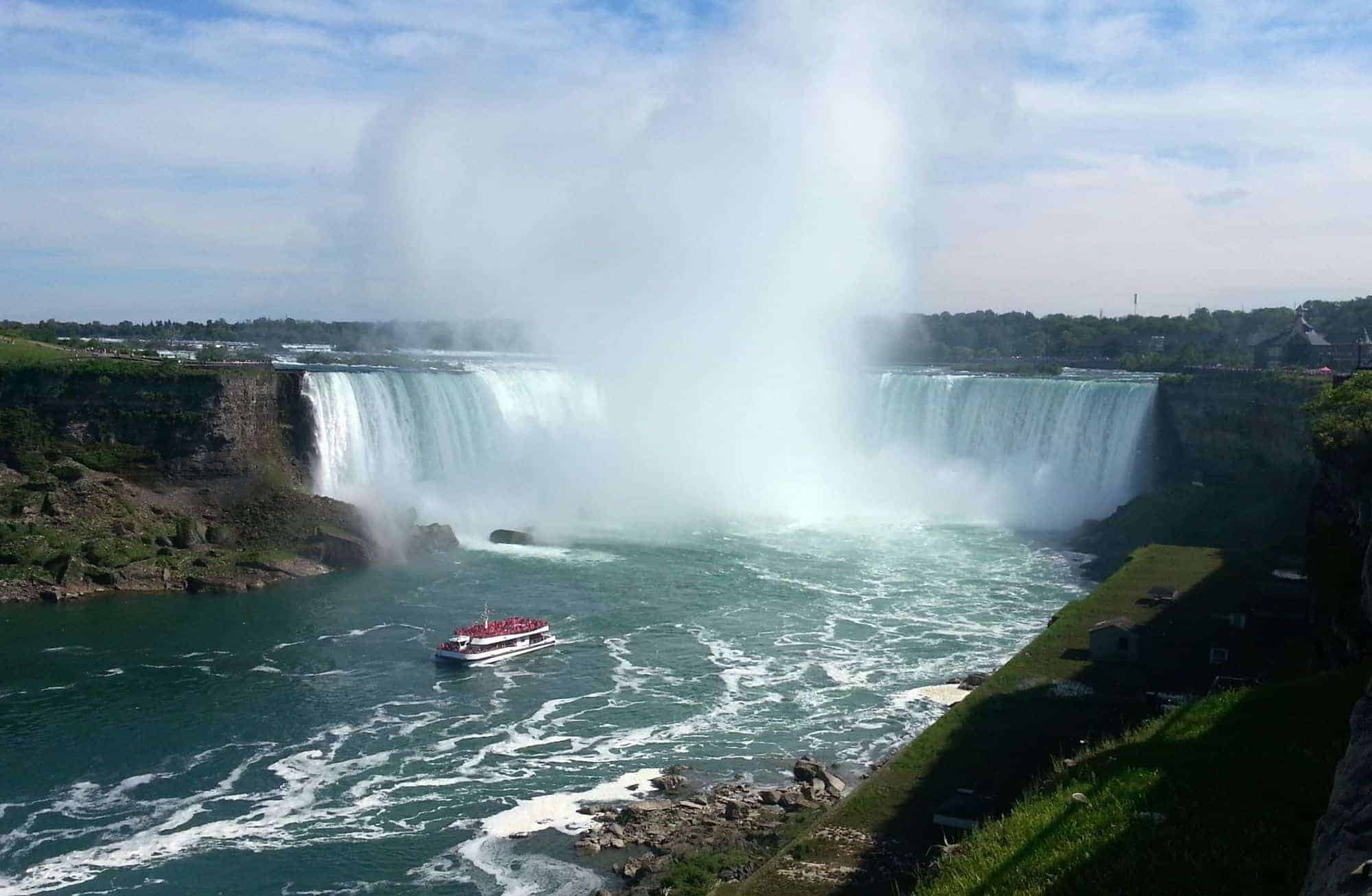 Hockley Valley Resort
Visit Hockley Valley Resort for a fantastic weekend getaway experience in Ontario. If you want a girl's weekend, this is the place for you. Not only is the resort beautiful but there are so many things in the surrounding area that you can participate in. From great food to fun activities, you are sure to enjoy your visit.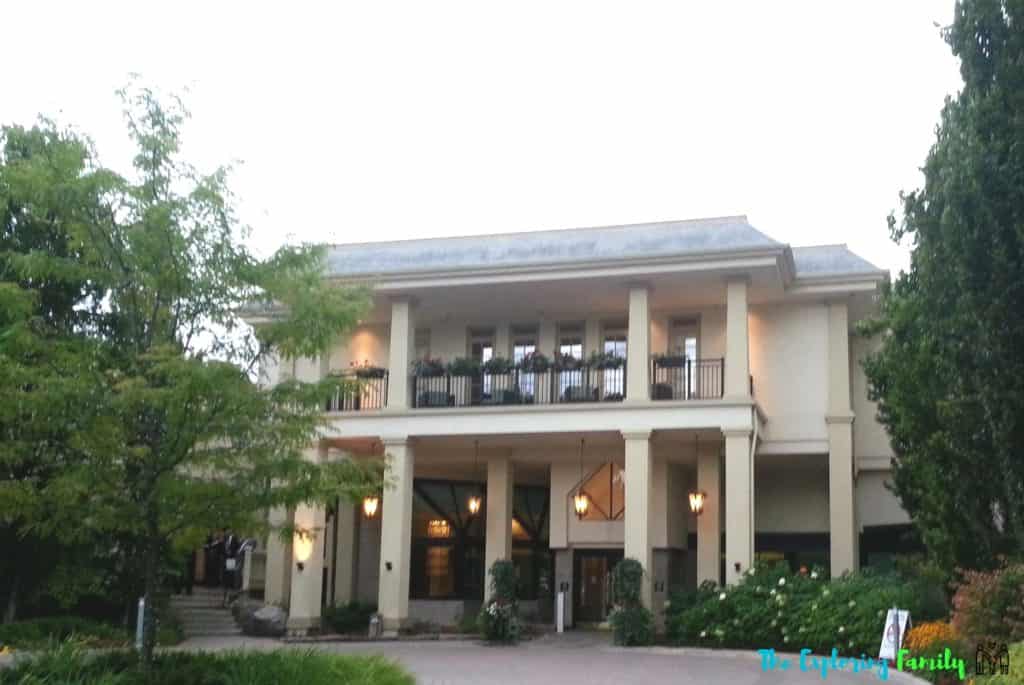 Make sure to check their website for any special promotions they have going on that include meals, spa credits or other perks. Hockley Valley has both indoor and outdoor pools, hot tub and sauna. Spend the day at the Spa, or enjoy your time outdoors hiking or mountain biking.
Things to do at Hockley Valley Resort
Golfing
Skiing and Snowboarding
Get Spa Treatments – they offer everything from facials and body treatments to RMT massage and manicures.
Go Hiking at nearby Mono Cliff's Provincial Park
Enjoy dinner at the hotel – at Cabin, Babbo, or outdoors in a Globe (Special event)
Pick up treats at Wicked Shortbread in Orangeville – this bakery offers amazing baked treats including shortbread, butter tarts, cupcakes, macarons, and my favourite 7th Heaven Bars.
Do some shopping along Broadway in Downtown Orangeville – including clothing, art, lifestyle, book stores and more.
Toronto Grand Hotel
The Grand Hotel in Toronto is a fantastic place to spend your next girlfriends weekend getaway Ontario has to offer. In fact, this is one of the best places for a girl's weekend. The hotel itself is beautiful and has a variety of different room options. Choose from one of their amazing packages to make your getaway truly special.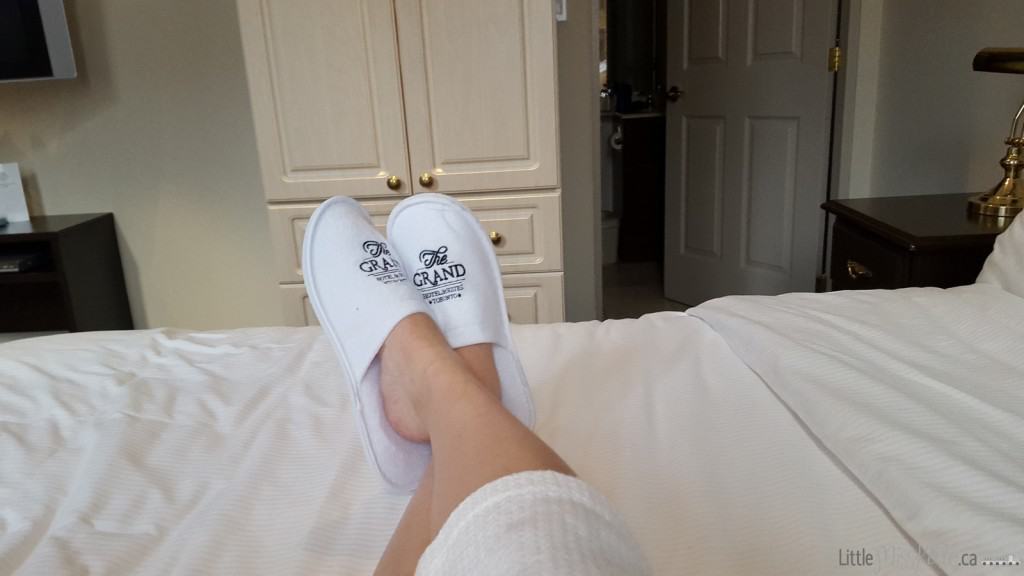 The location of The Grand hotel is walking distance to Yonge-Dundas Square. On our girls weekend away we enjoyed a VIP movie at Cineplex, shopped at the Eaton's Centre, explored downtown Toronto and relaxed in the rooftop hot tub. Make sure you remember to to bring beverages in container that are NOT glass if you head up to the rooftop. Plastic or stainless steel containers are great options.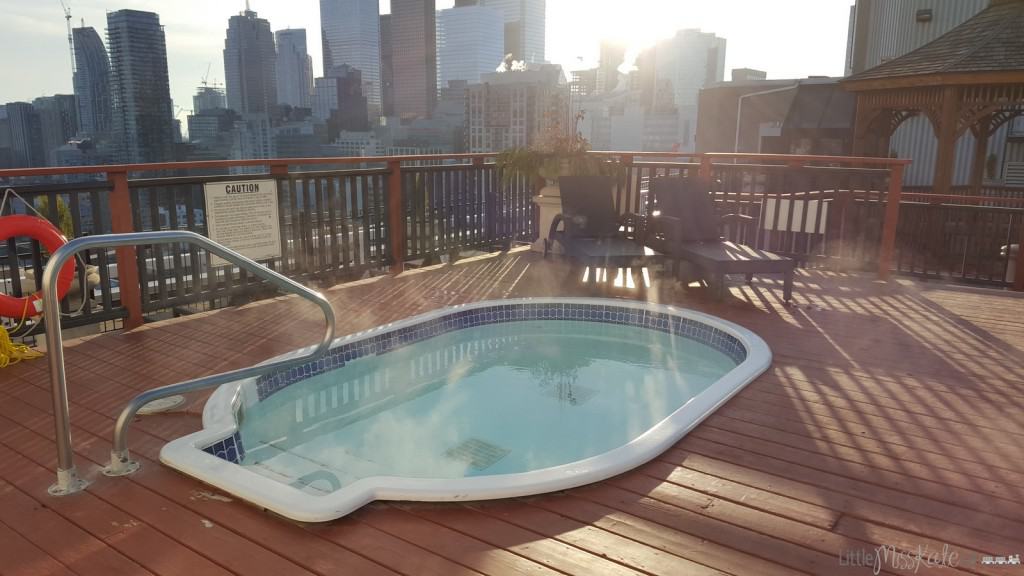 Things to do at the Toronto Grand Hotel
Visit the rooftop hot tub
Enjoy spa treatments
Visit the nearby Cineplex VIP theatre
Go Shopping at the Eaton's Centre
Rustic Mama Retreats Girls Weekend Getaways
If you are looking for out-of-this-world girls weekend getaway ideas, Rustic Mama Retreats delivers. With retreat locations located across Ontario, and even internationally you will be sure to find one to fit your schedule.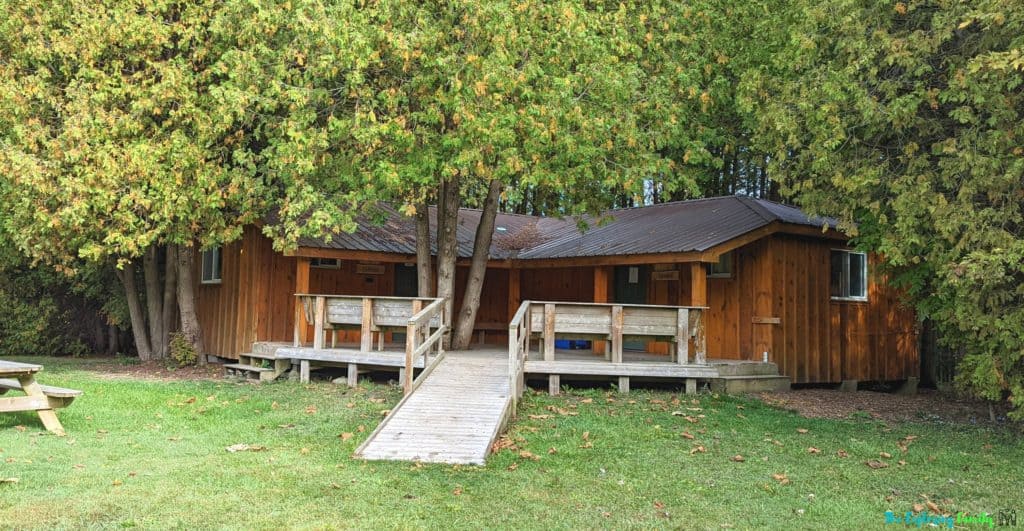 A Rustic Mamas retreat is like sleep away camp for adults. They provide accommodation, meals and wine, and a wide variety of activities and entertainment. They have retreats that focus on spiritual wellness, crafting, or the classic "Rustic mama" retreat.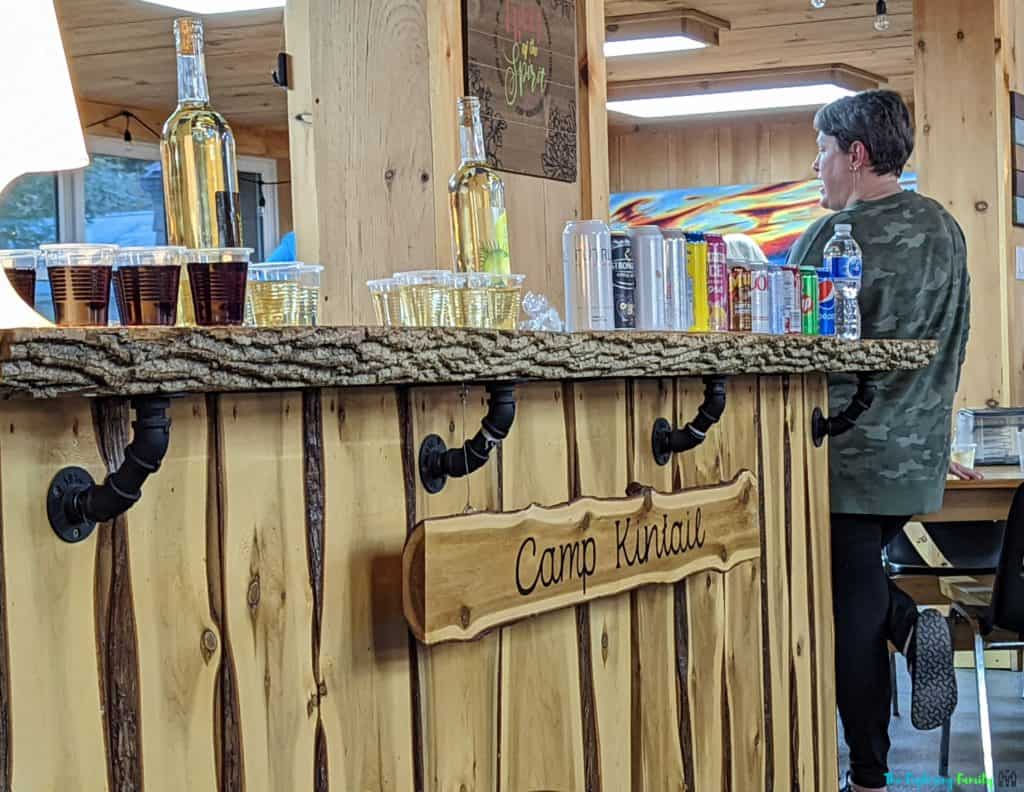 I wasn't sure what to expect when it came to the food at a retreat like this. But Camp Kintail food was delicious and fresh with a great variety. We were never hungry with plenty of options, plus there were snack available between meals. I had brought snacks to share in our cabin, but they were never needed and ended up coming home with me at the end of the weekend.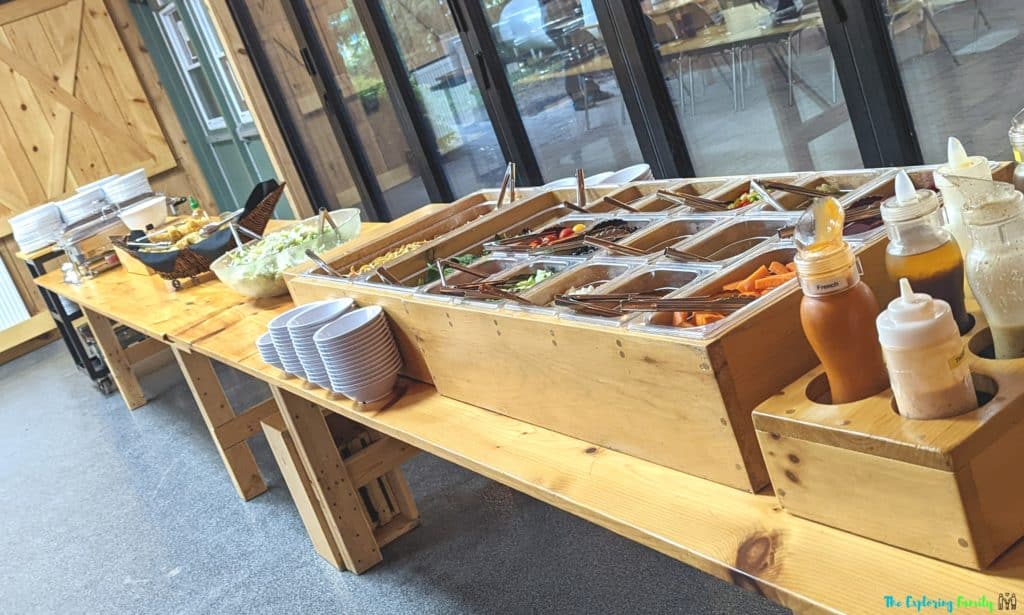 Don't worry, you don't need to be a mom to attend. I went with a group of 3 friends at Camp Kintail and we had a blast. There were lots of opportunities to catch up with each other and share lots of laughs. We were all able to pick our own workshops which was perfect, I enjoyed crafty workshops like blanket ladder making and wine caddy making. While my friends enjoyed cake decorating, fitness bootcamp, cocktail making and others.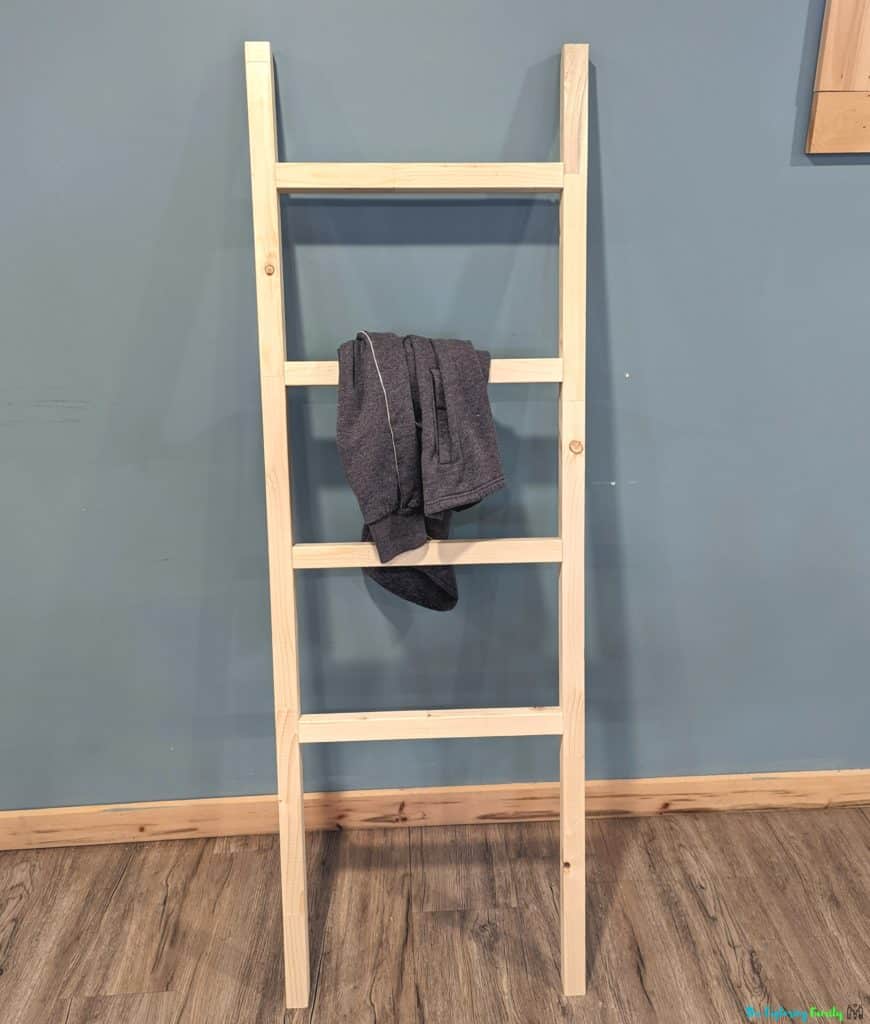 It is a great option if you have a diverse group of friends who like different activities, everyone can pick what they like to do. If you prefer to enjoy a book by the fire or playing a card game, you can skip the workshops all together and just soak up the downtime.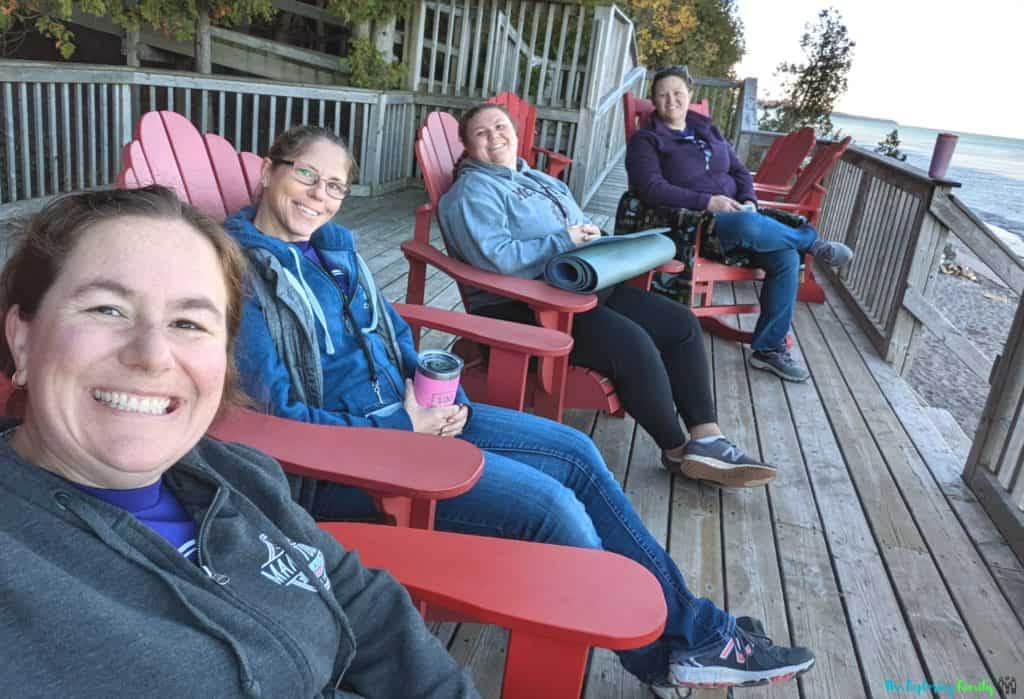 Things to do at Rustic Mama Retreats
Several different retreat themes
Crafting
Dancing
Spiritual wellness
Informational Sessions and workshops
Campfires
Ropes Courses
& More
Elmhurst Inn
This gorgeous inn offers several different packages that would be perfect for a girl's weekend. The PJ party for 4 offers overnight accommodation, breakfast, 2 bottles of wine, cheese try, manicure or pedicure, and more! Everything you need for an awesome night away with friends.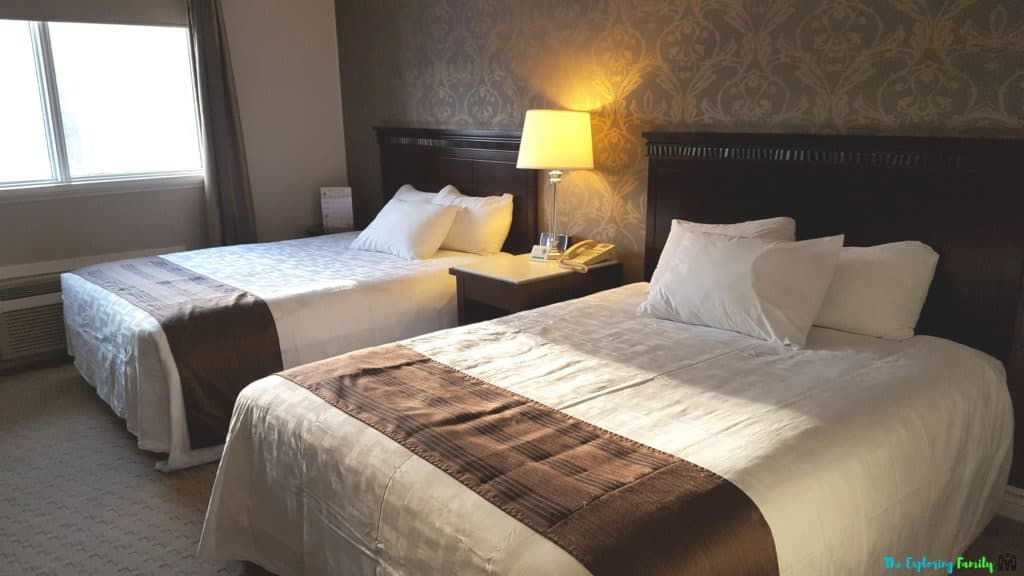 There is a great restaurant, spa, and more located on 30 acres of gorgeous countryside. Check out the Elmhurst Inn in Ingersoll for your next girl's getaway.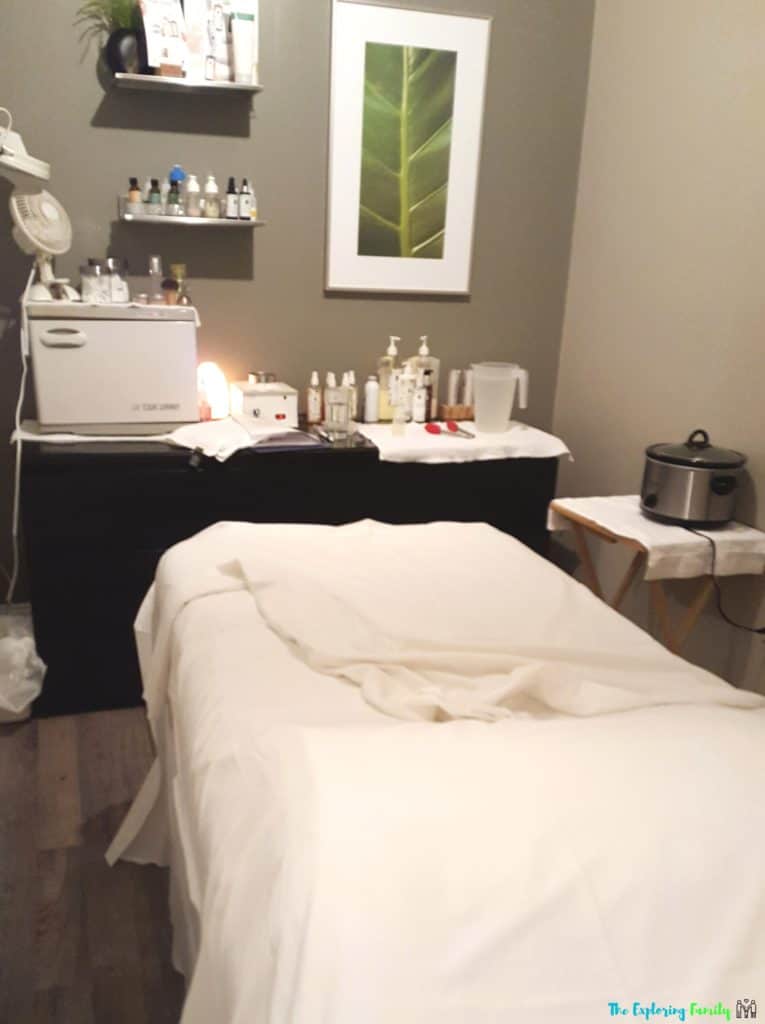 For our girls getaway we choose our own spa treatments so each person could enjoy some pampering the way they like. I had an excellent hot stone massage that left me feeling relaxed and rejuvenated. They also had a sauna and hot tub available for guests of the spa to use.
Things to do at Elmhurst Inn
Get a spa treatment
Enjoy dinner at their fine dining restaurant
Take a trip into Ingersoll or nearby London for some shopping
Enjoy the weekend breakfast buffet
Relax in luxury
Hamilton
Hamilton is a beautiful place to enjoy a girl's weekend. Book a room at a nearby hotel and experience the rich culture Hamilton has to offer. With so many fun and exciting activities to participate in. Hamilton is a great place for a great girls getaway.
Things to do in Hamilton
Visit Art Gallery of Hamilton
Hunt for Waterfalls in Hamilton
Get dinner at a nearby restaurant
See live music at a local spot
Go hiking
Visit a Hamilton Spa
Blue Mountain
Blue Mountain is a wonderful place to visit, there are many indoor and outdoor activities you can enjoy here. Book a room at Blue Mountain Inn or one of the suites at the resort. They have a beautiful spa, restaurants, and more that everyone is sure to enjoy. Spend your next girls weekend in Ontario at Blue Mountain.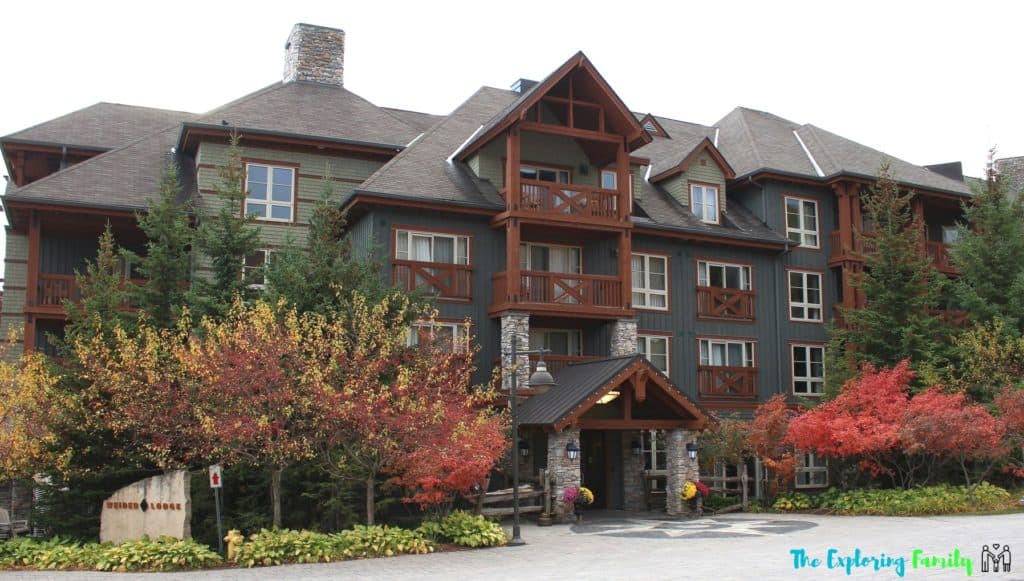 The Blue Mountain Village offers a huge selection of shops to explore along with a wide variety of restaurants to stop and enjoy a meal at. There are several seating areas where you can stop and watch the world go by.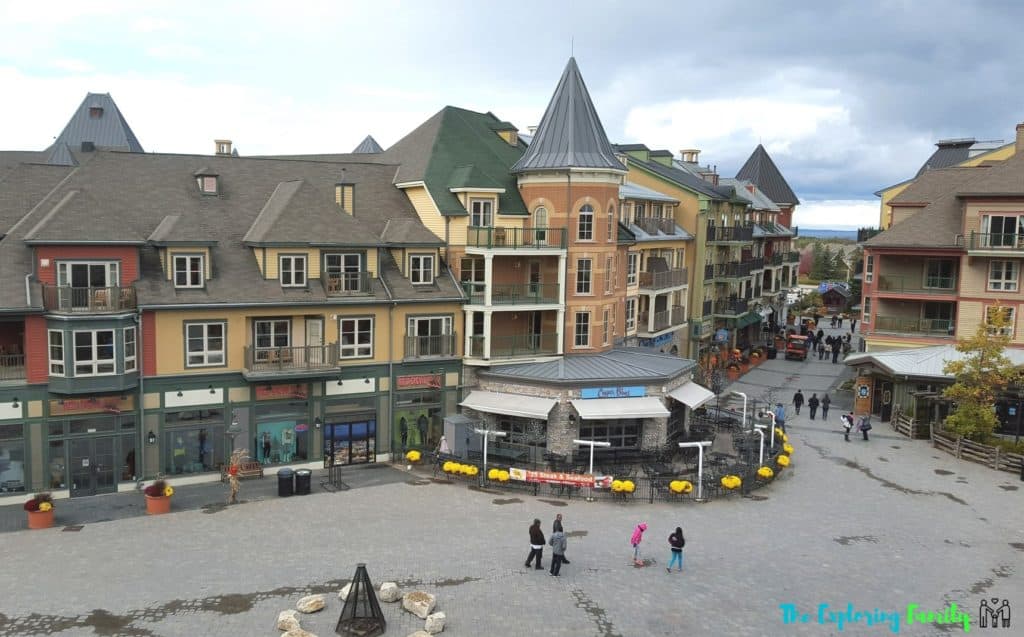 Outdoor adventure activities at Blue mountain include the High Ropes Course – a great activity for those who are not too afraid of heights. The views from the look outs were beautiful to take in the fall colours.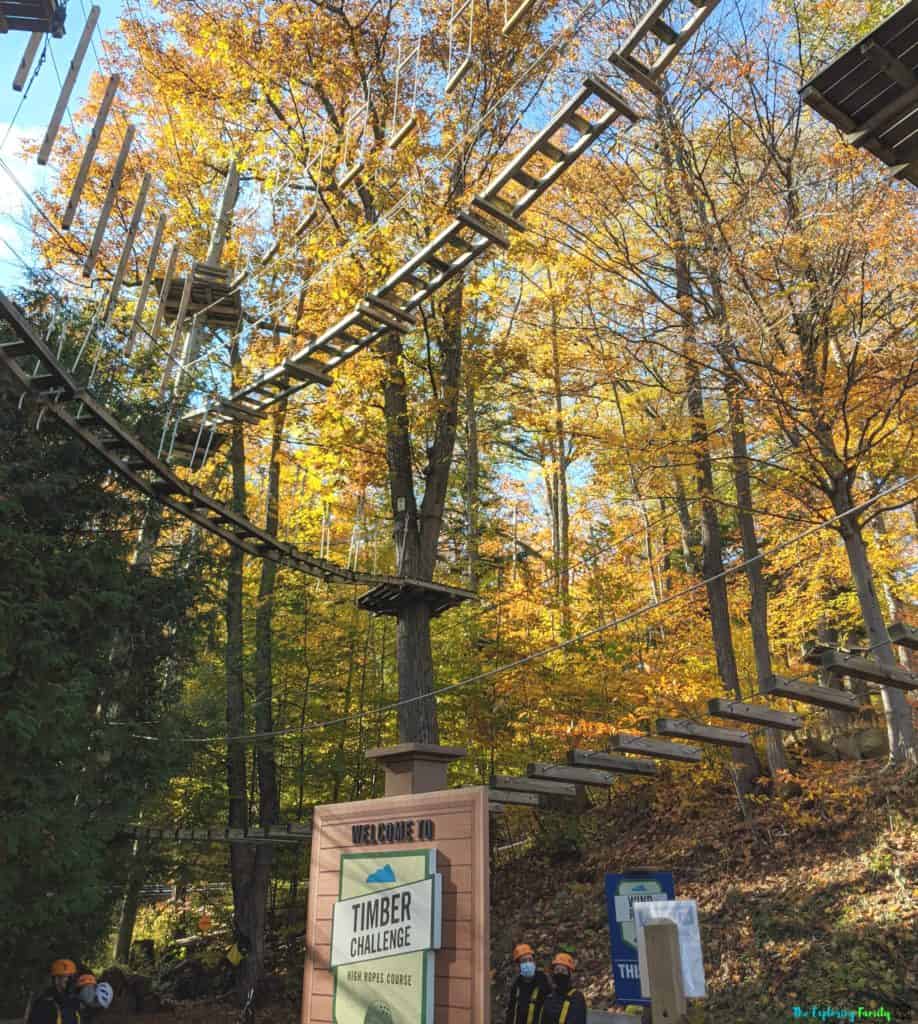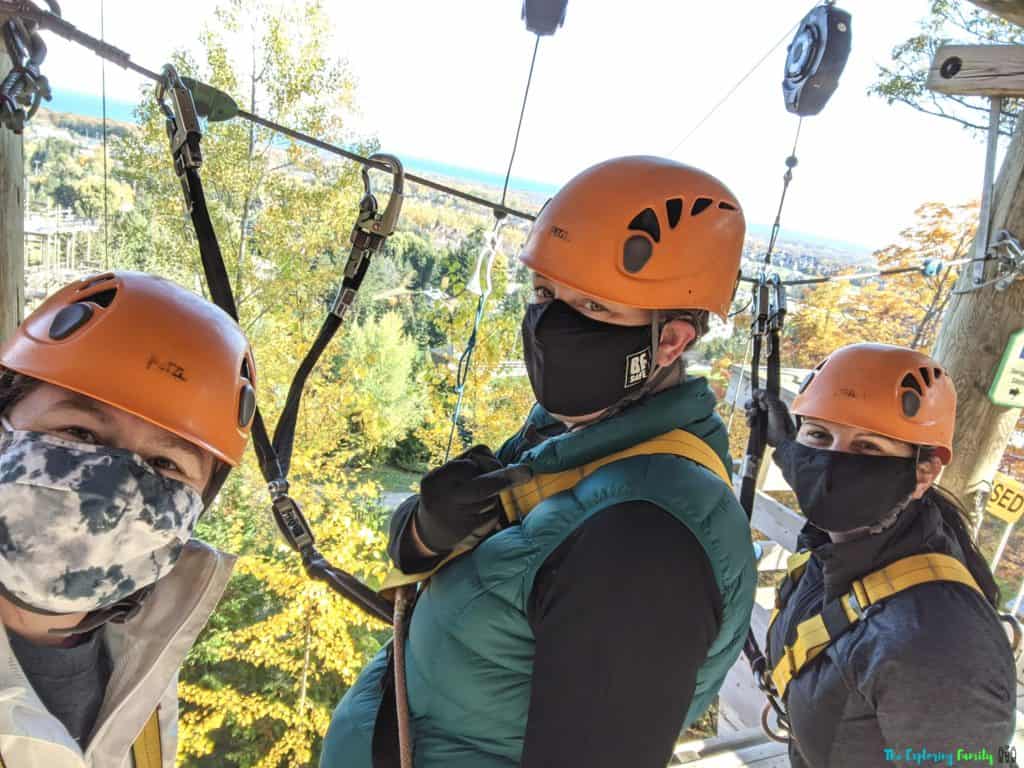 If high ropes are not your speed then a trip up the gondola might be just what you need. Just step on and ride up the mountain to stunning views and hiking trails. Blue Mountain offers a wide range Girls Weekend Getaway Ideas from spa relaxation to outdoor adventure.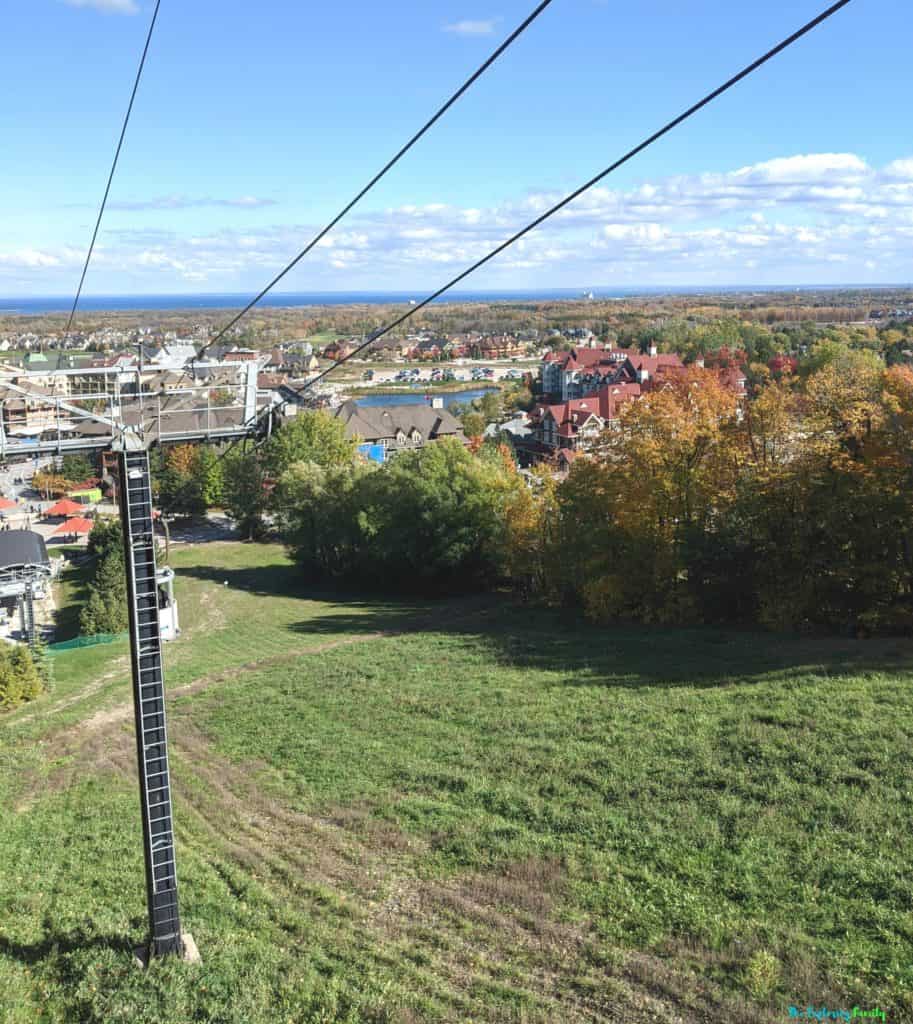 Things to do at Blue Mountain
Hiking
Pottery painting
Ride the Gondola
Check out the High ropes
Go Skiing
Get spa treatments
Enjoy a delicious meal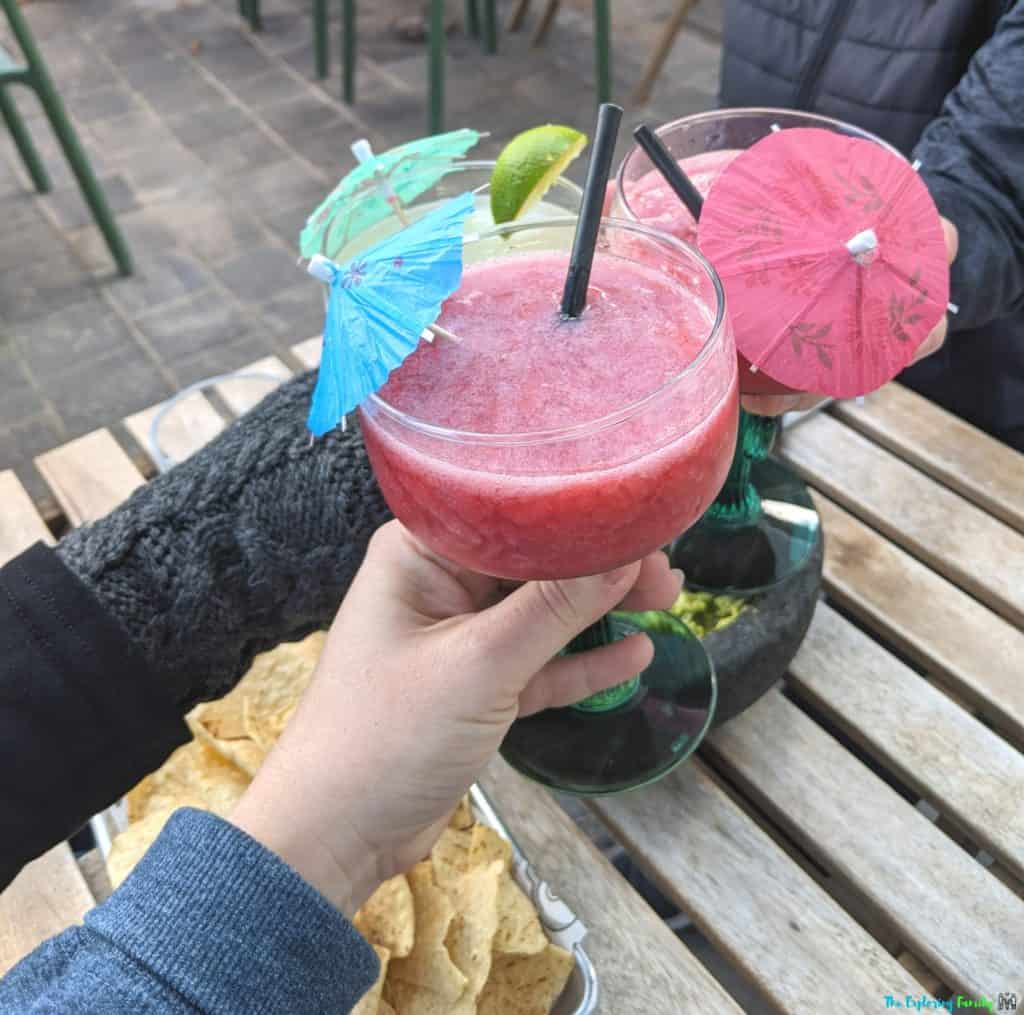 Ste. Anne's Spa
The ultimate relaxing girls weekend is just ahead when you book a package at Ste. Anne's Spa. Located in Grafton Ontario, this amazing place offers day trips and overnights. With several different packages to choose from you are sure to enjoy your stay. Stay in the historic castle, a cozy room or a spa cottage.
Things to do at Ste. Anne's Spa
Book a spa package
Enjoy a swim
Enjoy a delicious meal
Go hiking
Visit the rose garden
Relax in a hammock
Visit the bakery for some treats
Nordik Quebec
If you want the ultimate girls weekend, Nordik Quebec is for you. This is the largest spa in all of North America and it focuses on many different relaxation techniques. If you are looking to relax in luxury, this is the spot. Check out their spa packages, their amazing lodges and cottages and more.
You will find the Nordik Spa just outside of Ontario, located just across the Ottawa River, approximately 20 minutes from Ottawa.
Things to do at Nordik Quebec
Enjoy a meal at one of their 4 amazing restaurants
Get spa treatments
Enjoy the 10 outdoor baths
Swim in the infinity pool
Enjoy a visit to the sauna
& More
Silent Lake Provincial Park
Glamping at Silent Lake Provincial Park is a fantastic girls' weekend getaway in Ontario. There are so many fun things to do at Silent Lake and spending a weekend here is a great way to relax. Glamping here is a great way to enjoy the outdoors in the lap of luxury.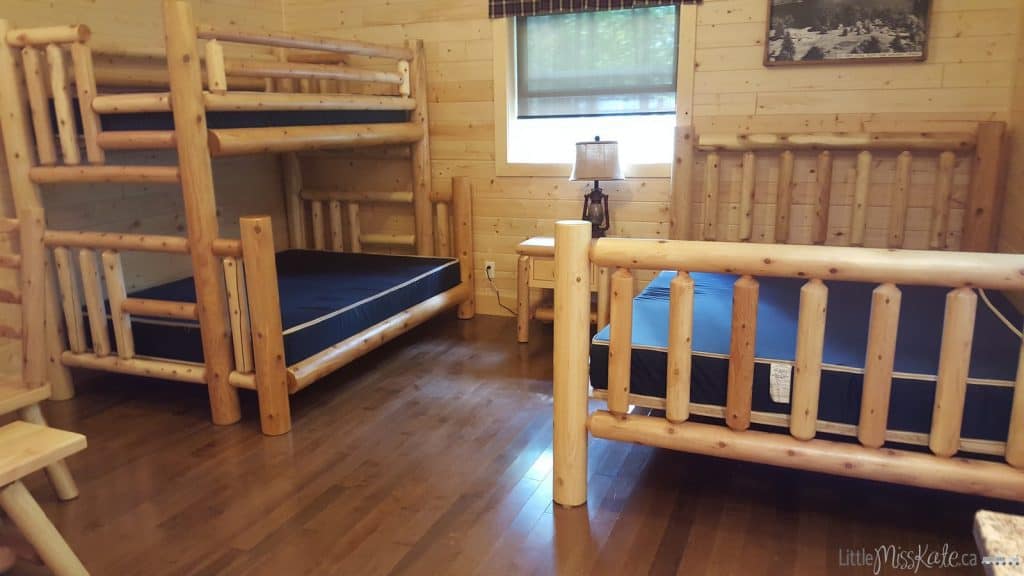 Things to do at Silent Lake Provincial Park
Go canoeing
Go hiking
Fish
Skiing
Snowshoeing
& More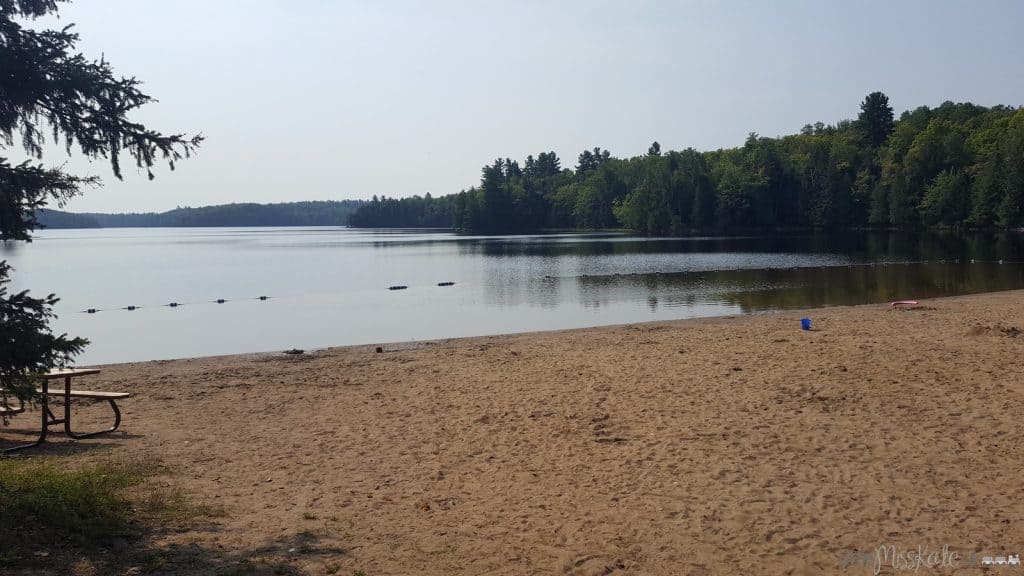 There are several fun things to do at Silent Lake Provincial Park.
Toronto Fairmont Royal York
A girls weekend in Toronto is something to look forward to. Book a room at the Fairmont Royal York. They have several different gorgeous rooms to choose from. Close to several amenities and offering some delicious food options, you can choose to stay in the room or go out and adventure downtown Toronto.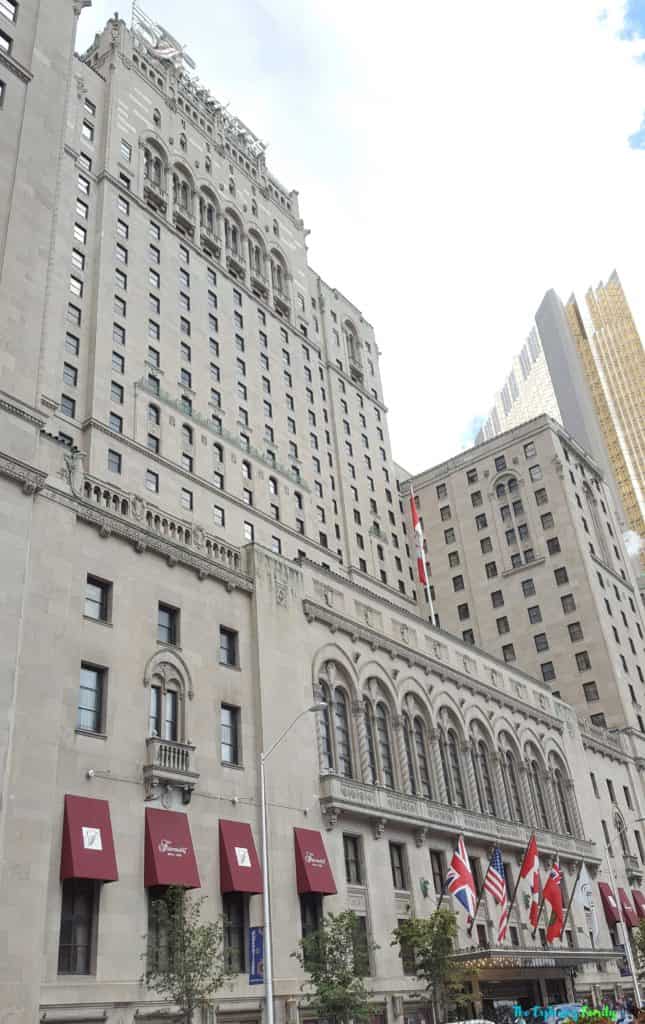 Things to do in Downtown Toronto
Enjoy a drink at the library bar
Take in a sporting event
Watch a theatre show
Visit Ripleys Aquarium in the evening
Take a trip to the CN Tower
& More.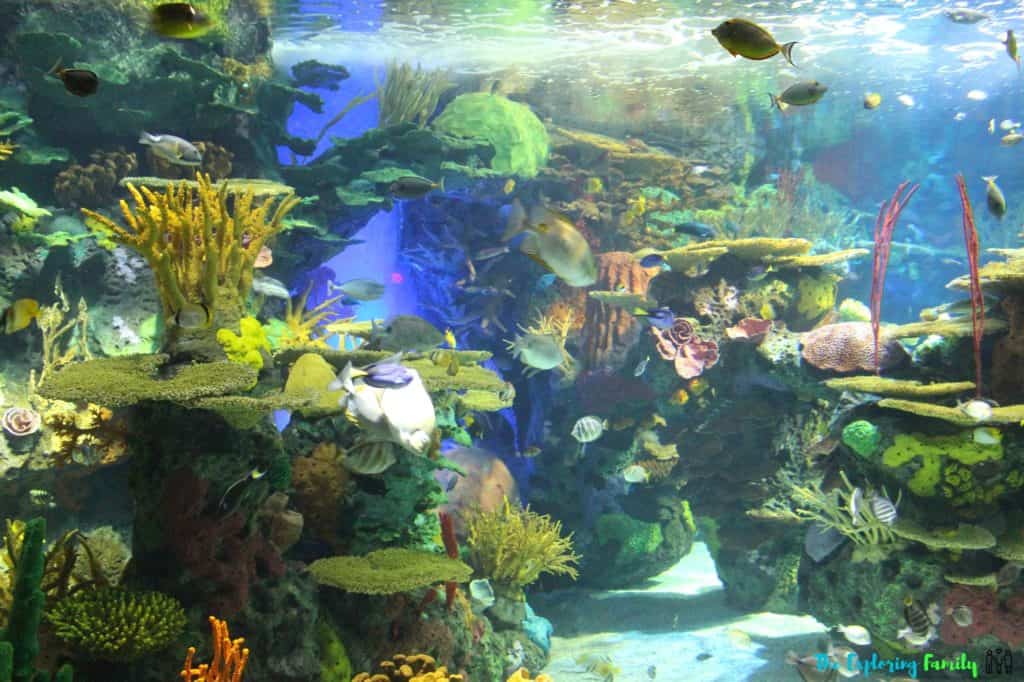 If you are planning a girls weekend getaway, there are several places in Ontario that will really impress. There are many girls weekend getaway ideas Ontario has to offer, so book your fun escape today.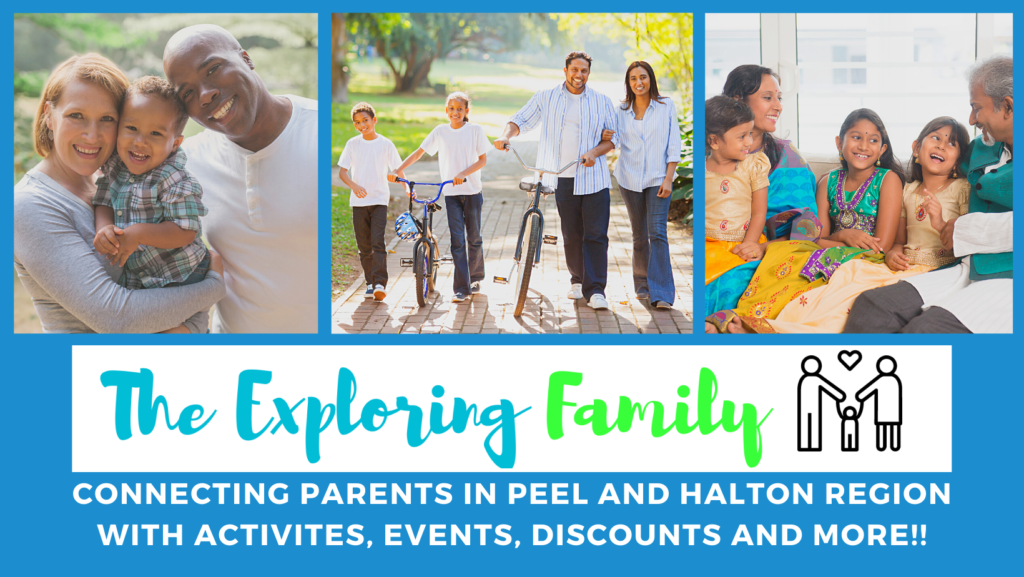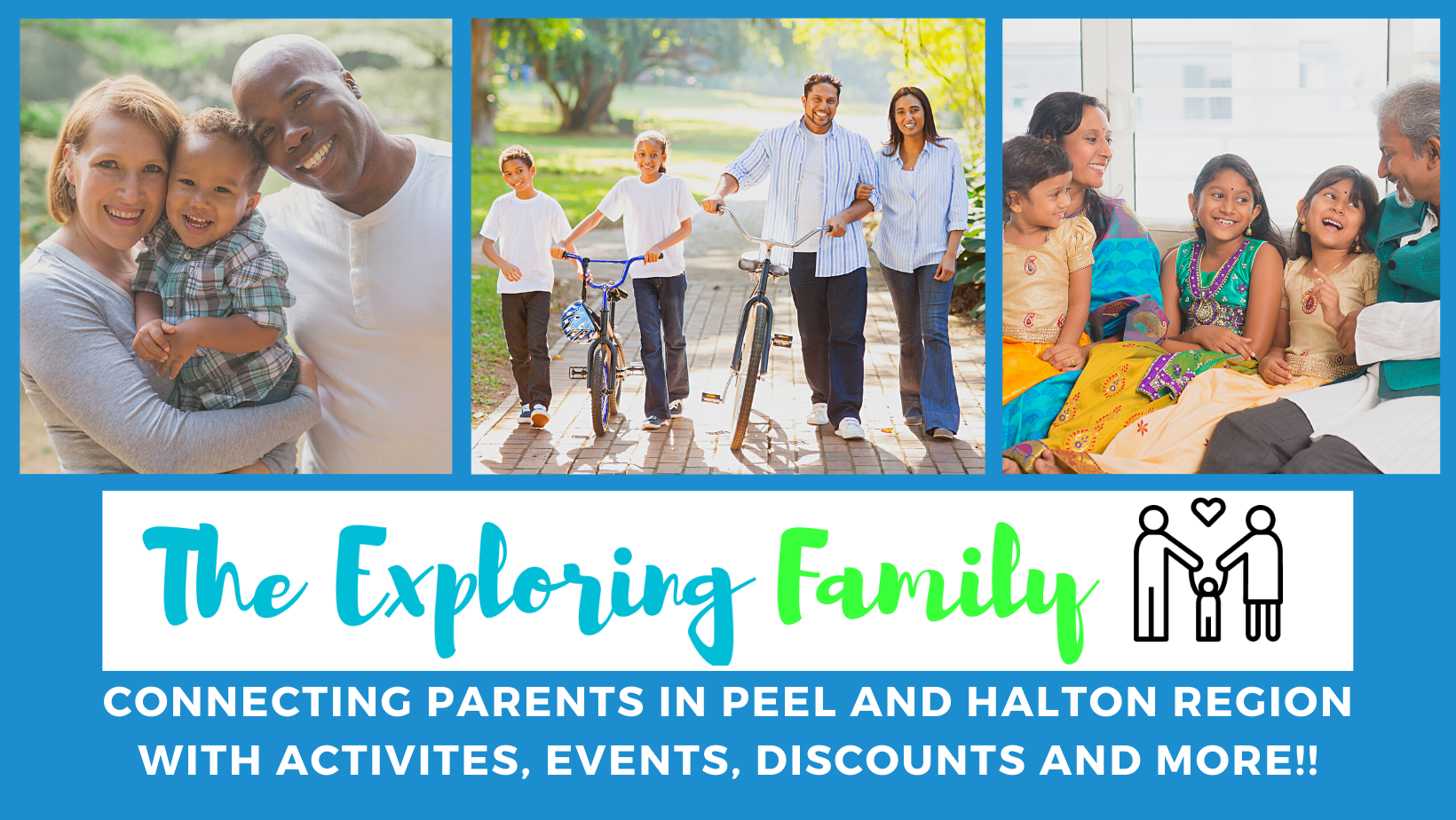 Can you help make this article better?
If you have noticed an error, have additional information or would like to share a comment you can:
E-mail us at info@thexploringfamily.com
Find us on Facebook: The Exploring Family
Find us on Instagram: @The.Exploring.Family
More Local Fun