Lions Valley Park in Oakville is a fantastic area to visit with your family. Whether you are looking to go for a hike, have a nice picnic, or just simply take in some nature, this park is a must-visit in the GTA. Looking for more outdoor adventures make sure you check out the hiking trails in Mississauga, Stroller Friendly Hikes and Hikes near Brampton.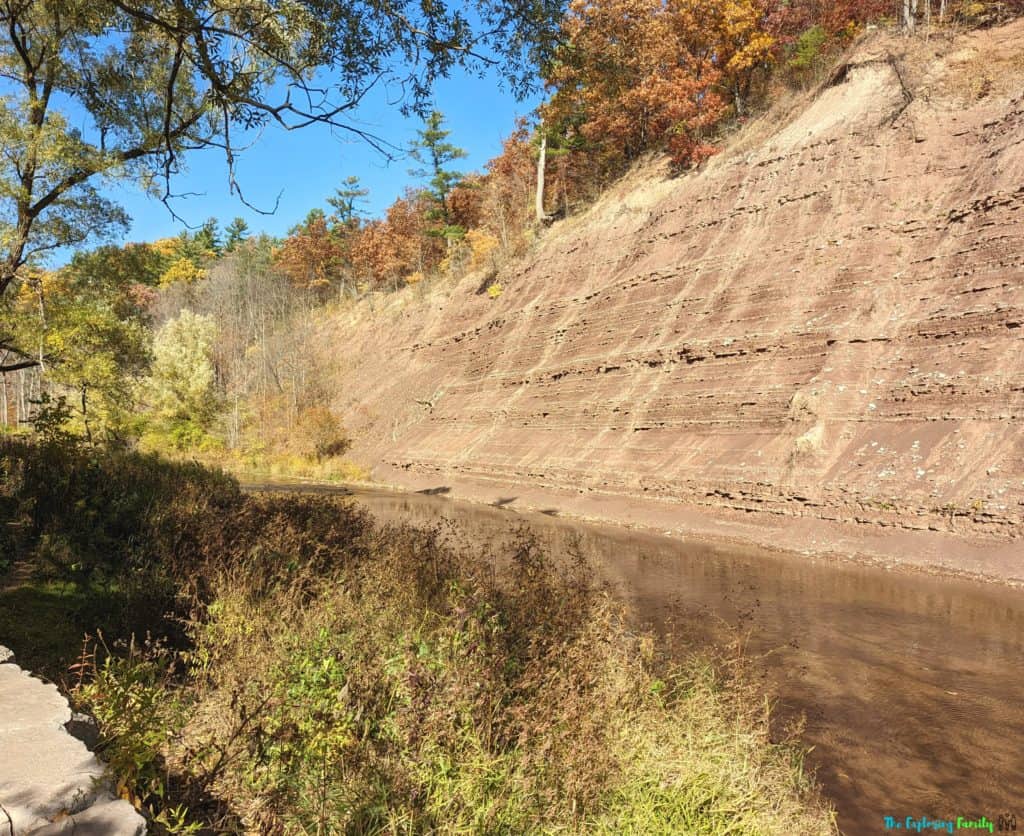 While it may not look like much more than a bunch of trees from Dundas when you go down into the park you will discover that it is so much more including beautiful river and if you visit at the right time of year you can catch the Salmon Run.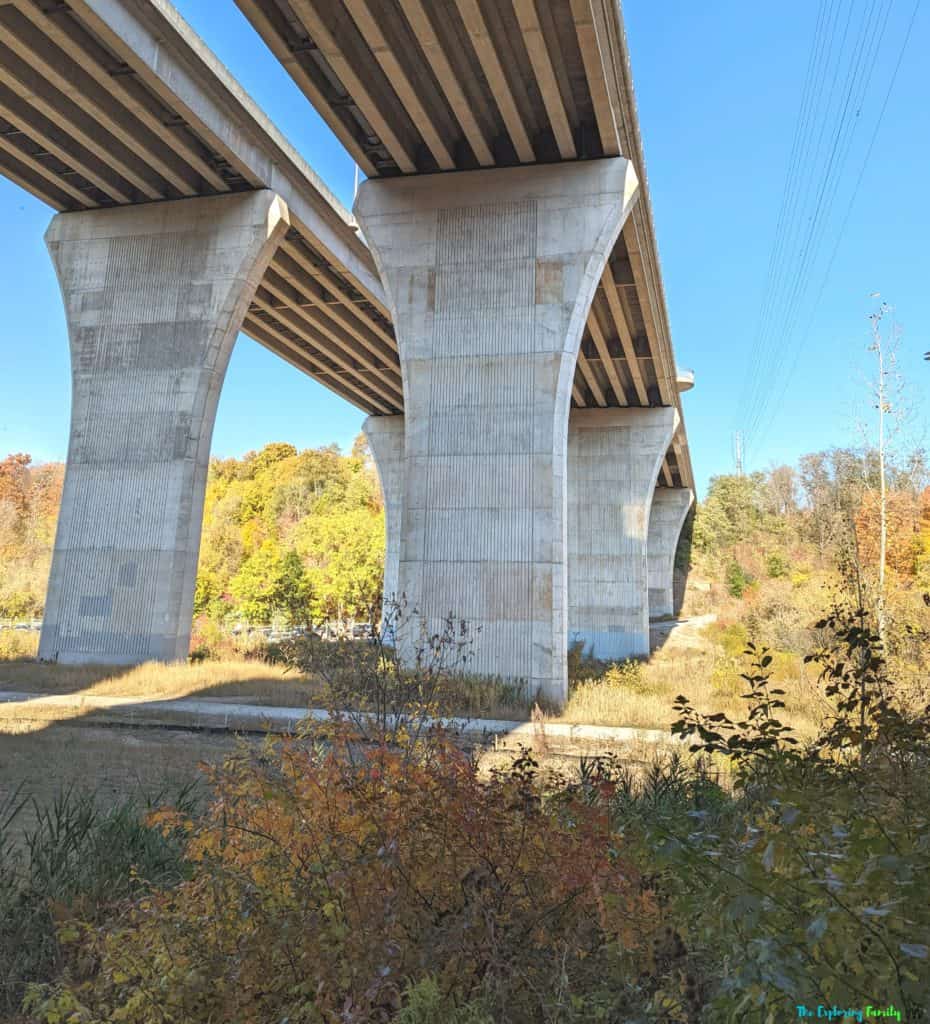 Visiting Lion's Valley Park in Oakville
Lions Valley Park in Oakville has a great playground for your kids to play at after a beautiful picnic. Take a hike along the many beautiful trails and enjoy a little slice of Nature in Oakville. You don't need to travel far to feel like you are surrounded by nature.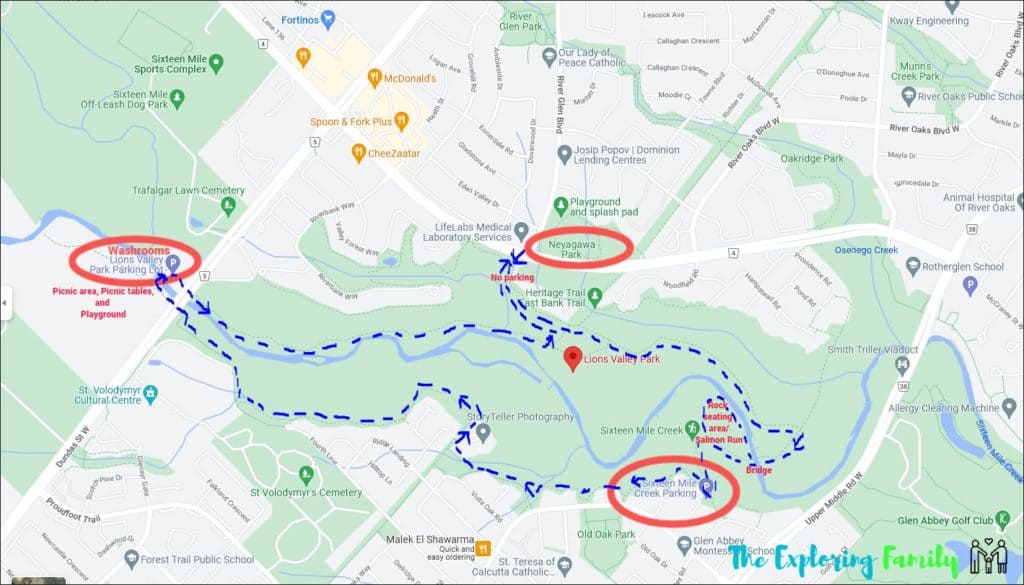 Lions Valley Park Parking
Parking at Lion's Valley Park in Oakville is easy as long as you DON'T follow Google Maps. You must be aware that there is no parking on the road leading into the park area that shows up on Google Maps. If you plug the park address into your google maps it will take you to Neyagaway Blvd and River Glen Blvd. That is NOT where you want to go as you will find you can't park there. The map above shows the 3 areas circled where there is parking available.
Neyagawa Park Parking Lot
540 River Glen Blvd, Oakville, ON – There is parking for Lion's Valley, available off River Glen Blvd in Neyagawa Park. You can then cross over Neyagawa Blvd to enter the park's pathways.
Lion's Valley Parking Lot
1227 Lions Valley Park Rd, Oakville, ON L6M 4L8 – There is parking available at the Lion's Valley Parking lot. This lot is located just off Dundas Street West and will give you easy access to the park, playground, picnic areas, and washrooms.
Sixteen Mile Creek Parking Lot
1033 Skyvalley Crescent, Oakville, ON L6M 3L2 – If you want, you can also park at the sixteen-mile creek parking lot to access Lion's Valley.
You could also choose to park along west oak Trails Blvd and side streets where there are lots of pathways into the trails.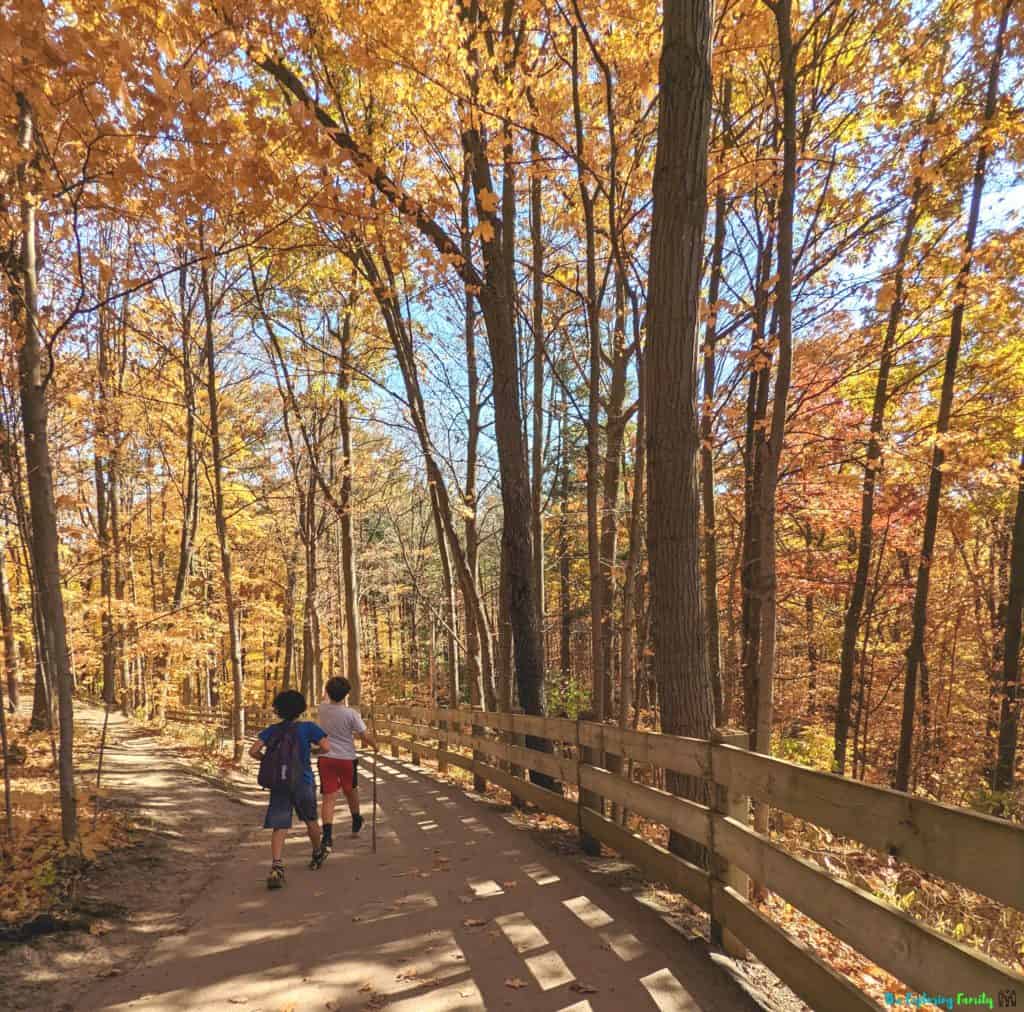 Lion's Valley Park Playground
The playground at Lion's Valley Park is perfect for all ages. Equipped with swings, slides, climbers a mini zipline, and more, kids are sure to enjoy their visit.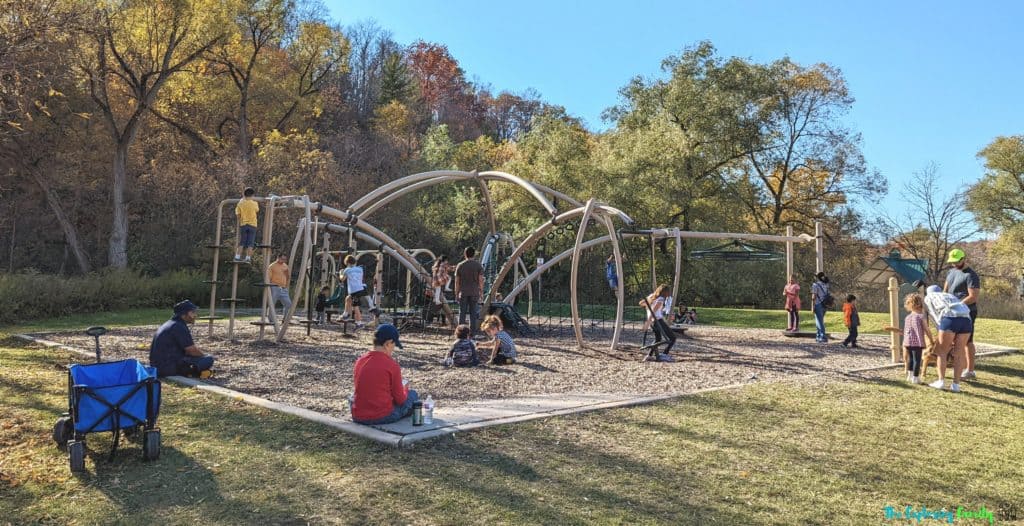 The playground is located just north of Dundas street west. It can be accessed via the trails and from the Lion's Valley Park parking lot.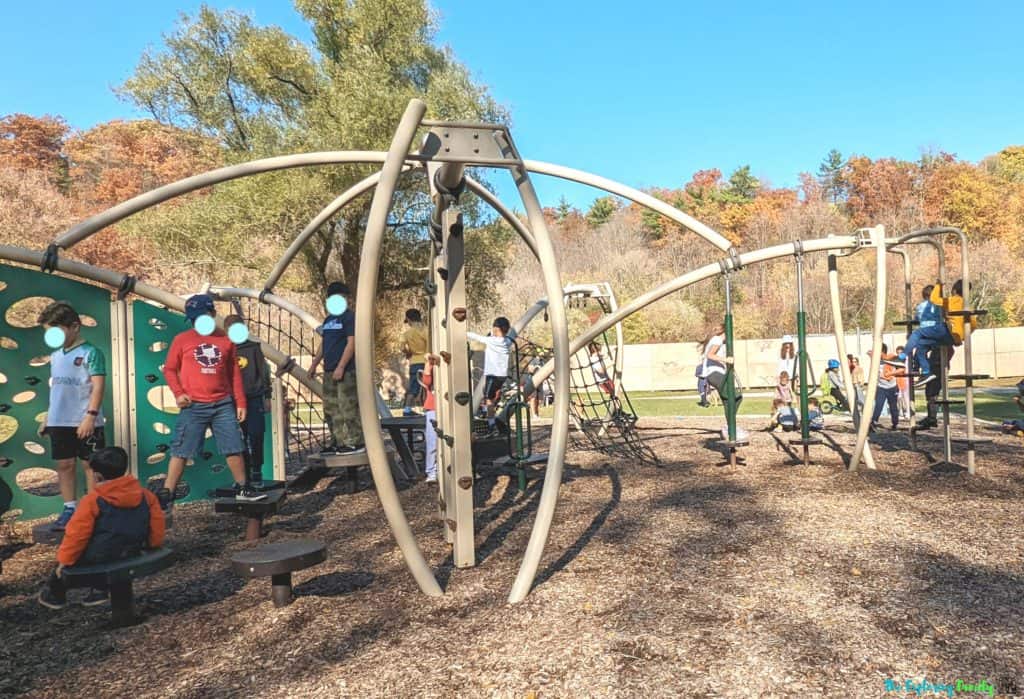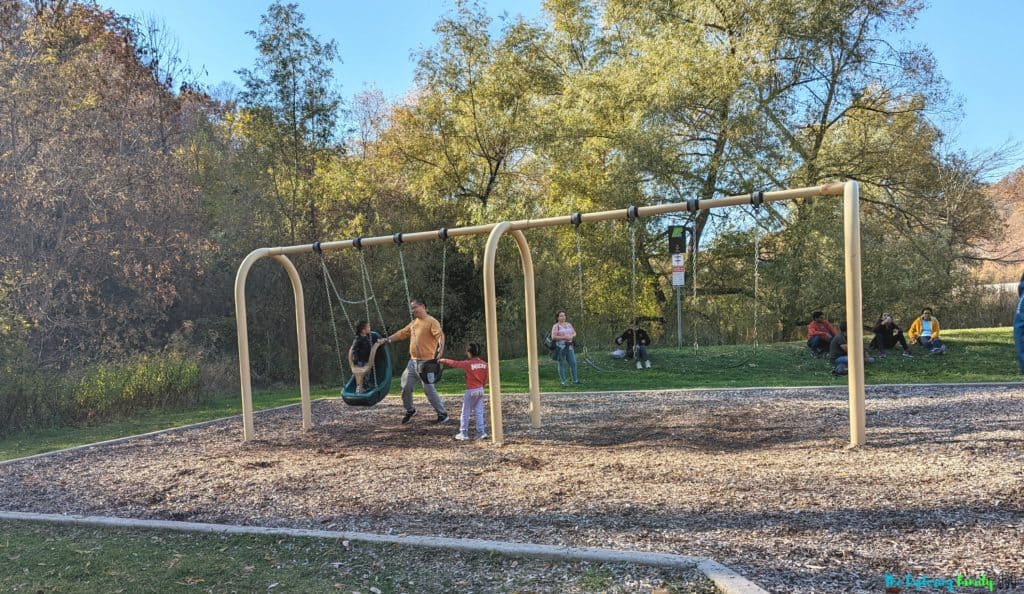 There is also another playground located at Old Oak's Park. It can be accessed via the walkways along Westoak Trails Blvd.
Hiking and Trails at Lion's Valley Park
There are several different trails that you can hike when you visit Lion's Valley Park. They range from easy to moderate and are perfect for all ages.
Sixteen Mile Creek Trail Loop
The sixteen Mile Creek Trail loop connects to several of Oakville's neighborhoods. While there are recommended start and end points for this trail, it is important to note that the parking lot can become quite full in the summer and fall seasons. If you want to prevent overcrowding, you can park in one of the other lots connected to the trail.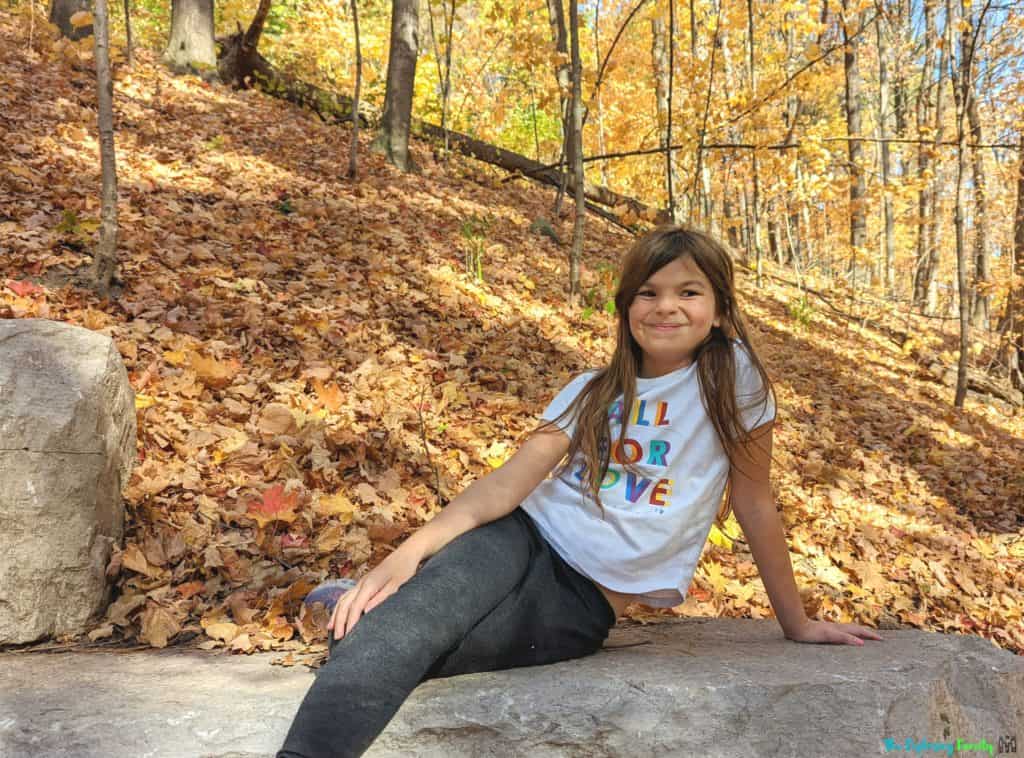 The trail is 6.1km long and flows in a loop. It is considered a generally easy trail to navigate, so it is great for hikers of all skill levels. The trail takes about an hour and 24 minutes to finish and is popular with cross-country skiers, bikers, hikers, and even nature aficionados.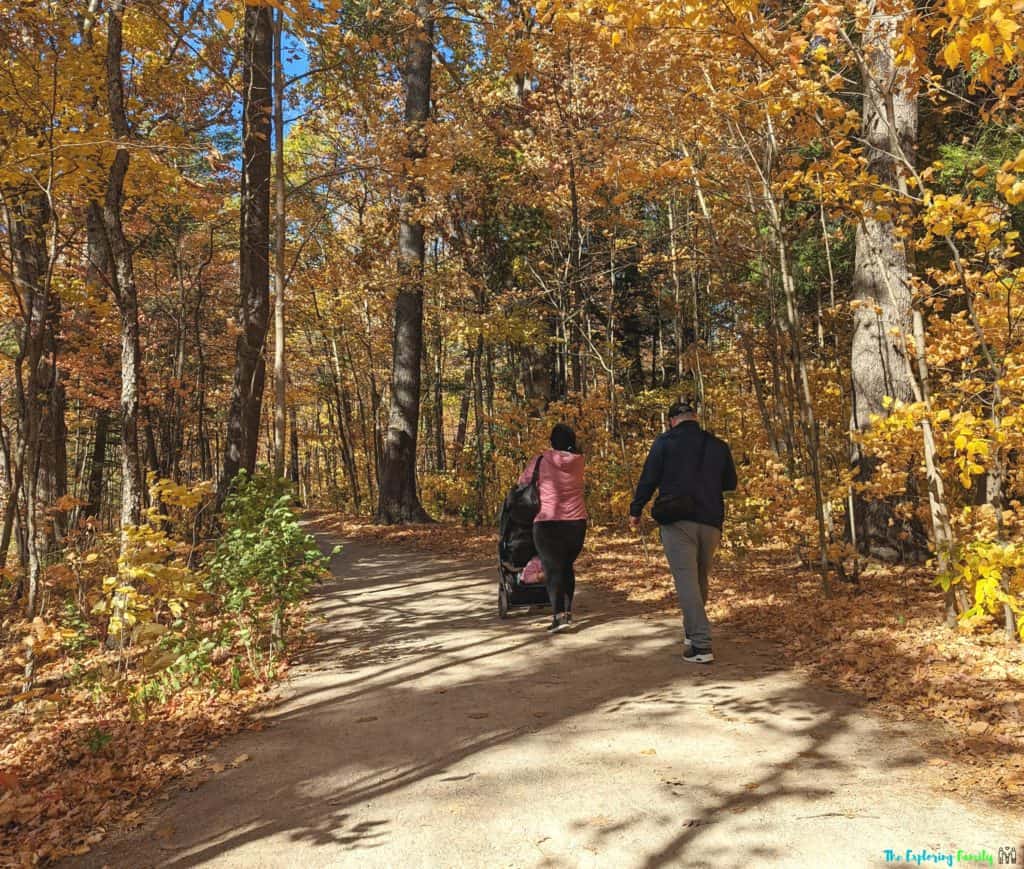 This trail offers multiple viewpoints of the creek. There are also a few private areas by the water to skip rocks. Navigate the gorgeous bridges, rocky terrain, and paved trails to enjoy a gorgeous nature experience.
Neyagawa Park, Lions Valley Park, and Sixteen Mile Creek
This trail is open all year round and is frequented by avid hikers. It is considered a moderately difficult route to hike. This trail takes approximately two hours and 40 minutes to complete and is a beautiful scenic route.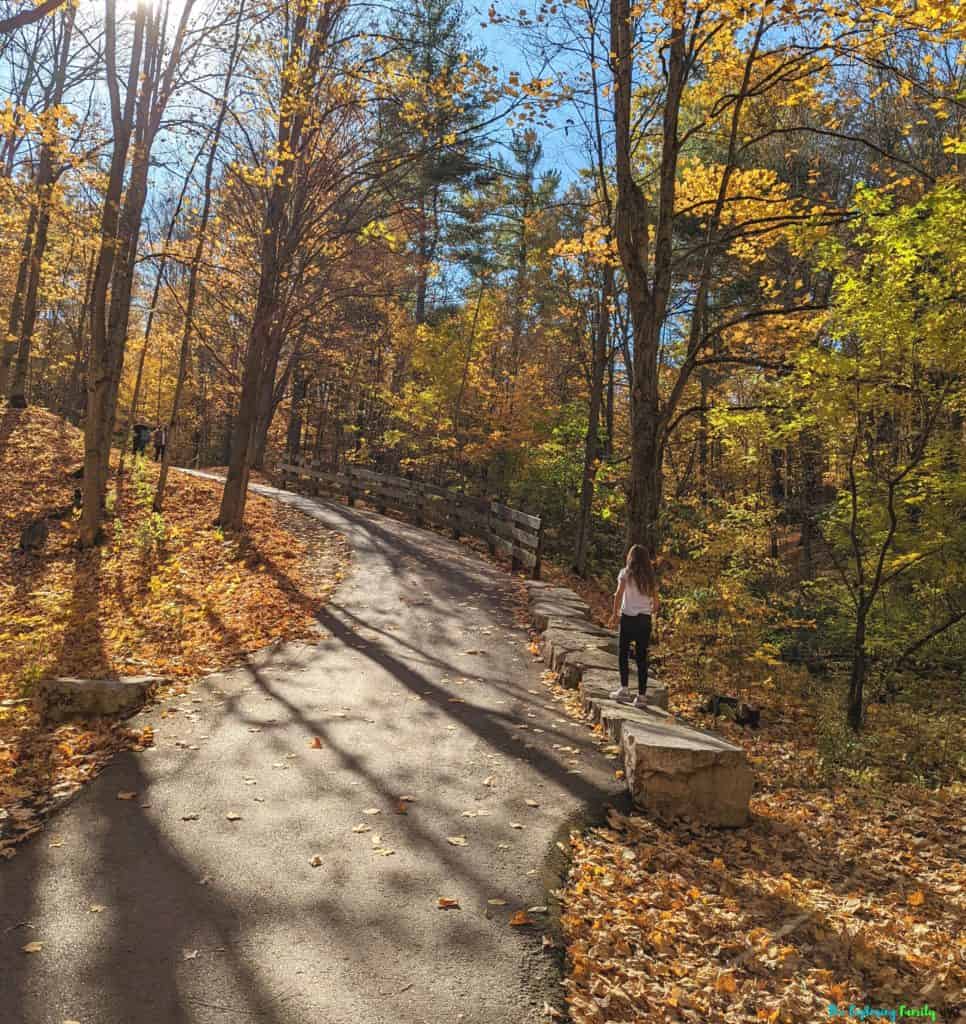 This is an extremely popular area for hiking, birding, mountain biking, and more. The trail system while fairly flat does have a couple of steep hills to navigate.
This trail is great for families as it ventures through three different parks. Just make sure that you bring snacks and lots of water. If you are planning on bringing the kids through this trail, just make sure they have the stamina.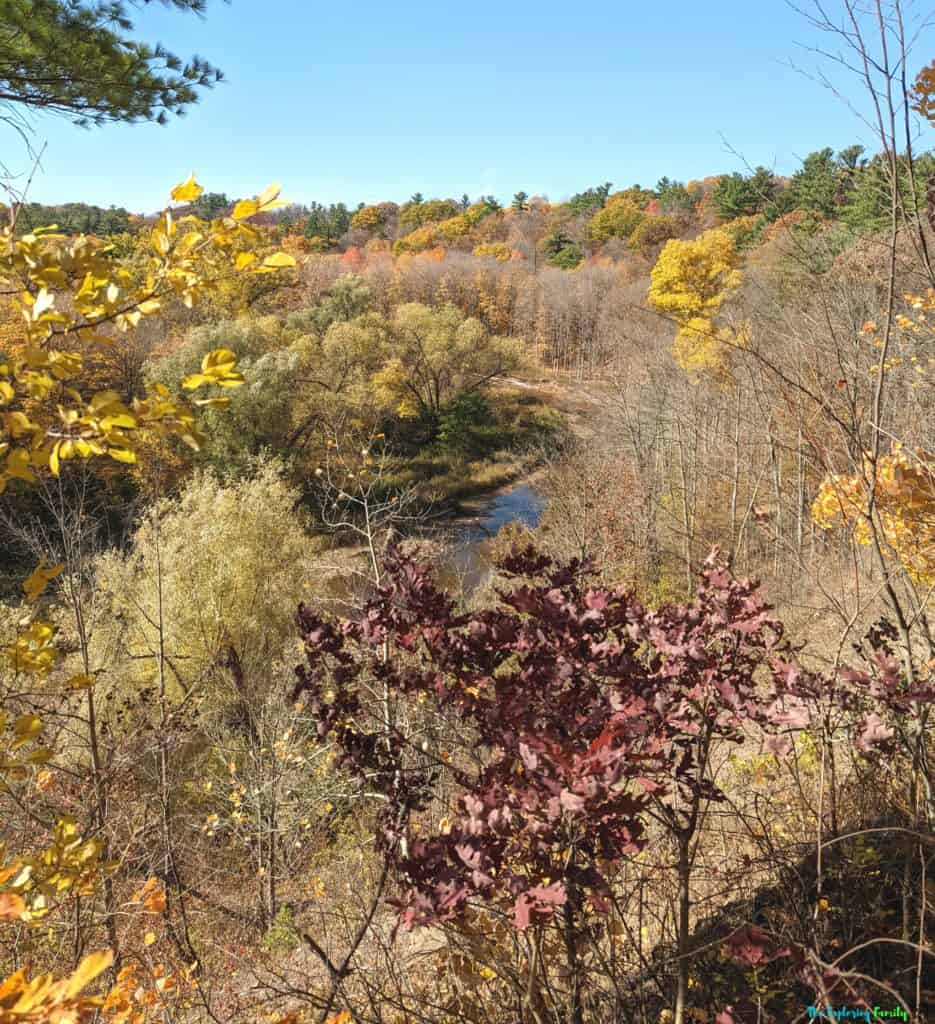 North Park Loop
The North Park Loop in Lion's Valley is a great trail for all skill levels. It is a generally easy route to navigate. You can complete the North Park Loop in approximately one hour and 8 minutes.
This trail is ideal for hiking, horseback riding, and more. The creek that runs through the trail is gorgeous. Once you ascend, you can look out into the gorgeous forest and get a bird's eye view of the creek.
There is also a large field that the kids can run around and enjoy. The trail does have a tendency to get wet and muddy so make sure to wear waterproof footwear.
All of these trails are absolutely stunning in the fall. The leaves changing colour make for such a beautiful, picturesque scene.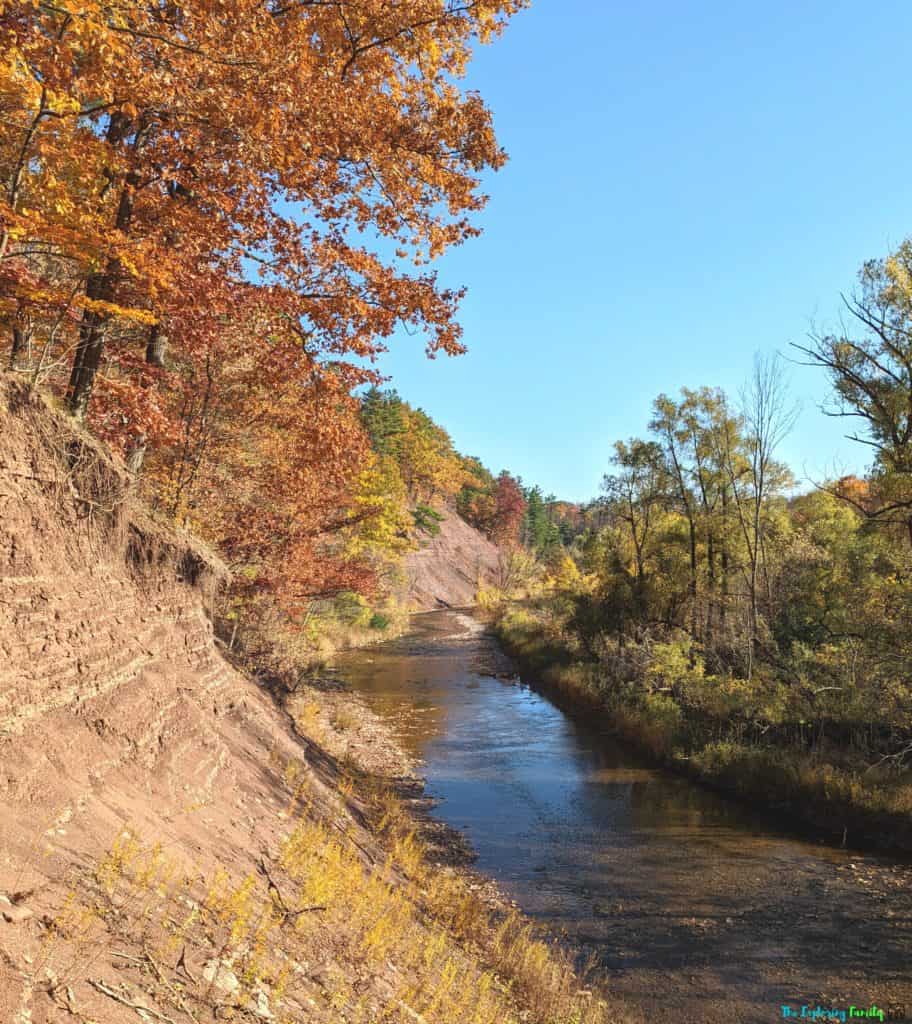 Lion's Valley Park Picnic
Lion's Valley Park is the perfect spot to enjoy a delicious picnic. There are covered areas available for picnickers to enjoy, as well as plenty of places to put garbage. Find a picnic table and set up with some delicious picnic foods. The picnic areas are gorgeous spaces with plenty of room to sit and eat.
If you want something a little more secluded for your picnic, take a little hike. Just make sure you pack a blanket. You can find a gorgeous spot to picnic anywhere in the park. Or there is a spot with some large rocks near the East end bridge that you can stop at.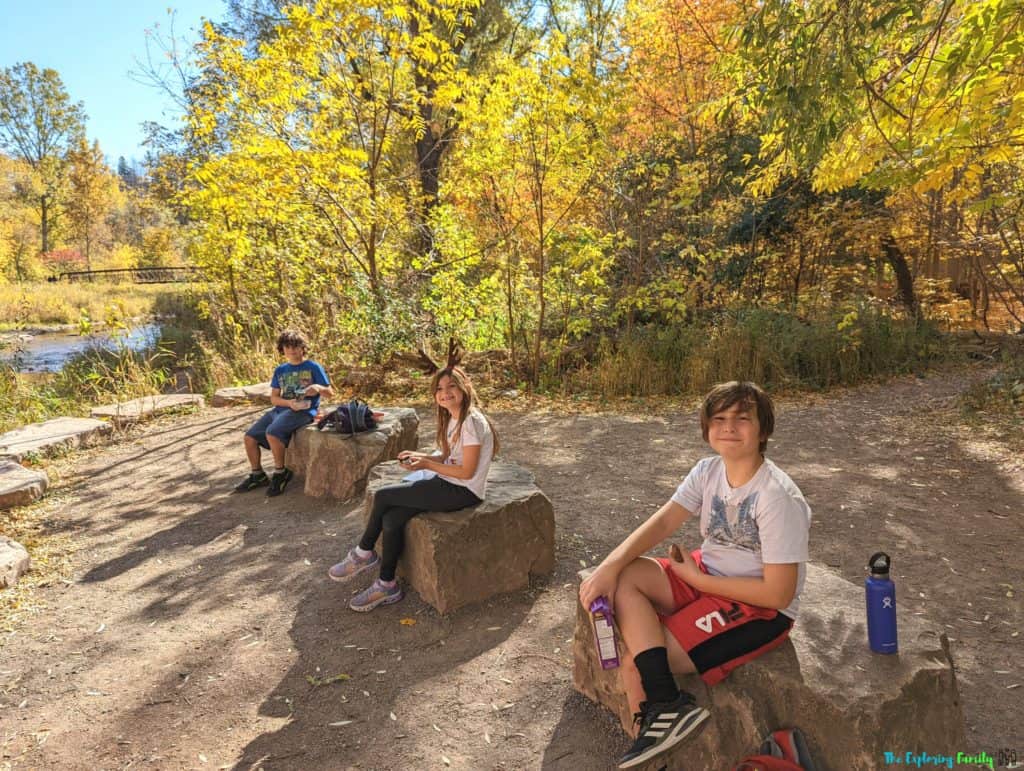 Salmon Run at Lions Valley Park
That is right, while you are visiting this beautiful park you may be luck enough to catch a glimpse of Salmon swimming upstream. When we visited in the fall of 2022 we spotted several salmon in the shallow waters around the East End Bridge in the park.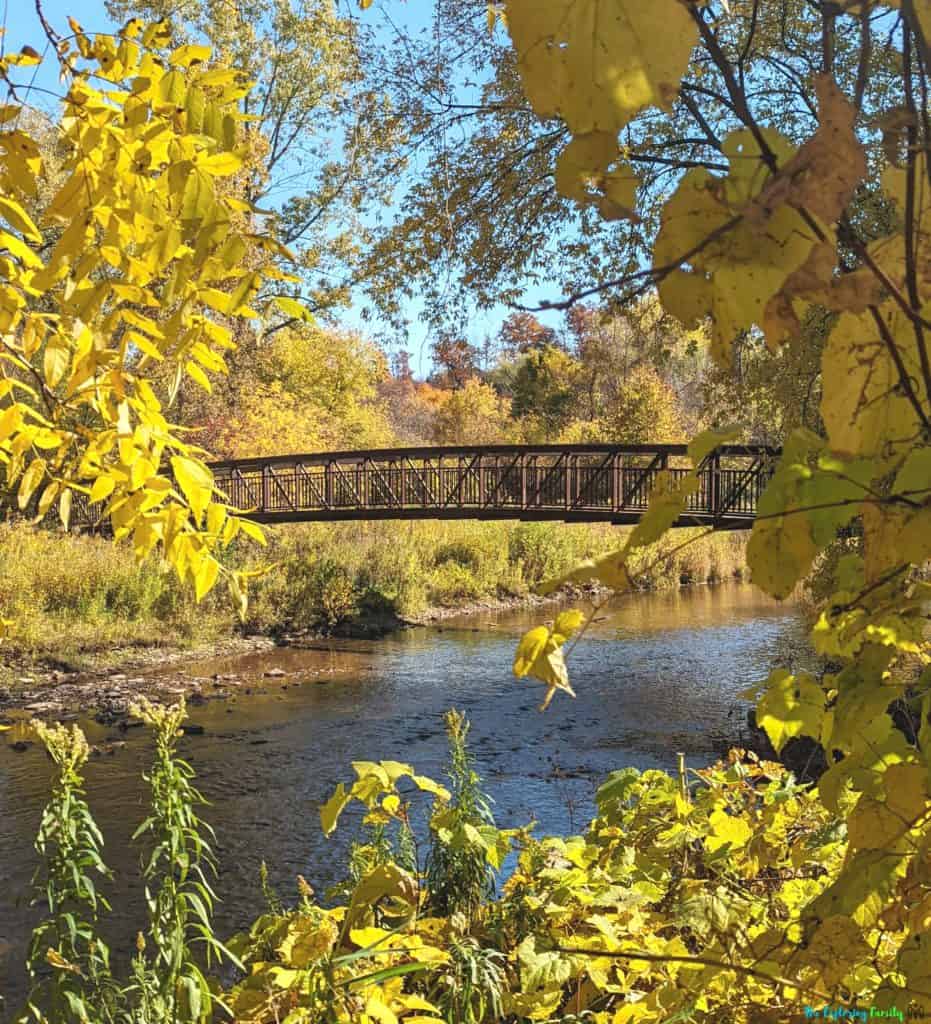 It was fascinating to watch as the salmon swam upstream through the shallow rapids. Our visit was on the 20th of October, but the timing of the Salmon run can vary year to year depending on weather conditions. The migration can occur from September to November normally when the water temperature is between 3-10oC.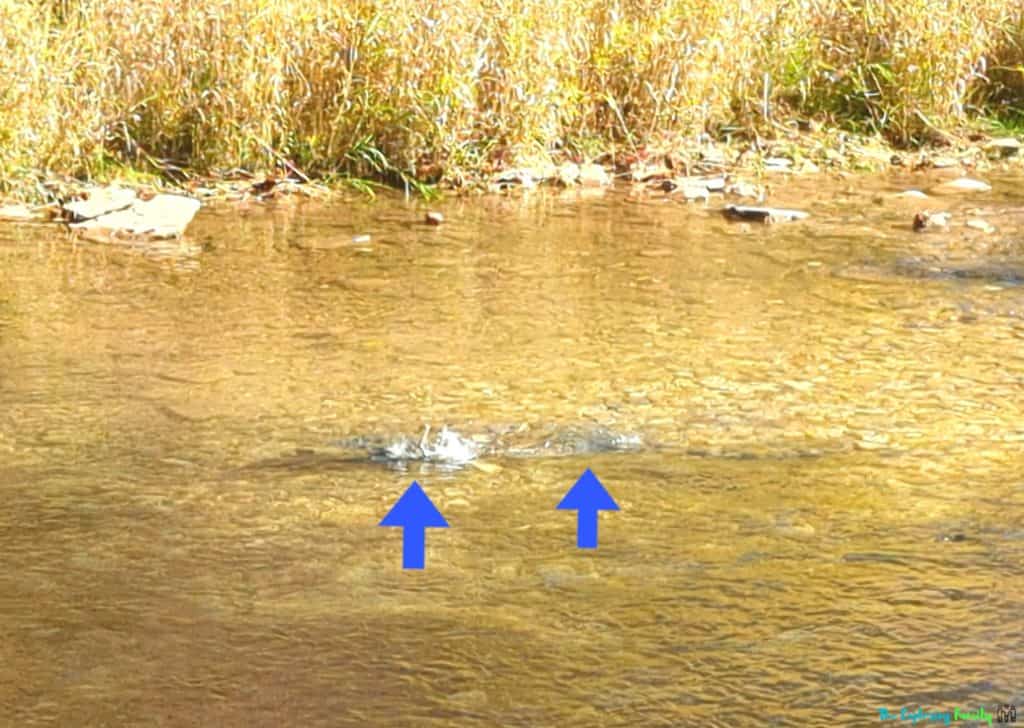 Lions Valley Park History
What we know today is that Lion's Valley Park was once home to the Village of Sixteen Hollow. This village was one of the earliest settlements known to the Oakville area.
Established with the first mills in 1826, the Village of Sixteen Hollow prospered for approximately 50 years.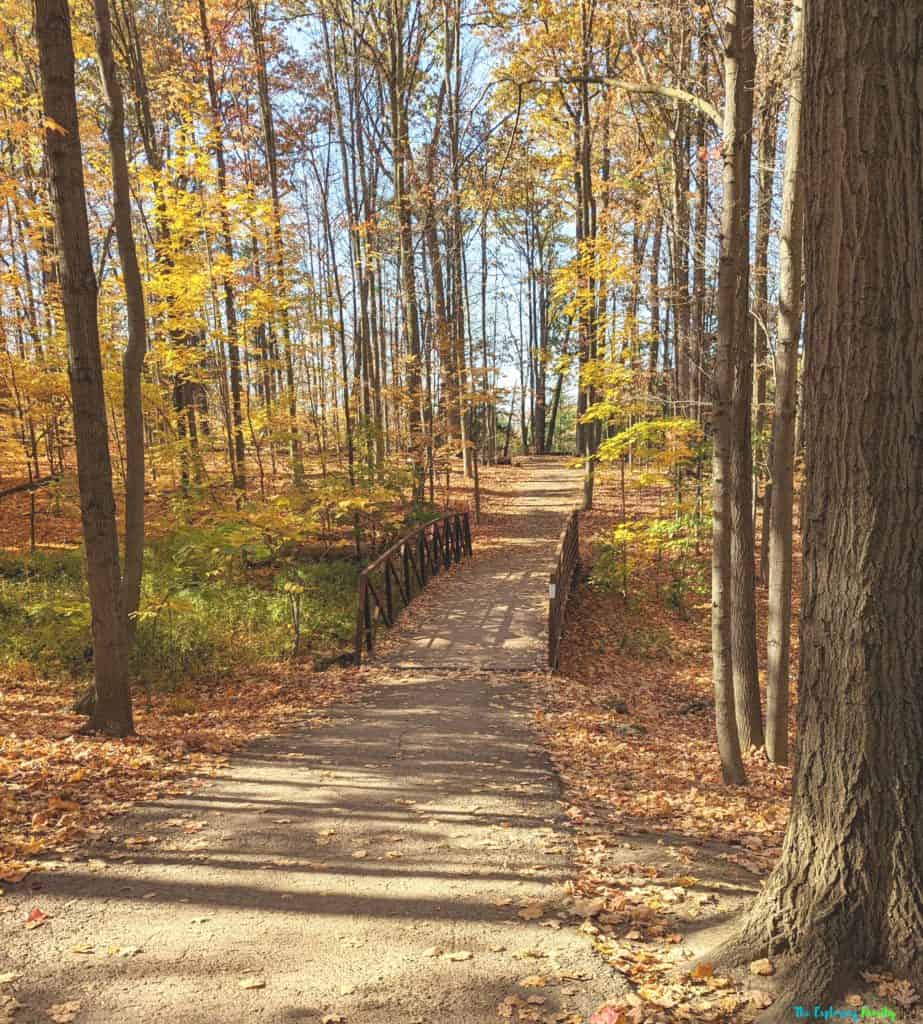 The only remnants of the village that are currently visible are the Presbyterian Church and the schoolhouse. They are both located just outside the former village site.
Around 1960 the Lion's Service Club developed Lion's Valley Park and donated it to the town of Oakville to use as a public park facility.
Lion's Valley Park in Oakville is a beautiful place to visit, full of rich history, gorgeous scenery, and more. Take your family on a gorgeous hike through the park, enjoy a delicious picnic and take some great pictures.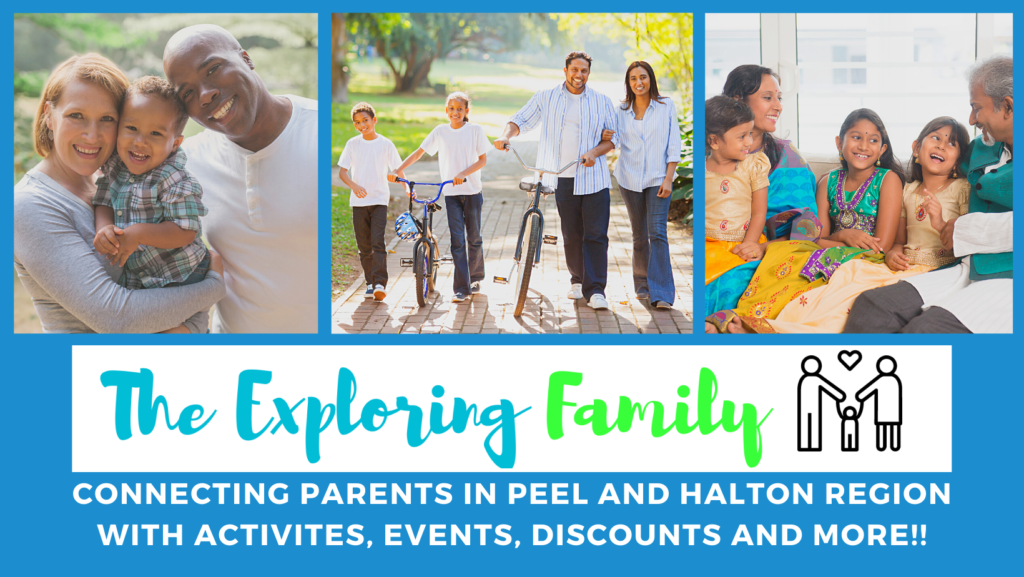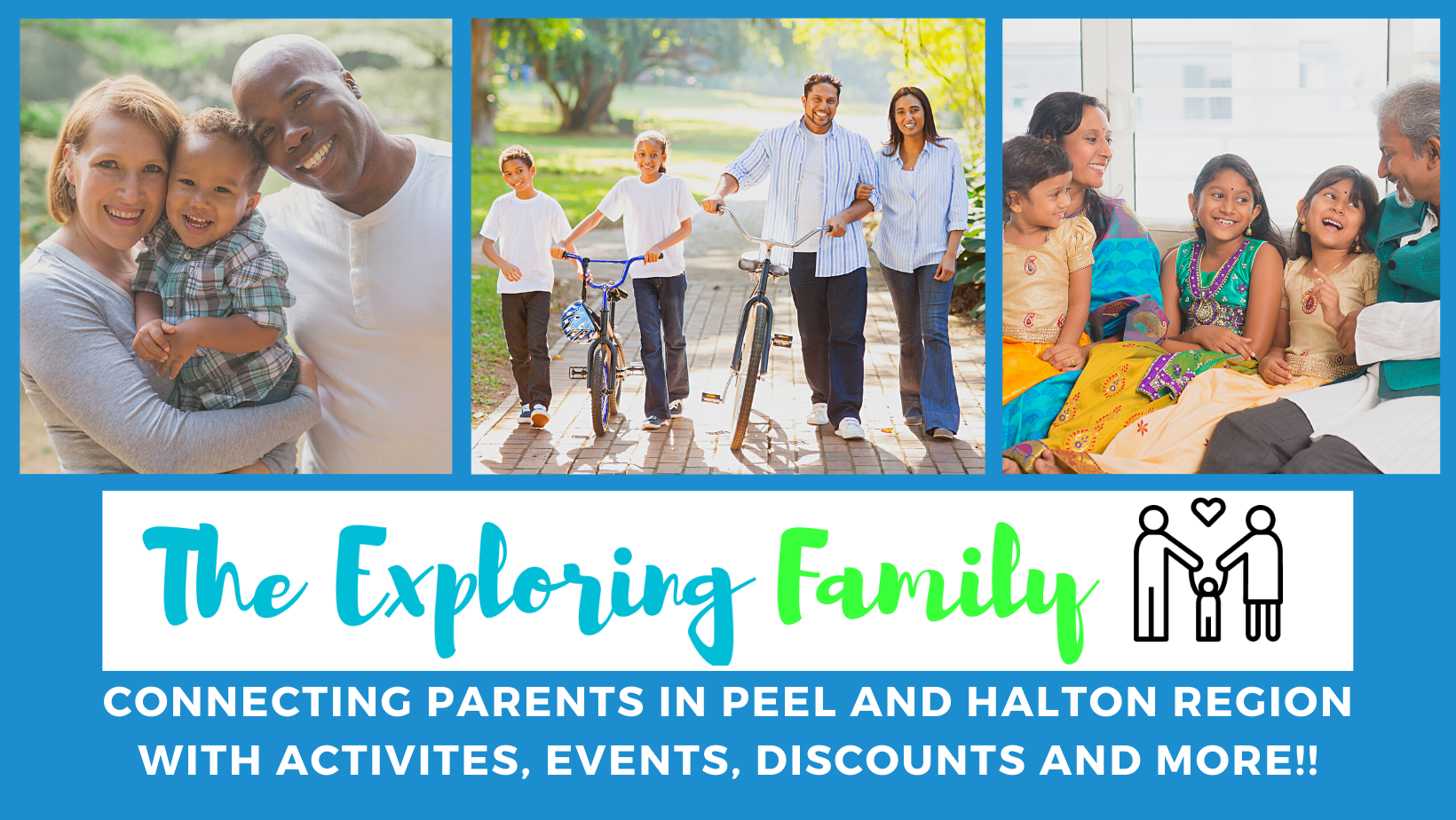 Can you help make this article better?
If you have noticed an error, have additional information or would like to share a comment you can:
E-mail us at info@thexploringfamily.com
Find us on Facebook: The Exploring Family
Find us on Instagram: @The.Exploring.Family
More Outdoor Fun Ideas