The season for entertaining is coming up quickly so find your favourite nacho recipe in these 25 Incredible Nacho Dip Recipes! Whether you're hosting a holiday party, a game day celebration, or just want to make a delicious appetizer for the family, Nacho dips are a fan favorite! There are so many different ways to spice up your nacho dips and put a twist on it while incorporating your favorite flavors. If you want to know how to make nacho dip, I've shared my Beef Taco Dip and Easy Nacho Dip recipe before but here I've compiled some of my favorite nacho dip recipes from around the web to share with you! Some of them are even slow cooker dip recipes which is great if you're pressed for time especially. All of them would be great to serve at a family dinner as an appetizer or a party, but don't plan on having any leftovers if you do because these recipes are seriously incredible! So keep scrolling to learn how to make a nacho dip that all of your guests will love.
Enjoy these 25+ Incredible Nacho Dips Recipes!
Nachos dip recipes are the go to comfort food, and are a great quick and easy snack or dinner that don't require a lot of ingredients to make. Nachos dip is the perfect appetizer for parties as anyone can make them, you do not need to be a great cook to make amazing nacho dips. My favourite nachos dips are pizza layer dips, this is a simple recipe that we make at the cottage as an afternoon snack. I even love making cast iron skillet nachos over the fire in the backyard at the cottage. Nachos are a great snack at the cottage as they are quick and a crowd pleaser as we never have any leftovers. The key to a great layered dip is to have a deep dip pan like the one below. This pan is great for making dips like 5 layer dip as it is very deep, and since it is glass its very easy to clean.
How to Make an Incredible Nacho Dip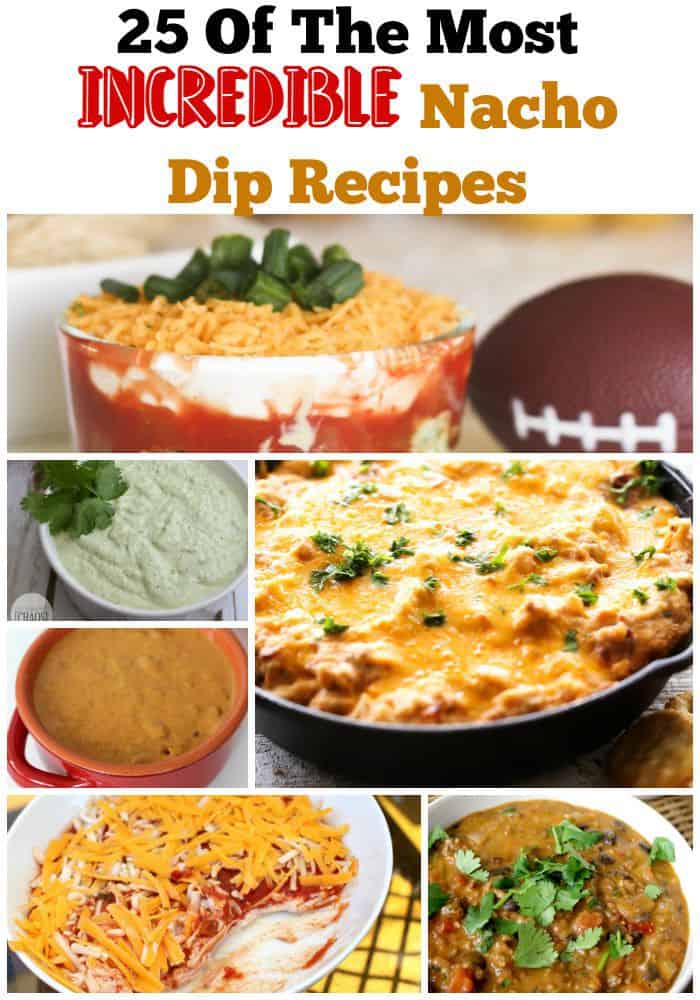 25 Of The Most Incredible Nacho Dip Recipes
1. Beef Taco Dip – A great way to use up leftover taco meat!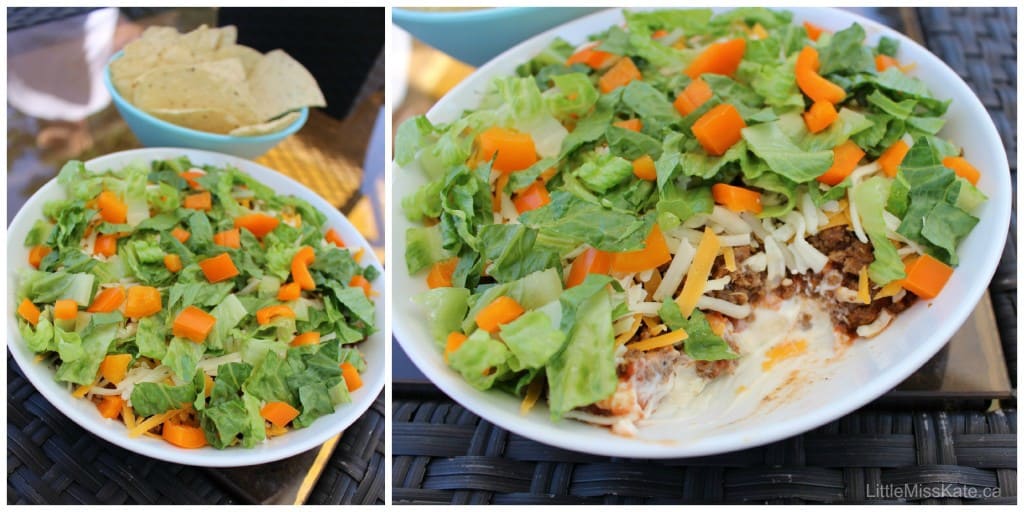 2. Greek Yogurt Jalapeno Guacamole – for those that love Guacamole

3. Copycat Chili's Queso Dip –  Beef queso dip anyone?

4. Easy Nacho Dip – Only 5 ingredients needed to make this tasty Nacho Dip

5. Mexican Beef & Cheese Dip – made with ground beef and black beans

6. Lightened Avocado Layer Dip – Made with Greek Yogurt, this mexican layer dip is an amazing half time snack

7. Game Day Philly Dip Recipe – Simple yet delicious cream cheese salsa dip
8. Low Sodium Sour Cream Nacho Dip – serve with pita bread or unsalted crackers to keep the sodium low

9. Cheddar Bacon Ranch Dip – Bacon makes everything better

10. 5 Layer Individual Nacho Dip Cups – Perfect for kids to prevent double dipping, this way everyone can enjoy these layered taco dips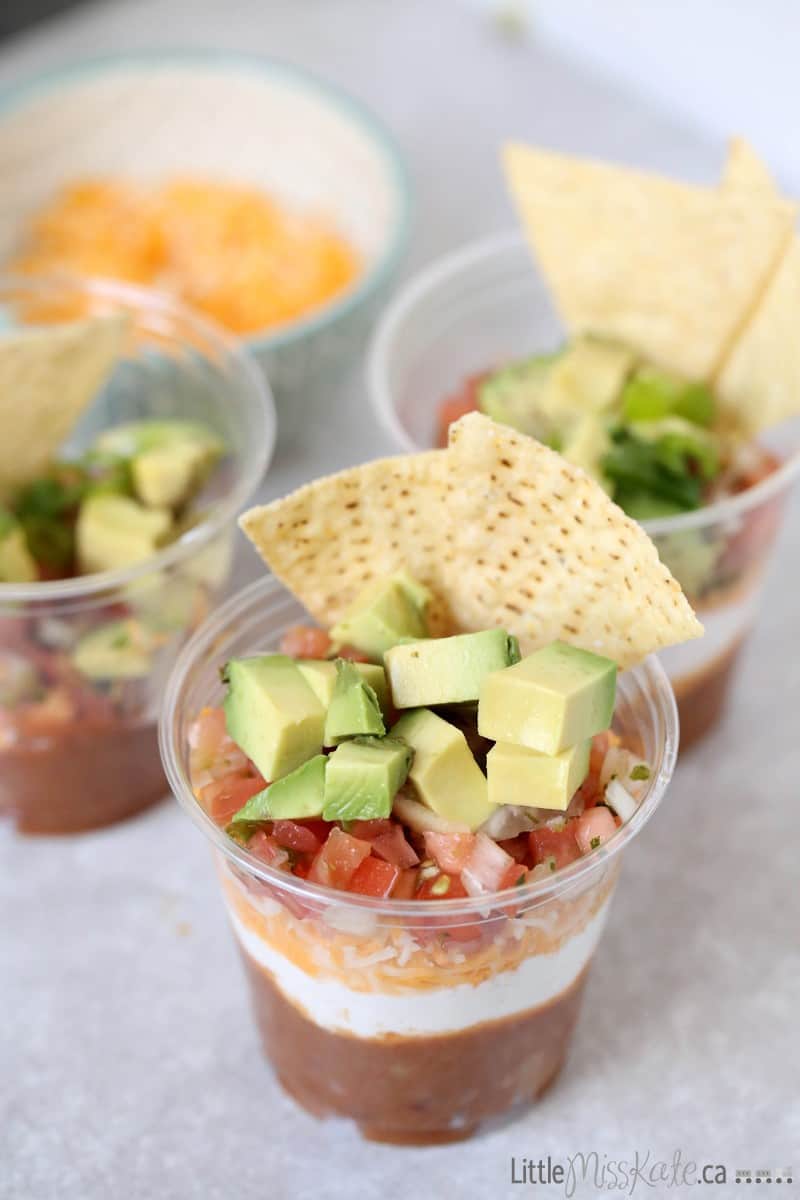 11. Slow Cooker Spicy Sausage Nacho Dip – A warm nacho dip with meat, perfect for snacking on while watching sports in the winter

12. Mexican Fiesta Dip – delicious 3 layer mexican dip is a hit at all parties

13. Baked Buffalo Chicken Dip – love Buffalo wings? Then you will love this chicken nacho dip!

14. The Best Fresh Cut Mexican Salsa with Sriracha – hand tossed salsa dip recipe

15. Layered Mexican Dip – tasty layered mexican cream cheese dip

16. Baked Cheesy Garlic Dip – One for the garlic lovers, these layered dip recipes are great for any cheese lover

17. Queso Con Carne – made  without Velveeta, this queso dip with beef is simple to make
How to make Taco Nacho dip Recipes – Pick a great nacho recipe!
18. 3 Ingredient Cheesy, Spicy Slow Cooker Dip – Only 3 ingredients!

19. Homemade Cranberry Salsa – for those looking for a sweeter option try this salsa and cream cheese dip

20. Easy Shrimp Chip Dip – for the shrimp lovers out there

21. Spinach & Artichoke Dip – a classic combo this layer dip recipe is not your traditional nacho dip

22. Easy Taco Nacho Dip – Hamburger Helper spice is used for this yummy hamburger nacho dip

23. Spicy Chickpea Nacho Cheese Sauce – quick to prepare in under 10 minutes

24. Black Bean, Corn and Lime Nachos Baked Jalapeno Cream Cheese Dip – Cheesy baked bean dip for nachos

25. Slow Cooker Taco Dip – meaty slow cooker dips with ground beef
26.  Easy Layered Nacho Dip – simple layered cheese and beef dip recipes for tortilla chips that is sure to be a hit
27.  Hot Creamy Cheddar Bacon Dip – Cheese and bacon, does it get any better?
28. Easy Layered Nacho Dip – The fan favourite in our household for game day!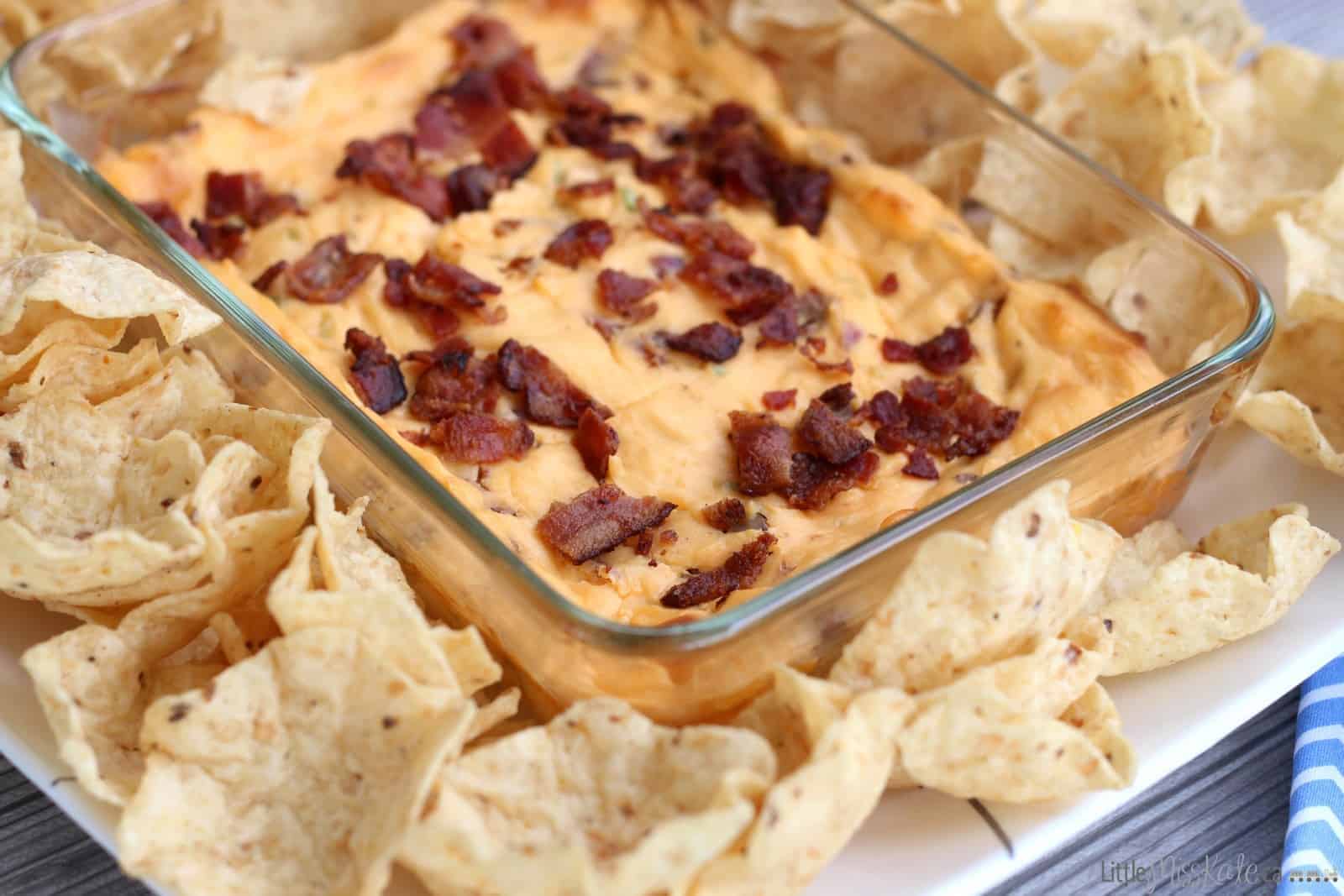 My favorite thing about yummy appetizers like this is that they can be used all year long, no matter what the occasion is! Now that you have some delicious nacho dip recipes to try out, which one are you looking forward to trying the most? Personally, I can't wait to try the baked buffalo chicken dip, it looks mouthwatering!
Originally Posted August 2015
Save