When the cold weather hits, look no further than The Best Nordic Spas in Ontario for your warm escape. These top-notch Nordic spas in the province offer a range of natural pools and luxurious amenities, providing the perfect retreat from your daily routine. So, get ready to soak up the comfort and relaxation right here in Ontario. And we also have some great ideas for Girls Weekend Getaways and Couples Romantic Getaways if you are looking for inspiration as well.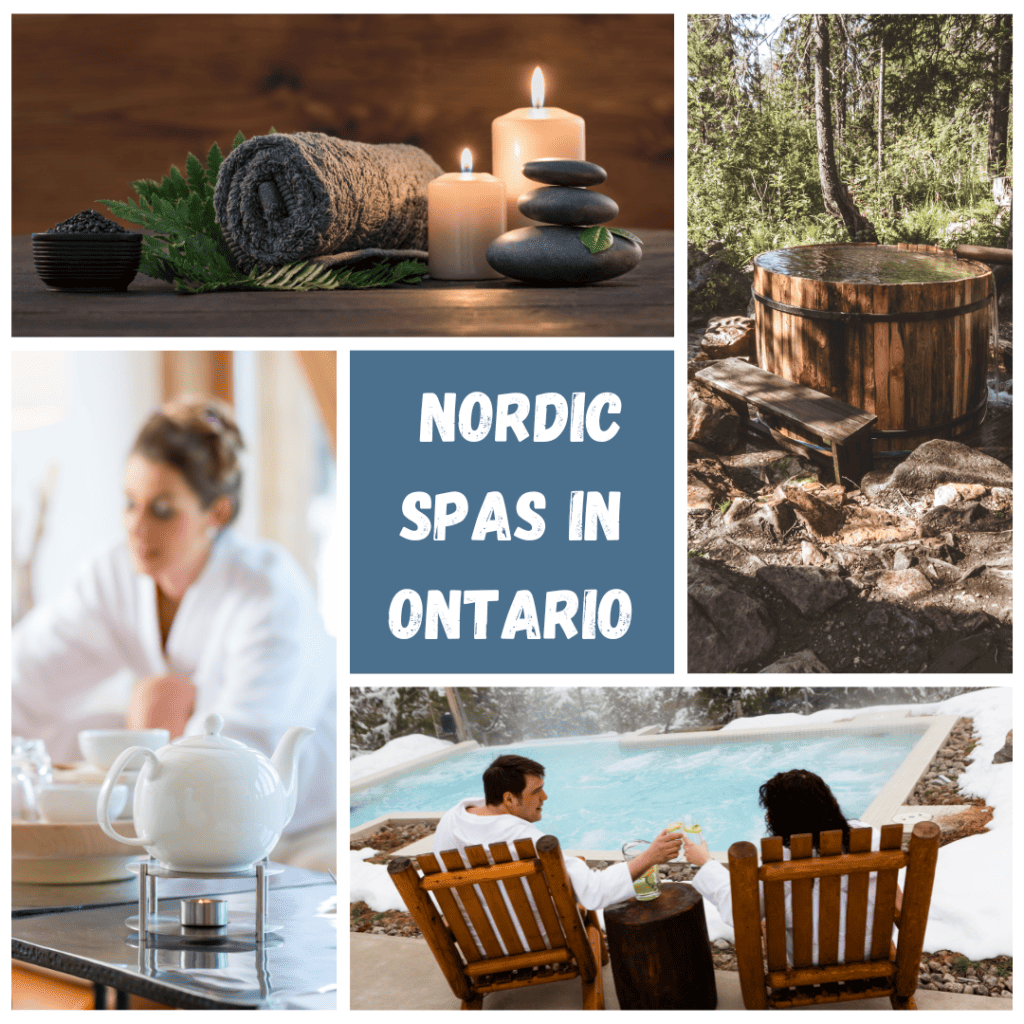 When the urge to escape the city or evade Ontario's chilly embrace strikes, turn to the inviting world of Scandinavian Spas, Hot Springs, and Thermal Spas in Ontario. These haven-like retreats offer the perfect sanctuary for a day trip or a rejuvenating weekend getaway. Unwind in the lap of luxury at lavish resorts and immerse yourself in Ontario's natural hot springs. It's your ticket to some well-deserved self-indulgence.
Great Nordic Spas in Ontario
There are so many great Nordic Spas located in our beautiful province. If you are looking for some great relaxation areas, check out some of the best places in North America.
Vettä Nordic Spa
Scandinave Spa Blue Mountain
Thermëa Spa Village
Elora Mill
Ste. Anne's
Burning Springs Spa & Thermal Pools
Pillar and Post
Hydrospa Muskoka
Millcroft Inn and Spa
Go Place Bath House
Body Blitz Spa
Elmwood Spa
Vettä Nordic Spa
3210 Line 3 N, Oro-Medonte, ON L0L 2L0 – Vettä Nordic Spa is situated in the beautiful Horseshoe Valley and provides a unique Finnish spa experience that captivates its visitors. Guests, whether they are enjoying the company of friends in the social zone or seeking solitude in the quiet zone, are immersed in the beauty of nature while prioritizing their well-being.
Rejuvenate your spirit as you partake in an authentic Finnish sauna tradition. This hydrotherapy cycle of heat and cold is a great thermal experience. They have a hot stone room, cold plunge pools, cold plunge buckets, and more. These treatments involve cycles of heat, cold, and relaxation. For an added touch of luxury, Vettä offers registered massages, and guests are encouraged to indulge their senses at the delicious Finnish-inspired restaurant or the in-spa bistro.
Scandinave Spa Blue Mountain
152 Grey County Rd 21, The Blue Mountains, ON L9Y 0K8 – Scandinave Spa Blue Mountain is nestled within a tranquil natural forest. This Nordic spa is just minutes away from the picturesque town of Collingwood and the renowned Blue Mountain Ski Resort.
Here, you can enjoy the luxury of a Nordic waterfall, soak in rejuvenating hot baths, and take invigorating cold plunges. Additionally, the spa offers the blissful experience of infrared Finnish saunas and a fragrant eucalyptus steam room. For those seeking ultimate relaxation, registered massage therapists are readily available.
When your appetite calls, fear not, for the spa also boasts an on-site bistro serving up delectable, locally sourced dishes to complement your rejuvenating retreat.
Thermëa Spa Village
4015 Cochrane St, Whitby, ON L1P 2A9 – Thermëa Spa Village has redefined the spa experience, crafting it into a harmonious wellness village. This unique haven offers a comforting environment that encourages guests to unwind and cast their cares aside.
The spa village stands as a pioneering establishment, boasting cutting-edge facilities and architectural designs that harken back to a bygone era when existence was intimately intertwined with nature and rich traditions.
Visitors can partake in enchanting sauna rituals, explore serene bathing areas, and revel in the awe-inspiring vistas that grace the property. An array of soothing experiences await around every corner. And for those with a penchant for fine dining, there are farm-to-table culinary delights awaiting discovery at one of the village's many eateries. Here, the invitation is simple: surrender to tranquility and allow yourself to truly rest.
Elora Mill
77 Mill St W, Elora, ON N0B 1S0 – Perched on a cliffside, Elora Mill offers breathtaking views that pay homage to the splendor of nature. This establishment is unwaveringly committed to the well-being, health, and relaxation of its guests. Under the artful guidance of internationally renowned designer Lori Morris, the atmosphere both astonishes and provides the space to simply breathe.
You are invited to partake in the offerings of a state-of-the-art fitness centre and indulge in the serenity of the saunas and steam rooms. For a touch of outdoor bliss, unwind in the outdoor pool and hot tub situated on a picturesque viewing deck, which overlooks the Elora Gorge.
Nourishment is a key part of the experience and you can savor light, health-conscious cuisine at the spa cafe – all while comfortably robed. Whether enjoying a freshly pressed juice or raising a toast to complete relaxation with a glass of local wine, The Elora Mill Hotel & Spa offers a range of delightful options.
Ste. Anne's
1009 Massey Rd, Grafton, ON K0K 2G0 – Ste. Anne's Spa offers a unique wellness experience just 90 minutes from downtown Toronto.
From the moment you step inside, the spa stands apart, prioritizing mental health and well-being. You are encouraged to put on plush bathrobes and be yourself, all within the charming ambiance of a bygone era that promotes rest and rejuvenation.
As an all-inclusive destination spa, Ste. Anne's packages encompass access to all facilities, delectable country cuisine, and allowances for revitalizing wellness classes and spa treatments. Accommodations range from group spa cottages scattered across their 500-acre property to rooms and suites in the Main Inn, catering to individual needs, couples, or groups.
With everything at your fingertips, Ste. Anne's Spa is the ideal setting to nurture mental health and well-being.
Burning Springs Spa & Thermal Pools
6740 Fallsview Blvd, Niagara Falls, ON L2G 3W6 – Burning Springs Spa & Thermal Pools is situated at the historic location of a natural spring that once captivated Niagara Falls' visitors. It pays homage to this remarkable site. The spa seamlessly integrates natural elements into the experience. They offer several encompassing experiences, services, treatments, and decor, to provide a tranquil setting steps away from the falls.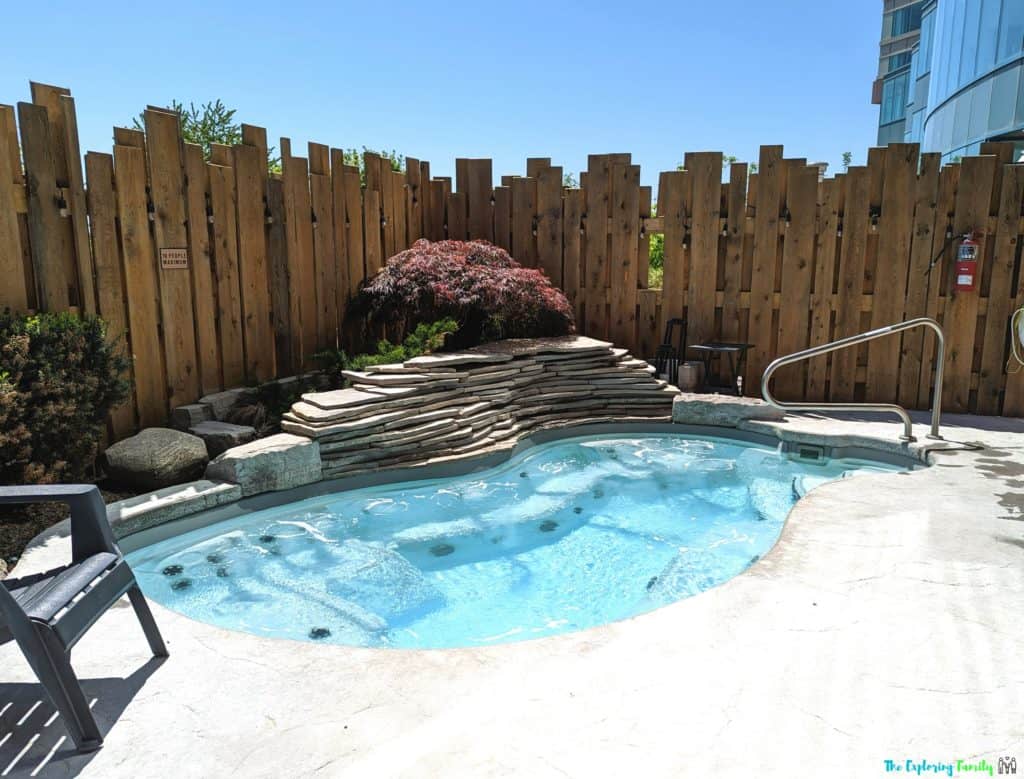 This Niagara Falls spa boasts three outdoor Thermal Pools, offering guests a therapeutic hydrotherapy journey that fosters relaxation, improved circulation, stress reduction, and detoxification, alongside the customary benefits of bathing. Indulgent experiences encompass the Himalayan Salt Sauna, celebrated for its time-honored mood-enhancing properties, rooted in medieval traditions.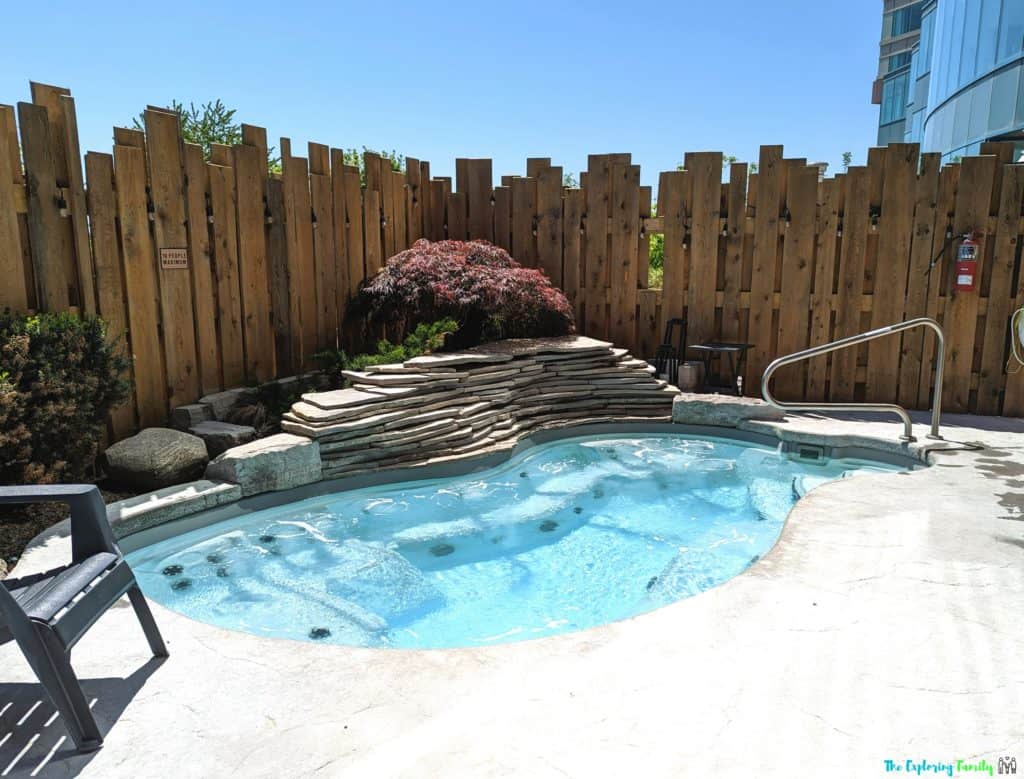 After your treatments, you can unwind in the serene outdoor fireside relaxation area, complete with a Finnish-inspired Sauna Cabin.
Pillar and Post
48 John St W, Niagara-on-the-Lake, ON L0S 1J0. – Pillar and Post gives you the chance to discover a diverse menu of spa services designed to pamper from head to toe and rejuvenate your mind and soul.
As a spa guest, your visit includes access to the cozy fireplace lounge within the interior seating area. Take advantage of the hot tub, heated indoor saltwater pool, outdoor pools, hot spring pool, and fitness center.
For those seeking guidance in selecting the perfect spa treatment, the spa concierge stands ready and eager to assist. It's all about making the most of your spa experience and indulging in relaxation.
Hydrospa Muskoka
1050 Paignton House Rd, Minett, ON P0B 1G0 – Hydrospa Muskoka invites you to experience the warmth of the Earth year-round. Here, you can unwind by their wood-burning fire pit! You can also indulge in their full-service spa, and make the most of the Relaxation Day pass.
Experience serenity and embrace the heart of nature. Savor signature spa experiences that celebrate "Wellness by Water." Find renewal and thrive in every season of life.
Check out the outdoor pool and hot tub, enjoy the wood-fired and electric barrel saunas, and so much more. The Muskoka Avalance immersion shower is a once-in-a-lifetime experience. This cold immersion shower is sure to wake up your senses and more. With a salt room, Oxygen bar and so much more, this is a great place to visit for spa services.
Millcroft Inn and Spa
55 John St, Alton, ON L7K 0C4 – Millcroft Inn and Spa boasts 17 areas designed to deliver signature spa treatments. These include private rooms, four dedicated hydrotherapy rooms, a well-equipped fitness center, indoor and outdoor pools and more. They also have a sauna, a steam room, and private men's and women's locker room facilities with showers. Check out the cozy fireside lounge, and fully licensed Spa Café.
It's an immersive environment where guests can enjoy everything from a body treatment to a great nordic hot tub.
For those seeking either self-indulgence or holistic wellness, the inviting ambiance of the state-of-the-art Millcroft Spa in Alton beckons. Their distinguishing feature lies in their holistic approach to spa services. They ensure that each spa experience is tailored to the unique needs of the individual.
Go Place Bath House
3275 Hwy 7 Unit 2, Markham, ON L3R 3P9 – Go Place Bath House is nestled in the heart of Markham, Ontario! Here, you're in for a wellness experience like no other, available 365 days a year.
Imagine over 68,000 square feet of pure relaxation, including Jacuzzis, specialty baths, saunas, treatment rooms, and cozy lounging and dining areas.
Ready to leave your worries behind? Immerse yourself in soothing specialty baths, and let the therapeutic saunas work their magic. Your journey to wellness begins right here at Go Place!
Body Blitz Spa
471 Adelaide St W, Toronto, ON M5V 1T1 – Body Blitz Spa is an award-winning spa designed exclusively for women. With two convenient locations in the heart of Toronto, this spa draws inspiration from centuries-old European water-based therapies, offering an array of therapeutic water and spa treatments.
At Body Blitz Spa, they take their "health by water" motto seriously, and their hallmark is the therapeutic waters circuit. This 90-minute journey includes a soothing dead sea salt pool, a warm Epsom salt pool, a refreshing cold plunge pool, an invigorating infrared sauna, and a revitalizing eucalyptus steam room. It's the ultimate way to unwind, relax, and boost your body's immune system. The benefits of hot and cold water therapy are awesome.
But that's not all. After your water circuit experience, you can elevate your relaxation with massages, body wraps, mud treatments, scrubs, facials, and more. Whether it's a girls' day out or a solo escape, Body Blitz Spa in Toronto has the perfect wellness combinations and value deals to suit your needs right in the heart of the city. Come and immerse yourself in the blissful world of Body Blitz!
Elmwood Spa
18 Elm St, Toronto, ON M5G 1G7 – Elmwood Spa changes spa visits for everyone. Historically, spa visits revolved around the healing power of water, making it the central theme in one's holistic experience. The time-tested hot-cold-hot approach of a water circuit has been cherished for centuries, offering numerous benefits.
At Elmwood Spa you can enjoy relaxation rooms and immerse themselves in relaxation through various water experiences. Check out the warm pools, whirlpools, steam rooms, and a delightful poolside lounge. To fully embrace the restorative benefits of water circuit spa therapy, arrive one hour before your first scheduled service.
Elmwood Spa encourages guests to incorporate Water Therapies into their treatments. They enhance the overall spa experience and promote wellness. So, go and indulge in the soothing power of water at Elmwood Spa!
Ontario Nordic spas offer a truly unique experience that blends traditional relaxation with innovative technology. Nestled within the Greater Toronto Area, these spas provide a welcome escape from the hustle and bustle of city life. Whether it is your first visit, or you simply want to visit a new spa, there are several great ways to enjoy a world-class facility in Ontario.
With their invigorating outdoor baths, serene relaxation spaces, and rejuvenating massage treatments, they create a perfect oasis for anyone in need of relaxation and renewal. If you're seeking a one-of-a-kind Nordic spa experience, look no further than the Ontario Nordic Spas. Tranquility and innovation converge for your ultimate well-being. Don't forget to bring your bathing suit.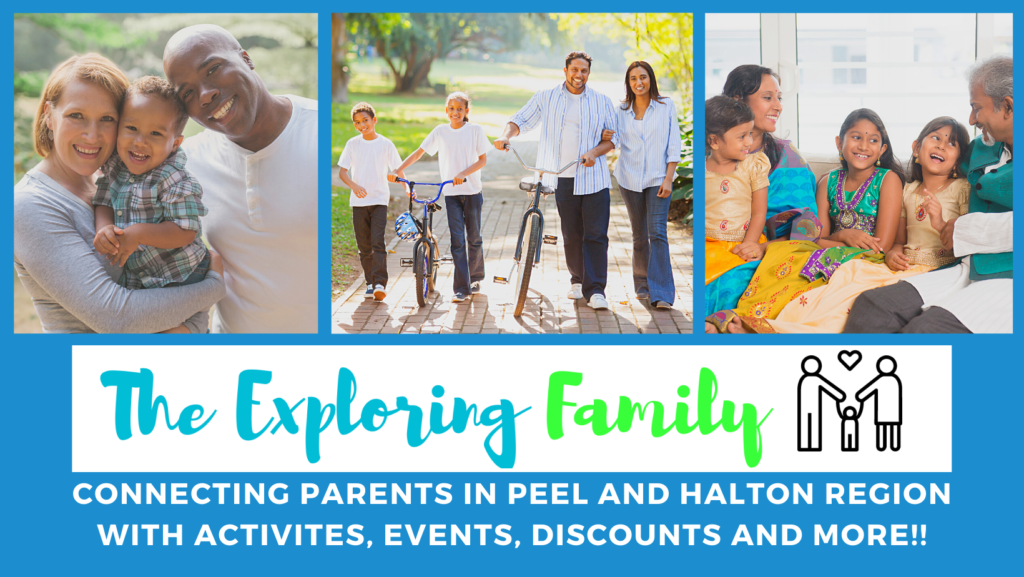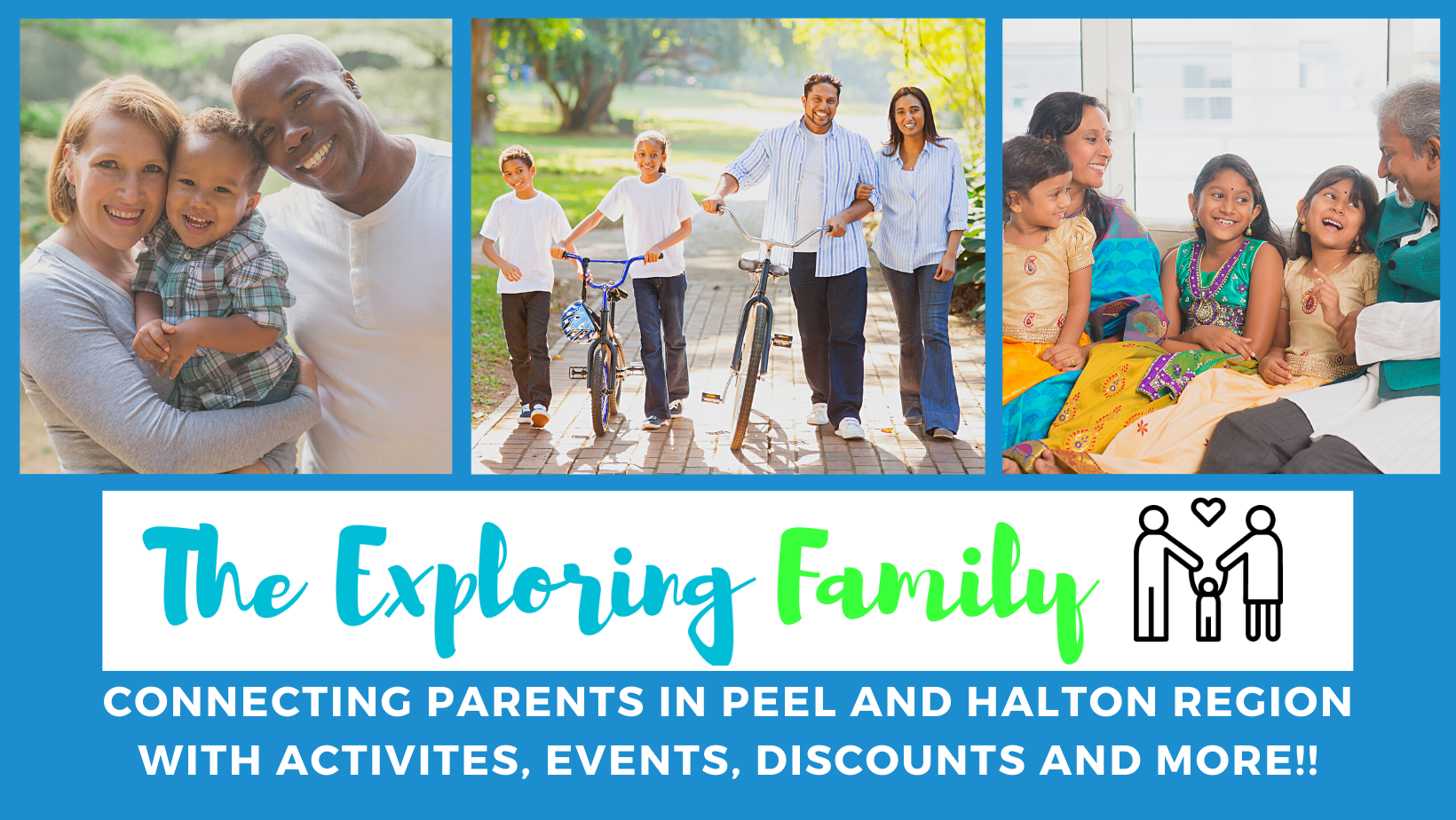 Can you help make this article better?
If you have noticed an error, have additional information or would like to share a comment you can:
E-mail us at info@thexploringfamily.com
Find us on Facebook: The Exploring Family
Find us on Instagram: @The.Exploring.Family
More Ontario Adventures & Activities