Looking for a special cake for a birthday party or even a unicorn baby shower? Then this DIY cake is for you!. This Chocolate DIY Unicorn Cake is not only beautiful but it is also fun to make.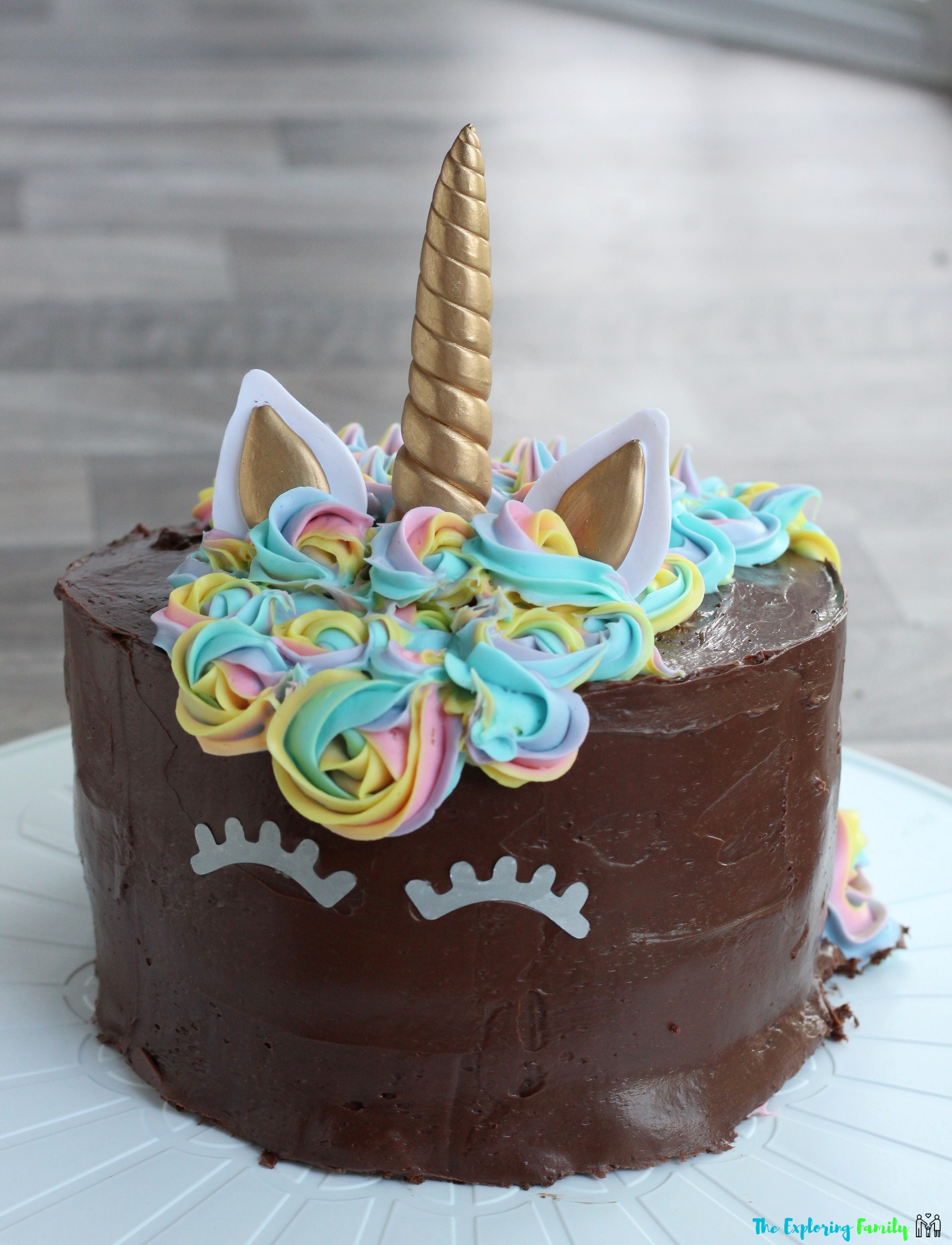 This cake complete with unicorn topper is the perfect addition to any special day. Not only is it perfect for any occasion such as birthdays, baby showers, or just because, but it is also absolutely delicious. With the unicorn trend still in full force this is sure to be a popular cake for those who love chocolate. It may seem like a daunting task to DIY, just look at that pretty golden horn, but trust me the ease of putting together this cake will make you wonder way you didn't do it before.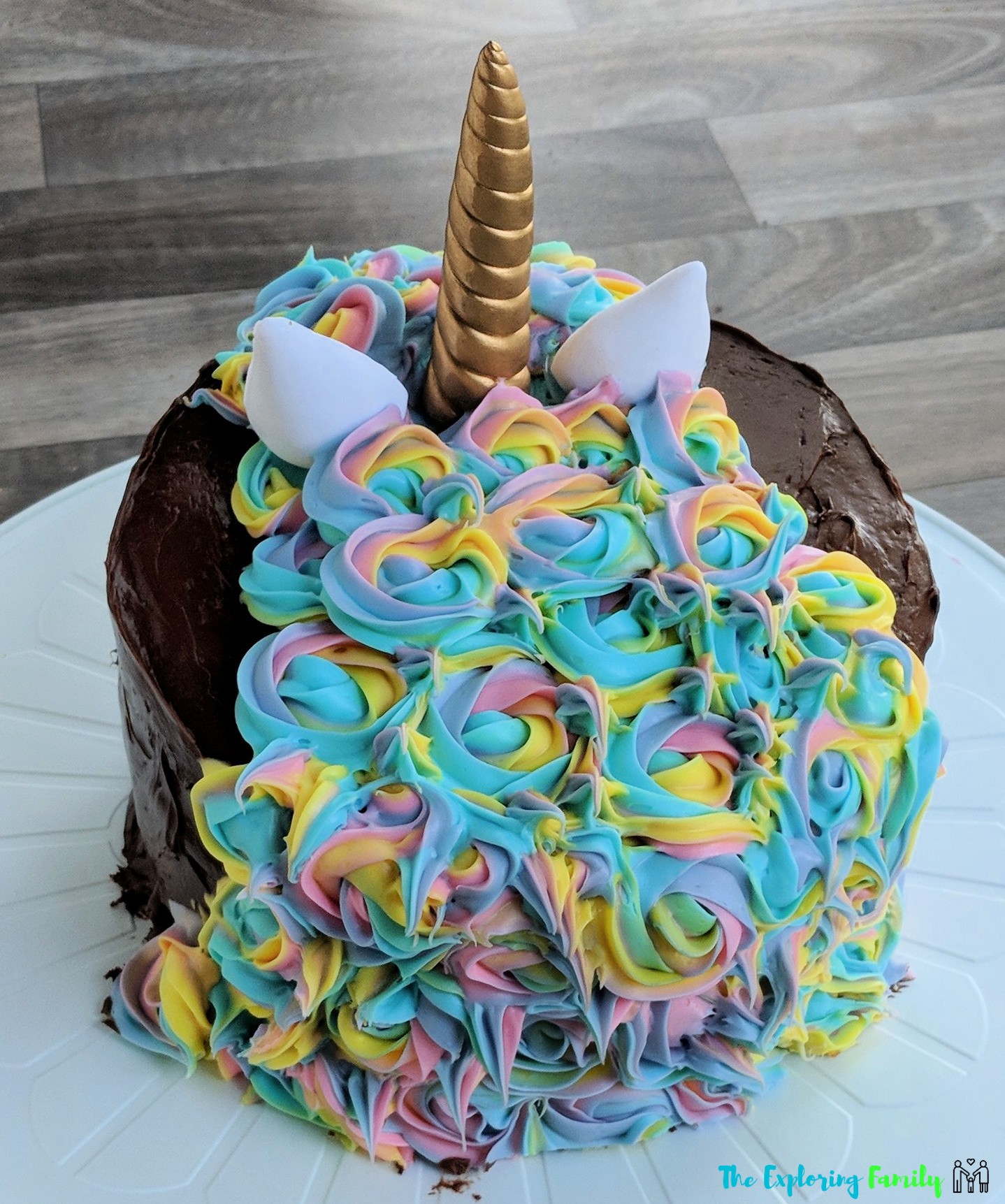 While it will look as though you spent hours baking and decorating this cake, it actually takes very little time to get to the finished product. This cake is perfect for all ages and stages in life. My little birthday girl loved, but really who doesn't love unicorns?
How to Make an Easy DIY Unicorn Cake
This Easy DIY Unicorn Cake is easy to assemble. We make a 3 layer cake, covered it will buttercream icing, and with a piping tip created colorful unicorn mane.
We used a 2 boxed cake mixes and a hand mixer to whip up the cake batter to create a delicious flavour combination, but you are more than welcome to bake your favourite cake from scratch. For your special occasion you decide how much time you have to put into the cake. We decided to use 2 different flavours – chocolate and vanilla (with pink food colouring) rather than a rainbow cake as the birthday girl LOVES chocolate.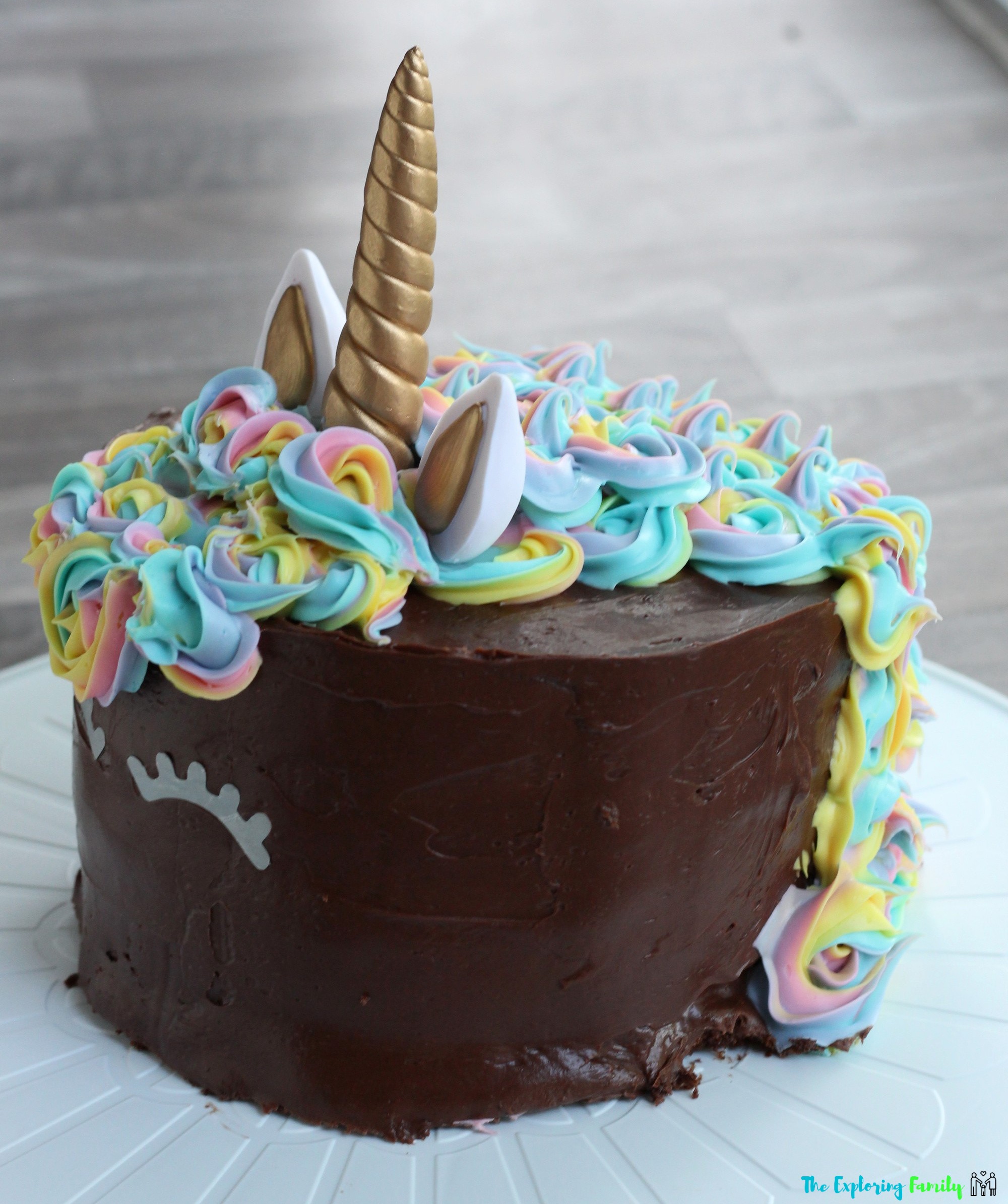 No matter what cake you are using – sponge cake, eggless cake – just make 3 cake layer that are the same size (I used 8 in rounds).
You won't find any fondant cakes here. This Easy Rainbow Unicorn Cake is Made with buttercream frosting. The color combination between the chocolate and the mane really pops. You can use different colors to suit your colour preferences. We used the store bought icing for this cake, to save on time, but you can use homemade icing as well.
When making icing from scratch we quite like this Swiss Meringue Buttercream recipe. It is delicious and quite easy to decorate with.

What You Need to Make a Chocolate DIY Unicorn Cake
The ingredients for this chocolate DIY unicorn cake can be as simple or as complicated as you would like. Either way, the results will be astounding and beautiful.
2 Boxes of Cake Mix – You can choose any flavour that you like. I used 2 layers of chocolate and one layer of vanilla. I put pink food colouring into the vanilla cake to change the colour. Bake them into 3 – 8 inch round cakes. (Make sure that you do not overfill your pans, you can always use any leftover batter to make some extra cupcakes.)

3 Containers of Vanilla Frosting – We used Vanilla as it is the easiest to dye with the food colouring to create the unicorn effect. You will want 1/2 a tub of each colour: blue, yellow, pink, purple, plus one for the centre layers

1 Container of Chocolate Frosting – This will be used to ice the outside of the cake prior to adding the embellishments.

Unicorn Cake Topper – We used these to decorate the cake to give it the appearance of a Unicorn

Cling Wrap & Waxed Paper

Piping Bag

Wooden Skewers

General baking equipment including small bowl, large bowl, electric mixer, cooling rack, parchment paper, cake leveler (optional)
DIY Unicorn Cake Recipe Instructions
Making this DIY unicorn cake doesn't have to be overly complicated, although the results will convince people otherwise. This cake is quite simply a couple of boxed mixes and some dyed premade icing put together to create a multicolour mane. Then, the cake is topped with your unicorn horn, unicorn ears and eyes and then served. The results are quite impressive and eye-catching without too much fuss.
Step 1
The first step is to bake cakes according to your recipe. Do not overfill your cake pans. If you have leftover cake mix, use it to make cupcakes. Cool cake on a cooling rack until room temperature prior to icing them. Otherwise, the icing will not stick properly and will just melt right off.
Step 2
The next step is to dye your Vanilla icing using food colouring. You will want 1/2 a tub of each colour: blue, yellow, pink and purple / lavender color. Reserve one tub of vanilla icing to use in the centre of the cake.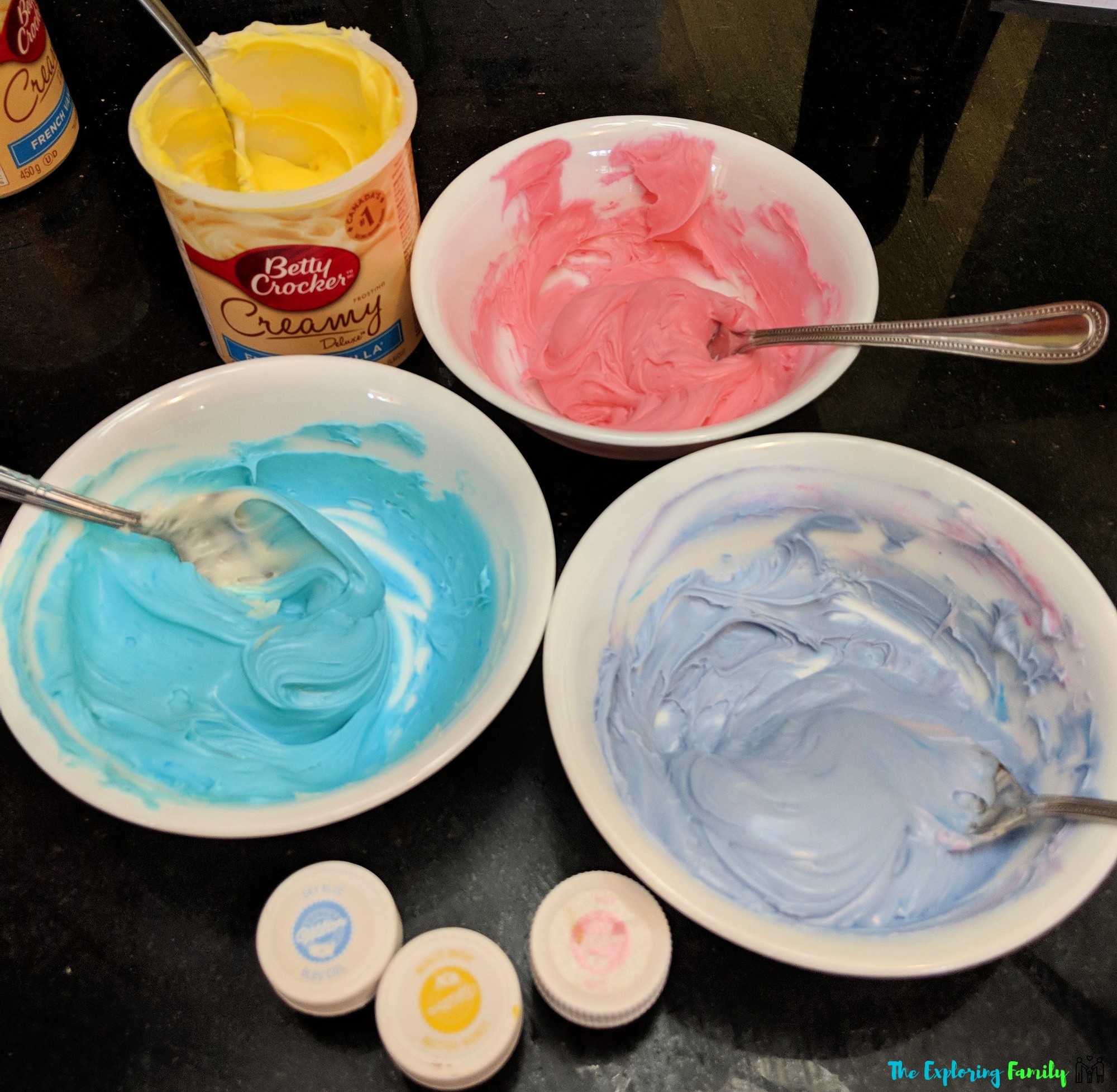 Step 3
The Next step to making your magical unicorn cakes is ince your icing has been dyed, lay it down in rows side by side on plastic wrap. Roll the cling wrap together into a log and chill in the fridge.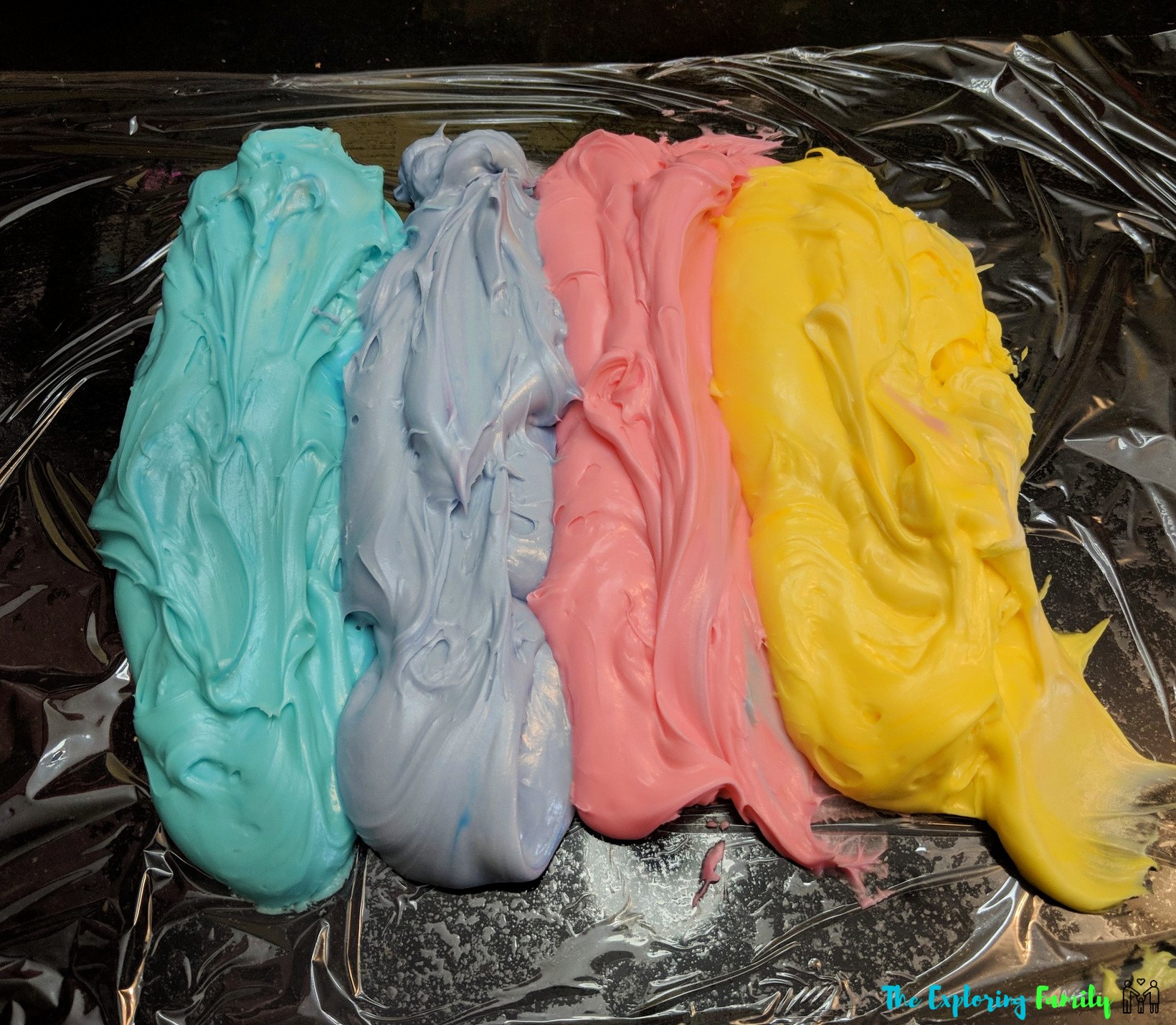 Step 4
Once your cake has cooled, place strips of wax paper or parchment paper down on your cake board to protect the edges of your board from icing. Add a thin layer of buttercream between the bottom layer and middle layer of the cake. Repeat between the middle layer and top layer of cake. We used white frosting, with some pink dye for this. Once the cakes stacked together you can secure with wooden skewers or cake pop stick. Cut skewers so they are level with the top of the cake (if necessary).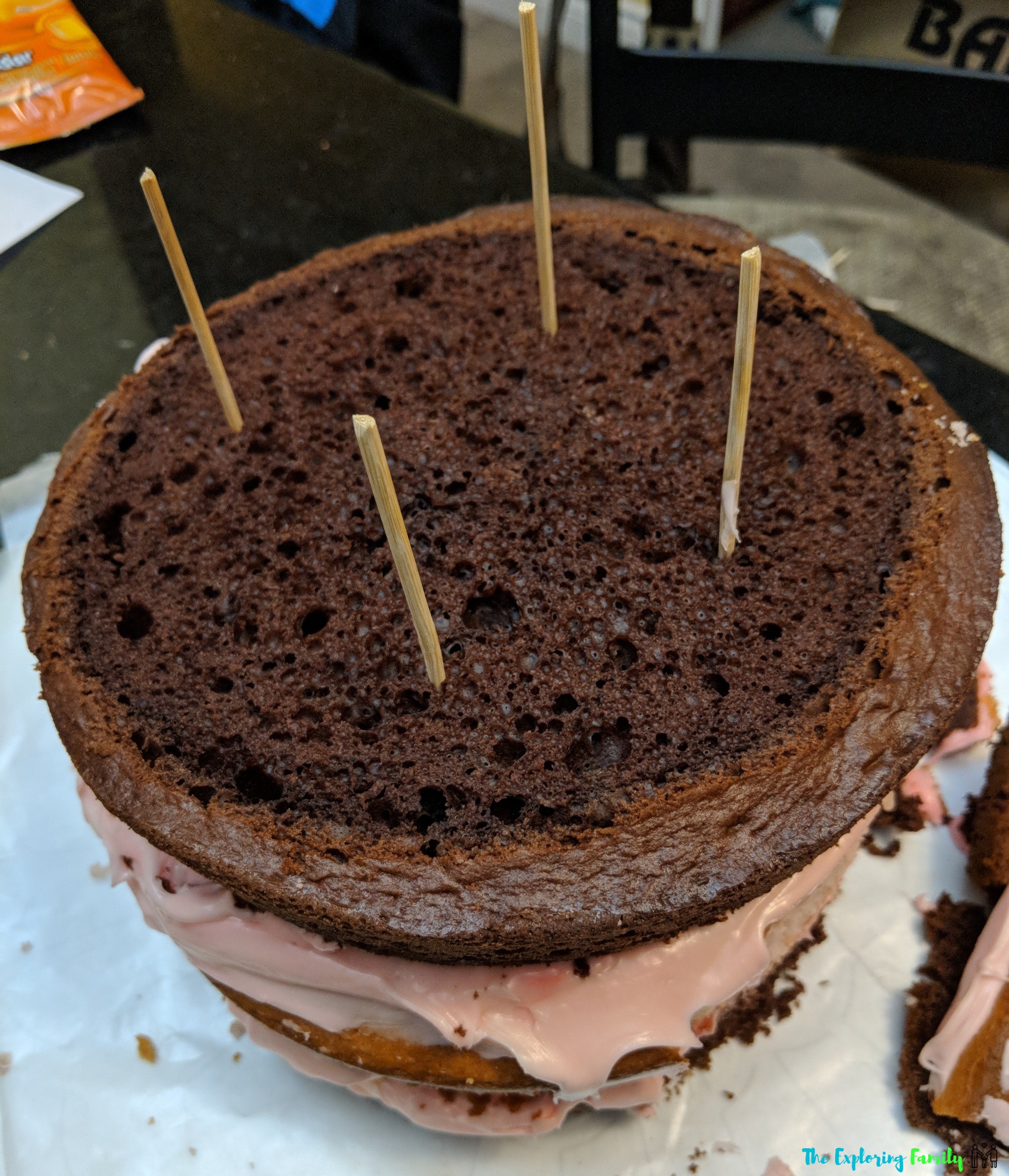 Step 5
Once cakes are stacked, you will be able to frost the entire cake with chocolate frosting. Making sure the sides of the cake are fully covered. This will create a thin yet smooth layer of icing that will act as the base for your decorations including unicorn eyes.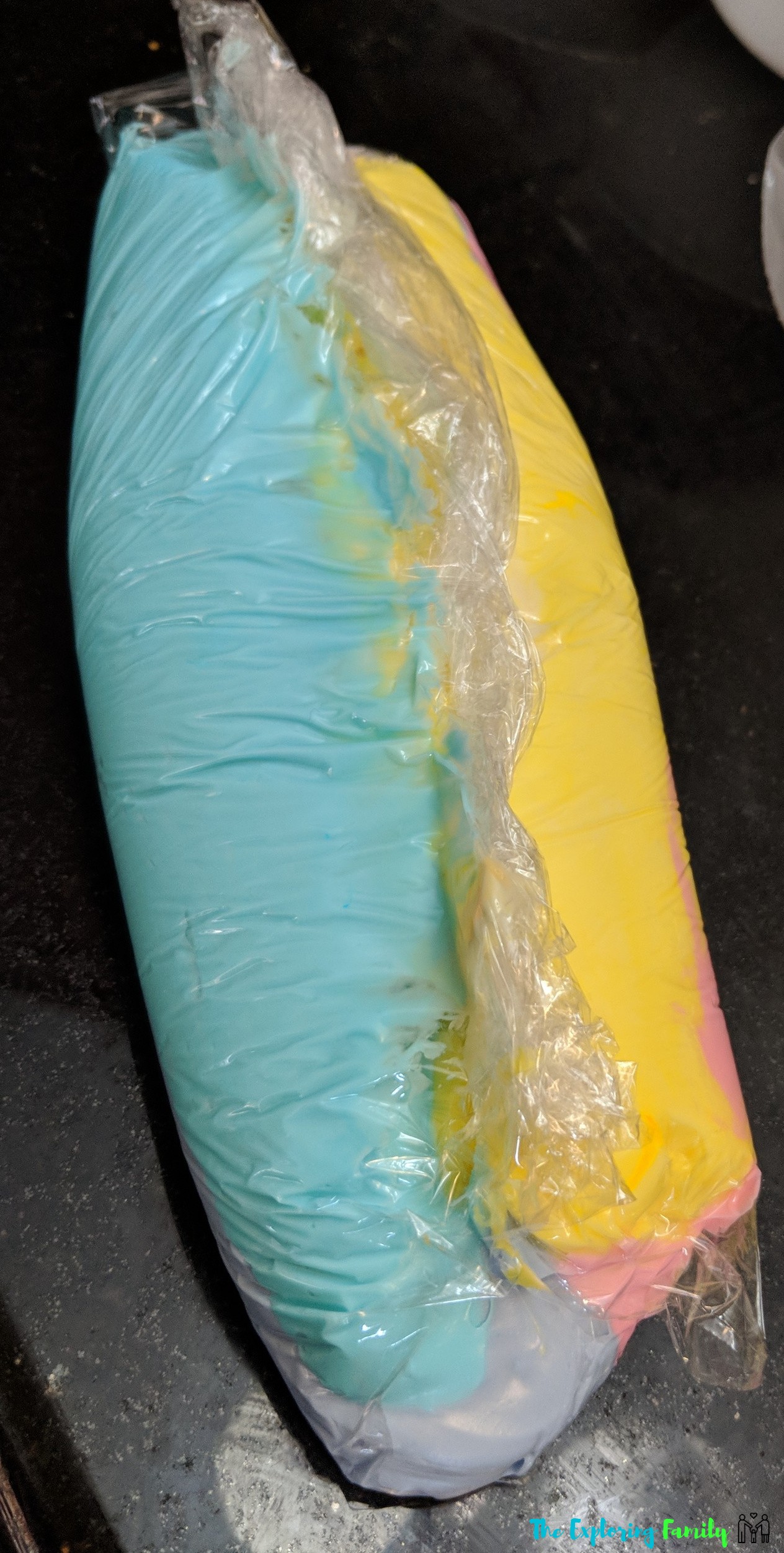 Step 6
Remove your colored icing log from the fridge and cut the end of the plastic wrap to expose one end. Put the entire icing log into a piping bag with a large star tip. Starting at the front of the cake pipe out your decorations for the mane. Create different sizes of piped small circles to create the unicorn mane. Continue to the over the top and down the back of the cake.
Once you are done decorating, carefully slide out the strips of wax or parchment paper from around the edges of the cake.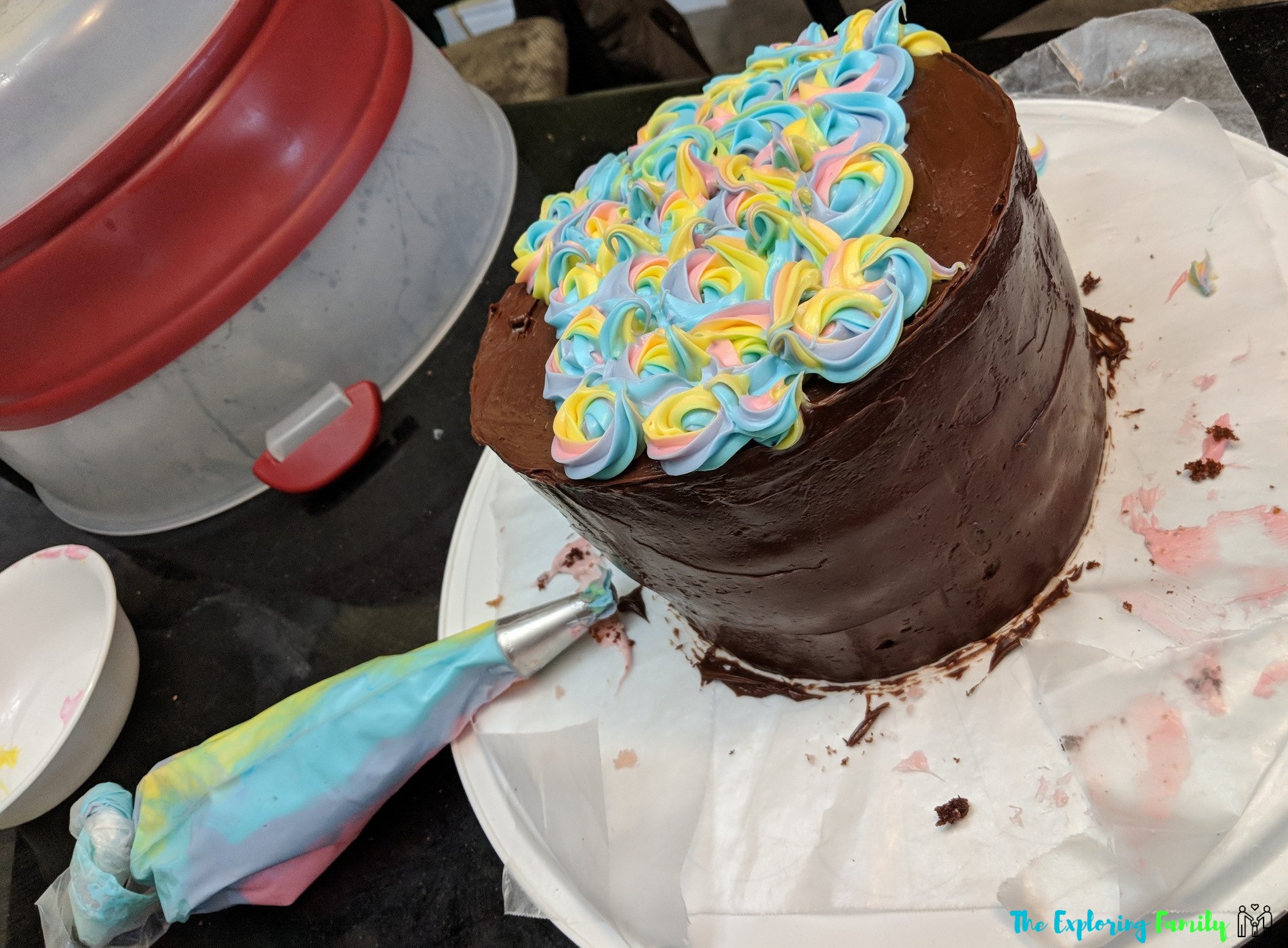 Step 7
From the Unicorn Cake Topper Kit (I got from Amazon) place the Unicorn's Horn, ears and eyes. You could also pipe eyes if you like instead with silver or black frosting. Then serve to your guests!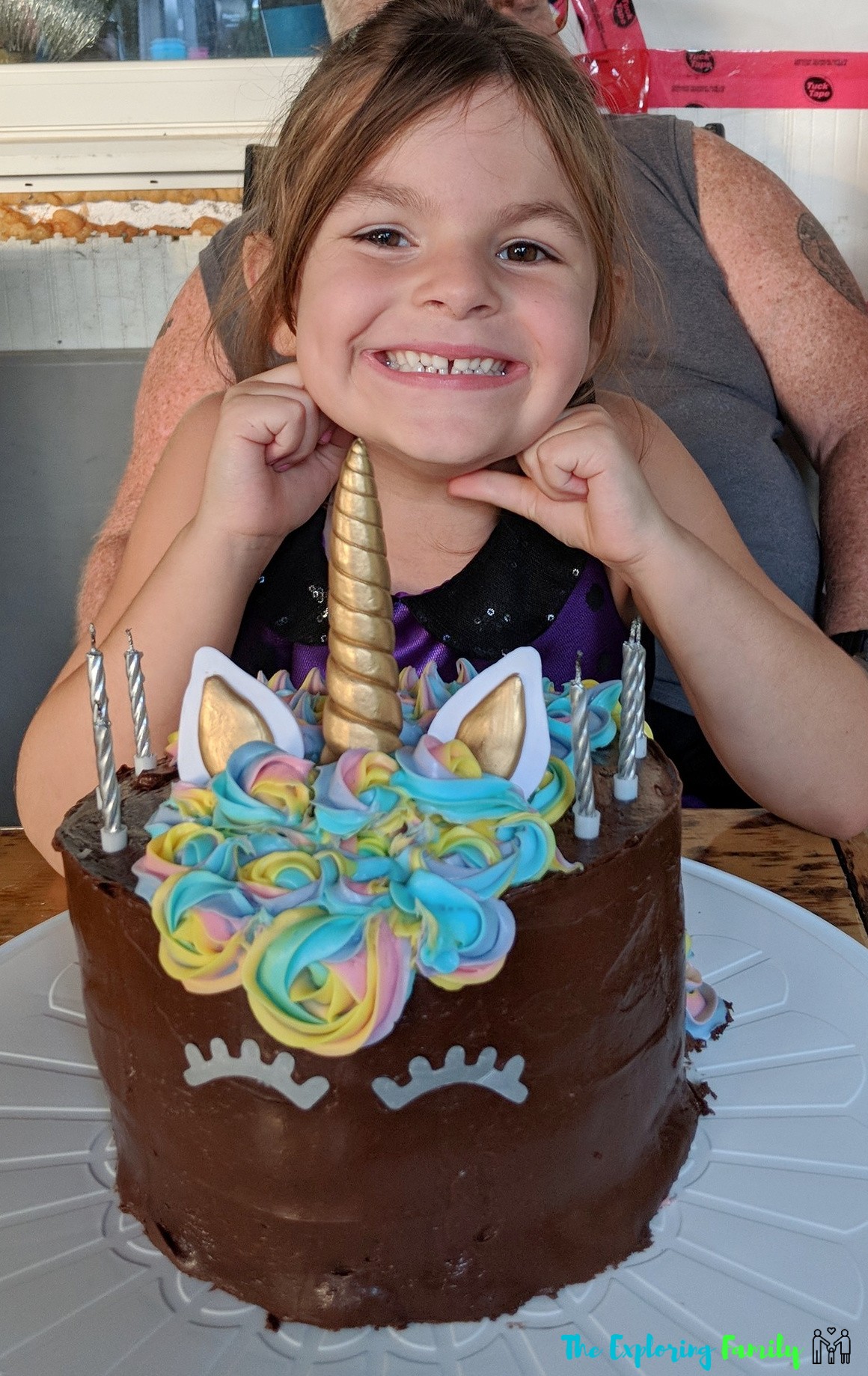 Birthday cakes don't have to cost hundreds of dollars. No matter what kind of DIY Cake you decide to make, you are sure to please everyone gathered around your table.
More Kids' Birthday Cake Ideas