A Meal train is a fantastic way to help new parents, neighbours, and more. Especially those who may need a little help with meals. Learn how to easily organize a meal train today.
If you want to set up meals for friends, a Meal train is a great way to do that. In fact, if you use a Meal Train App, it's easy to arrange.
Whenever difficult or tragic circumstances arise the first thing people ask is "how can I help?".
People often offer food or bring meals when someone has an illness, is a new parent, or has recently lost a family member.  It is not really much help if everyone shows up at the same time with food. You can run out of fridge/freezer space and much will go to waste if it can't all be eaten in time.  
That is where a meal train comes in. Meal Trains are a simple way to organize all of the offers of food so that the family gets help when they really need it.
How to Easily Organize a Meal Train
If you are wondering how to easily organize a meal train, you are sure to find some great tips. Using a Meal Train App can help significantly. It is also important that you have some great Meal Train Meal Ideas ready. We can help.
What is a Meal Train?
So what exactly is a Meal Train?  A Meal Train organizes meals for friends or family after a death in the family, birth, surgery, illness, or any significant life event that requires some extra help.  
They are organized in order to ensure that meals are dropped off in intervals. This avoids fridge and freezer space from being overused and it also helps to avoid too much food waste. 
Why Be Part of a Food Train?
I have been part of several meal trains to support other moms in my community, some of whom I have never met. Supporting others in our community by providing a meal during a difficult time is the least I can do. 
The circumstances around using a meal train have varied from unthinkable tragic loss of a child, a sudden death of a father, and an unexpected NICU stay with a newborn. When there is an outpouring of support it can be helpful to organize it. You don't want the family to be overwhelmed all at once.
With most meal trains a group of people come together to support the individual or family by providing 1 meal a day.
Do You Know Someone Who Needs a Meal Train?
Know someone who could use a little support? I encourage you to start a meal train and reach out to friends and family of the person needing the support to join in.
It doesn't take much to start up a meal train. You will be pleasantly surprised at how many people are willing to help out.
How to Easily Organize a Meal Train
There are few tips that will help you learn how to easily organize a meal train. Make sure to take these things into consideration if you are planning to help out a family.
Talk to the Family
While many offers of help are well-intentioned it is important to talk to the family first to see if they are open to this sort of generosity.  Don't push it and let them know that their will be minimal work on their part, just reheating the food when they are ready to eat.  It may also be helpful to let them know that this will help keep the people who want to help organized so they don't end up with 5 meals 1 day and none the next.
Get Numbers
Find out the number of people who will be at the house for the meals to get an idea of how large the meals should be. For example, are there family coming to stay from out of town to help care for children while a parent is in the hospital? Get an approximate number is helpful for people who will be providing the meals
Food Preferences and Allergy Check
Do a quick check with the family to see if there are any allergies, or any foods they do not eat.
Get Organized
Decide how you are going to track the Meal Train.  You can use a shared spreadsheet on Google Docs. You can also use a free meal train app that makes it easy to track who is signing up for which day.  Check out the list below for some free apps you can use for Meal Trains.
Get prepared
A great way to organize the train is to put a cooler at the drop-off location. This is so that if the family is out, or they would rather not be disturbed, there is a safe place to drop off the food.  A couple of ice packs placed in the cooler daily will keep everything fresh until the family brings the meal inside.  A sign on the top of the cooler can be flipped over to let the family know the meal has been dropped off and is waiting for them.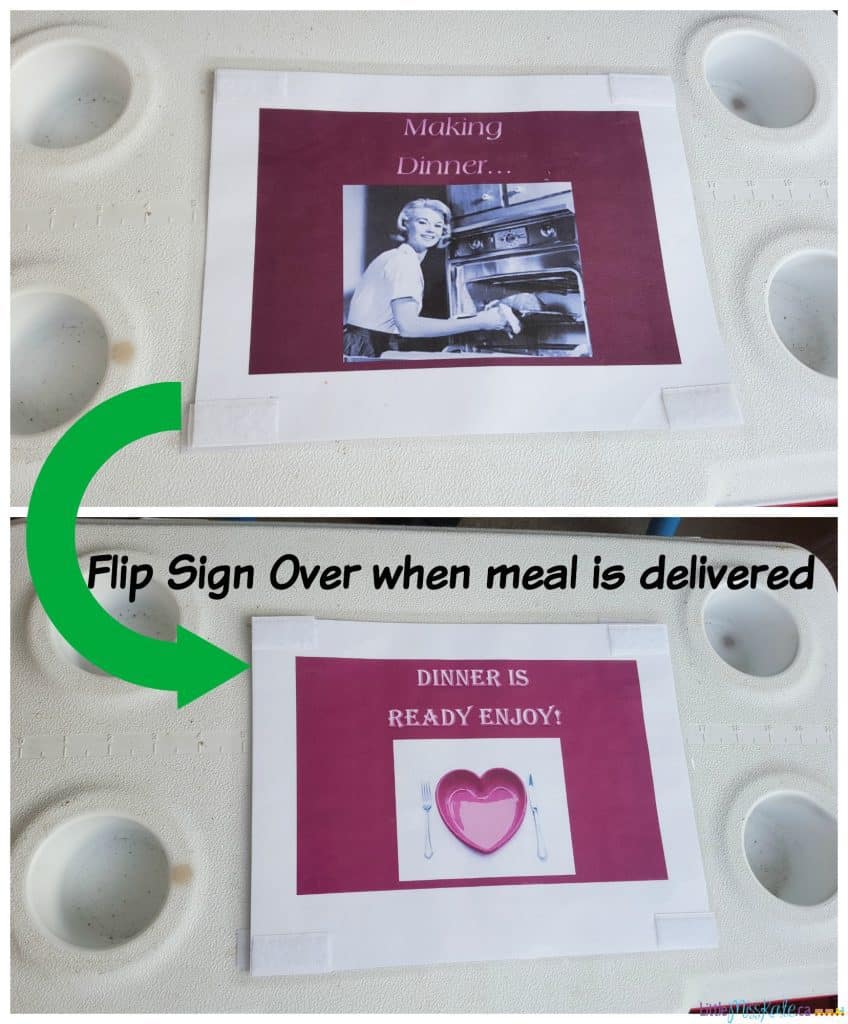 Get Creative
If everyone makes chili for the Meal Train it will get boring pretty quickly.  The goal is to have easy meals on hand that just need heating up with minimal prep work.  Remember the family is going through a stressful time, so this is not the right time for a complex meal that takes a lot of time for them to prepare.  Check out the Meal Train meals below for Inspiration.
Free Apps for Organizing a Meal Train
There are a few Meal Train Apps that allow for planning. These apps are free to use and make planning a meal train much easier.
Uncomplicate the process by using a Meal Train App.
Google Docs
Google Docs may be the quickest Meal Train App option. Create a public spreadsheet with a row including the dates meals are needed.  Then people would complete the columns beside the date they are choosing with who is providing the meal and what they are providing (to try to avoid duplicates).
MealTrain.com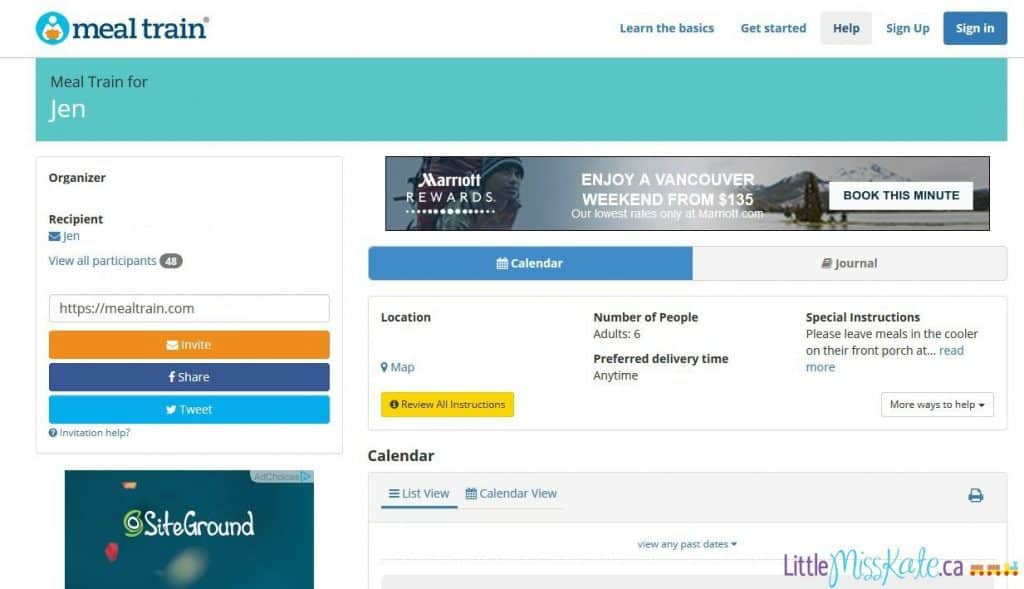 I have used the website MealTrain.com for a couple of Meal Trains I have participated in. This Meal Train App provides an easy-to-navigate user interface where you are able to quickly see what dates are open to provide meals. Then you can sign up for a date that works for you.  MealTrain.com also provides an email confirmation and an email reminder the day before your selected Meal Train day.
If you are organizing the meal train, remember to include instructions such as:
Please leave meals in the cooler on their front porch at any time.
Don't use containers or dishes you will need back. Dollar stores have great disposable options.
Any allergies or preferences, or if there are none at all.
The link to the Meal Train calendar can easily be shared via email or social media. People can easily sign up to support a family needing a helping hand.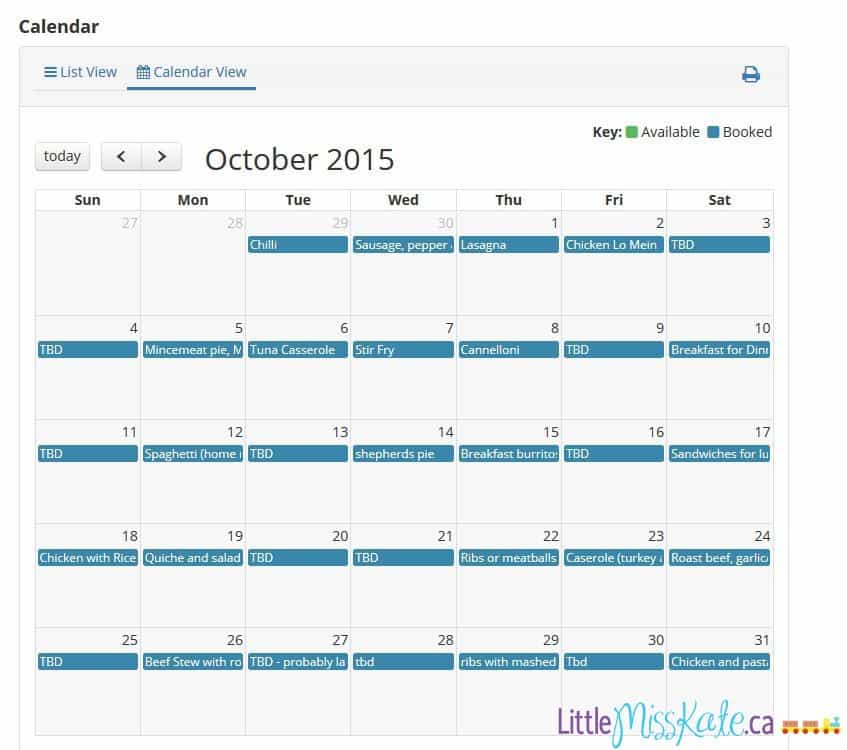 While I have only used MealTrain.com there are other services out there including CaringMeals.com, MealBaby.com and TakeThemAMeal.com.
Meal Train Meal Ideas
 Need some inspiration for Meal Train Recipe Ideas?  Here are some meals that you can prepare ahead of time that needs minimal work to heat and serve.
If you know a family who could use a helping hand, I encourage you to start up a Meal Train.  This aids others who want to help, to be able to offer support in the form of a meal. Meal Train apps work to easily keep everyone organized so as not to overwhelm the family. 
Your thoughtfulness and organization will be appreciated by many. 
Not planning a meal train right now, then PIN it for later.