When being invited to a baby shower, it can sometimes be tricky to know what the best gift ideas would be to give. While baby clothes are fun to give, and super cute, many people will give clothes, and often new parents end up with a lot more clothes than they can put on the child before they outgrow them.  Case and point Monkey had 50 onesies when he was 3 months old between hand me downs and gifts that we had been given.  Don't be that gift giver that gives another newborn outfit.  We have put together a list of our top baby shower gift ideas to help you get a gift that will be put to great use! Everyone loves to celebrate the arrival of a new bundle of joy.  Shopping for a new baby can be so much fun, however it can also be tricky to find a unique and useful gift that the new mama will love.  Here are baby shower gift ideas that are sure to impress:
Top Baby Shower Gift Ideas for a First Time Mom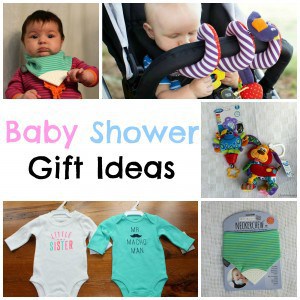 1 – A Diaper Bag – A great diaper bag is a MUST! Be sure to check if they have a one listed on their registry to get the one they chose. If not, find one that fits their personality and has lots of room for all the things they will need! Pockets, roomy main compartment, and a bonus change pad are great things to look for. Stocking it with a few essentials already can make it a great group gift, or you can add in that cute outfit you really wanted to get too!  Our  Favorite  is  the Oemi Diaper Bag.
2 – Playtex Playtime Cups – Cups are a great addition to any gift, as you need them sooner than you think! Having the on hand is one less thing Mom and Dad will have to run out for later. The Playtex Playtime cups come in 2 styles: spout and my favourite the straw. With Twist 'n Click technology, you know when you have the lid tightened to ensure there are no leaks around the rim. The straw cups also feature a sliding closure that covers the straw to keep it clean and prevent any leaks from the straw as well. For hot days the double walled insulated cups help keep drinks cold while they are on the run! We started using the straw cups around 6 months with our kids, so don't worry they won't be sitting around waiting to be used for long.  You can see my video review of the Playtex Playtime Cups:
3 – A Diaper Pail – Whether they are cloth diapering or using disposables they will need to put the soiled diapers somewhere. For disposables, Diaper Genies are a popular brand, that is quite effective at keeping smells locked away.
4 – Toys – There are so many toys that make great options that help a baby's development, and physical abilities. We love gifting Stacking Cups and blocks, even young babies enjoy holding them and banging them around.  Once the child is older there are endless hours of building towers and knocking them down.  A stuffed toy that will become their "lovey", may also make a great choice. It's Play Time -By 3 months old babies are ready to start exploring the world around them by reaching out and holding on to toys.  However their coordination skills still leave something to be desired.  That is why toys that can clip on, like the Playgro Pooky Puppy, are perfect.  Lots of fun for baby, without mom having to pick up dropped toys all the time.
Ride In Style – The Activity Spiral is perfect for keeping baby entertained in the stroller or car seat.  Wrap the spiral around the handle and away you go with built in entertainment that your baby can't throw on the ground.
5 – Bottles – Even breast fed babies may get a bottle from time to time, so gifting bottles that are good for a breast or bottle fed baby is a great idea. We recommend getting the Playtex wide mouth slow flow bottles as they are good for breast to bottle transition. It takes out some of the stress of having to give a breast-fed baby a bottle.  The Playtex Bottle & Nipple Gift Set includes 2 Playtex bottles (1 Drop-in Nurser and 1 Ventaire) along with 4 different nipples to try with the baby to see which nipple they like the best.  Learn more about this great starter bottle set in my video review:
6 – Dress To Impress: From spit up to drool there are a lot of fluids that come out of babies.  The Cheeky Chompers Neckerchew is more then just a "bib" the soft fabric is 3 layers thick which offers lots of absorbancy for drooly babies.  I love that the Neckerchew is reversible and has 2 snap settings to grow along with your child.  It has a teether attached right to it for baby's who want something to bite on.

7- Don't Forget Mom – Add a little something in just for mom to your gift.  Everyone is so focused on baby, it can be easy to forget that new moms need a little attention too.  Pick up a some nice tea, or a pack of nursing pads if you like to go the practical route to give as a little gift  just for her like a nursing tank top.
8-Go Big – If you know the gender of the baby buy clothes that are 12 months or larger. So many people give clothes for the early months, but kids grow so fast at the newborn, 3, 6 and even 9 month stage that they don't wear them for very long.  Even if you don't know the gender you can still by clothing in neutral colours, or socks (because you can never seem to have enough socks!).
Shopping for a baby shower should not be stressful!  Enjoy shopping for the new baby and mommy and keep these baby shower gift ideas in mind for easy shopping. Shopping for baby showers just got easier with these baby shower gift ideas!  If you are in charge if bringing food to the baby shower, why not make up some Baby Rattle Oreo Pops, or a Baby Shower Fruit Carriage. Need to plan a game for the Baby Shower, then checkout the Baby Advice Game.
If your a new mom you may be interested in:
Disclosure:  This post was brought to you by Playtex Infant.  All opinions are strictly my own.