The holiday season is a time of wonder and joy, and what better way to experience its enchantment than by hopping aboard a festive Christmas train ride? Ontario offers a delightful array of holiday-themed train rides that are sure to transport you to a winter wonderland filled with twinkling lights, hot cocoa, and holiday cheer. Whether you're a local looking for a new tradition or a visitor exploring the region, these Christmas train ride are a must-see attraction.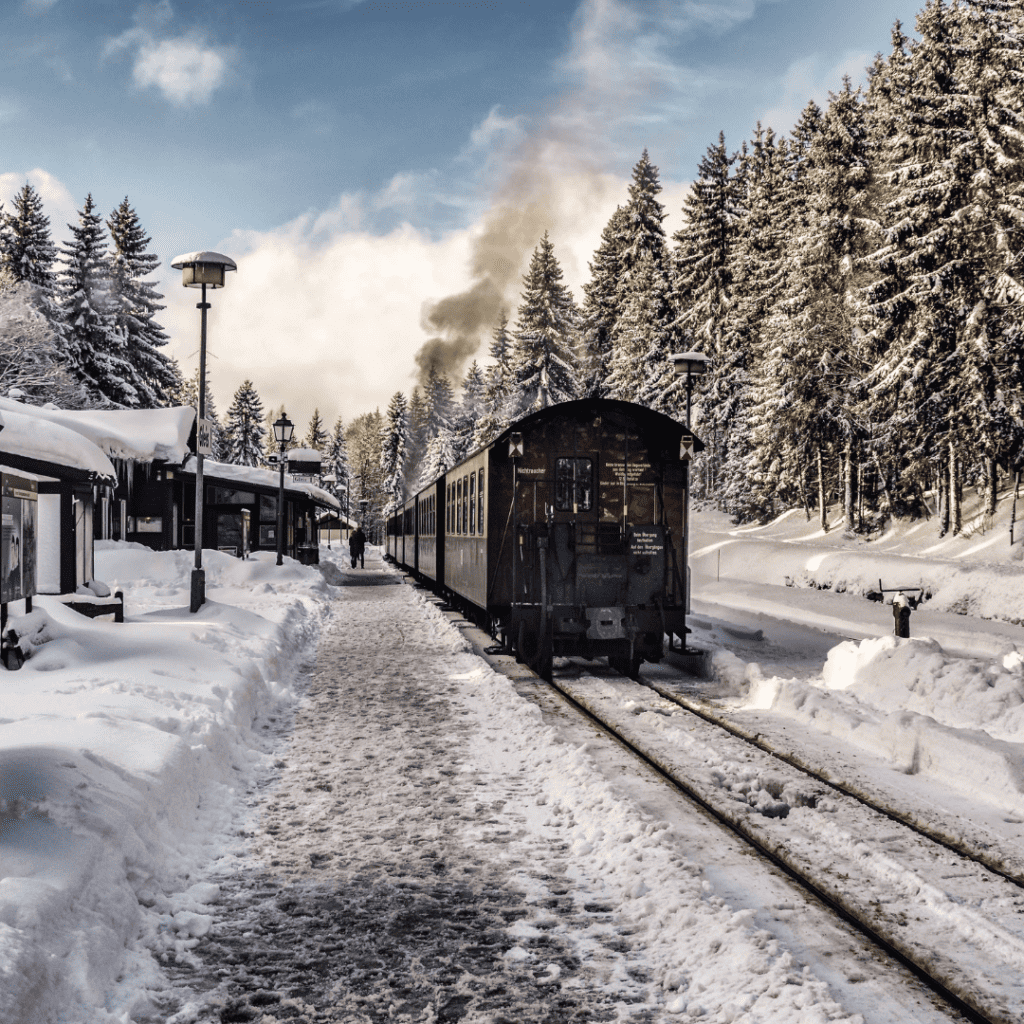 If you have ever watched the holiday favourite, The Polar Express then you will understand the allure of enjoying a Christmas Train Rides with the family and while the Santa Rides in South West Ontario won't transport you to the North Pole its about the next closest thing. There are a variety of Christmas Train Rides you can experience so let us guide you to the best Holiday train ride for your family.
After a fun train ride you can go home and enjoy Family Christmas Movies or Christmas Movie Snacks, we even have a Guide for Christmas Movies for Toddlers and Preschoolers where the movie length is shorter.
You may be Interested in: Drive Thru Holiday Light Displays, Best Christmas Light Displays in Brampton and Mississauga, Best Christmas Light Displays in Georgetown, Acton, Milton and Oakville
The Best Places to go for a Christmas Train Ride
Plan your ideal festive family experience early! Southwest Ontario has picturesque landscapes that are the ultimate destination for your Christmas train adventure. Allow your kids to experience that Magical Experience of the Train Ride Experience as many rail companies offer an experience that mimics the Polar Express.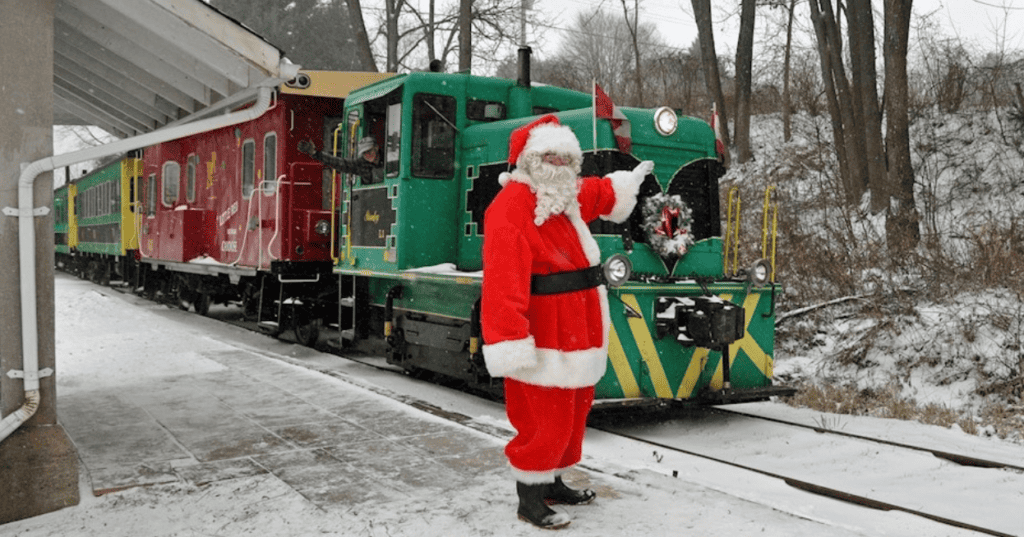 1. Santa Treats Train Rides
Enjoy a ride through Elgin County in the warmth of a heated train car and watch your child's anticipation grow as they wait for Santa on the train. Live entertainment may occur on some trains. Santa has treats for the kids and adults can enjoy the views of the Lakeside Village of Port Stanley. PSTR is an operating tourist railway and has been in operation for over 35 years.
If you have a large group you can even book the Red Caboose for a private party for groups over 20 people.
Dates: November 18th, 19th, 25th and 26th, December 2nd,3rd,9th,10th,16th,17th @11:00 AM, 1:00Pm and 3:00PM
Location: Port Stanley Terminal Rail, Bridge Street, Port Stanley
Price: Adults $20, Children 2-14 $12.50
Where to Buy Tickets: Port Stanley Train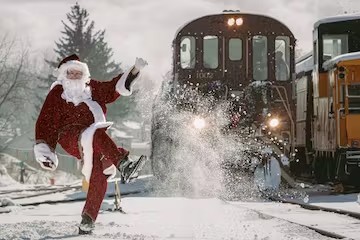 2. Santa Express: Waterloo Central Railway
Hop aboard the Santa Express in St. Jacobs, operated by the Waterloo Central Railway. Join us at the Farmers Market Station adjacent to the St. Jacobs Farmers Market and board our annual day time Christmas train experience. Santa loves trains and he has just let us know that he will be able to spare some time during his busiest season for a fun filled train ride.
The train is adorned with holiday decorations and provides a picturesque journey through the snowy landscapes of the region. It's the perfect way to create lasting memories with loved ones. While on this heritage train, passengers will ride through the Waterloo countryside from St. Jacobs to Elmira while enjoying festive carols, Christmas crafts, a holiday dance party, and, of course, a visit from Santa!
Children young and old will enjoy this special experience unique to the Waterloo Region. This holiday train ride is a festive favorite for families in South West Ontario.
Dates: Saturday and Sundays in November and December
Location: Waterloo Railway
Price: Adults Starting at $29.99, Children 2-14 $24.99, Prices are cheaper in November than December
Where to Buy Tickets: Waterloo Central Railway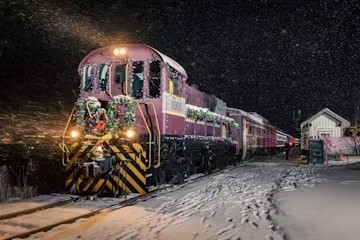 3. Santa's Christmas Caboose
Santa's affection for trains runs deep, to the extent that Mrs. Claus surprised him with his own unique caboose for the upcoming Christmas season. We invite you to join us on an enchanting journey to witness this extraordinary caboose.
Please assemble at the Farmers Market station, conveniently located near the St. Jacobs Farmers Market, where you'll embark on our annual Christmas train ride, illuminated by the soft glow of nighttime Christmas lights. Gather your loved ones, including family and friends, as we set off to explore Santa's specially adorned caboose. Upon our arrival at the caboose, you'll have the delightful opportunity to meet with Mrs. Claus and the jolly old Santa himself. Mrs. Claus even inquired about the caboose having an oven, so anticipate some delicious Christmas baking as well!
Let this adventure put a twinkle in your eye and rekindle the magic of the season as you partake in a joyful experience aboard our lavishly decorated heritage Christmas train, adorned with an astonishing display of over 20,000 captivating lights. This is Christmas, the Waterloo Central Railway way!
Dates: Thursday thru Sunday Evenings in November and December
Location: Waterloo Railway
Price: Adults Starting at $44.99, Children 2-14 $34.99, Prices are cheaper in November than December
Where to Buy Tickets: Waterloo Central Railway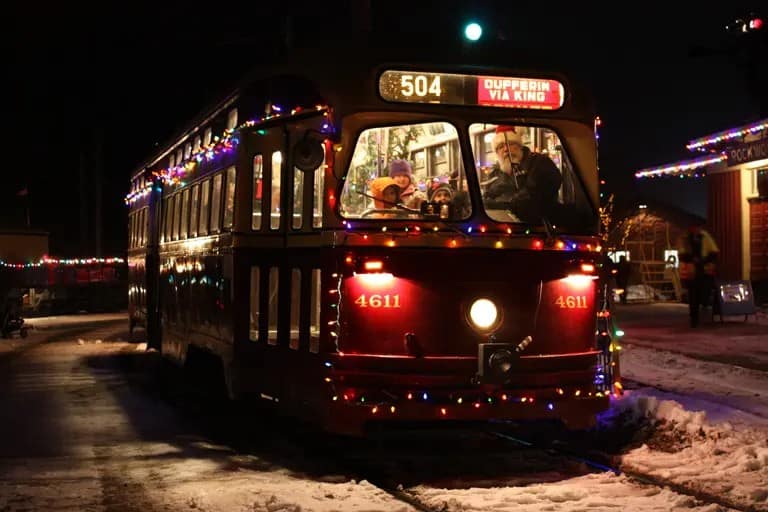 4. Christmas Trains at the Halton County Radial Railway: Milton
The Halton County Radial Railway, located in Milton, offers a unique Christmas experience. Their vintage streetcars are transformed into holiday-themed rides, complete with Christmas lights and decorations. This nostalgic journey through time is perfect for families looking to experience a traditional Christmas atmosphere. Along the route, you'll pass by historic buildings and scenic landscapes, making it a charming and picturesque ride.
Ride into the holiday season with us! We're opening our doors one last time until the spring for a unique seasonal experience. There's nothing like riding the rails through the woods with snow on the trees and Christmas carols in the air. Even Santa might make an appearance!
Dates: December 2nd,3rd,9th,10th
Location: Halton Country Radial Railway
Price: TBA
Where to Buy Tickets: Halton Country Radial Railway

5. Portgage Flyer Christmas Train
Before you hop on this beautifully adorned vintage train, let's introduce you to the term "super-magicated." It's the perfect way to describe the sheer delight awaiting you during the brief journey from Muskoka Heritage Place Rotary Village Station to Purser's Cabin. This festive occasion will be complete with carol sing-alongs, delicious cookies, steaming hot chocolate, and picturesque vistas of Muskoka from the train. Plus, keep an eye out for a special appearance by Santa himself!
Dates: December 23rd, 2023 from 4:30PM-7:30PM
Location: Muskoka Heritage Place Rotary Village Station
Price: $5.00 per person, babes in arms are free, Purchase your tickets once inside and just prior to boarding (sorry, advance tickets or reserve seating is not available)
Where to Buy Tickets: Muskoka Heritage Place
6. Christmas Lights Trolley Tour
Sing along to beloved Christmas songs as you embark on a festive light-watching excursion aboard a cozy red trolley. This 75-minute tour promises enjoyment for all ages.
Dates: Tours operate Thurs-Sun from Dec 1-24th, then daily from Dec 25-31st.
Location: Kingston Trolley Station
Price: Adults $38, Child $19
Where to Buy Tickets: Kingston Trolley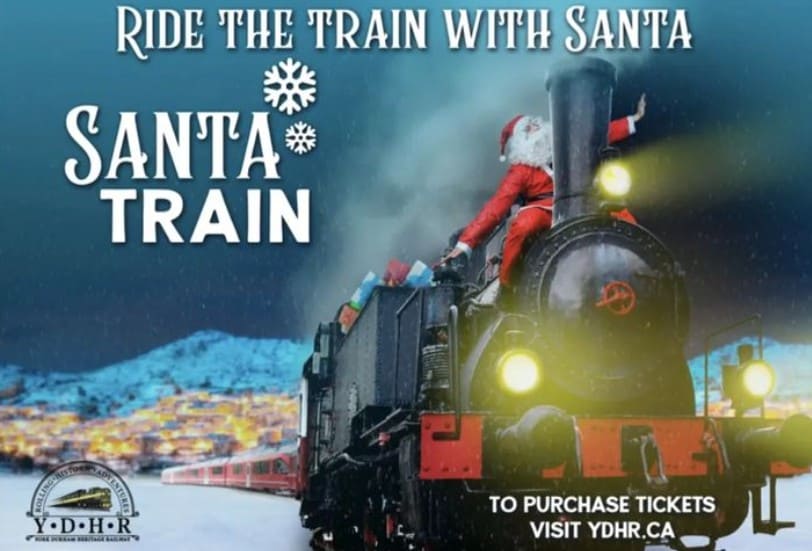 7. North Pole Experience and Train Ride
Discover the Enchantment: North Pole Adventure & Train Journey at York-Durham Heritage Railway in Uxbridge, Ontario. Step onto our exquisitely adorned train while the Conductor Elves breathe life into Santa's magical journey! Enjoy onboard singing and dancing, and witness the sheer joy and excitement in your child's eyes as they meet the one and only Santa Claus!
Share your holiday wishes, capture photos, and create heartwarming memories that will endure for a lifetime. Engaging Holiday Entertainment: Immerse yourself in the wonder of the North Pole with delightful activities suitable for all ages. Experience the enchantment of Santa's Grand Station as the North Pole comes to life right before your eyes!
Unique and Cherished Gifts: Whether it's handcrafted ornaments or cozy winter accessories, you'll discover the ideal presents for everyone on your gift list. Please allocate a minimum of a 2-hour timeframe for this experience, which encompasses the grounds show, train boarding, and other extraordinary elements.
Dates: November 25th – December 21st
Location: Uxbridge
Price: Adults $54.99, Child $44.99
Where to Buy Tickets: York Durham Heritage Railway
8. Premium Nighttime HOW THE TRAIN SAVED CHRISTMAS Experience
Step into a world of wonder and joy with our exclusive Premium Nighttime Santa's North Pole Experience & Train Ride at York-Durham Heritage Railway. An Extraordinary Evening Awaits: 🎉 Join us for a once-in-a-lifetime adventure that promises to elevate your holiday spirit to new heights. With limited availability, this is the ultimate way to celebrate the season with elegance and enchantment.
A Nighttime Journey to Remember: As the sun sets, our train transforms into a magical portal to the North Pole. Marvel at the starlit sky and the twinkling lights as you journey through the wintry landscape on a beautifully adorned train. Exclusive Meet-and-Greet with Santa on Santas Exclusive Train- "The Train that Saved Christmas" that is only opened up for a few weeks a year: Indulge in the joy of the season with an intimate meet-and-greet with Santa Claus himself. Capture precious moments, share your holiday wishes, and receive a special keepsake to remember this magical evening.
Premium Festive Delights: Savor delectable seasonal treats and hot beverages as you relish the enchanting atmosphere. Delight in the warmth of the company of loved ones, accompanied by the serene sounds of the train's gentle rhythm.

Romantic Winter Activities: The evening premium show isn't just for kids or young families but a great event for date night, or a night out of the city with fire pits and mulled wine and who doesn't love some baileys hot chocolate. Hold hands and look at the thousands of twinkling lights while you sing your favourite Christmas carols . Experience the romance of the season as you create memories that will be cherished forever.
Dates: 5PM-9PM Daily Starting Nov 24th
Location: Uxbridge
Price: Adults $59.99, Child $39.99
Where to Buy Tickets: York Durham Heritage Railway
9. Niemi's Family Farm
Explore the Scandinavian Christmas market at Niemi's Family Farm, a magical winter wonderland illuminated by a captivating light festival. The event features outdoor vendors, enchanting decorations, and an array of delectable holiday treats. Hop on the Polar Bear Express to pay a visit to the farm's charming animals. And, of course, be sure to stop by Santa's workshop on Fridays and Saturdays for a memorable encounter with the jolly old fellow himself.
Dates: Nov 17th to Dec 23rd (Friday and Saturday)
Location: Mount Albert
Price: TBA
Where to Buy Tickets: Niemi Family Farm
Canadian Pacific Holiday Train
The CPKC Holiday Train returns Nov. 20 to Dec. 19 for its 25th year supporting food banks and food shelves across our network by raising money, food and awareness for food insecurity issues. Professional musicians play free concerts from the brightly decorated train's stage.
Nov 22nd -> 4:45 p.m. 5:00 p.m. – 5:30 p.m. Milton, Ont. Glen Eden Ski and Snowboard Center West Parking Lot, 5234 Kelso Road, U.S. Train Musical Guest: Seaforth and Kiesza
Nov 22nd -> 7:45 p.m. 8:00 p.m. – 8:30 p.m. Hamilton, Ont. Railway tracks across from Gage Park, 42 Lawrence Road, U.S. Train Musical Guest: Seaforth and Kiesza
Nov 28th -> 8:15 p.m. 8:30 p.m. – 9:00 p.m. Toronto, Ont. 750 Runnymede Road, CPKC Yard Office parking lot(York, Ont.) Musical Guest: Anyway Gang
Don't miss out on all of our holiday content including: The Guide to the Best Christmas Light Displays, The Guide to Christmas Parades, A Guide to Santa Visits and Santa Photos.
Make sure you don't miss any of the best Events, Activities and Places in the Peel Region by joining Peel Parents Resource on Facebook!