Christmas holidays are done, but the next school break will be here before we know it… March Break!  What are you plans for the kids for March Break?  As a working mom it means finding alternate childcare for the kids.  Luckily there are so many March Break Camps in Brampton I will be able to find a program for the kids and I will save my holidays for when it is warm out!  And if you don't need a full week of camp we will have a full listing of activities for March Break for kids coming soon. Don't forget to check out the Ultimate Summer Camp Guide in Brampton.

March Break Camps Brampton 2020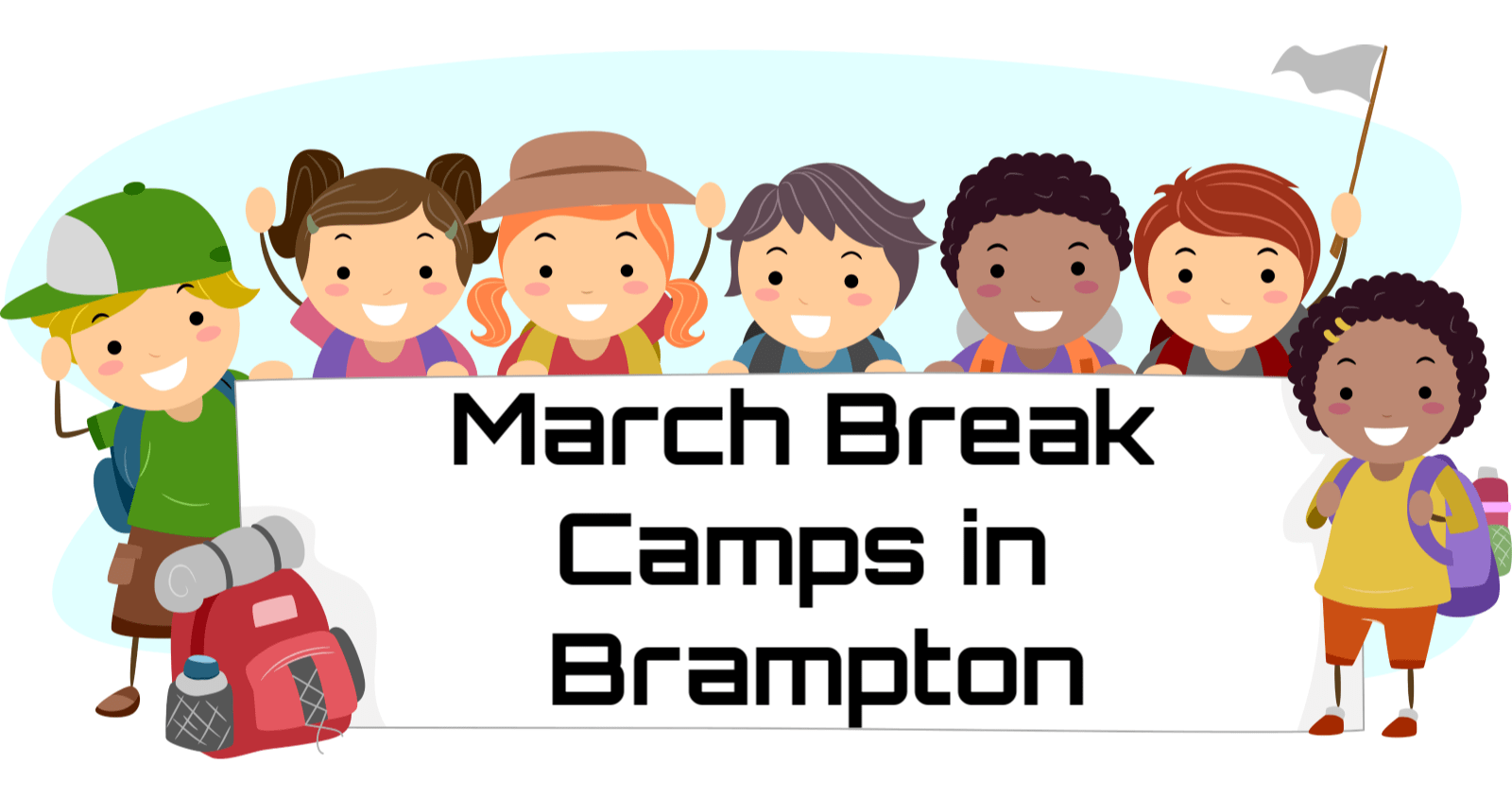 No matter what your kids are interested – sports, science, arts – you will be able to find activities to suit their tastes.  Just because the kids are off school doesn't mean they have to stop learning and having fun.  There are March Break Camps available across the city at private facilities and the City of Brampton recreation centres. Check out the huge list below and you are sure to find a camp to suit your needs.
Remember to check the hours of the camps, they can vary from camp to camp.  Some camps will have extended care hours (additional fees may apply) so make sure you look into those options if needed.
Looking for more resources in Brampton- Join the Peel Parents Resource Facebook Group
City of Brampton March Break Camps 2020
City of Brampton March Break Camps
Registration for March Break Programs are NOW OPEN! Camps run at recreational centres around Brampton and include programs for Sports, Dance, Science, Gymnastics, Skating and more.

City of Brampton March Break Camps available include: (Camp name – Facility)
Arts and Crafts – Chris Gibson, and Century Gardens

Archery Camp – Professor's Lake

Basketball Camp – Century Gardens, Cassie Campbell

Cheerleading Camp- Ken Giles

Dance Camp – Central Public, Howden, Brampton Soccer Centre

Einsteins Camp – Gore Meadows, Professor's Lake, South Fletchers

Fun Camp – Central Public

Glee Club Camp – Century Gardens, Kim Archdekin

Gymnastics – Ken Giles

No Limits Inclusive Camp – Century Gardens, Loafer's Lake

Kids in the Kitchen – Brampton Soccer, Century Gardens, Gore Meadows, Professor's Lake

Mind Busters Camp – Howden, South Fletcher's

Responsible Me Camp – Century Gardens

Skating Camp – Greenbriar, South Fletcher's

Ski or Snowboard Camp – Chinguacousy

Soccer Camp – Brampton Soccer Centre

Sports Camp – Brampton Soccer Centre, Cassie Campbell, Gore Meadows, South Fletchers

Swim, Sun and Fun Camp – Loafer's Lake, South Fletchers
Check the Parks and Recreation Brampton guide for the age groups available for each of the camps.   Register for these city of Brampton Parks and Recreation camps. Before and after care is also available for an additional charge, you register for the camp and before and after care separately.
Educational and STEM March Break Camps in Brampton
Kidnetix Camp – Edu-play Centre
Kidnetix camp program consists of a creative mix of indoor and outdoor recreation activities. Each week is based on a theme, filled with related sports, crafts, guest speakers, trips, games and activities. We believe in keeping active, healthy minds! Kidnetix provides a fundamental academic component that incorporates reading, writing and math skills to help prepare your child for their next level in school.

Kidnetix offers an interactive March break camp program for kids ages 4 to 12 in Brampton & Toronto (Yorkdale). We are dedicated to providing children a fun, safe and educational experience through creative programs and caring staff.
Children will explore innovative co-operative activities, arts & crafts, sports, indoor playground fun, Bazooka ball, workshops a field trip to the R.O.M, video game truck and more!
Our campers will develop new skills, participate in diverse experiences and build new friendships that will last a lifetime. Subsidized opportunities available. Helping grow healthy happy families for over 12 years, we are an Ontario Camps Association accredited camp!
Registration now open www.kidnetix.ca
Robo-Geek's  STEM Camps are coding camps for kids, where they learn C#, Java , Python and C with experienced engineers. In this week students will learn 2 days of Robotics and 3 days of Coding & Electronics; students do not require any previous knowledge of coding or robotics for these camps.  Ages 7 – 15.

Arts March Break Camps in Brampton
Visual Arts Brampton – Spring into Art
In our full-day March Break Camp, students will make art, play and be inspired through all sorts of artful activities designed to develop creativity and imagination. Students will paint, draw, make prints, play games and do all sorts of creative crafts.  Students will take home two different spring-inspired artworks daily – all skill levels are welcome!  All art and other supplies are provided.  Ages 6-12.


Sports March Break Camps in Brampton
Brampton Minor Basketball Association Camps
The BMBA development camps  is open to all players of ALL abilities and the camps are designed specifically for advanced, recreational, and beginner players wishing to gain extra training and improve their technical skills in a fun and structured environment.

Specialty March Break Camps in Brampton
Yay! It's the March Break!
Are you wondering what to do with your kids and their energy during the break?
Your kids will:
Be active

Have nonstop fun

Have structure

Develop skills

Get healthier

Get stronger

Gain flexibility

Make new friends

Gain confidence
Register your child(ren) today for one of our fun filled camp!
All Star Kids Day Camps
Kindercamp (Ages: 4-5 yrs) – Explore various gymnastics skills and events in the Gym Jungle, make crafts, play active games, creative play, participate in fun circuits and more!
Gym, Tramp' n'Tumbling Camp (Ages: 6-12 yrs) – Your child will do gymnastics on all Olympic events, trampoline and tumbling! Campers will also make crafts, play active games, do conditioning and participate in fun circuits!
Tumbling Camp (Ages: 6-12 yrs) – If your child wants to tumble most of the day, this camp is for them! Filled with mainly tumbling, trampoline, flexibility and conditioning, this camp will help your child develop their floor skills whether they are at the basic (cartwheel level) or advanced and have started to flip!
Other fun March Break Camp ideas OUTSIDE of Brampton include Ontario Science Centre March camp, Living Arts Centre Mississauga, and Ripley's Aquarium March break camp.
Know of other March Break Camps in Brampton – let us know!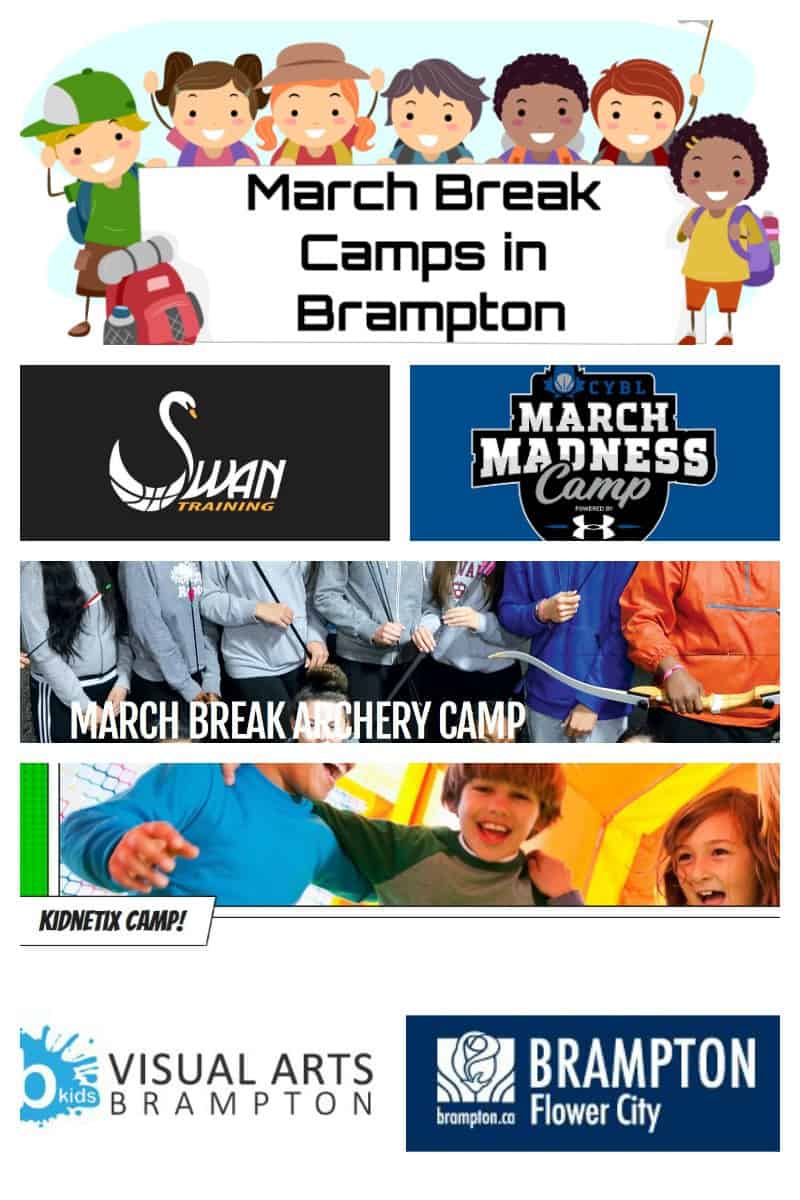 Hope this helps you find child care for a fun and exciting March Break for your kids.  There are lots of March Break Camp options in Brampton so find the one that is right for your family.  With so many activities in March, you will not be hearing "I'm bored"!  Looking for summer camps in Brampton, don't worry we will have you covered!  Blog post will be coming soon.

Can you help make this article better?
If you have noticed an error, have additional information or would like to share a comment you can:
E-mail us at info@thexploringfamily.com
Find us on Facebook: The Exploring Family
Find us on Instagram: @The.Exploring.Family