Can you believe that summer is going to be here before we know it! 9 weeks of being school free – great for kids tricky for parents. The routine and childcare that you had set up for the last 10 months goes out the window. Whether you need child care for 1 week or the whole summer we have the ultimate list of summer camps in Mississauga all in 1 spot. I know COVID has turned the world upside down – this post is updated with current 2021 information.

Not interested in Camp but want to keep up with Fun Activities in Peel Region and Halton Region for Kids then checkout our Local Calendar Section. Also join us on our Playground Tour as we checkout a new playground each week, and review all the Playgrounds, or checkout our Review of some Local Activities.
If you have little ones under 2, checkout our Parent and Tot Programs in Peel Region.
Summer Camps In Mississauga 2021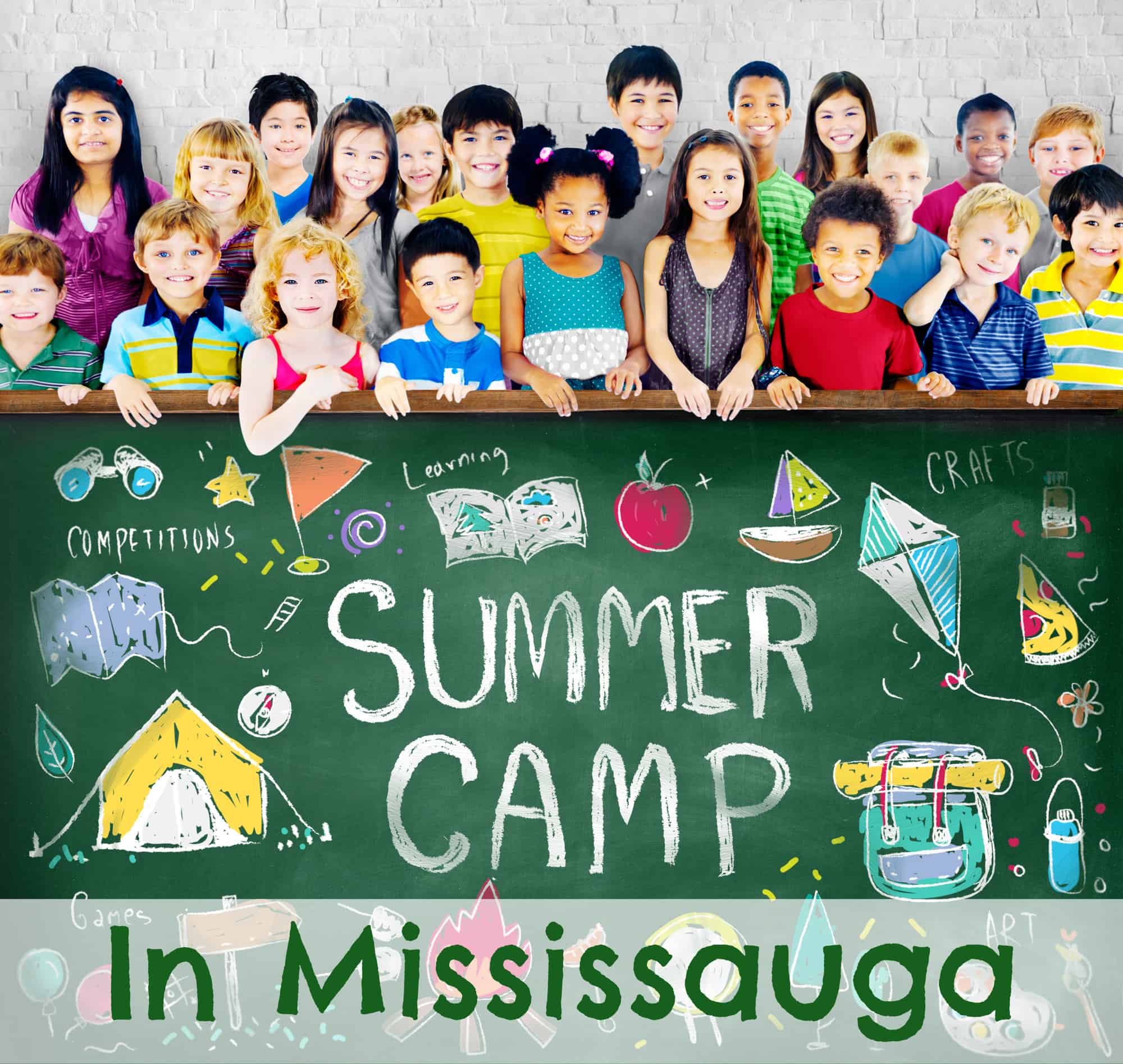 Summer Camps Mississauga offer a variety of different types of day camps and overnight camps. You will be sure to find a camp that matches the interests of your child or one that will allow them to learn a new skill. There is everything from sports, arts, STEM, outdoor camp and so much more! Summer camps for kids in Mississauga will allow your child to explore their interests, try new experiences and have lots of summer camp fun while making friendships that will last a lifetime!
Remember to check the details of each camp as the hours can vary from camp to camp. If you need extended care hours additional fees may apply if they are offers, so make sure you look into those options in needed. There are many flexible camp options available to meet each families needs.
Summer Camp Mississauga
Below you will find a variety of Mississauga Summer Camps that covers all interests in all areas of the city. Scroll through to browse the list of camps or click on one of the links below to jump to the different types of camps:
Specialty Camps – Cooking Camps, French Camp
City of Mississauga Camps And YMCA Camps

Looking for more Summer Activities in Mississauga – Join the Peel Parents Resource Facebook Group
Educational and STEM Summer Camps in Mississauga
Budding Genius – VIRTUAL CAMP sessions only due to COVID-19 – Budding Genius Central Mississauga is obsessed about science, technology, engineering, art and math! They offer activities to provide magical fun and learning moments during the whole summer, from ages 4 to 18 years old.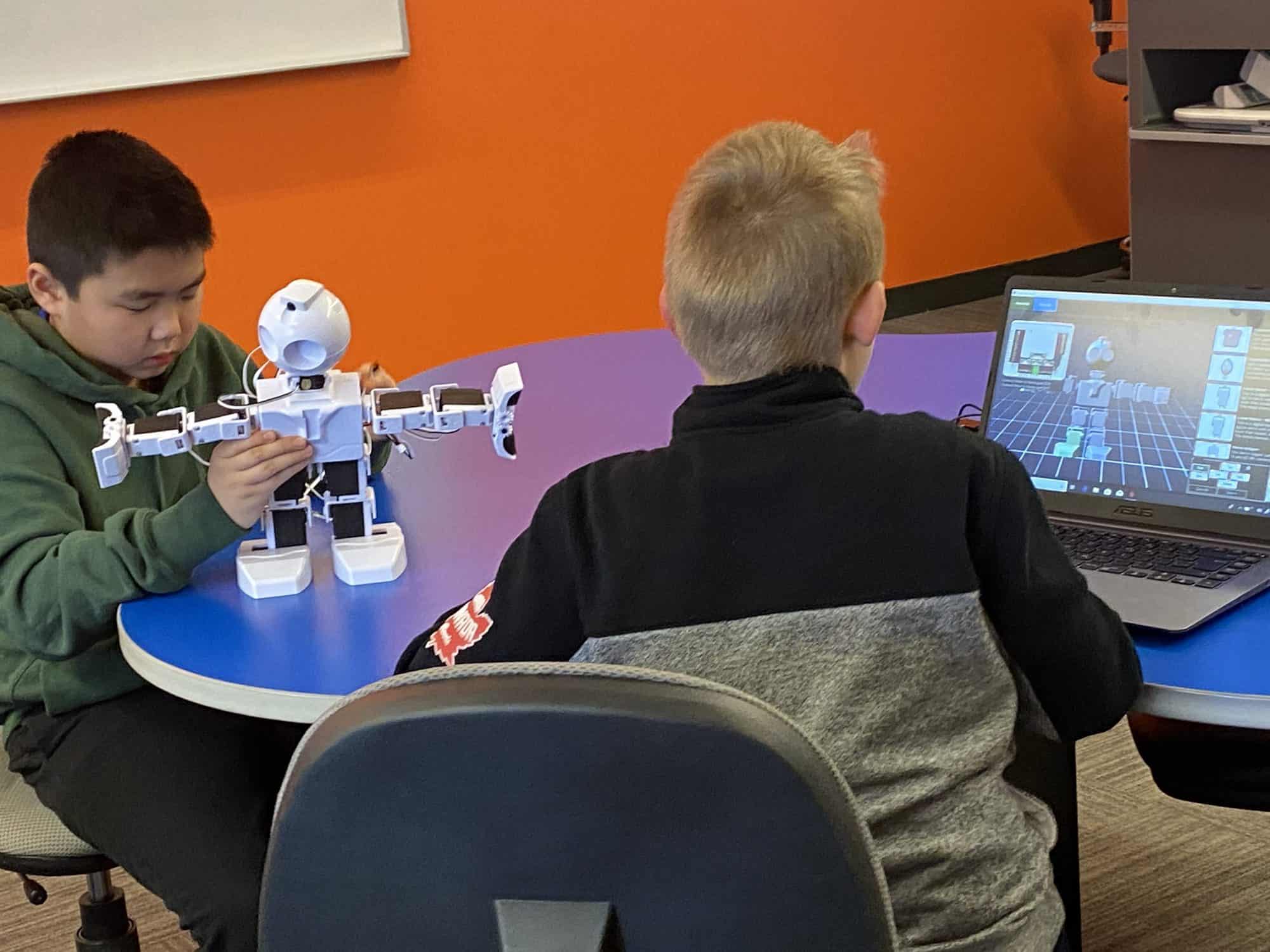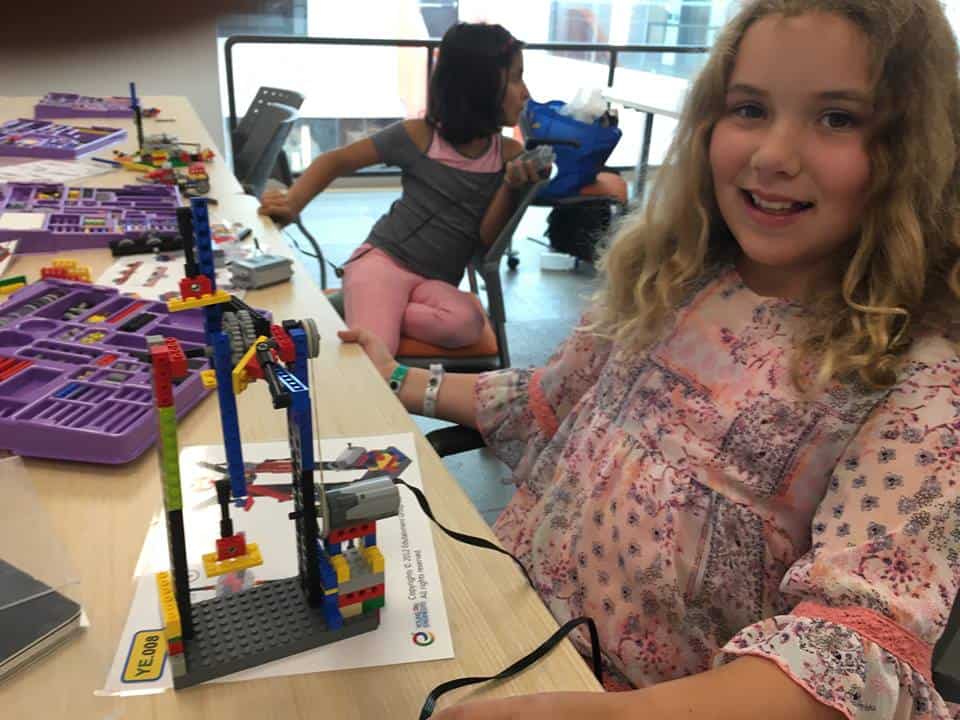 Innovastem – VIRTUAL CAMP sessions only due to COVID-19 – From Grades 2 to Grade 12 – Camp theme for this year is Global Goals for Sustainable Development, AI for Change. Each week at Innova STEM Summer camp, our students will learn about the goals, understand some of the problems facing our world, brainstorm ideas for the solutions. Then we challenge our students to combine creativity and technology taught during this week to invent new solutions that achieve one or more of the seventeenth Sustainable Development Global Goals.

Brick Works Academy – IN-PERSON and VIRTUAL options – Multiple locations in Mississauga and the GTA. To bring learning and fun together we employ a staggering amount of technology. You are unlikely to find classes as well outfitted with Computers, Tablets, Consoles, Robotics, Cameras and LEGO as those at Brick Works Academy. Themes include Pokemon Designer Camp, Minecraft Computer Camp, Animation and more.

Specialty Camps in Mississauga – Including Cooking Camps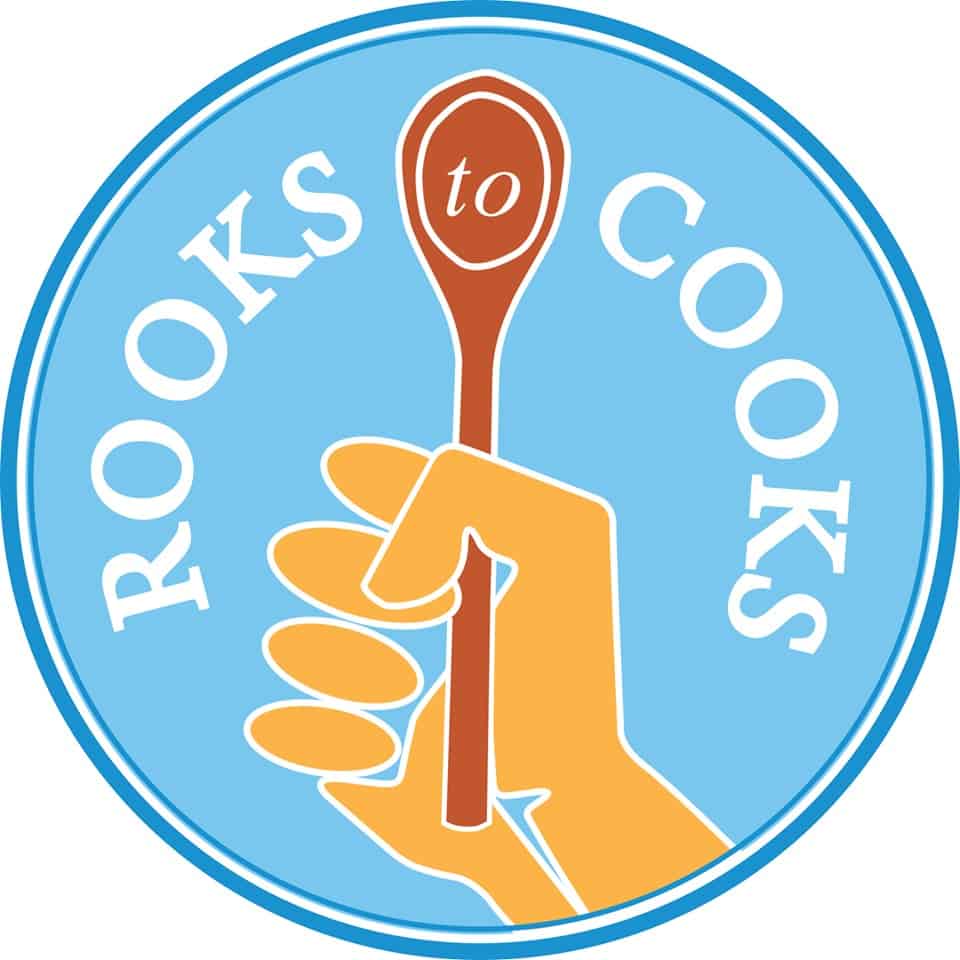 Rooks to Cooks– Virtual Sessions – Join Rooks to Cooks for live, interactive cooking classes for kids, aged 7-16! These delicious week-long, half-day cooking programs are sure to satisfy your young chef! No matter your child's current skills or learning goals, there is an ideal program for them! Professional chefs provide step-by-step coaching, cooking tips, and support via Zoom.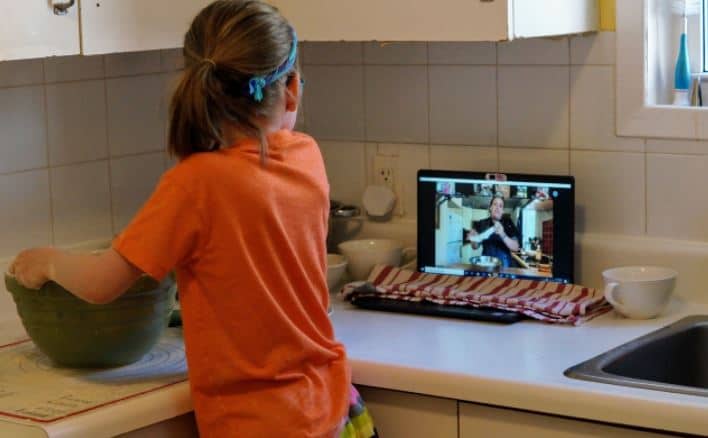 • 1:6 Chef to student ratio
• Recipes, equipment needs and set up instructions sent after registration
• Little to no need for parental supervision
Camp Tournesol – In-PERSON and VIRTUAL sessions – Camp Tournesol has been providing French camps in the GTA for tens of thousands of children from ages 4 to 14 since 2001. Whether your child is francophone, in French Immersion, or has no French experience, Camp Tournesol has a fun and inclusive program for them!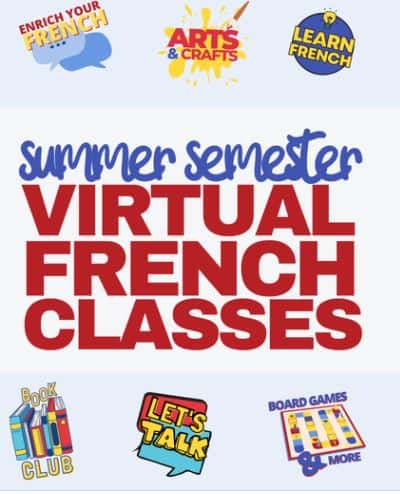 Recently they've also expanded their scope to start offering camps in English too! Their English Specialty Camps feature specialties including a princess camp, a film camp, an eco camp, and more!
Fun activities at these camps include trips to the splash pad, face painting, songs, games, and more! In a supportive context, kids are encouraged to share, learn, and try new things. Activities and themes change week to week.
Camp Tournesol now offers day camps in French and English as well as French overnight programs, including:
Introduction to French day camp for ages 4 to 10

French day camp for children in FI or francophone schools for ages 6 to 12

English Specialty Camps for children from JK to Grade 6

CIT program for ages 13 to 14

Overnight camps in Ontario for ages 8 to 14 (Cancelled for 2021)
Learn to Sail – In-PERSON – The Port Credit Yacht Club offers a variety of youth sailing programs to accommodate all ages and skill levels. Whether you are joining us for the first time or working towards a CANSail level already; there is a fun and exciting sailing experience here for you! Sailing is a lifelong skill that tests a person's physical and mental abilities from the first time stepping into a boat, until the last. The fundamental sailing skills taught in our program will enable youth to explore a future in cruising, racing or wherever their passion takes them.
Brickz 4 Kidz – Evaluating for 2021 Summer Camp – Bricks 4 Kidz camp themes and activities are specifically designed for children ages 5-13. Your child/children will have barrels of fun (and learn a bunch) as they use LEGO® bricks to explore the world of engineering and architecture through friendly and team-based environment. Campers will build and design motorized models, construct and play with their own inspired creations AND participate in fun games and challenges. Daily outdoor activities included! All campers receive a Bricks 4 Kidz String Bag as a take home item!
Sports Summer Camps in Mississauga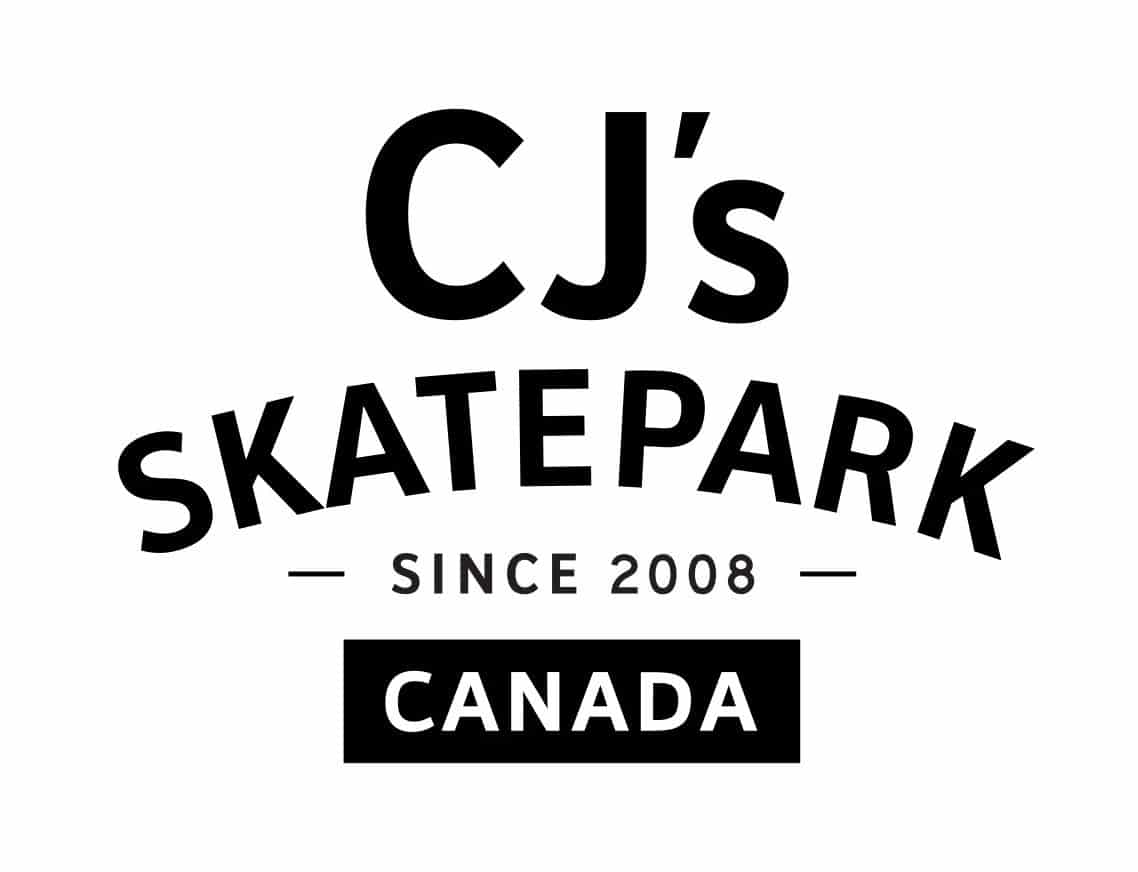 CJ's Skate Camp – IN-PERSON – Join us in our 55,000+ square foot indoor skatepark for summer camp this July & August for skateboarding and scooter riding! It'll be the coolest place to be all summer as we're air conditioned!

As safety is our number one priority, we've made many adjustments to camp some of the changes include:
We have placed floor decals throughout our facility to help campers maintain safe physical social distance as part of a program we have partnered in called "Be Smart, Stand Apart".

All staff are required to wear a face mask at all times.

Teaching will be contactless and from a distance of 2 metres apart.

In accordance with the Ontario Public Services Health & Safety Association, we will be actively screening campers every morning.
We will be asking campers to use our hand sanitizer and wash their hands throughout the day.
Not every kid loves team sports like soccer, hockey and baseball but they still love being active. Does your kid live at the local skatepark with his or her friends? If you answered yes then CJ's Skatepark is the perfect camp for your child. The skateboard camp & scooter programs are some of the best in Canada, and take place in a world-class air conditioned facility! CJ's offers a fun, safe environment for riders of all ages and skill level to learn and enjoy skateboarding and scootering.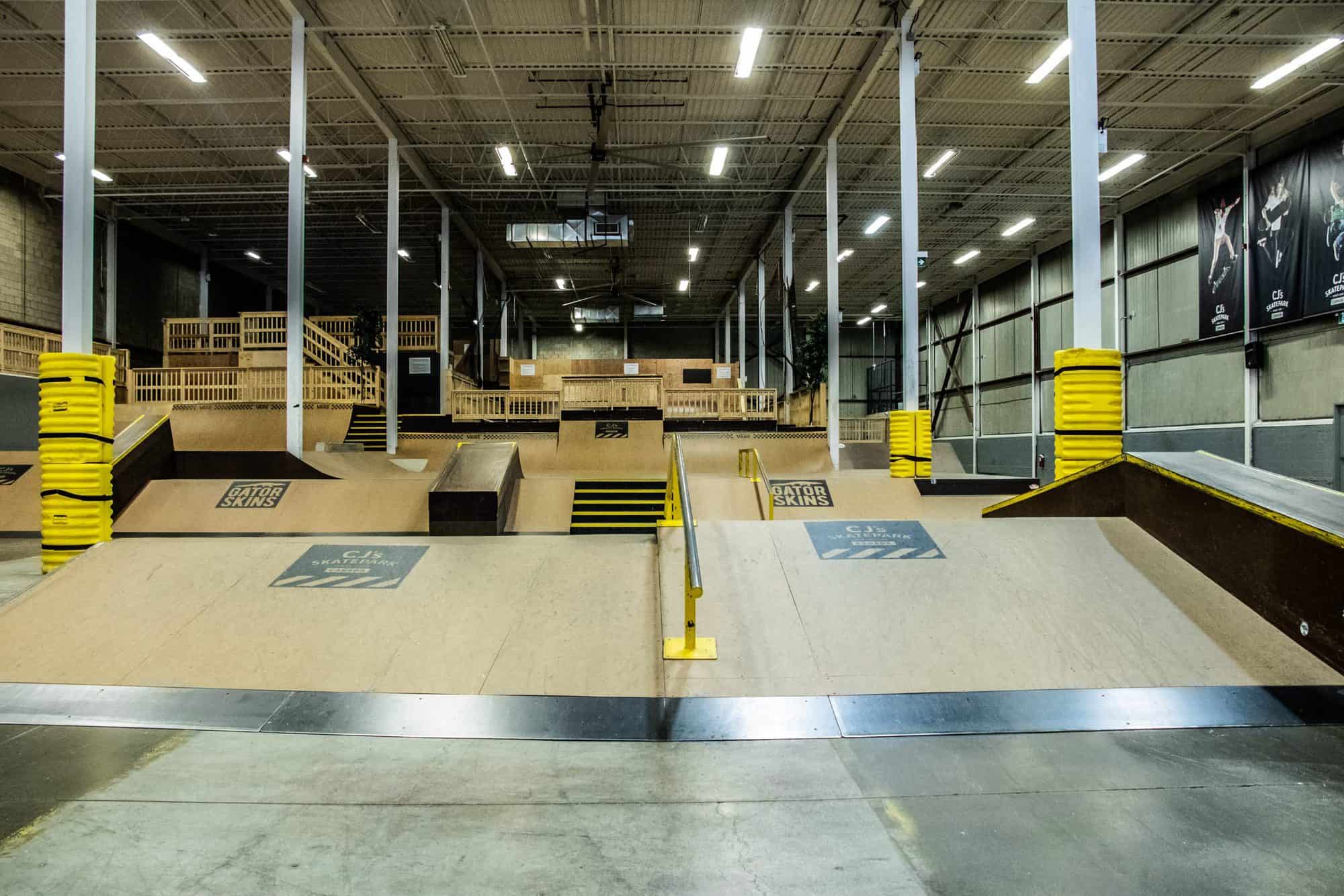 Offering a variety of skateboarding and scooter riding programs for all skill levels and ages. From introductory programs geared to gradually introducing people to their very first experience on a board through to advanced skateboarding programs. CJ's instructors provide the best instruction, support, and care. Our skateboard camp & programs are some of the best in Canada, and the instructors provide the best instruction, support, and care especially for rookie skate boarders as they are specialized skateboarding and scooter
Parents can be assured that safety is super important and helmets are worn at all times in the Skate Park, and rules are clearly outlined to staff and campers to ensure safety of all participants. For full details CJ's Skate Park.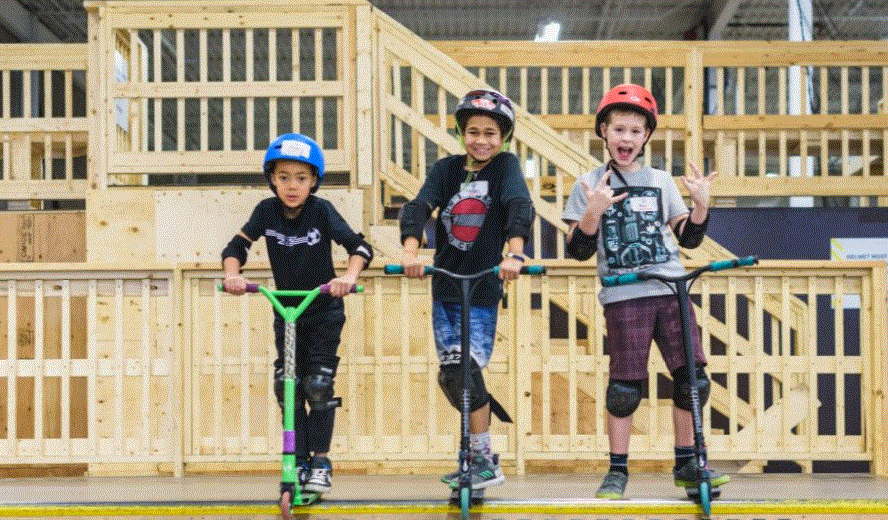 Pedalheads – IN-PERSON – half day or full day camps focused on learning to bike or improving your child's skills and confidence on a bike. An exciting and challenging bike camp offering eight instructional levels which take kids from training wheels to trails!
Canlan Sportsplex – FLASHFIT Kids camps are designed to introduce fun sports and games that will create a base for lifelong enjoyment of physical activity and teamwork. Sports & Activities vary each week of camp so that kids will participate and learn a variety of sports skills and stay motivated.
Gymnastics Mississauga Summer Camp – NOT RUNNING 2021 – Full day campers will enjoy gymnastics and fun all morning. Each week there will be different activities in the afternoon depending on the theme. After lunch there will be a 1 hour movie time to digest, Swimming every Wednesday and more gymnastics to end the day! Full day trampoline camp will enjoy all the same activities, but will just focus on trampoline skills.
SkyCamp – NOT RUNNING 2021 – SkyZone Trampoline Park Summer Camp in Mississauga. Have an epic time at SkyCamp! Kids can have fun while staying active, with instructor-led activities like age-appropriate exercise and Ultimate Dodgeball. Your kids will have a great time with instructor led games and activities. Tournaments, crafts, SkySlam contests, foam zone races and so much more!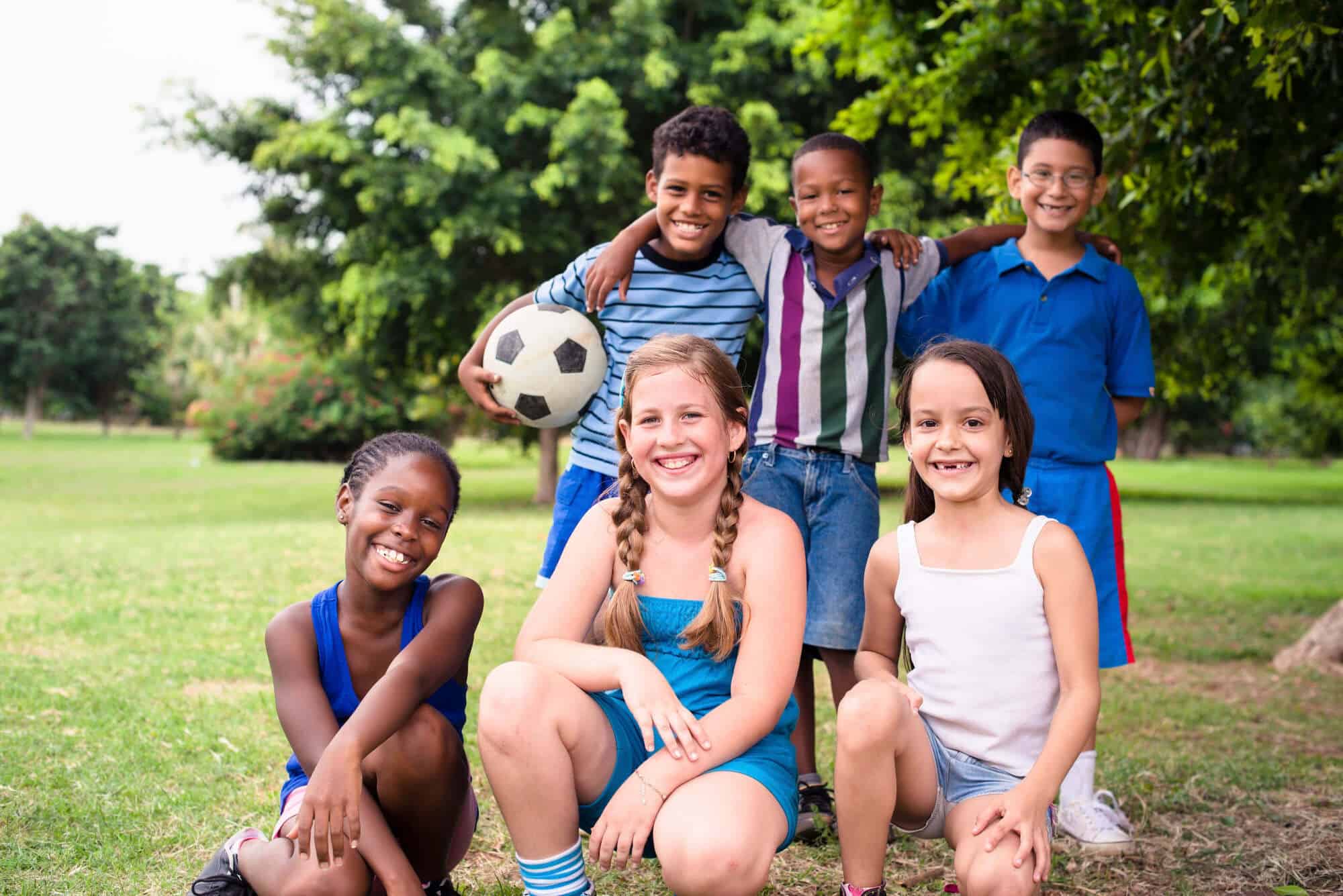 Little Gym of Mississauga – NOT RUNNING 2021 – Little Gym of Mississauga East packs serious fun into each fun filled day with a wide variety of gym games, activities, skills, crafts and more! Every Friday is Pizza Day! Kids will enjoy themed weeks and activities such as obstacle courses, gymnastics, physical exercises, activities that encourage dance, and develop important sports skills such as sportsmanship. Campers will develop long lasting friendships through these amazing activities which is a bonus! Flexible Half (9a-12p/1p-4p) and Full (9a-4p) day options available. Ages 4-12
Arts Summer Camps in Mississauga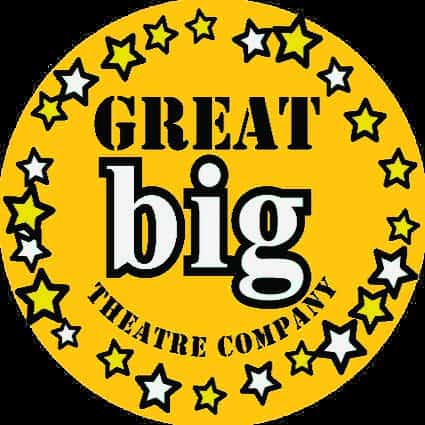 Great Big Theatre Company – IN-PERSON and VIRTUAL sessions. All our camps this summer are virtual and online; we are delighted to offer you this innovative, exciting and engaging new program !
We'll be sharing collaborative and engaging drama games, improvisations, art projects, plays and scenes, along with lots of music, mixed in with fun movement activities and dance parties.
GBTC brings many years of experience with drama for kids to the development of this exciting new virtual program in the Zoom environment. You don't want to miss this opportunity to join us for a week (or more !) of inspired fun.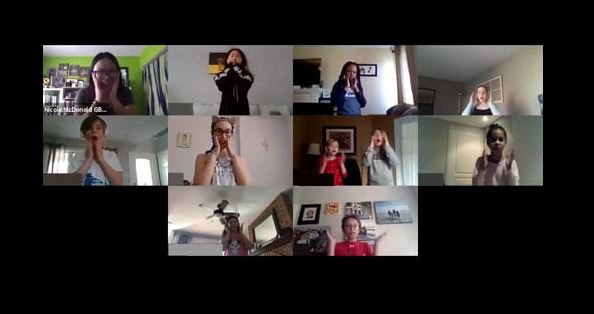 The camp will provide an energized and focused experience which allows campers to interact and make friends online. All of our staff have arts experience and experience working with children, and are trained to work with our new agenda and curriculum.
Our GBTC staff are looking forward to sharing this WHOLE NEW WORLD with you this summer ! Campers may register for multiple camp weeks; there will be new and different camp content each week.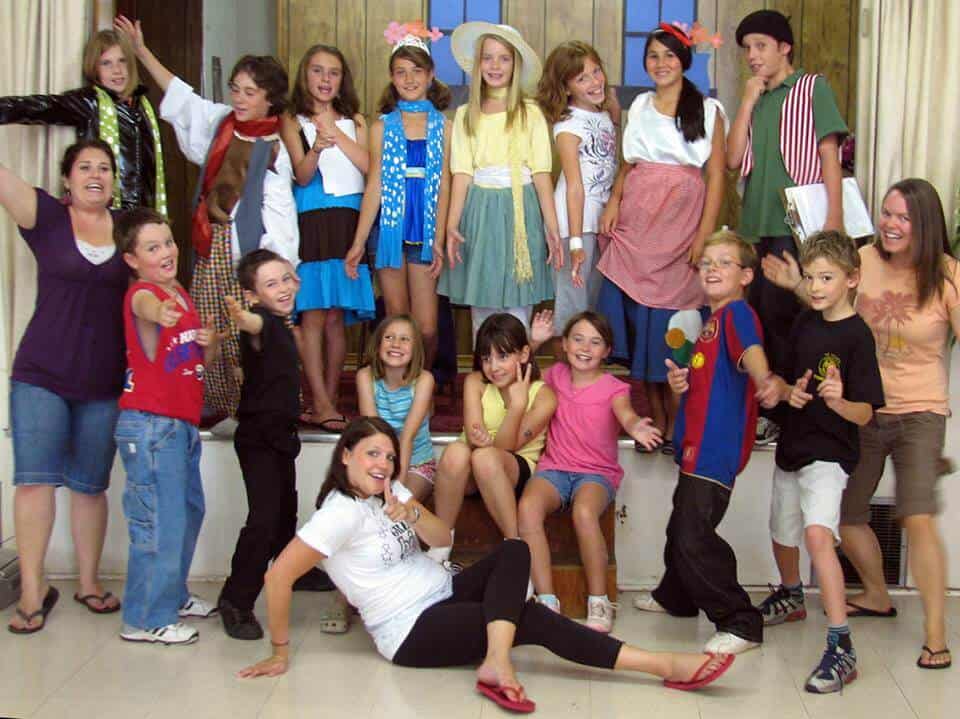 Creative Kids Place – IN-PERSON – This camp offers 3 locations in Mississauga including Square One, Steetsville and Mississauga West. Camp options include Ceramics, Clay & Crafts; Spa Science/Crafts; Lego Robotics/Science and more. Campers will also take part in weekly outings.
Living Arts Centre Summer Camps – Evaluating for 2021 season – Artistic Summer Camps in Mississauga for kids ages 5-17. Arts, Drama Dance and more all at the Living Arts Centre. Sign your child up for different camps depending on their interests including Clay Crazy, Photomania, Toon Time, All-Star Improv and many more.
Inclusive Camps – For Children with Special Needs

Kidz Konnect – IN-PERSON
Kidz Konnect Summer Camp is more than your typical camp. At this camp run by the Learning Disabilities Association of Peel Region the trained staff provide a positive camp experience based on social skills programming, offered in a fun and interactive environment. Activities such as swimming, physical and recreational games, hiking, fishing, guest speaker visits, and arts/dance/drama.
Throughout the camp we also assist in the development of social skills, life skills and problem solving strategies:
We provide an activity based program for participants to practice strategies

We encourage friendship making and positive interpersonal relationships

We work to promote positive social behaviours

We foster self-awareness and a positive outlook
Busing available from Mississauga to the Camp at Heart Lake Conservation Area.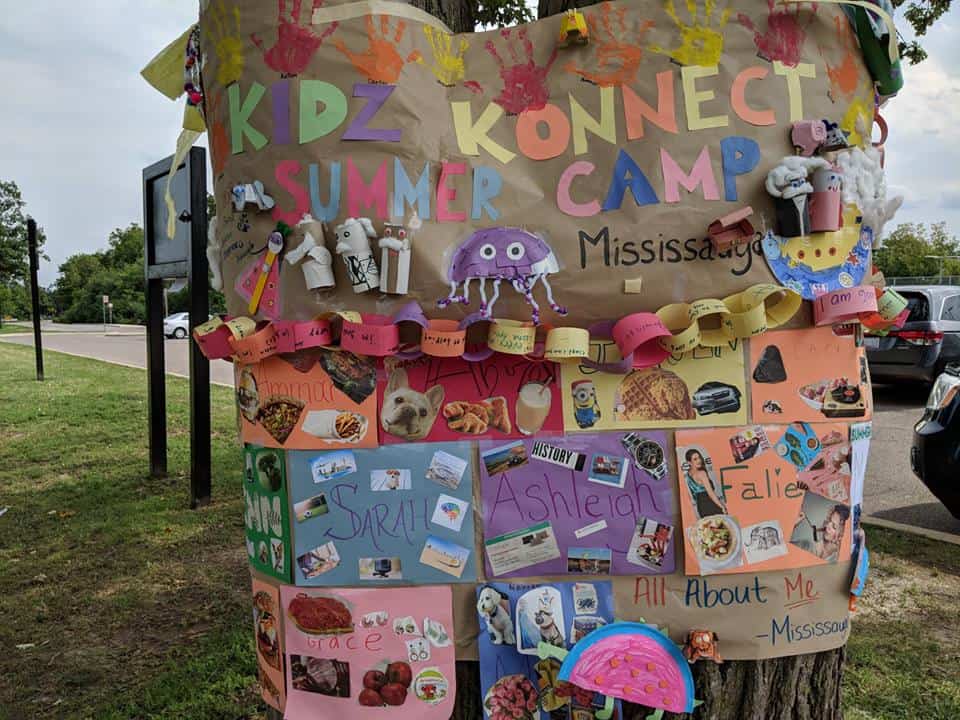 Adventure Camp and Outdoor Camp
Adventure Camp and Outdoor Camp in Mississauga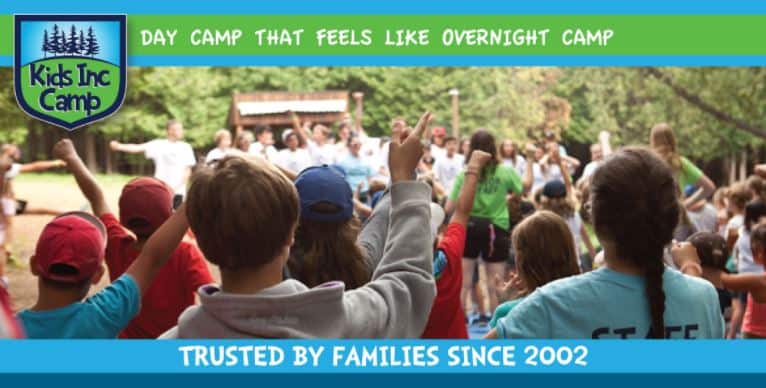 Kids Inc Camp – IN-PERSON – We are VERY excited about this approach to camp for the unique summer of 2021! Bus service NOT available in 2021

We are located out in the beautiful country side in Erin ON. We are on 30 private acres. Our facility was built with our campers in mind. From the play forest to the heated salt water leisure pool – to the craft hut and the outdoor stage…..just wait until you see our camp – it is every campers dream come true!
Kids Inc. is a full-day camp program for campers entering 2 all the way up to Grade 8. Our Facility is outstanding! Check out these features…
Heated, salt water pool

Fresh spring water pond

A super fun play forest

A fully stocked sports zone

Outdoor stage

Expansive picnic shelters and sun shade tents

Archery range

Craft Hut

Campfire Circle…and more!
The programs we offer each have a variety of activities to suit your camper – so check out the program page to find just the right program for your camper today!
Kids Inc Camp provides bus service as a part of the fee structure from many locations in your area. If you want to see the bus stops in your area, please visit the Bus Service page of our website. (BUSING IS NOT AVAILABLE SUMMER 2021)
We can't wait to meet your camper this summer and to help you get registered with us for the summer of 2020. Please reach out to us via email if there is anything we can do to help. You can email us at registration@kidsinc.ca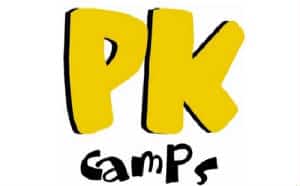 Planet Kids – IN-PERSON – Planet Kids offers it all, as they offer over 35 different Camp programs for children aged from JK all the way to Grade 11. In addition to the special activities of each camp, campers will participate in weekly specialty activities, and campers will also enjoy swimming or other water activities daily, recreational sports, games and other activities, special events and more!
Camp Programs include: Ultimate Sports, Works of Art, Kinder Scientists, All-Star Sports and more.
For a Full List of All the Amazing Camp Programs Offered at Planet Kids!
Locations:
Kelson Conservation Area in Milton

King's Collegiate in Oakville
Busing is available from the following Mississauga locations: All Saints E.S, Lisgar P.S, Lorne Park S.S., Meadowvale Village P.S., Plum Tree P.S., Port Credit S.S., The Valleys S.P.S, Thomas Street P.S., Vic Johnston C.C.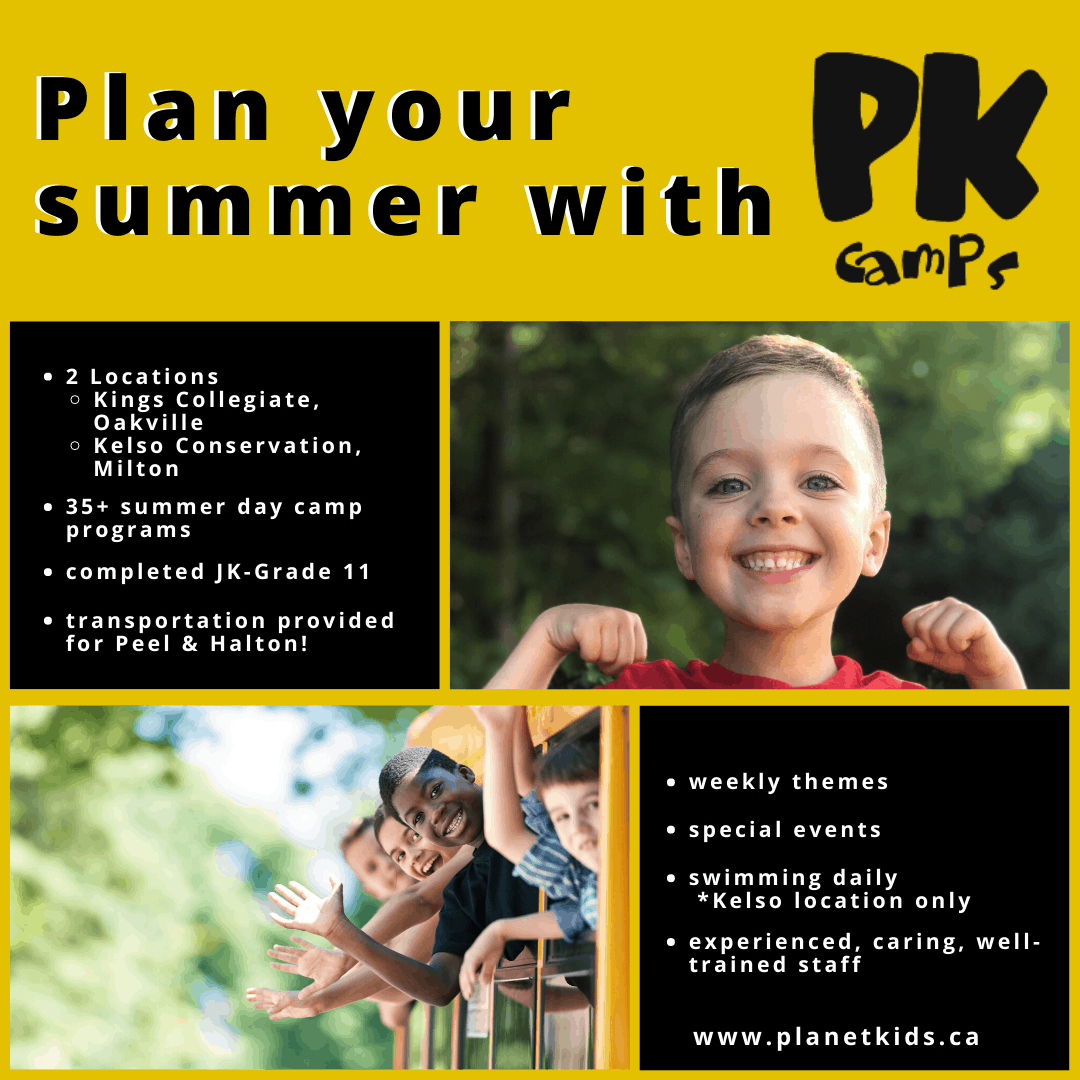 TRCA Summer Camps – IN-PERSON – Give your kids an outdoor adventure to remember! TRCA camps offer a wide variety of immersive wilderness experiences designed to engage young minds and inspire creativity. TRCA offers daytime and overnight summer camp options. Your children will connect with nature through hikes, games and creative play!
Girl Guides Of Canada Summer Camp Mississauga – Not running 2021- There are activities selected for the Mississauga day camper's age, and level of Girl Guide program. Whether they choose the 'Quest' or 'Trek' program, the Mississauga day camper will also have their choice of tons of fun activities, such as: Archery, Dance, Drama, Hiking, Geocaching, Games, Crafts, and Visits to a local pool for swimming.
Mississauga City Summer Camps and YMCA Summer Camps
City of Mississauga Summer Camps – The City of Mississauga offers over 100 different summer camps. This includes Sports, swimming, skating, creative, educational and adventure camps. The City of Mississauga Summer camps run at 25 different locations in the city and spans ages 4-14 years old. Standard summer camp hours are 9-4 and extended care is available if needed. Camp options include:
Summer Fun (6-12yrs)

Summer Fun Junior (4-5yrs)

Adventure (Safari)

Swimming (H20 Junior, H20 Mini, Water Sports)

Creative (Digital Art, Art, Dance, Drama, Ukulele)

Learning (Leadership, Explorers, Reptiles, Science, Computers)

Sports (Golf, Archery, Basketball, Baseball, Biking, Cheerleading, Triathlon, Multisport, Ball Hockey, Skateboarding, Soccer, Tennis, Beach Volleyball, Hockey, Canoeing and Kayaking, Karate)
YMCA Summer Camps – IN-PERSON – Summer Camp is for everyone, and over 50 locations across the Greater Toronto Area there is sure to be a camp near you. They offer a wide variety of programs including:
Arts & Culinary Arts

Leadership (Ages 12 – 16!)

Media Arts

Outdoor

Science & Academics

Sports

Swimming Lessons & Junior Lifeguard Club

Variety (Traditional Camp Programs)
We hoped this huge list of summer camps in Mississauga was helpful. With so many camps to choose from you will be sure to find what you are looking for! Have a great summer!
PIN for later: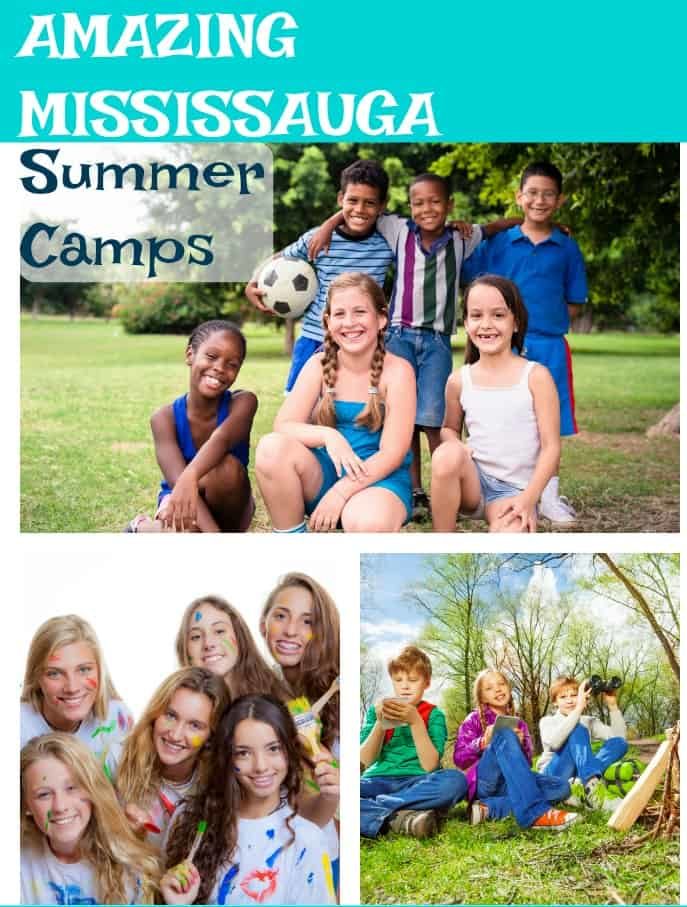 Please Note:
We do our best to ensure the information on The Exploring Family is accurate, however information and events are subject to change.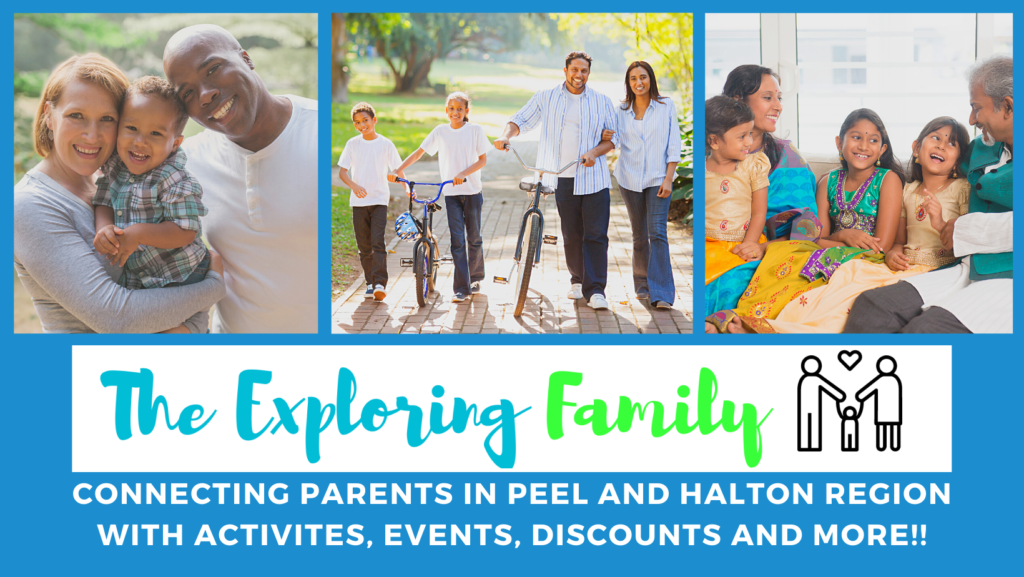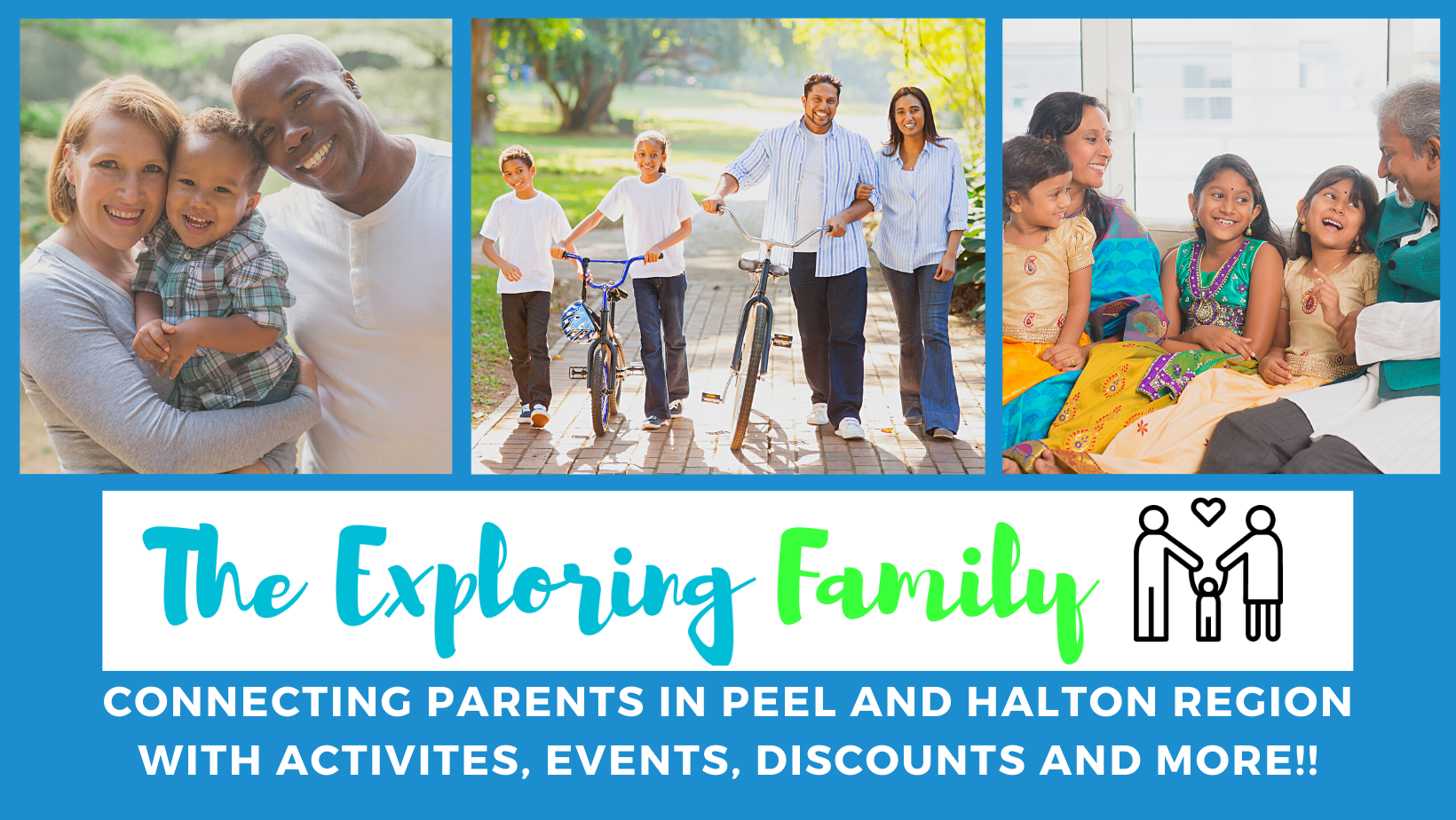 Can you help make this article better?
If you have noticed an error, have additional information or would like to share a comment you can:
E-mail us at info@thexploringfamily.com
Find us on Facebook: The Exploring Family
Find us on Instagram: The.Exploring.Family