If you're on the lookout for a fantastic day in the great outdoors, look no further than Bronte Creek Provincial Park. Nestled in the heart of Ontario, Canada, this gem of a park offers a wide variety of activities and camping options. Not only can you engage in adventure but you can also take in some nature.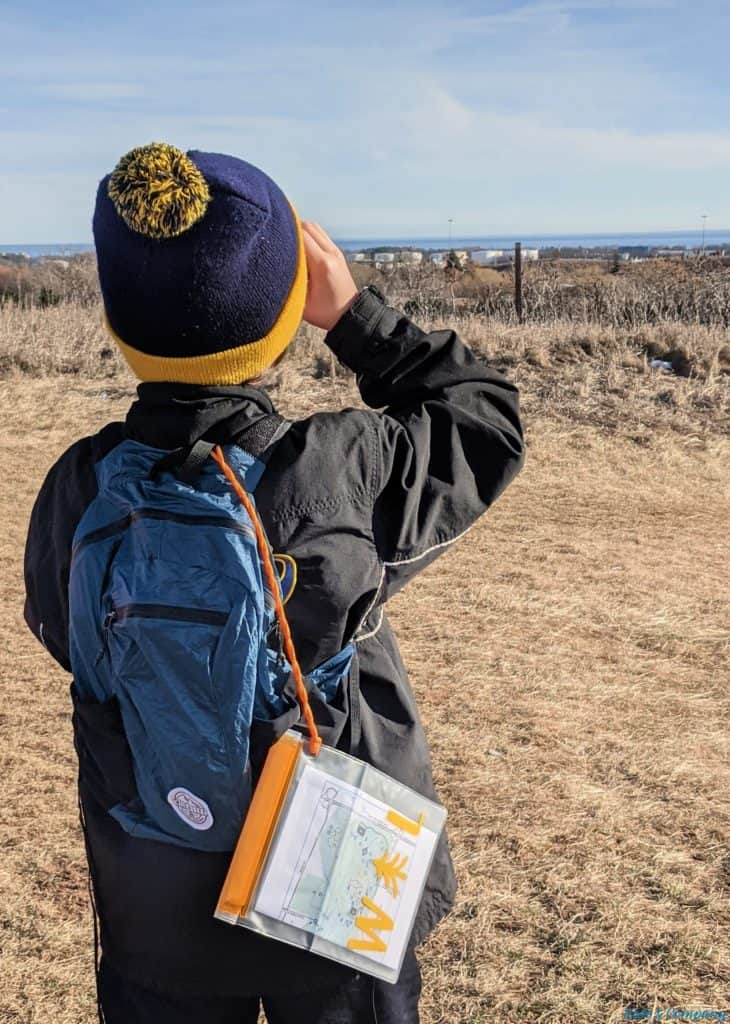 Whether you're an avid hiker, a birdwatching buff, a camping connoisseur, or just someone looking to escape the hustle and bustle of daily life, Bronte Creek has something for everyone. If you like serene picnics and everything in between, Bronte Creek Provincial Park is the perfect destination.
About Bronte Creek
Before it became a park, Bronte Creek had a long history. Glaciers shaped it over 14,000 years ago, and First Nations People lived here. Then, European settlers turned it into farms and mills. As Toronto grew, industries moved in.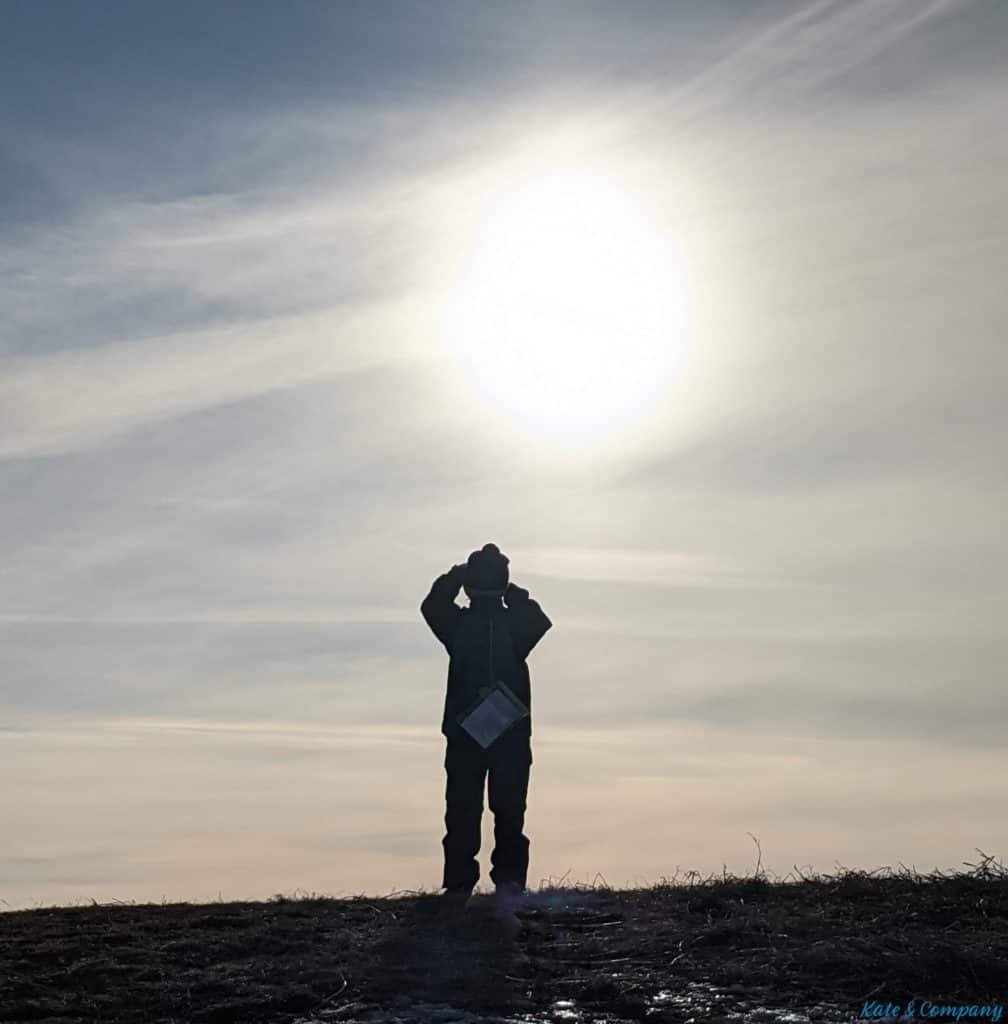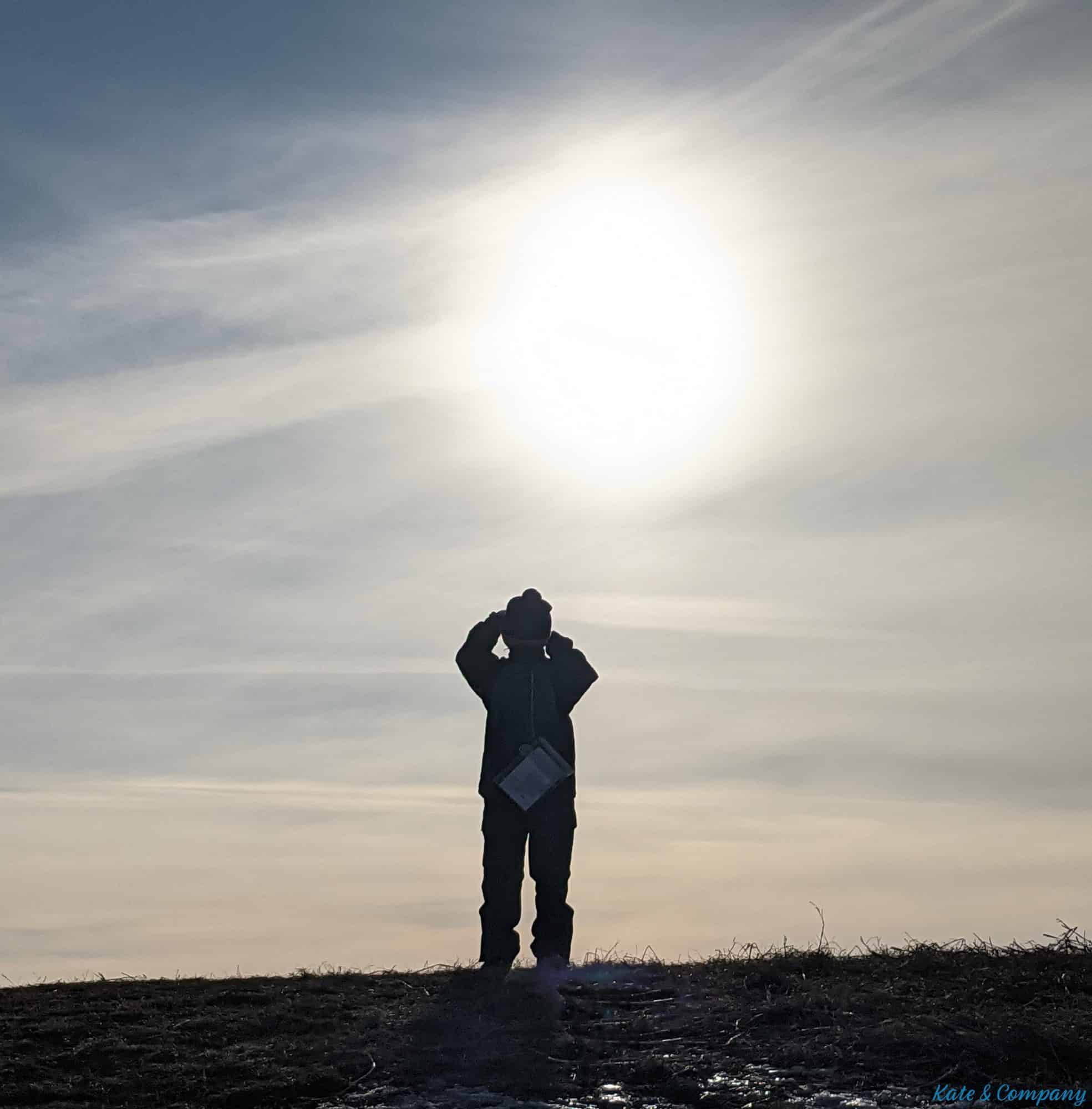 In 1972, they decided to keep this place safe. They made it a park in 1975, Ontario's first "near city" park. Now, it's like a natural oasis in the big city, with over 300,000 people visiting every year. So, if you're in the GTA and want some nature time, Bronte Creek is the spot!
Things to do in Bronte Creek
There are so many fantastic things to do when visiting Bronte Creek Provincial Park. This 6.4-square-kilometer park has something for everyone, no matter the season.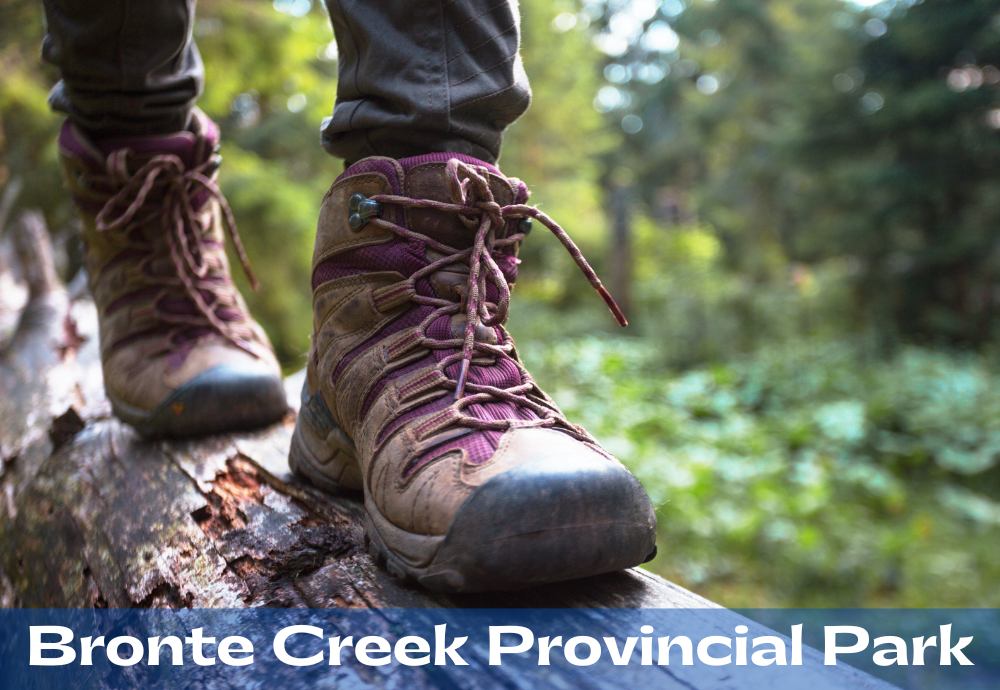 Hiking at Bronte Creek Provincial Park
Hiking at Bronte Creek is a great option. There are seven official hiking trails in the day-use area alone. They also have plenty of paths all over the park. These trails are short, about 2 kilometers or less, so you can easily combine a few for a great hike.
Each trail has its own charm, but some are extra special. The Trillium Trail is a must-see in spring when it's covered in our province's official flower, the trillium. The Half Moon Valley Trail goes through a gorgeous forest and to the ravine. If you want the best views of Bronte Creek, you can't miss the Lookout Ravine Trail.
Now, here's a little secret: There's a trail not on the map, but kind folks on Google have marked it. It's called "Gnome Road." Off the Barrier Free Trail, behind the nature center, you'll find adorable fairy houses. Check the location on the internet so you don't miss it.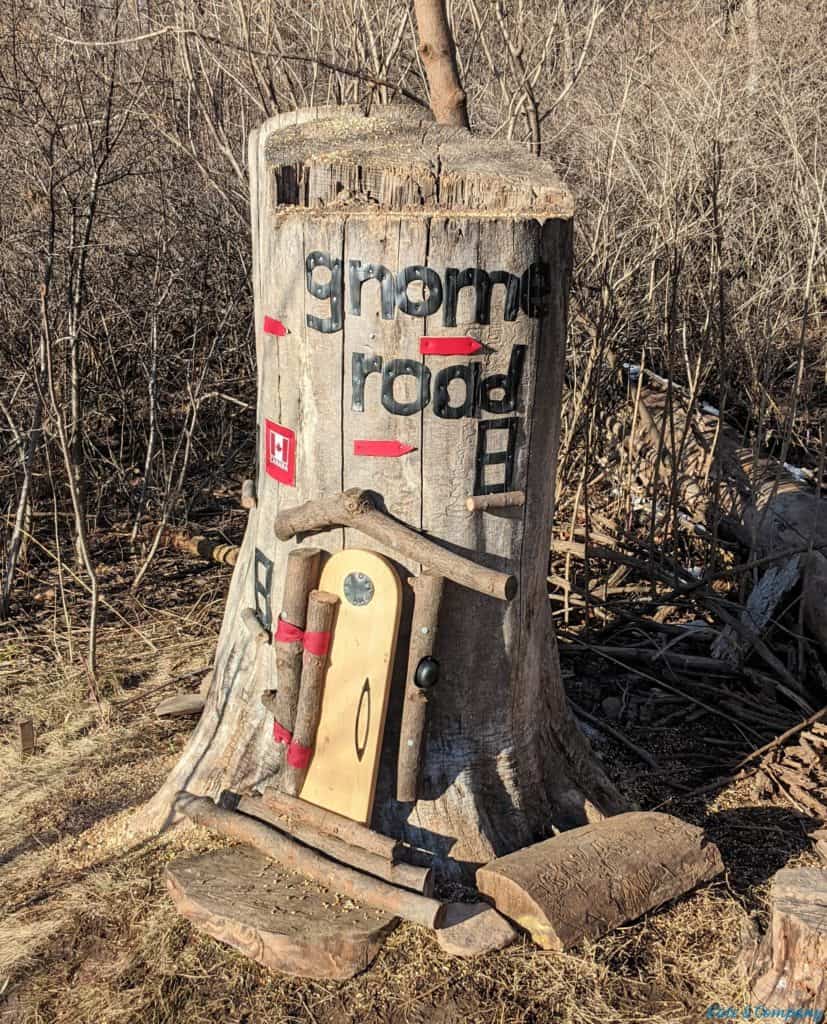 Deciding where to park depends on which trails you want to hike. Barrier Free Trail and Maiden's Blush Trail are easy to reach from parking lots A, C & D using park pathways. If you're exploring the ravine, Half Moon Valley, and Trillium Trails, lot F is a great spot.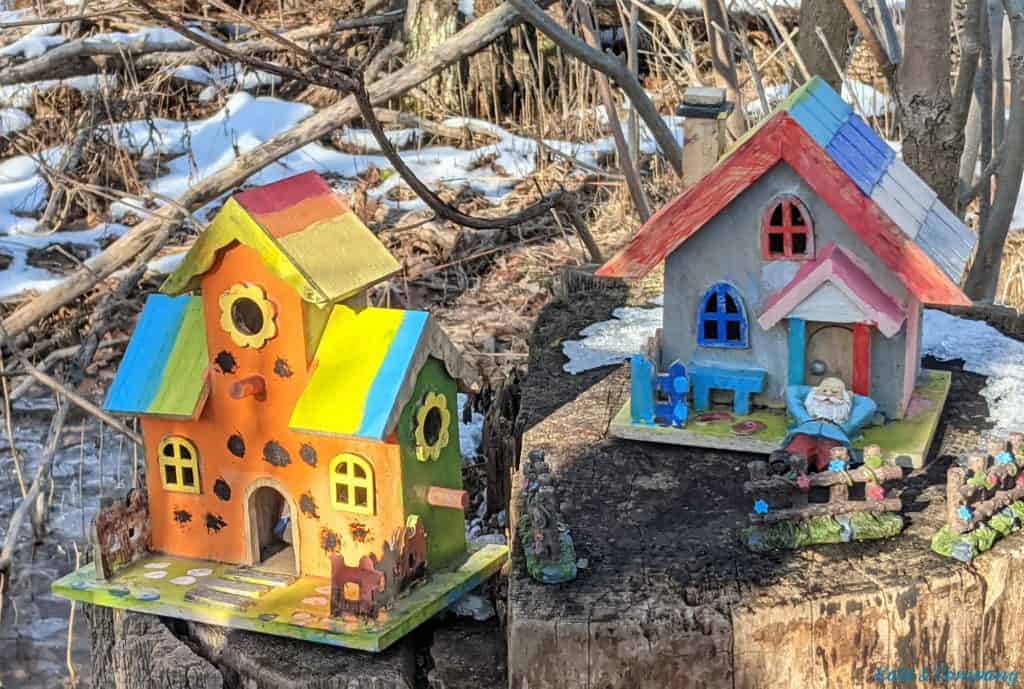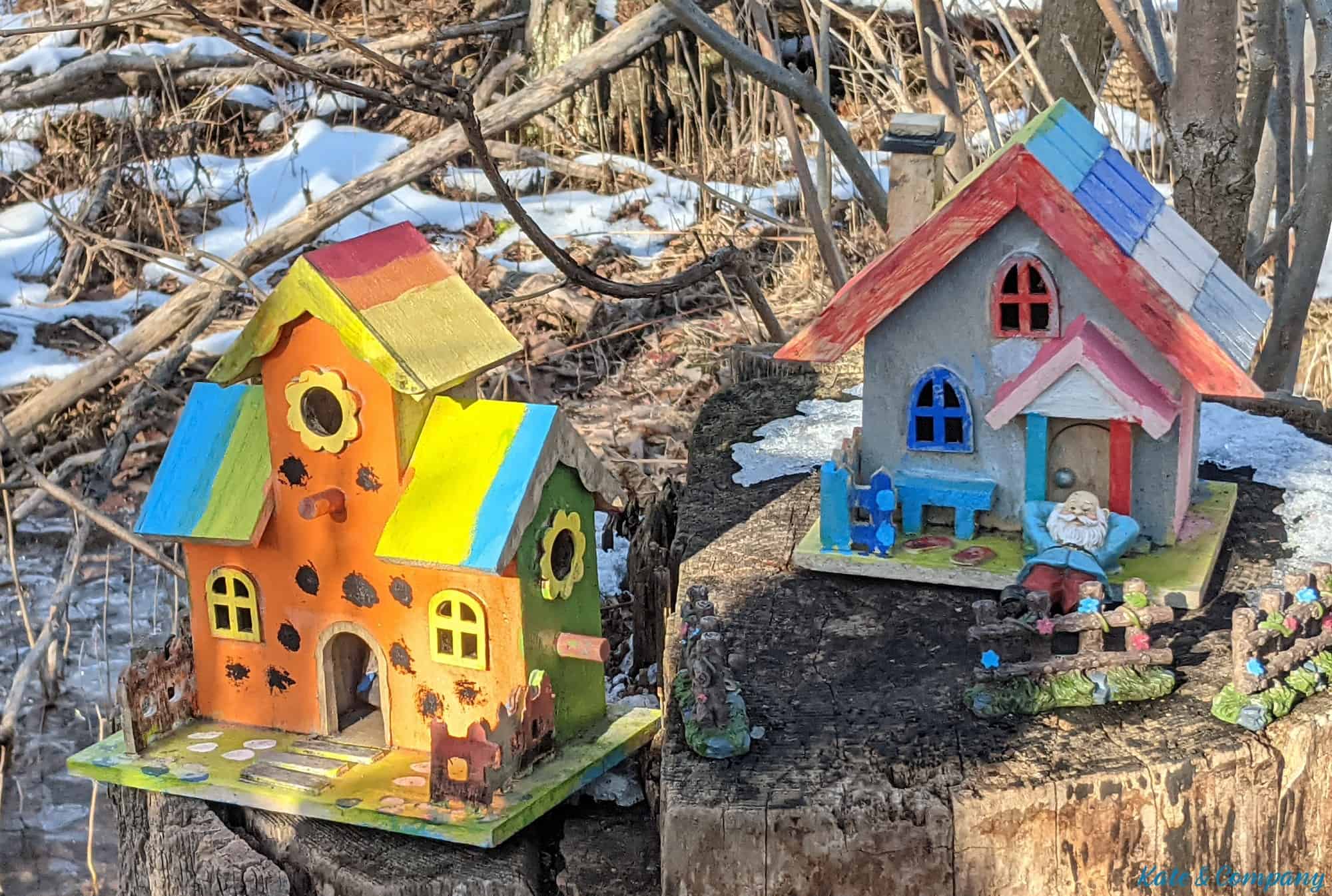 And don't forget, there are three more trails on the campground side of the park, but you can't access them from the day-use area. Happy hiking!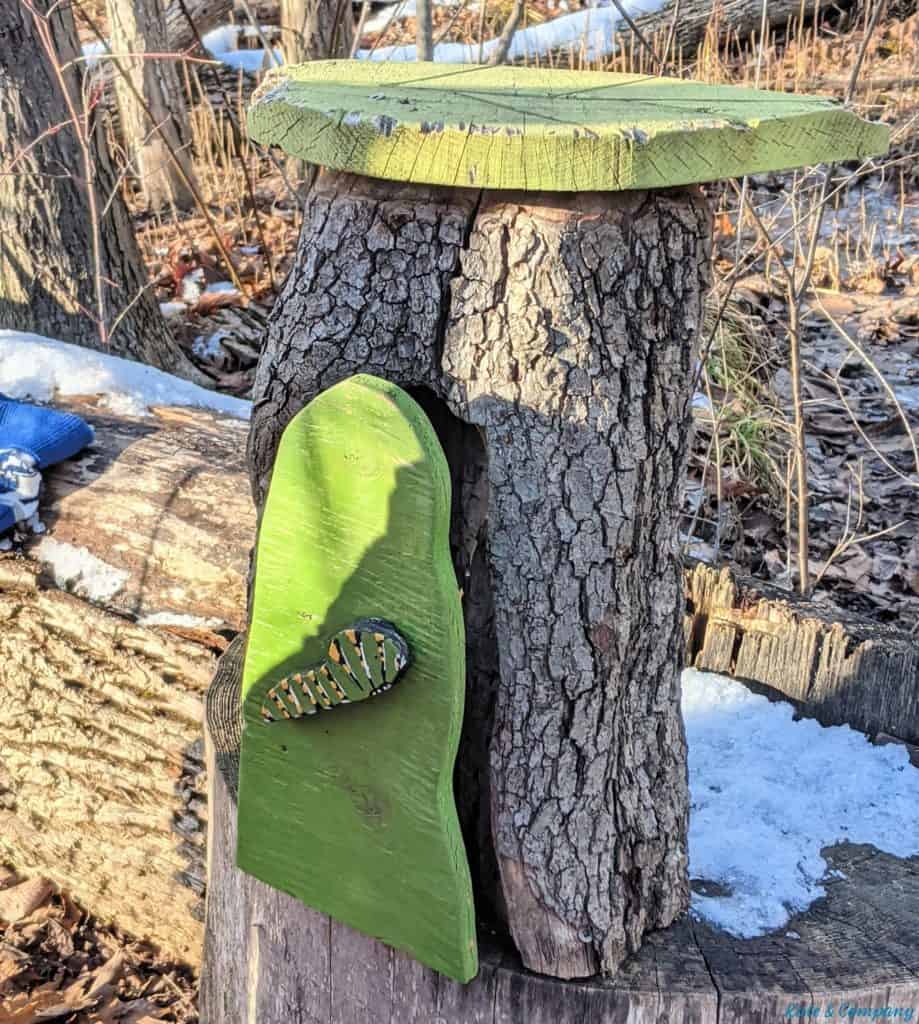 Discovery Programs
Bronte Creek Provincial Park offers not one but two fantastic interpretive centers.
First up is the Nature Centre, where you'll find displays showcasing the park's unique natural wonders. Suitable for all ages, you can delve into the secrets of the ravine, creek, and the surrounding fields and forests. Plus, there's a discovery room where kids can get hands-on experience with turtles.
The second center is the Spruce Lane Farmhouse, a living history museum that takes you back to the late 1800s and early 1900s, revealing the life of farmers from that era. It's a sure hit for the entire family, and you might even get a warm welcome from the local cows!
Fishing at Bronte Creek Provincial Park
Fishing at Bronte Creek is a fantastic experience. All you need is your fishing gear. Head over to the Half Moon Valley Trail. It's like a secret fishing spot!
But, here's the catch (pun intended), you'll need an outdoors card and a valid fishing license to cast your line.
What can you catch here? Splake, Rainbow Trout, Steelhead, and Pacific Salmon. Depending on the season, there are several different types of fish you can catch.
Bronte Creek Swimming Pool – CLOSED for 2023 season
***Closed for the 2023 Season*** Did you know that Bronte Creek Provincial Park boasts one of Canada's largest outdoor pools? Nestled within the day-use area's recreational complex, this expansive 1.8-acre pool is tailor-made for families and those seeking a leisurely swim. With a gentle slope that begins at just a few centimeters and gradually deepens to two meters (six feet) at its center, it offers a safe and enjoyable experience.
Keep in mind that since it's an outdoor pool, it's typically open from July 1st until Labour Day, although temporary closures can happen due to unfavorable weather conditions. Additionally, there is an admission fee, with adults aged 18 and older paying $4.00, youth aged 4 to 17 at $3.00, and children aged 3 and under swimming for free. It's the perfect spot to cool off and have some aquatic fun during the summer season!
The Playbarn
The Playbarn is a fantastic place to enjoy some fun and excitement. Your admission to the day-use area includes unlimited playtime at the play barn. Perfect for your little ones, this playbarn is a great way for your kids to expel some energy. Kids are in for a treat as they can run, jump, swing, and slide inside a genuine barn. The fun is available in the spring, summer, and fall, so there's plenty of time to enjoy it.
Bronte Creek Bike Trails
Maiden's Blush Trail isn't just for hiking, it's also open for cycling. Plus, if you're a biking enthusiast, you'll be thrilled to know that Bronte Creek offers a variety of gravel roads and access trails that are perfect for biking adventures. So, whether you're on foot or two wheels, there's plenty to explore and enjoy at Bronte Creek.
Disc Golf
Bronte Creek Provincial Park has its very own disc golf course. With 18 holes to conquer, it offers a great blend of wide-open long shots and tricky short ones, guaranteed to keep you entertained. Don't worry if you don't have your own disc; you can easily rent one from the park store. It's a fantastic way to enjoy the outdoors and have some fun while you're at it. In fact, you can even play in the winter. 
Winter at Bronte Creek Provincial Park
Winter at Bronte Creek is a real treat because this park stays open all year long. Even when the snow covers everything, there's still plenty of fun to be had.
Bronte Creek Cross-Country Skiing
If you're into cross-country skiing, you're in luck. There are about 10 kilometers of ungroomed trails in Bronte Creek. Make your way through the park and cover more ground than you would on a hike
Fat Biking
When the snow's here, it's time for fat biking! Those wide tires are perfect for the season. You can cruise on the main park roads or explore the Maiden's Blush Trail for some exciting adventures. and park pathways for some fat biking excitement.
Snowshoeing at Bronte Creek
All of the park's trails can be explored with snowshoes. This is a fun way to enjoy the great outdoors in the winter and get some really fantastic exercise.
Tobogganing
Grab your sleds, tubes, or toboggans and head to the park's awesome tobogganing hill. The ride down is a blast, and the view from the top is pretty spectacular. It's totally worth the climb.
Camping at Bronte Creek Provincial Park
If you're on the hunt for a convenient camping spot near Toronto, then Bronte Creek Campground is a fantastic choice! This campground is open from May to October and offers four different loops for camping. All of these loops are designed for car camping. If you're rolling in with a larger vehicle like an RV, the Prairie Loop is your best bet. On the other hand, if you're into tent camping or have a trailer under 25 feet, the Woodlands, Savana and Ravine loops are perfect for you.
One important thing to know is that the Savannah loop is a quiet zone, which means you can't make a lot of noise there. That includes no loud music, speakers, or musical instruments.
Bronte Creek Provincial Park also has three yurts available for rent in the Savannah loop. Each yurt is equipped with two sets of bunk beds and can comfortably sleep up to six people. They come with lights, electricity, and electric heating, along with a table and chairs, broom, and dustpan for your convenience. While cooking isn't allowed inside the yurts, you're in luck because you can use a fire pit and propane bbq to cook your meals right outside. Enjoy your delicious meal on your picnic bench.
Special Programs at Bronte Creek Provincial Park
Bronte Creek Provincial Park has some super cool events all year long. They are like an extra bonus, and you might want to plan your visit around these fun programs.
Family Day
Spend a day with your family doing hands-on activities, making nature and heritage crafts, and meeting live animals. It's a blast and your kids will have a great time.
Maple Syrup Festival
When March kicks in, it's maple syrup time at Bronte Creek. Take a tour of Maple Lane, learn how they used to collect sap way back when and treat yourself to delicious pancakes. This sweet festival is open to everyone on weekends in March and during March Break.
Springtime on the Farm
On Victoria Day, you can celebrate spring in an old-fashioned way. Head to the Spruce Lane Farmhouse for historical demos, Victorian games, farm animals, and more.
Ghost Walks
Things get a little spooky on Sundays in August. Explore the paranormal side of the 1899 farmhouse and discover the weird customs Victorians had about death. The tours are about 30 minutes long, and while they might give you chills, they're not meant to scare you.
Harvest Festival
When fall starts, on the fourth weekend in September, it's time to celebrate. You can pick and carve your very own pumpkin, enjoy special fall treats, and even take a pony or wagon ride.
Victorian Christmas
When Christmas rolls around, Bronte Creek goes all out with decorations and yuletide cheer. You can also learn about how people in the Victorian era celebrated the holiday.
Bronte Creek Provincial Park FAQ
Where is Bronte Creek Provincial Park Located?
1219 Burloak Dr, Oakville, ON L6M 4J7 – Bronte Creek Provincial Park is located on the edge of Oakville and Burlington. This is the primary entrance for day-use visitors and provides access to most of the trails, the pool, and other facilities.
If you're planning to camp at Bronte Creek, you'll need to use a different entrance located at 3201 Upper Middle Road West in Oakville. This is where you'll check in and get settled for your camping experience.
Is There a Park Fee for Visiting Bronte Creek?
The entrance fee for Bronte Creek Provincial Park is $18.00 per vehicle when you want to visit. If you're a senior aged 65 or older, or if you hold an Ontario Disability Permit, you can get discounted fees, which are $14.50 and $9.00 respectively. If you have an Ontario Parks pass, you're in luck because you can come and enjoy the park as much as you want for day use! You can get a pass either at the park or through the Ontario Parks website.
Visiting Bronte Creek Provincial Park promises a delightful escape into nature's beauty. With its diverse range of activities, from hiking and biking to wildlife exploration and special events, there's something fun for everyone.
Whether you're a nature enthusiast, a history buff, or simply looking for a peaceful getaway near Toronto, Bronte Creek is the place to be. So, why wait? Plan your trip today and experience the joy and adventure that this park has to offer.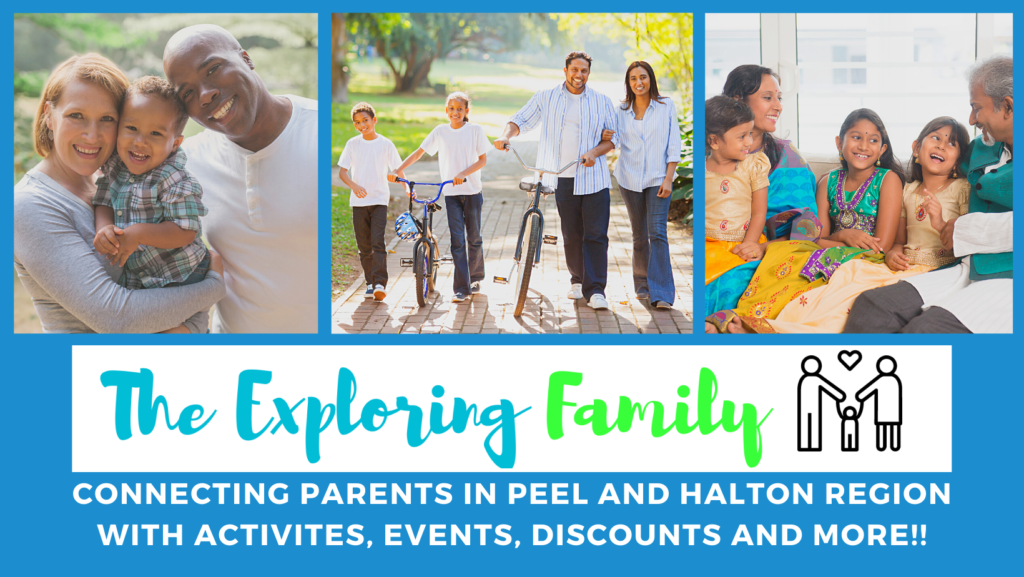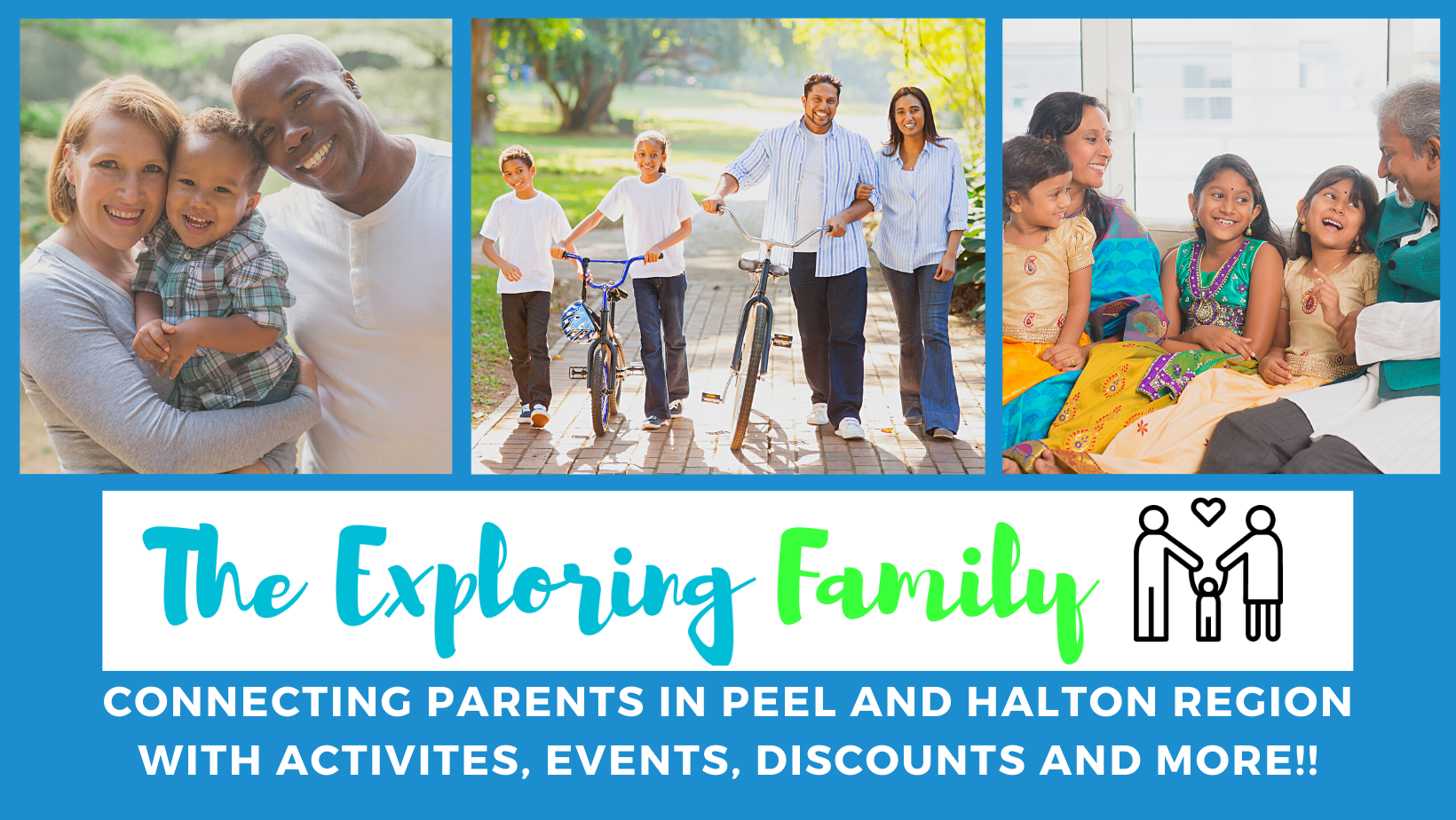 Can you help make this article better?
If you have noticed an error, have additional information or would like to share a comment you can:
E-mail us at info@thexploringfamily.com
Find us on Facebook: The Exploring Family
Find us on Instagram: @The.Exploring.Family
More Fun Camping in Ontario