Toys are fun for kids to open on birthdays and holidays, however I feel that experience gifts for kids are much better as they create lifelong memories. I love giving experience gifts and have for years to my spouse so last year with many things closed I found it super challenging to choose a non-experience gift. This year, I am excited to give the little ones in my life some experience gifts that will create memories they will never forget. From babies to teenagers, here are the best experience gifts for kids in the Greater Toronto Area..
Think back to your memories of holidays as a kid, do you remember the toys that your parents bought... not likely. However I definetly remember family day trips and family vacations as they memories are full of experiences that create long last family memories. The Exploring Family is known for exploring new destinations and events so it seems like a natural fit for us to focus on local activity gift ideas for kids. 
Keep reading to learn all about experience gifts, the benefits of experience gifts, and some local experience gift ideas. Research even shows that when kids are provided with less toys they engage in play for longer periods of time and show more focus and creativity.
Why Experiences are Better than Gifts:
Picking out the right toy can cause unnecessary stress during the holiday season as there are so many options in the marketplace. Instead of buying toys for the kids on your Christmas list, think about investing in unforgettable experience gifts. The Greater Toronto Area has several gift experience for kids, from indoor adventure to outdoor exploration, and it is easy to find a local experience for kids and create memorable experiences. Many companies also offer incentives or promotions around the holiday season making the experiences even cheaper than normal. Research shows that children often forget about tangible gifts within months but will remember experience days for alot longer. Toys can be exciting in the moment when kids are opening them but they are easily forgotten. 
Less Cluter

Family Fun and Experiences

Creates a Stronger Relationship
What are Gift experiences for kids?
Experience Gifts are a gift certificate or a pass towards a future experience that allows kids to try a new activity, location or even restaurant. It can be hard for young kids to understand the gift without the immediate excitement of a tangible item so often you can pair the gift certificate with an item such as a new towel if giving a waterpark giftcard, or maybe a set of Wolf Ears if doing something like Great Wolf Lodge.
Benefits of Giving Experience Gifts for Kids (Non-Toy Gifts):
We were gifted a Season pass to the Toronto Zoo for my daughter's third birthday and it was the greatest kids experience gift as we created family memories and memories with friends on each of our 4 visits so far and we still have 6 months left on our membership, we even get a discount at affiliated zoos so plan to visit Miami Zoo on vacation in February. Here is a list of a few experiences for kids that can be daytrip ideas or simply provide kids with the chance to try something new or visit somewhere new.
Zoo tickets or Yearly Membership (Toronto Zoo)

Museum Passes or Membership (The Royal Ontario Museum)

Indoor Mini Golf (Putting Edge)

Outdoor Mini Golf 

Indoor Water Parks (Americana, Great Wolf Lodge, Fallsview)

Treetop Treeking

(Treetop Trekking)

Outdoor Waterparks (Bingeman's, Wet n Wild, Wild Waterworks)

Bowling Passes (Brunswick Bowl, Classic Bowl, Champs)

Aquarium Passes (Ripley's Aquarium)

Petting Zoos and Local Farms

(

Downeys, Andrew Scenic Acres, Chudleighs)

Animal Encounters (Reptillia)

Bowling passes

Ice skating passes 

Swimming passes 

Indoor Trampoline Parks

Amusement park passes

Indoor rock climbing passes (The Hub, 

Sporting event tickets

Event Tickets (Disney on Ice, Cirque Du Soleil, Medevil Times)

Escape room tickets

Movie theater gift cards (Cineplex)

Tickets to a local ski mountain (Horseshoe, Hockley Valley, Glen Eden, Blue Mountain)

Snow Tubing (Chicopee)

Children's theater tickets or memberships (Mirvish, Ossington Theatre, Rose Theatre, Living Arts Centre, Milton Centre for the Preforming Arts)

Pottery painting studio visit (Crock-A-Doodle, 4 Cats)
Kids Spas or Pedicures (Happy Baby Spa - not just for babies)

Arcade (Playdium)

Go Karting

Conservation Area Seasons Pass (TRCA, Halton Parks)
Gift Cards for Teens:
Teens can be super challenging to purchase Christmas gifts for as they often prefer to buy their own clothing, and electonics. Gift Cards make a great option for tween and teens 
Spa or pedicure gift cards
 Local Experience Gift Ideas for Kids that have Holiday Promotions:
Merry Christmas it's time to stretch that dollar a little further this holiday season! It's Christmas Gift Card Deals Time of the Year. Lots of businesses provide extra gift card bonuses during the holiday season. If you are buying gift cards or gift certificates here are some bonuses you can look forward too! Christmas experience gifts are the perfect solution for every kid on your holiday gift list.
 Here are this year's Christmas gift card deals:
1. Sky Zone Trampoline Park:  Kids always have a ton of energy so why not bounce it out at a local Trampoline park such as SkyZone. SkyZone features a trampoline park, ninja warrior course, warped wall, and much more! Sky Zone is currently offering a promotion that if you buy $40 in Giftcards you get an extra $10.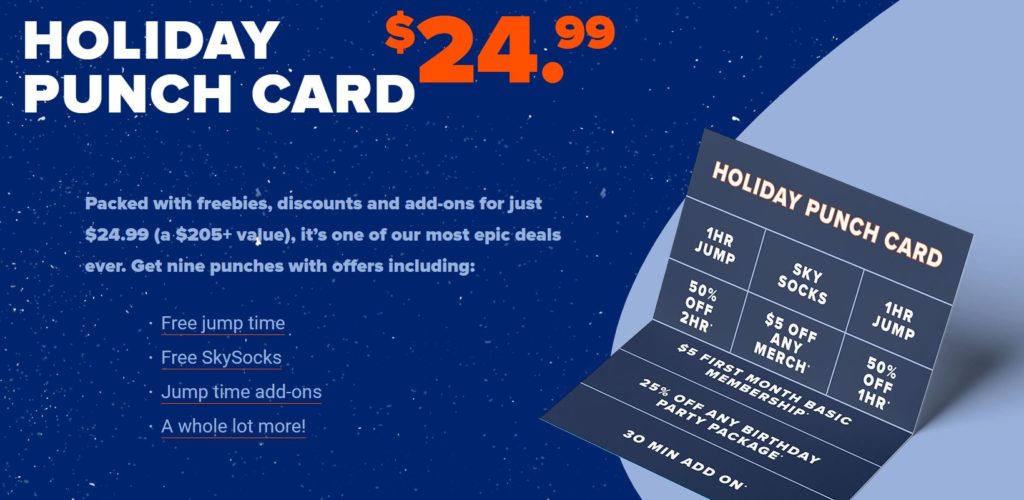 2. Cineplex: From November 1, 2021 - January 2, 2022, receive a Holiday Gift Bundle coupon book when you spend $40 or more on gift cards. Bundle offers include: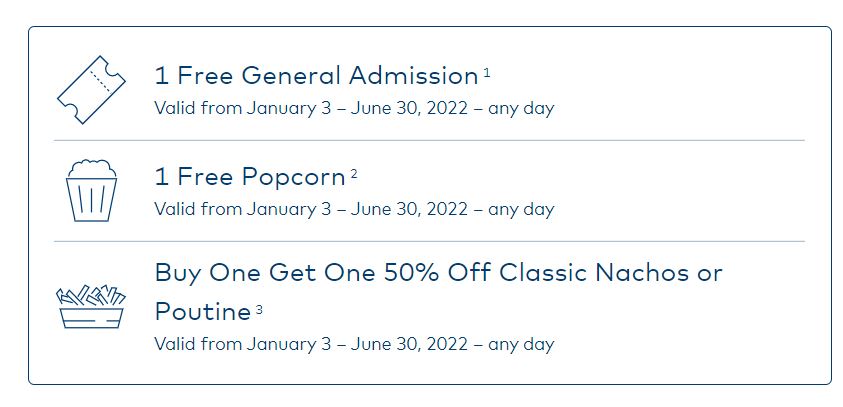 3. Boston Pizza: Until January 2, get a FREE $10 Promo Card when you buy a $50 BP Gift Card. Available in-restaurant and online.  *Promo card redeemable for dine-in only, from January 3 to March 31, 2022. 

4. Chuck E Cheese: Now through December 25th get a $10 BONUS CARD with your purchase of $50 or more. Bonus card available for use from December 26 – February 28.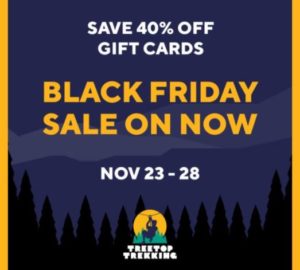 Shop gift cards online with promo code: BlackFriday2021
Sale Rates:
Zipline & Aerial Game Trek    from $28.20 – $38.40 +hst
Treewalk Village    from $6 – $13.20 +hst
Discovery Kids Courses    from $16.20 +hst
Make sure you don't miss any of the best Events, Activities and Places in the Peel Region by joining Peel Parents Resource on Facebook!
Please Note: 
We do our best to ensure the information on The Exploring Family is accurate, however information and events are subject to change. 
Can you help make this article better?
If you have noticed an error, have additional information or would like to share a comment you can:
E-mail us at info@thexploringfamily.com
Find us on Facebook: The Exploring Family
Find us on Instagram: The.Exploring.Family